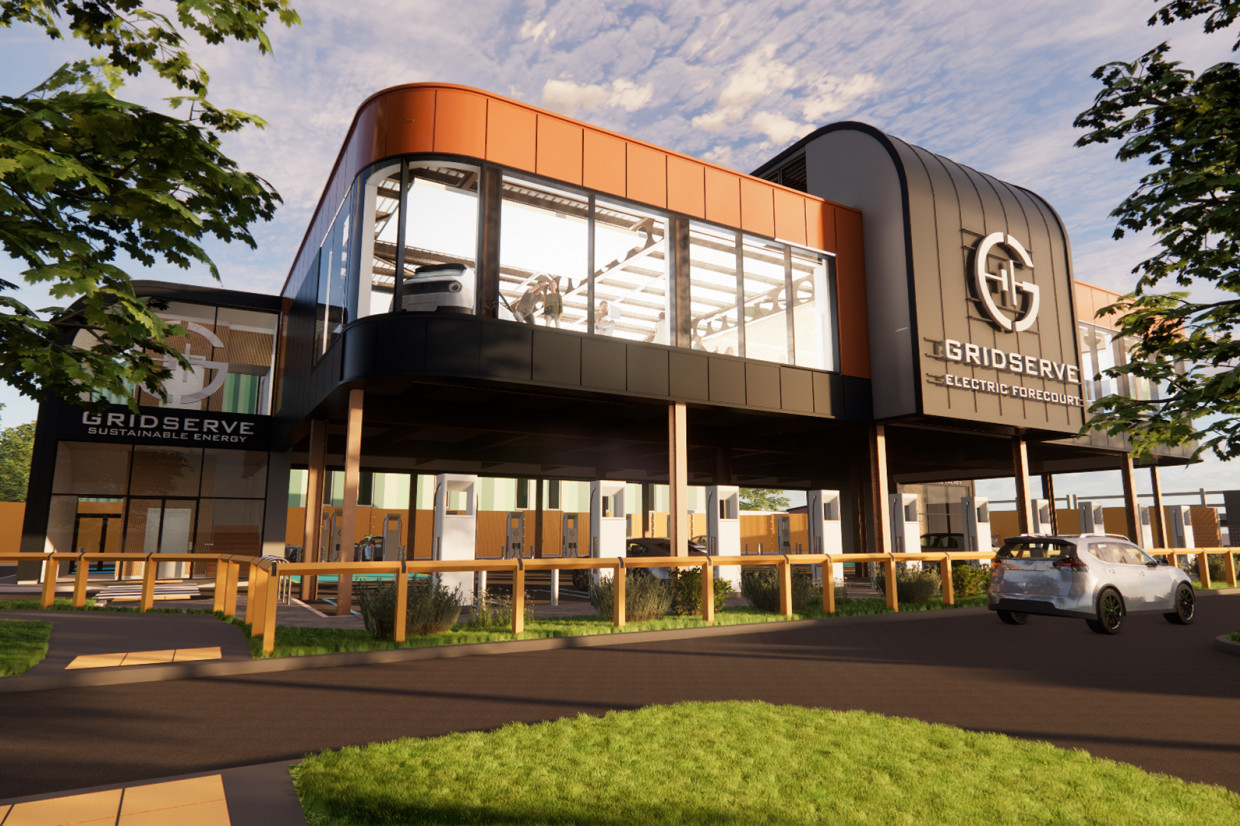 Sustainable energy business Gridserve has said that it will conduct the largest ever upgrade of the British motorway's EV network, with more than 20 high-power charging sites due to open by the middle of next year – and plans for 50 more to follow.
The firm bought Ecotricity's Electric Highway motorway network earlier this year, and has since launched a major investment to both replace the 300-plus chargers it acquired in that deal and add 130 additional charging units.
Gridserve is currently working on 11 Electric Hub sites adjacent to major UK roads, along with a new Electric Forecourt that will be located at Gatwick Airport.
Each of the electric hubs will feature between six and 12 350kW high-speed chargers, all of which will offer contactless payments. The firm says more than 20 electric hubs will be open by the middle of next year, with plans for an additional 50 sites to follow.
Gridserve added that it had put a focus on opening electric hubs in areas currently lacking in EV public chargers, including Wales and Cornwall.
Gridserve boss Toddington Harper said that the network would be "designed entirely around the needs of drivers, listening to our customers' needs and providing the best possible level of customer service to deliver the confidence people need to make the switch to electric transport today."
Meanwhile, the Electric Forecourt near Gatwick is due to open in autumn next year, and will allow 36 EVs to be charged simultaneously, with 350kW chargers also available. The site will also feature a cafe, supermarket and waiting lounge with Wi-Fi. A second Electric Forecourt with a similar set up will also open in Norwich next April.
The 11 electric hubs currently under construction are located in the motorway services at Burton in Kendall, Exeter, Heston West, Leigh Delemere Westbound, Reading West, Severn View, Swansea, Thurrock, Wetherby, and Woolley Edge North and South. 
Construction will start next year at Annandale, Cornwall Services, Durham, Grantham North, Magor, Northampton North and South, Reading East, Rownhams North, Scotch Corner, Strensham North and South, Washington North and South, and Watford Gap North and South.