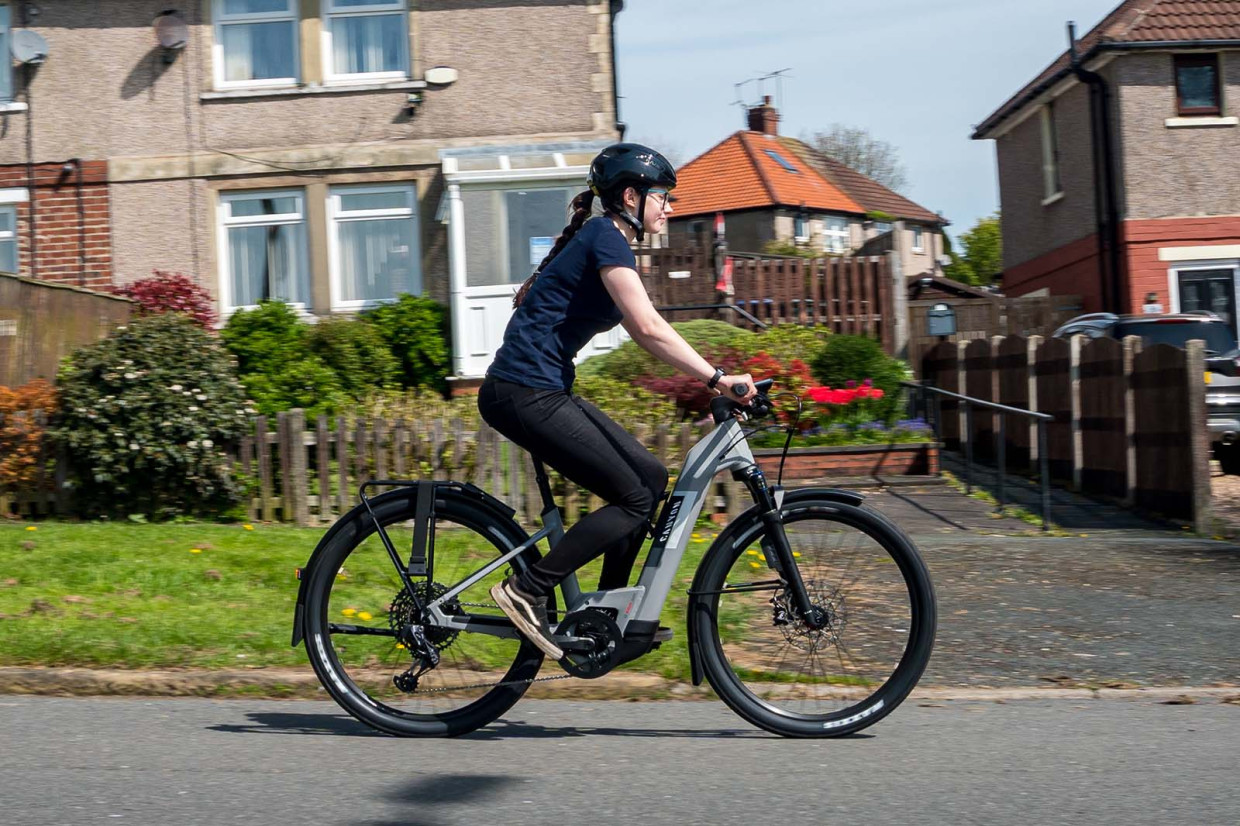 Move Electric rating: four stars out of five
What does it cost? 
£5,249
What is it?
Heralded as an 'SUV' of sorts, it's an all-around performer, capable on both the road and light off-road routes. The Canyon Pathlite:ON 9 LTD SUV features high-quality components from Bosch and SRAM – but where does this type of 'SUV' e-bike fit into the market, and more importantly, everyday life?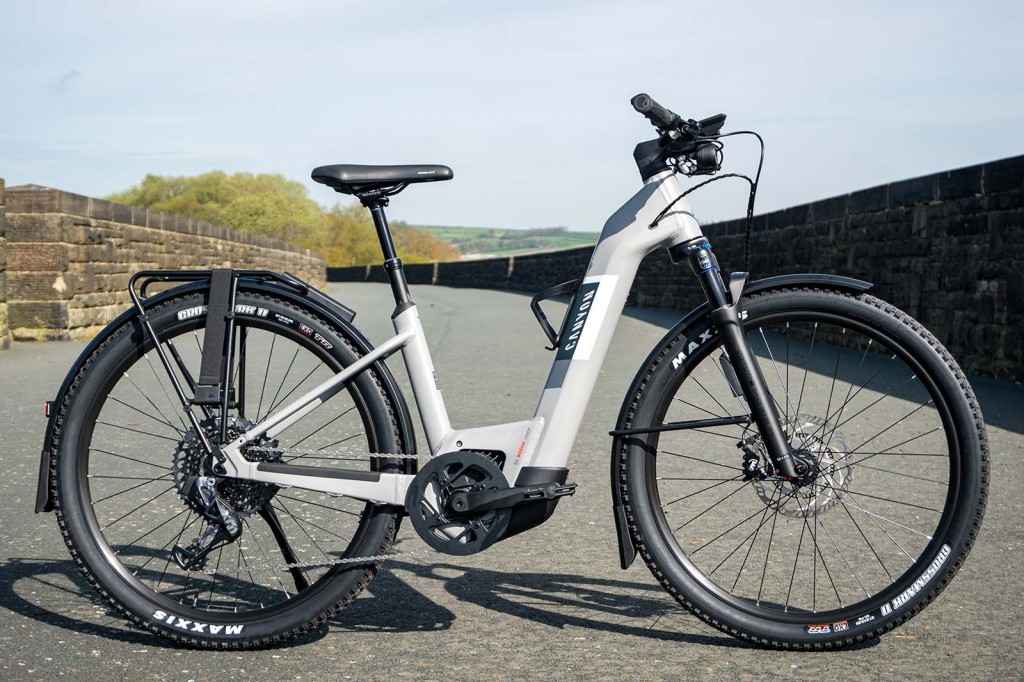 What is it like?  
It's segmented into the touring section of the Canyon website, and with a 750Wh battery, plenty of comfort, carrying capacity and the ability to tow trailers, it's easy to see why. But, it's not a bike that you can easily get over stiles or carry up stairs given it's 28kg weight. So on-road touring perhaps, or accessible segmented cycle trails, but getting it onto a train or in the car will be quite an effort.
Haibike AllMtn CF 6 e-bike review
Another way to look at it is like the Specialized Tero X. It's aimed more as a 'do-it-all' e-bike (like many are), and it has a lot of capabilities to back up that claim. It's designed to be the one e-bike you'll need to get to work, enjoy family rides along the towpath, or even take a child to school on with a suitable seat.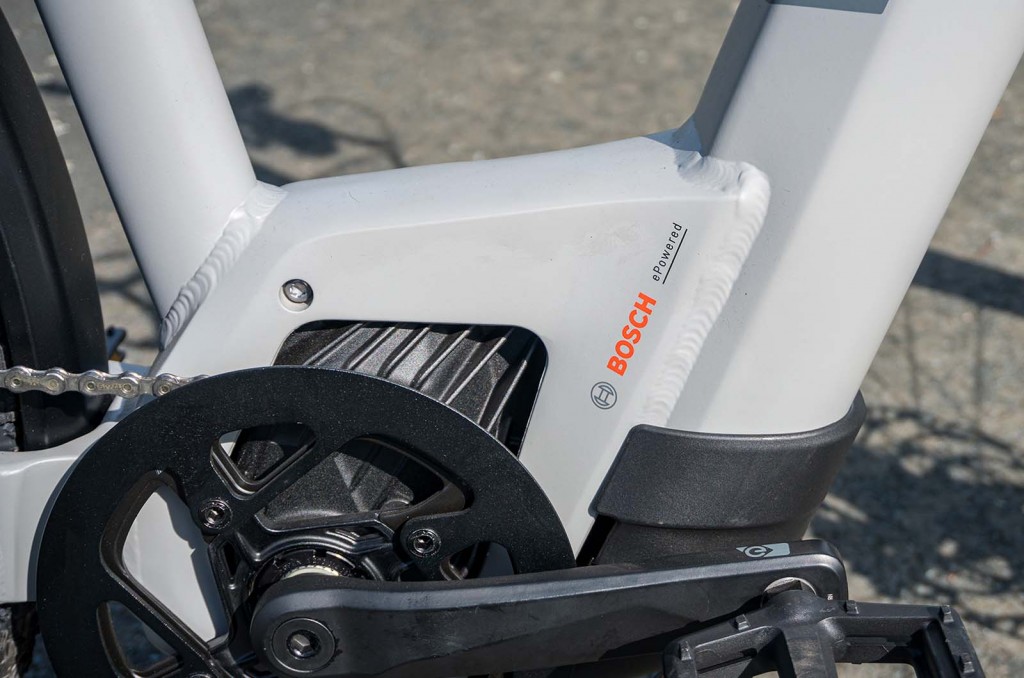 The Pathlite:ON 9 LTD SUV features top of the range Bosch components, including the newer Smart System and ABS features (which we will cover in more depth soon). But I found that although a little noisy, the Bosch Performance Line CX mid-drive was more than capable for everything I threw at the bike. I will say that due to circumstances out of my control, I didn't manage to get as many miles in on the bike as I would have liked, but the few rides I did have were pleasant and I think tested the bike on and off-road. 
On the tarmac, this bike is agile and nimble, and handles really nicely – even given its heft. Heading off-road, and although a little rattly (because of the pannier and mudguards, not componentry) it still handled tough West Yorkshire bridleways with ease. The front forks are the SR Suntour MOBIE35 BOOST EQ with 100mm of travel, and paired with Maxxis Crossmark II 57 mm mountain bike tyres, I never felt like the bike was out of its depth, even on particularly tricky sections of bridleway.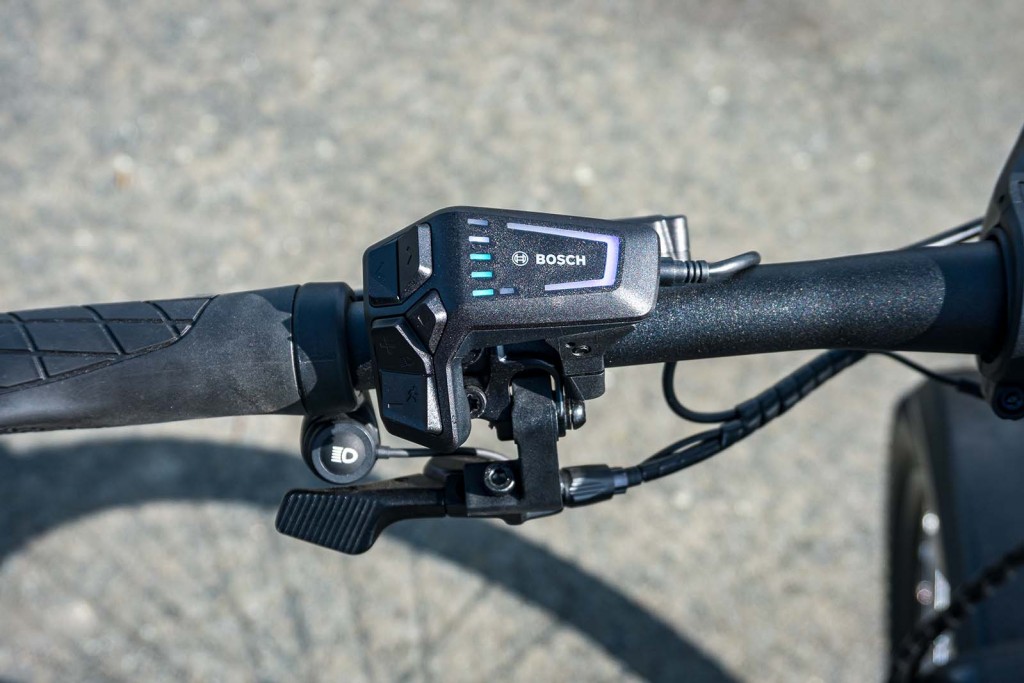 I tried the step-through version in size XS, but there is a step-over version available if that suits you more. In terms of the battery range, I only drained about 25% over a 15 mile ride with over 2,000ft of elevation gain. I'm not sure it would last for a full day's riding, if you're heading over say 70 miles or anywhere with particularly challenging terrain, but for leisurely longer rides, it would appear capable.
I used the bike more for shorter journeys that were awkwardly long to walk but too short to warrant using the car. In fact, it did end up being a replacement for my car for two weeks so having something so capable was a godsend – particularly for the dog who's food and treat refills would have been bought online without it.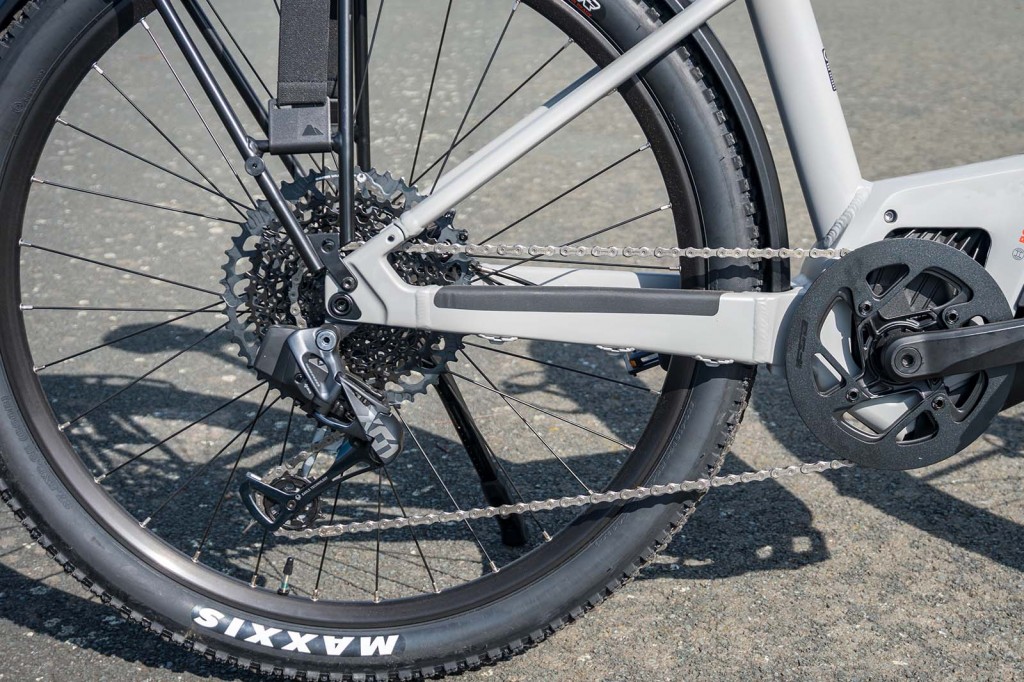 With bikes like these, where they're a genuine joy to ride, I find myself thinking of excuses to go outside on it. The weather doesn't really impact it as the wind is sort of laughed in the face of thanks to the torquey motor, and the ability to carry things without needing a rucksack is also very appealing. I'm not saying I didn't need to visit the bakery two miles up the road, but having something like the Pathlite:ON 9 makes short trips far more tempting on a bike. 
Whether you need something quite as top-end as this is personal choice, but I will admit the novelty of electronic gears (courtesy of SRAM's X01 Eagle AXS groupset) didn't wear off throughout the testing period.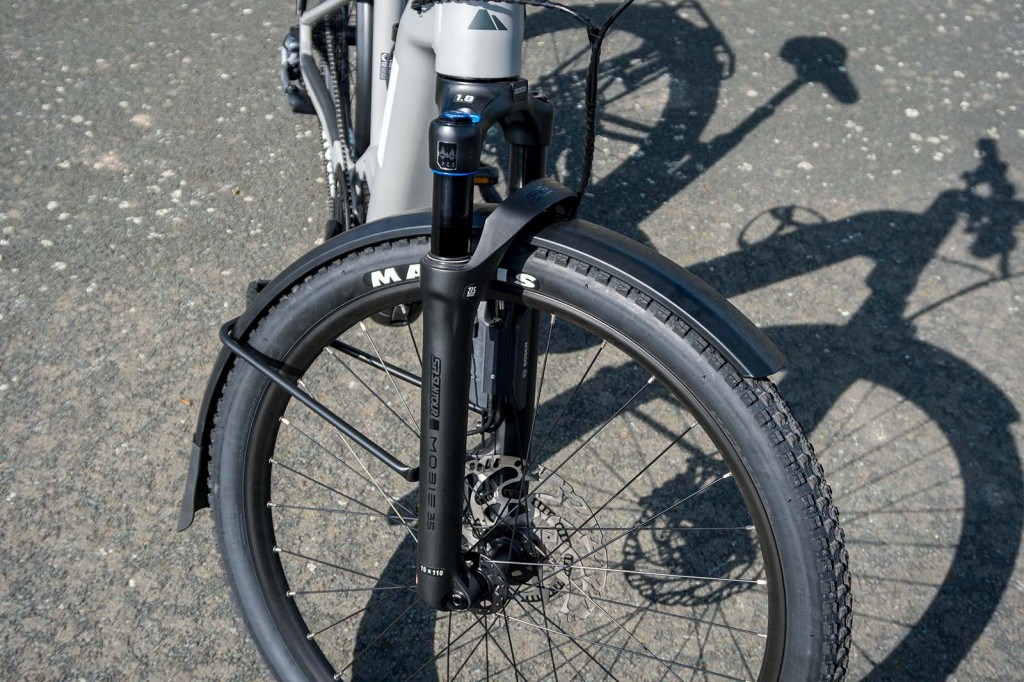 Where this bike fits into everyday life will differ depending on your situation, the type of journeys you do, and how far you go. The Pathlite:ON range starts at £2599 for the Pathlite:ON 4 SUV model, so there are options for different budgets. However, with the capability and range of this particular model, I would go as far as to say it could be a car replacement for those who have easy storage access like a garage, don't need something quite as significant as an electric cargo bike, and want the versatility of a 'super hybrid'.
Where can I buy it?
From Canyon directly on their website. 
How does it arrive?
Easy to assemble, simply adjust the handlebars, attach some pedals and the front wheel and away you go.
Verdict
If money allows, then it's an excellent all-rounder with plenty of tech from Bosch and SRAM to warrant the price.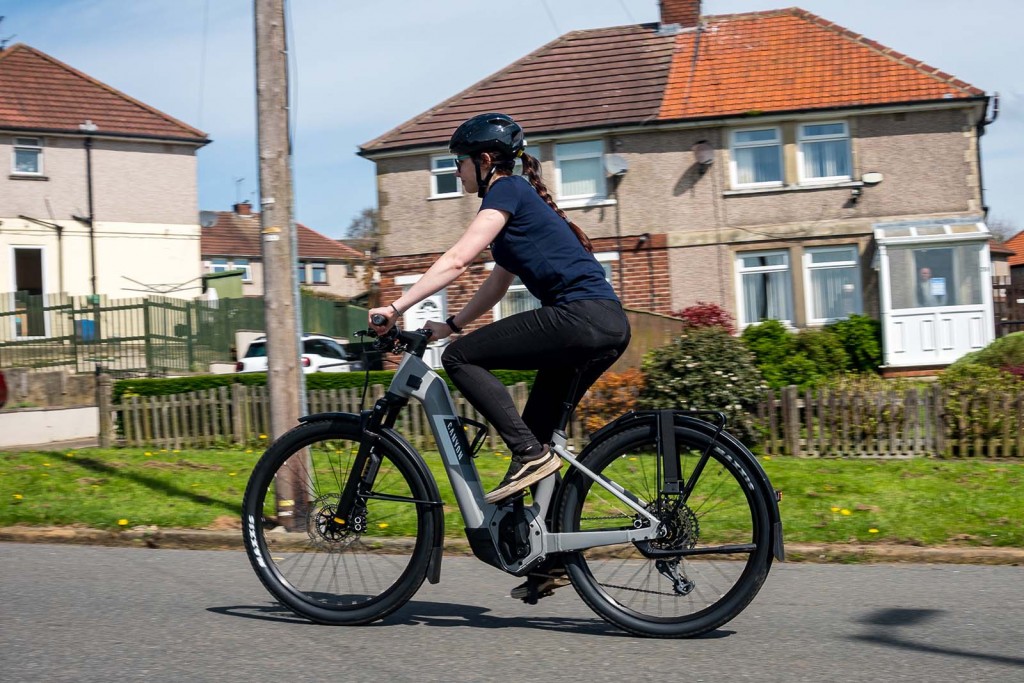 Canyon Pathlite:ON 9 LTD SUV step-through
Cost
£5249
Frame size tested
Small
Weight of bike
28kg 
Groupset
SRAM X01 Eagle AXS 12-speed
Wheels/tyres
27.5" wheels, Maxxis Crossmark II EXO TR tyres
Motor
Bosch Performance Line CX
Battery
Bosch PowerTube 750Wh
Mileage range
Check Bosch's range estimator.
Assistance levels
Four
Charge time
Six hours
Included extras
Kickstand
Bell
Lights
Rear rack
Full-length mudguards
Bottle cage mount
READ MORE
Subscribe to the Move Electric newsletter
e-CARS
What is a heat pump and how do they benefit electric cars?
Bold new Volkswagen ID 2all previews sub-£22,000 electric car
e-BIKES
Ten electric bikes we're excited for in 2023
Nine ways to keep your e-bike safe
E-bike theft: how common is it and what can you do to protect your e-bike?
Haibike AllMtn CF 6 e-bike review
e-MOTORBIKES
10 electric motorbike start-ups you should watch out for
Energica e-motorbike to take on all-comers in US racing series
Ducati: How the Italian motorbike brand is gearing up for the electric era
e-SCOOTERS
Planned laws to legalise private e-scooters face delay
Leading e-scooter firms team up on best-practice guide for cities
Ambiguity over e-scooter legality causing 'confusion', says police chief
e-WORLD
Solar panels: 8 ways the sun can power your electric life
First ride: Lunaz Upcycled Electric Vehicle bin lorry
AutoFlight secures huge order for Prosperity 1 eVTOL craft