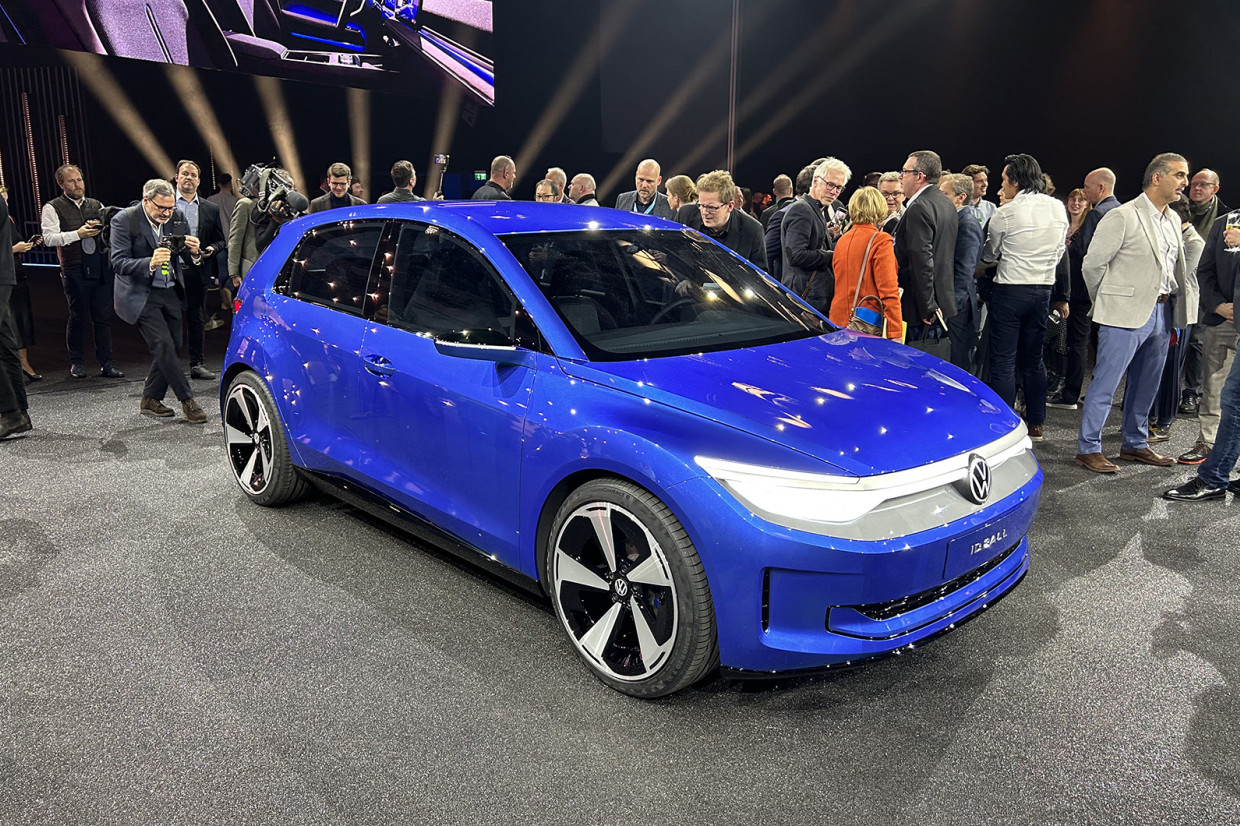 The new Volkswagen ID 2all concept has been revealed, previewing a new entry-level model that takes design inspiration from the classic Polo and Golf models, and is set to go on sale in 2026 with a starting price of less than £22,000.
The new machine will be the first model to use the Volkswagen Group's modified MEB Entry platform that has been developed for lower-priced machines. It will be joined by a forthcoming Volkswagen compact crossover, the production version of the Cupra UrbanRebel and a yet-to-be-seen Skoda crossover.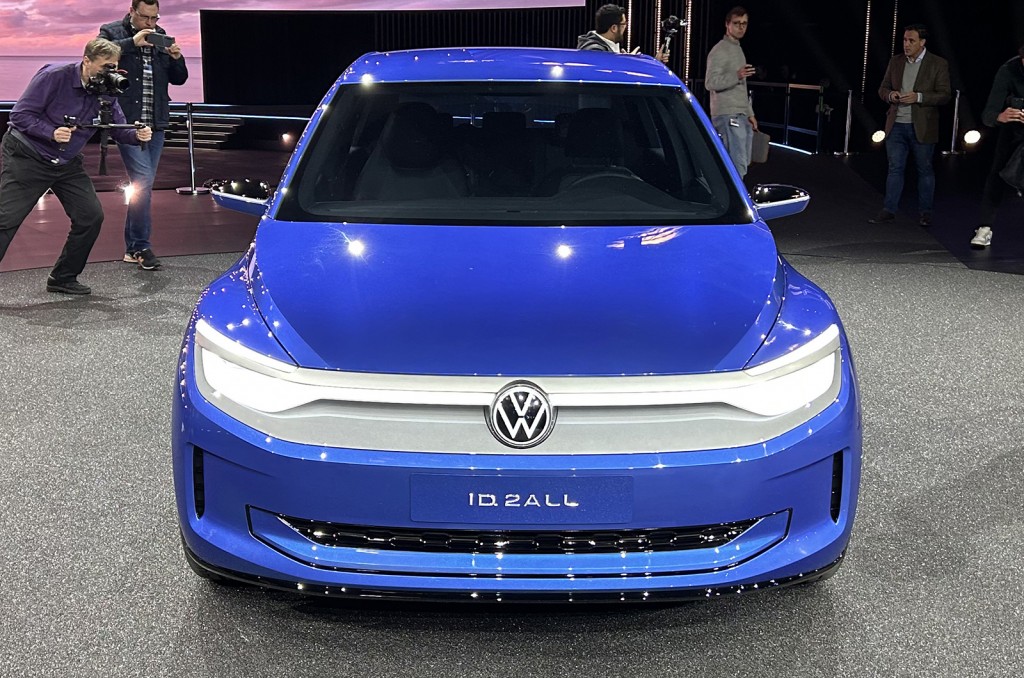 But there's more: Volkswagen boss Thomas Schäfer says that an even cheaper model priced at around £17,000 (€20,000) will follow in around 2027. That model is tipped to be called the ID 1, and will use another new electric platform.
Electric vehicle news in your inbox: sign up for our FREE newsletter
For now though, let's focus on the ID 2all, because it's really significant, and not just because of its platform and technology: it also showcases a whole new design direction for the brand's electric models. Well, we say new: the brand has decided to embrace its heritage, so future models will feature some classic VW design cues.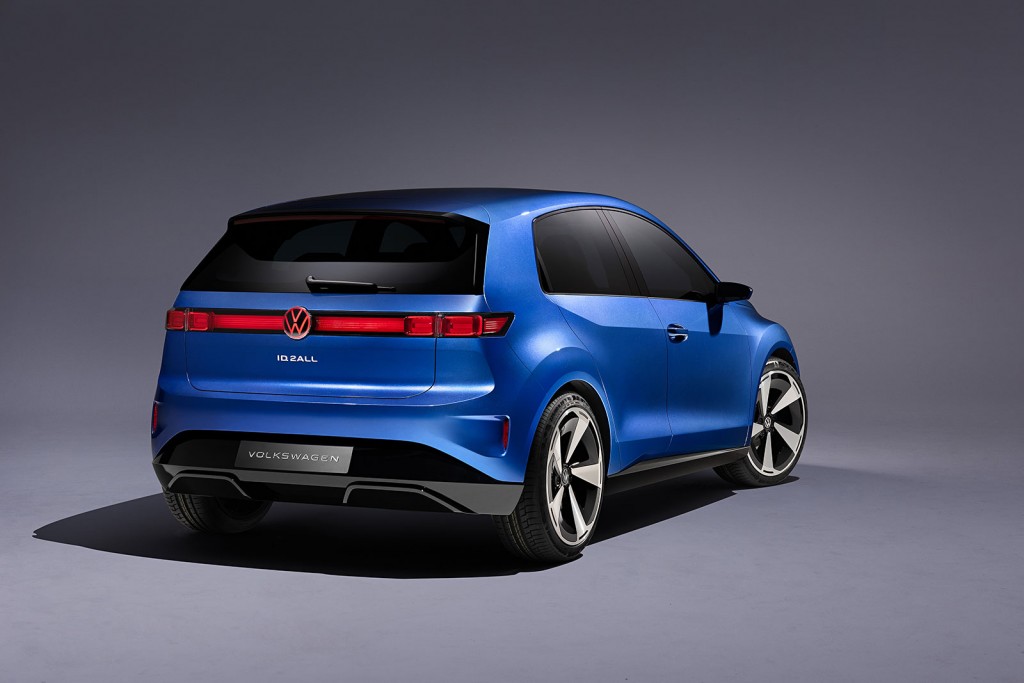 Brand boss Thomas Schäfer says that the goal is to make Volkswagen a "genuine Love Brand". Essentially, Volkswagen has a long history of producing affordable and hugely popular machines, dating back to the Beetle, and the firm believes that building on that can help it stand out against the ever-rising number of new electric start-up rivals.
The heritage-inspired approach is clear when you look at the ID 2all: while it is clearly a new design, it's closer in styling to the combustion-engined Polo and Golf than the Volkswagen ID 3 hatch that it will sit underneath in the firm's electric line-up. The aim is clearly to target customers of those models, with Volkswagen describing the new machine as being "as spacious as a Golf and as inexpensive as a Polo".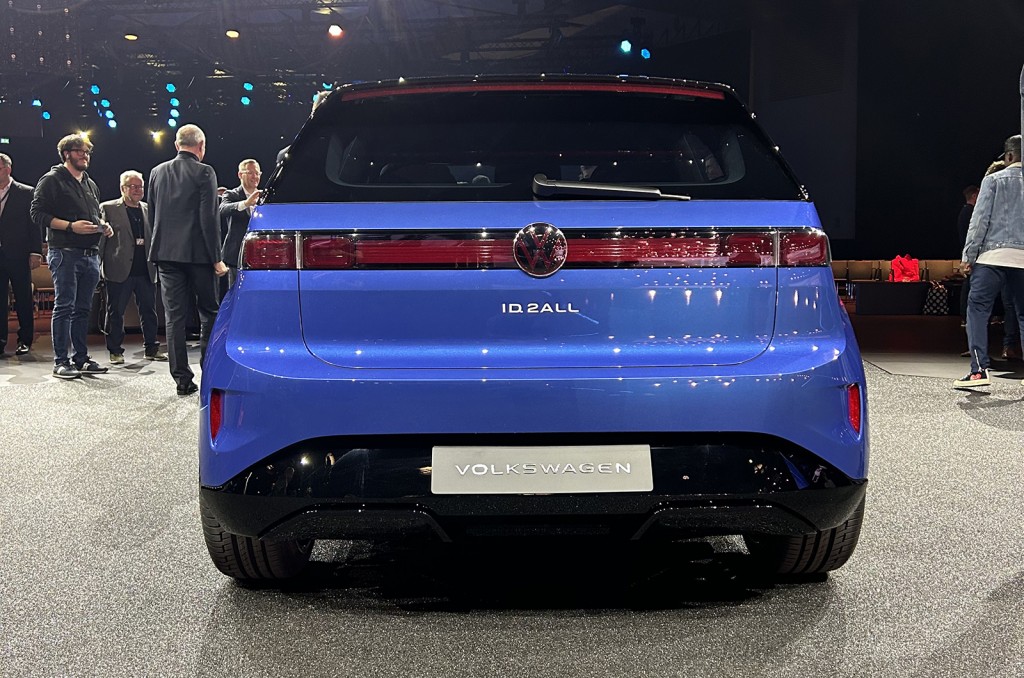 There are suggestions that the model could actually be named the ID Golf when it goes on sale, with Schäfer having confirmed the fabled badge will have an electric future. But at least for now it's known as the ID 2all. It's been designed by new Volkswagen design chief Andreas Mindt, who only started at the brand in February. He admitted that the machine was designed in around six weeks.
Mindt said that the brand is "transferring the DNA of our icons into the future", adding that the ID 2all is a "homage to the Beetle, Golf and Polo."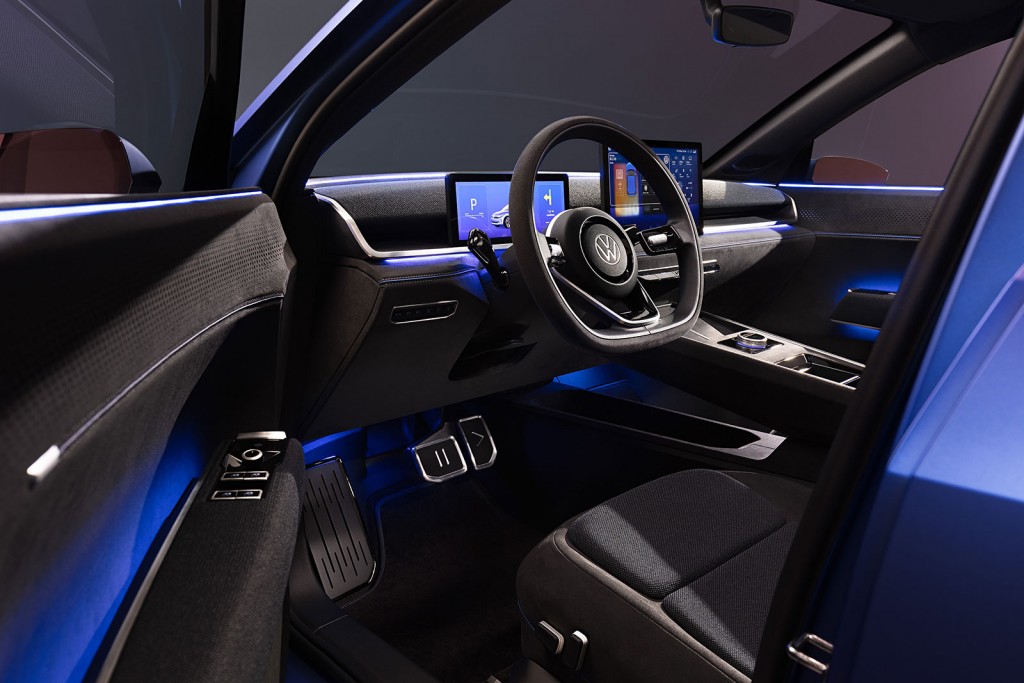 The ID 2all is 4050mm long, making it substantially shorter than the ID 3, and a touch smaller than the current ICE Polo. But the 2600mm wheelbase is significantly longer than the Polo, so it offers far more interior space. 
The MEB Entry platform features the motor at the front driving the front wheels, unlike the current MEB platform models that are either rear-drive or twin-motor all-wheel-drive. The motor on the ID 2all will produce 166kW, and will be offered with 38kWh and 56kWh batteries. The bigger battery will give a range of up to 280 miles – although if you want your ID 2all to cost £22,000, you'll have to settle for the smaller battery. Volkswagen hasn't said what the range of that one is.
It is understood that the smaller battery will use lithium iron phosphate prismatic cells, with the chemistry of the bigger one yet to be confirmed. But Volkswagen says that it will be able to charge from 10 to 80 per cent in around 20 minutes, at speeds of up to 125kW.
Speaking of how fast things can go, the ID 2 all also has a top speed of 99mph, and can complete the 0-62mph sprint in less than seven seconds. While the car does look ripe for a hot GTI or GTX version, don't get your hopes up for too much performance: that 166kW motor is the one one that will currently work on the platform, and it won't accept a twin motor set-up.
So why is the motor at the front of the car? Well, it's all about practicality. Moving the motor to the front frees up space at the rear, allowing for a much bigger boot: 490 litres in this case, which is larger than the ICE Golf.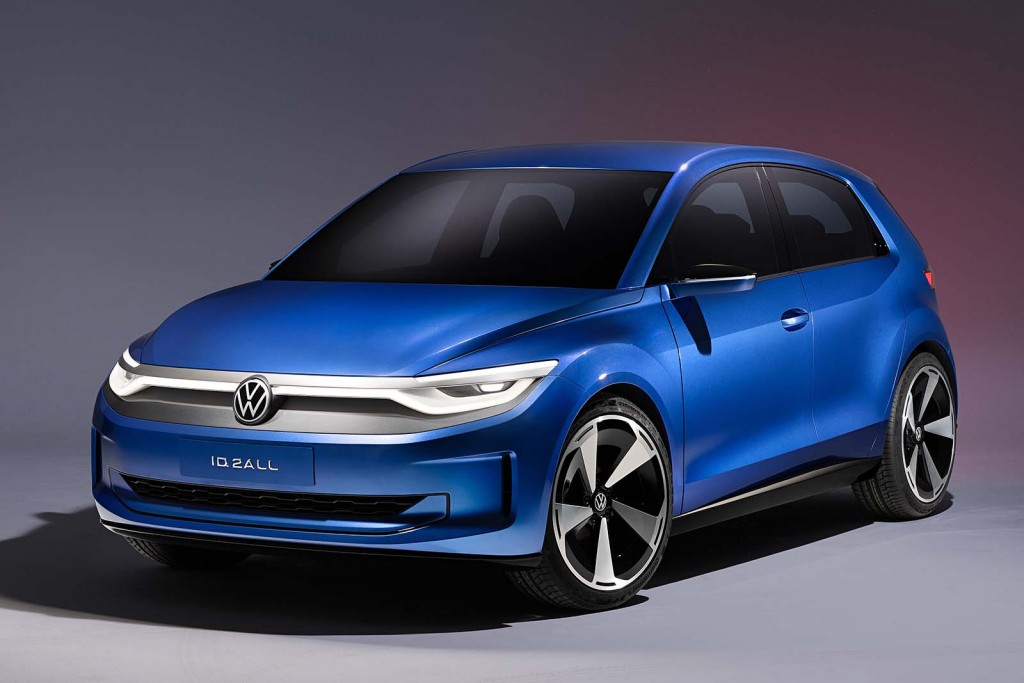 The ID 2all features a number of classic Volkswagen design notes, such as the C-pillar that Mindt says is intended to evoke the first-generation Golf. The front end features a number of elements that rise upwards, giving the car what Mindt calls "a confident smile". It's certainly a step away from the ID 3, and far more in the style of certain Golf models.
While the machine is being produced to a tight target price of £22,000, Mindt says that it features a range of high-quality materials in the interior, and there is a focus on making the most of the interior space: the front passenger seat can fold to create a full length luggage area.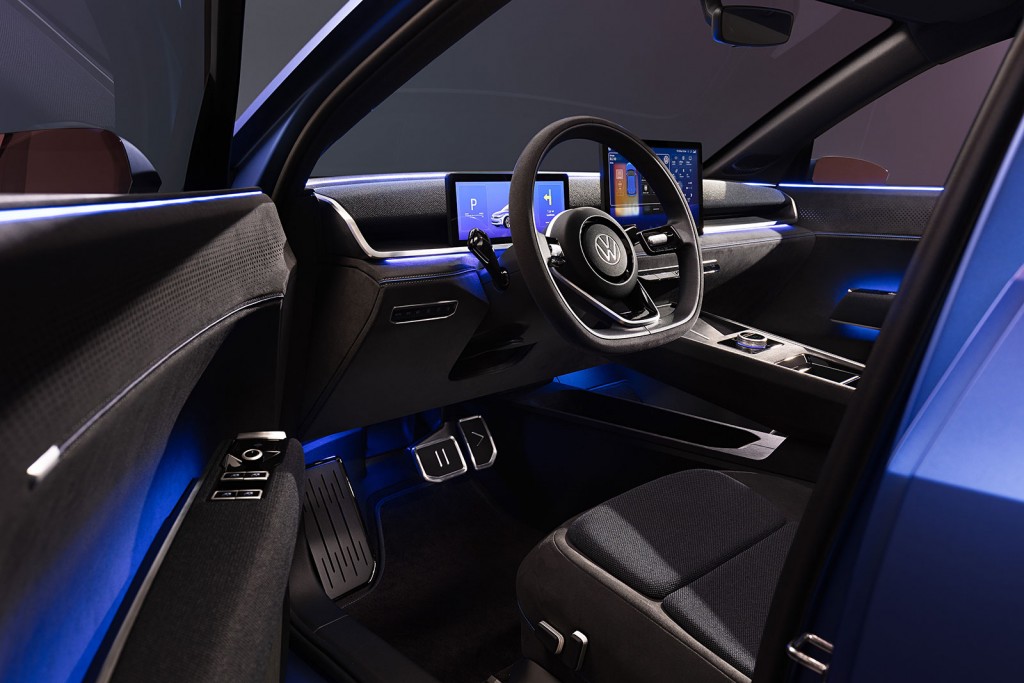 There is a plenty of storage too, with a box underneath the boot floor, and a 50-litre storage area under the rear bench seats. Volkswagen says that can be used to house charging cables and other kit, and also offers lockable storage for laptops and valuables.
The stripped-back dashboard features a whopping great 12.9in touchscreen – but the firm is clearly aware of the issues that have plagued infotainment systems in its ID range so far. So it describes it as a "self-explanatory infotainment system with classic volume control". Translation: don't worry, this machine doesn't have those annoying slider controls.
There are definitely some physical controls, including a thumbwheel on the central panel that can control the infotainment, and illuminated buttons for other key functions. You also get two – yes, two! – wireless smartphone charging pads, a 10.9in digital cockpit screen and a head-up display.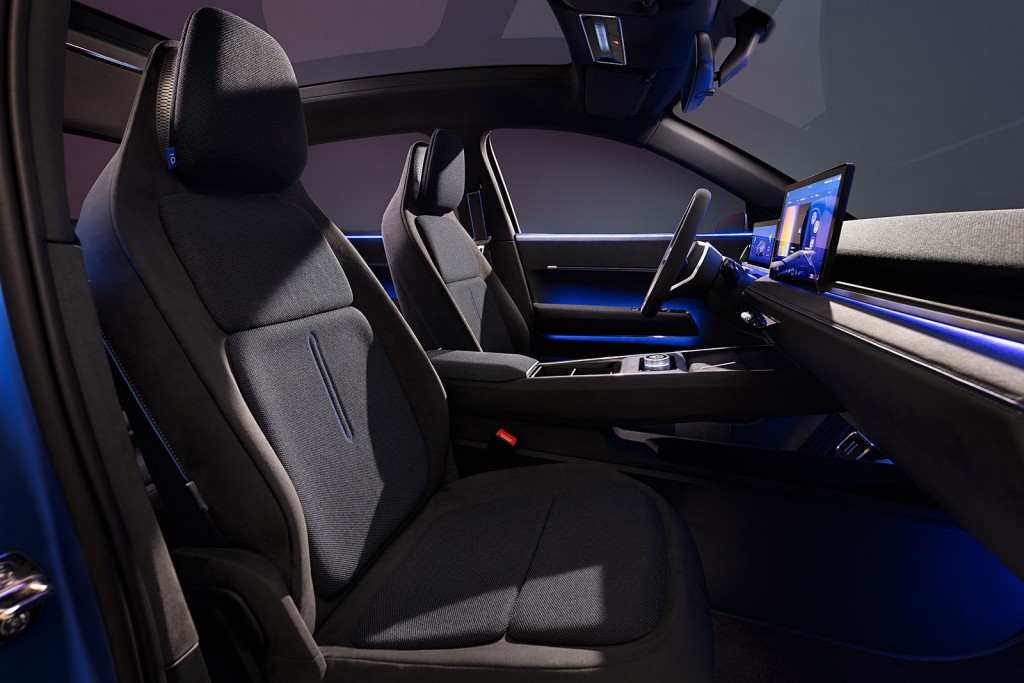 Volkswagen also says the ID 2all will be offered with a number of advanced assistance systems and features, including travel assist, automatic parking and massaging electronic seats.
The production version of the ID 2all will be shown in 2025 before going on sale the following year. It will be one of ten electric models that Volkswagen is set to launch by 2026, starting with the facelifted ID 3, the ID 7 and the long wheelbase ID Buzz this year. That total also includes the new compact crossover due in 2026 that will be closely related to the ID 2all (but expect more rugged styling), with that sub-£17,000 small electric model set for to launch around 2026 or 2027.
READ MORE
Subscribe to the Move Electric newsletter
e-CARS
Ten electric cars we're excited for in 2023
Getting an EV sideways: how easy is it to drift a Kia EV6 GT?
Q&A: Jaguar Racing's Sam Bird and Mitch Evans on Formula E's new era
e-BIKES
Ten electric bikes we're excited for in 2023
Can you get fit using an electric bike?
e-MOTORBIKES
Ten electric motorbikes we're excited for in 2023
Super Soco TC Max electric motorbike review
Cake and Polestar team up for new special edition Makka e-motorbike
e-SCOOTERS
Planned laws to legalise private e-scooters face delay
Five key takeaways from the rental e-scooter trials report
Which train firms have banned e-scooters from their services?
e-WORLD
Move Electric's best features of 2022: lap records, tuk-tuks… and sausage rolls
Volvo Trucks keeps on electric trucking with three new models