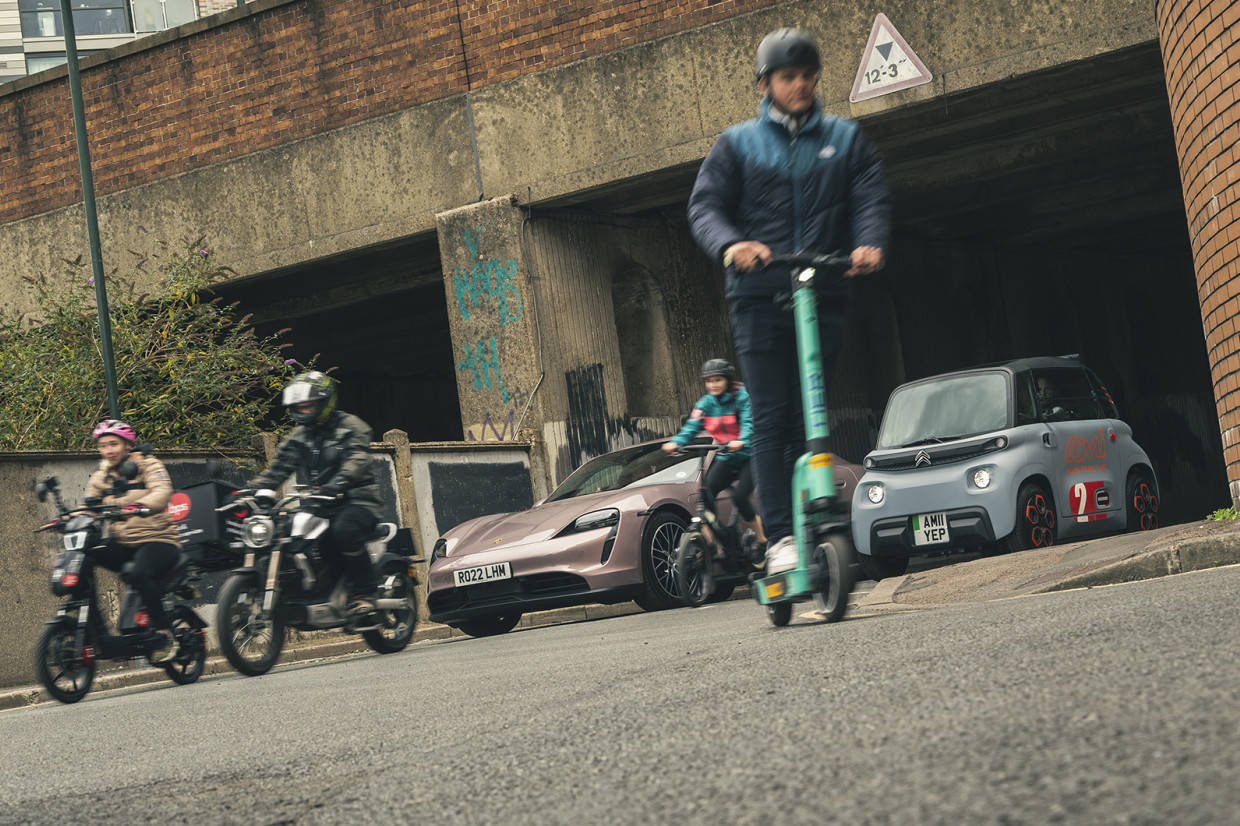 Whether it's a car, motorbike, quadricycle, bike or scooter, electric vehicles excel in the city – but which will get you where you need to go fastest?
To find out we pitted six diverse electric vehicles against each other in an epic 18-mile e-race across London. The starting line-up? A Porsche Taycan, Citroën Ami, Super Soco TC Max, Gocycle G4, Eskuta SX-250 and a rental e-scooter. Check out the mega video to find out what won – and read on for the full story of the epic e-race.
E-Race across London: the competitors
The goal of the first Move Electric E-Race across London was to found out the quickest form of electric transport if you want to cross the UK's capital city. The idea was to race from the west of the capital across to the east, with the shortest route passing right through the centre.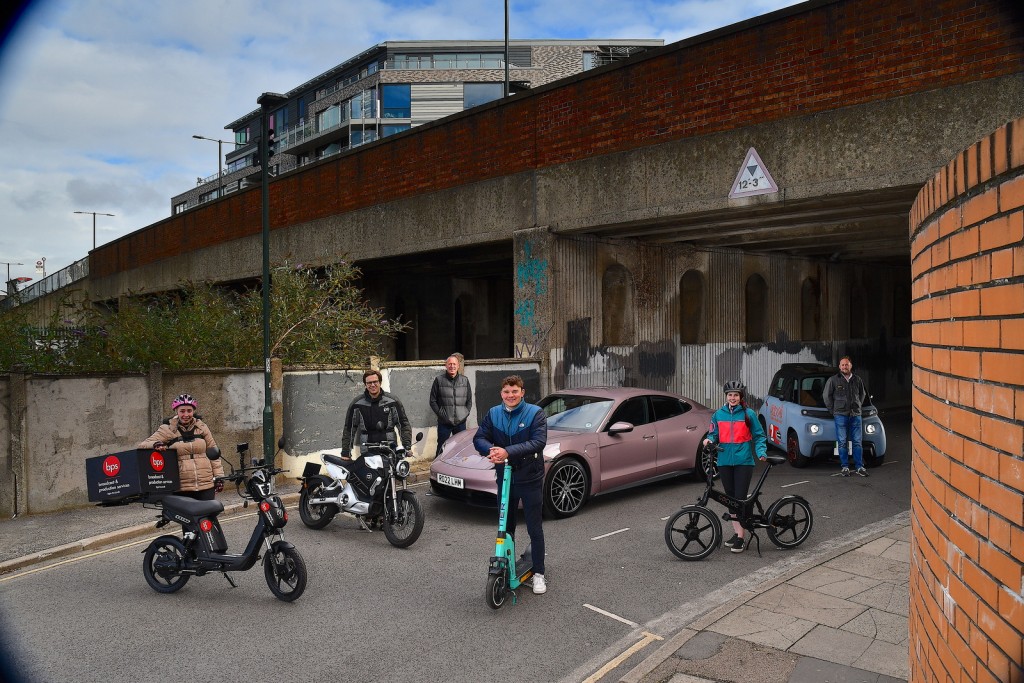 By far our most powerful and expensive vehicle was the Porsche Taycan electric car, driven by video presenter, Extreme E commentator and sometime Brands Hatch Porsche driving instructor Andrew Coley. Priced from £72,850 the Taycan produces 280kW from twin electric motors and has a top speed of 143mph. Which is nice, but essentially useless within the M25. 
Our other four-wheeled competitor sat at the other end of the market, although is just as brilliant in its own way. The Citroën Ami (which as you'll recall is a quadricycle, not a car) was designed purely for use in urban areas, with a 6kW motor, a 28mph top speed and a range of 43 miles. At £7695 it's a lot cheaper than a Taycan, although not quite as plush inside. Autocar associate editor Piers Ward was behind the wheel.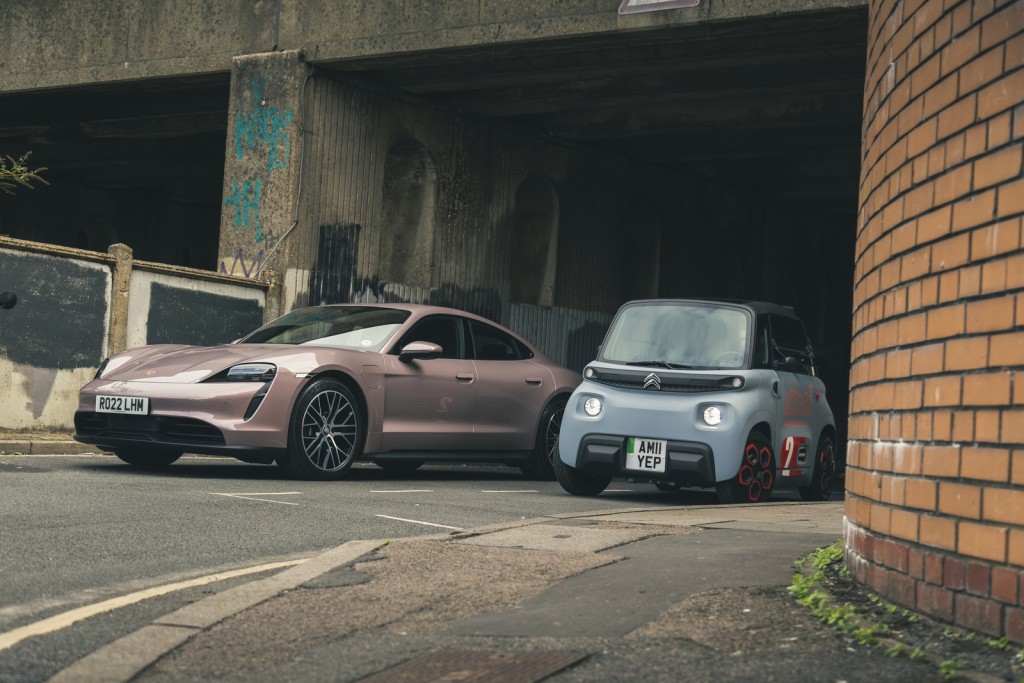 The Super Soco TC Max represented the e-motorbike world, in part because it was named the best electric motorbike in the inaugural Move Electric Awards earlier this year. It costs £4399 (after government grant), and features a 5kW motor that gives it a top speed of 60mph. Neil Winn, a keen biker and road tester for our sister brand What Car?, was charged with riding the TC Max.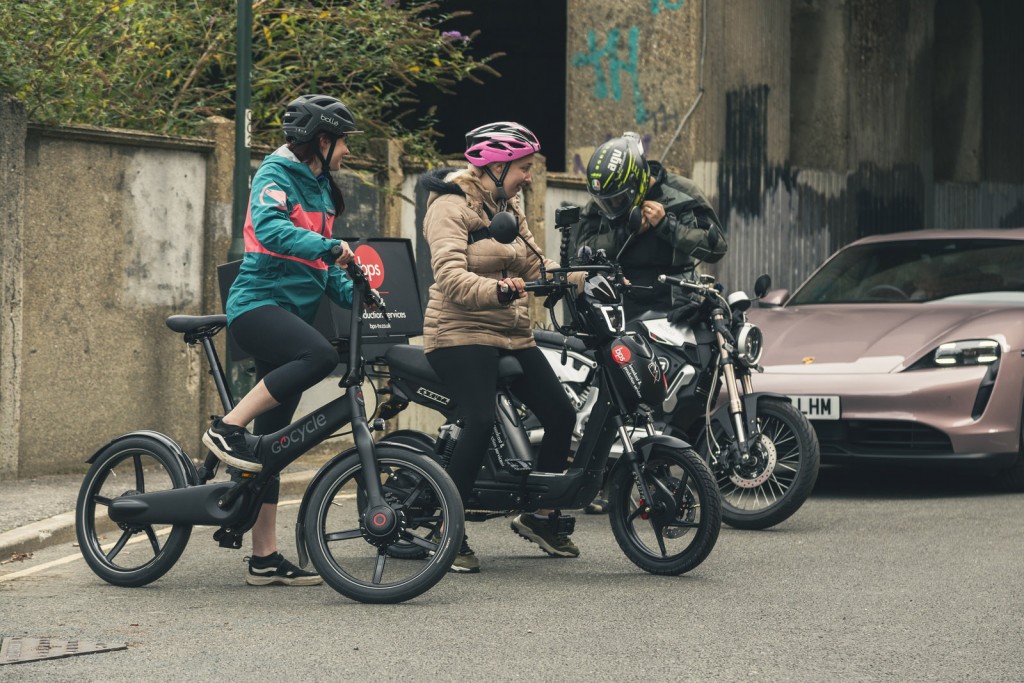 The race featured two very different electric bikes. The first was the Gocycle G4, a premium high-tech folding machine which is popular among commuters. Our e-bike correspondent Rebecca Bland – who is also a mighty quick cyclist – was in the saddle of the £3399 machine. As with all UK pedal-assist e-bikes, the G4's 250W hub-mounted motor offers electric boost up to 15.5mph.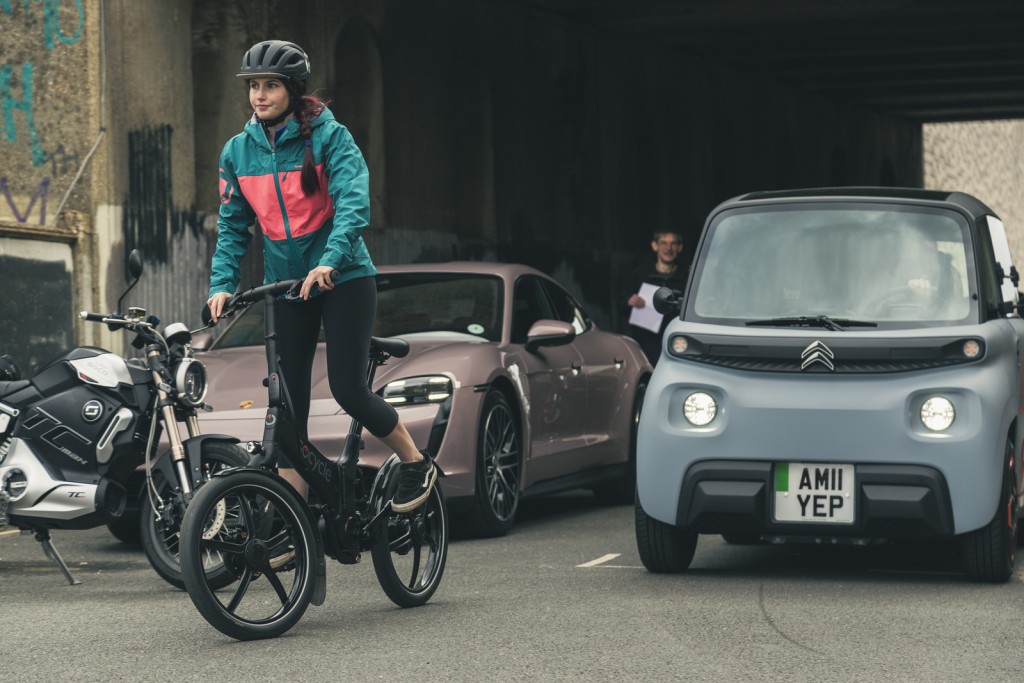 Our other e-bike was the Eskuta SX-250, which costs £1795 and is a popular choice among delivery riders for its moped-esque styling and handling. Which is why we recruited Atlanta Martin, an actual full-time delivery rider with her own YouTube channel, to ride it.
Eskuta: the e-bike firm delivering food – and getting results
The SX-250 is an unusual sort of e-bike: turning the pedals doesn't actually propel the bike but simply engages the 250W motor, which has a top speed of 15.5mph.
Finally, Move Electric staff writer Sam Phillips was tasked with completing the race on an e-scooter. Now, since private e-scooters remain illegal to use on public roads in the UK, the only legal way we could feature an e-scooter in the race was to rent one that's part of a government-approved trial.
Are e-scooters legal in the UK? Move Electric's essential guide
In London, there are three approved operators – Dott, Lime and Tier – and the machines have a top speed of 12.5mph, although this is reduced in some busy areas. There are also a number of no-go zones, while not every borough is part of the Transport for London-run trial.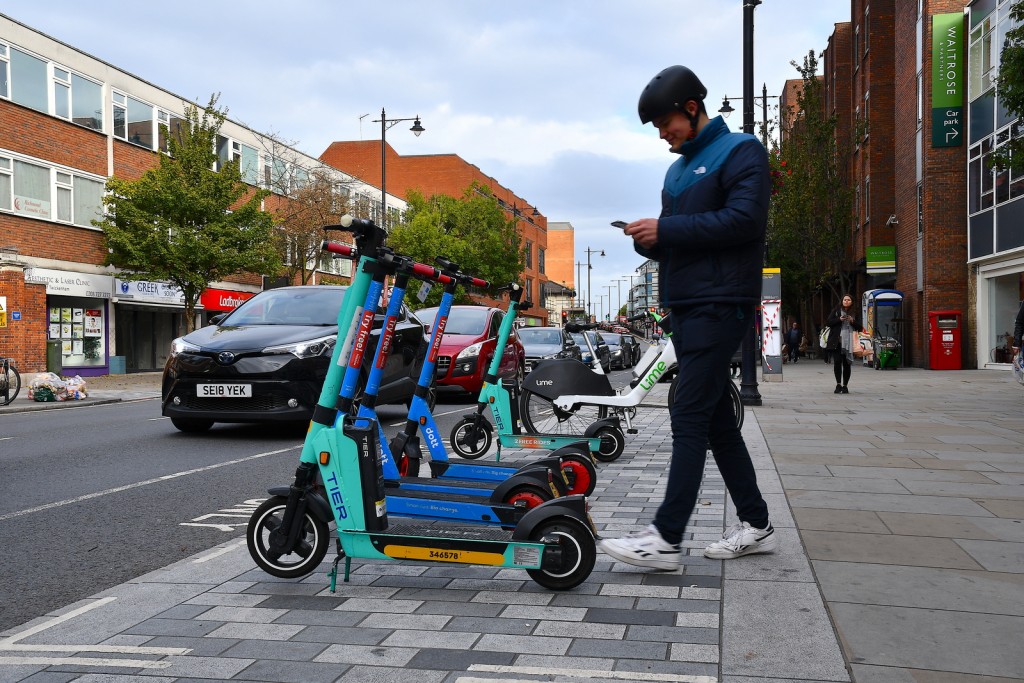 Still, at £1 to unlock and 19p per minute to hire, the e-scooter was one of the cheaper machines in the event – although we did have to remind Move Electric's ace photographers that we were paying by the minute for it when they were taking ages doing the pre-race photoshoot…
From Twickenham to Stratford: The race route and rules
With such a diverse range of vehicles, we wanted a course that wouldn't massive favour one machine, but would instead give everything a chance, while also allowing for a variety of routes.
So our start was located at Move Electric Towers in Twickenham, south west London, with the finish line 18 miles away in the Olympic Park in Stratford, to the east of the capital. Well, we say Olympic Park… in reality it was an unglamorous car park just round the corner, but it did the trick.
The rules then: well, all six competitors had to follow all the rules of the road and related laws at all times. So no speeding, no ignoring red lights and definitely no riding e-scooters on the pavement.
Everyone was free to plot their own route from Twickenham to Stratford, allowing the e-bikes to take advantage of any bike lanes and short cuts they could find.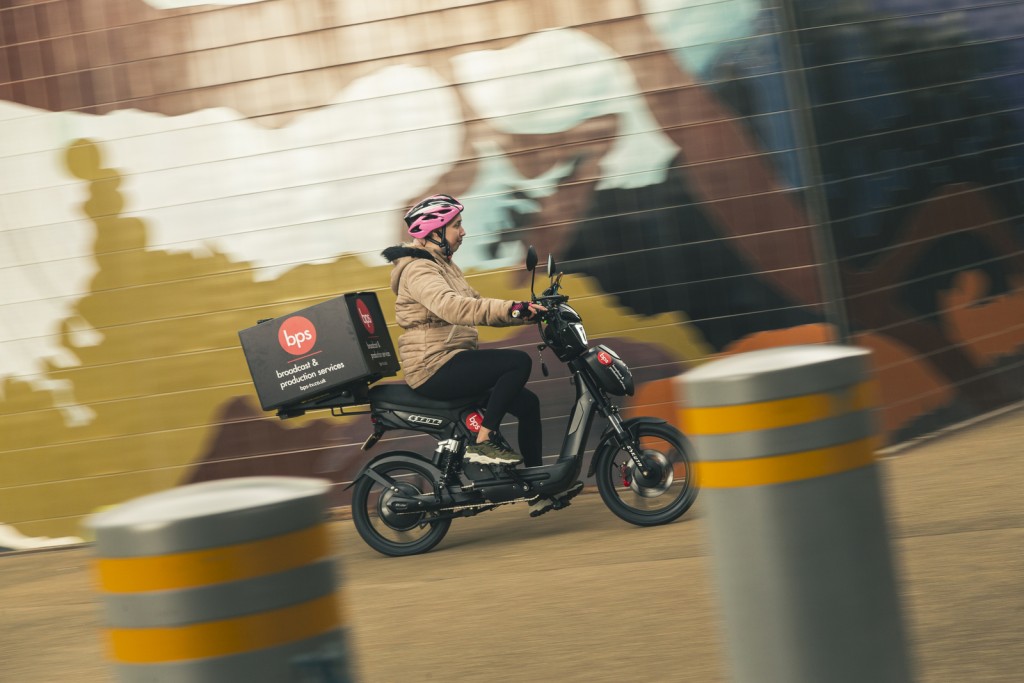 That certainly helped Atlanta on the Eskuta, who largely followed a sat nav but was able to take advantage of some underpasses and bike lanes. Neil took the direct route on the Super Soco, but London's traffic wasn't too much of a problem because he could carefully filter through at the many traffic lights on route.
Lacking experience of cycling in London (and also being just a little bit competitive…), resident Northerner Rebecca spent ages plotting out a route using some of her favoured bike mapping apps, eventually settling on a course that kept her on quieter roads and bike paths for much of the early running.
Piers, by contrast, turned up on the morning, asked for the postcode, bunged it into Google Maps on his smartphone and then winced when he saw the glowing red lines from all the traffic.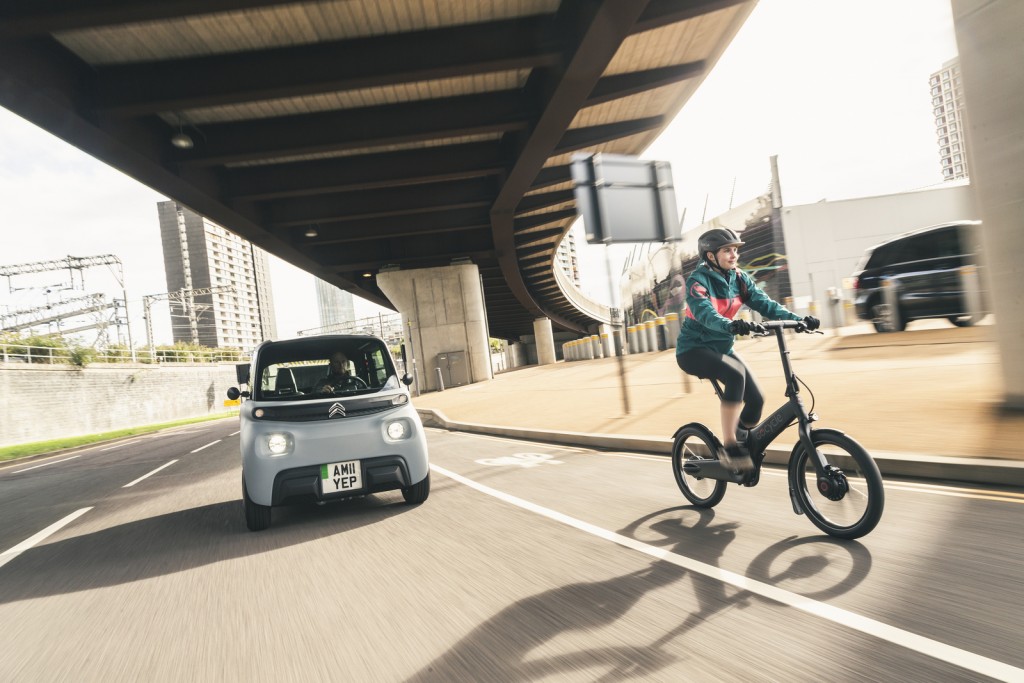 Those red lines didn't put Andrew off, thanks to the Taycan's massive battery: he spotted it was looking potentially quicker to drive around central London than crawl through it, so he opted to take the North Circular much of the way. That nearly doubled his journey to 32 miles – but it did mean he at least managed to get the Taycan up to 40mph.
The biggest challenge fell to Sam, who had to plot his way across London on a rental e-scooter. That meant trying to spot both the slow and no-go zones that delayed his journey and also having to avoid some boroughs completely, since not all London councils are part are taking part in the trials.
Unfortunately for Sam, Stratford is one of the boroughs that doesn't allow rental e-scooters, which meant he was never actually going to reach the finish on two wheels. Instead, he had to leave his machine at the nearest virtual parking bay, and walk a few miles.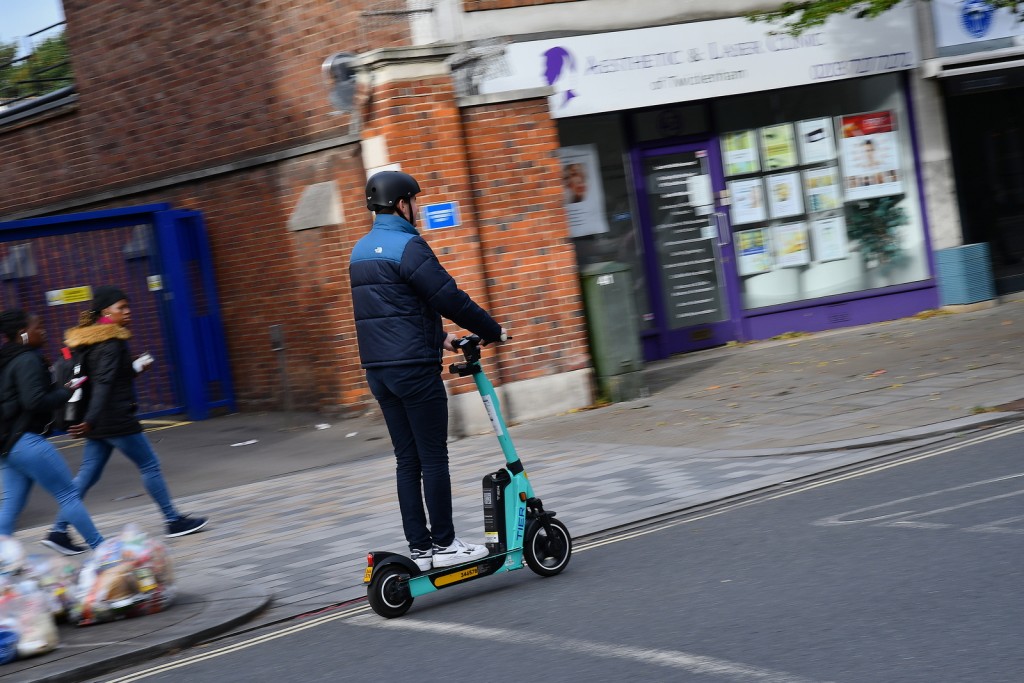 Let's go racing...
The race began from ME Towers at around 1100hrs, partly because we had to get everyone ready and take loads of photos, but mostly to let the worst of London's rush hour traffic calm down a bit. 
Unfortunately, after a dry but cold morning, early progress was scuppered by a massive shower that arrived just minutes after the start. This didn't really affect Andrew in the Taycan or Piers in the Ami, since they both had a roof to keep them dry, but our intrepid bikers and e-scooter rider were soaked. And even though the downpour didn't last long, it was cold enough they didn't really dry out for the rest of the day.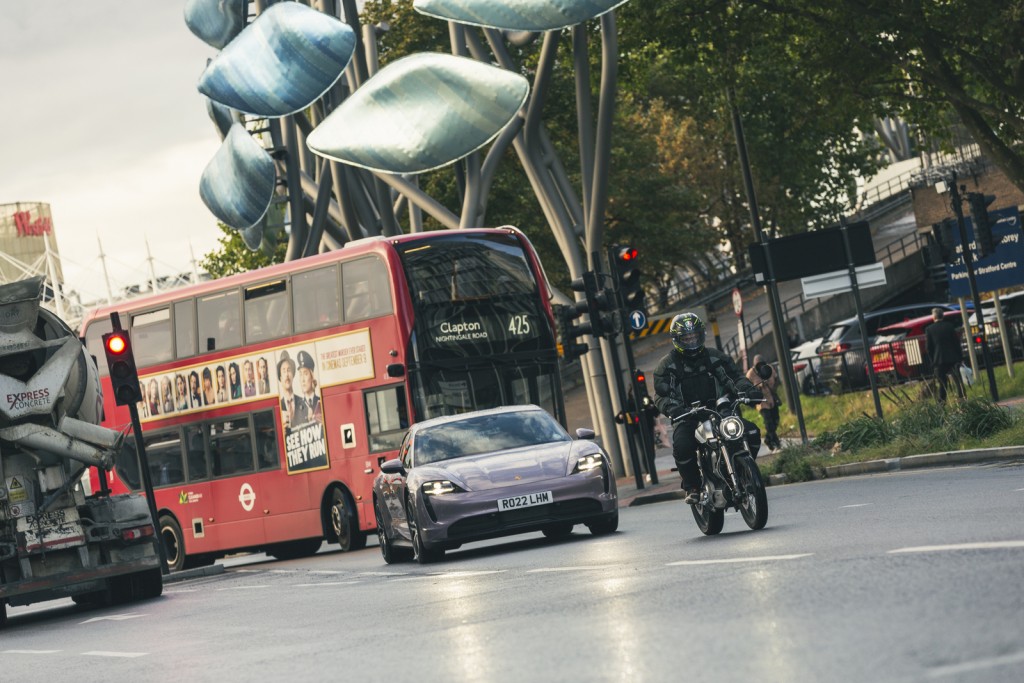 Predictably, Neil surged ahead early on, while Piers also made good progress in the Ami on the relatively quiet roads through Richmond and into Hammersmith. Rebecca and Atlanta both took different routes in the early going, with Atlanta quickly crossing the Thames while Rebecca stayed south of the river (fewer black cabs to contend with, presumably).
Sam was soon lagging behind, largely because the limited top speed of the rental e-scooter meant he couldn't take advantage of the quiet roads.
Once the traffic began to build, Piers began to struggle in the Ami: it might be small, but it can't duck around a queue of cars like an electric bike or motorbike can. By contrast, Rebecca started to make real progress, helped by bike lanes and the fact that the G4 can go quicker than 15.5mph if you pedal fast enough.
Unfortunately, Rebecca soon encountered a problem: our G4 was a demonstrator model from Gocycle, and unbeknown to us had a special security feature that meant when it hit 60 miles it disabled the electric motor. Which, awkwardly, happened when Rebecca was only a mile or two into the race.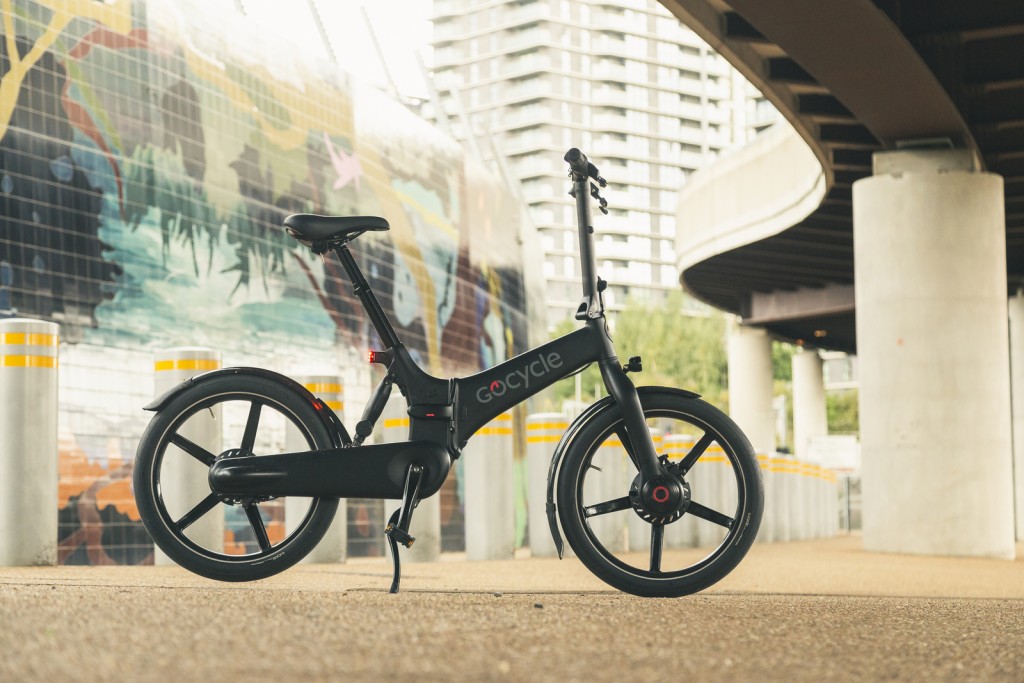 That mean she was forced to do the bulk of the route with no electric assist: the G4 still worked, but it was effectively a regular bike with a bit of extra weight thrown in. That enabled Atlanta to catch and pass Rebecca as their routes converged on The Mall in front of Buckingham Palace. 
Andrew didn't get to pass anything so scenic on the North Circular – Ikea Wembley is easy to spot, but not exactly palatial –but he did get to make reasonable progress at 40mph. Until Google detected stationary traffic ahead. It suggested an alternate route, which Andrew happily took, and although it involved threading down some random roads in North London it kept him on the move, and surprisingly close to the pace.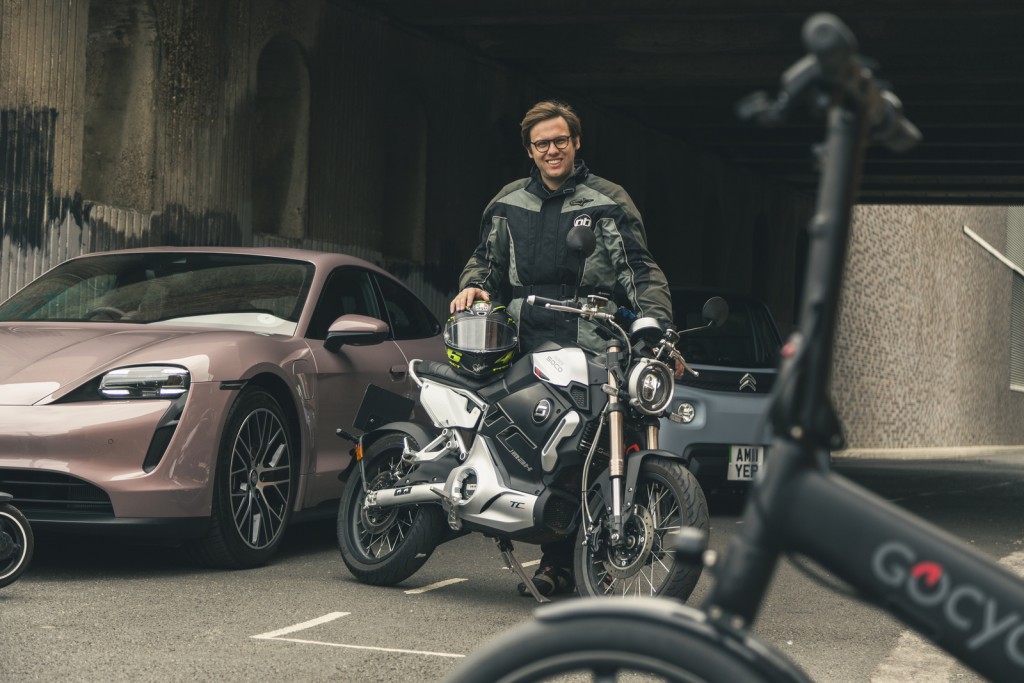 But there was really nothing that could match the Super Soco. With enough power to keep to the speed limit and the ability to thread through traffic, Neil had all the advantages for an 18-mile city trip. That meant he was the first to reach the finish, completing the 18 miles in 1hr 20 mins.
Andrew was next up in the Taycan, exactly 10 minutes slower on 1hr 30mins. 
Atlanta was the first of the e-bikers home, with the Eskuta finishing in 1hr 36 mins – just six minutes slower than the Taycan. Just as impressively, Rebecca wasn't far behind on the hobbled G4, finishing in 1hr 43mins.
Unable to drive round London's traffic like the Taycan, Piers could only sit in it, and his finish time of 1hr 54mins reflects that as much as the Ami's abilities.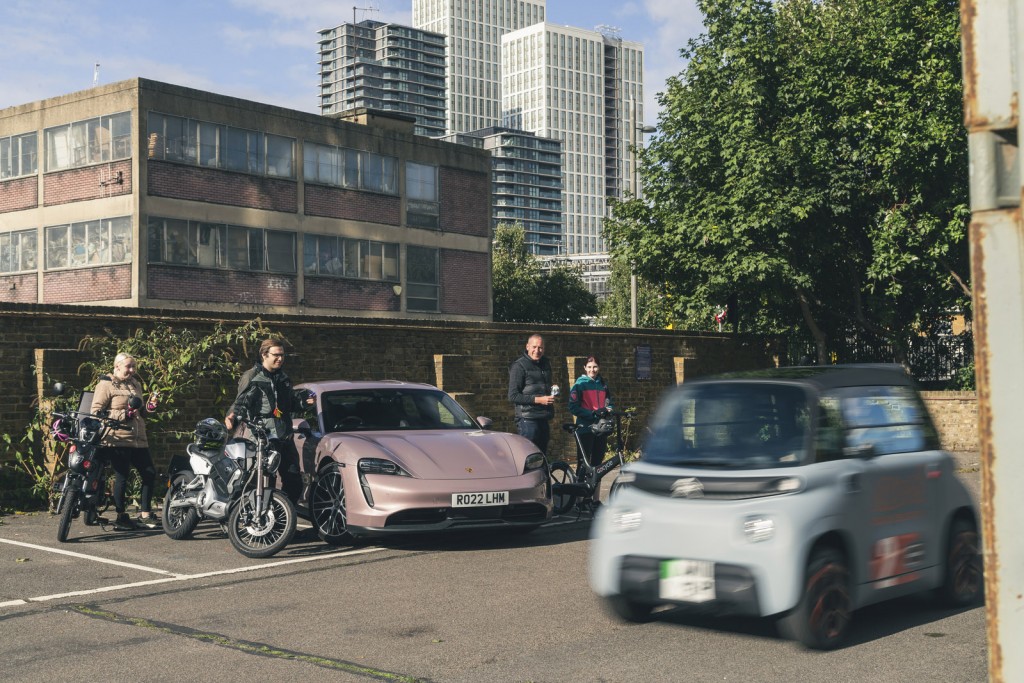 Still, at least he made it to the finish: Sam arrived on foot. But then, as noted, he was never actually going to make it thanks to the confusing rental e-scooter rules.
The E-Race Across London: what we learned
While it wasn't exactly a scientific experiment, our big E-Race across London did demonstrate the strengths of different forms of electric vehicle – and perhaps some tips for crossing London.
First, if you want to make quick and clean progress in a city, an electric motorbike is where it's at. The Super Soco TC Max was the ideal tool for the job, and took the comfortable victory everyone had predicted for it.
But it isn't perfect: without the ability to charge on the go, Neil had a far more precarious journey trying to nurse his battery life back to ME Towers after the race.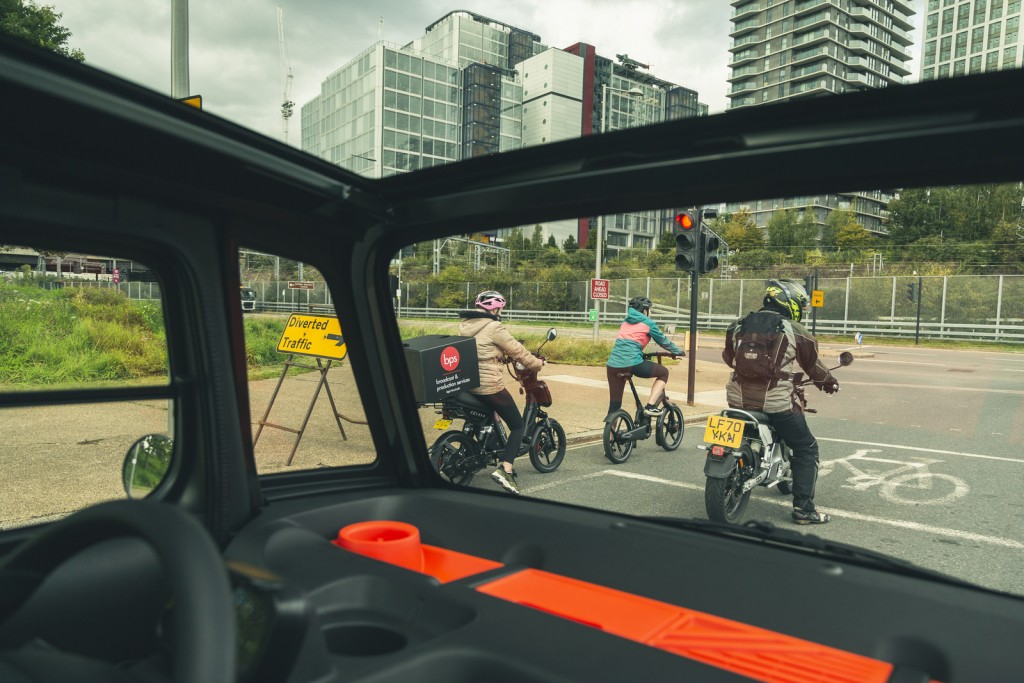 The next lesson was provided by the Taycan and really applies to anyone considering driving through London: it might well be quicker to drive around it. Andrew's decision to seek out faster roads such as the North Circular meant he kept moving, and it was one less car crossing the heart of a city that already has too many cars in it.
The e-bikes definitely proved their worth: the Eskuta finished just 16 minutes slower than the Super Soco, which is great news if you haven't got a motorbike licence. And Atlanta reckons she could have gone quicker with a bit more local knowledge.
Meanwhile, spare a thought for Rebecca on the Gocycle: with the G4's ability to combine pedal and electric power, she definitely could have gone substantially quicker on a working bike. Quick enough to beat the TC Max? Perhaps not. Fast enough to beat the Taycan? We reckon so…
The Ami was never really going to shine in an 18-mile race, but it's really not designed for that purpose: it's intended for short jaunts around your local area. Still, it at least kept Piers dry in a downpour.
Even our straggler, e-scooter rider Sam, proved a point. E-scooters have a definite role in urban transport, but it's absolutely not long journeys: they're all about quick, short trips that save you from taking another form of transport. The challenges Sam faced also highlighted some of the confusion caused by the current patchwork of rental trials, and the hope is that some clarity from the forthcoming Transport Bill should clear things up for the future.
Still, for now big congrats to Neil and Super Soco for winning the first E-Race across London. Anyone fancy taking an e-foil down the Thames next time?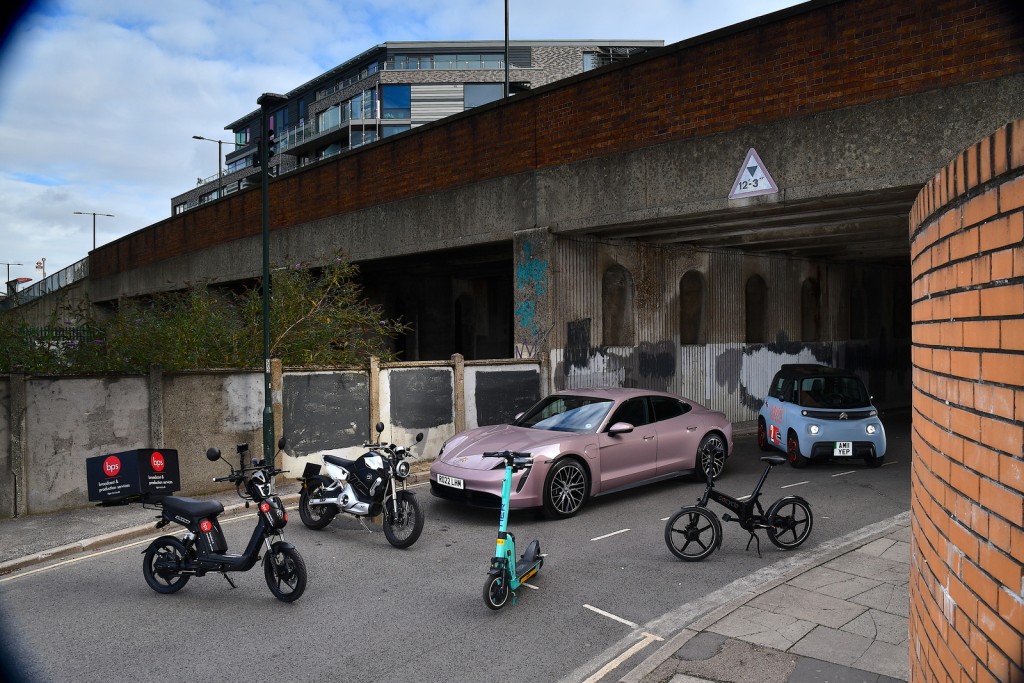 READ MORE
Subscribe to the Move Electric newsletter
e-CARS
Chinese car brand Nio to expand into UK by end of 2023
Driving a Citroën Ami around London: five things we learned 
New Polestar 3: 380kW performance EV aims to 'redefine' the electric SUV
e-BIKES
Seven essential accessories to improve your e-bike life
The Lake District village that's pioneering community e-bike schemes
e-MOTORBIKES
Honda to launch more than 10 electric motorbikes by 2030
New Zero DSR/X launched as electric adventure motorbike
Stilride: the brand reinventing electric motorbike production
e-SCOOTERS
8Tev B12 Roam e-scooter review
Pure Electric launches two new machines that 'reinvent' the e-scooter
Rise in e-scooter accidents prompts call for 'urgent' government action
e-WORLD
Artemis electric ferry revealed for Bangor to Belfast service
New Mobilize Solo Concept is a safety-conscious e-scooter rival
Volta Zero: the electric truck tearing up the rule book for the electric age