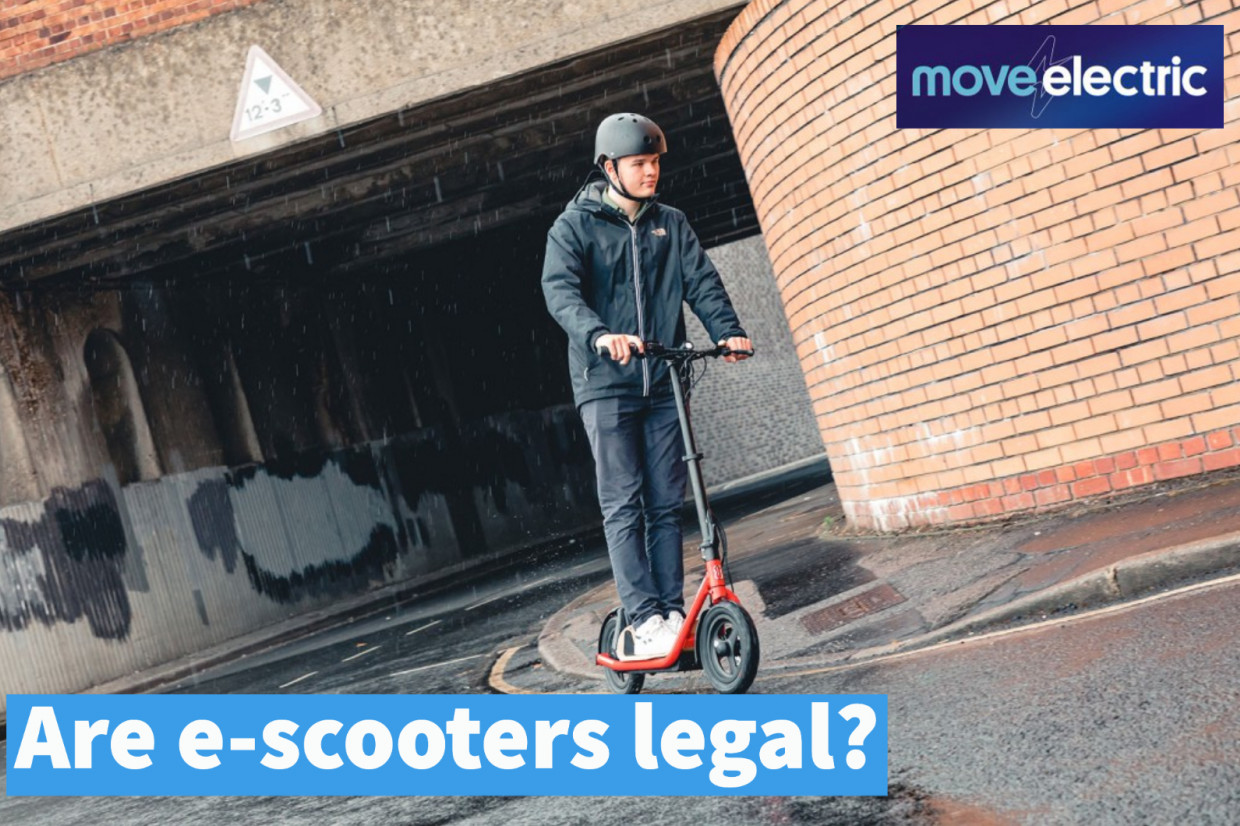 Electric scooters have become a common sight on the streets of the UK in recent years – despite plenty of confusion over their legality.
So if you're thinking of buying one, it's essential you understand all the rules.
The rapidly growing popularity of e-scooters is down to them offering a greener alternative to using a car or motorbike, while being less physical than cycling or walking. They are also relatively cheap, giving them particular appeal to younger users.
Official: UK government set to legalise use of private e-scooters
But while you are increasingly likely to see them on roads, cycles lanes and pavements, should they even be there?
Electric news and reviews in your inbox: subscribe to the FREE Move Electric newsletter
We've put together all the key information you need to know about e-scooter use in the UK – including what is likely to change following the government's announcement it plans to fully legalise them in a new Transport Bill.
The essentials
It is illegal to use a privately owned e-scooter on public roads
The only e-scooters that can be ridden legally on public roads are those used in approved rental trial schemes
It is illegal to ride any form of e-scooter on the pavement
But the government has legalised e-scooters now, right?
The government has announced plans to legalise the use of private e-scooters and other 'low-speed zero-emission vehicles' on public roads in England – but that requires Parliament to pass the legislation.
The government announced in May 2022 that the legislation would be included in a new Transport Bill, but Transport Secretary Mark Harper has now revealed the bill will not be presented in the current session, which is expected to end in Spring 2023.
Planned laws to finalise e-scooters face delay
It has not yet been decided if that Transport Bill, or elements from it, will be presented in the next Parliamentary session, which is due to start next year – and that means there is now no firm answer on when e-scooters could be legalised. 
Even when it does pass, that Department for Transport bill would apply only to England.
Why aren't e-scooters allowed on the road at the moment?
Unlike bikes or pedal-assist e-bikes, e-scooters are powered purely by a motor, which means they are classified as powered vehicles. That means to be used legally on the road they would have to meet all the same legal requirements as cars and motorbikes, such as having a licence, registration, insurance and safety features.
Eleanor Chappell, the head of micromobility for the Department for Transport, said: "For private machines, unless they meet the requirements for motor vehicles – so you've got an motorcycle helmet on, you've got insurance which is hard to get and they meet the motor vehicle requirements – it is still illegal to use an e-scooter on public roads, and the police will continue to enforce it that way."
What about Scotland, Wales and Northern Ireland – and Ireland, since we're asking?
In Scotland and Wales, the devolved governments have indicated they are looking at legalising e-scooters – but have not set out plans for legislation to do so yet. The Northern Ireland Department for Infrastructure has said it is 'monitoring developments', but doesn't have any plans to legalise them yet.
Click here for the latest e-scooter news from Move Electric
The Irish government is looking at new laws that could legalise e-scooters, but these will not be introduced until 2023 at the earliest.
Move Electric's e-scooter manifesto: how and why we think they should be legalised
Okay... so at present are e-scooters legal to buy and use?
Major high street and online retailers are actively promoting the sale of e-scooters owing to their growing popularity – and yes, it is completely legal to purchase one.
Crucially though, privately owned scooters are restricted for use solely on private land with the permission of the land owner. It is illegal to use a privately owned e-scooter on pavements, cycle paths or roads at present.
Under current UK law, e-scooters are classed as 'powered transporters', which means they are treated in the same way as motor vehicles, so pavements and cycle paths are strictly off limits. But to be used on a public road they would have to meet the same requirements as cars and motorbikes and have the correct MOT, tax, insurance, licence and construction techniques, which currently is virtually impossible technically and financially.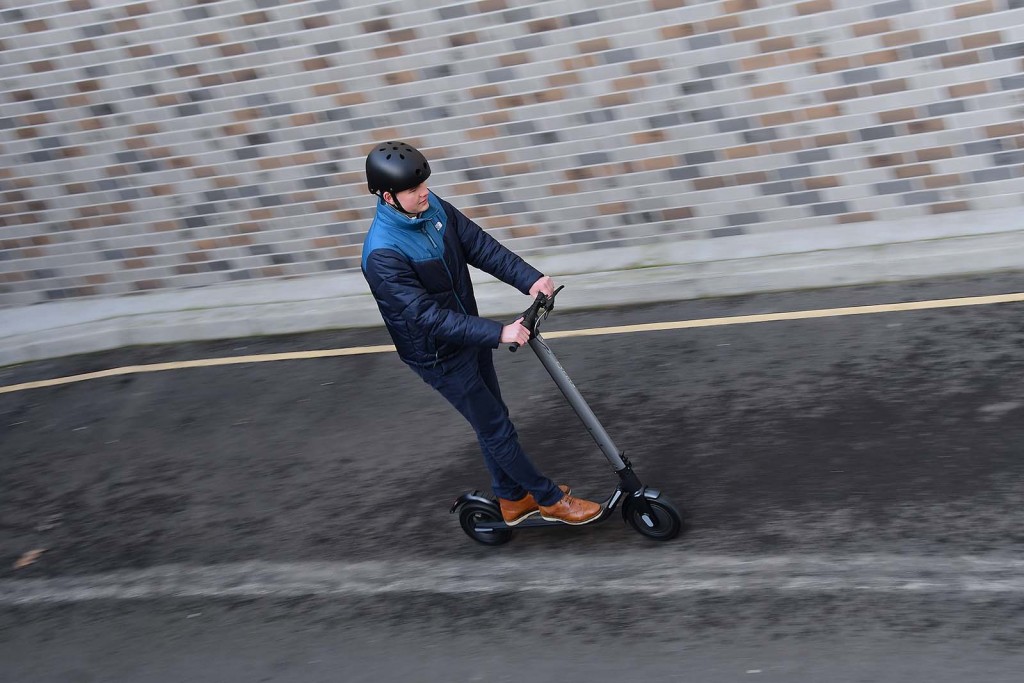 If I buy an e-scooter now, will I be able to use it when they are legalised?
Not necessarily. The government has yet to outline specific regulations for the e-scooter class of the 'low-speed zero-emission vehicle' category – but it has said that "safety will be at the heart" of the new regulations.
Even after the government introduces a bill and publishes a proposed set of rules, the regulations will go out for consultation and must then be approved by parliament. It is only when they are signed into law that it will be absolutely clear what the rules are.
The rules are likely to be based on the rules for e-scooters in rental trial schemes (see below), and include a strict speed limit (around 15.5mph), a minimum wheel size to help with pot holes and rules requiring the machines to be fitted with brakes, daytime running lights, indicators and possibly acoustic warning systems.
While many private e-scooters currently on sale have some of those features, not all do – which means those machines wouldn't be road-legal even when the new laws come into force. 
It's also possible the government could also introduce some form of e-scooter registration or licence scheme, and it's not yet known if existing private e-scooters would be able to qualify for that. 
What are the rules about rental e-scooters?
You can legally use machines that are part of government-approved and council-sanctioned rental trials on public roads in the UK.
Those schemes began in July 2020 and were originally due to run for a limited period to help the government gather data on e-scooter usage, but have now been extended until at least May 31, 2024. The government has indicated that only areas currently running trials will be able to extend them, with no new trial regions added.
London extends e-scooter trials into 2024, and invited bids from new operators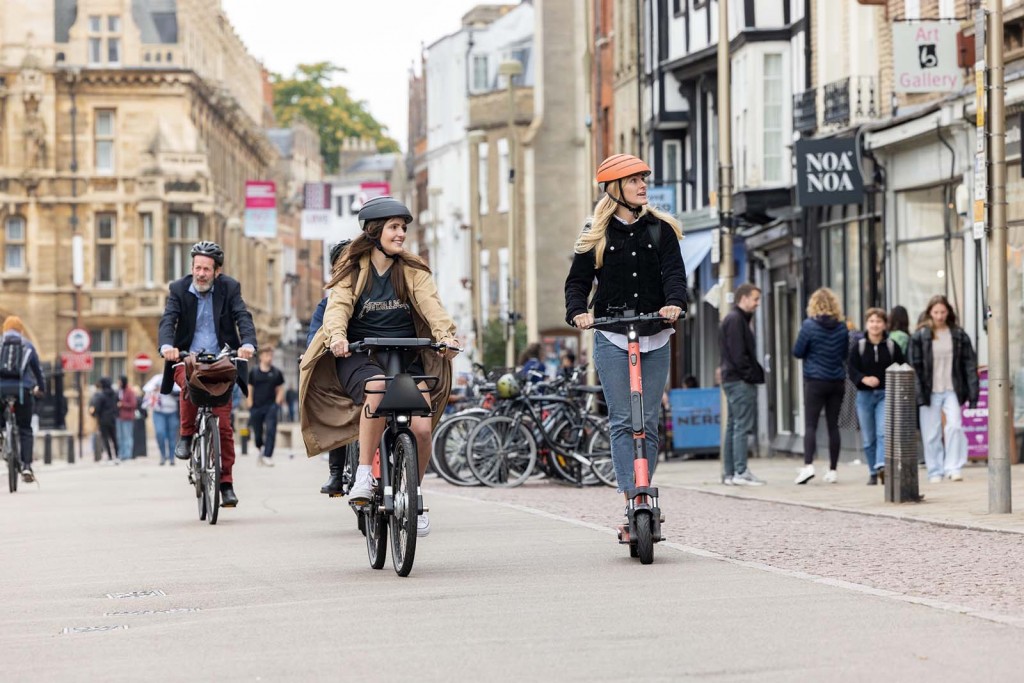 There are currently rental trials in 31 regions across England, run by companies such as Lime, Bird, Superpedestrian, Tier, Voi and Neuron. There are currently no trials in Scotland or Wales.
How and where to rent e-bikes and e-scooters in the UK
Those trials are the only way you can ride an e-scooter on public land legally, and there are a number of restrictions and rules in place. 
Firstly, you must be over the age of 18 to hire one. You also need a valid driving licence with a category Q entitlement. If you're unsure whether you have this, remember that a full or provisional UK licence for categories AM, A or B includes entitlement for category Q.
When you rent an e-scooter, it can only be used within the boundaries of the trial zone. It's also worth reading the small print or checking the operator's app, because further restrictions may apply depending on the area you are in.
There is also a maximum speed limit of 15.5mph, but it is lower in some areas: scooters in London are limited to 12.5mph, and they can be reduced to as low as 8mph in certain areas. Since 1 April 2022, the government requires lower speed limits for new riders.
Often e-scooter speed limits are enforced via tracking, so the machine will automatically restrict its top speed in areas where the limit is lower, but it is good to be aware of the rules yourself.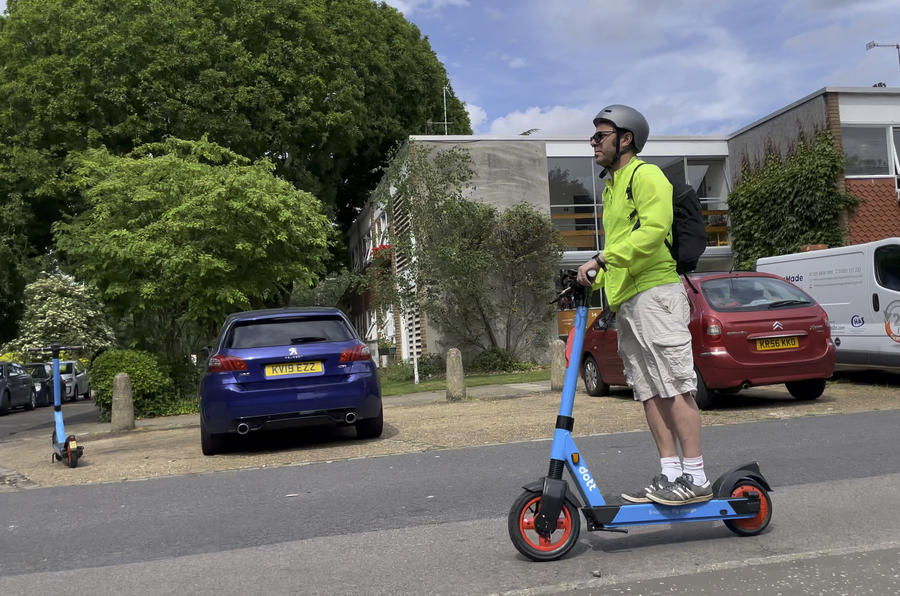 You must also have insurance. At present, e-scooter rental operators currently supply this as standard. Operators are now also required to display a label with a unique identification number akin to a licence plate.
You may use a trial e-scooter on the road - although use on faster roads, dual carriageways and motorways is banned - and in some cycle lanes. You must not use a rental e-scooter on the pavement.
You must ride an e-scooter solo, and you are not allowed to carry a passenger.
Wearing a helmet is not compulsory but is strongly recommended, and operators are required to offer incentives to do so.
Most rental schemes also have rules requiring you to park machines in designated areas, and operating hours for such schemes. Since April 1 2022, rental scheme operated are required to offer parking incentives and penalties. Some schemes now feature special e-scooter parking docks.
What are the technical rules for rental trial e-scooters?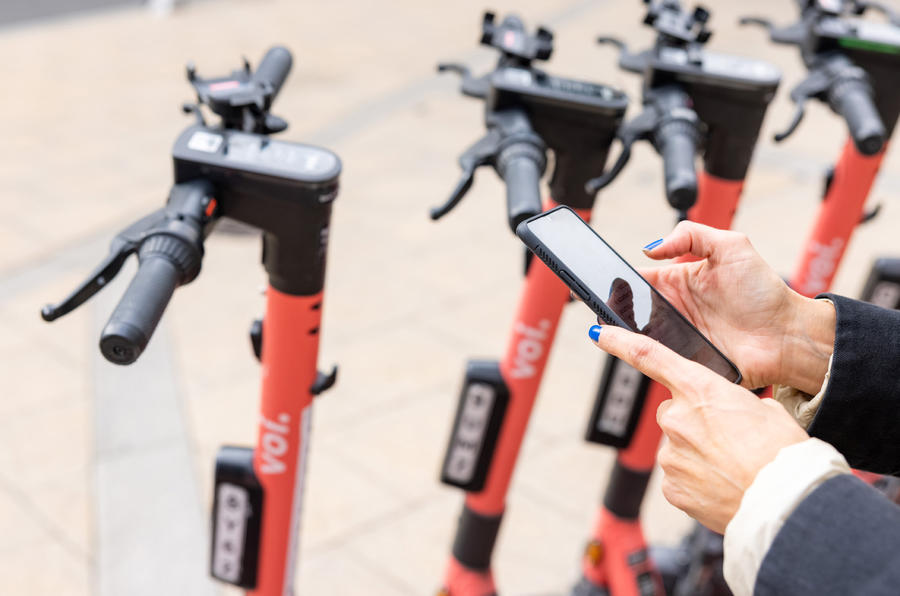 The motor has a maximum power output of 500W, a top speed of 15.5mph, two independent braking systems and cannot weight more than 55kg. The machine must have front and rear lights (direction indicators are optional) and reflectors and a stand.
Rental e-scooters must also be steered by handlebars that are mechanically connected to the front wheels, and there must be a way of controlling the machine's speed via hand controls.
Expect those regulations to be very similar to the rules applied to private e-scooters when they are eventually legalised for road use.
Are the rules of the road different on a rental e-scooter?
No: rental e-scooter users are subject to the same rules as any other road user.
That means mobile phone use is banned and riding under the influence of drink or drugs will lead to prosecution. You are not allowed to ride an e-scooter on the pavement.
You aren't allowed to carry a passenger and there are some weight restrictions that must be adhered to. The operator of the rental scheme will provide more details of these, usually through their smartphone app.
How and where do I ride an e-scooter legally?
There are currently more than 30 towns and cities across England taking part in e-scooter trials.
The trials are mainly in urban areas, where there is a focus on trying to reduce congestion and air pollution caused by the number of vehicles and to replace short journeys with greener transport solutions.
If a rental trial is operating in your area, you need to download an app and register with the operator. That will involve giving details of your driving licence to ensure you meet all the requirements.
Then, once you've located a vacant e-scooter (which the app will help guide you to), just follow the instructions on the screen.
So long as you meet the requirements to ride, the e-scooter will be released and you can get on your way.
Hire prices vary, but typically start at £1 to unlock the e-scooter and 15p a minute thereafter. Some operators offer daily, weekly and monthly passes for a set fee, albeit often with daily ride time limits. And some schemes only operate between certain hours.
Find out how we got on hiring an e-scooter to travel around London 
Can I use my own e-scooter in a trial area?
No. The purpose of the trials is to establish how safe e-scooters are, how they can integrate within the current transport system and ultimately decide if they have a viable role to play in a future transport landscape that includes micro-mobility.
As such, the official trial e-scooters are monitored and geofenced to stop them leaving certain areas and they have restrictions in place to avoid things like speeding.
The trials have been set up to allow the companies running them and authorities to monitor who is using them, how long they are used for, distances travelled and rider behaviours, with the end goal of having enough data to decide whether or not they should be legalised.
This can't be done with privately owned e-scooters.
There are a limited number of 'long-term' trials, where users effectively rent their own machine they can keep at home. But they still need to meet all the other trial rules.
What are the risks if I use my own e-scooter on public land at the moment?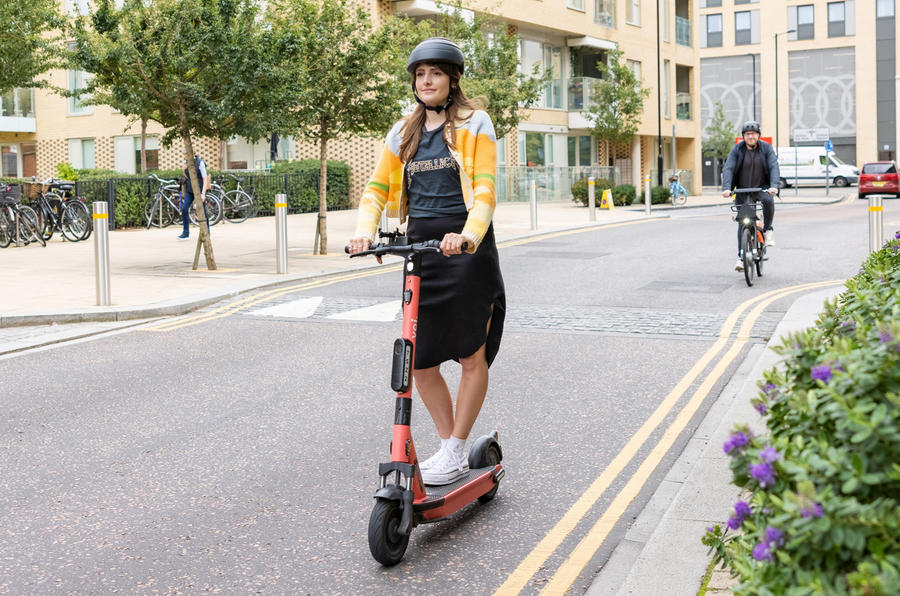 Until the new Transport Bill legislation is passed, riding your own e-scooter in public will put you on the wrong side of the law.
Government legislation is clear on the risks, stating: "The potential penalties depend on the nature and gravity of the offence, and sentences range from fines and penalty points to disqualification from driving.
"Those who use powered transporters dangerously or under the influence of drink or drugs can also be convicted of offences leading to imprisonment. Offences related to the standard of driving and speeding also apply."
You could be fined, giving penalty points or even banned from driving. And your e-scooter could be seized permanently – a sizeable punishment in itself, given that prices typically start at £300 and rise to £1000s.
Following the launch of trials in London, chief superintendent Simon Ovens of the Metropolitan Police Service stressed that the trials would not lead to any more leniency towards private owners e-scooting on public land: "The Metropolitan police are pleased to support this trial to enable the government to be informed of how these e-scooters may form part of our transport infrastructure in the future.
"However, we'd like to remind everybody that private e-scooters used outside this trial remain illegal and will be dealt with by way of seizure."
Should I wear a helmet and other safety equipment while riding an e-scooter?
As with cycling, it isn't compulsory to wear a helmet while riding an e-scooter – although it is strongly recommended, and many trial schemes offer incentives to do so.
There have been limited studies into head injuries in e-scooter accidents, and there are suggestions current bike helmets do not offer optimal protection for e-scooter riders due to the difference in machine design. It is possible that bespoke e-scooter helmets could be developed in future.
That said, we'd recommend any step you can take to keep your head safe, and wearing a helmet seems an easy way to do that.
Are e-scooters safe?
The number of accidents involving e-scooters are increasing: in the year from July 2020 until June 2021 there were 882 accidents involving e-scooters, resulting in 931 casualties and, sadly, three fatalities. The bulk of injuries were to e-scooter riders.
Tragically, there has recently been the first fatality of a pedestrian. Nottinghamshire police said that Linda Davies was struck by a private e-scooter being ridden by a 14-year-old. The boy remained on the scene and called the emergency services. He has since been interviewed under caution.
In December 2022, a 12-year-old e-scooter user in Birmingham was tragically killed after colliding with a bus. Police are still investigating the incident, which is understood to have involved a trial e-scooter. There is currently a minimum age of 18 to use those machines.
While any death or serious injury is tragic, to put those statistics in context: there were a total of 119,850 people were injured in road accidents between July 2020 and June 2021, with the vast bulk of incidents involving cars.
The data also shows that the bulk of injuries involved riders using private e-scooters, with the machines in the government-approved rental schemes significantly safer. And one study – albeit funded by an e-scooter operator – suggested e-scooters could be safer than bikes.
Rental e-scooters operators are also working to address concerns from vulnerable pedestrian and road users, such as those with impaired visibility. For starters, e-scooters are not allowed to be used on pavements, so should largely be separated from pedestrians.
Some rental trial schemes are also working with experts to develop a universal warning noise – similar to the noise electric cars are required to make – to help alert other road users to their presence.
Ultimately, the government's wish to legalise and regulate e-scooters is, in part, because it will allow them to introduce rules that will improve the safety of the machines – both for riders and other road users.
What about the fire risks of e-scooters?
There are concerns about fire safety, following a number of incidents in which lithium batteries have caught fire. It's worth noting those incidents are generally thought to involve e-scooters or e-bikes that have been modified illegally.
The recommendation is that you don't leave an e-scooter battery plugged into charge unsupervised, and always make sure there is adequate space around it due to how hot batteries can get when charging.
It is likely this issue will be addressed in the new regulations for e-scooters, with standards potentially placed on battery size, design and construction.
Can I carry an e-scooter with me on a train?
This is a common question from people who want to use their e-scooters for commuting – or are thinking of doing so if and when the machines are legalised.
There's no simple answer to this one: you'll need to check with the company that operates the train you're planning to catch. That's because a number of operators including Transport for London and Northern have banned e-scooters and similar machines from being carried on their services - or even into their stations.
Which train firms have banned e-scooters?
They have done so because of the potential fire risk of the lithium-ion batteries. Most firms continue to allow e-bikes, because they are thought to be better constructed and less likely to have damaged batteries.
What does the future hold for e-scooters?
The government has announced a Transport Bill that included plans to create a new category of low-speed zero-emission vehicles, including a class for e-scooters. But we now know that is unlikely to be put before parliament in the current 2022-'23 session, and it is unknown what will happen to it in the future.
The current rental trials have now been extended into 2024, to help the government gather further data. Those schemes are likely to be made permanent once e-scooters are fully legalised and regulated, although we don't yet know what limits will be in place.
At present, the number of trial operators and individual e-scooters in specific areas is limited. Even once e-scooters are legalised, expect similar limits to remain in place.
What are the rules in other countries?
With e-scooters and similar machines being so new, there's currently a patchwork of regulations for electric scooters. Some countries don't allow them at all, and some allow different versions with various levels of power.
It's all kinds of confusing. If you want an easy at-a-glance guide, Halfords has produced a website outlining the basic rules in most countries.
A view from a leading e-scooter manufacturer
One of the largest rental providers currently operating in the e-scooter trials is Voi.
Voi operates in over 70 cities across 11 countries. To date, it reports having had more than six million users and serving more than 70 million rides. In the UK, it has 17 locations.
We spoke to Jack Samler, general manager at Voi UK and Ireland, for his take on the current trials and what the future holds for e-scooters.
"Thirty-nine percent of our users are telling us they are replacing short car journeys with e-scooters or e-bikes," said Samler. "So far, we estimate our riders have replaced 2.4 million short car trips and reduced over 1300 tonnes of CO2 emissions.
"Currently, Bristol is among the top most popular cities in Europe for e-scooter rides, with over two million rides taken and over 3.7 million miles travelled on Voi e-scooters since the launch of the trial back in October 2020, replacing an estimated 790,000 short car journeys."
Asked what he wanted to see in the future legalisation of e-scooters, Samler added: "Our recommendation would be for the Department for Transport to ensure a level playing field between shared and private e-scooters in any future legislation.
"Legislation permitting the use of private e-scooters should include strict provisions around insurance and vehicle specifications such as maximum weight and speed."
In regards to the classification for e-scooters on roads, he said: "The new classification should remove current regulations which have no impact on safety or sustainability, such as the requirement for provisional or full driving licences."
Additional reporting: Jack McHale
READ MORE
Subscribe to the Move Electric newsletter
e-CARS
Video: Can the National Grid cope with a surge in electric vehicles?
e-BIKES
What to look for when buying an e-bike: Move Electric's top tips
The rise of Volt Bikes: 'when we launched, people thought we were mad'
e-MOTORBIKES
Maeving RM1 electric motorbike review
Q&A: Zapp founder on why electric mopeds are the future
Government plans 2035 ban on new non-zero emission motorbike sales
e-SCOOTERS
Tier to upgrade e-scooter fleet with a smart 'Parrot'
Q&A: Neuron Mobility's UK boss on e-scooters, safety and helmet selfies
e-WORLD
Polestar to supply battery tech to electric boat firm Candela
Engineering giant ABB working on electric Dover-Calais ferry
Up, up and away: even hot air balloons are going electric