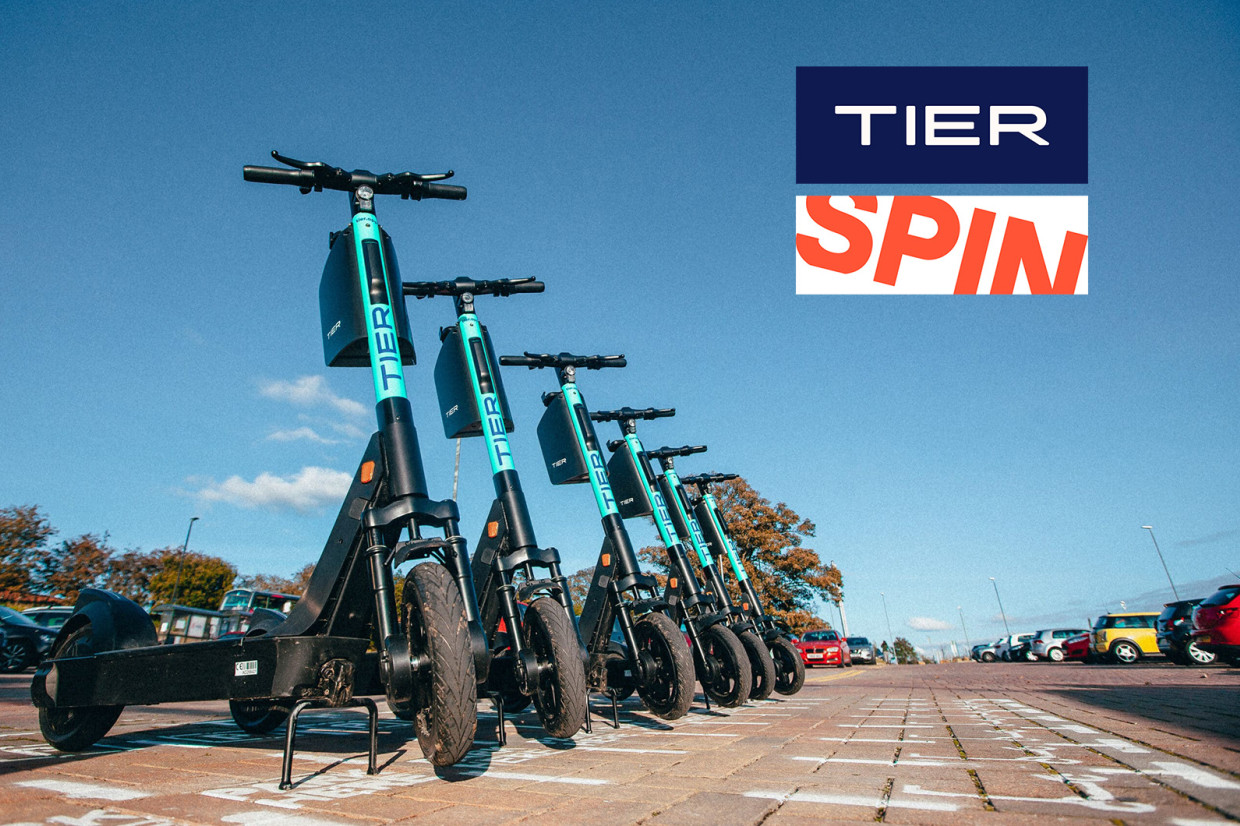 Leading e-scooter rental firm Tier Mobility has snapped up rival Spin from car giant Ford.
German-base firm Tier is one of Europe's largest micro mobility firms, with 250,000 vehicles operating in 410 cities, and in the UK currently operates government-backed e-scooter rental trials in London and York in the UK. Meanwhile, Spin has operations in more than 70 cities worldwide, with UK rental trial schemes in Milton Keynes and a number of locations in Essex including Basildon, Chelmsford and Colchester.
Subscribe to the Move Electric newsletter
Purchasing Spin means that Tier's network now covers more than 520 cities in 21 countries, with a fleet of more than 300,000 vehicles. Spin's large presence in North America – where Tier has not previously operated – is likely to have been the key to the deal.
Spin was founded in San Franciso in 2016, and was bought up by Ford two years later. The car firm has been using it to help evaluate future micromobility options and services that could complement its main operations. Financial terms of the deal were not disclosed.
Tier says that it will aim to integrate Spin innovations such pavement-riding detection technology and sustainable charging infrastructure into its operations. The firm says that it will invest in upgrading the current Spin e-scooter fleet with Tier's existing swappable batteries, as part of a number of upgrades.
Are e-scooters legal in the UK?
Spin CEO Ben Bear said: "Both [Tier and Spin] believe in a partnership-first approach, operating with employees rather than contractors, and helping get people out of cars by offering sustainable, equitable, and safe micromobility services."
Franck Louis-Victor, Ford's vice-president of new businesses, said: "We believe there are incredible synergies between Spin and Tier, and this new era will provide scale that's desperately needed in the competitive micro-mobility sector. We are pleased to remain in the mix as a strategic investor in Tier and look forward to their continued growth."
The Spin deal is the third time in recent years that Tier has bought up a rival firm. It recently acquired Italian firm Wind Mobility, and bought bike share firm Nextbike last year.
Spin's North American operations will continue to be run as a separate entity, although its UK business will eventually be integrated into Tier.
READ MORE
Subscribe to the Move Electric newsletter
e-CARS
The 10 electric cars with the longest range
e-BIKES
Desiknio Pinion C1.9 Classic e-bike review
Ride for a worthy cause: Big Issue eBikes launches in Bristol
e-MOTORBIKES
Triumph reveals first electric TE-1 motorbike
BMW CE 04 electric scooter review
e-SCOOTERS
Superpedestrian Link e-scooter: first ride
The new battery tech designed to make e-scooters more sustainable
e-WORLD
New Candela C-8 electric hydrofoil has first 'flight'
Awake Ravik S 22 aims to take electric surfboards to the extreme