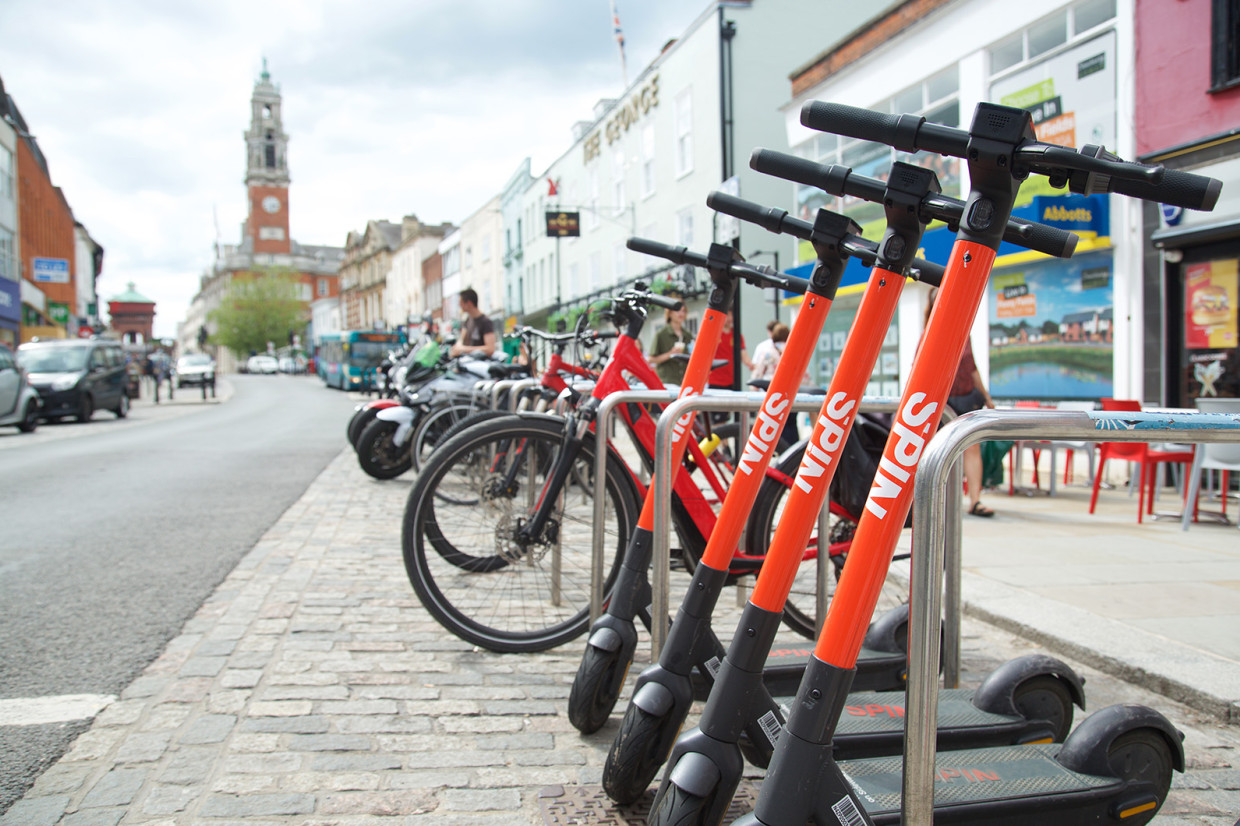 When you think of Ford, you probably picture perennial best-selling cars such as the Fiesta, Focus and - for electric car fans - the Mustang Mach-E. You probably don't think about e-scooters.
Yet, if you're in Milton Keynes or parts of Essex, you can currently take a ride on an e-scooter run by the Blue Oval – or, to be precise, it's subsidiary company Spin.
The ride-sharing firm was founded in San Francisco in 2016, and was snapped up by the Ford Motor Group – like many car firms is keen to investigate opportunities in the mobility market – two years later. Spin now offers e-scooter and e-bike rentals in more than 70 US cities, and is slowly expanding in Europe.
When the UK government offered tenders to run trial e-scooter services, Spin won several tenders. It launched in Milton Keynes in August 2020, followed in December that year by a number of locations across Essex, including Basildon, Chelmsford and Colchester. It has run a variety of trials, including app-based rental services and a monthly hire scheme.
Are e-scooters legal in the UK? Everything you need to know
Spin recently achieved a milestone million e-scooter trips taken in the UK, while many of its trials have now been extended until the end of November. Move Electric caught up with Steve Pyer, Spin's UK boss, to find out what the firm has learnt from its UK operations so far.
Lesson 1: E-scooters are not what people expect
Pyer understands why some people are sceptical about the benefits of e-scooters: he admits that he used to be.
"My background is in bike sharing schemes, and I wasn't sure how the UK would take to e-scooters," says Pyer, who has a long history working in rental bike schemes, including on the London cycle hire scheme - aka 'Boris Bikes'.
"The image in my head was those little scooters kids use to get to school, so the first time I got on one of these big, solid things was kind of a 'wow' moment. It was like I'd just got on an e-bike, and I thought 'okay, there are really cool'.
"I think a lot of people that are sceptical before they try e-scooters picture little kids scooters with big motors on that do 100 miles an hour. But when they try them, they see they are very long, wide and stable. They've got bigger wheels these days, and suspension on the front to better copy with potholes – although we always suggest people wear helmets."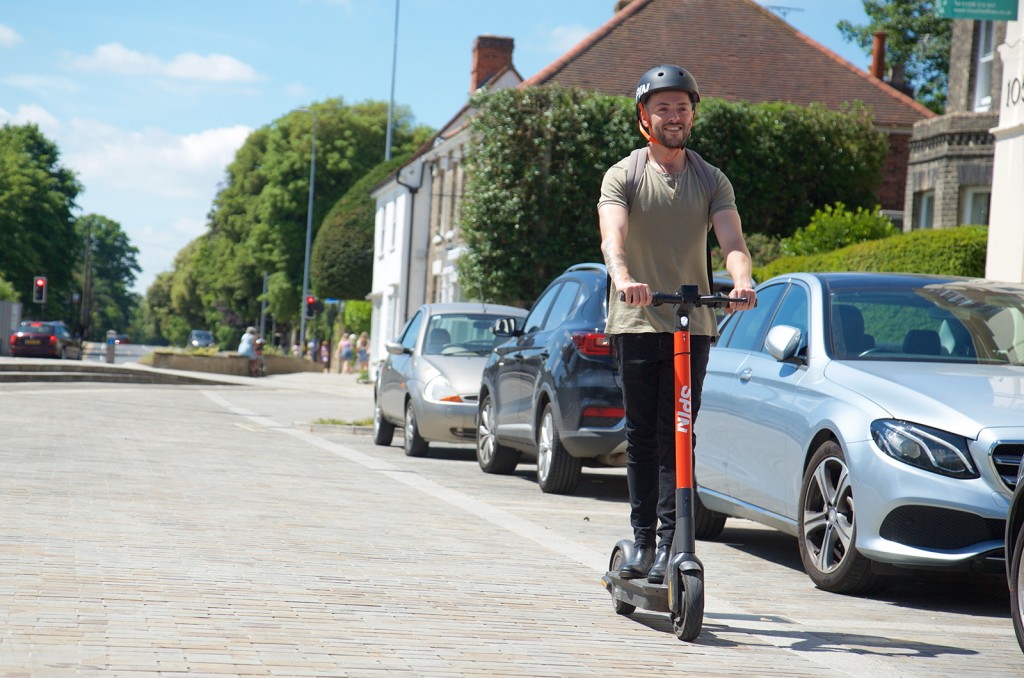 Pyers adds that Spin has had to offer "an element of education in teaching people to ride safely", particularly when it comes to navigating parked traffic on narrow roads. "That's why I agree with the need to have a driving licence to use one."
Lesson 2: the Romans did not plan for e-scooters
With Pyer's preconceptions likely reflecting much UK sentiment, he admits Spin had little idea what take-up for its rental schemes would be. He describes the million rides achieved – with those rides taken by more than 80,000 users – as "phenomenal. We're a bit overwhelmed, to be honest."
He adds: "Most of our projections came from our US contracts, and we've far surpassed anything people expected us to do.
"We thought it could be successful in Milton Keynes because it's designed with big, wide boulevards and space: it's really set up for personal transport. But when you look at somewhere like Basildon, if I'm being honest, it's very car-centric, very Ford-land. You have carriageways closer to the town centre and so on. I didn't think e-scooters would take off as well as they have in places like Basildon and Chelmsford. They're in our top three UK markets in terms of the number of times the scooters are used per day."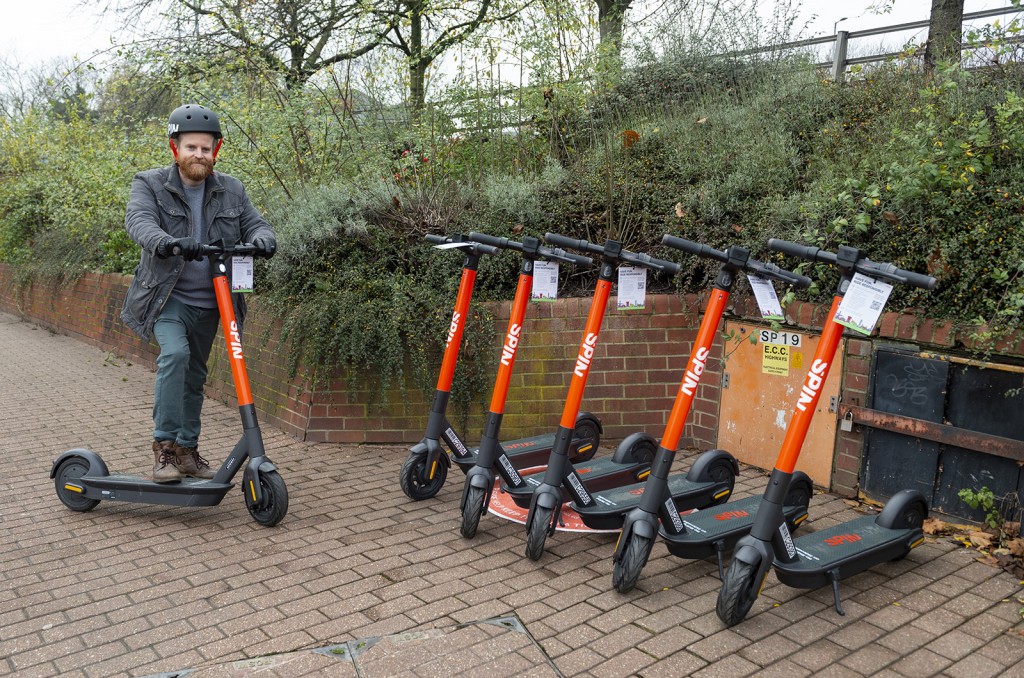 It's that challenge of how to integrate e-scooters into cities that were never designed for them that has led to most of Spin's adjustments. "Colchester was built on Roman foundations with narrow pathways and roads. They weren't designed for cars, e-scooters or anything like that, so we've got to adapt."
That fact that the Romans didn't plan for e-scooters doesn't mean they can't be used in places such as Colchester, according to Pyer - it just required some adaptation.
"We've added no-ride zones, slow zones, and no-parking zones. It's just a different way of working. People in places like Colchester still want to use e-scooters, they're still excited by them, and they come to understand a different way of doing it: it's not completely free-flowing."
Lesson 3: Adaptation is key
Spin has taken the 'trial' element of the Department for Transport (DfT)'s e-scooter trials to heart: Pyer says there have been continual refinement to its services.
"We can and do change things quickly," he says. "It's a continual process. When we started, we created a lot of the zones we apply to the scheme ourselves. I've been in the industry a long time, so I know what to look for, where to put parking spots, and how to lease with councils on what good mobility services look like. We're now working with a professional company that works in highways to help us further refine that.
"We speak to every council weekly, and if we've had a number of complaints in a certain area about, for example, lots of people scooting at 0100hrs in the morning we can go into the software and within five minutes create a no-go zone, put a message in the app explaining it and trial it for a few weeks. We can then reach out to people who complain and get their feedback.
"You've got to be careful. A lot of people do not like change. People might complain about scooters parked on a grass verge, but they won't mind there's 100 cars stuck in a traffic jam next to it because they're used to that. But everyone has a right to a voice, and we have to listen to that and work with the council to decide what is legitimate and what should we change."
UK government considers new vehicle class for e-scooters
He adds: "We can react really quickly if we have reports of people not using our scooters correctly. We can write to people and given them a warning - and we have banned people. We've got a lot of control over thus. When we launched the number of complaints was huge, but they've slowed to a trickle, and are now mostly people asking us to do smaller things."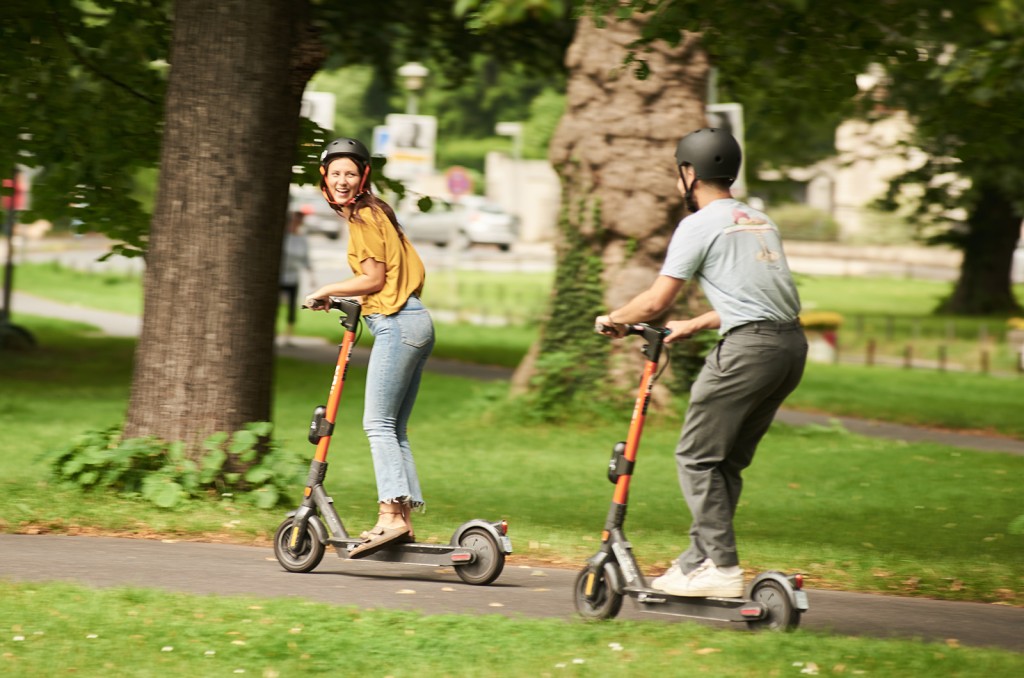 Lesson 4: Engage the community - and be prepared to learn
Knowing there is considerable public scepticism about the safety and benefits of e-scooters, Spin is working with local interest groups and charities in regions where it operates. In Essex it's worked with 15 accessibility groups to form the Essex E-Scooter Trial Access Stakeholder Group. 
"The Thomas Pocklington Trust [a charity that supports blind and partially sighted people] is part of that group, and something they talked to us about was parked e-scooters that had fallen over. At the moment, the underside of our e-scooters are painted black, so if it's pushed over on the pavement if you have poor vision it can be hard to see on black asphalt. So we've trialled 10 scooters with chevrons painted on the bottom – and we're now rolling that out across the whole fleet.
"It's really simple, and it's something I'd never have thought about in years of planning, but someone said 'that would make my life easier'. Everyday is something else and everyday we can change or adapt - whether through technology or spray can."
Lesson 5: E-scooter firms have to prove they can work
E-scooters remain something of a legal grey area: the rental schemes are part of legal trials, but it is illegal to use a private e-scooter on public roads. There is an ongoing debate about whether and how e-scooters should be legalised. And that means firms such as Spin need to prove they can work.
"The trials have been extended until November, but they're still trials: there is a real possibility that they come back in the end and just say 'yeah, no, we don't want these vehicles.' So everything we do is about proving this car work."
For Spin, Pyer says the answer is going above and beyond what is required. One key example: while the DfT allows for a maximum e-scooter speed of 15.5mph, in most areas Spin scooters are limited to 12mph.
Pyer adds: "We've started putting identification plates, a bit like a licence plate, on the back of our scooters, so if anyone has a complaint it's easier to identify. Other firms have done that, and the DfT are now asking all operators to do that. That's how the trials are really feeding information.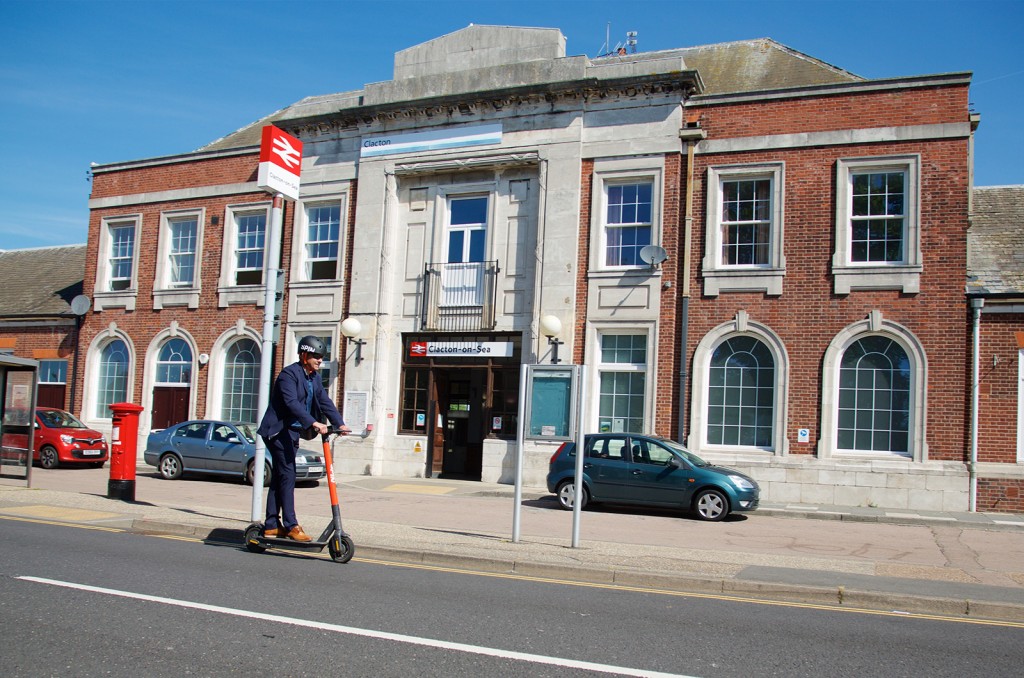 "I think a lot of the stuff we're working on will become standard, such as warning noises. Dott, Lime and Tier are working with a UK university on that. We've separately been talking to Ford about that for quite a long time, because they've had to develop it for their vehicles. We're working on it in the background, but it will become the norm. 
"There's a tender just come out for e-scooters in Chicago, with slightly different rules than in the UK, and on the tender it's mandatory that scooters must have pavement riding detection on them [that stops them being used on pavements]. We're trialling that in the US, and we've got a couple of scooters here we can test it out on. That will likely become mandatory in the UK, and that's the sort of thing the DfT is looking at. We need to adapt, and we need to be responsive. It makes you innovate and change, and do the best you can."
Lesson 6: It's not about getting the most users
An interesting aspect of the UK trials is that firms are limited to how many scooters they can operate in a given area. So firms like Spin can't simply scale up operations by flooding the streets with machines, or by launching into new cities. But Pyer says that fits the firm's ethos.
"Too often micro mobility companies only look at how to make users happy, because getting more users is the key. But about three-quarters of the work we're doing in Essex is about people that aren't using them. We're asking how do we integrate our e-scooters into Essex towns and communities in a way that they find helpful or at least aren't disadvantaged by them? 
"If we had no on-street operations because we wanted to cut costs then there'd be e-scooters parked everywhere, blocking pathways and pavements. And then we'd get a load of complaints and the trial would be closed down. So we work with a local e-cargo bike company, and they've got a couple of people that go around specifically for us and clean up the scooters, change the batteries that when they're low, and make sure they're all tidy."
Pyer also notes that all Spin's staff are full-time employees, with no zero-hour contracts.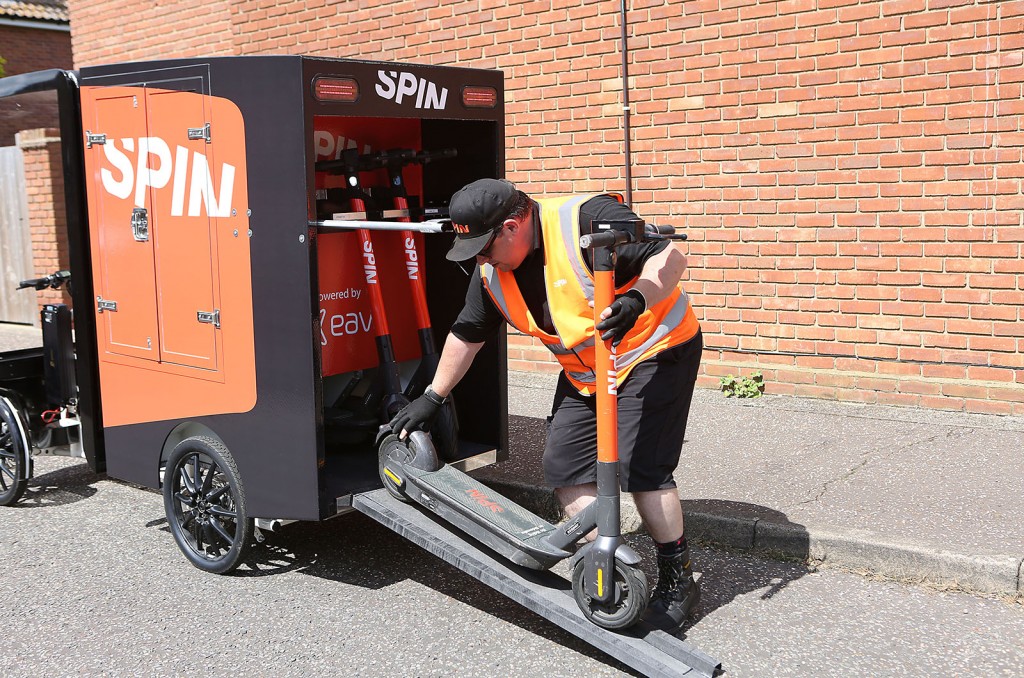 Lesson 7: Being linked to Ford can help
While Spin is owned by Ford, it remains a separate firm: you won't find a Blue Oval on a Spin e-scooter. But Spin can draw on the experience of its parent company when it needs to - and in unexpected areas.
"Ford is looking at all sorts of mobility options, and what they can do. E-scooters are a different choice for different people. People who use e-scooters will probably have a car as well, so why shouldn't Ford be involved in it? We're a part of Ford but we're kept at arms length. We have KPIs to meet, but otherwise it's 'just do what you need to do'.
"In terms of help, we're closely connected to Ford, and regularly speak to them. When we launched in the UK they were pivotal because the DfT very quickly opened up the trials. Ford really helped with the paperwork and the import stuff so we could respond to those trials. Their experience has also been invaluable in dealing with the Brexit import changes. We asked if they might be able to help, and within hours we had support from their lawyers, and advice about their supply chain."
But there could be closer connections in the future: "Ford has some people doing work for us on the new e-Transit, and whether we can have batteries that charge in the back of the van. So we could go out and do battery swaps, put them in racks in the van and charge them, which means we don't have to double-handle them."
Lesson 8: Integration is key to the future
While Spin currently only offers e-scooters in the UK, Pyer is keen to expand that, starting with e-bikes rentals that it currently offers in some other countries.
"E-bikes are definitely the first step," he says. "The future of transport is multi-modal, and the more options people get the better. We have started trialling e-mopeds in some markets in Europe, but we're not sure about the UK because the licence rules are different.
"Ultimately, we're looking at integration with car sharing and any other transport links. If we can become part of a transport network in a town or a rural area – those are the most under-served areas for transport – that would be amazing.
"Basically, we want to show the cities we're in how amazing we can be. Hopefully the DfT makes the e-scooter decision positively, and then a raft of new tenders will come out. So we want to show the best we can be for when those tenders come out."