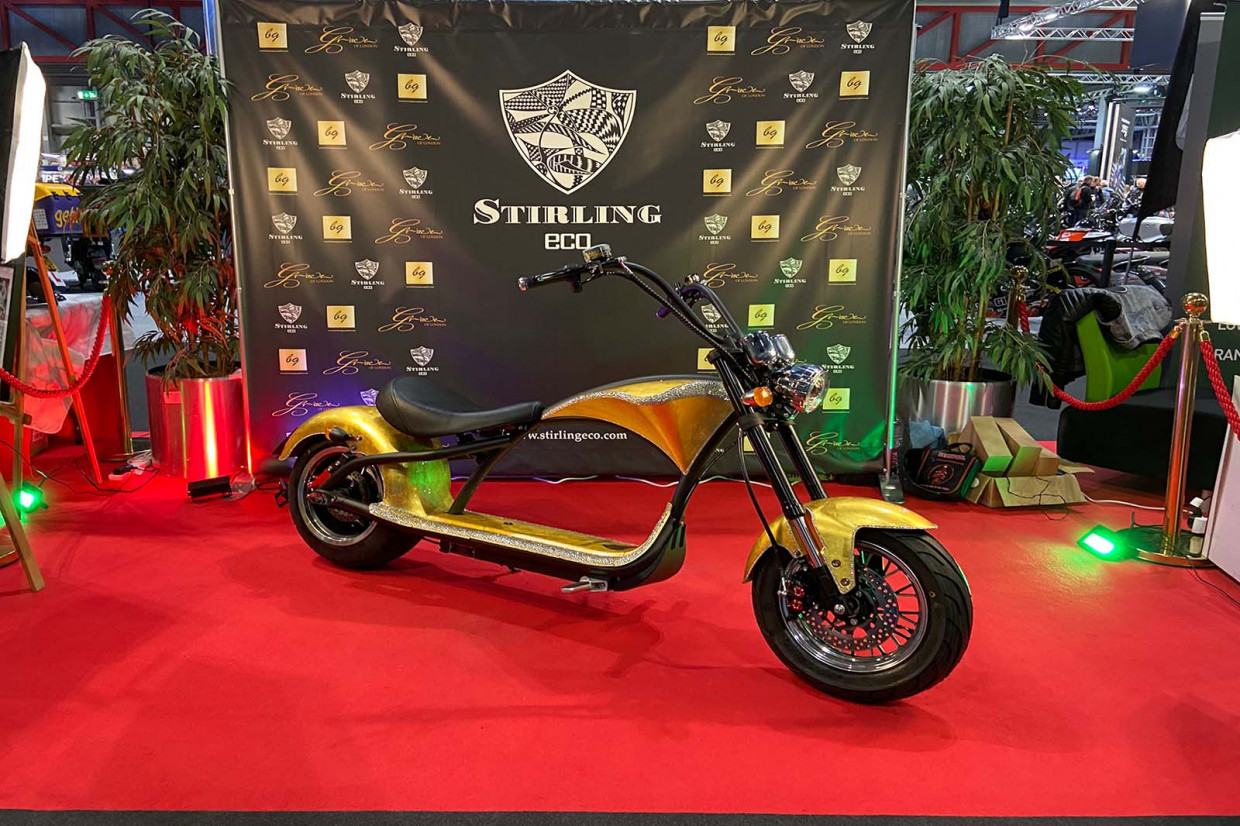 The chopper is one of the most recognisable motorbike styles around, with its lengthened front suspension forks and low-slung riding position. Featured in an array of cult movies such as Easy Rider and Ghost Rider, choppers have won the hearts of many within the motorcycling community thanks to its outlandish design and – traditionally, at least – a throaty soundtrack. 
But what if you don't want a gas-guzzling motorcycle and want that classic design? Well british start-up brand Stirling Eco has the answer: it's created the first all-electric chopper. 
Stirling Eco's founder Robert Grace is clear that the brand isn't here to tear motorcyclists away from their cherished petrol machines. In his view, Stirling is about promoting sustainability in a creative and affordable way.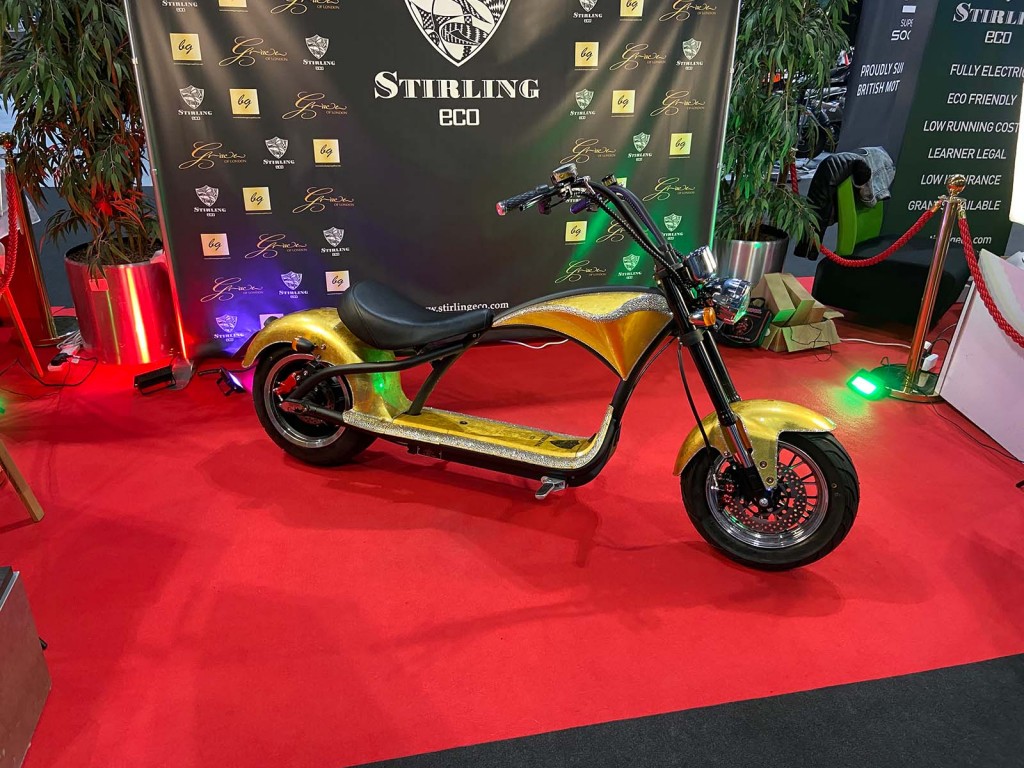 Introducing the Stirling Eco M1
Hardcore motorcyclists stay with us: the Stirling Eco M1 chopper is more technologically advanced that you may think. 
Admittedly, the stats aren't incredible: it has a top speed of 30mph and a modest range of 30 miles. But that suits the use case as a replacement for a petrol-powered moped – just with far more design flair.
The M1 is lightweight for an e-motorbike, weighing just 82kg, and has three different riding modes; eco, medium and high, allowing riders to vary the power output of their motorcycle, trading performance for range. For added convenience the M1 has a removable battery which can be charged from a domestic plug socket, with charge times around the four-hour mark.
If you want to add your own personal touch, Stirling Eco also offers a bespoke painting service where your desired design can be painted onto the body of the motorbike. Prices for both the M1 and the M1 art bike start at £2410, although you're free to spend as much as you like on a custom model. 
Sustainability, art and affordability 
When he founded Stirling Eco, Grace had a clear message that summarised the brand: less pollution and art. He wanted to build a brand that was distanced from the political argument surrounding climate change and focused on producing an electric motorcycle that was both sustainable and creative. 
"Our message is art and less pollution with a primary part of that being affordability," says Grace. "When we started Stirling Eco we said we need no walls or barriers that would prevent someone from buying our products."
"You have to give everybody the opportunity because most people want to use sustainable modes of transport but can't afford to do so. 
"The entry price for our products is low and you can ride it with a CBT which opens it up to younger people. We are not selling cheap products, we just want to make sure that it's available to everyone."
Grace added that by avoiding the mass market and opting to create a niche product they could operate in a more sustainable way. "Bigger manufacturers are geared up for the mass market so if we had joined them it would all start to become a numbers game and you become like everyone else.
"That works against the whole ethos of sustainability because it creates too much competition, competition creates overproduction and overproduction creates pollution.
"We try to collaborate with as many people as we can and stay away from the bigger markets because then you're dealing with serious corporate companies that have the ability to devour anything in their path. We've got our own little niche brand and so far the reception for us has been amazing."
Chopper design meets battery technology
The electric chopper immediately grabs your attention, not only because of its styling but because of the frame's gaping hole where you would normally find a large petrol motor. 
Grace was clear that he didn't want to create an electric bike that looked like a conventional moped, and admits that it was a gamble to select the chopper design when entering the e-motorbike market.
"We could have gone into the mass market with a standard looking moped, but we took a risk," he says. "We would be a very small fish in a big pond, but with the chopper design, we're the best looking fish in the pond.
"There was no point in us competing with the big boys because we would just get swallowed up. But we know that we're perhaps the most exotic fish in the very big pond."
"What we have done is try to create something a little bit more stylish, something that's a bit different. It might only be a niche market but we want to become a brand leader in that market instead of competing with the big boys. Why make an electric bike that looks like an old fashioned petrol bike?"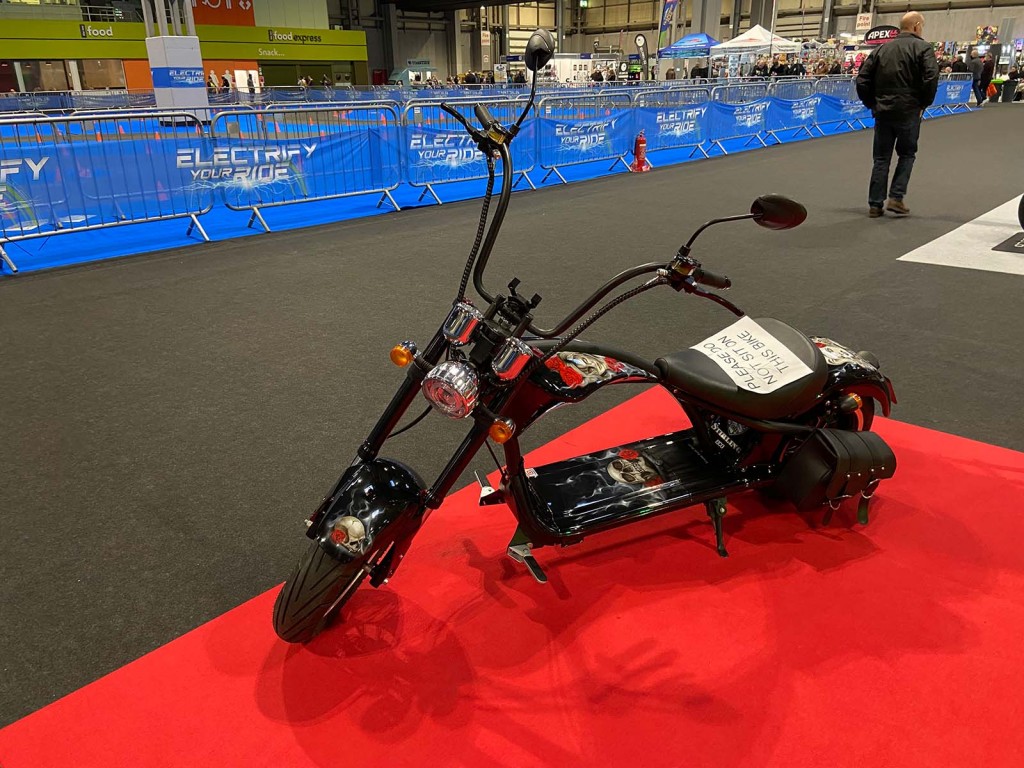 Converting the motorcycle purists
Taking a cult motorcycle design and making it electric is a talking point in itself. As Grace has explained, Stirling Eco was never going to opt for a conventional motorcycle design, they wanted to create something different. The founder explained that approaching hardcore bikers about the Stirling Eco was a challenge, but the response had been promising. 
"Proper hardcore bikers come up to us, stare at our bikes and stand there as if they have seen something from another planet," he laughs. "We don't want to preach to the converted, we want to explain to people that we are building products for them.
"They know that electric motorbikes are on their way and the technology is heading towards them. At some point in the future that technology will cross what their motorcycling requirements are and by the time that technology reaches them, we'll have a suitable product to offer them.
"This electrified technology isn't 10 years away or five: it's less than that, and that's why we are working flat out to create a product that suits every demographic."
Grace isn't about to criticise you for riding a petrol motorbike, nor is he about to start an eco revolution. What he is doing however is providing an alternative. It might not send seismic waves through the industry just yet, but initial reaction has proved that the brand is willing to shake up the e-motorbike industry in a creative and diverse way. 
"There's no reason why you can't go to work in the city on an electric chopper that's fun looking, futuristic and a little bit sexy as well."
READ MORE
e-CARS
e-BIKES
e-MOTORBIKES
e-SCOOTERS
Are e-scooters legal in the UK?