By any standards, e-scooters are something of a contradiction. They are – by some measures – essentially a child's rollabout, yet they can be powered up to be capable of startling speed. Vulnerable yet dangerous; silent but deadly; beloved by some but derided by many.
They now also sport another dichotomy, in the UK: illegal yet hirable. You can't take your privately-owned scooter out in public, but under government trials – expedited by the Covid-created need for socially-distanced transport modes, preferably with lashings of fresh air – you can now rent them from local authorities in around 30 areas, from Barnstaple and Basildon to York and Yeovil, and a steadily increasing number of London boroughs. 
Transport for London gave the nod to three hire companies: Lime, Tier and Dott. Of the three, Lime is the biggest hitter; the San Francisco company, which started in human-powered cycle rental and moved into e-bikes, is now established in 130 cities worldwide including London, New York and Paris. 
Berlin-based Tier also operates in Paris and 100 other cities, but took the opposite journey to Lime: having started in e-scooters, it's now eyeing expansion into e-bikes. Dott, founded in Amsterdam by two alumni from e-bike hireco Ofo, is the smallest of the three, with a scooter-only 20-city wheelprint.
As of June, only five London boroughs were part of the trial: Ealing, Hammersmith & Fulham, Kensington & Chelsea, Richmond and Canary Wharf, with the City of London, Lambeth, Southwark and Westminster joining in July. 
How to hire an e-scooter
You'll need to be over 18, have a smartphone and, because e-scooters are classed in the UK as motor vehicles, at least a provisional driving licence.
Set aside a few minutes to upload your licence, bank details and verification selfie. Once verified you have to complete a multiple-choice dolly of an online safety test, the sort which stops just short of asking whether it's safest to stay in your lane or to engage a flamethrower.
It's wisest to download the app for each operator; you can stick to one if you like, but you're leaving yourself open to howl-at-the-sky moments if their scooters aren't on the rank or their app doesn't work when you need it.
Indeed, on our suck-it-and-see test day, app unreliability affected both your intrepid reporter and his faithful cameraman Steve. I'd downloaded all three apps but neither Tier nor Lime would work for me on the day; that could have been put down to personal incompetence were it not that Steve couldn't get a tune out of them either, so Dott got the nod by default.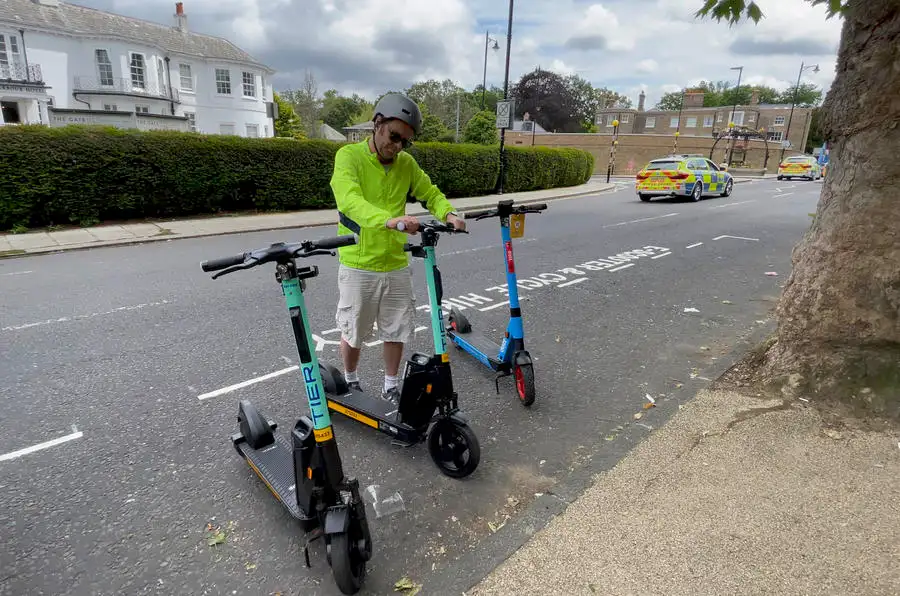 Scan the QR code, listen for the beep and your steed is ready. Each of the three brands has slightly different scooters but the law demands they have working front and rear lights – often the way you know you've awoken the thing from its off-duty slumber – plus what TfL describes as an "audible warning systems that can be used without adjusting the rider's grip of the handlebar," better known as a bicycle bell. The finger-lever brakes are also straight off the push-iron's drawing board.
Elsewhere on the crossbar you'll see indicator buttons, a speedometer which may not be entirely visible on bright days, and a Go button, better known to the mechanically-minded as an accelerator. It's not a motorbike-style twist-throttle, more of a mountain bike's thumb-trigger gear change, except you have to keep it held down.
Whack your phone in the holder, give yourself a push-off – as they're not as light as you might think, pointing downhill might help – and you're on the road. Not the pavement, unless you're a fan of confrontation and fines.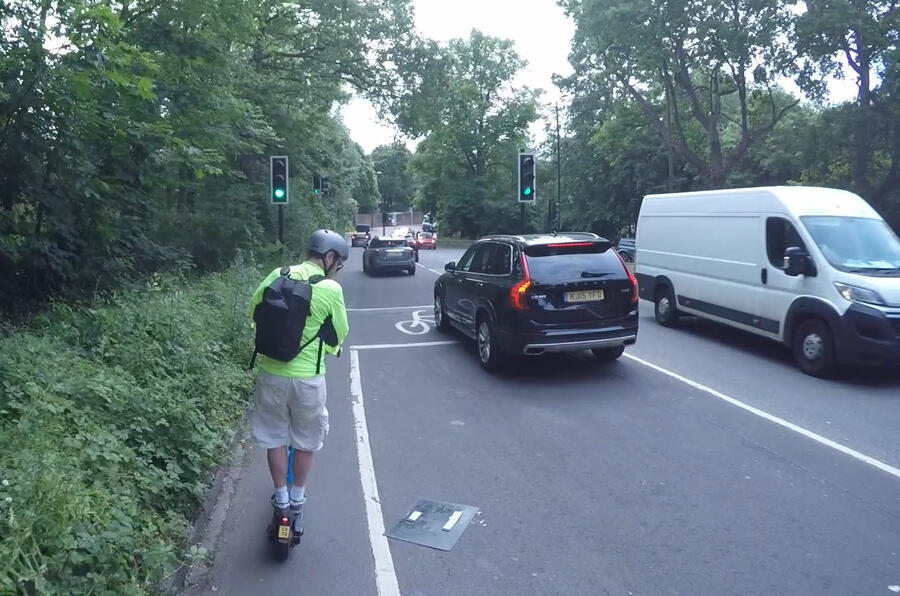 On the road on an e-scooter
Acceleration is reasonably swift, the first experience of which may elicit an unprompted high-pitch noise which won't make you any cooler to a curious public. Fear not, you'll soon leave the bipedal saps behind, perhaps gaily whistling the old "They all laughed at Christopher Columbus" song.
Straight out of the dock, the Dott faced an uphill task – climbing the dragging sidestreets leading up Richmond Hill – but it managed cheerfully, purring happily along. By the time we hit busier roads nearer the summit, confidence was rising with the elevation.
The ride is reasonably comfortable. Although you won't be immune to the scars of service trenches or the sudden dip into a drainage grate, the 12-inch tyres absorb bumps better than hard-wheeled pushalong scooters; again, think mountain bike, except without the shocks transferring directly up the seat tube into your reproductive equipment.
Cycling-style problems you may encounter include wing mirror encroachment – on one occasion an expensive-looking Porsche came foolishly close – and edging around parked cars into traffic streams.
The latter won't be helped by the indicators; positioned at each end of the handlebars, they're barely visible in the daytime. Furthermore, for a generation of car drivers brought up on automatic switch-offs and memory-jogging audio reminders, the individual on/off buttons are easy to accidentally leave on – although nobody can see them anyway.
At an e-scooter parking zone atop Richmond Hill, twentysomethings Georgia and Ed were wearing the same expressions of confusion and impatience that had recently featured on our own, rather more grizzled, faces. 
Although experienced with e-scooters, having rented a pair of Limes in Budapest, they had been struggling "for half an hour" to unlock two Tier scooters, wrestling with the unexpected local admin of uploading licences and selfie verification. "I rate it two out of five" said Georgia, surprising Ed, who countered "It's s**t - and yes, you can use that." But the mood lifted as verification was confirmed and they sailed off down the street.
Richmond Park's e-scooter ban
While Georgia and Ed headed for downtown Richmond, Steve and I had thwarted plans. We had wanted to trial on Richmond Park, but the Royal Parks have banned e-scooters, saying the "speed and stealth of the scooters presents an unacceptable risk to pedestrians" and could "undermine the peace and ambience of the green spaces".
Leaving aside the Mobius-strip concept of how something stealthy can undermine the peace, it would be fair enough to ban e-scooters were Richmond Park not already full of near-silent cyclists and an increasing number of motor vehicles, some of them electric, many of them preferring the scenic cut-through now that much of the Richmond borough is capped at the same speed as the park's 20mph. Joined-up thinking it ain't.
Denied entry to the park – even had we attempted to Thelma and Louise it, TfL's e-scooters are geofenced to prevent access to unauthorised areas – we set off instead down the steep Star and Garter Hill. 
As our momentum threatened to smash through TfL's 12.5mph limit, the limiters kicked in, producing a sudden drag not unlike that of a car correcting to obey its cruise control target; the same effect could sometimes be felt in miniature on the down slope of a speed bump, like the world's tiniest killjoy. 
Restricted to 62.5% of Richmond's near-blanket 20mph, and in no particular rush anyway, I often opted to pull over and let traffic pass me – but there's no guarantee I would do that in winter or a hurry. On narrow roads, e-scooters could cause tailbacks, and even when an overtaking opportunity arises drivers will be hampered by those increasingly popular 20mph limits. 
The arrival of e-scooters may not, then, make our roads more harmonious, but it should be said that throughout our test other road users were almost uniformly considerate. Perhaps that was a novelty with a limited shelf-life, but amid the curious stares were only two outbreaks of driver interaction: one from White Van Man chirping "six penalty points!" in reference to the current punishment for using a private e-scooter, the other from a bus driver incorrectly insisting we mount the pavement.
A geo-fenced barrier and the cost of hiring an e-scooter
At the foot of Star and Garter Hill is Petersham, a pretty village hosting a long-notorious bottleneck. Back in 1966, architecture critic Ian Nairn noted that "Greater London has some murderous slices of traffic, but this must be one of the most cruel… how the village has stayed intact is a miracle, and a by-pass is essential."
The by-pass never came – it would have had to smash through Richmond Park, culvert the river Thames or obliterate the fine housing stock that has attracted the famous from Sir George Gilbert Scott to Brangelina – but we pootled through without causing too much disruption, helped by a well-timed bus blocking the road by stopping to pick up passengers: accidental TfL solidarity.
On the nearby Parkleys estate, a Grade II-listed example of Modernism, we became caught in the invisible geofence: halfway along, the street invisibly switches from Richmond borough to Kingston, which is not participating in the TfL trial. You'll know if you've hit the geofence: a no-go notification flashes on the phone (if enabled) and the scooter gradually powers down. 
Returning whence we came, we nipped alongside Ham Common (but not along its excluded walkways) and whizzed quietly along the graceful parabola of Riverside Drive, its 1960s architecture and sparse traffic lending a suitably space-age excitement to the new method of transport. This is what we were promised by all those sci-fi utopias: near-silent transport along deserted roads, except in silver suits instead of hi-viz jackets. 
By now, more than an hour into the hire, the right thumbs were hurting from the static loading of holding down the Go switch. In truth, scooters aren't really designed for long hires, and the price soon mounts up: after the £1 activation charge per hire, it's 15p per minute on Dott or Tier, a penny more on Lime – so a tenner for the first hour, or less than 25 minutes if you want digital change from a fiver.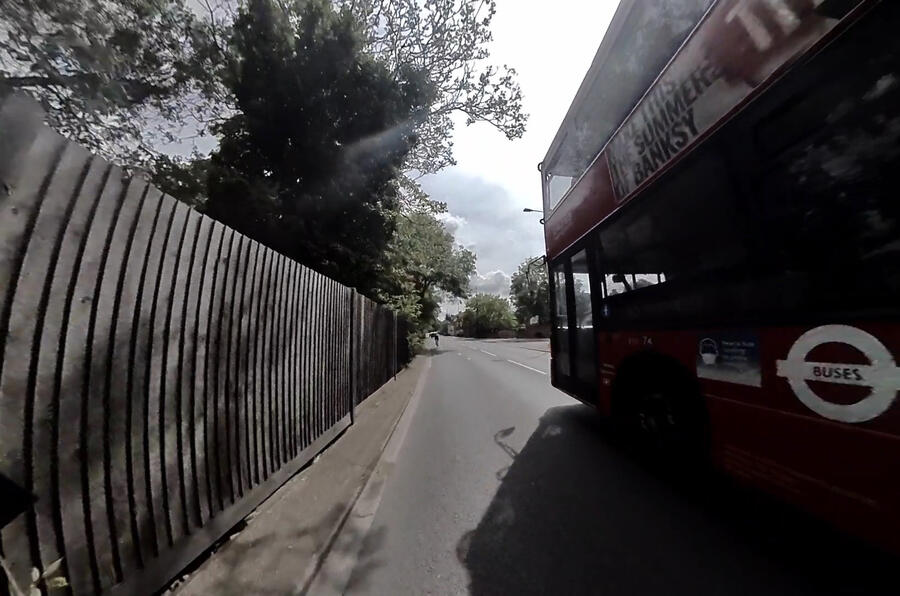 E-scooter vs steep hill - there's only one winner
This, then, is short-haul transport, but we had one last test: getting back up Star and Garter Hill, which climbs 40m (120ft) in a third of a mile – something like 1 in 12.5. But we were held at the traffic lights at the foot of the hill, and from a standing start the tiring Dott simply couldn't get going, 
Instead, we tacked left to follow the A307 along the contour line before trying again from a rolling start by swinging a right onto the quieter Nightingale Lane. To the amusement of pedestrian onlookers, the Dott held steady on the initial incline, which climbs 12m (40ft) in 150m (160 yards) – 1 in 12. 
However, as the lane turned left to arrow straight up the hill – it climbs 14m (46ft) in 100m (110yds) – the scooter slowed to less than walking pace and I felt duty-bound to pull over and let cars pass, after which the Dott understandably wouldn't start on a 1 in 7 uphill.
But we couldn't just give up on a transport revolution. After a momentum-building downhill push-start, followed by the sort of side-to-side weaving that kids employ to get bikes up steep slopes, my humble steed then gradually, bravely crested the hill.
As I hit the horizontal hilltop drive, my phone pinged with the Dott's dying-battery notification, telling me I would be limited to 8.5mph while I looked for a parking location. That seemed fair enough: the Dott had done well and deserved its rest.
Swooshing slowly but victoriously into the parking bay, I dismounted, scanned the VR code, took the app-suggested pic proving I'd been a tidy boy and immediately received a valedictory ping and e-bill.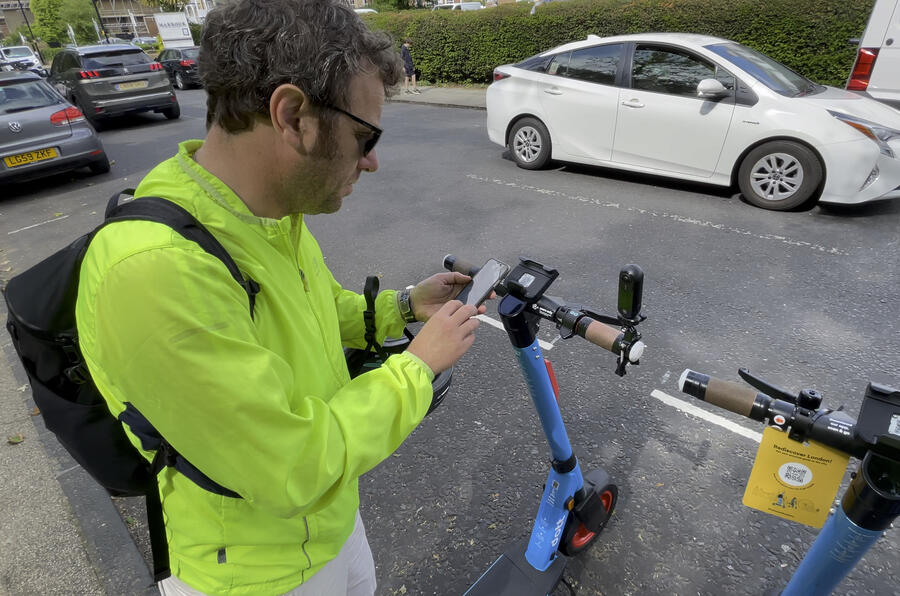 My E-scooter outing - the conclusion
Will e-scooters catch on? To some extent, they already have – they're popular in many cities across the world. In conservative Britain, we're merely dipping a cautious toe, and it's somewhat difficult to see quite whom e-scooters are pitched at. 
At a tenner an hour, or a fiver for a 25-minute run, they're hardly a cheap commute (and at 12.5mph, not a particularly swift one); but restricted to the roads and banned from most parks, they're not much of a leisure activity either. 
Add in the legal confusion and the inevitable set-up faff, and it feels like it may require some rethinking and retargeting if e-scooters are to fulfil their promise of fixing urban transport and halting climate change, but the spark of something big is definitely there.
E-scooters: how to get started
See gov.uk for full guidance on e-scooter trials – including a full list of trial areas – then check local listings for relevant hire providers; in London, it's Dott, Lime and Tier.
While rules vary, you typically need a full or provisional driving licence, to be over 18 and you may have to complete a brief online course before verification completes. Helmets are usually recommended but not compulsory, although rules may vary with each trial.
Current E-scooter trial locations in England are highlighted below.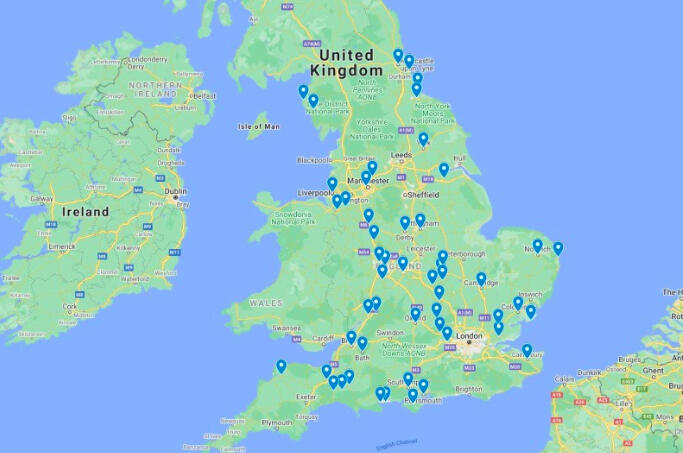 Words, photos, video and research by Gary Parkinson
READ MORE
e-CARS
e-BIKES
e-MOTORBIKES
e-SCOOTERS