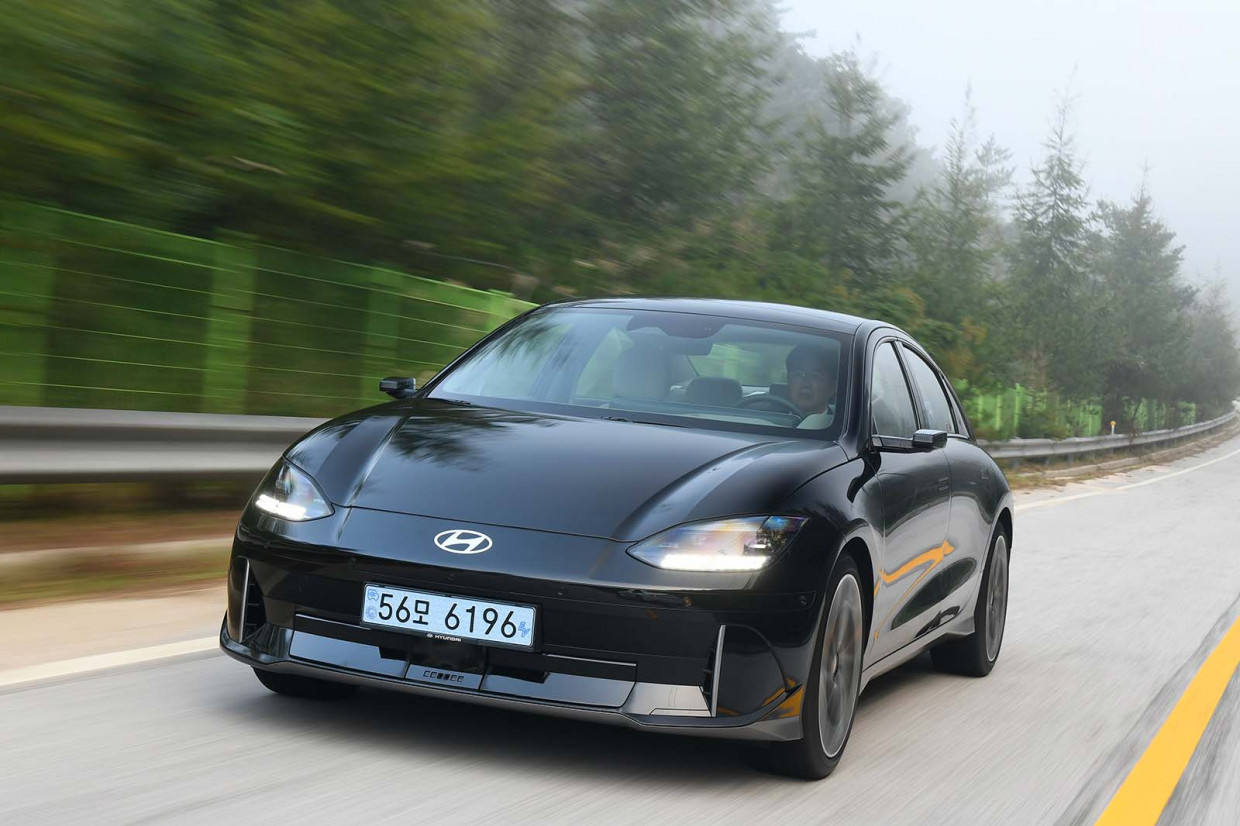 Originally published: October 4. Updated December 8 with full UK pricing details
Move Electric rating: four-and-a-half stars out of five
Sell it to me in a sentence…
The Hyundai Ioniq 6 is a swooping streamliner with an impressive range and styling resembling a digital-era Porsche 911, which has been designed to take on the BMW i4, Polestar 2 and Tesla Model 3.
A digital-era Porsche 911?
We're not kidding. From certain angles around the rear-end, at least, the new Korean machine has hints of Porsche's finest creation to it. Seriously, look at that sweeping rear-end that has a big rounded wing sat atop it from a rear three-quarter shot and tell us you're not reminded of a 911.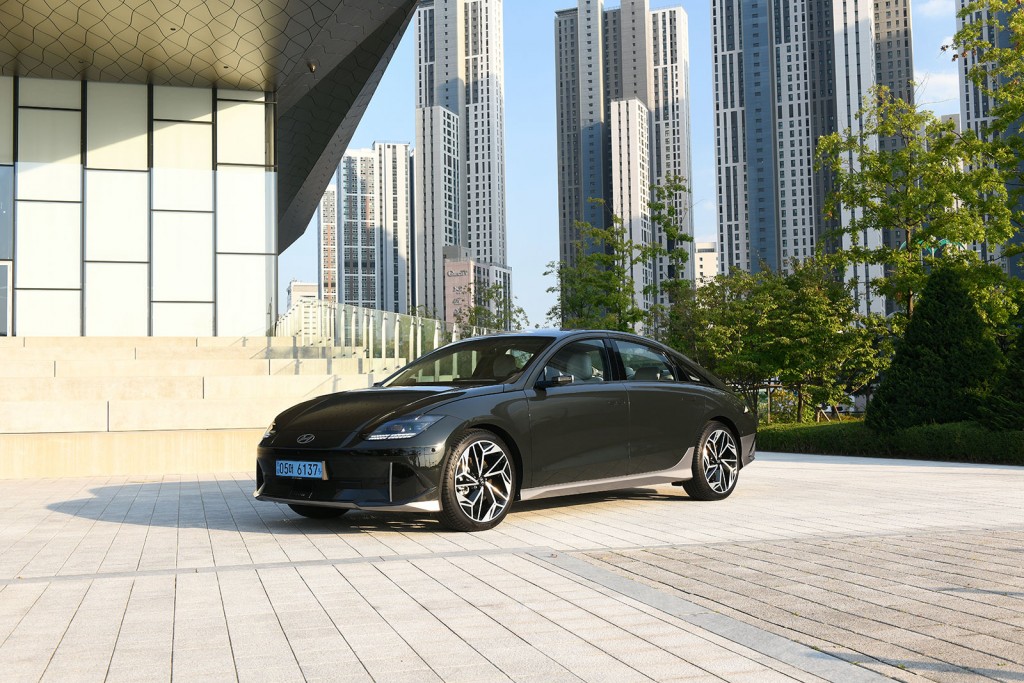 As if you press home the point, Hyundai has even put a row of vertical grooves across the wing. Officially they're about channeling the airflow – something of a theme with the Ioniq 6, as you'll learn – but they also do have more than a hint to those you'll find on a certain German sports car.
So is this an electric sports car then?
Not really. Hyundai might be getting bold with its latest generation of electric cars, but it hasn't gone that wild just yet. Underneath its smooth styling, this is really a family or executive saloon. Even so, the Ioniq 6 is an incredibly bold machine.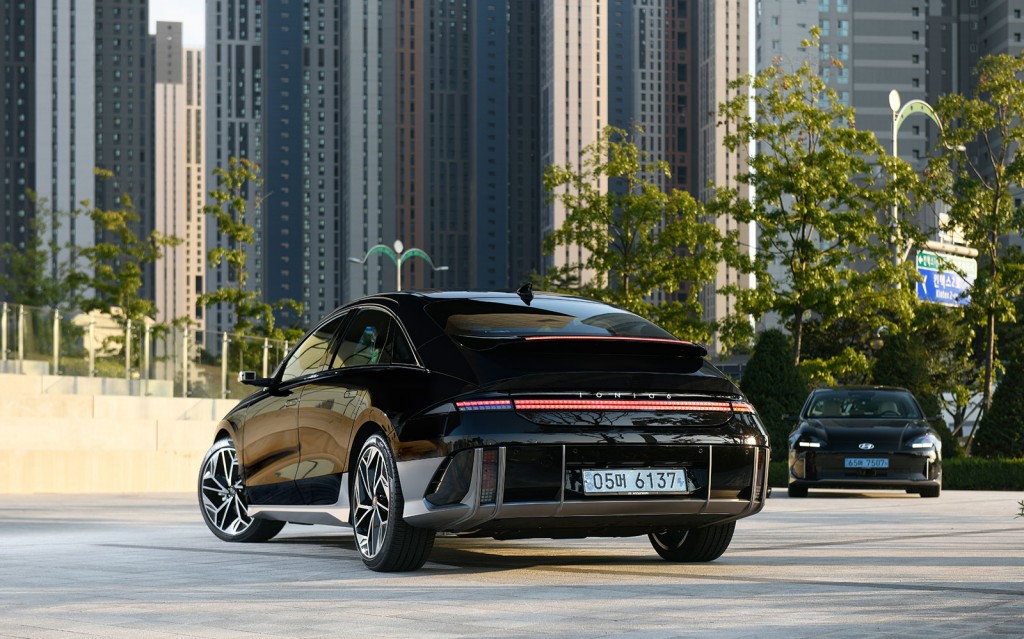 As the name suggests, it's the successor to the ultra-successful Hyundai Ioniq 5, a car that impressed us so much we named it the Best Electric Car in the 2022 Move Electric Awards. 
But you'd be hard-pressed to spot the family resemblance between them. Where the Ioniq 5 SUV is all angular lines and boxy, 1980s-inspired styling, the Ioniq 6 is a low, sleek, stretched saloon. It's probably bigger than you think from the pictures too: it's 200mm longer than an Ioniq 5, but is 152mm lower. And it looks brilliant. That's obviously subjective, but in an age when far too many EVs look the same, the Ioniq 6 really does stand out.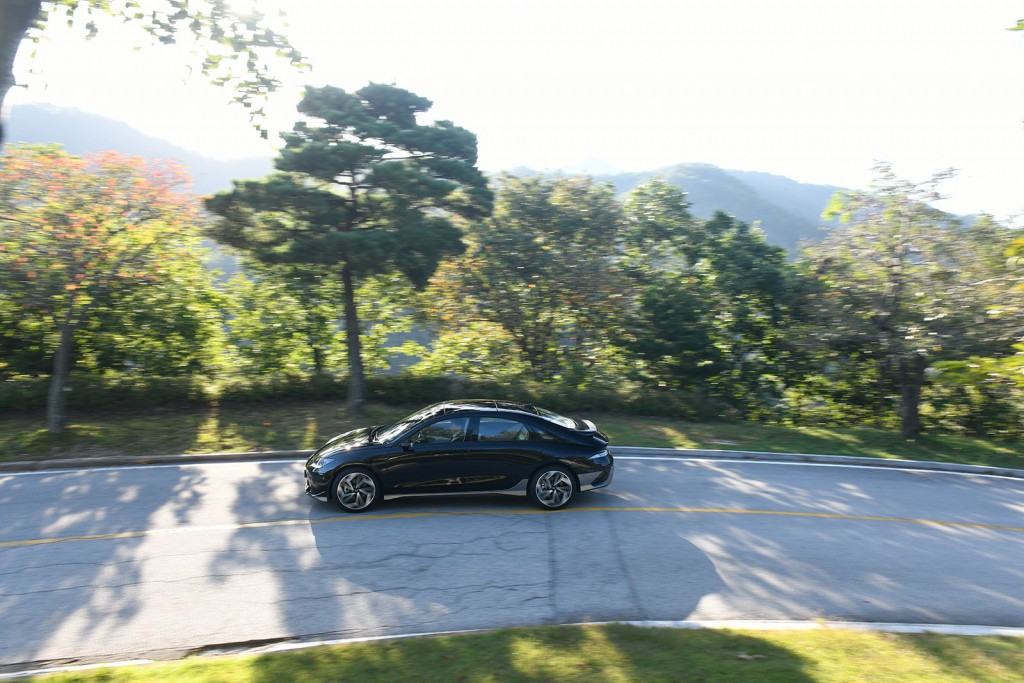 For starters, given the success of the Ioniq 5, you might have expected its successor to feature similar styling, but in saloon form. But it's a completely different beast: only the 'parametric pixel' LED light stylings remain.
Actually, Hyundai doesn't really like to use the term saloon for it: it fashions the car as an 'electrified streamliner', something that harks back to cars from the 1920s and 1930s that were designed with the slipperiest possible shape to minimise aerodynamic resistance and increase their speed and range.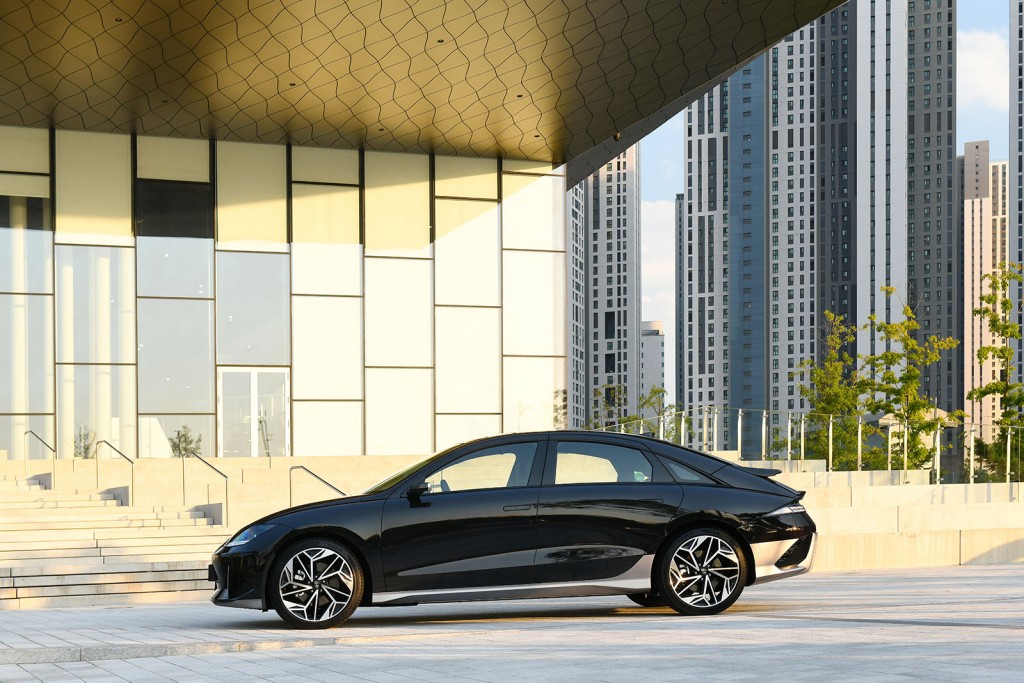 So is range important with the Ioniq 6?
Absolutely. The Ioniq 6's styling is all about absolutely maximising the machine's range. It's all a bit of physics, you see: to increase the range of an electric car you can add a bigger battery, make the car more efficient - or both.
So the Ioniq 6 has a really big 77.4kWh battery (there will be a version with a smaller 58kWh battery, but it won't be coming to the UK), and uses the refined, efficient motors that one with Hyundai's electric-only E-GMP platform. That, you might recall, is the same platform used for the Hyundai Ioniq 5, the Kia EV6 and the Genesis GV60. It's kind of like the electric car platform equivalent of Disney Pixar: pretty much everything it's produced has been excellent (assuming we all agree to pretend Cars 2 never, ever happened. Deal?).
Move Electric Awards 2022 E-Business of the Year: Hyundai Motor Group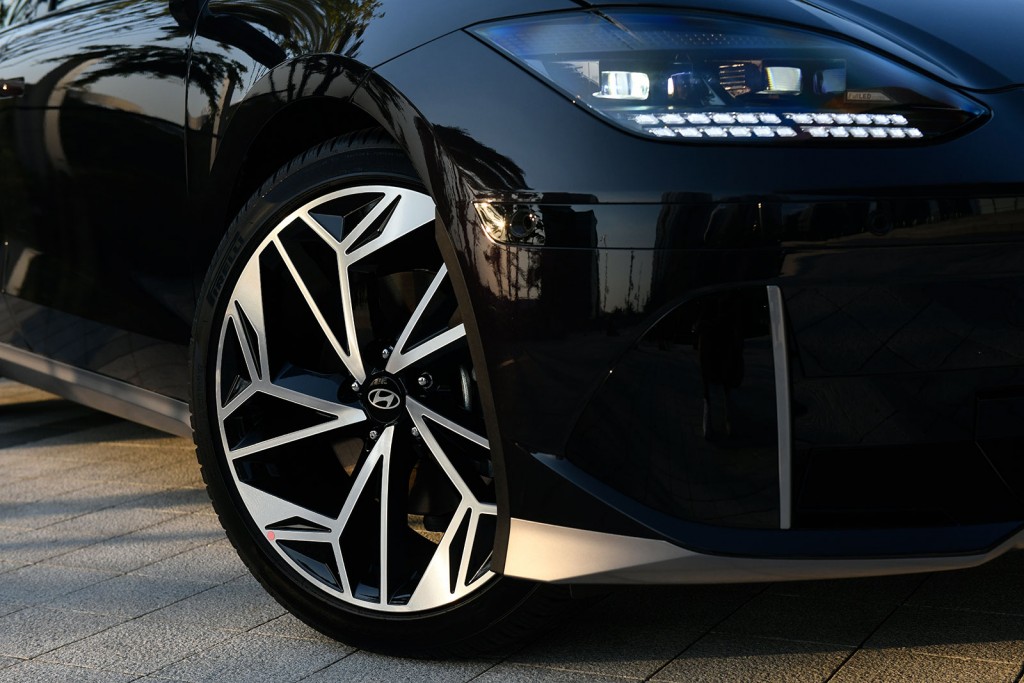 But we digress. Because the big difference with the Ioniq 6 from the Ioniq 5 is that streamlined bodywork. Hyundai's design team set itself the ridiculously bold target to achieve a drag coefficient of less than 0.20 – which basically means they wanted it to be really, really sleek so that it would cut through the air with minimal resistance.
In the end, the design team had to settle for a Cd of 0.21. For comparison, the Ioniq 5 has a Cd of 0.29. Now, those numbers won't mean much for anyone who doesn't hang out in a wind tunnel, but the numbers that matter do.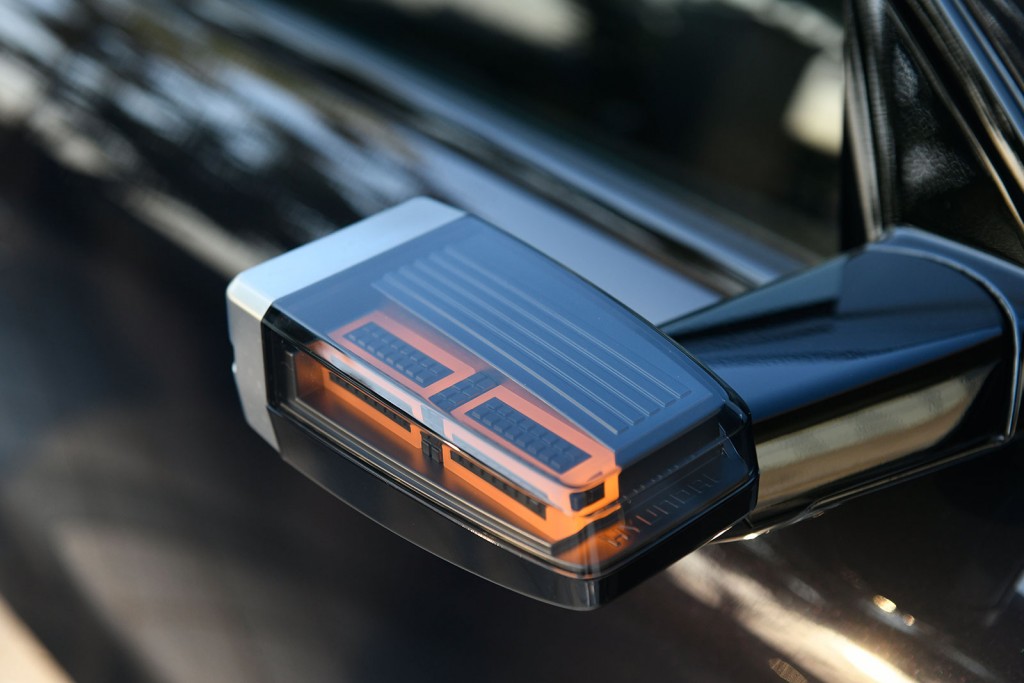 In its most efficient form, the Ioniq 6 has a certified range of 382 miles. That's a whopping 67 miles more than the smallest spec of Ioniq 5 – despite using the same platform, battery and motors.
Significantly, that also means the Ioniq 6 offers a longer range than its key rivals. The Polestar 2 can achieve up to 341 miles, while the Tesla Model 3 Long Range can reach 374 miles. 
What do you mean by 'most efficient form' then?
While the UK Ioniq 6 line-up will only include the bigger battery, buyers will have a choice of two powertrains: a single-motor rear-wheel-drive set-up, and a more powerful twin-motor all-wheel-drive offering.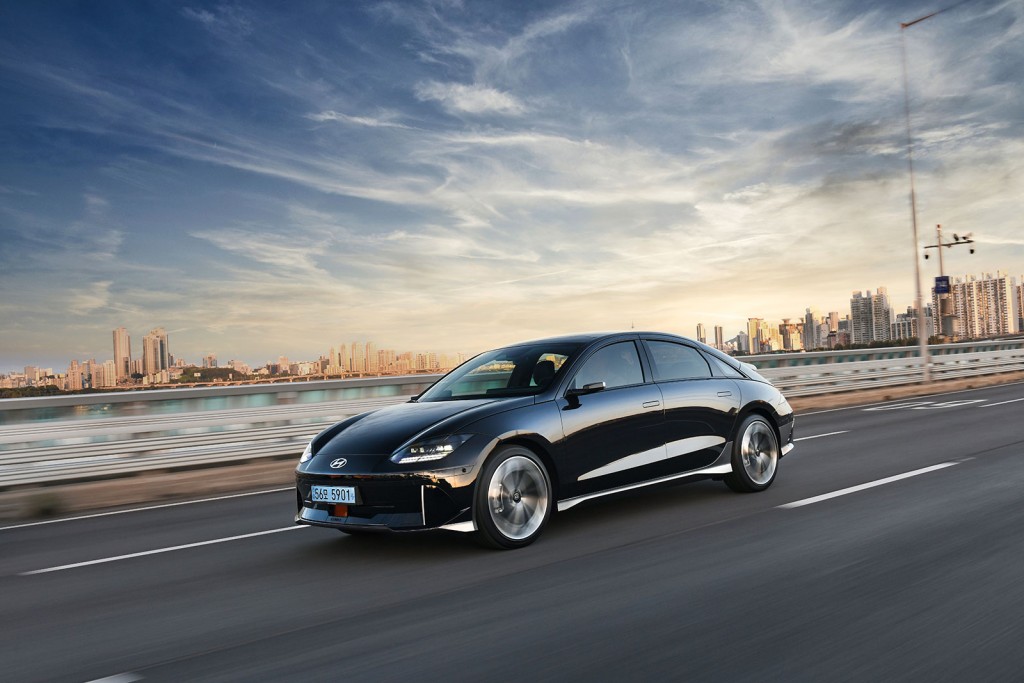 Naturally, the 168kW (226bhp) single-motor offering is more efficient, but even then to achieve that 382-mile range you'll need to option there 18inch wheels (you can also have the car on 20in wheels) and the digital wing mirrors.
New 430kW Hyundai RN22e previews hot Ioniq 6 N
Our Korean-spec test car was a twin-motor version, which has power hiked to 245kW (329bhp). It sat on the larger 20in tyres and with those digital mirrors offers an official WLTP range of 322 miles. That's obviously some way down on the rear-motor version, but it's still very competitive with similar performance version of other electric saloons.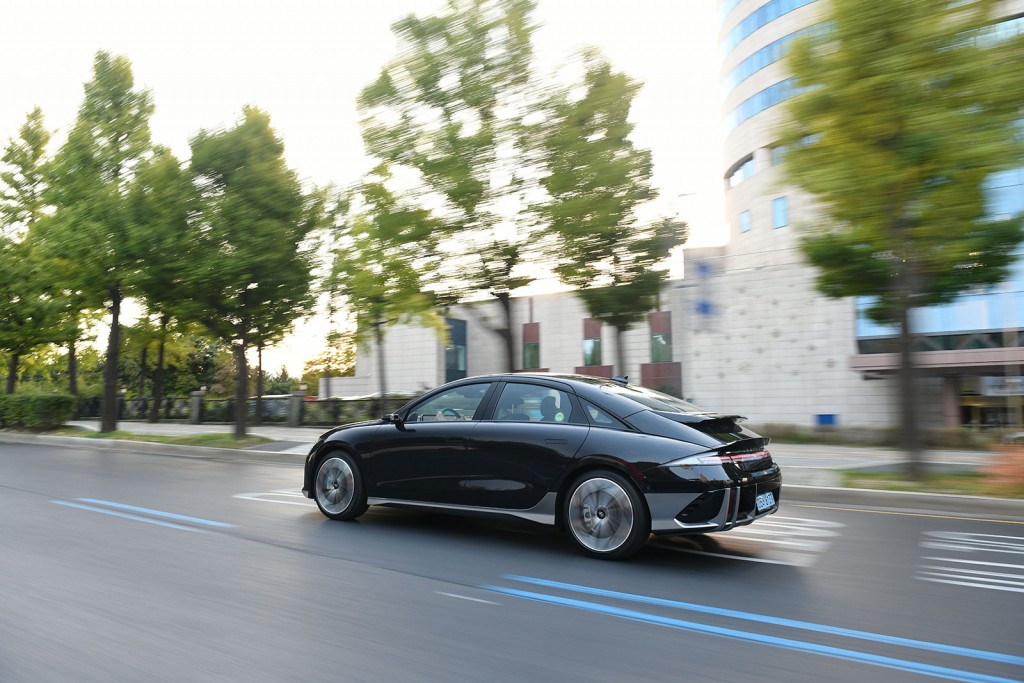 Even better, as with the Ioniq 5, the machine features an 800V architecture that allows it to be charged at speeds of up to 350kW. That means a 10-80 per cent fill takes just 18 minutes – if you can find a 350kW charger in the UK, of course.
What's it like to drive?
If we had one minor grumble about the Ioniq 5, it was that the ride could be a little too floaty, with a touch of body roll caused by its large, high-riding size. The Ioniq 6 is tuned very differently, and is all the better for it.
Now, we should be clear here that we've only driven the car in Korean-spec on Korean roads, and the UK versions will likely be tuned very differently. But it's clear that Hyundai has decided that an electric saloon is more likely to appeal to keen drivers, and developed the Ioniq 6 to suit.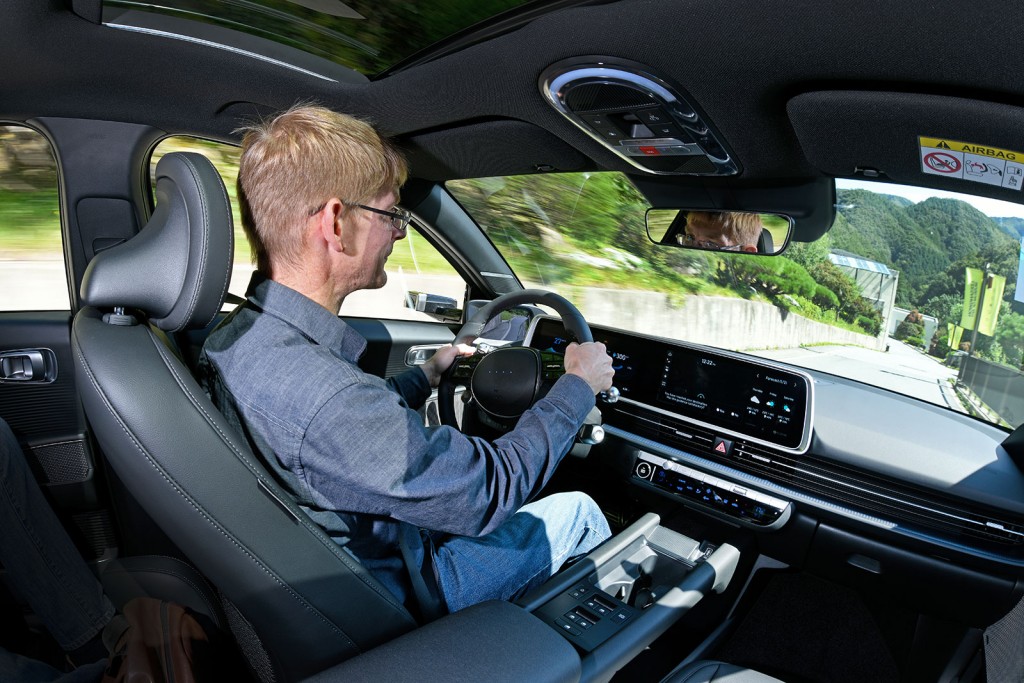 It rides a bit firmer than the Ioniq 5, but is also lighter and keeps its composure when you do find your way onto a rougher surface. The steering is well-weighted and reassuring, and despite the length of the car it's really easy to place.
Predictably, the twin-motor version offers plenty of power, which as you'd expect from an EV is ridiculously easy to access. Hyundai claims a 0-62mph time of five seconds, and while we didn't put that to the test, it was clear we could easily achieve close to that were we so minded.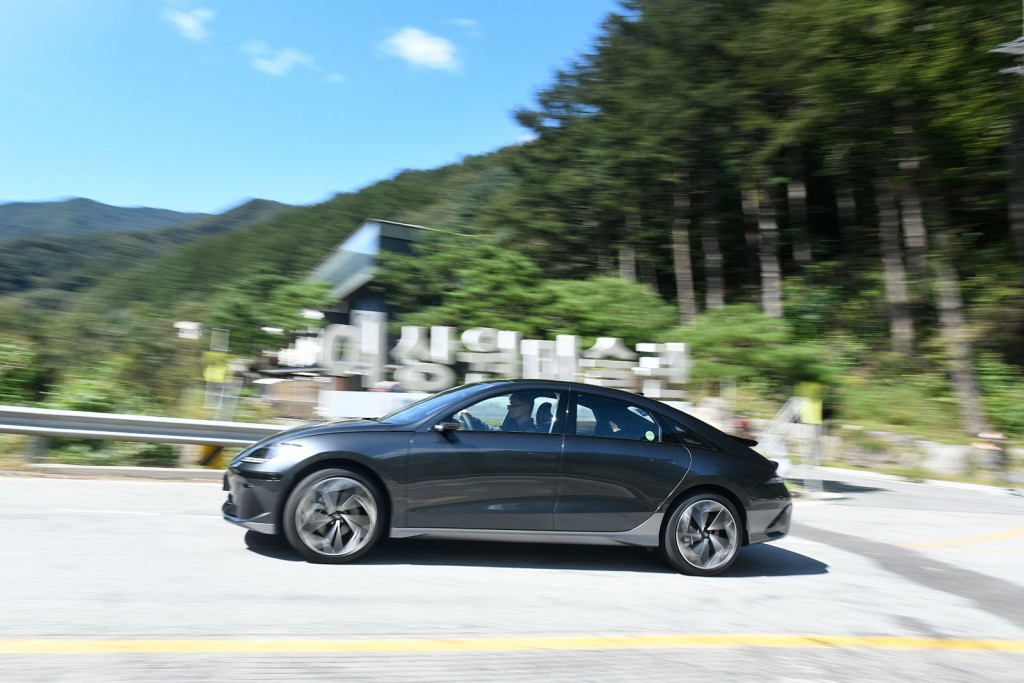 There are a range of drive modes that can either help you conserve range or add to the performance, and as with other Hyundai cars there are a range of brake regeneration options that you can control with two paddles behind the steering wheel. Set that its maximum and you can enjoy the Ioniq 6 in a 'one-pedal' mode that works well.
There's also a new system, which Hyundai calls EV Tune Up: you can go into the settings and adjust individual aspects, including the steering speed and throttle response, to your liking.
Sign-up to the Move Electric newsletter
All that said, if you're still looking at the pictures of that 911-esque rear and expecting a sports car you might be a little disappointed. The focus here is clearly on offering a comfortable, controlled driver, and rivals such as the Model 3 are perhaps a touch more dynamic. Still, it's an incredibly comfortable car to rack up the miles in.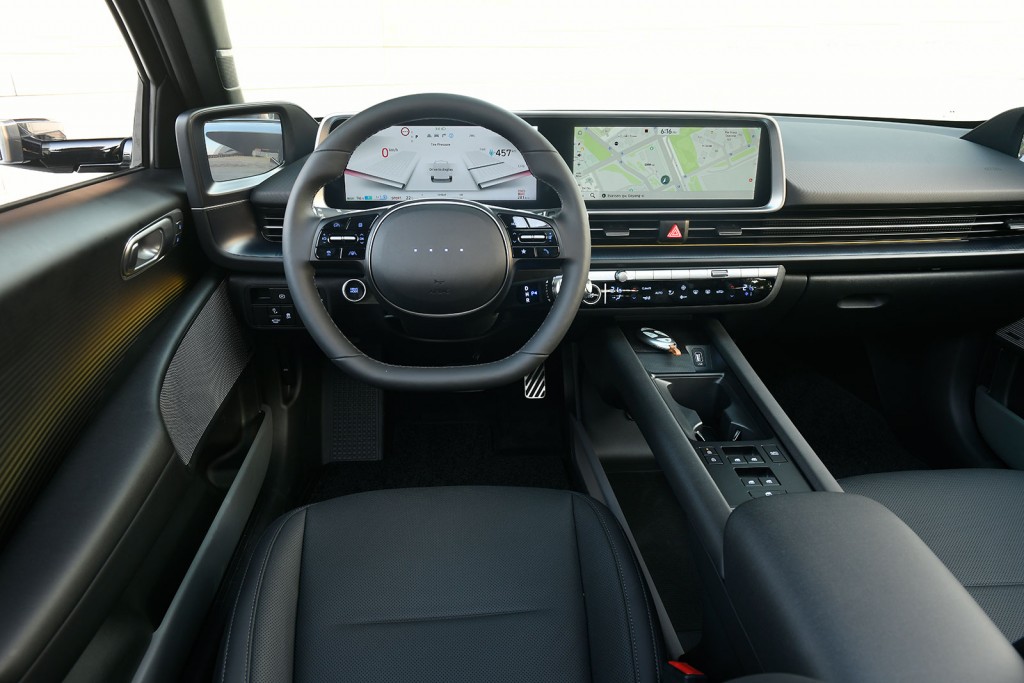 So what's it like inside?
The interior of the Ioniq 6 has more in common with its SUV predecessor than the exterior, and we're not complaining about that. As with the Ioniq 5, it's bright and open thanks to the flat floor of the E-GMP platform, with a bright, clean dash and a big 'floating' centre console between the front seats.
The dashboard is dominated by two 12.0in digital screens – one for the infotainment and one for the driver info display – and information on them is well-laid out and logical. It's also got Apple CarPlay and Android Auto and everything else you'd want.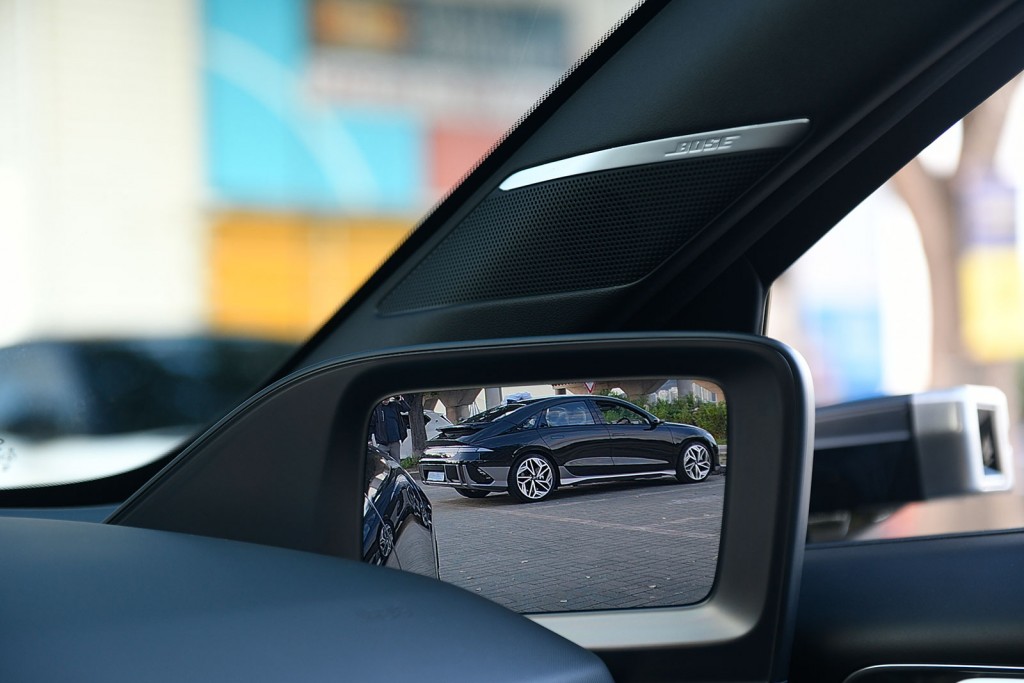 While the touchscreens do much of the work, the Ioniq 6 retains physical buttons for most of the key controls, too. Our test car featured the digital mirrors, and the screens for those are located on two prominent 'wing tips' that extend out from each end of the dash. They're batter placed than in many cars that feature them, although still an acquired taste that you'll need time to adjust to.
There are some upgrades from the Ioniq 5 interior, too. The ambient lighting system offers 4096 colour combinations, and you can even set it to change colour as you accelerate. You could, if you want, match that with the 'spaceship-like' noise from the e-ASD system (we preferred to turn that off).
981 miles in 10 days in an electric car: 10 things I learned
There's bags of room in the front, and lots of recycled and sustainable materials to boot. It's in the back that things are a little more mixed. You'll find almost ridiculous levels of leg room – seriously, Mr Tall could stretch his legs out back there without coming close to bumping the back of the front seats – but headroom is on the limited side.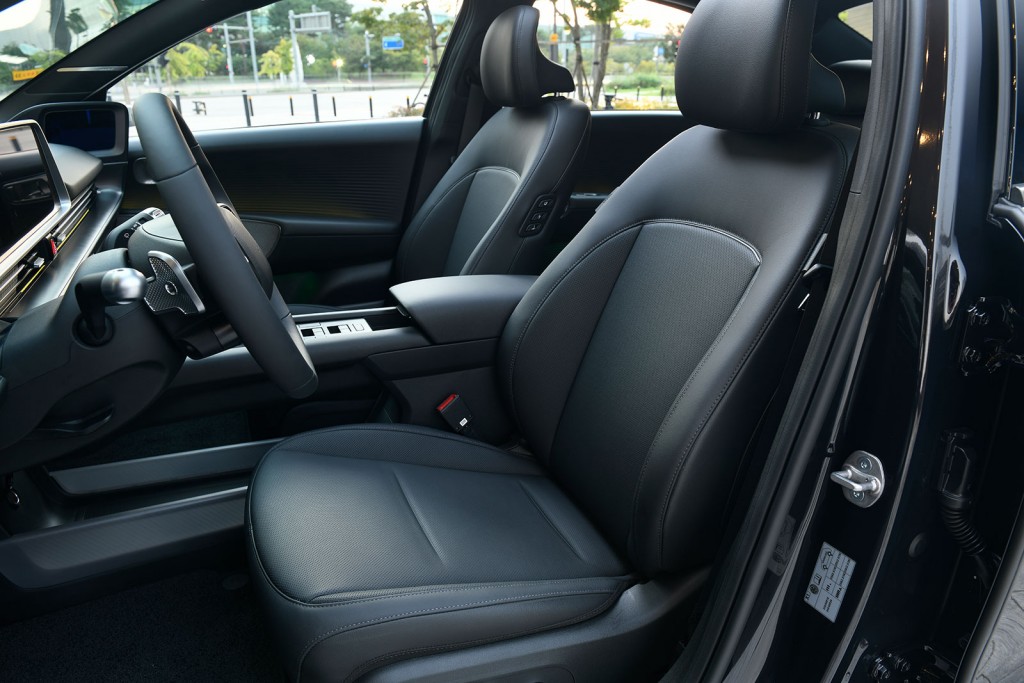 That's because the sloping fastback roof of the Ioniq 6 really cuts into the space. Hyundai has angled the seats so you sit a bit lower and slouched more, and while most passengers will be fine anyone over six foot tall or so might find their head uncomfortably close to the roof.
That sloping roofline also means the boot is a proper saloon opening, instead of a more practical hatchback opening. Apparently, the hinges for a hatch opening would have impacted on the rear headroom even more, and also had an impact on the aerodynamic efficiency.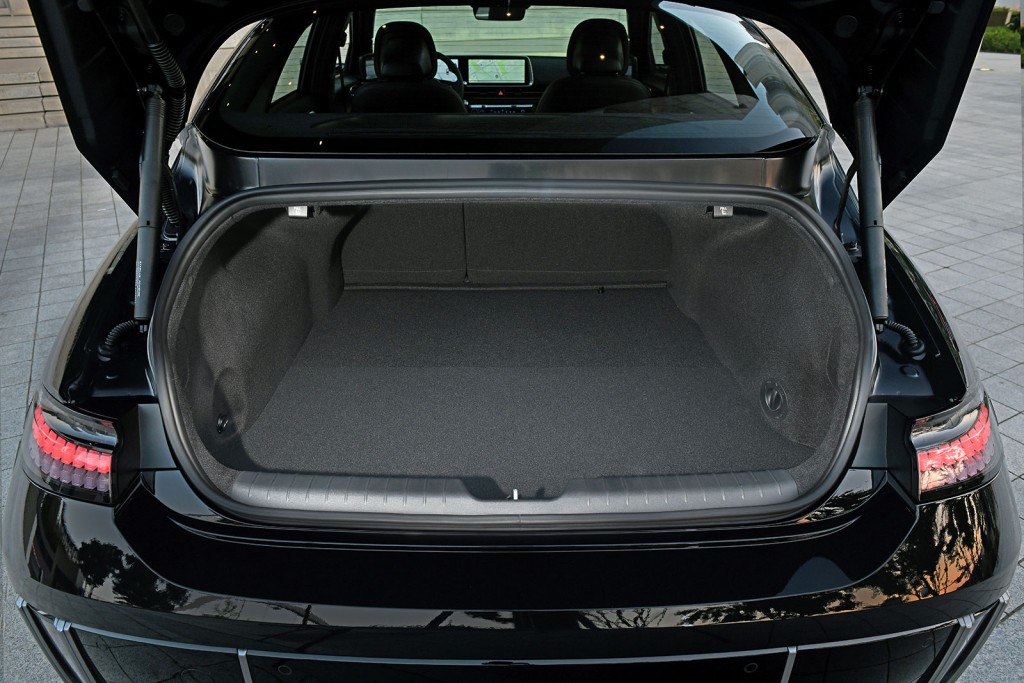 It's a trade-off, basically: you get a few miles of extra range, but you'll have to work a bit harder to fit your belongings into the boot of the car. Still, the load space is pretty cavernous, so you'll be able to cram loads in – you'll just have to work a bit harder at it.
So what will it cost me?
The Ioniq 6 will launch in the UK with a special fully loaded First Edition, which will be priced at £54,995. It will feature the bigger battery and the dual motor all-wheel-drive powertrain.
It will come with a number of exclusive First Edition trim elements such as glossy back exterior trim elements, matte black 20in alloy wheels and a black interior with black headliner. There are also special Fiest Edition floor mats made from a recycled material featuring tartan highlights. 
It also comes with a surround view monitor, a parking collision avoidance system, a head-up display, heated steering wheel and memory seats.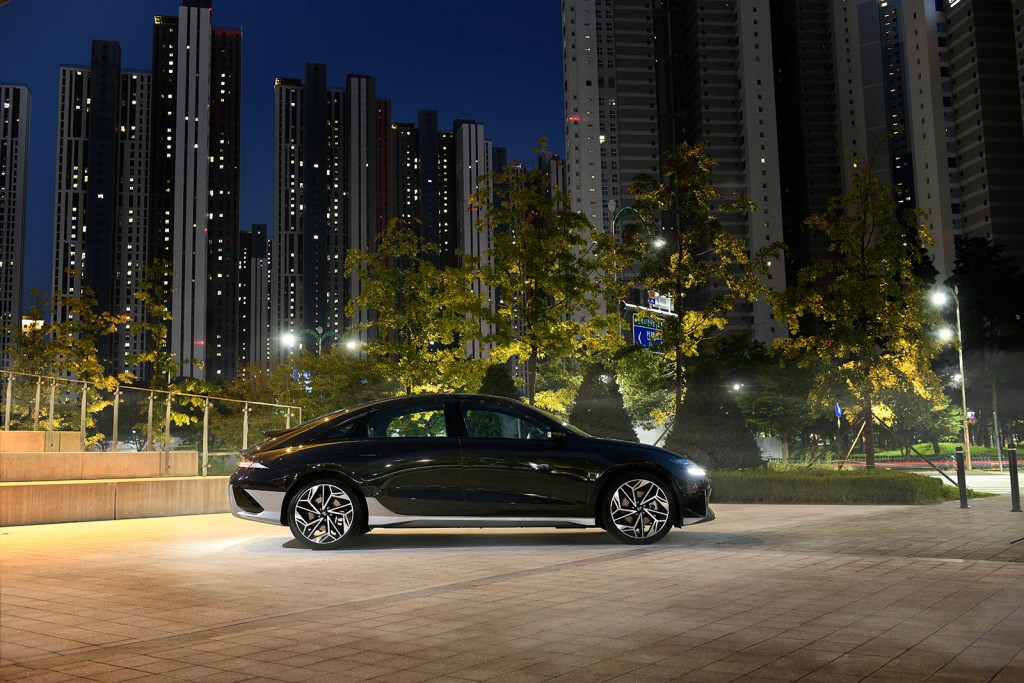 After the launch event, Hyundai will offer two further trim levels of the Ioniq 6: Premium and Ultimate, both of which will be offered with Rear and All-Wheel Drive versions.
The entry-level Premium Rear Wheel Drive models start from £46,745 and come with 20in alloy wheels, electric door mirrors, privacy glass, front and rear LED lights, heated front and rear seats and a 12.3in touchscreen. The All Wheel Drive version is priced from £50,245.
Ultimate trim adds eco-leather seat trim, driver's seat memory foam, relaxation and ventilating front seats, a sunroof, blind spot monitor, head-up display, surround view monitor, remote smart parking and a Bose seven-speaker audio system.
It also features LED steering wheel lights that work with functions such as voice recognition and reverse gear selection, active sound design and, for £995, optional digital side mirrors. Ultimate models are priced from £50,245 for Rear Wheel Drive, and £53,745 for All Wheel Drive.
Notably, Byte Blue Pearl is the only basic paint colour, with the other 10 choices all a £585 option. A vehicle-to-load power outlet adaptor costs £375.
What rivals should I consider?
The obviously place to start is the Tesla Model 3, because that's the first machine anyone compares any new electric saloon to. That's partly because the Tesla is a little ubiquitous, but also because it's really, really good.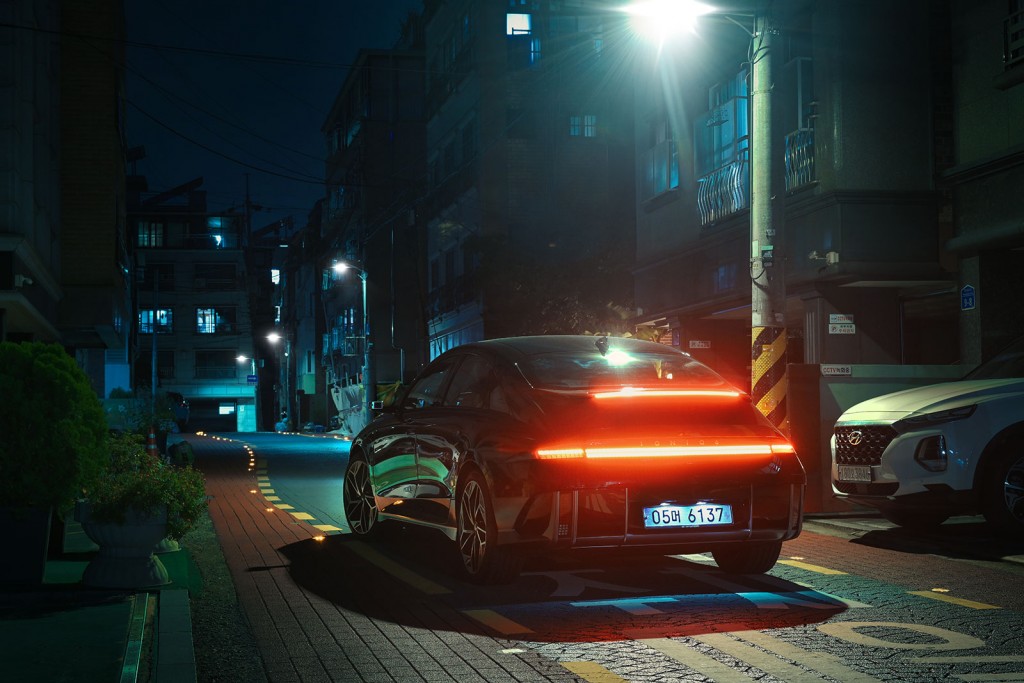 The Model 3 might be a bit sharper to drive, but the Ioniq 6 holds up well, and has that crucial bit of extra range. If you're not a fan of Tesla's start, touchscreen-dominated interior, you might prefer the Ioniq 6 too.
There's also the Polestar 2, another convincing electric crossover with a bit of a performance edge. And you'll also want to consider the BMW i4 and the Mercedes-Benz EQE. And yes, it still feels a bit crazy to us that we can list models such as that as a rival to a Hyundai and no longer even bat an eyelid about it.
Of course, the main opposition could come from other Hyundai Motor Group models. If you don't need all the range offered by the Ioniq 6, you might find the SUV stylings of the Ioniq 5 and Kia EV6 offer a little bit more space and practicality.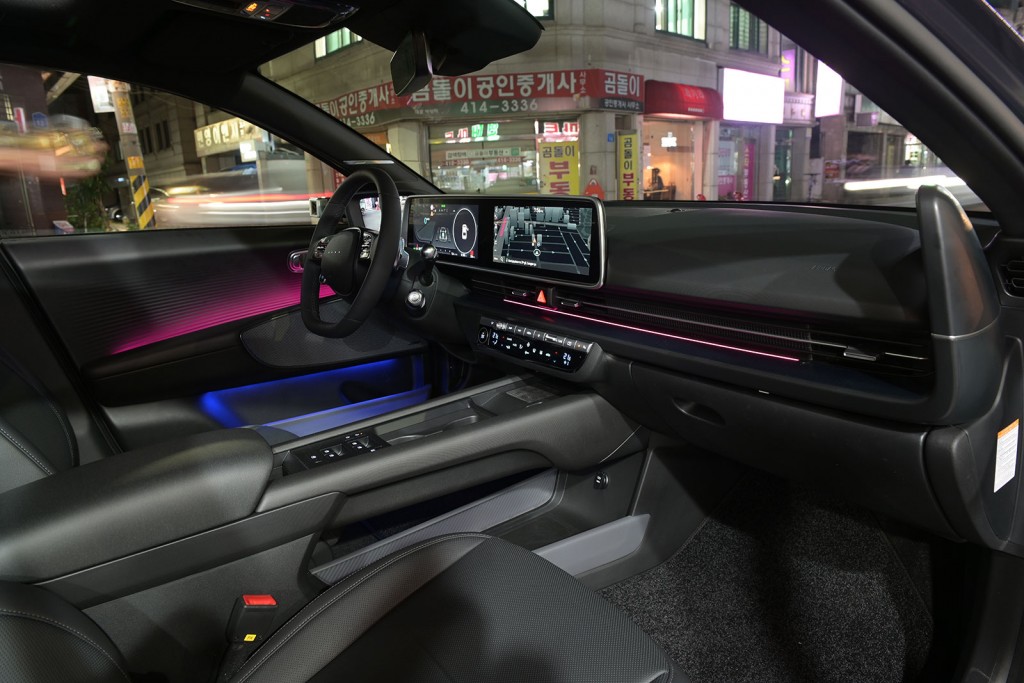 Verdict
There is an awful lot to like about the Ioniq 6. It's distinctive and stylish, really comfortable inside, good to drive, is packed with tech and, of course, has a class-leading and genuinely impressive range. 
Frankly, given how good it was we'd have been happy if Hyundai had followed up the Ioniq 5 with a similarly styled machine in a different class, but the Ioniq 6 is so much more. Hyundai has really pushed to develop a class-leading efficiency and range, and come up with a product that looks and feels a bit special.
We've rated it 4.5 stars for now, but that in part reflects the fact we haven't yet driven it in UK spec. When we do, it could well net the full five stars.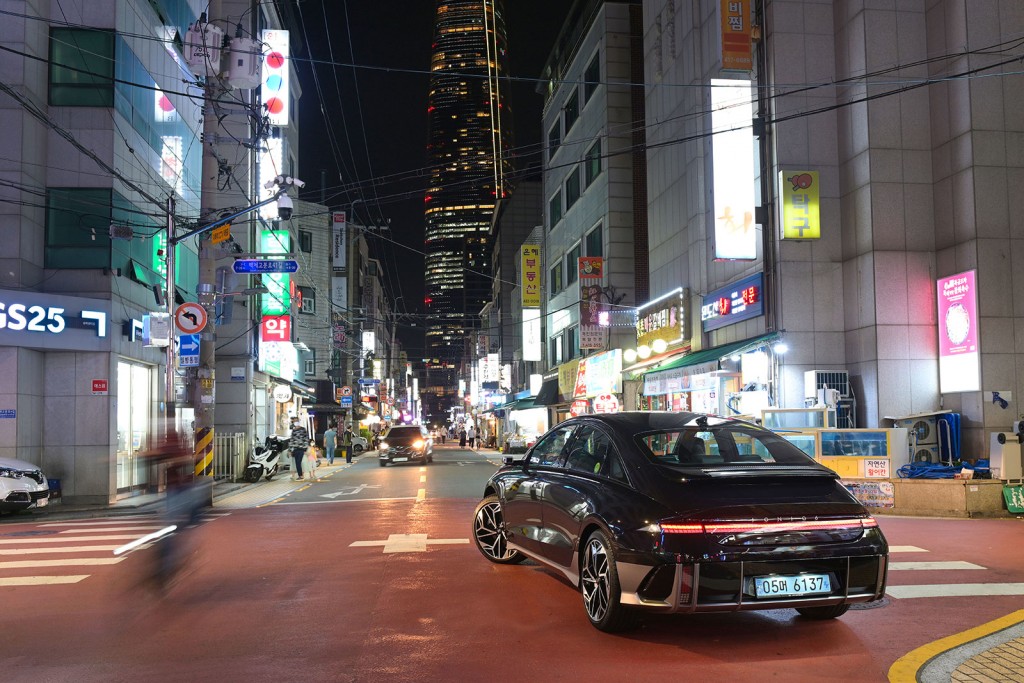 Hyundai Ioniq 6 specifications
Price: £54,995 (First Edition models)
Engine: One or two permanent magnet synchoronous
Power: 168-245kW
Torque: Up to 446lb ft
Gearbox: 1-sped reduction gear, AWD
Kerb weight: TBC
0-62mph: From 5.0secs
Top speed: TBC
Battery: 77.4/72.6kWh (total/usable)
Charging speed: Up to 350kW
Range: 322-382 miles
Economy: 3.7-4.3mpkWh
CO2, tax band: 0g/km, 2%
RIVALS
READ MORE
Subscribe to the Move Electric newsletter
e-CARS
Video: Can the National Grid cope with a surge in electric vehicles?
e-BIKES
What to look for when buying an e-bike: Move Electric's top tips
The rise of Volt Bikes: 'when we launched, people thought we were mad'
e-MOTORBIKES
Maeving RM1 electric motorbike review
Q&A: Zapp founder on why electric mopeds are the future
Government plans 2035 ban on new non-zero emission motorbike sales
e-SCOOTERS
Tier to upgrade e-scooter fleet with a smart 'Parrot'
Q&A: Neuron Mobility's UK boss on e-scooters, safety and helmet selfies
e-WORLD
Polestar to supply battery tech to electric boat firm Candela
Engineering giant ABB working on electric Dover-Calais ferry