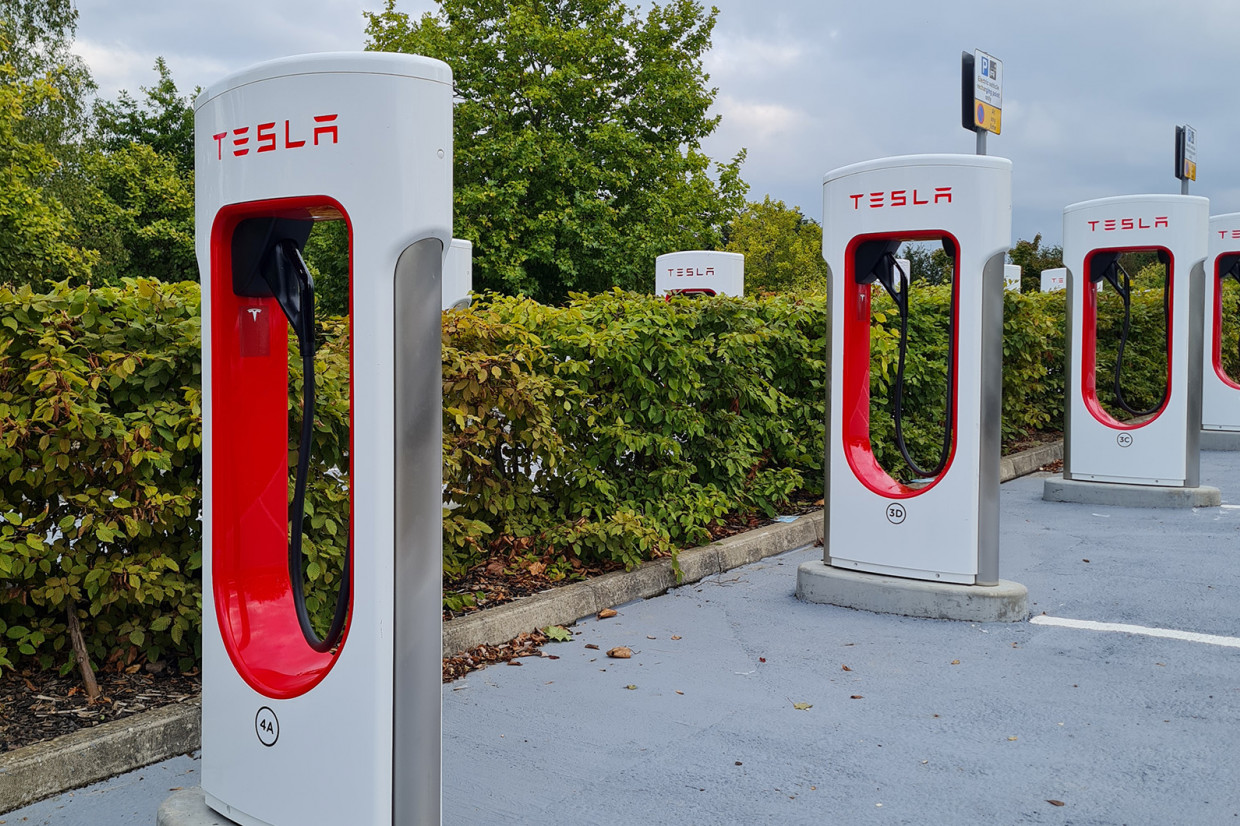 Tesla makes some brilliant electric vehicles – but one of the biggest perks of ownership is access to the Tesla Supercharger network. It's one of the best charging networks in the UK and Ireland, and it's just reached a new milestone.
The American firm has been rapidly expanding the network and has just opened the milestone 1000th Tesla Supercharger stall, which are spread at more than 100 locations across the two countries. 
The 1000th stall is located in the new 15-stall London Sidcup Supercharger site, which is located at Ruxley Manor garden centre on the A20. That means drivers who stop to charge there have access to a restaurant, cafe, grocery store, toilets and, of course, somewhere to buy pot plants.
Tesla opened its first UK Superchargers in 2014, at the Royal Victoria Docks in London, and has put a major emphasis on growing the network since then. It has already opened 17 new Supercharger sites featuring 177 stalls in the UK and Ireland this year.
Since 2019, Tesla has been rolling out its V3 Superchargers, which use CCS cables and can charge at speeds of up to 250kW, enough to add 75 miles of charge in around five minutes. The firm says that 
While the bulk of the Supercharger network remains only available to Tesla drivers, in May the firm opened up 15 stations – totalling 15 chargers – to non-Tesla drivers as part of a pilot scheme.
Tesla says it "has always been our ambition" to eventually open the network to Non-Tesla EVs, and the move is also designed to meet likely government legislation requiring open EV charging networks.
READ MORE
Subscribe to the Move Electric newsletter
e-CARS
Video: Can the National Grid cope with a surge in electric vehicles?
e-BIKES
What to look for when buying an e-bike: Move Electric's top tipsx
The rise of Volt Bikes: 'when we launched, people thought we were mad'
e-MOTORBIKES
Maeving RM1 electric motorbike review
Q&A: Zapp founder on why electric mopeds are the future
Government plans 2035 ban on new non-zero emission motorbike sales
e-SCOOTERS
Tier to upgrade e-scooter fleet with a smart 'Parrot'
Q&A: Neuron Mobility's UK boss on e-scooters, safety and helmet selfies
e-WORLD
Polestar to supply battery tech to electric boat firm Candela
Engineering giant ABB working on electric Dover-Calais ferry