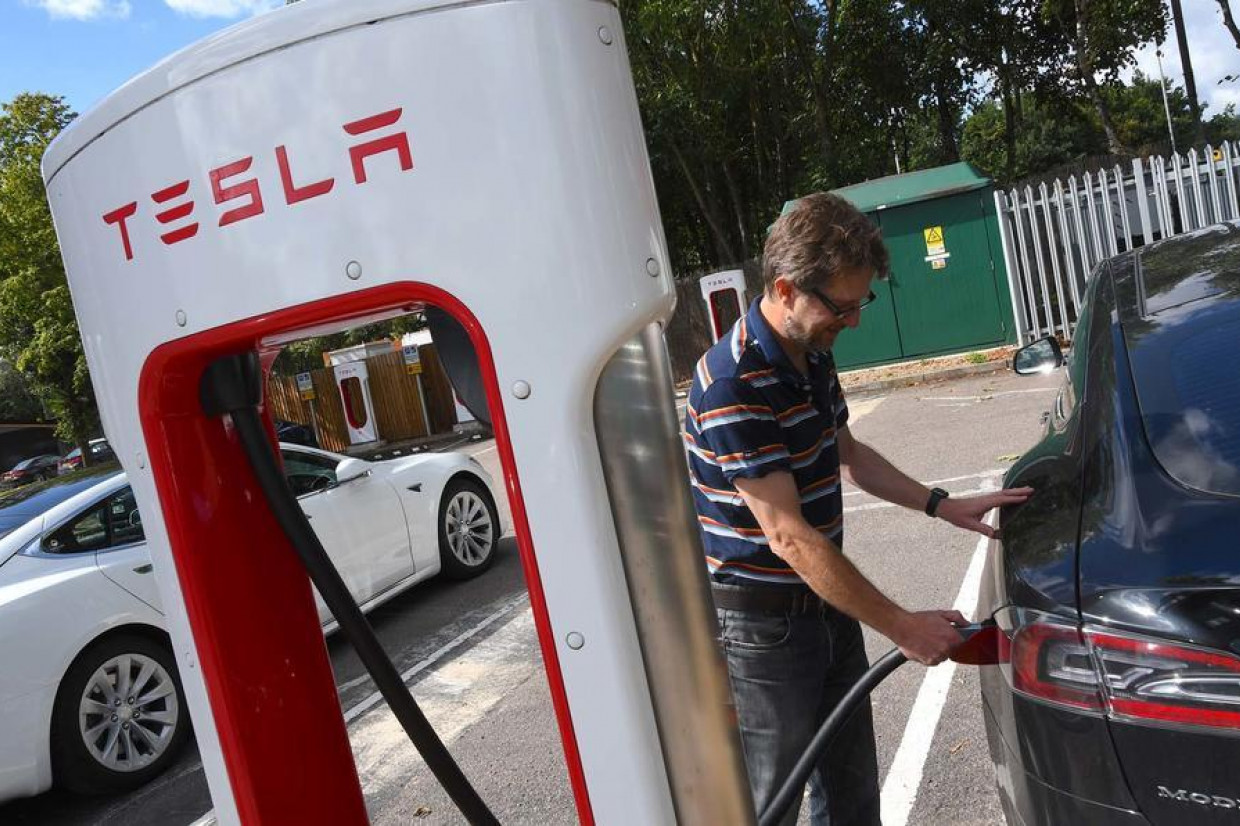 Tesla will allow drivers of other electric vehicles to use 15 of its UK Supercharger sites as part of a pilot scheme that could lead to the entire network being open to non-Tesla machines.
The Supercharger network is the largest fast-charging network currently in operation, with more than 30,000 chargers worldwide. It has traditionally only been open to Tesla vehicles, since since last November the firm has been running a Non-Tesla Supercharger pilot trial in the Netherlands.
The UK government recently indicated that Supercharger sites here would be open to non-Tesla drivers, a move that will provide an instant boost to the UK's high-speed charging network. But while the move will be welcome to non-Telsa owners it will likely prove controversial with some Tesla drivers, who view access to the Supercharger system as a major perk of ownership and a reason for picking a Tesla over another EV.
But Tesla is pressing ahead with expanding the pilot scheme, and has now opened select stations in Spain, Belgium, Sweden, Austria and the UK to non-Tesla owners. The UK portion of the trial will feature 15 stations comprising 158 individual chargers. 
The 15 UK Supercharger sites open to non-Tesla drivers are: Aberystwyth, Adderstone, Aviemore, Banbury, Birmingham St Andrews, Cardiff, Dundee, Flint, Folkestone Eurotunnel, Grays, Manchester Trafford Centre, Thetford, Trumpington, Uxbridge and Wokingham.
Everything you need to know about UK car charging
Non-Tesla drivers will need to use the Tesla app to access the Supercharger network, and will do so via a charging membership model. There will be a choice of a non-member race that averages 60p/kWh, or accessing a lower rate by paying a £10.99 monthly fee. The exact pricing varies by site.
In a statement, Tesla said that "it's always been our ambition to open the Supercharger network to Non-Tesla EVs, and by doing so, encourage more drivers to go electric."
It added that drivers of its vehicles can continue to use the Supercharger stations as they presently do, and said that "we will be closely monitoring each site for congestion and listening to customers about their experiences."
The firm added: "More customers using the Supercharger network enables faster expansion. Our goal is to learn and iterate quickly, while continuing to aggressively expand the network, so we can eventually welcome both Tesla and Non-Tesla drivers at every Supercharger worldwide."
READ MORE
Subscribe to the Move Electric newsletter
e-CARS
New electric cars for 2022 and beyond: what's coming when
New BMW i7 unveiled as luxury electric saloon
e-BIKES
Best e-bikes for every category 2022
Moustache Samedi 28.7 e-bike review
e-MOTORBIKES
Yamaha Neo's electric scooter review
Cake launches new global electric motorbike race series 
e-SCOOTERS
Government set to announce plans to legalise private e-scooter use
New study finds e-scooters are five times safer than bikes
e-WORLD
World's first airport for flying taxis opens in UK