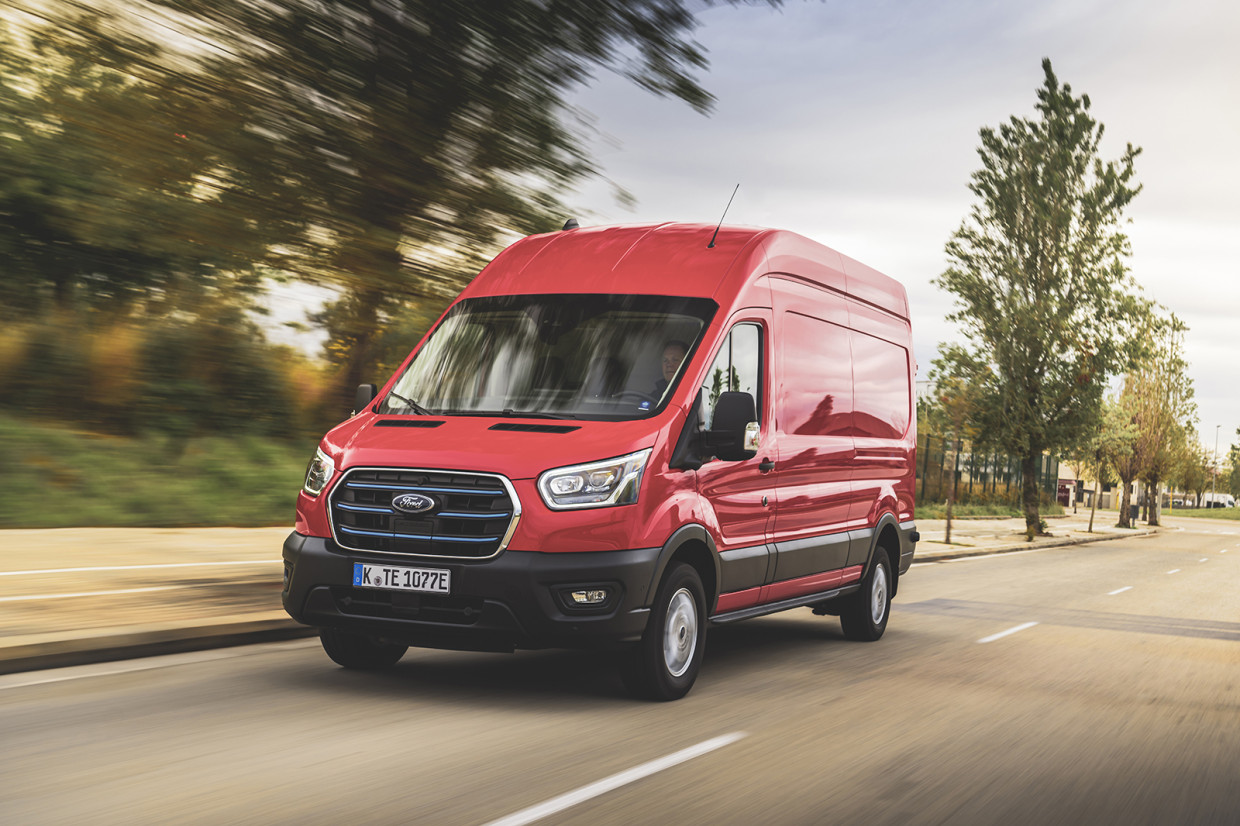 Move Electric verdict: Five stars
What's the story?
They don't get bigger than this - Britain's best-known van is going electric.
What's the big deal?
Sellotape. Portakabin. Selloptape... Transit. We're talking about an icon making a dramatic, zeitgeist-pleasing shift into electrification here.
But working van drivers aren't going to want to spend all day charging?
Indeed they aren't, which is why the e-Transit offers a range of up to 196 miles (which reduces to about 130 fully laden or 100 if you're towing) and a theoretical charge time from 15-80% of battery capacity in 34 minutes if you have a fast enough charger.
More realistically, an eight-hour overnight charge should always be enough to ensure you head into the day with enough range to let you worry about something else.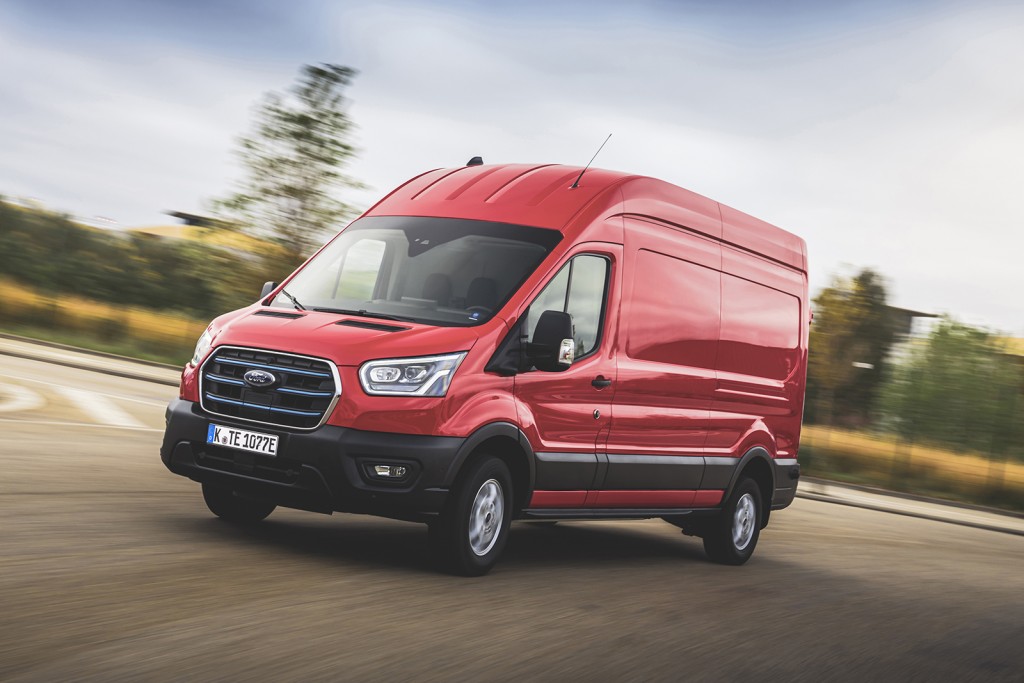 Hold on! I drive 200 miles a day. What am I supposed to do?
Don't be a naysayer - you can either find somewhere to charge it while you're on a job, head to a fast charger for a top-up or - if you must - buy a diesel or hybrid Transit. Nobody is forcing your hand just yet; it's all about buying what suits you.
As we'll discover, though, the e-Transit has a lot going for it if it can fit into your life, from potentially tiny running and ownership costs through to impressive practicality and performance, which is - shout it from the rooftops - in parts better than you'll find in any combustion engined Transit made to date.
Better? Are you saying the E-Transit is an uncompromised electric vehicle?
In many regards, yes - although inevitably there are a few watch outs that we'll come on to.
The key to these benefits is that the e-Transit isn't just a Transit that's been lashed up to carry a giant battery and electric motor. Instead, there's a bespoke rear axle and suspension set-up, designed to get the best from the completely revised weight distribution from having a battery pack slung under the chassis.
It's a key difference to rivals such as the Maxus E Deliver 9, Mercedes e-Sprinter and Renault Master E-Tech, which house their batteries between the chassis rails. By getting all that weight lower to the ground, Ford has created a van that clings to the road better than these rivals, making it more fun and more stable to drive.
It also rides more smoothly, that low down weight again paying dividends and working in conjunction with advanced coil sprung suspension to soak up even some of the bumpiest surfaces.
Throw in the fact there's no clattery engine just in front of you, but rather near silent electric motors sat well behind you doing their thing, and it's also beautifully relaxing.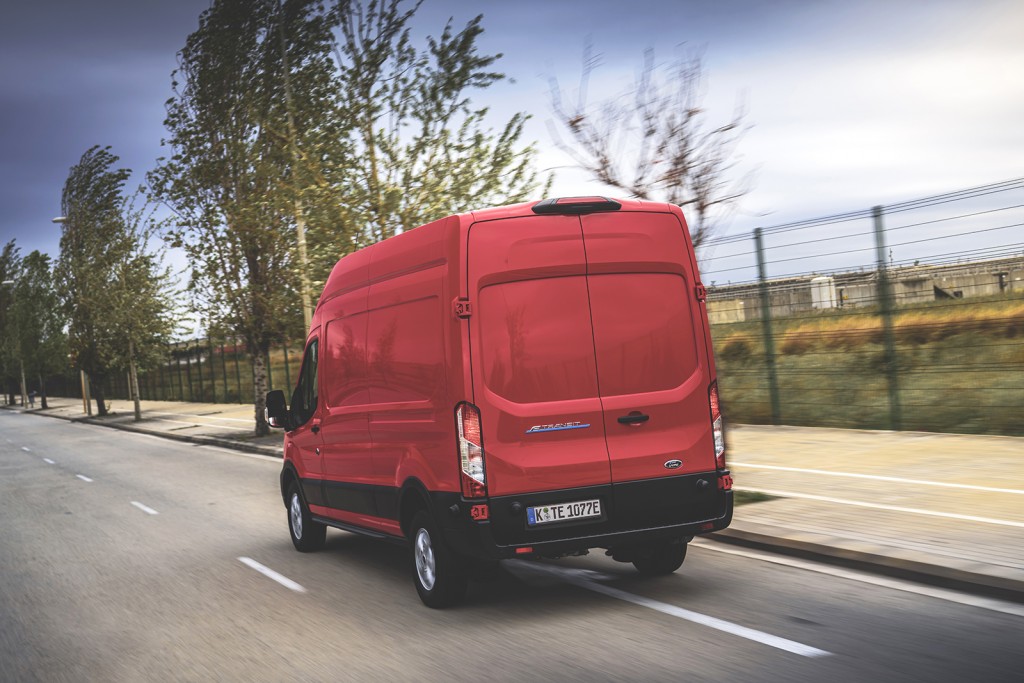 So I'm enjoying zen-like comfort in my e-Transit. But will it keep up with the nip and tuck of my commute?
And then some. You probably know that all electric vehicles accelerate rapidly thanks to the instant torque of electric motors, but the e-Transit feels as sharp out of the blocks as Usain Bolt compared to its combustion engined brethren.
The highest rated output offers an incredible 198kW (261bhp) - and even the lowest rated 135kW (181bhp) model is no slouch. In both, speed builds rapidly and smoothly - although taking advantage of that will eat into your predicted range and any monitoring fleet manager's sense of calm pretty quickly.
Talking of the fleet manager, explain the Ford Pro subscription service to me?
This is where the real magic happens: buyers get a year's free access to a new wraparound support system managed and provided by Ford which provides everything from charging support and advice through to upgraded sat-nav functionality and live vehicle health checks, including identifying problems, sourcing parts and booking in service work from afar.
If that all sounds a bit too good to be true, consider that the technology has been live since 2019, and based on current data is estimated to have saved 2200 users around 36,000 days off the road in the past three months - that's an average of about 15 days per vehicle.
Those are the kind of vehicle uptime benefits that make renewing the subscription to the service - and its all-encompassing support to help ensure you make the most of the electric transition - a no-brainer at around £16 a month.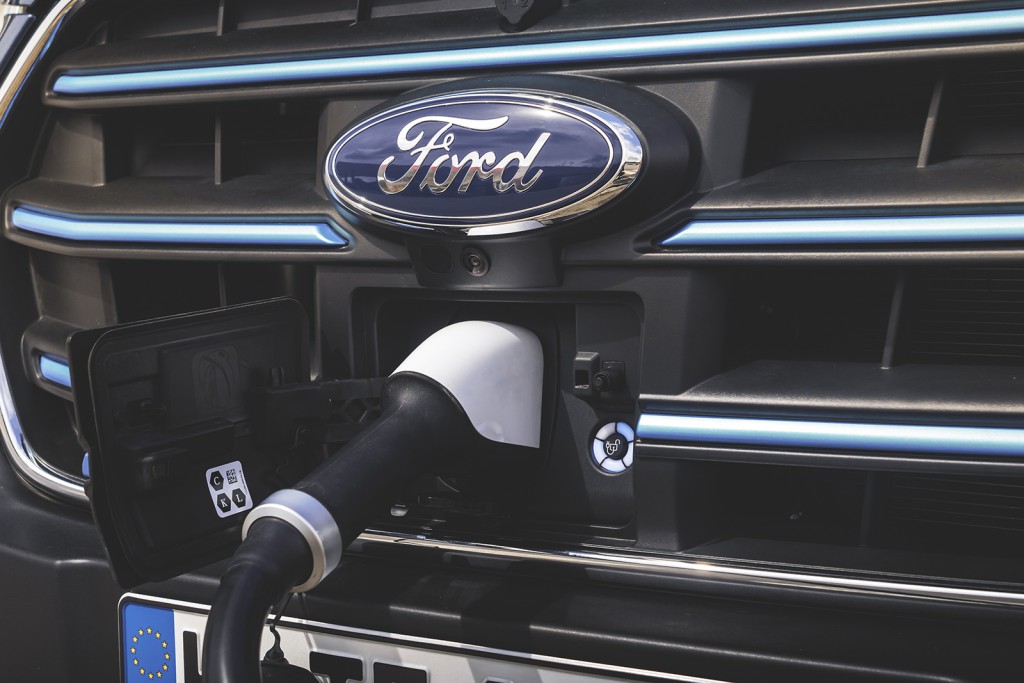 Is there anything new to get used to with the e-Transit?
Yes, but only small details, all of which you'll never give a thought to a week into driving one.
Aside from the obvious - a battery charge level indicator rather than a fuel gauge, for instance - there's three different driving modes available, Normal, Eco and Slippery, all of which vary the power and acceleration to preserve the battery charge or match the road conditions.
Then there's two regenerative braking settings to choose from; L mode is selectable from a sat control, or you can tap the brake itself to toggle between a medium or high setting. The force of that automatic braking may surprise you at first, but it won't take more than an hour before it becomes second nature to anticipate the force.
This all sounds great, but will I recognise it as a Transit inside?
In almost every way, yes - and that can only be a good thing given the Transit's reputation and sales figures to date.
The interior is nicely appointed, looking smart but still featuring a plethora of mostly tough, hard plastics, there to repel the impacts of daily working life, and there's enough cubbies to forget where you put your lunch.
There's also a nice, futuristic surprise in the form of a 12in touchscreen, as also found in the Ford Mustang Mach-E. It's shaped like a giant iPad and doesn't operate too differently, either, using Ford's SYNC 4 system for infotainment and navigation.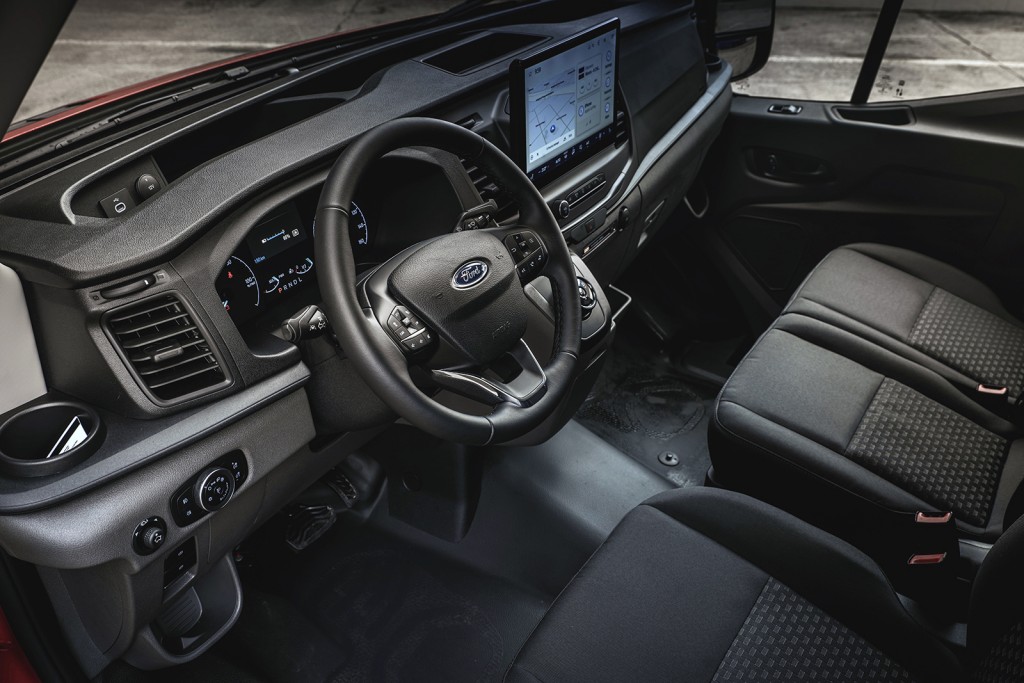 What about those watch outs?
Two stand out: one is the level of the load bay, which is notably higher up than traditional Transit owners might expect, and which is potentially off-putting for anyone hopping in and out of the back regularly.
The other is the price. While significantly lower than the likes of the Mercedes e-Sprinter, for instance, it is also higher than for an equivalent diesel Transit. Financially rather than ecologically motivated buyers should do their maths carefully before committing, therefore - although the reduced running costs, lower tax implications and congestion charge savings can rack up very quickly.
Sold! I want a Ford e-Transit - how do I spec it?
When you have plenty of time, as there's 25 different models to choose from, including short, medium and long-wheelbase vans, 3.5-tonne, 3.9-tonne or 4.25-tonne vans, and then there's two roof height options, and specialist chassis and double cab versions.  The maximum load volume available is 15.1m3 and its maximum payload is 1758kg.
There are two trim options: Base and Trend. Entry-level Base vans get Electronic Air Temperature Control, keyless start, heated seats, a Quickclear windscreen and heated power mirrors. Trend adds sat-nav, cruise control, pre-collision assist with pedestrian detection, plus lane-departure warning, lane-keeping aid, and front and rear parking distance sensors.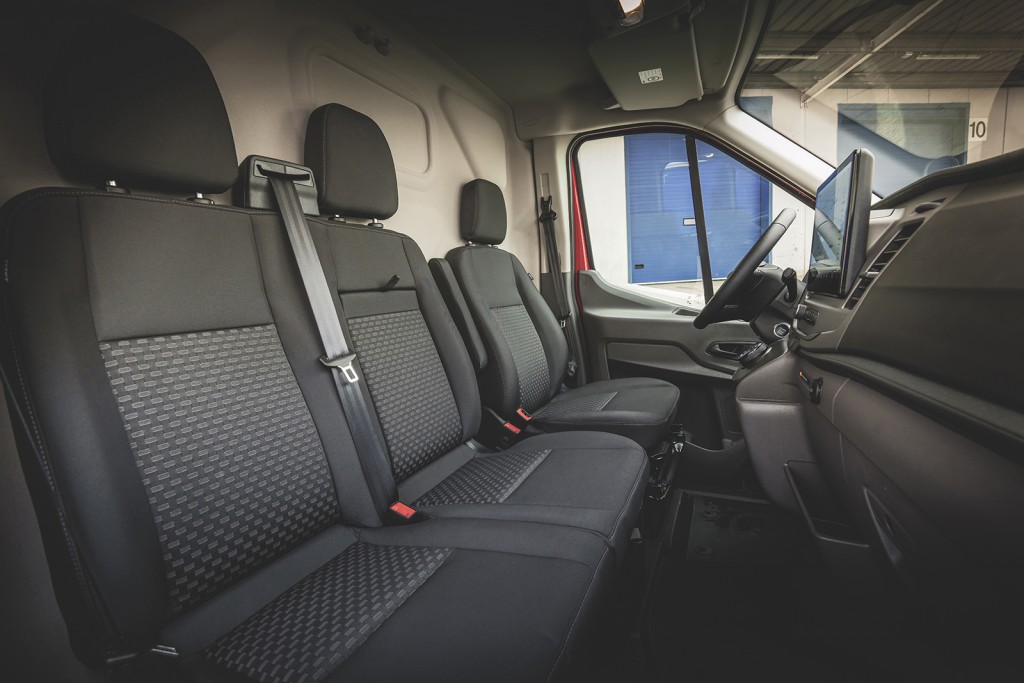 Suffice to say no other rival offers so many choices to tailor your van to exactly your needs. 
The basic Ford warranty covers three years and 60,000 miles, as well as an additional 100,000 miles of cover for the electric components including the battery.
The e-Transit is also loaded with enough kit to justify that price tag; advances include Reverse Brake Assist, which uses a camera and sensors to detect pedestrians, cyclists and static objects when reversing, and a 360-degree camera, which gives the driver a bird's eye view of the surrounding area on the 12in touchscreen.
Like for like, post-Government grant, estimates suggest that the e-Transit is just £2800 more to buy upfront than its diesel equivalent - a cost you'll soon recoup through lower running costs.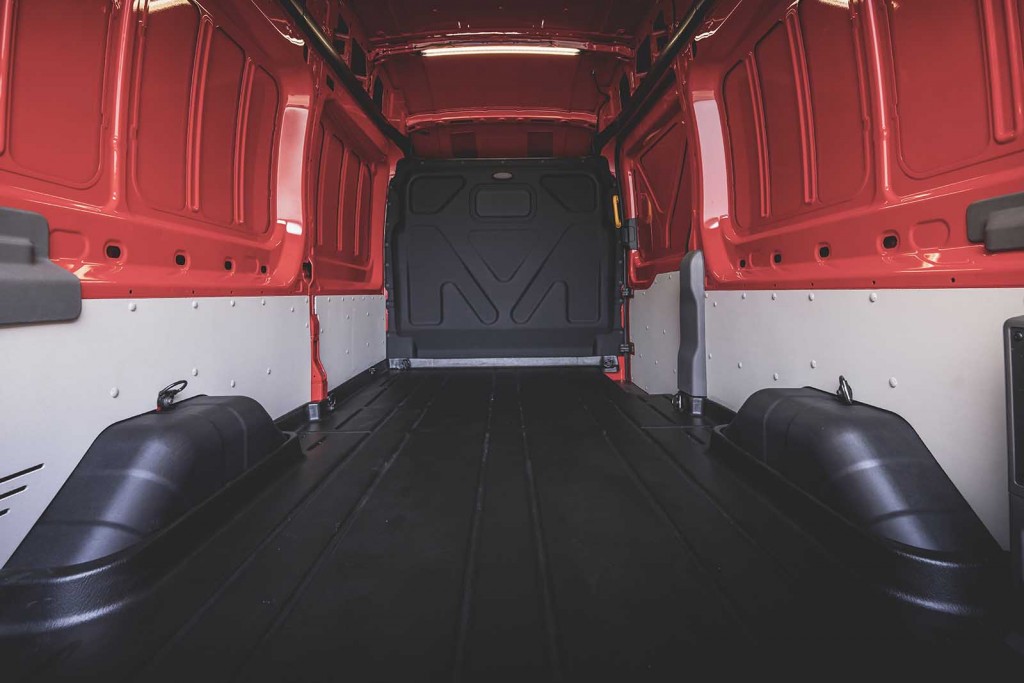 What about its rivals?
You'll have gathered by now that we like the Ford e-Transit, which we feel meets its brief almost to perfection.
If you have a bigger budget then the Mercedes E-Sprinter is worth a look. It's a highly capable van and some of its higher price tag will be won back thanks to strong residuals, but we do question whether it really delivers enough more for the money.
The Renault Master E-Tech competes in the same space, but in our estimation is a few degrees less impressive than the Transit in almost every way.
And then there's the Maxus E Deliver 9, a pleasingly capable option sold at a very competitive price. If the choice was ours we'd go with the e-Transit, but there's no question the Maxus has enough going for it to make the decision worth pausing on.
Ford e-Transit tech spec
Price from: £42,695 (excluding VAT, before Government grant)
Motor: Electric permanent magnet synchronous
Gearbox: Automatic
Driven wheels: two
Maximum power: up to 198kW (261bhp)
Maximum torque: Up to 317lb ft
Electric range (official): 196 miles
CO2 emissions: 0g/km
Gross vehicle weight: up to 4250kg
Payload capacity: 2090kg
Height: 1521-1543mm
Length: up to 6690cm
Wheelbase: up to 4520mm
Width: 2110mm
Maximum boot capacity: 15,189 litres
Rivals:
Renault Master E-Tech
Mercedes e-Sprinter
Maxus E Deliver 9
READ MORE
Subscribe to the Move Electric newsletter
e-CARS
New Volkswagen ID Buzz: everything you need to know
How efficient are electric cars?
e-BIKES
Ducati expands e-bike range with first racing machine
e-MOTORBIKES
New Yamaha Neo is Europe-bound '50cc equivalent' electric moped
Electric Motion Epure Race e-motorbike review
e-SCOOTERS
Eskuta KS-450 e-scooter review
Taito unveils innovative new three-wheeled electric scooter
e-WORLD
Electric surfboard firm Awake aims to make waves with first e-foil
Volta Zero electric truck can 'dramatically improve' inner-city road safety