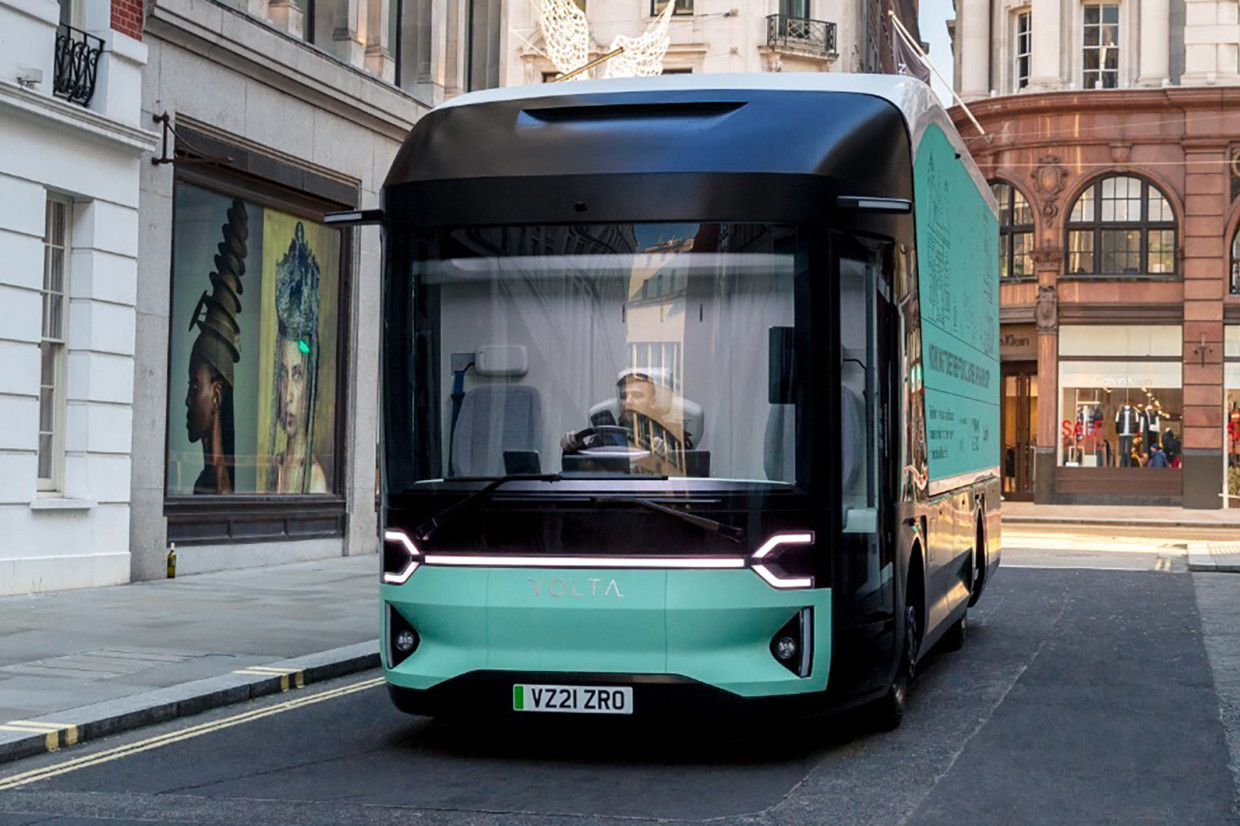 The new Volta Zero truck can help massively improve safety for vulnerable road users in major cities because of the advantages offered by its bespoke electric design, according to the firm's engineering chief. 
The Anglo-Swedish start-up is currently putting the finishing touches to 25 of the 16-tonne electric truck, which will be used for final development testing and customer trials before series production begins later this year. The machines are being readied at a prototyping facility near Coventry, where Move Electric was given access for a close-up look.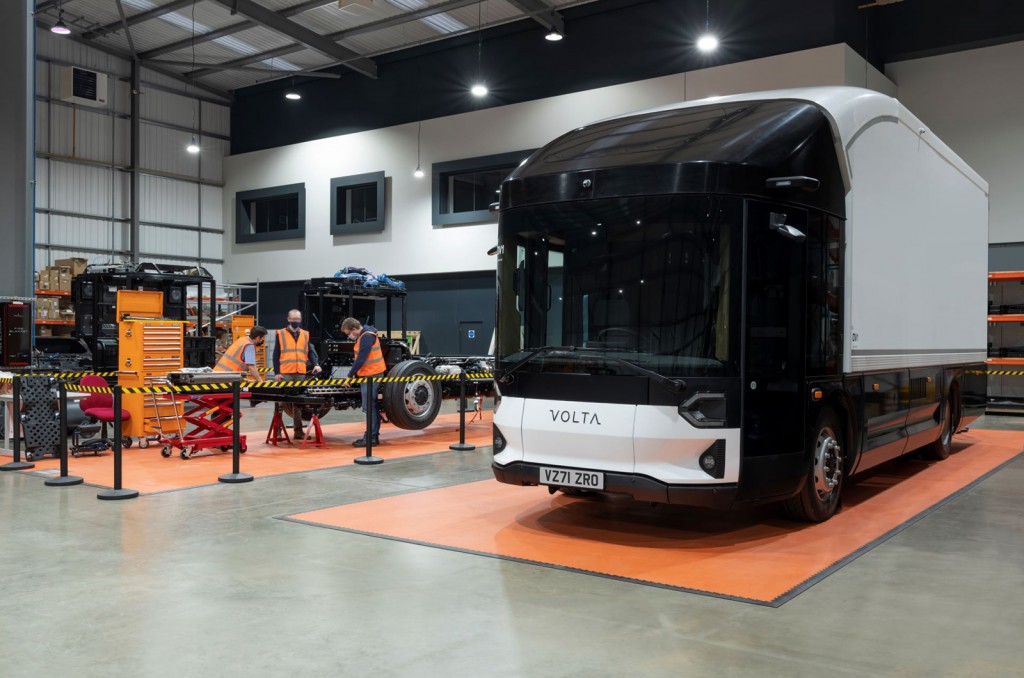 How the Volta Zero differs from other delivery trucks 
The Zero will be offered with a choice of 150kWh and 225kWh batteries, giving a range of up to 125 miles, and is designed specifically for 'last-mile' deliveries in urban areas. That means it will be used in areas with high numbers of pedestrians and cyclists, and data shows that large goods vehicles have been involved in a disproportionate number of fatal accidents with such vulnerable road users.
Subscribe to the Move Electric newsletter
According to statistics from Transport for London, trucks account for just four per cent of road miles travelled in the UK capital, yet are responsible for 26% of pedestrian fatalities and 78% of cyclist fatalities.
One major challenge that drivers of large delivery trucks face in urban areas is visibility: the cab is traditionally mounted high off the ground above the combustion engine, which can lead to large blind spots where pedestrians and cyclists are often found. Those issues remain in electric trucks based on existing combustion-engine platforms.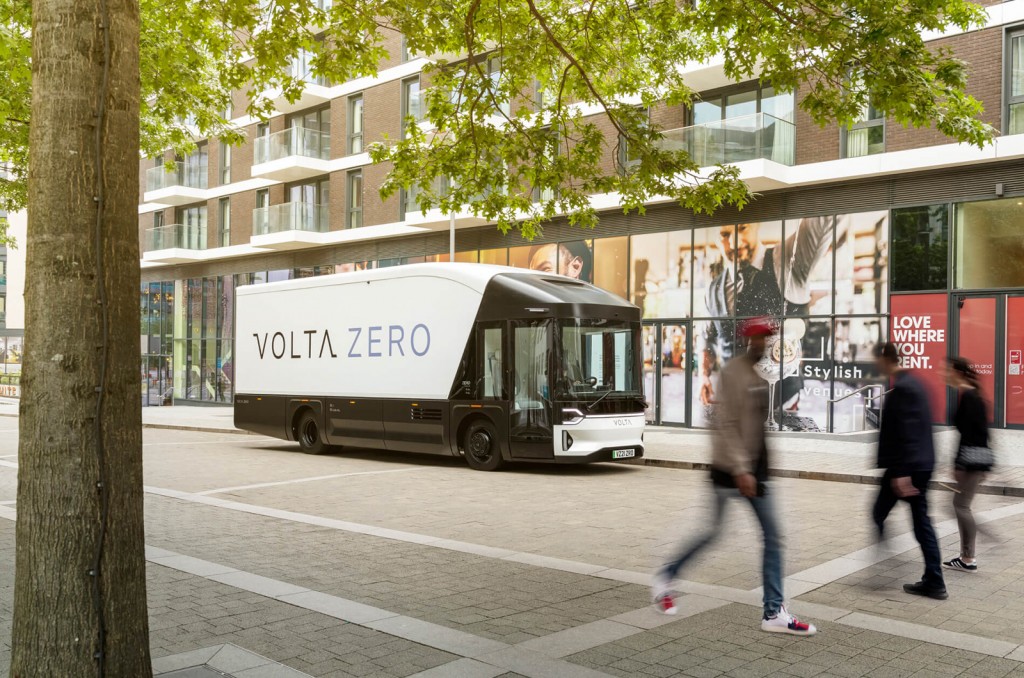 Ian Collins, Volta's chief product officer, said that the Zero has been designed from the beginning with a primary focus on improving safety, through its highly unusual low cab design. "Some firms view electrification as the goal, but we've used it as the starting point for innovation," said Collins.
"Because we started with a blank sheet of paper and can benefit from a ground-up electric design, we can address issues such as sustainability and particularly safety.
"For us, electric is the starting point. What else can we do now we've got the freedom of electric design? The starting point was not to build electric trucks but to make city centres safer and better."
How Volta has reimagined the truck
In many aspects, the Volta Zero is relatively conventional: it actually uses a high number of off-the-shelf parts, and twin chassis rail design is similar to similar vehicles. Collins says using such standard parts helped keep them development down to just 22 months, and also reduced costs. "We're not magicians," he joked. "To maintain speed, if we could go and buy it, we went and bought it. It meant we could focus our attention on the key innovations where we could make a difference."
The Proterra-supplied batteries on the Zero sit in a long tube that sits between the two chassis rails where the transmission tunnel of an ICE truck would sit, with the motor and transmission combined into an 'e-axle' that has been developed by Meritor and is mounted at the rear.
The removal of the combustion engine at the front has opened up the cab design. Volta worked to lower the chassis rails at the front, which allows for a much lower, more open cab – more reminiscent of a bus than a truck – to be fitted. That sits on independent suspension, which helps to lower it further.
Inside, the cab features a central driving seat, with two passenger seats set back in each corner. It's similar in concept to a McLaren F1 cockpit, and is a design that has only previously been tried on a very small number of trucks.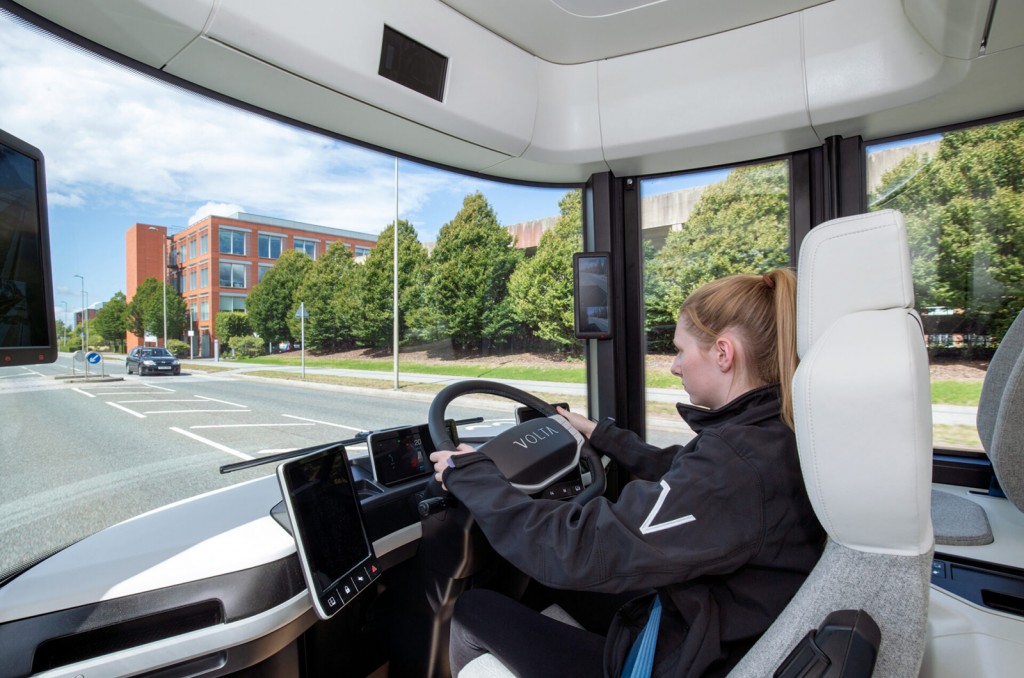 In addition, Volta has fitted large glass doors that offer floor-to-ceiliing visibility: Collins claims the driver has 220 degrees of vision. There are also numerous sensors and both digital and physical wing mirrors.
Collins previously worked at Polestar and at the LEVC firm that developed the electric range-extender TX London taxi.
"With the London taxi, we started with a goal to improve access for disabled people, so we worked out the space needed for a wheelchair to fit in the rear, and then designed the rest of the vehicle around those fixed points," he said.
"With the Zero, we've designed it entirely with a focus on the driver and safety aspects. We started with the concept for a symmetrical cabin with a central driver's seat, because that means there isn't a 'good side' or 'bad side' for visibility."
Collins added that the use of sliding doors also helps to boost safety for vulnerable road users, because they won't swing open. The symmetrical design also means the driver can choose which side to exit to maximise safety.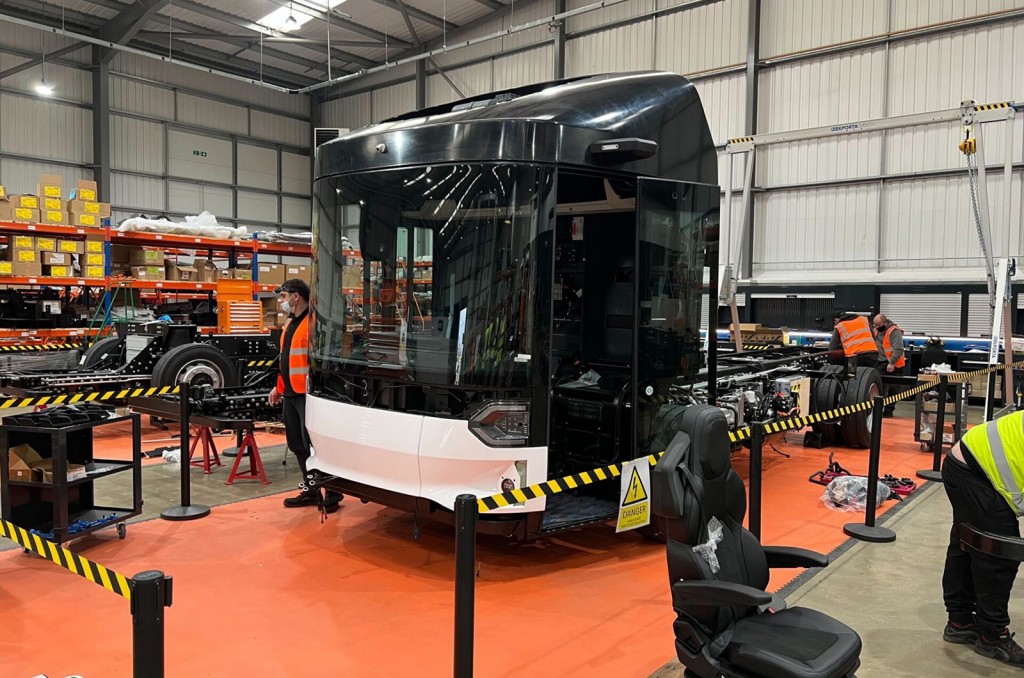 The lower cab also has benefits for the driver: it is easier for them to get in and out of without the need to climb steps, and Volta has designed it to be more comfortable to spend time in, helping to reduce driver stress.
The view from the driver's seat
During our visit to the prototype production facility, Move Electric had the chance to climb into the cab of a Volta Zero. Climb is a relative term here: it was just a couple of quick, easy steps up from the factory floor into the large, spacious cabin.
The central driver's seat was comfortable and well sprung, and visibility out of both side doors was really good. Forward visibility was too: beyond the big steering wheel there was a commanding view. 
The dashboard in the machine we sat in wasn't quite finished, but everything seemed well laid-out, with two a digital driver display well-placed behind the wheel and two vertically mounted digital displays on either side. Each of those featured a handful of large, clearly labelled physical buttons beneath them.
Passengers aren't left out, either: the two seats are positioned slightly behind the driver so as not to encroach on their visibility. The bonus is that they offer plentiful extra legroom. The seats will likely come into use if the Zero is used for deliveries of large items such as furniture.
What's next for the Volta Zero?
The 26 machines that have been built in Coventry will be used for a range of tests. There are already machines in Sweden undertaking cold-weather testing, and other doing durability work in Germany.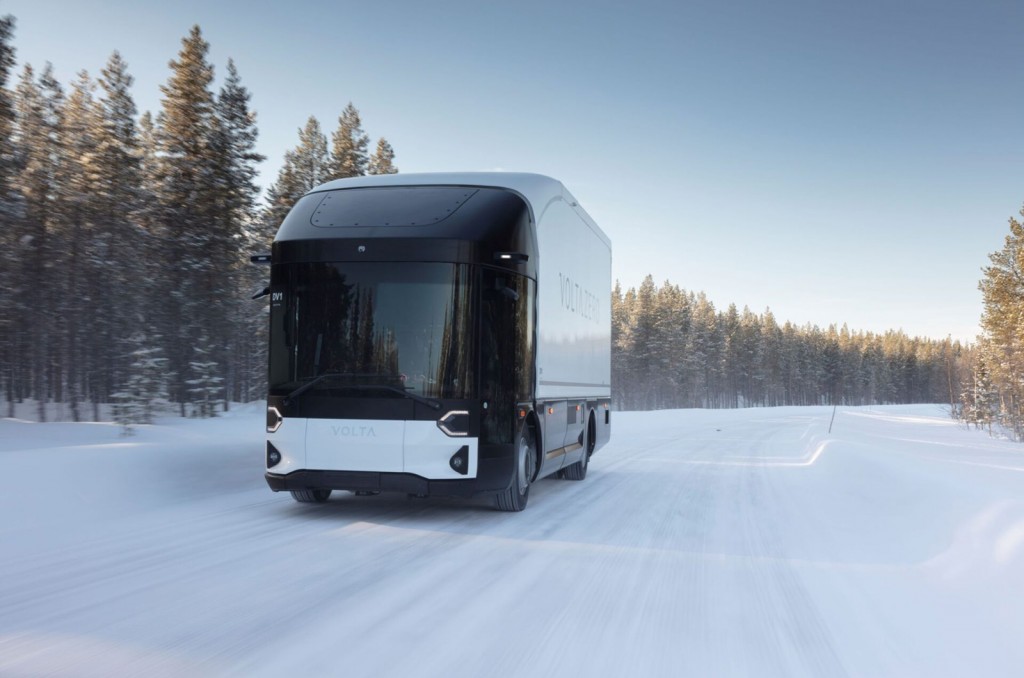 Some will be put to use later this year in test runs in various locations, such as the trial Volta is running with The Crown Estate for central London deliveries. And another will be sent in parts to Steyr, the firm that will manufacture the machine in Austria. Steyr was created out of a former MAN truck plant, and will use the parts to run a prototype Volta down the factory line before series production begins later this year.
The Volta is due start arriving with customers early next year. The firm will initially offer it in London and Paris – demand is particularly strong in the latter due to an incoming ban on all diesel vehicles in the French capital from 2023 onwards – before expanding to other cities. 
The Volta Zero starts from €235,000 (£197,000), although Volta will largely focus on offering it on a 'Transport-as-a-Service (TaaS) subscription scheme, which can include all energy, servicing and maintenance costs. The firm claims that, over its eight-year initial lifespan, it will offer half the total cost of ownership of a comparable diesel truck.
The 16-tonne Zero offers 8.6-tonnes of cargo capacity, and will initially be offered with ambient and refrigerated boxes. For simplicity, Volta will focus on these body types initially, and could expand the options in future depending on demand.
And after that?
Volta has plans for three more electric trucks by 2025, with 7.5, 12  and 18-tonne versions following. They will follow a 'nesting doll' design, and will also be focused on the inner-city last-mile delivery market.
READ MORE
Subscribe to the Move Electric newsletter
e-CARS
The 10 electric cars with the longest range
e-BIKES
Desiknio Pinion C1.9 Classic e-bike review
Ride for a worthy cause: Big Issue eBikes launches in Bristol
e-MOTORBIKES
Triumph reveals first electric TE-1 motorbike
BMW CE 04 electric scooter review
e-SCOOTERS
Superpedestrian Link e-scooter: first ride
The new battery tech designed to make e-scooters more sustainable
e-WORLD
New Candela C-8 electric hydrofoil has first 'flight'
Awake Ravik S 22 aims to take electric surfboards to the extreme