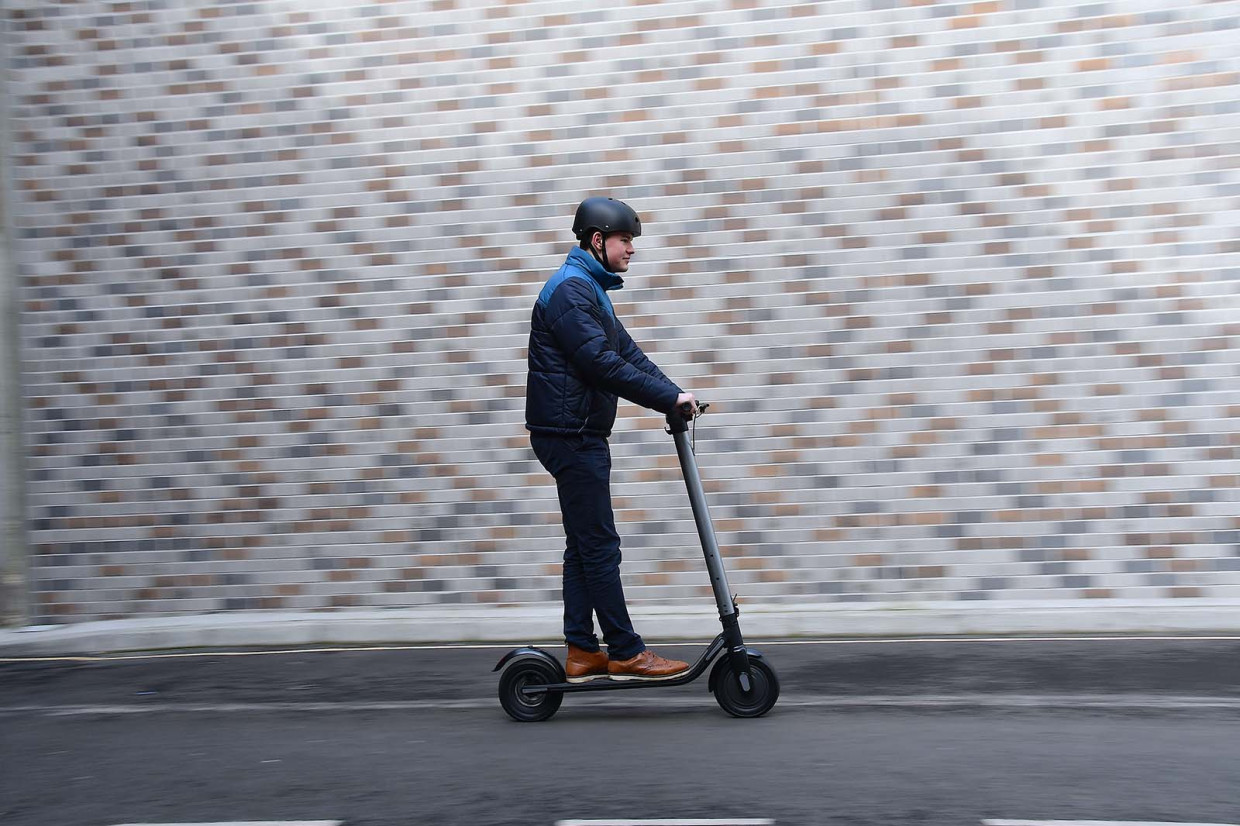 Move Electric rating: four stars out of five
Robust, refined, recharged….the Eskuta KS-450 is an all new electric scooter that has plenty to offer on paper, but is it compromised by its front-wheel drive layout and price?
Sell it to me in a sentence…
Hoping to shake up the e-scooter market, British firm Eskuta's KS-450 is a lightweight, foldable machine that is set to go on sale in April.
As a reminder, in the UK it is currently only legal to use a privately owned e-scooter on private land. The only e-scooters currently allowed on public roads in the UK are those taking part in trial rental schemes.
Are e-scooters legal in the UK?
I'm interested, tell more more…
Warwickshire-based firm Eskuta designs and manufactures a range of electric bikes, mopeds and e-scooters. The new KS-450 will sit atop its e-scooter range, and draws power from a 350W battery connected to a brushless hub motor. That gives it a top speed of 15.5mph, which on a lightweight e-scooter like the KS-450 certainly feels brisk. 
One of the reasons behind the lightweight design is to allow the e-scooter to be folded and carried, but even at 12.5kg, you wouldn't want to carry it for prolonged periods of time. 
What really helps set the KS-450 apart from its rivals is it's highly commendable 30-mile range, with charging times of between three and four hours.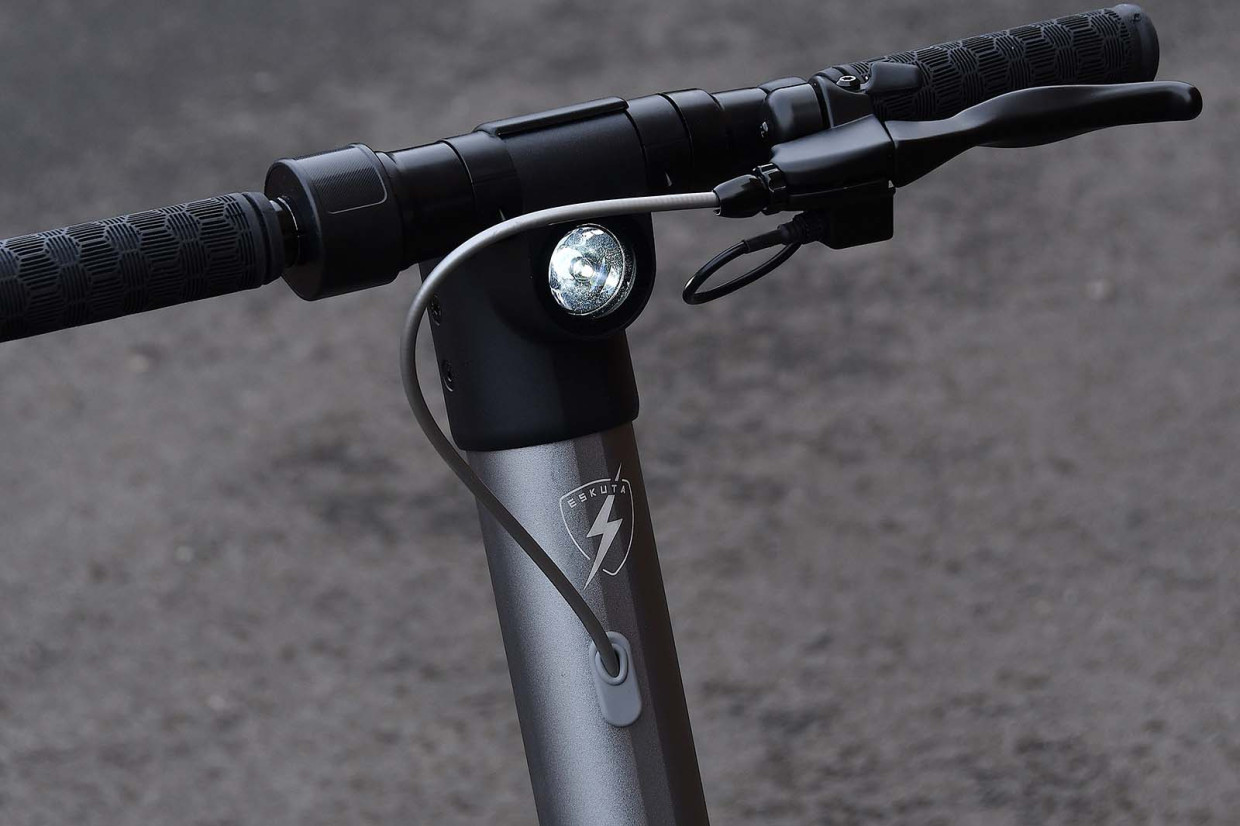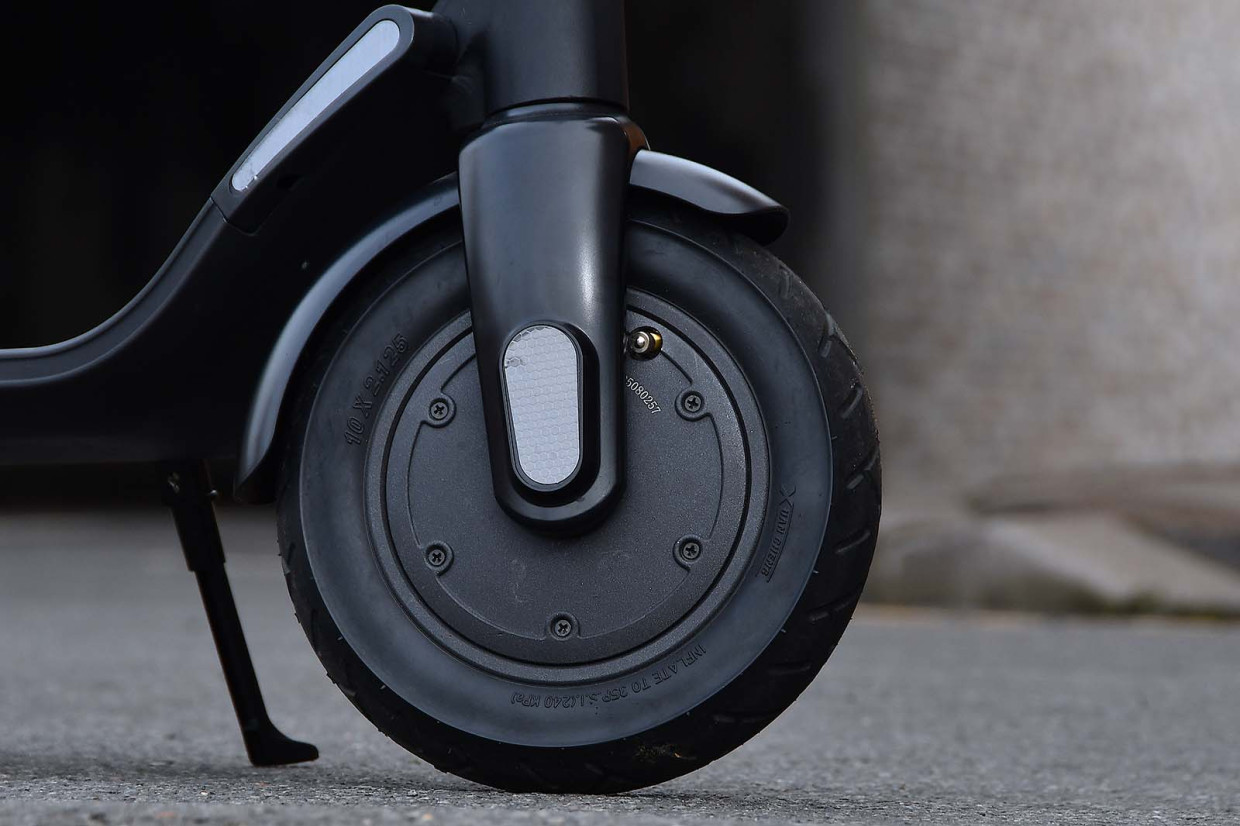 Sounds good, now give me the highlights?
The KS-450 features three riding modes – Beginner, Normal and Sport – which allows for greater usability depending on the riding environment. Beginner mode limits the e-scooter's speed to 6mph and is perfect for use around built up areas, although it's worth reminding again that private e-scooters are illegal to ride on public roads in the UK.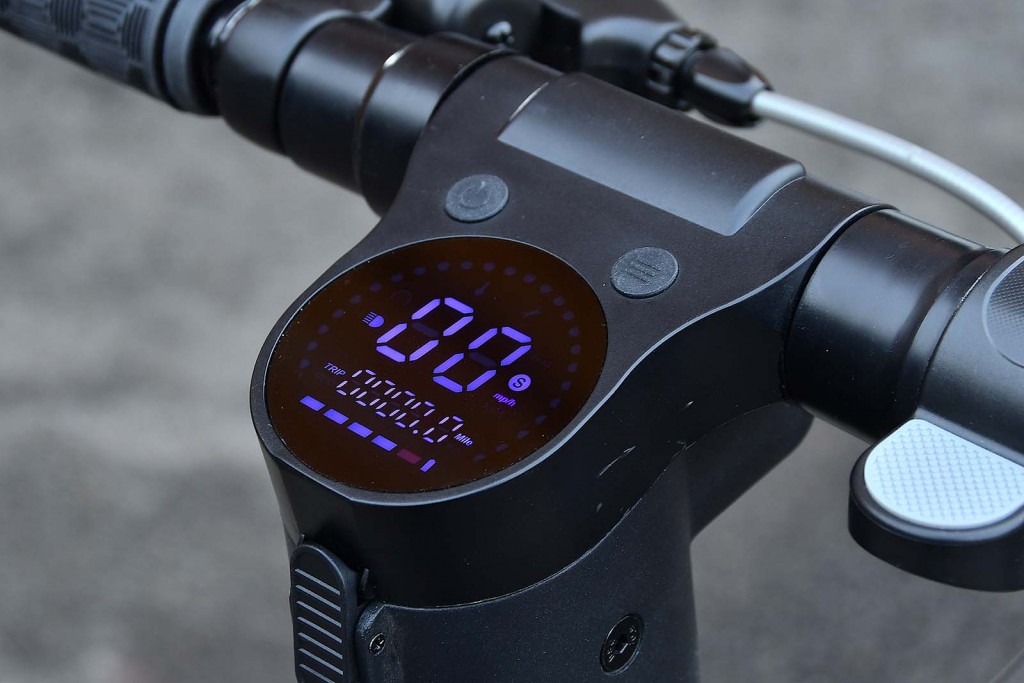 Normal mode is very, ahem, normal and allows you to use the e-scooter up to a speed of 9mph, while Sport gives you access to the 450's 15.5mph top speed. There is also a Cruise mode which kicks in when you hold the thumb-accelerator down for six seconds. This locks the speed in so you don't need to press the accelerator and you can exit the Cruise mode by pressing the accelerator or brake. 
The Eskuta smartphone app is also worthy of praise. By downloading the app you can connect your e-scooter to your phone using bluetooth, with your phone doubling as a digital display showing the speed and various modes. 
Another useful feature is the removable battery that sits in the stem of the handlebars. You can plug it into any domestic socket, making it much easier to charge the KS-450.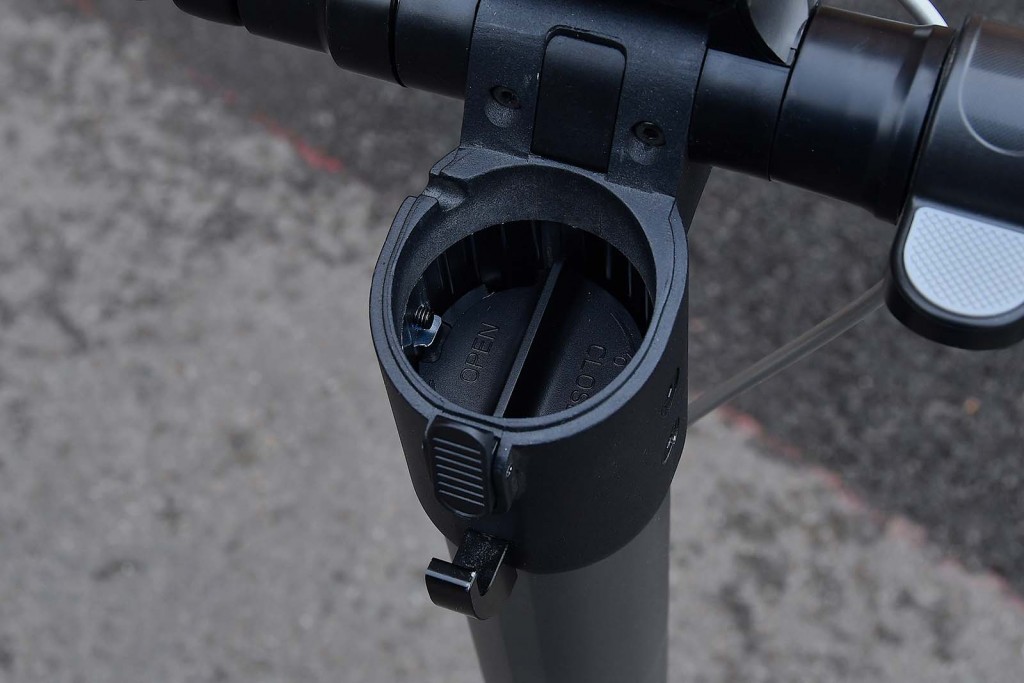 We have mentioned it before, but the KS-450's range is really a standout feature. Many rivals, some of which more expensive than the £469.50 KS-450, only offer up to 20 miles of range, with some models taking much longer to charge. 
It's got some great features, but what's it like to ride?
In Beginner mode the KS-450 is very easy to ride. The limited speed plays a role in this, but even accounting for that negotiating tight spaces is a doddle. 
The KS-450 soaks up the bumps well, and it's only when you find a pockmarked road that you start to feel a little less at one with the machine. There is a front brake as well as a rear foot brake, both of which provide good stopping power, although in our experience the scooter slowed itself down well and we rarely needed the foot brake. It's also worth mentioning the useful light on the foot brake which flashes when the brakes are applied.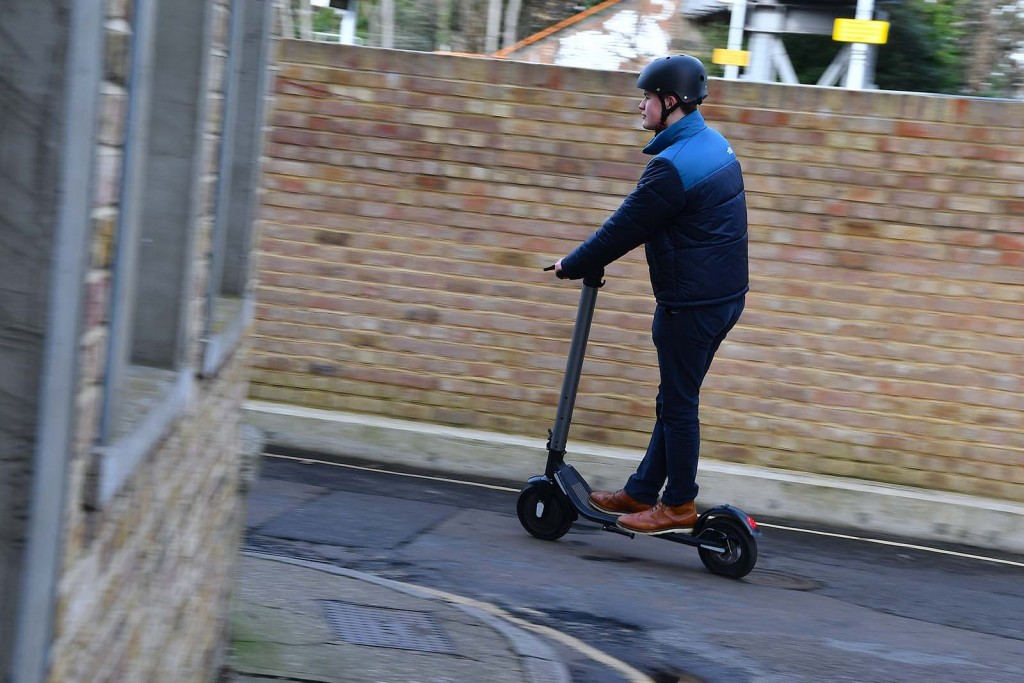 In Normal mode the Eskuta is a little more lively although the top speed is still limited to 9mph. This is perhaps the best mode to use on a daily basis in offering a balance of progress and battery life.
When in Sport mode the KS-450 offers rapid acceleration to the 15.5mph limiter. It's quick, but thanks to the wide handlebars and a sizeable footboard, you have confidence to ride at higher speeds as it is easy to find a comfortable riding position.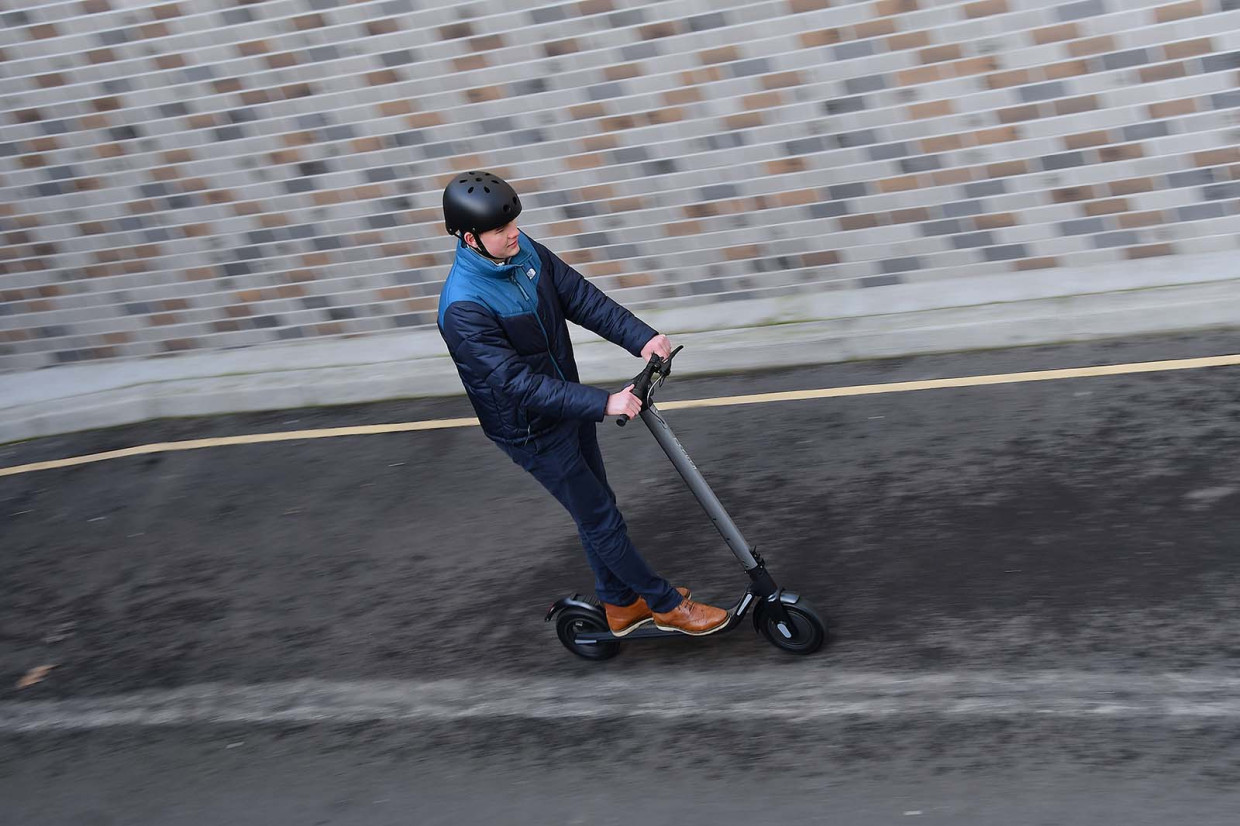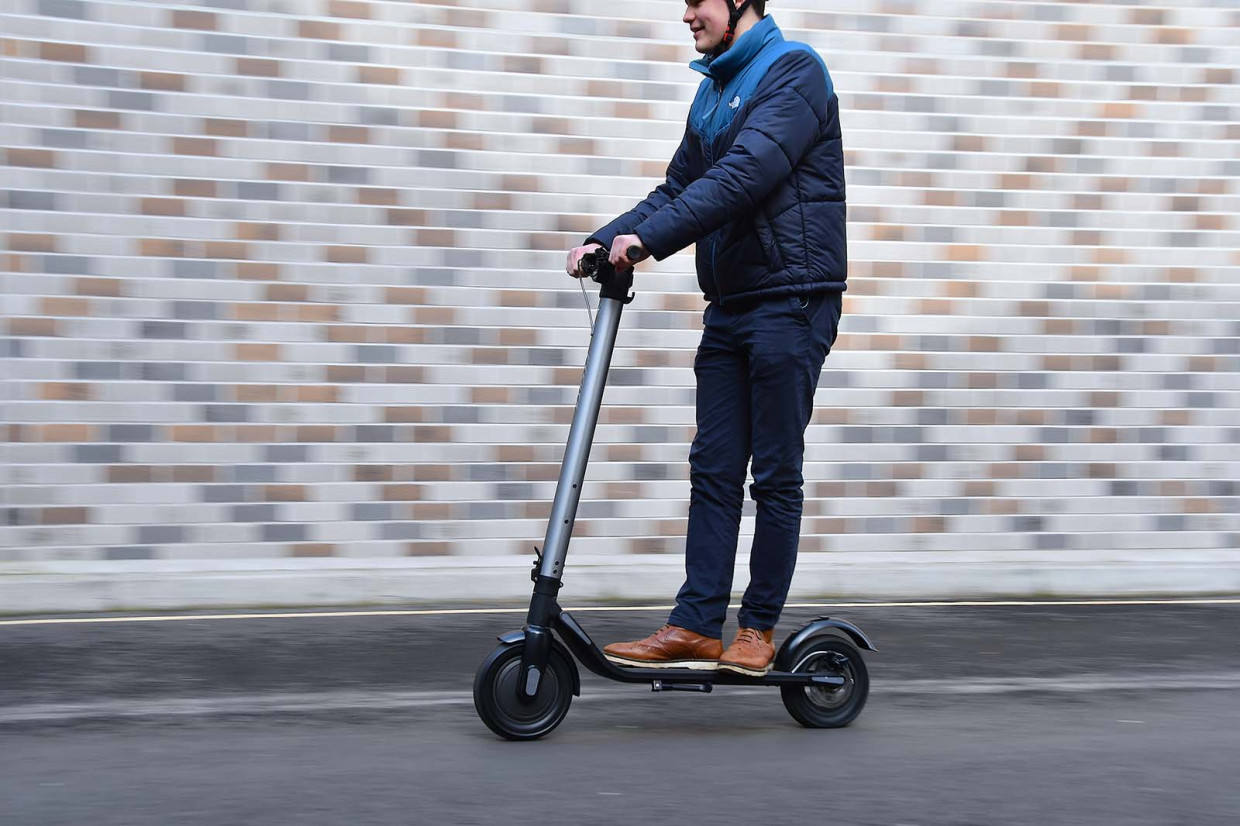 At high speeds the Eskuta is poised and nimble, making it very easy to control thanks to its lightweight nature. At lower speeds however, the KS-450 is somewhat awkward to manoeuvre for a number of reasons. 
The thumb-accelerator lacks a bit of feel which makes it harder to judge how much pressure is needed to ride at lower speeds, compared to high speeds. Sure enough if you press down hard you will accelerate and maintain a top speed, but at lower speeds it can be hard to find the sweet spot if you're trying to keep the throttle down while turning.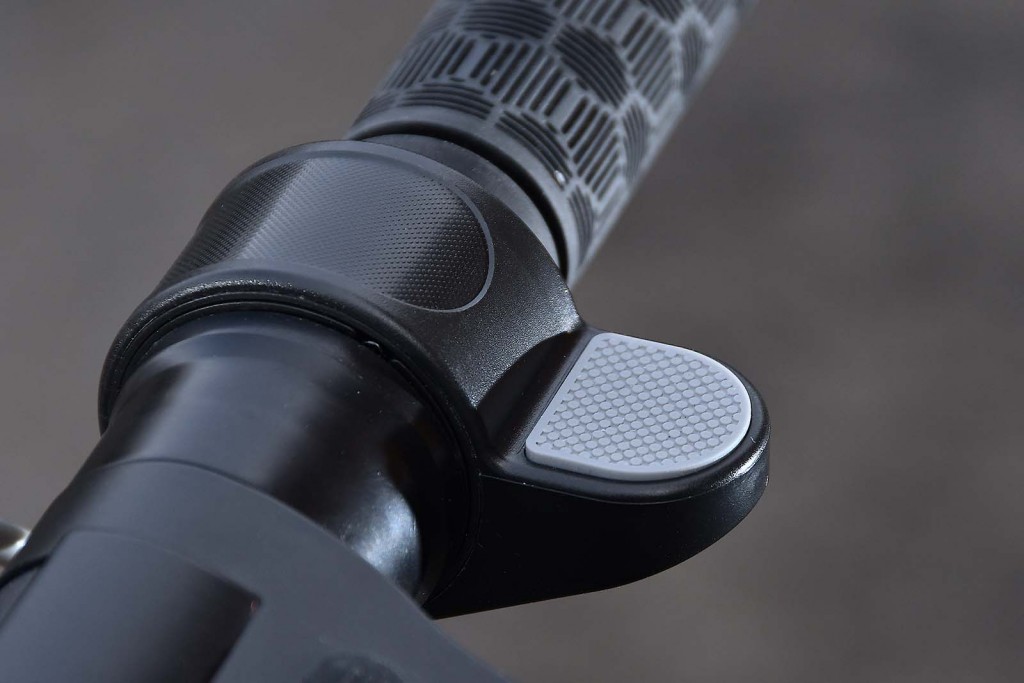 In Beginner mode this is less of an issue, but in Normal and Sport it did make the KS-450 less controllable when turning in tight spaces, as pressing the accelerator can make the scooter lurch forwards. Perhaps contributing to this further is the front-wheel-drive layout and considerable torque sent to the front wheel in Sport mode. 
Despite this setback the KS-450 is pleasant to ride. Normal mode provides an excellent balance and gives you plenty of confidence while Sport offers a little more joie de vivre. 
The Cruise mode certainly takes a bit of getting used to. Sometimes you can find yourself thundering along near to the 15.5mph and the cruise mode kicks in which can be a little unnerving. Thankfully it's easy to exit, which is done by using the brake or pressing the accelerator again.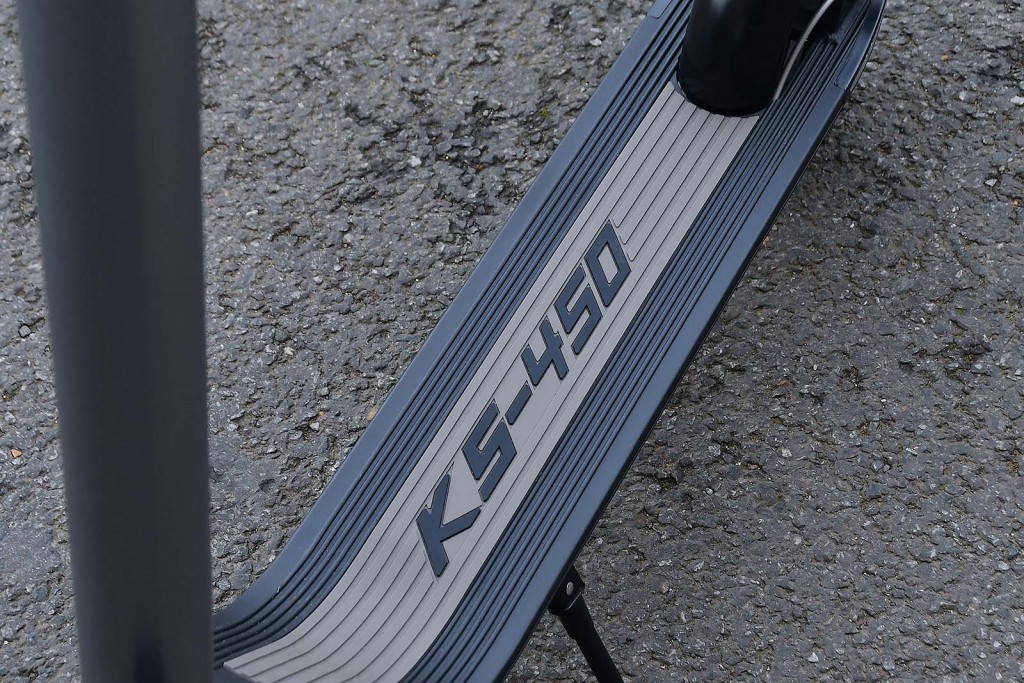 Is there anything I need to consider before I buy an Eskuta?
Electric scooters are currently illegal to use on public roads and pavements, restricting you to use on private land only. At present, the government is looking to legalise electric scooters, with a recent debate in the House of Lords highlighting the potential for a new vehicle class, should the devices be made eligible for use on the road. 
While the KS-450 is designed to be folded and carried, even the lightweight design is still fairly hefty: you wouldn't want to be lugging this around for long. Sure, it's a doddle to load into the boot of a car, but you wouldn't wanting to carry it more than you had to.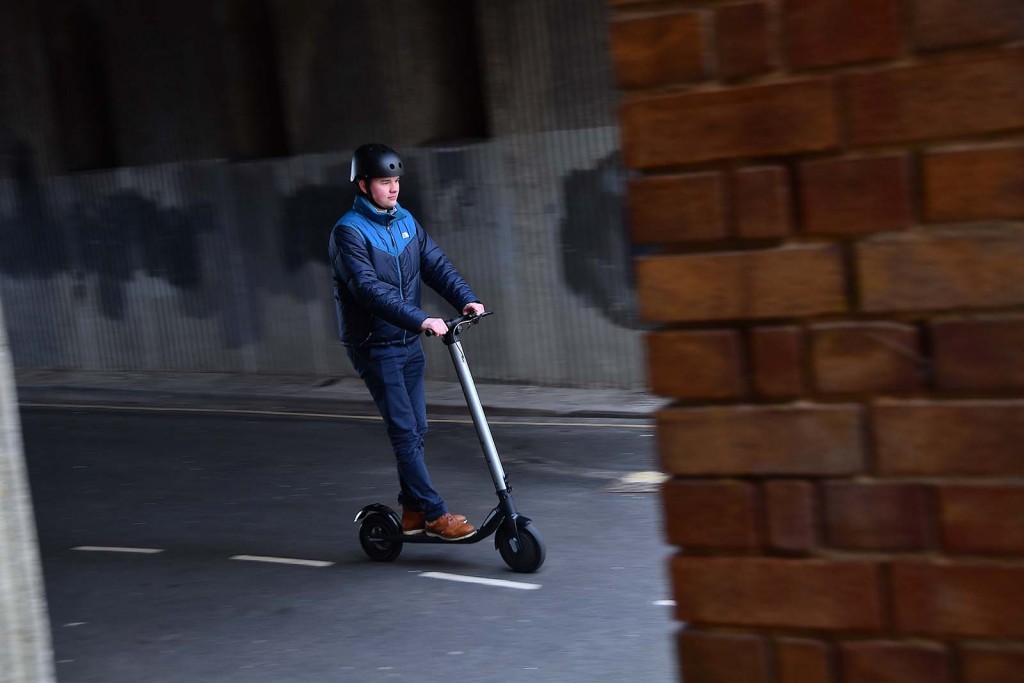 On that note, the folding mechanism is very robust, giving you absolute confidence that the KS-450 won't spontaneously collapse while riding along a (private) road at 10mph. You simply uncouple the handle bars from the rear-brake and then with a clip the handle bars into place. Easy. 
Perry eHopper P4 e-scooter review
What about rivals?
Perhaps the clearest rival to the KS-450 would be the Segway Ninebot F30E. It's slightly cheaper than the KS-450 and has the same top speed, but weighs slightly more at 16.9kg. The foldable Ninebot also has an app which doubles as a digital display and has a lengthier charging time of six and a half hours - and it is only capable of 18.6 miles between charges.
If your budget goes a little further, the Xiaomi Mi Pro 2 is priced at £529, but does have a very similar range of 28 miles. Like the KS-450 the Pro 2 can be folded, although it weighs more at 14.2kg making it less easy to carry. Charging times are a bit longer too, with eight hours needed to replenish the battery. 
Verdict
The Eskuta KS-450 is a welcome addition to the already congested e-scooter market. There's no denying its range is a headline feature, with many other e-scooters of a similar price offering far less miles between charges. Sure, the Cruise mode takes a bit of getting used to and at lower speeds the e-scooter can be a little awkward to manoeuvre. But as a package, its lightweight design, combined with its various modes makes it enjoyable to ride and live with.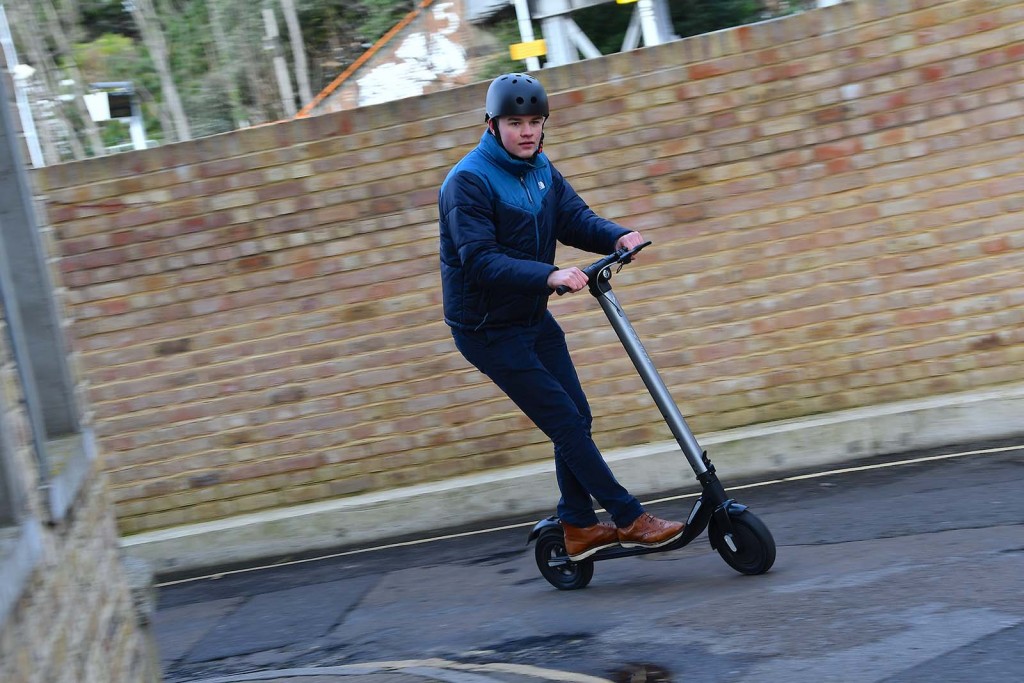 Eskuta KS-450 e-scooter
Price: £469.50
Motor: 350W super torque brushless hub motor.
Range: 30 miles (approx. 48km)
Top speed: 15.5mph (25km/h)
Charge time: 3-6 hours
Weight: 12.5kg
Max rider weight: 120kg
READ MORE
e-CARS
The 10 electric cars with the longest range
e-BIKES
Desiknio Pinion C1.9 Classic e-bike review
Ride for a worthy cause: Big Issue eBikes launches in Bristol
e-MOTORBIKES
Triumph reveals first electric TE-1 motorbike
BMW CE 04 electric scooter review
e-SCOOTERS
Superpedestrian Link e-scooter: first ride
The new battery tech designed to make e-scooters more sustainable
e-WORLD
New Candela C-8 electric hydrofoil has first 'flight'
Awake Ravik S 22 aims to take electric surfboards to the extreme