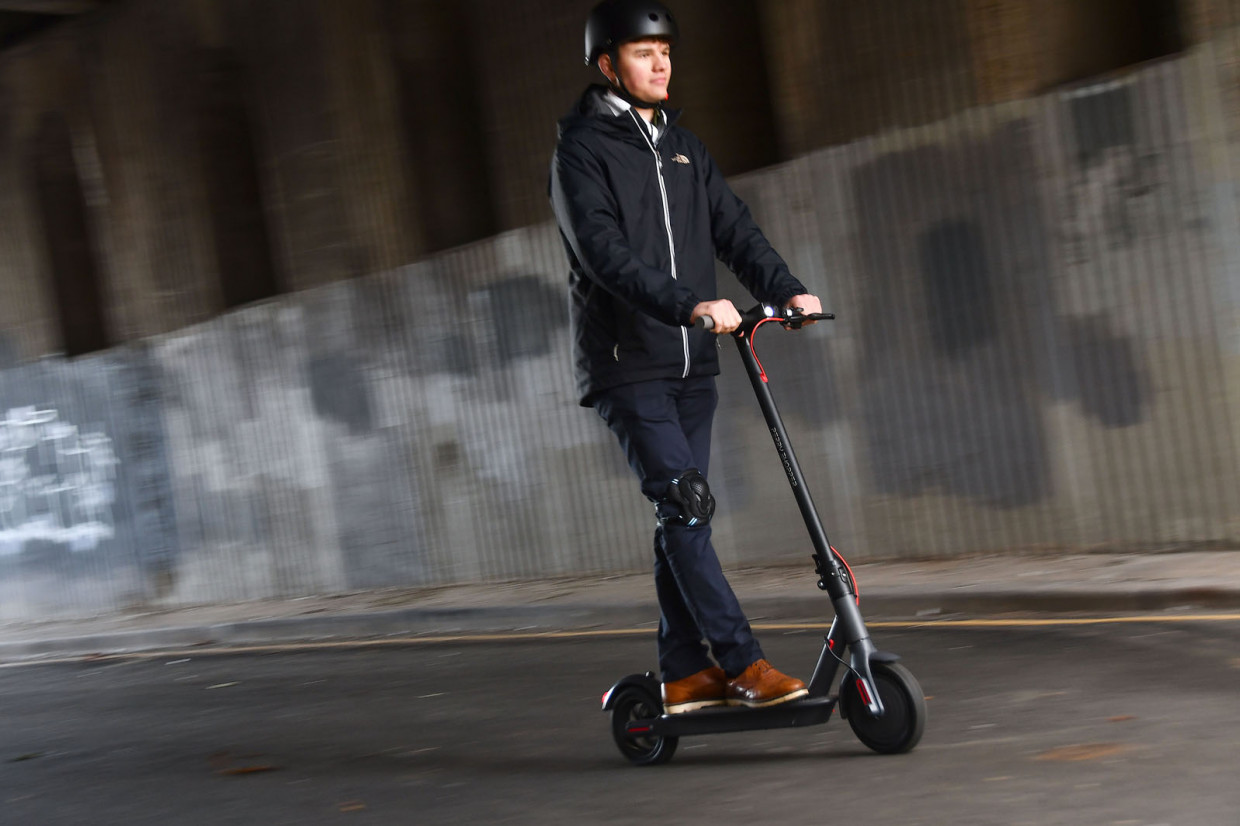 Move Electric verdict: Four out of five stars
In a nutshell
Cool, modern and rocking a silky grey finish with flashes of red, the Perry eHopper P4 is a fresh addition to the ever growing e-scooter market. But it's not just its contemporary looks that sets the P4 apart from its rivals. With a relatively lightweight design, great agility and a handful of useful features the P4 should be able to do everything.
Are e-scooters legal then?
Using a personal e-scooter anywhere other than private land is illegal. 
I'm interested, tell me more
Pushing the Perry eHopper P4 along is a three-speed motor that is coupled to a 350W battery. As with all e-scooters the top speed is limited to 15.5mph, which feels pretty brisk considering its relatively diminutive size. Speaking of which, the P4 weighs 12.5kg, which is relatively low for a scooter of this type. Boosting its ease of use, for convenience you can fold the P4's handlebars down, allowing it to fit more comfortably in the boot of your car. 
The P4 also has great stopping power, with both the front and rear wheels fitted with disc brakes. These are really effective and give P4 riders that extra bit of control. Additionally, the optional 8.5in wheels with puncture proof tyres are an added benefit we'd recommend, offering good grip and more acceptable comfort over bumps.
Range is rated at just over 11 miles, which is reasonable for an e-scooter at this price point. It can be recharged from flat to full in under five hours.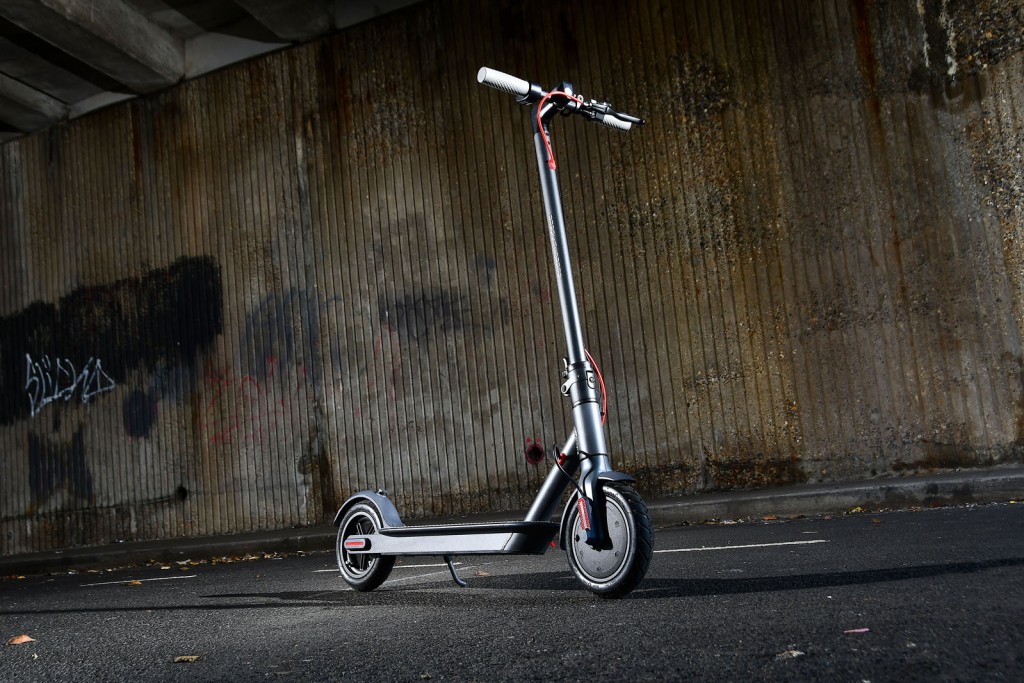 What makes the Perry eHopper P4 standout?
Don't try arguing with us: this is a good looking machine, especially compared to some similarly priced e-scooters on the market. 
Sitting pretty in the middle of the handlebars is an LCD screen which displays your speed and battery charge. Push the power on button and this will turn on the P4's front and rear lights, which come in handy when using the e-scooter at night, as well as forewarning others of your presence at all times of day. 
When you're not using the scooter and need to leave it in a public place you might reasonably fear it could be stolen because you can't use a regular bike lock. Don't fret: the P4 has a clever solution to this too, as you can lock it using an app, preventing anyone from using it while it is unattended. 
The P4 is also waterproof so you needn't worry about damaging the funky LCD screen or batteries during even the most biblical of rain showers.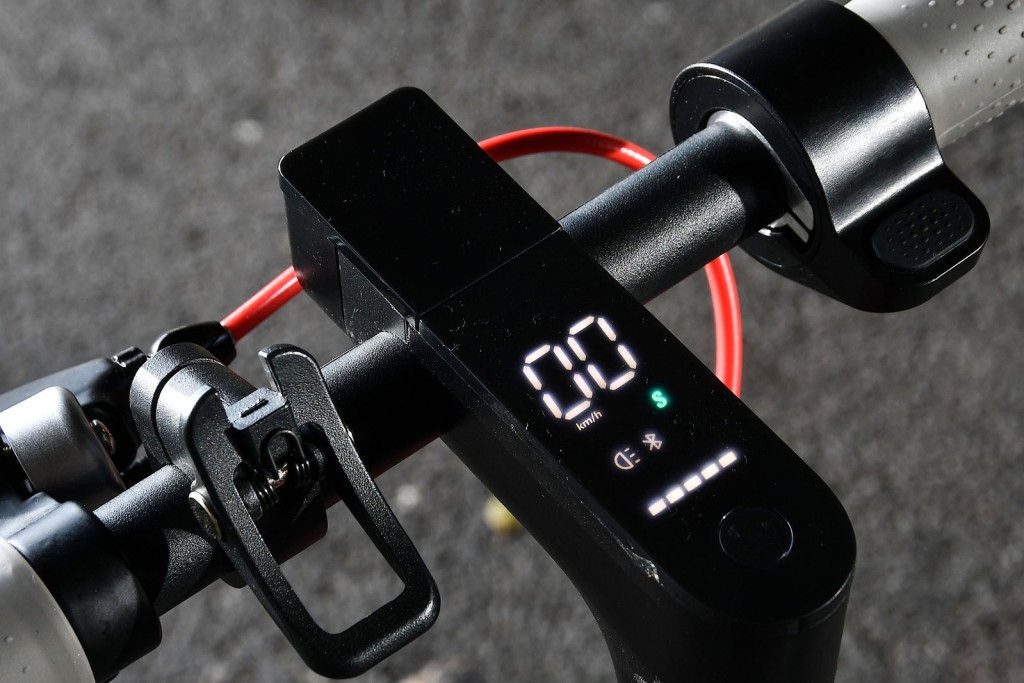 What is it like to ride?
If you are not familiar with e-scooters, it's fair to say they take a bit of getting used to. They are certainly different to riding a bike for example, but once you have gained confidence they are incredibly fun to ride and own. This is certainly true for the eHopper P4, which is easy to ride and has great maneuverability at every speed.
Most novices find getting used to the deceleration when you lift off the accelerator is the trickiest thing to learn, and the same is true here for the eHopper P4: in fact, you rarely find yourself using the brakes as it is able to slow down enough just through deceleration alone. 
The accelerator on the eHopper P4 can be found on the right-hand side of the handlebars and is operated using your thumb. With the P4, the riding experience is more rewarding if you maintain some level of pressure even at low speeds. For example, if you want to turn 180 degrees and come off the thumb accelerator sharply, your speed reduces too fast and you find yourself having to put your foot down to negotiate the turn. 
However, if you are more circumspect and reduce your speed by lifting off, while maintaining some pressure on the thumb accelerator, you can turn the P4 180 degrees much more easily and can adjust the power if you find yourself losing balance. Smoothness leads to a more rewarding ride, giving you more confidence to use the P4 to its full potential. 
At times the thumb accelerator isn't totally instantaneous, but it does provide you with a lot of control. Look ahead and anticipate your speeds and It's more than likely that you'll use the disc brakes if you need to slow down quickly, as the deceleration on the electric motor typically does all the hard work for you. 
The P4's low centre of gravity is a real benefit too, and makes the e-scooter handle more freely, allowing you to lean into bends to turn with confidence. 
Ride is good enough overall and on smooth surfaces the P4 is pretty comfortable, with the tyres doing their job well. Hit a deep rut or find yourself on rough terrain and you'll certainly feel it, however.
Are there any downsides?
The most obvious downside to the P4 is the fact that it is illegal to ride on public roads and pavements, meaning you are restricted to using it on private land only. The Government is running a number of projects looking into whether e-scooters could be legalised, but it will be 2022 before we see any law changes, if any are agreed.
Although the P4 represents great value for money the range is somewhat limiting. At just over 11 miles it is only suitable for short trips. It's worth remembering too that if you are operating at higher speeds for prolonged periods then you will deplete the battery quickly. 
A useful feature of the P4 is its foldable handlebars, which collapse down on top of the chassis at the flick of a switch to make it far easier to carry and store.
What isn't useful is the squeaking noise the handlebars are prone to making when you ride along. While this won't concern you when you're using the scooter, you will certainly notice it.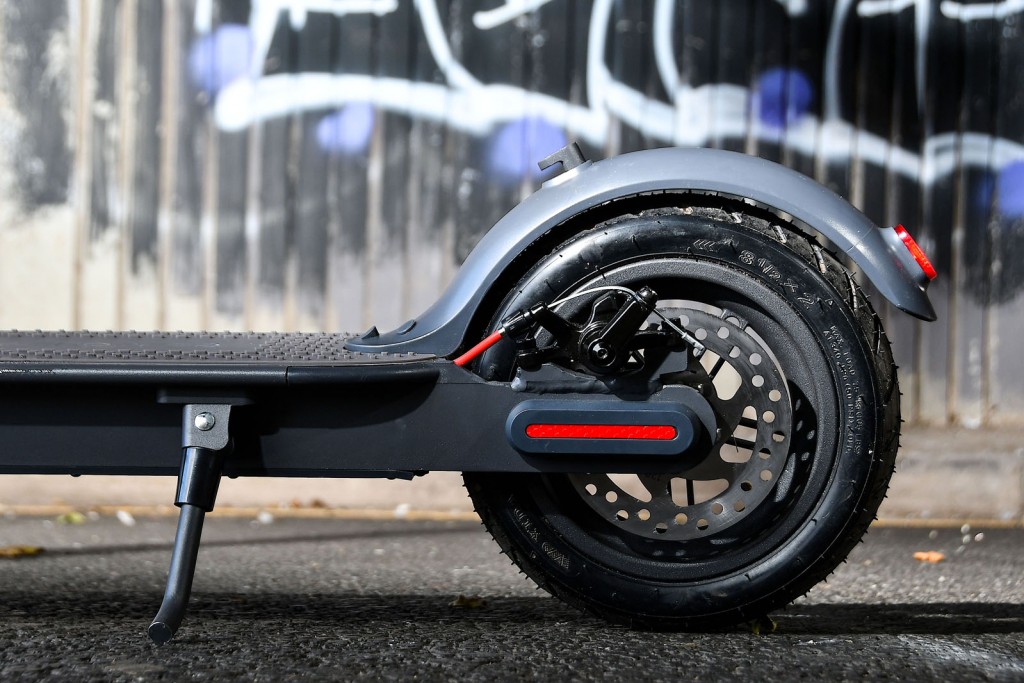 Should I consider any other e-scooters?
A clear rival to the P4 is the Segway Ninebot E22E which retails for around the same price. With a top speed of 12.5mph it is only slightly slower than the P4 but it does have a slightly bigger range of approximately 13.5 miles. The Ninebot E22E also has a regenerative braking system, similar to that on electric cars, where the energy generated from slowing down is used to recharge the batteries. That's pretty clever for an electric scooter. 
If your budget goes a little further then the Carrera Impel IS-1 is also worth a look. This comes in at a slightly higher price of £399, but you get a bigger range of 18.6miles and a similar top speed of around 15.5mph. It comes with a handful of features, but is much heavier at 17kg, making it less easy to carry.
Verdict
The Perry eHopper P4 is a great looking, easy to use and fun to ride e-scooter that offers excellent value for money. It may not have the longest range, but it's lightweight design gives you total control and the more you ride it, the more rewarding it is to use.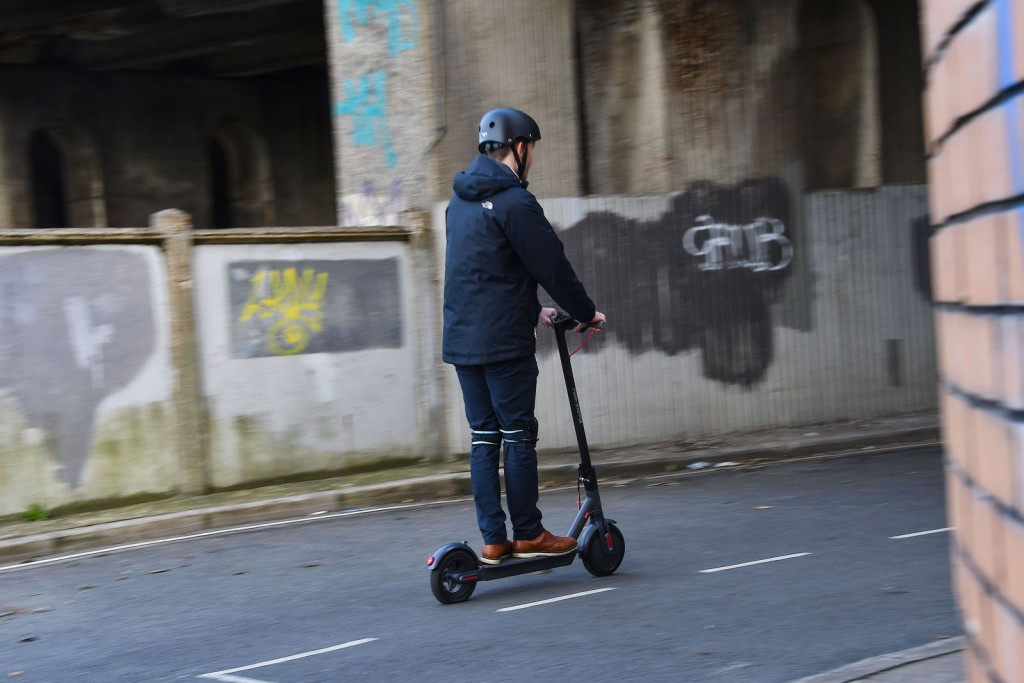 Perry eHopper P4 specification
Price: £329
Motor: 350 Watt three-speed motor
Range: 11 miles
Top speed: 15.5 mph
Charge time: 5 hours
Weight: 12.5kg
Max rider weight: 120kg
READ MORE
e-CARS
e-BIKES
e-MOTORBIKES
e-SCOOTERS