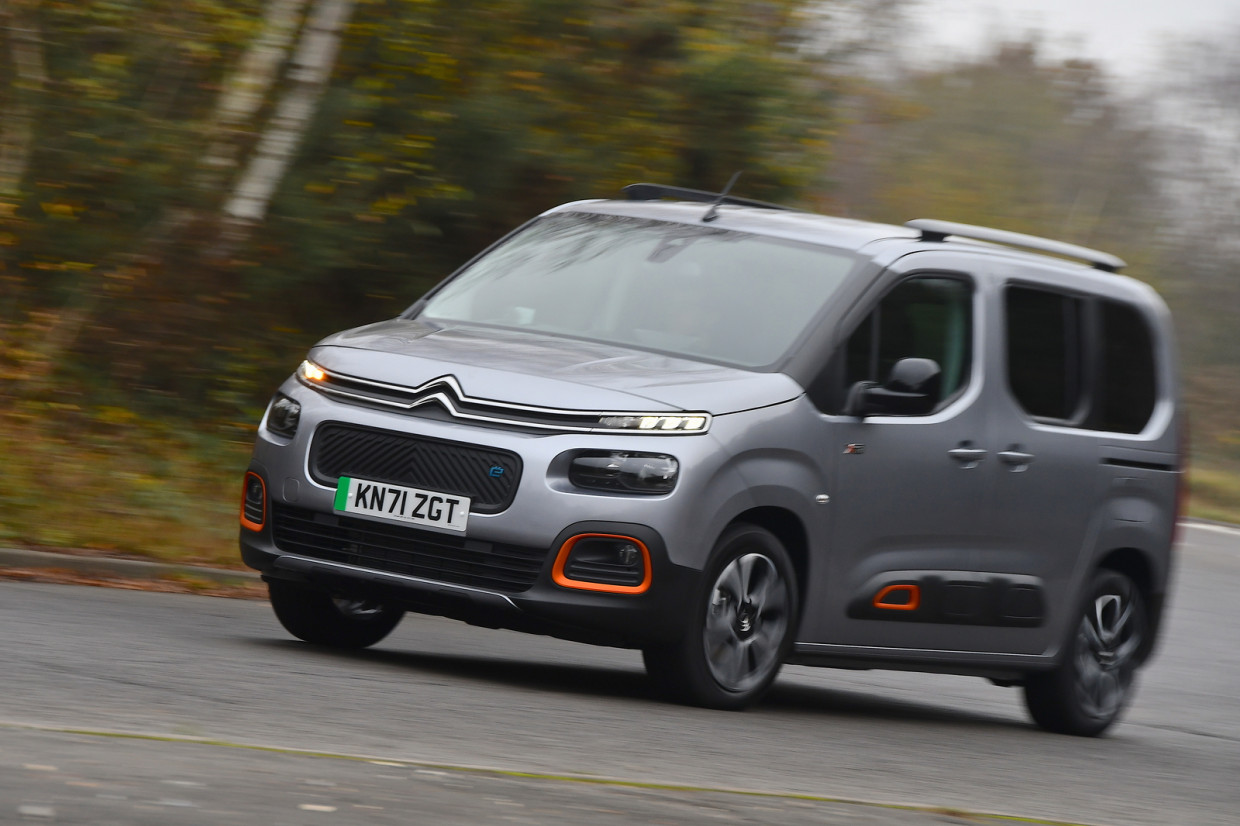 Move Electric verdict: four stars out of five
Sell it to me in a sentence
The Citroën ë-Berlingo is now the Berlingo, after the French firm recently discontinued the diesel-engined version of its van-based MPV.
So it's basically an electric van with more seats, then?
Pretty much. We'll be honest: a big, bulky, slightly frumpy MPV does look somewhat out of place when plugged in at a charging point next to a line of sleek, shapely Tesla Model 3s and Hyundai Ioniq 5s. When old sci-fi films used to feature the exciting electric cars of the future, they never looked like something Postman Pat would drive with seats chucked in the back.
But while van-based MPVs might not be the height of automotive fashion, there's a lot to recommend for anyone seeking practical and spacious family transport. And the Berlingo has long been one of the best in class.
The French machine has been around since 1996, and has long been offered in both commercial van and this passenger format. The current third generation of Berlingo dates from 2018, and until recently the MPV version has been offered in the UK with a choice of electric and diesel powertrains.
But with diesel going out of fashion, and Citroën having tough fleet average emissions targets to hit, it recently dropped the combustion-engined version of the MPV – so the zero-emission version is now the only one you can buy in the UK (you can still buy the commercial van with a diesel).
The ë-Berlingo is offered in two wheelbases: we've been testing the larger XL version, which has room for up to seven seats, in fetching Feel trim.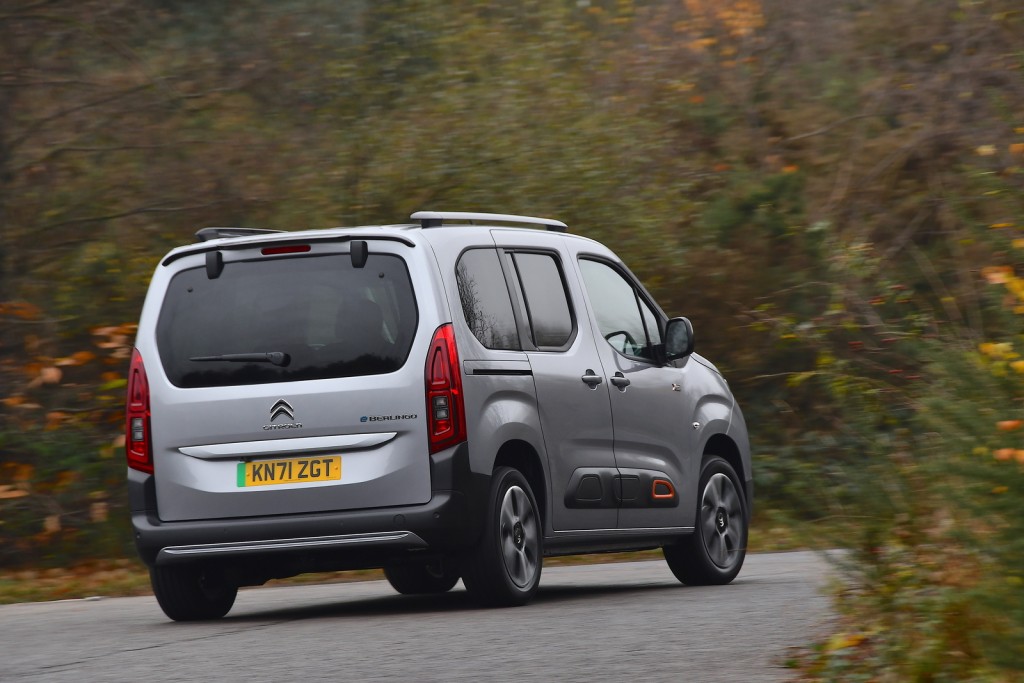 It reminds me of something else…
That's probably because the ë-Berlingo is one of four essentially identical machines produced by Citroën parent firm Stellantis and sold with various badges on by the firm's other brands and, through a partnership, Toyota. So you'll find essentially the same vehicle sold in commercial and passenger forms as the Peugeot e-Rifter and e-Partner, the Vauxhall/Opel Combo-e and Combo-e Life and the Toyota Proace City and Proace City Verso. 
We mention that here because, while this review is strictly on the ë-Berlingo, much of it can easily be applied to the various other machines. Oh, and as with Citroën, Peugeot and Vauxhall have also stopped selling the diesel-engined versions of the passenger vans. 
What are the highlights?
You wouldn't exactly call the ë-Berlingo dynamic – what with looking very much like a van and all – but there's a certain charm to its styling with its chunky front lights and bumpers, roof rails and a small rear spoiler mounted on the rear window. 
The front grille of the now-departed combustion-engined version has been replaced with a subtle panel, but that and a handful of 'ë' badges are the only giveaways that the fuel tank has been swapped for a battery pack.
Meanwhile, bright orange-coloured surrounds to the fog lights and similar flashes on the protective Airbump panels down the side of the ë-Berlingo add a dash of character. Is it the last word in automotive sophistication and style? No. Does it have its own character and appeal? We reckon so.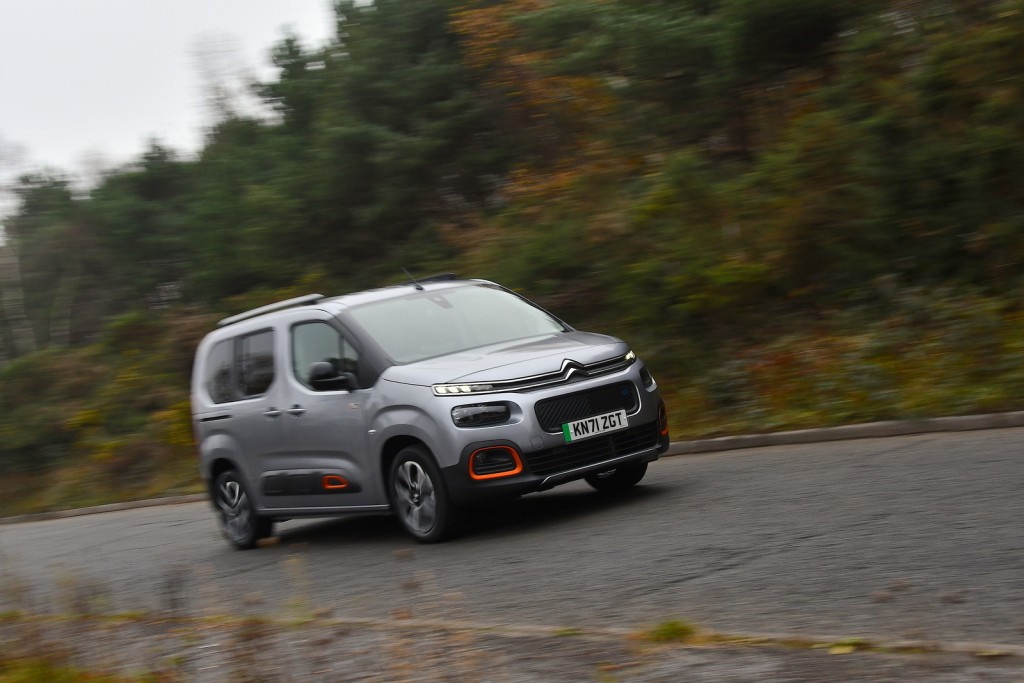 The interior is a similar blend of utilitarian design, with a dash of French chic added by red flashes to the trim for the hard-wearing comfortable seats. When you've sat behind the wheel, it's hard to forget that this is essentially a van: it's only really missing some well-worn tools and crumpled paperwork rolling about on the floor.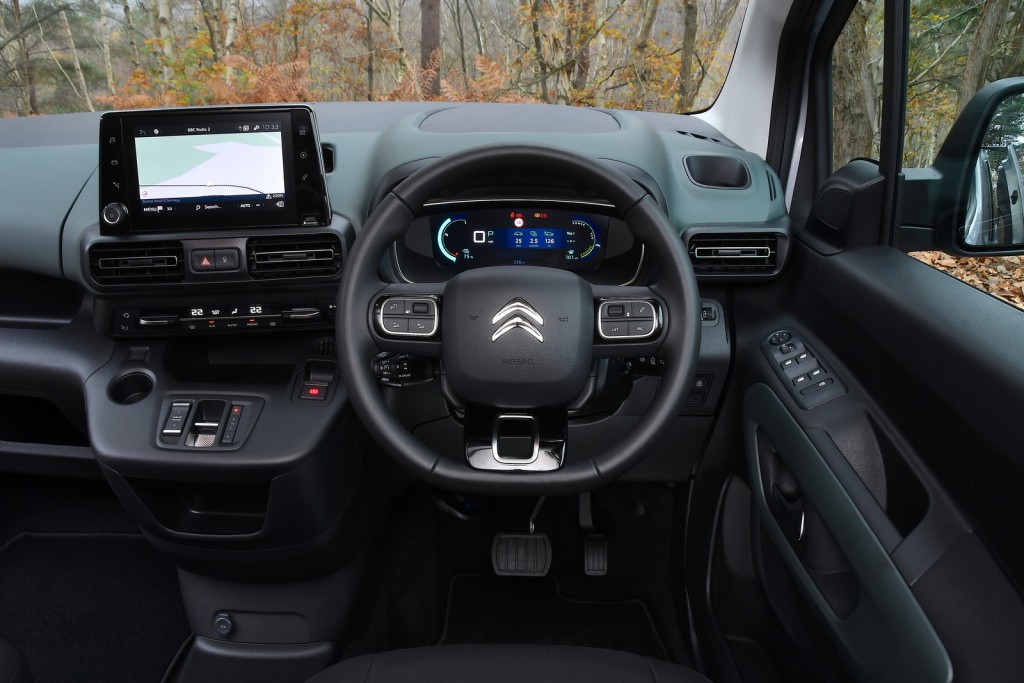 That's not really meant as a criticism: vans are designed to offer heaps of space and practical storage, both of which are very welcome. The ë-Berlingo features loads of useful cubby holes and storage spaces, from dash-mounted cup holders to a large shelf under the infotainment system and a large storage space just above the windscreen that's perfect for rolled-up copies of The Sun.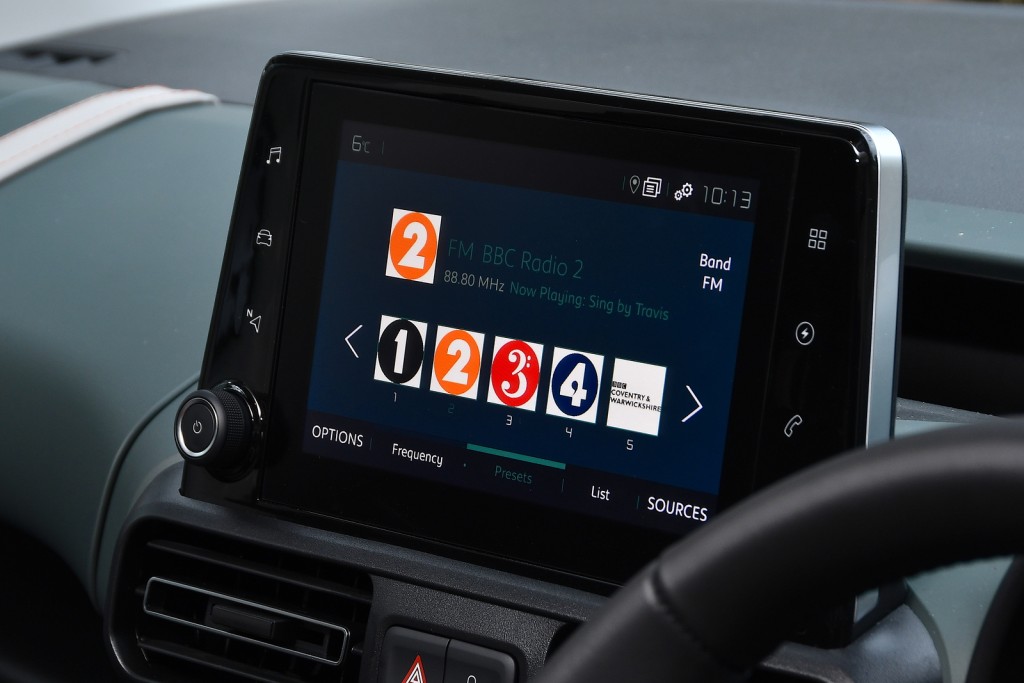 In total, Citroën claims there are 26 different storage compartments in the ë-Berlingo, which means there are probably still a few useful ones hidden away we haven't even found yet.
There's a simple but clear eight-inch infotainment touchscreen mounted into the middle of the dashboard, and our test car had a 10-inch digital instrument display. There's a bunch of safety systems, and while Feel models come with reversing sensors as standard, our test car features the rear camera that is standard on the higher XTR trim.
The front seats both feature folding armrests, while the rear seats are accessed by two van-style sliding doors, which makes access really easy. That rear space is hugely adjustable too: as well as being able to house two rows of seats, the XL version offers 1050 litres of boot capacity. Take all those seats out, and you can fit in a whopping 4000-litres of stuff. That is, we don't need to tell you, a lot of stuff.
If you opt for the smaller M model, the boot houses 775 litres, rising to 3500 with the seats down. Which is, we don't need to tell you, still quite a lot of stuff.
If you're fitting in people rather than stuff, even in seven-seat form the ë-Berlingo offers spacious transport for all, with plenty of leg room and, unlike sloping-roofed SUVs, head room is not an issue for anyone.
One word of warning if you are accessing the boot: the large rear door folds up and out, meaning you'll need to make sure you're well clear of obstacles behind you before you try opening it. We have found it a slight issue when we've reversed in to use a remote charger (the charging port is on the rear pillar), and been unable to open the boot without clunking the charging point.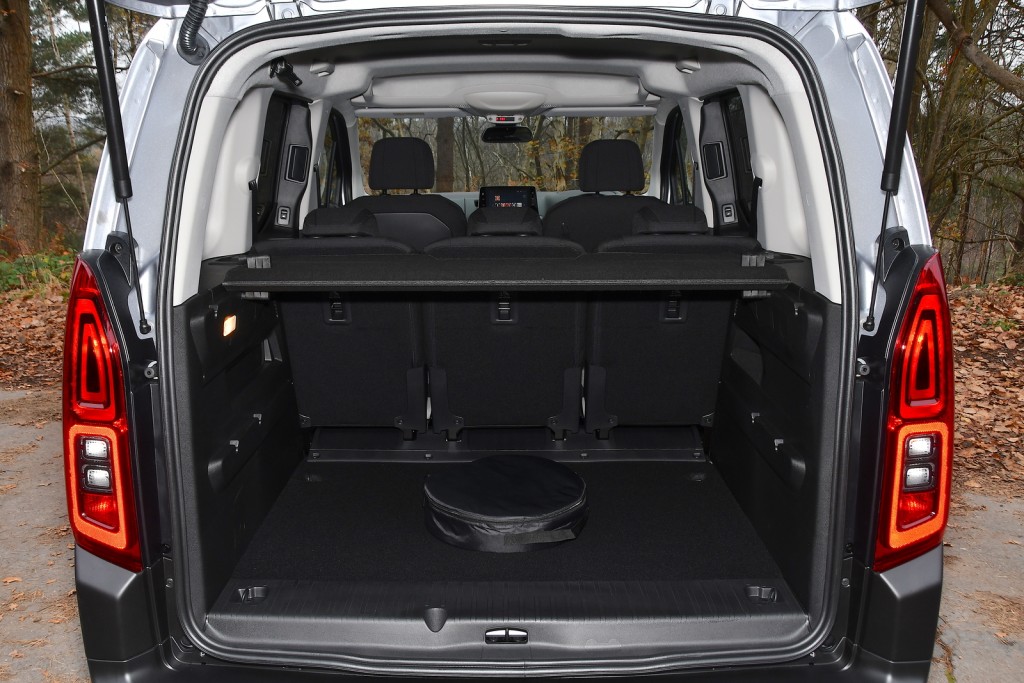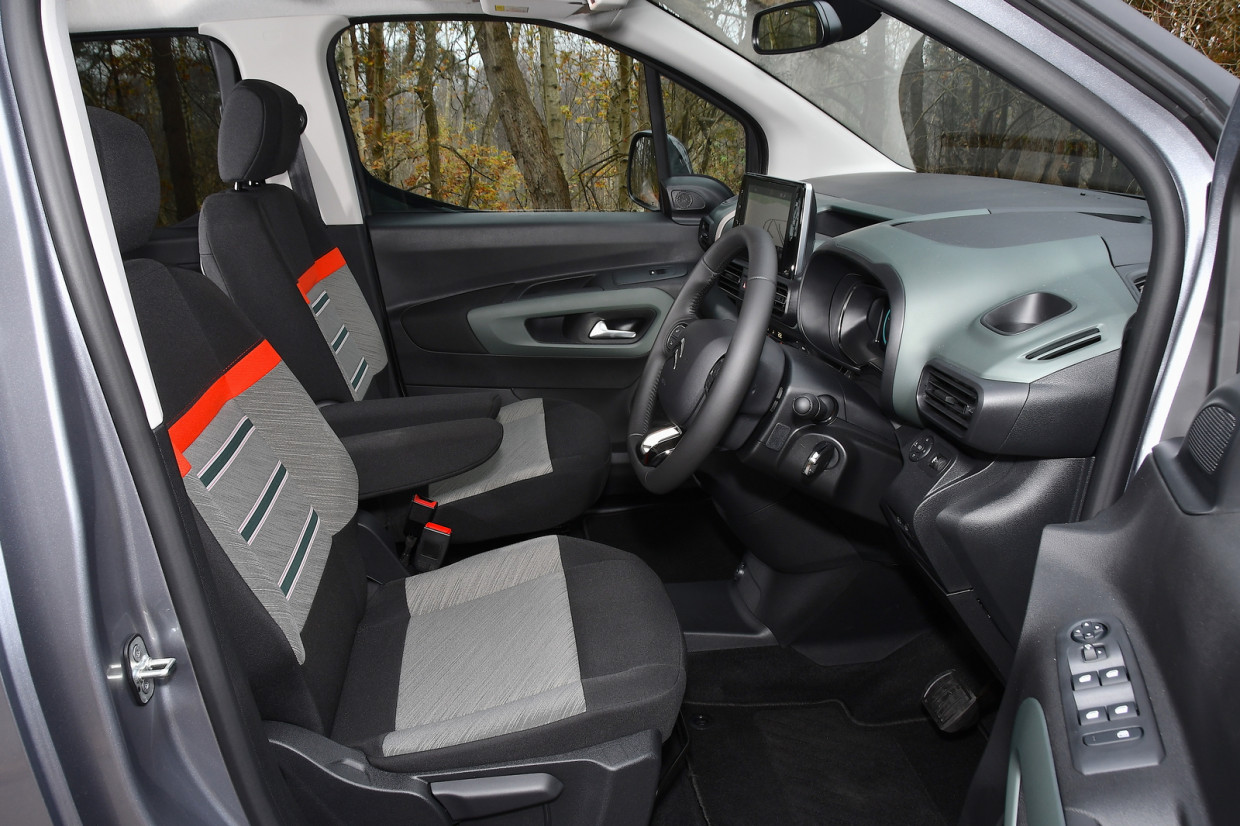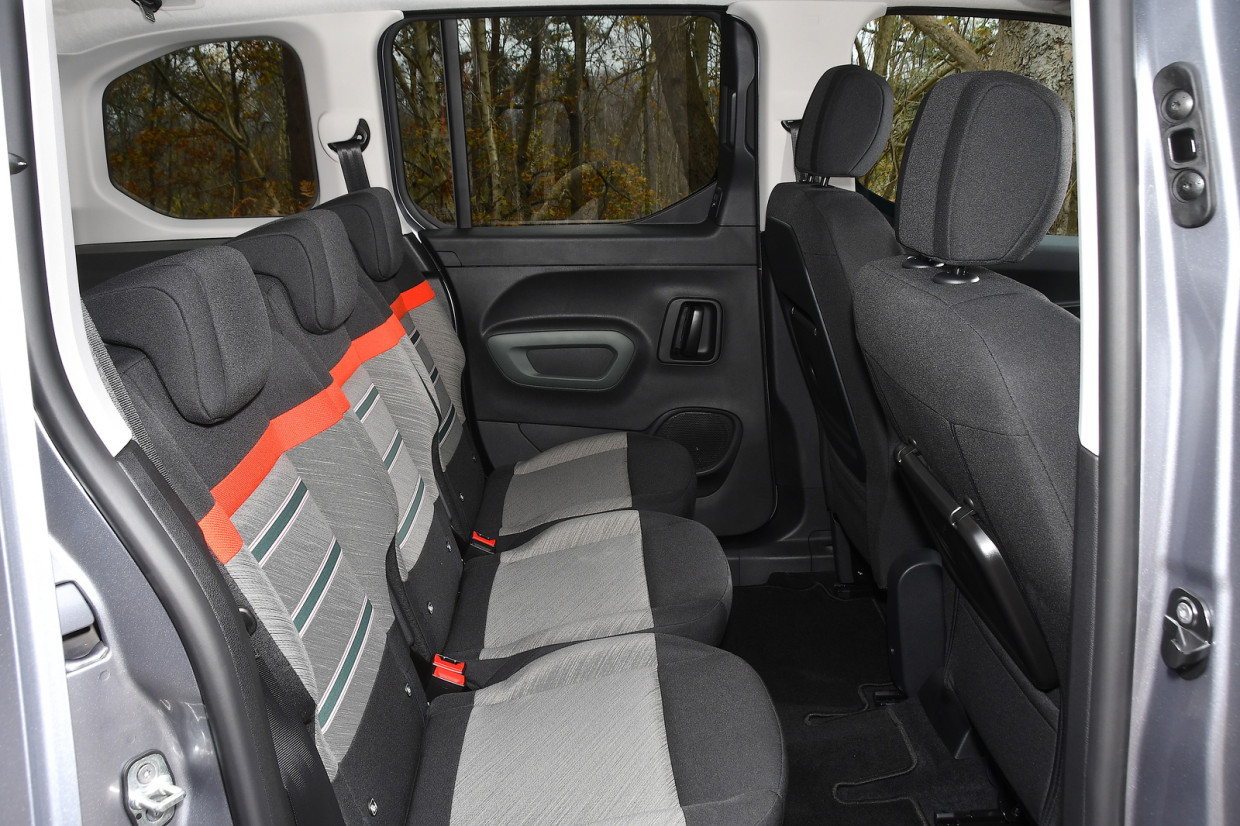 What are the numbers?
Whether you opt for the M or XL, the ë-Berlingo is offered with a 100kW electric motor, which draws power from a 50kWh battery. That gives the machine an official WLTP range of 174 miles, although as you'd expect, that's somewhere on the optimistic side.
The most we saw on our test model's indicated range display was 175 miles, and that seemed somewhat optimistic - especially if your journey is likely to include motorway running, where the aerodynamic constraints of that van styling really show. With a bit of careful driving we were able to achieve somewhere close to 3 miles per kWh (mpkWh) on the right type of journey, although around 2.5mpkWh is a much more realistic average.
The ë-Berlingo is fitted with a 7.4kW charger as standard, but you can opt for an 11kW unit. On a fast charger the battery can be refilled as speeds of up to 100kW – meaning an 80% fill takes just 30 minutes – which does help to offset for that limited range.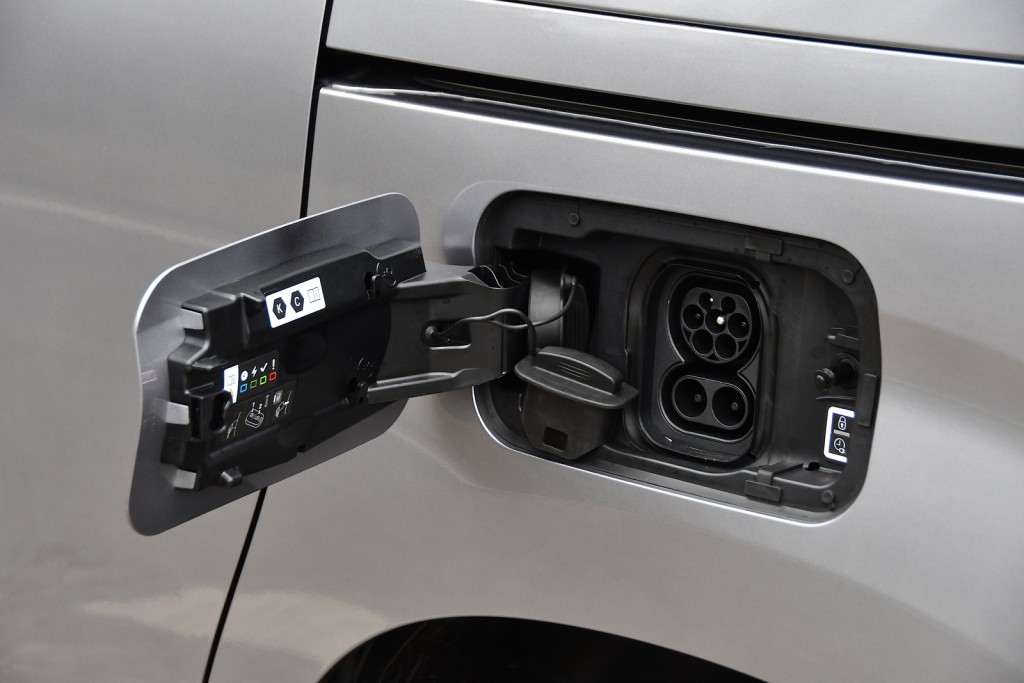 Okay, so what's it like to drive?
You're expecting us to say "like a van" here, aren't you? Well... you'd be right. Sorry to be so obvious. But if it looks like a van, feels like a van and, er, quacks like a van, it's fairly predictable that it will feel like a van to drive. Which, to be clear, really isn't a bad thing. 
The driving position is very upright, and the high seat, relatively horizontal window, and short front and rear overhangs makes the ë-Berlingo incredibly easy to manoeuvre. The steering is light and positive, making it genuinely relaxing and enjoyable to drive.
Unusually, to start the ë-Berlingo you have to shove a key – an actual key! – into the ignition. There's a choice of drive modes – including an Eco mode that limits performance and shuts off the air conditioning – and also the ability to increase the brake regeneration in order to save some range.
The ride is good too, especially for a machine that weighs 2.4 tonnes, with the relaxed body control meaning the machine soaks up most bumps. Citroën has put a major focus on ride comfort in recent years, and that work really shows here, especially on the modest 16in steel wheels.
Of course, there's no hiding the ë-Berlingo's size, especially in XL trim. It's the best part of five metres long and more than two metres wide, and no matter how easy it is to steer you'll want to avoid really tight spaces and car parks. We'd suspect that, unless you need the extra seats, the shorter M trim will be the choice for those whose primary mileage is city driving.
That size also doesn't blunt the ë-Berlingo's performance: the 0-62mph time of 9.0 seconds is highly respectable, and the electric throttle response is very pleasing.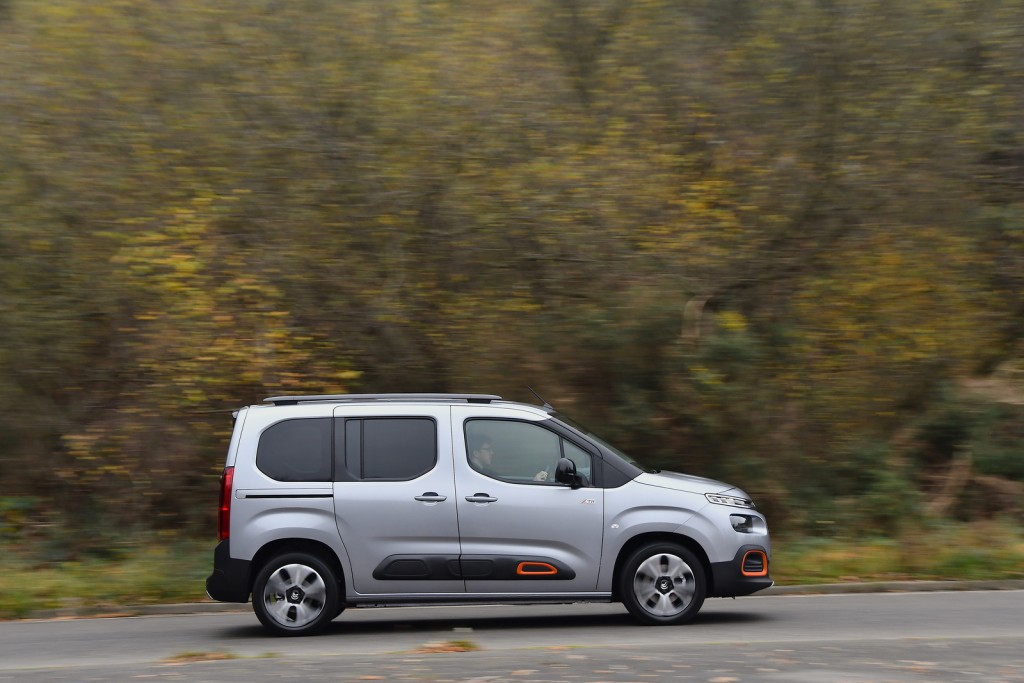 What's the catch?
We've already touched on that, really: it's the range. Look, we know that most worries about electric vehicle range anxiety are entirely overblown, but there's no doubt that the big, bulky ë-Berlingo's relatively modest range does limit its effectiveness as practical family transport.
If you're using this as a second car to take the kids to school, do a big shop and occasionally clear out your attic, that's unlikely to be a problem. But in combustion-engined form the Berlingo was popular as the sort of family transport you could use for long holidays and road trips. Such trips certainly aren't impossible with this electric version but they do require a bit more planning and reliance on the vagaries of the current UK charging network.
Of course, how much of a downside that is will depend on your use case and what you compare it to. There are several other EVs that offer similar or even less range, but can't match the ë-Berlingo for its cavernous interior. Really, there aren't many other seven-seat electric MPVs – aside from all those badge-engineered sister models, of course – that offer this blend of utility and space.
The price could be a bit of an issue too: it starts from £29,575 for the M version and £31,995 for the XL, both including the government's plug-in car grant. That's not especially cheap – especially compared to the discontinued combustion-engined Berlingo – but again, you'd be hard-pressed to find a more spacious EV for that sort of money.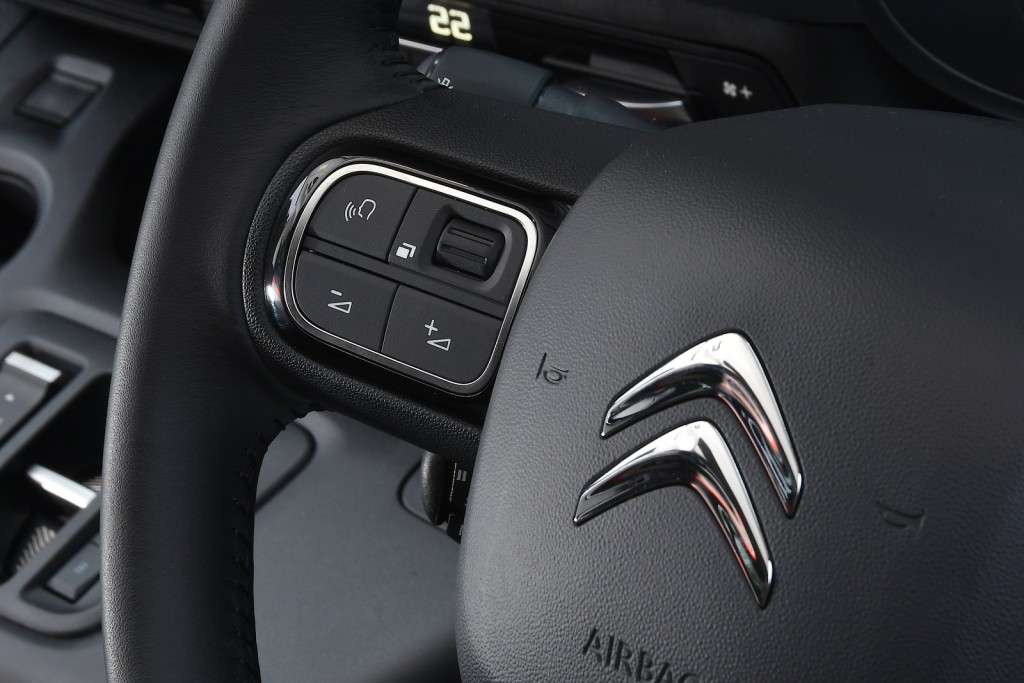 Anything else I should consider?
Well, there are several essentially identical rivals to this: you know, the ones we've already mentioned that are built on the same production line. The specifications of each varies a bit, but unless you're really sold on the lovely Citroën chevron badge, you'll probably want to check for deals on the e-Rifter and Combo-e Life, and consider things like nearby dealerships, availability and so on.
Elsewhere? Well, you could wait for the Volkswagen ID Buzz, which promises more range and smarter retro-styling, but will also cost closer to £50,000. There's also the Mercedes-Benz EQV, but that's even bigger, posher and costs closer to £70,000.
Or you could look at some large electric SUVs: the Skoda Enyaq IV and Volkswagen ID 4 offer plenty of space and more range, but do add a bit to the price. You could also look at the MG ZS EV, which in smaller battery form undercuts the ë-Berlingo but also has a relatively limited range. And, needless to say, will allow you to take far less junk to the tip.
Verdict
How you view the ë-Berlingo depends on your perspective. If you were hankering after the combustion-engined version until Citroën discontinued it, you might well feel it is a uite expensive and handicapped by its limited range. 
But if you're looking for a spacious, practical electric car that can house plenty of people and/or stuff, there's little else in the market like it at the moment. Passenger versions of electric vans might not seem the most exciting form of future mobility, but they have an awful lot to recommend when it comes to practicality. And as a workhorse second car for relatively short journeys – that is capable of longer journeys with a bit of planning – there is plenty to like about the ë-Berlingo.
But wait, there's more...
Well, there will be more soon. Citroën has happily left us the keys to the ë-Berlingo (yes, the actual key you have to put in the ignition) and we'll be trying it out over the next few months to find out what it's really like to live with. Stay tuned. Or, even better, subscribe to our newsletter and keep and eye out for updates.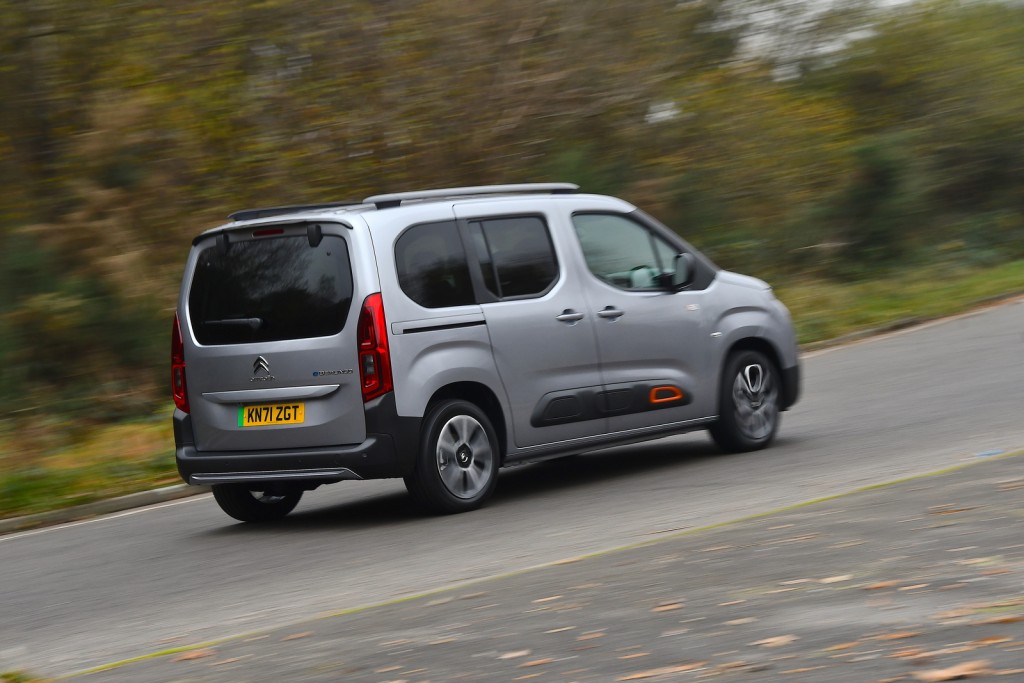 Citroën ë-Berlingo XL specifications
Price from: £33,265 (before government grant)
Motor: Electric synchronous
Gearbox: Automatic
Driven wheels: front
Maximum power: 100kW
Maximum speed: 84mph
0-62mph from: 11.5secs
Electric range (official): 168 miles
CO2 emissions: 0g/km
Tyres: 16in
Kerb weight excluding driver: 1801kg
Gross vehicle weight: 1966kg
Height: 1849mm
Length: 4753mm
Wheelbase: 2975mm
Width with mirrors folded: 1921mm
Maximum boot capacity: 775 litres (3500 with all seats folded)
Rivals
READ MORE
e-CARS
The 10 electric cars with the longest range
e-BIKES
Desiknio Pinion C1.9 Classic e-bike review
Ride for a worthy cause: Big Issue eBikes launches in Bristol
e-MOTORBIKES
Triumph reveals first electric TE-1 motorbike
BMW CE 04 electric scooter review
e-SCOOTERS
Superpedestrian Link e-scooter: first ride
The new battery tech designed to make e-scooters more sustainable
e-WORLD
New Candela C-8 electric hydrofoil has first 'flight'
Awake Ravik S 22 aims to take electric surfboards to the extreme