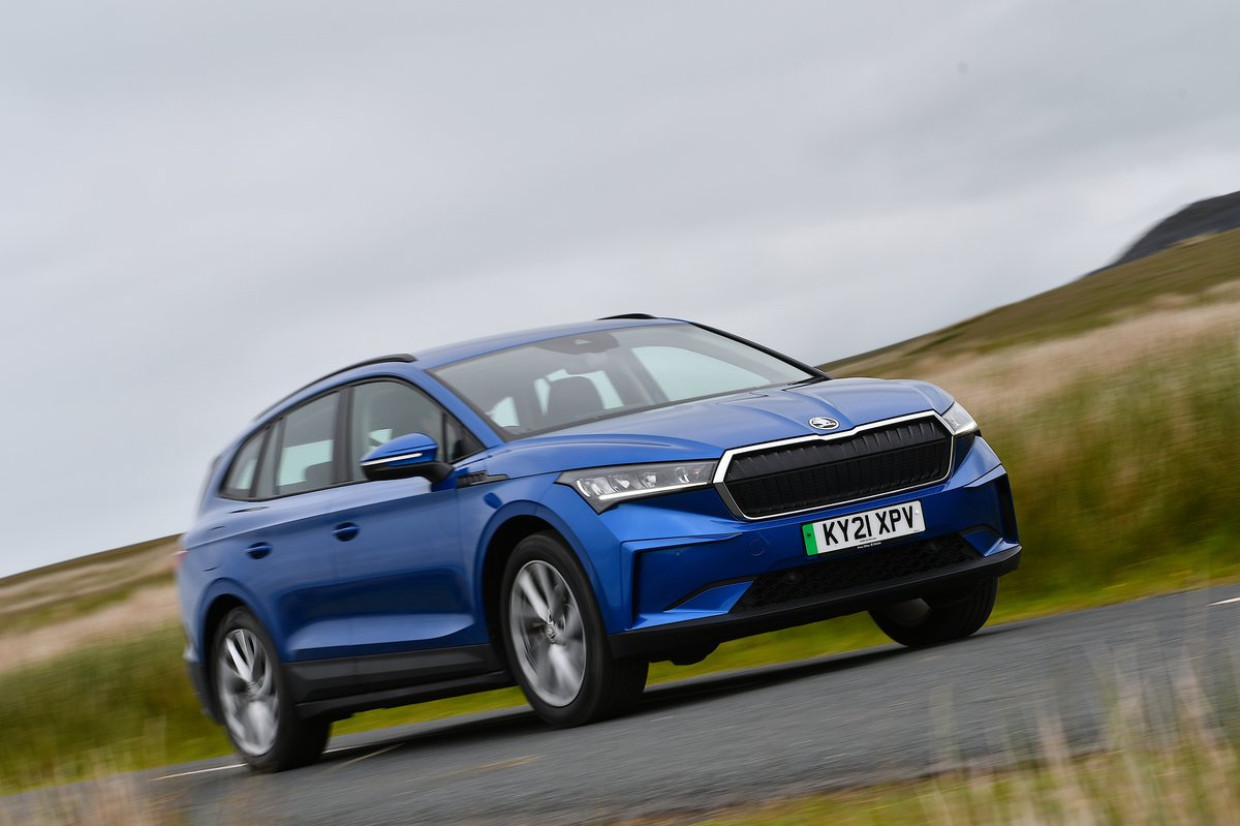 Move Electric verdict: Five stars out of five
Sell it to me in a sentence...
Skoda's first bespoke electric car is an SUV that majors on comfort and practicality.
I couldn't help but notice that score. A five-star Skoda?
You'd better believe it. In a fast-expanding market, it can be difficult to produce an EV that is ahead of all its rivals - let alone do it with the first EV you ever make. The Enyaq isn't perfect, but it is a hugely accomplished car.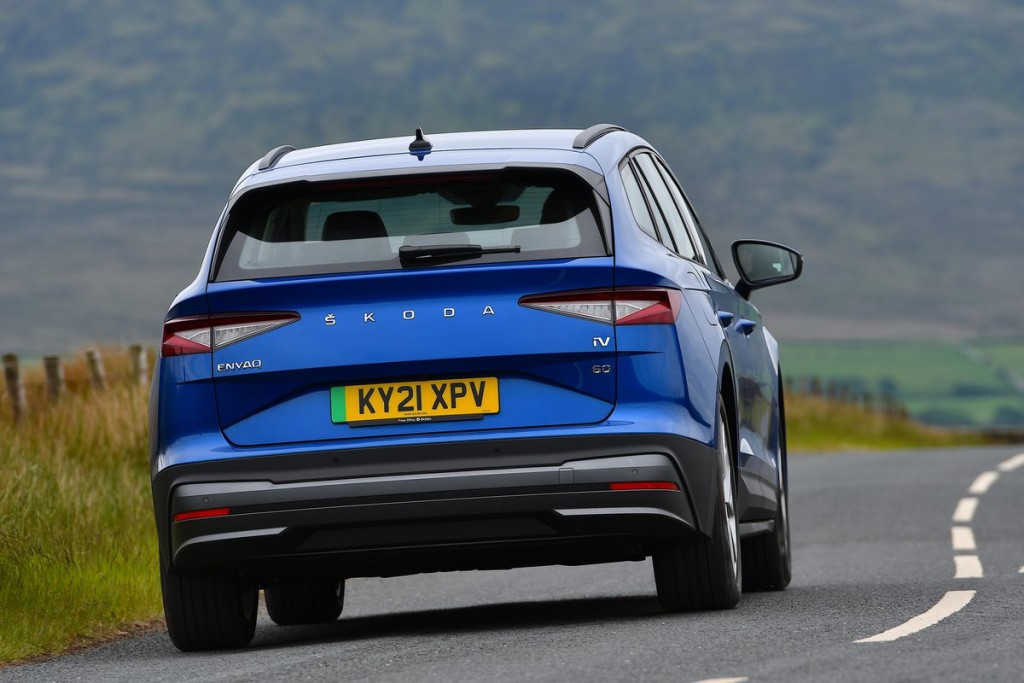 Blimey. Tell me more
The Skoda Enyaq is a family SUV, so majors on being really practical. It offers a spacious interior, good range between charges and excellent value for money.
The entry-level model is called the 60 and buyers can choose from a variety of trims, some of which qualify for the £2500 Government grant.
Enyaq 80 and 80X models have a bigger battery and more tech onboard, but opting for either of these comes at a price that also makes them invalid for the grant.
Enough fluff. How far can it go between charges?
With a 58kWh battery, the rear-wheel-drive Skoda Enyaq 60 can officially achieve 256 miles of range between charges, which is better than the closely related Volkswagen ID 4 and Audi Q4 e-tron 35.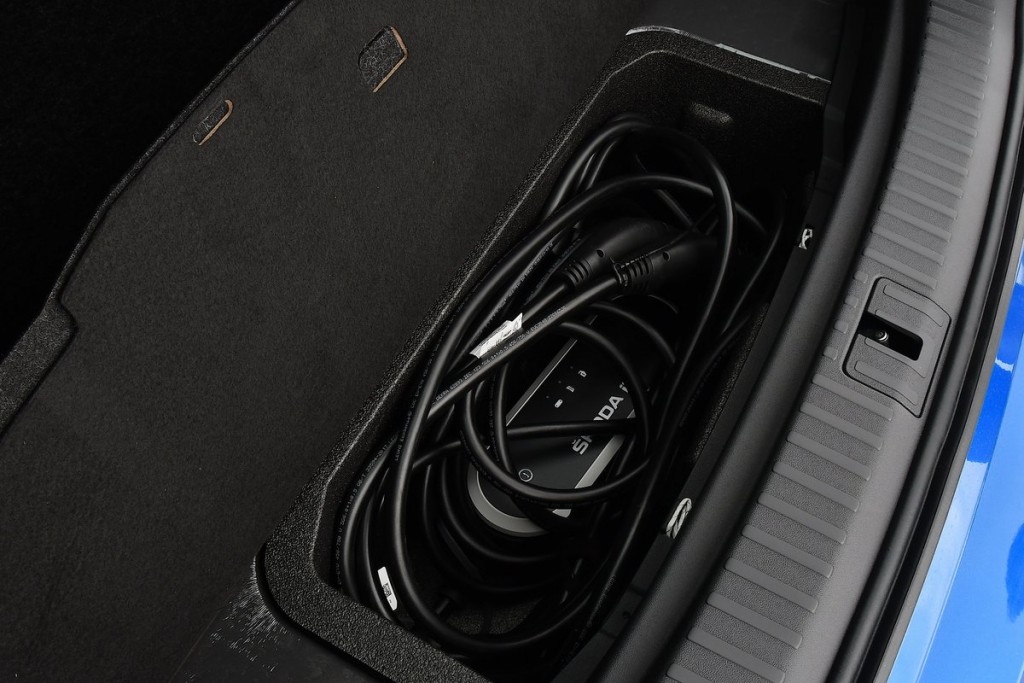 The Enyaq 80 and 80X models both have a 77kWh battery, with the 80 capable of 331 miles between charges and the 80X achieving a slightly shorter range of 303 miles in Sportline trim, as a result of it offering greater performance. 
As standard, the Enyaq can be charged up to speeds of 50kW, but you can add a faster charger allowing you to recharge the battery from 10-80% in just over half an hour.
Using a 7kW home charger the Enyaq 60's battery can be replenished in nine and half hours, whereas the Enyaq 80 takes around 13 hours to recharge. 
I could live with that. What's it like to drive?
The high seating position in the Enyaq gives you a good view of the road ahead, but the front pillars are sharply angled, which can make pulling out of junctions a little awkward.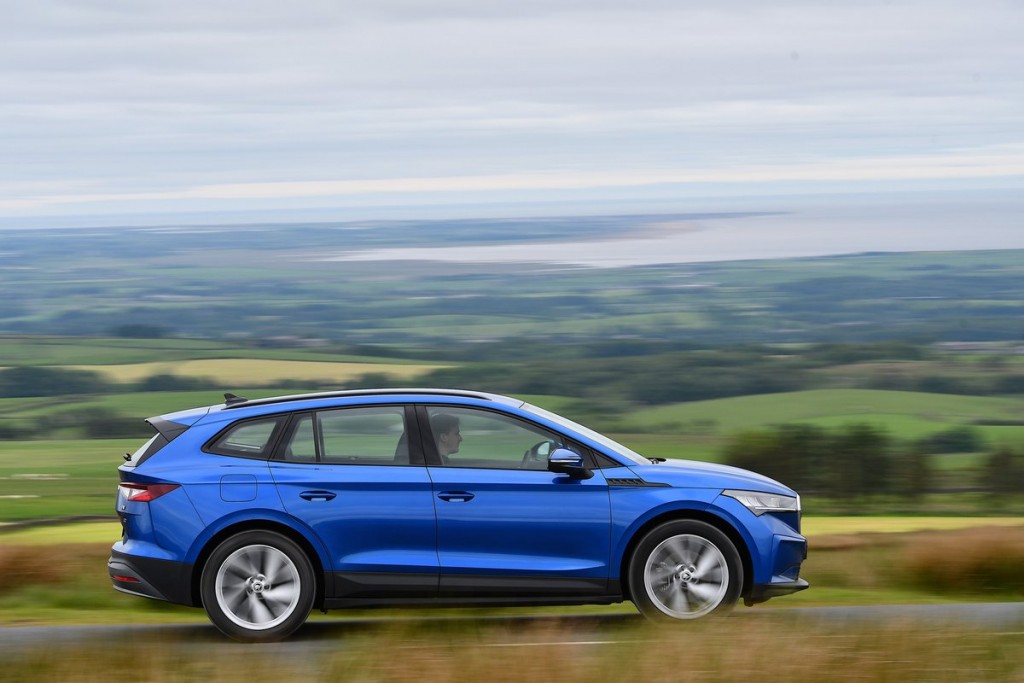 While decent, ride quality is compromised by the weight of the batteries. Around town the Enyaq is a little unsettled, but it is still one of the best riding EVs and offers greater comfort than the Ford Mustang Mach-E. On faster roads the Enyaq's ride quality improves, so don't expect to have any complaints over longer distances. 
We wouldn't describe the Enyaq as a fun car to drive, but it does exactly what a large SUV should, which is provide a relaxing driving experience. For instance, there isn't much connection through the wheel, but the steering itself is precise and light, meaning you have plenty of confidence through corners.
If you are going to be using the Enyaq around town then you may be more inclined to opt for the 60 model, as the rear-wheel-drive layout allows for a better turning circle to get you out of tight spots. 
What about the inside?
Skoda has adopted the minimalist theme beloved by many EVs on sale today. There's very few physical buttons and a 13-inch touchscreen infotainment system - through which many of the Enyaq's functions are controlled - dominates the dashboard. 
The screen itself is easy to see, and the large icons help when you're using the system when on the move. It isn't as intuitive as the system found in the Mustang Mach-E and can sometimes be a bit unresponsive, but it's much better than the system in the VW ID 4.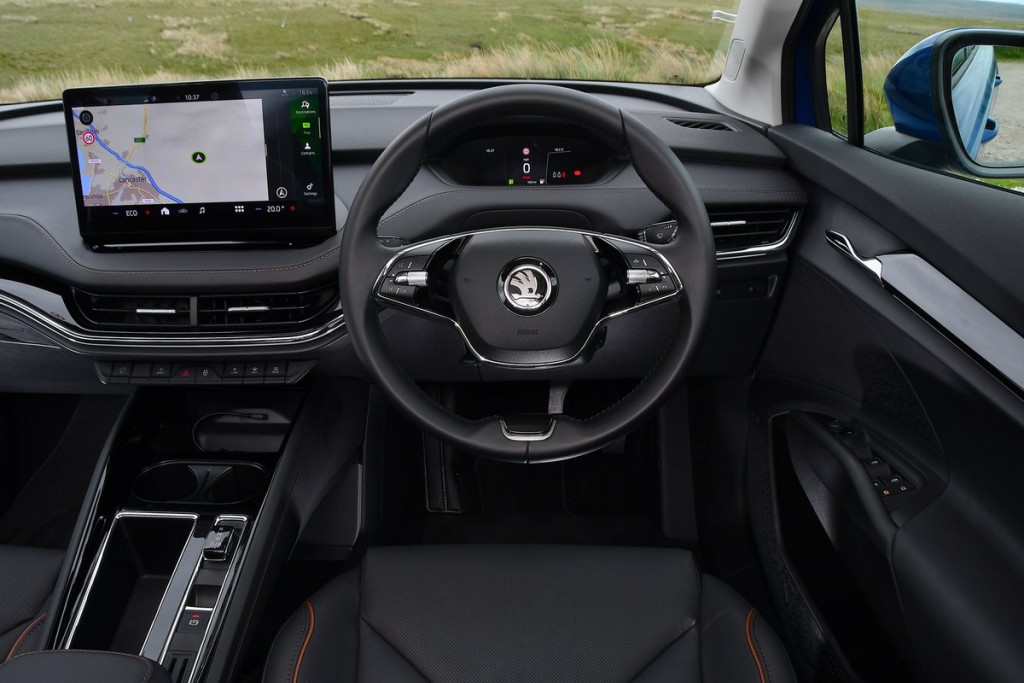 With the infotainment system you get DAB radio, Apple CarPlay, Android Auto and built-in satellite-navigation, with two USB-C sockets up front for phone charging. 
Interior quality overall is good considering the price, with plenty of soft plastics dotted around the cabin. It's better than the Mustang Mach-E and far more refined than the ID models from VW. To give the cabin an even more premium feel you can opt for piano black and polished metal highlights covering the central column.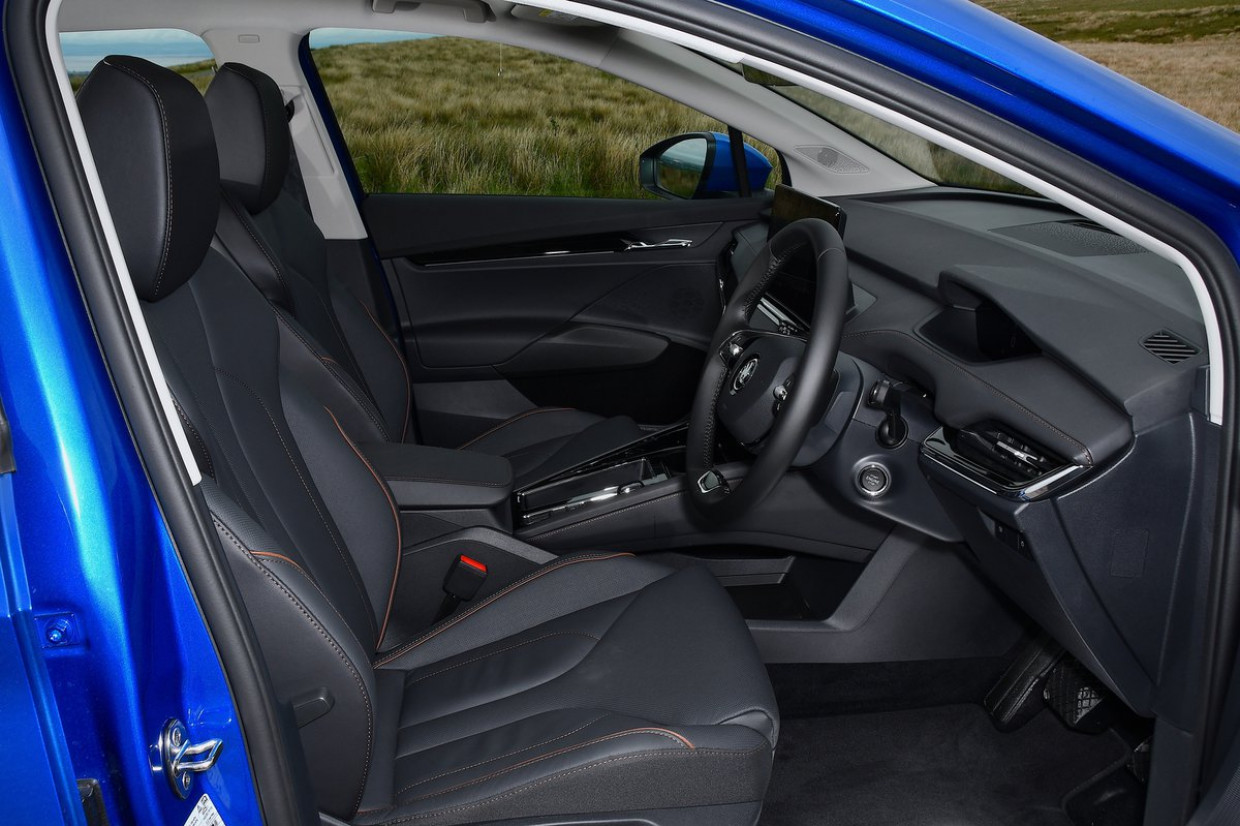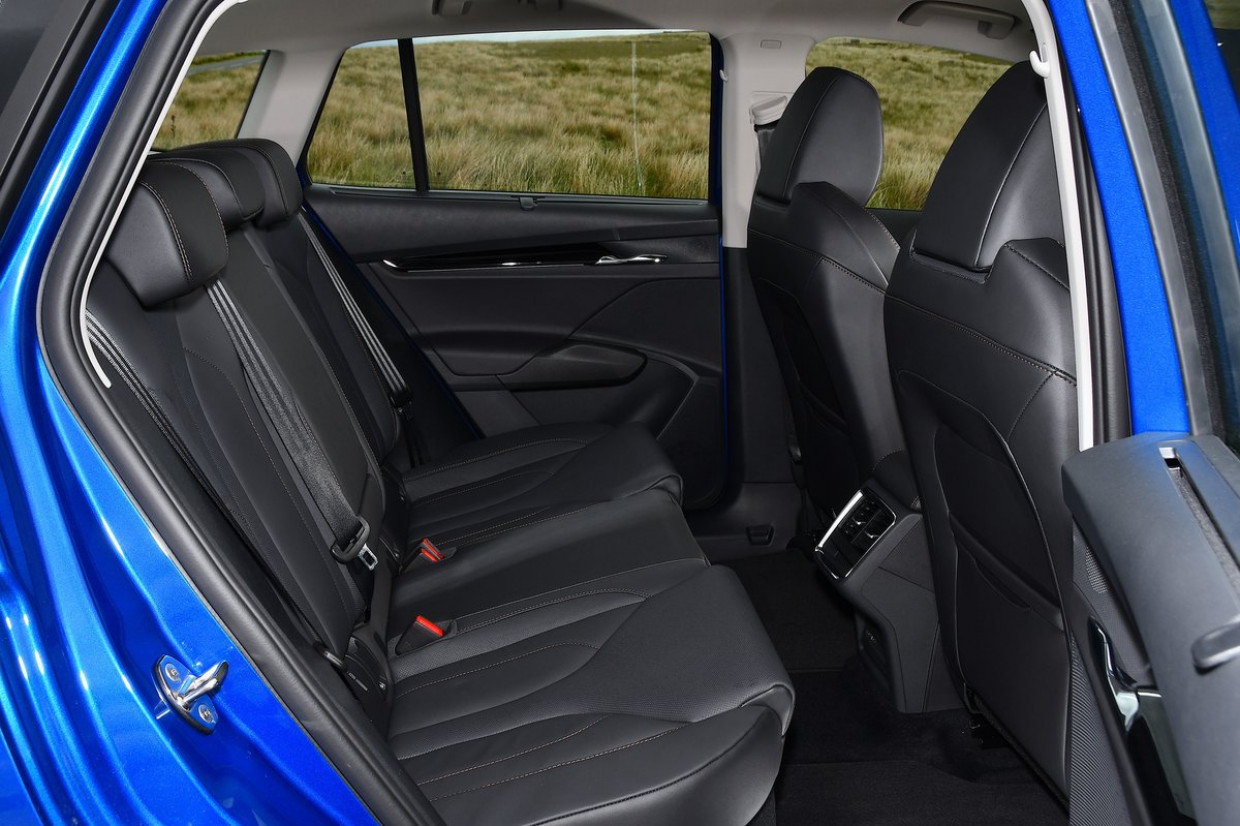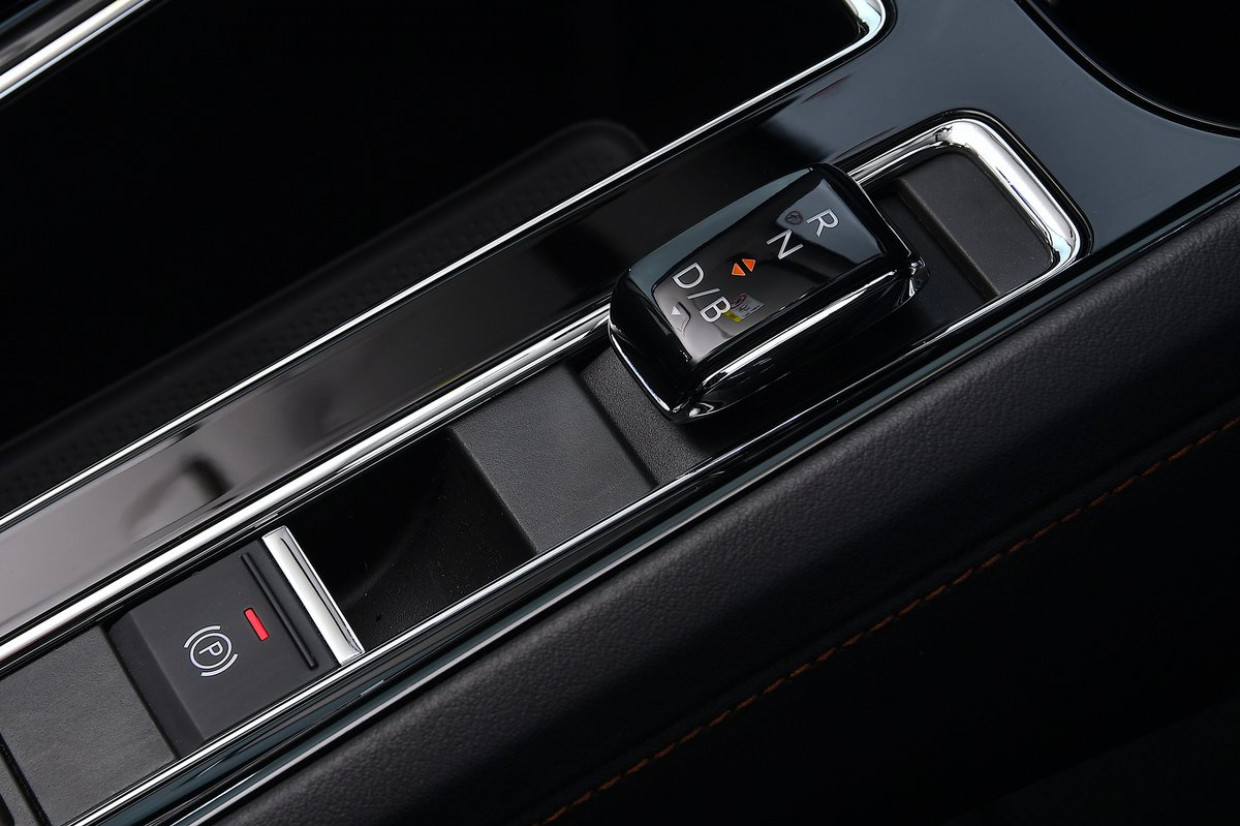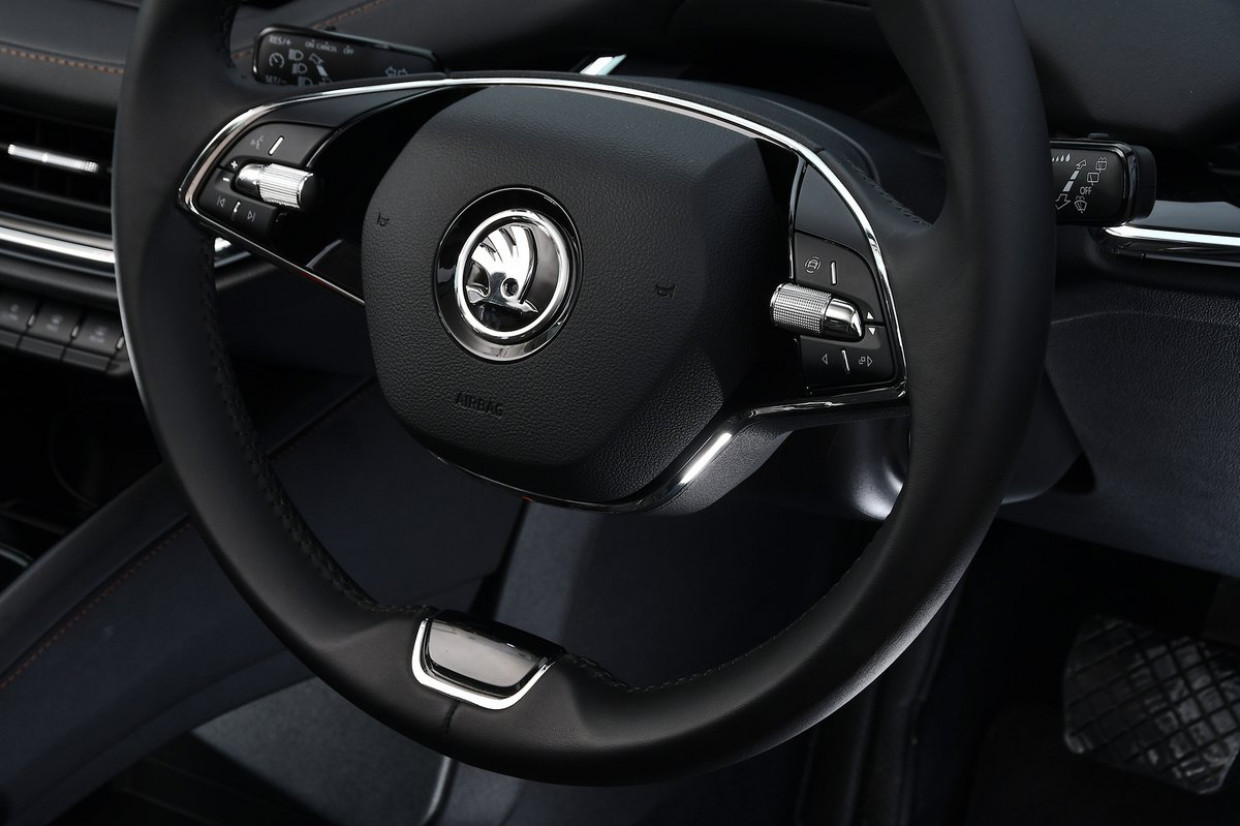 Any cool tech to trouble Tesla?
Skoda didn't coin the Simply Clever tagline for nothing. Our standout is a phone app which allows you to remotely check the battery charge level, schedule charging and even operate the heater inside the car so its already warmed up. It's far from unique in the car world, but you'll love that you have it on a cold winter morning.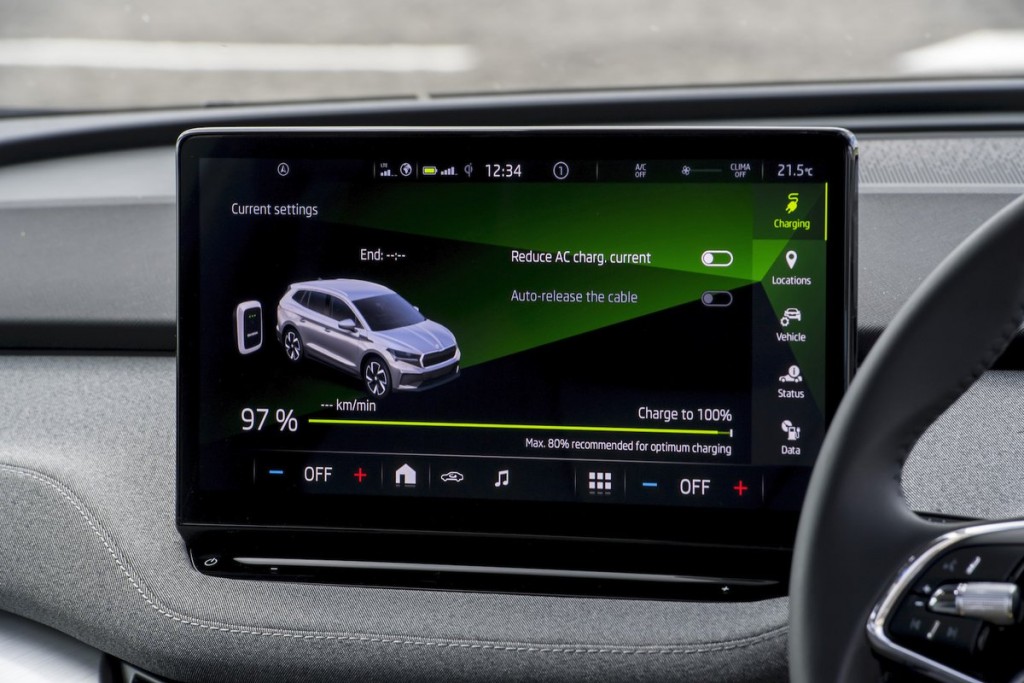 Opt for a higher trim level and you can add a head-up display. This clever augmented reality system projects information onto the windscreen so you don't have to take your eyes off the road to see it. It can even display arrows on the screen to help direct you on a journey, which is super-useful in super-stressful situations in built-up areas. 
You said earlier it wasn't perfect?
Although it looks swish, the digital driver's display is somewhat plain. It's more ready salted than prawn cocktail; functional not showy. Some of the information displayed can be a little hard to read as well, which can be a little irksome when driving.
If range is a real concern, then we recommend going for the Enyaq 80 with its 331 miles of range. But this does mean that you miss out on the £2500 Government grant, which dents the Enyaq's value for money credibility a bit.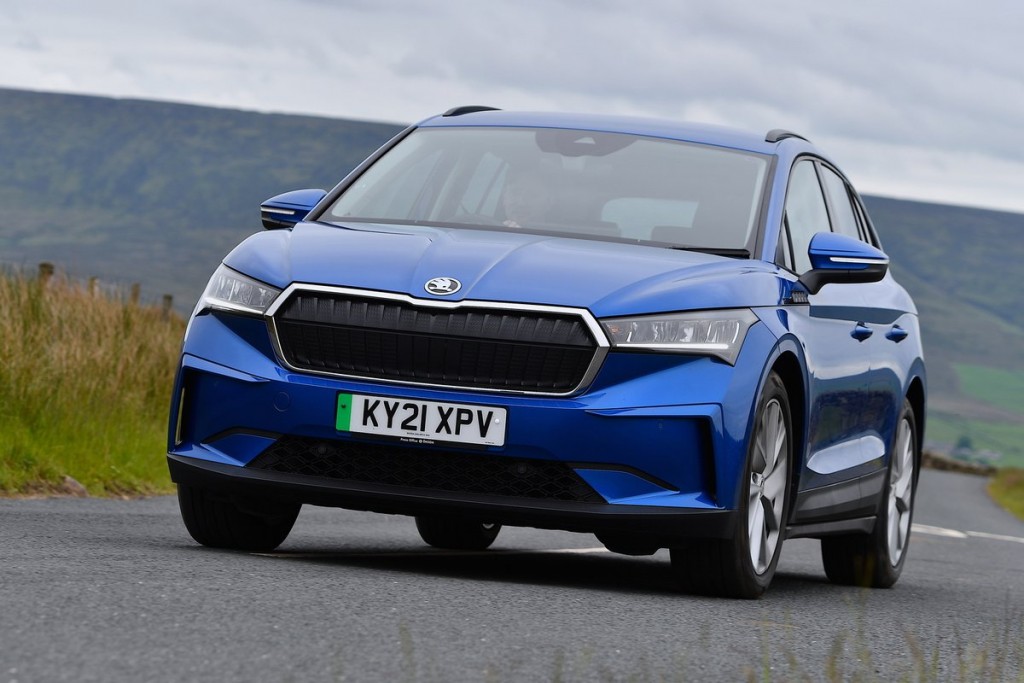 It's also slightly annoying that you have to pay extra for faster charging capabilities. Some rivals offer the same capability without knocking the price up.
Should I consider any rivals?
Unsurprisingly given the two cars are very closely related, the Volkswagen ID 4 is the Enyaq's closest rival. Just like the Enyaq, the ID 4 is a large family SUV which offers good range between charges, has excellent equipment in First Edition trim and is comfortable and quiet when on the move. But the interior is perhaps not as refined as the Enyaq and the touchscreen is far more fiddly to use with its touch-sensitive sliders.
Another notable mention, although slightly on the pricer end of the rivals list, would be the Ford Mustang Mach E. Ford's first EV has a Tesla-beating 379 mile range if you opt for the Extended Range model and offers excellent practicality alongside a number of useful tech features. it's ride quality isn't strong, however; the Enyaq is much more enjoyable to drive.
Verdict
The Enyaq is a very good family SUV that offers not only a spacious and practical cabin, but a solid driving range and a comfortable driving experience. It represents excellent value for money, especially if you go for a 60 model with the added benefit of the Government grant. The Enyaq is so good that it's the standard-bearer for proving you don't need to be Baron Rothschild to buy a really good EV.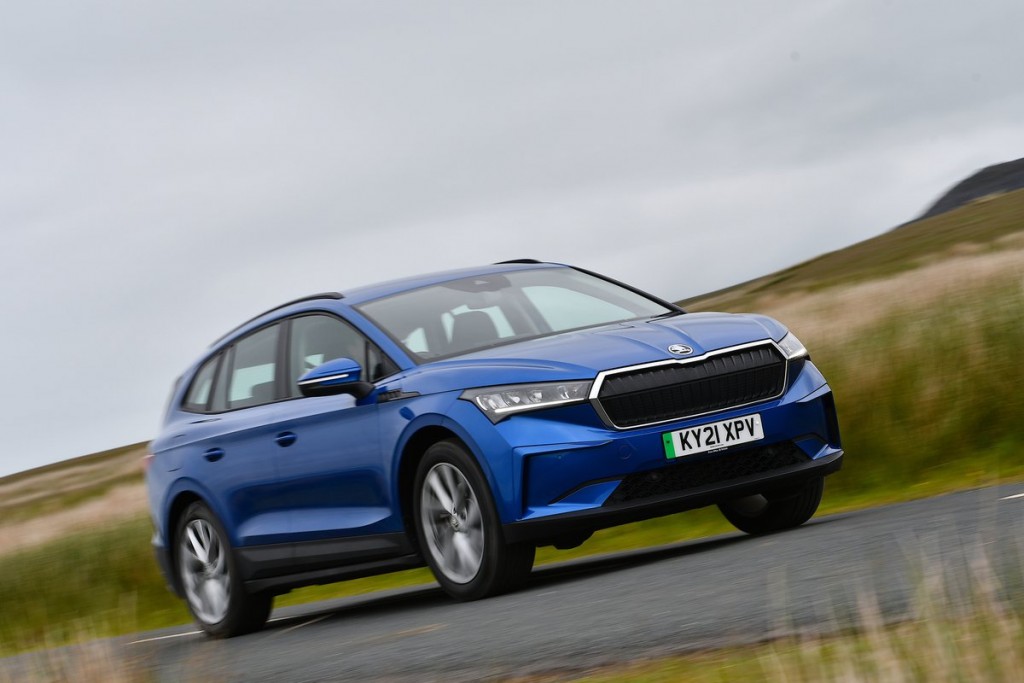 Skoda Enyaq specifications
Price from: from £34,510 
Motor: Electric synchronous with rotor coil
Gearbox: Automatic
Driven wheels: Rear-wheel-drive (80X is four-wheel-drive)
Maximum power: 177bhp
Maximum speed: 99mph
0-62mph from: 8.7 secs 
Electric range (official): 256 miles
CO2 emissions: 0 g/km
Tyres: 235/55 R19
Kerb weight excluding driver: 1890 -1998 kg
Gross vehicle weight: 2509kg
Height: 1616mm
Length: 4649mm
Wheelbase: 2764mm
Width with mirrors folded: 1879mm
Maximum boot capacity: 585 litres
Rivals:
READ MORE
e-CARS
e-BIKES
e-MOTORBIKES
Seat Mo 125 electric scooter review
e-SCOOTERS
Exclusive: E-scooter CO2 saving
e-WORLD