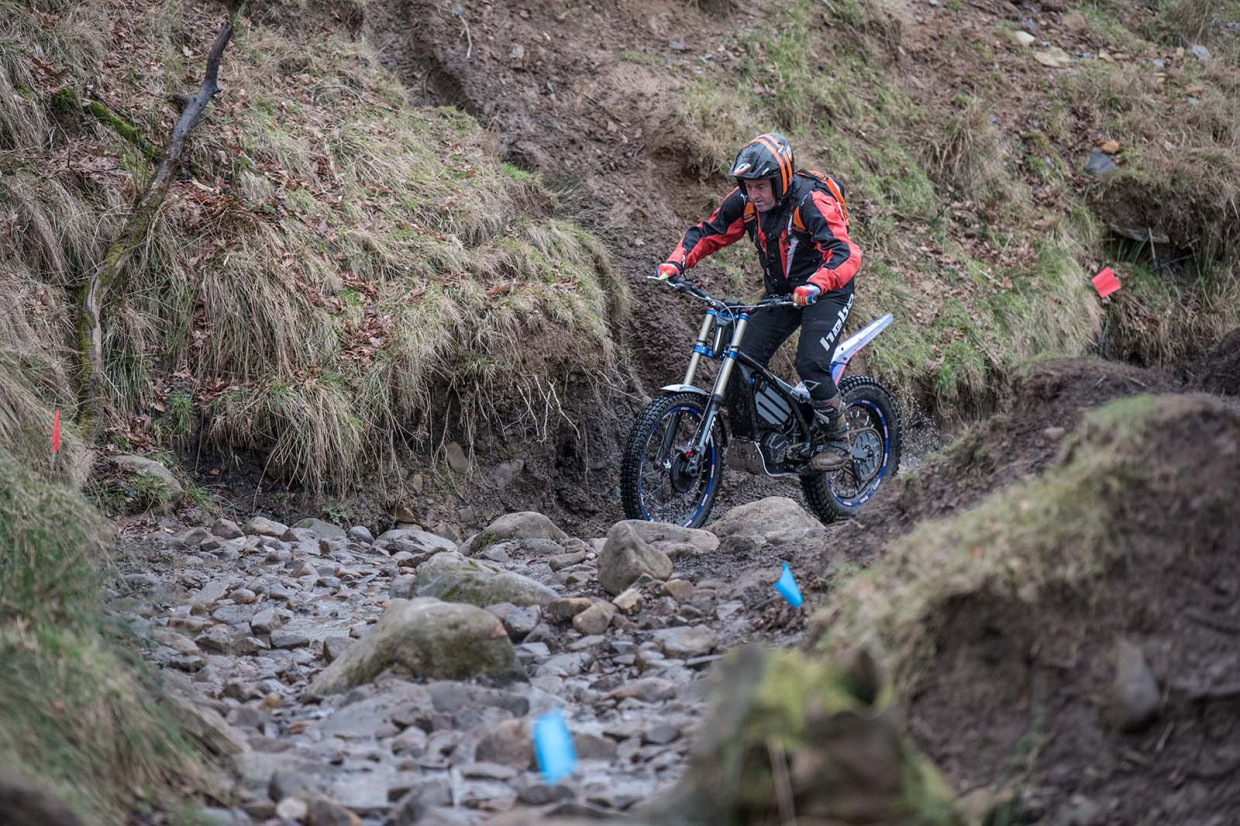 Sell it to me in a sentence...
The electric equivalent to a trials bike isn't just a viable alternative but arguably better than its petrol sibling, giving off-road riding a whole new dimension – especially for new and inexperienced riders…
What are we looking at here?
Introducing the Electric Motion Epure Race trials bikes for 2022. Electric trials and trail bikes are nothing new: Electric Motion, a French company, has been churning out impressive off-roaders since 2008. But for 2022 they have taken another step up, making electric a truly viable alternative to petrol in the off-road riding markets.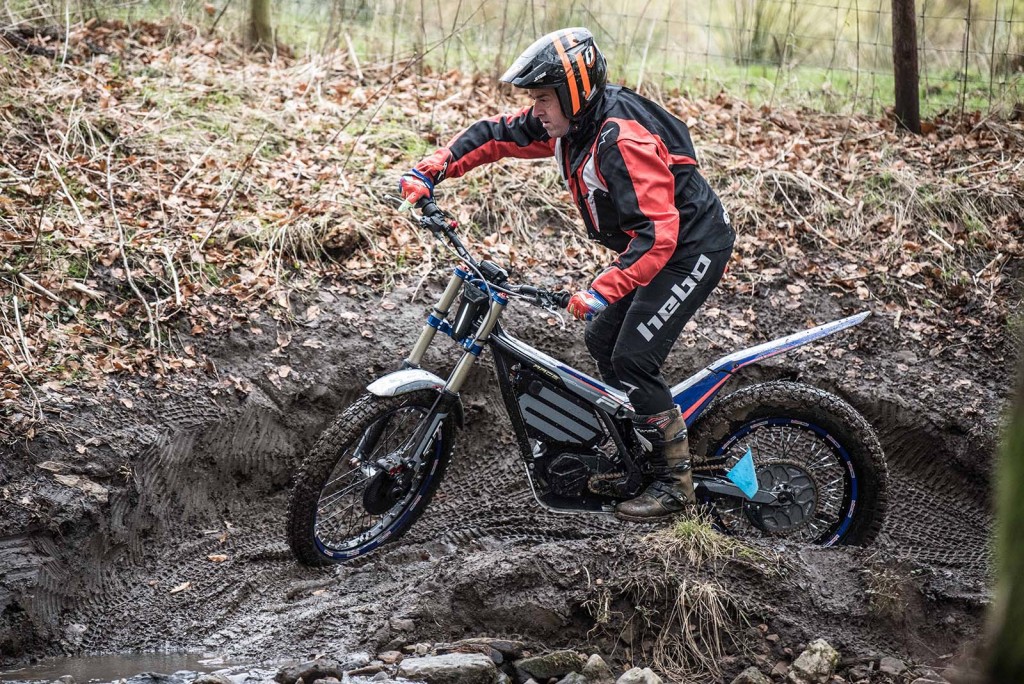 For 2022 the £8,499 all-electric trials bike comes with a host of additional features, the key one being a working diaphragm clutch, with TKO (tick-over). Most electric bikes operate like a petrol scooter, or automatic car, meaning that you simply operate the throttle to move forward. The new Epure Race, however, is unique as it offers a conventional clutch, with a biting point and tick over.
There are still no conventional gears, but the clutch allows the rider to personalise and control the initial movement of the bike, from very slow and smoothly using the balance of the clutch and tick over, to an aggressive burst of power to lift the front wheel over obstacles. This system can also be switched off, allowing the Epure Race to be ridden as a twist-and-go like any conventional electric bike.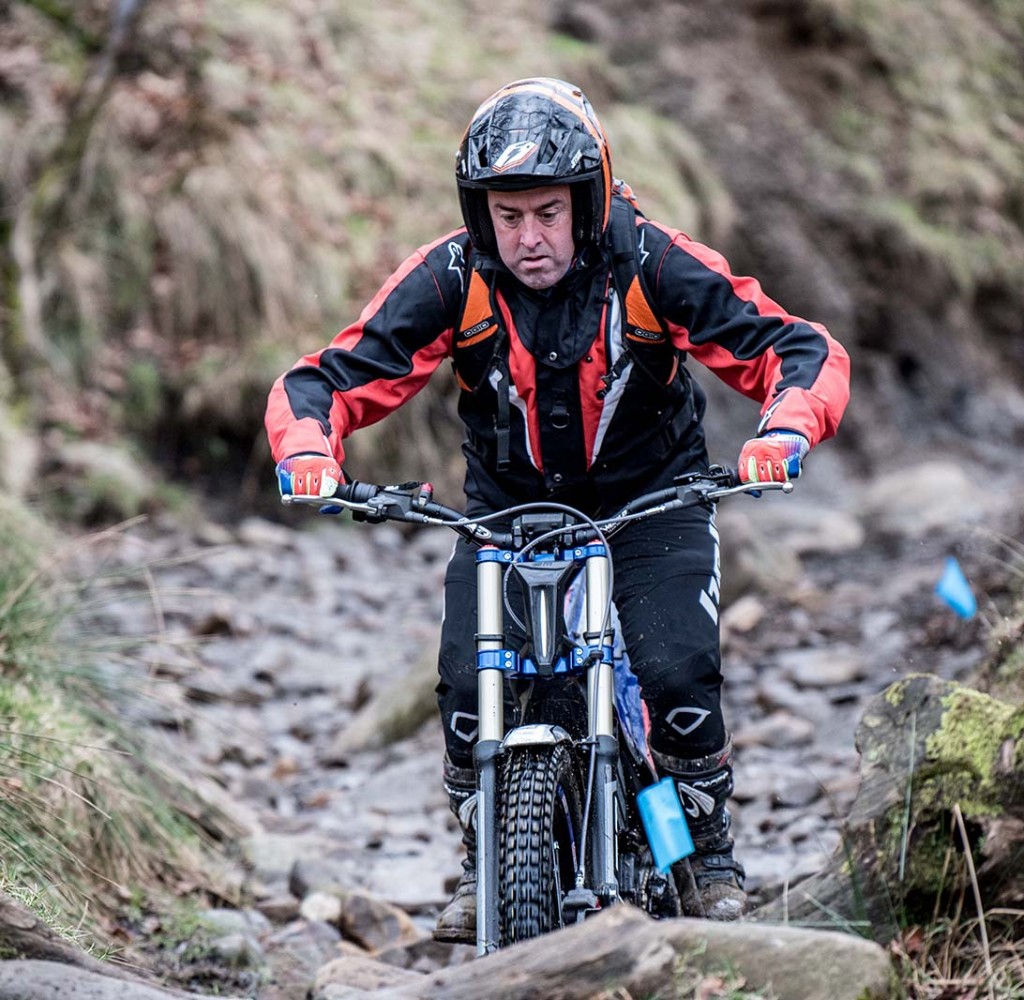 For 2022, the clever French designers have also added six engine maps – three standard and three 'race' (two of which have TKO). Each map changes the engine characteristic and power delivery, from relatively docile and akin to an automatic 125cc petrol trials bike, to full race with clutch and TKO and more like a 300cc petrol equivalent. 
To aid new riders', traction control (TC) has been installed, which helps to prevent the rear tyre from spinning. There's also a new rear shock, a lighter swing-arm, and the adjustable forks receive new settings. Galfer FIM brake discs are lighter than the 2021 models and there are new graphics and a new LED front light. 
As expected, there is more torque and more rpm. Power rating is 6kw, or 11kw peak, with a standard charger taking 3h 2mins to complete a full charge, or 2h 15 mins with an optional 25A charger. Running time depends on how and where you ride but, as most trials are run at slow speed over short distance, the Epure's riding range should fall in the region of four 4 hours or 27 to 30miles. 
What exactly are bike trials?
Your knowledge of trials probably depends on your age and bike knowledge. Some may remember Kick Start, a TV series aired on BBC in the '80s. Peter Purves commentated on riders trying to negotiate obstacles like slimy logs and wooden pallets. Today, professional trials riding – both indoors and outdoors – is like slow speed dancing on two wheels as riders ride and jump over obstacles that look impossible to negotiate.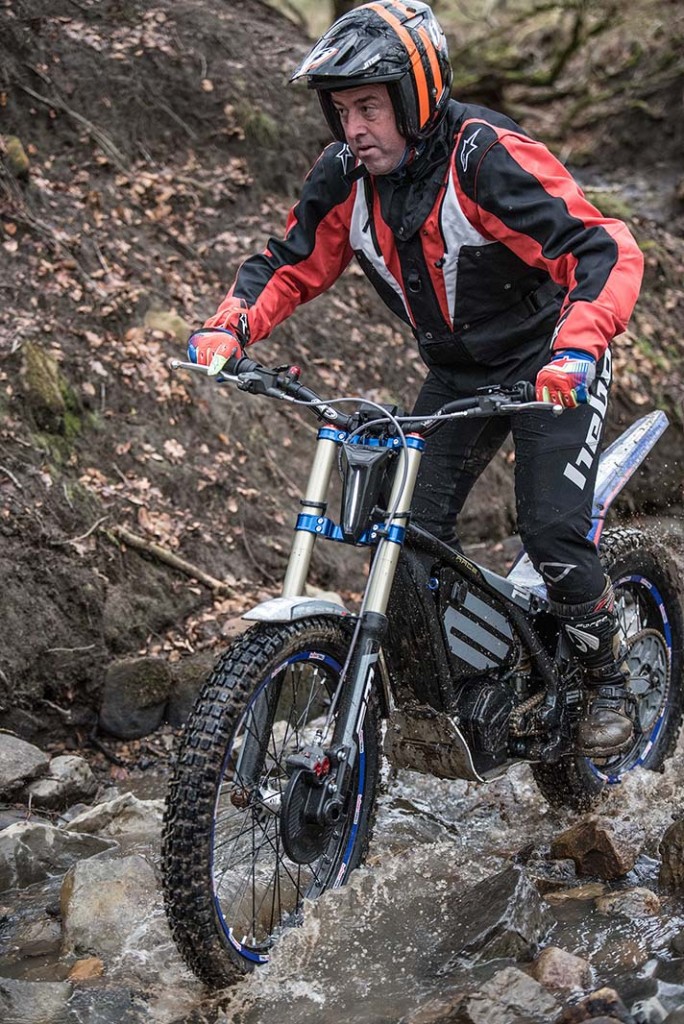 At amateur and recreational level, the basic same rules apply. Negotiating obstacles, rocks, streams, logs, hills, or manmade objects, with precision and balance, without putting your feet down. Speed is irrelevant as most trials are conducted at walking pace. However, sudden bursts of power are required to jump or lift the bike. The operating range required for most trials is almost irrelevant, too, as most trials are conducted within a relatively small area. That said, some long-distance trials like the famous Scottish Six Days Trial (SSDT) require riders to cover 100 miles or more in a single day and are currently for petrol bikes only.
What are the advantages over petrol?
As well as the usual financial and environmental advantages of electric over petrol power, there are also some specific benefits to trials bikes. To start with, there is virtually no mechanical maintenance necessary. Outdoor trials riding is typically conducted in muddy conditions, or up and down streams, with water and dirt the enemies of your engine. On a petrol bike, you usually need to clean the air-filter after a ride, possibly the oil too, and at some stage the engine will need a service.
Not so the Epure. Simply jet wash it, lube the drive chain and you're done. And, yes, the Epure can be ridden in deep water.
Conventional trials bikes have a kick-start to save the weight of an electric start mechanism. And while die-hard motorcyclists will be screaming 'there is nothing wrong with a kickstart!', when you are tired, caked in mud and have a boot full of cold river water, most of us would take a silent push-button start every time.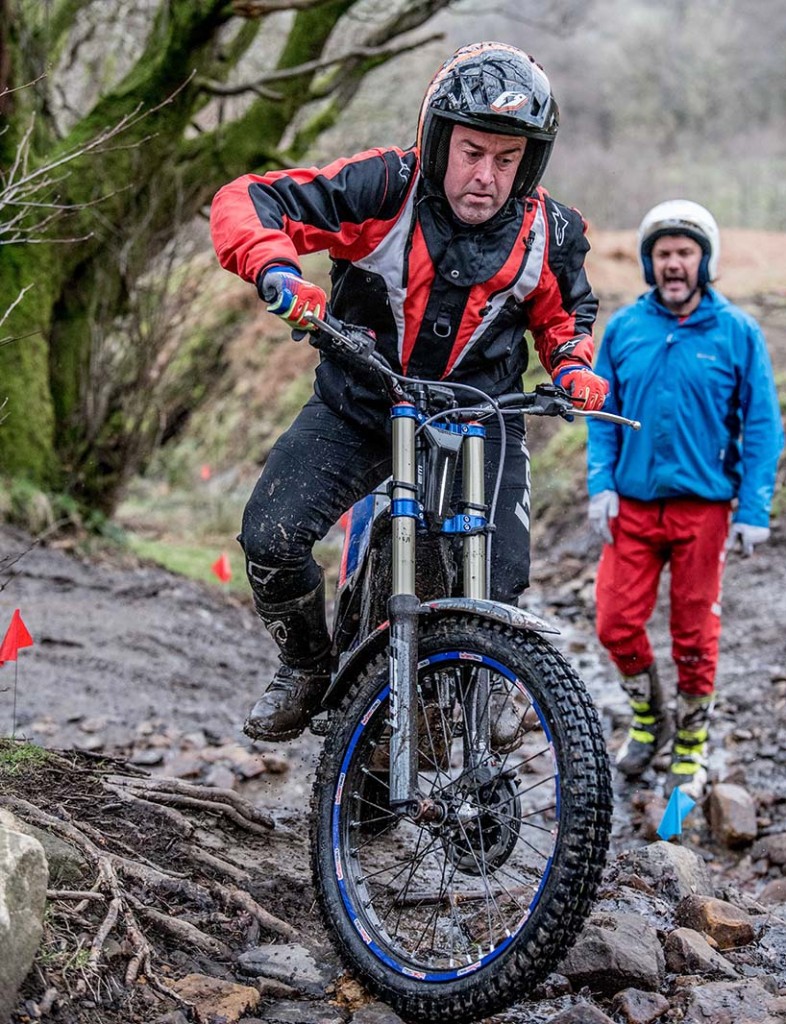 Furthermore, it's impossible to stall an electric trials bike, whereas when you stall your petrol machine, you are back to kick-starting. There are no gears to worry about, no warm-up procedure, no engine heat, meaning you don't have to scramble out of the way when it falls on your leg and it's safer for children to ride. The absence of gears makes it far easier for novices, too.
And finally, for some, the most important advantage is no sound. Petrol trials bikes are relatively muted compared to other off-road bikes like Enduro or MX, but the Eupure is virtually silent. This means you can even practise in the garden without annoying the neighbours.
What are the disadvantages? 
There are some disadvantages to going electric. The Epure Race starts at £8,499, which is slightly more than the petrol equivalent. A 125cc petrol trials machine would start at around £5500, and expect to pay £8200 for the latest top-level 301 Montesa – and you won't need any extras like a spare battery or fast charger. For larger trials events like the SSDT, the Epure simply doesn't have the range, and for extreme trials riding, electric can't match the sudden burst of power and over-rev of a top-quality 300 – but these are things only top-level riders require. 
I like the almost silent running of an electric trials bike; it means I can ride almost anywhere without disturbing people, wildlife or livestock. However, some will miss the noise. With no rev counter on a trials bikes, many riders learn their craft using the exhaust tone as an indication of revs, while traditionalists claim they ride by ear. However, I'd argue this point.
How does it ride?
Before embarking on a day of fun at Inch Perfect Trials in Lancashire my fellow riders and I are given a rundown of the bike. There are no gears, and the only indication the bike is live is the illuminated dash and buttons, plus a 'ping' noise. You have a pull cord attached to your right wrist, which you simply pull to kill the power and which is recommended each time you stop.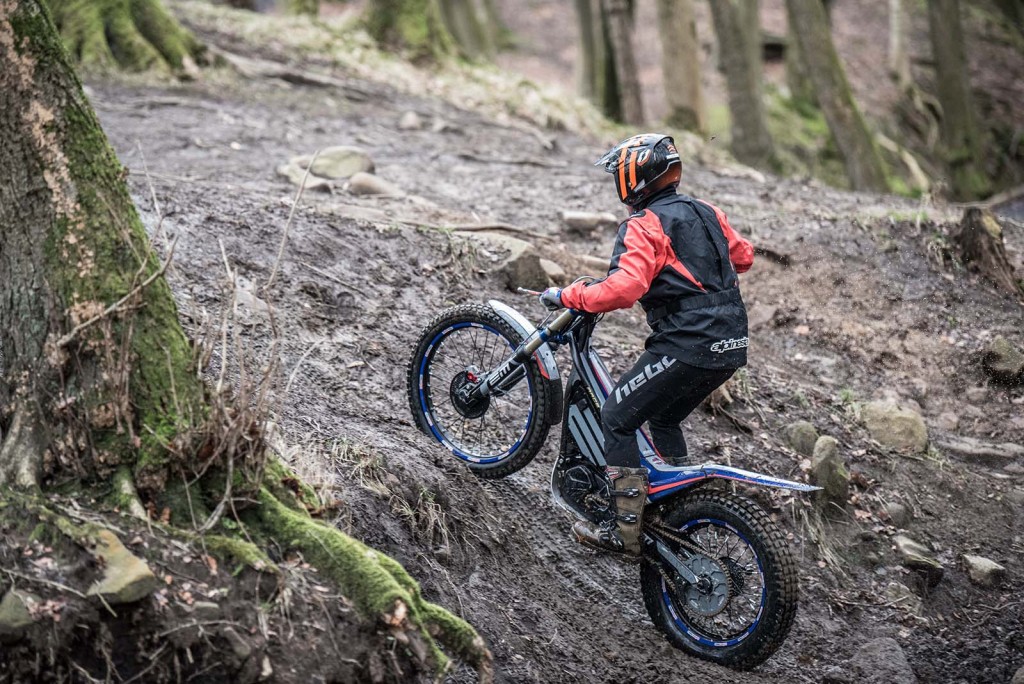 To move forward you have those riding modes to choose from, three standard, three race: Green (race), which is  similar power to a 125-200cc petrol; Blue (race), a 250cc; and Red (race), a  300cc and full power. The standard modes restrict power even further, for example for young riders. You also have the option to activate the clutch. To get acquainted with the bike and conditions, I opt for Green (race), low power, and no clutch. Simply twist the throttle and move forward. No gears, no noise... This is so simple my seven-year-old son could ride the Epure. 
Aside from the lack of noise and gears, it rides much like a conventional petrol trials bike, with a low seat, low weight and a natural sanding-up riding position. Power delivery is smooth, easy to use, but there is still enough poke to pop the front wheel in the air or spin the rear tyre for fun. 
I've ridden trials before and am looking forward to riding the first section (negotiating obstacles between small flags without putting a foot down). We walk the section first, discussing the easiest route, then attempt the section for real. With trials conducted at walking pace, I opt for the Green (race) mode again.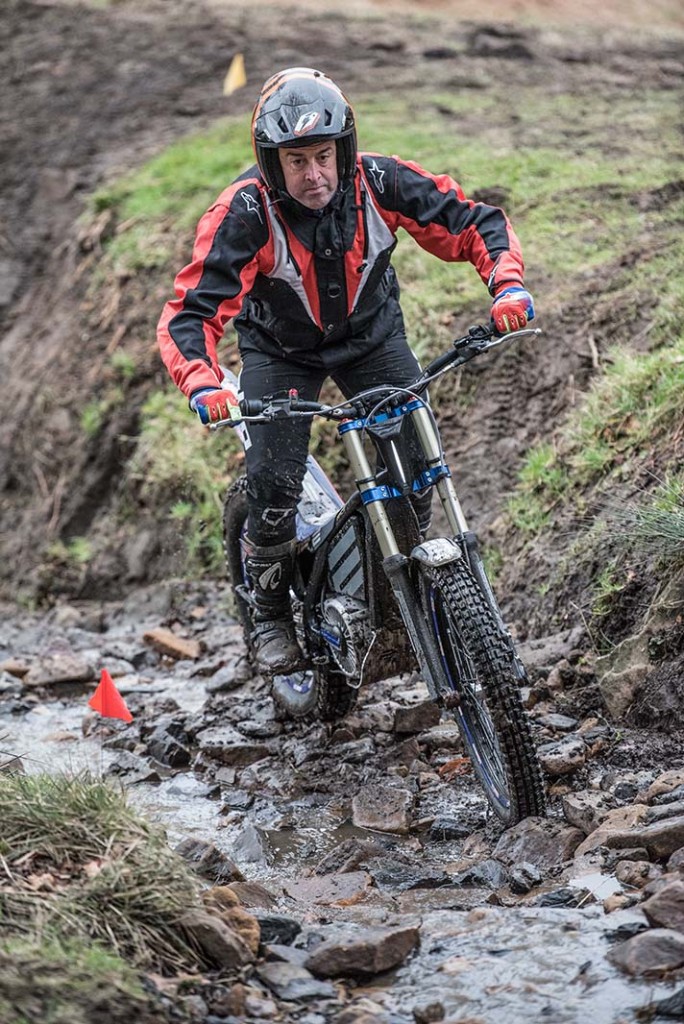 The Epure makes easy work of the first section and compliments the rider. I don't have to worry about gears or clutch and I can clearly hear my instructor's advice. Stood up on the pegs there is a lovely balance to the bike, and the throttle is smooth, not snappy. 
We change the route to make it a little harder, but again the Epure makes life simple. Yes, a petrol bike would have done the same, but without a clutch, gears of fear of stalling I can focus on what I'm doing: looking ahead and choosing the correct line.
After making light work of the first few sections, we move onto more challenging terrain, and I decide to opt for Blue (race) and the new clutch. 
With the clutch in, you can hear the electric motor increase in revs slightly; this is the new TKO, or tick over. Without touching the throttle, you can release the clutch and slowly move forward (without the fear of stalling). To increase the speed you can either simply accelerate or add some clutch for a burst of torque.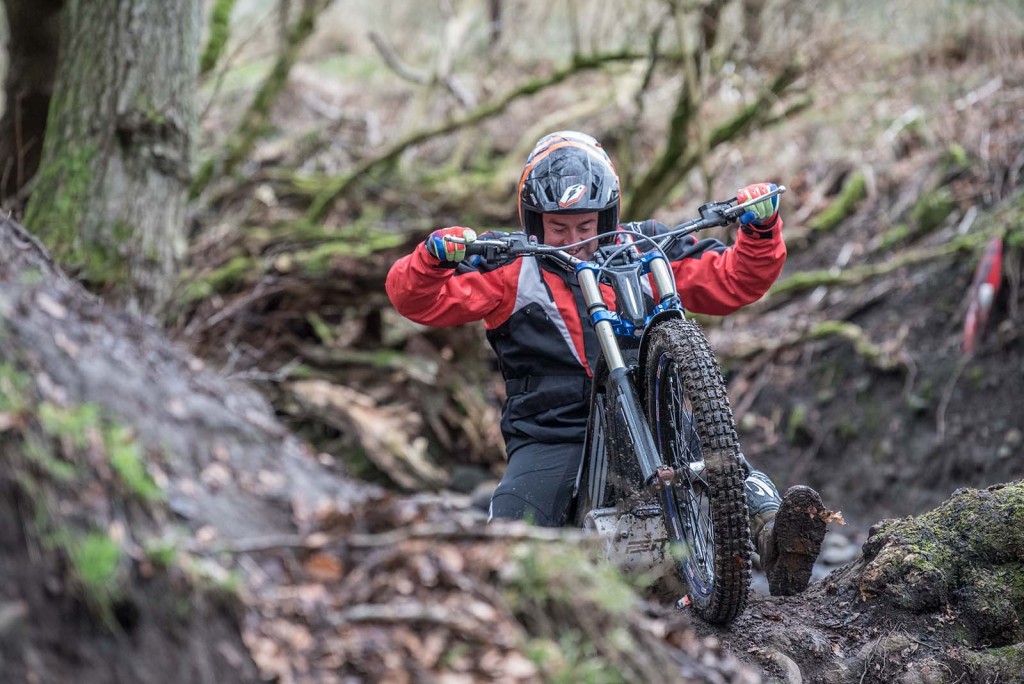 It's a revelation; the light clutch and new TKO have made the Epure even easier to ride, and the very light, one-finger clutch makes it more natural for 'old school' riders like myself. A little slip of clutch allows the rear to spin, to fling mud from the tyre, or can be used to balance the bike without moving, holding the clutch at the biting point against the throttle, like a hill start in a conventional car. 
The Blue (race) mode does change the power characteristics, but it's still not aggressive and the clutch allows you to gently add the power or allow the tick over to pull the bike forward. This helps the rear to find traction in slippery conditions often found in trials. 
Later in the day, as the weather closes in, we attempt some steep hill climbs. I switch into full power (Red race) with the clutch in use and make full use of the Epure's torque and power. There is a surprising kick of power, but in these horrendous conditions almost too much, causing the rear to spin. I make just as much progress up the hill in the lower Blue (race) and even Green (race) modes. 
I can see experienced riders using the Red full power mode, especially in drier and grippier conditions, but I prefer using Blue (race) – with or without clutch – or the lazy Green (race) mode without a clutch. That is the beauty and simplicity of opting for electric. When the conditions are good and you're attempting steep hill climbs, opt for Red; when it's the end of the day and you're tired and riding through shallow streams, you can flick into Green. It's like several bikes in one.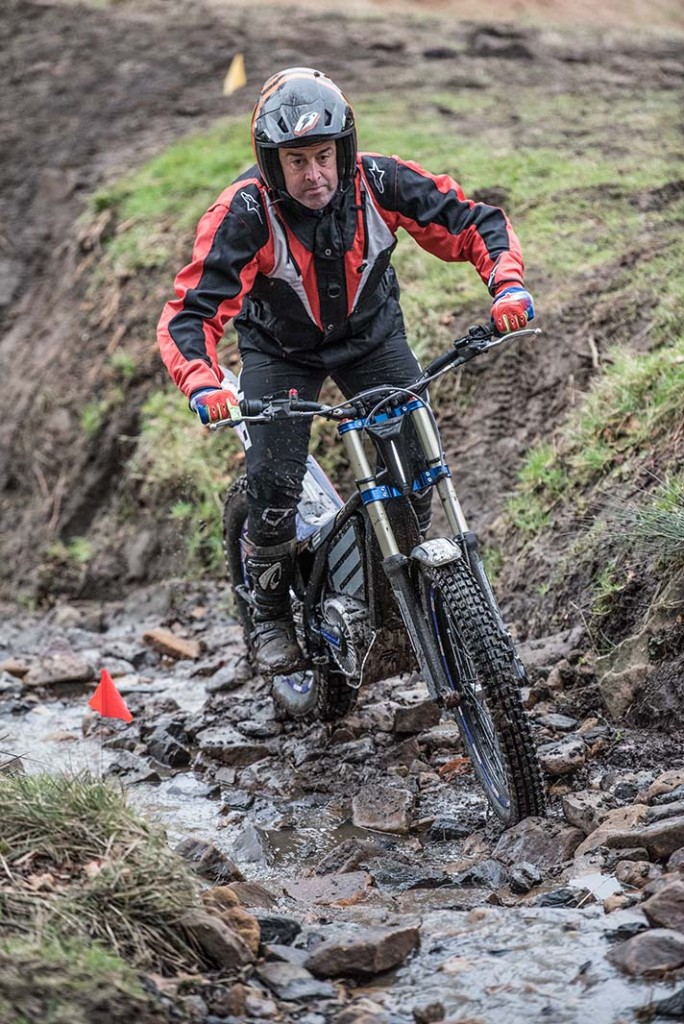 As predicted, the bike's battery range is not an issue; we only scratch the surface of what the bike is capable of and only use 20-30% of charge before a hefty lunch and a recharge for both rider and bike. I lost count of the crashes by me and my fellow riders; we rode in deep water, and I even dropped it in shallow stream much to the amusement of everyone watching – yet I had no problems with the Epure. Obviously, we'd need a long-term test to validate its reliability, but I hit rocks and generally abused it without any issues.
Verdict
Even the most dedicated petrolhead trials fan wouldn't be able to ignore the Epure Race and the obvious advantages of electric over petrol. For a club level rider, or someone just wanting a fun trials bike to play around on, I'm unsure why you'd choose petrol over electric. The Epure makes so much sense. It's perfectly silent, you can ride anywhere, it's easier to ride, impossible to stall and there's no heat. 
Yes, for expert riders who jump boulders, and those wanting to cover long-distance trials, petrol remains the preferred and only option, but for everyone else, the Epure makes the decision between electric or petrol harder than ever. If I had the money, I'd opt for Epure over petrol.
Where can I test ride one?
www.inchperfecttrials.co.uk is based in the Ripley Valley, 20 minutes from Clitheroe, and run by expert trials riders and former trials display rider Matthew Alpe. The site is a 100-acre playground for trials bikes, catering for all levels of skills from novices, even children, to experts. Everything is taken care of, with quality 2022 bikes as tested, clean Alpinestars kit, including boots and helmets. There are warm, clean changing rooms, and they even take care of lunch. Just turn up and ride. Prices start from as little as £60.
Adam Child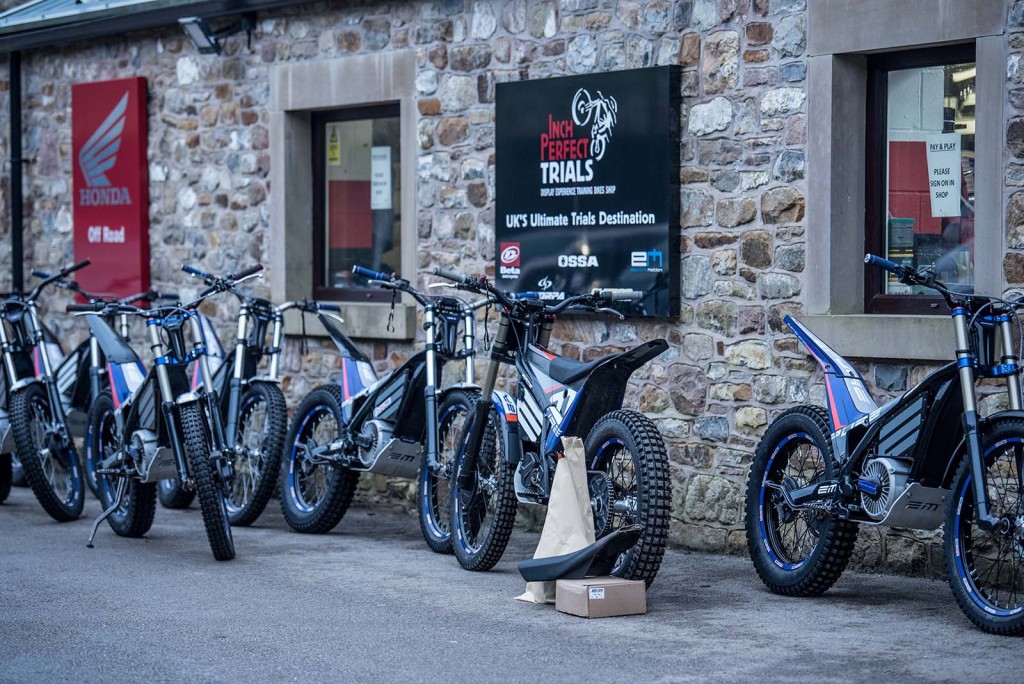 Epure Race specification
Price: £8,499
Electric motor/s: 
Drive battery: Air-cooled lithium-ion 
Power: 11kw (Max) 6kw (Rated)
Torque: 600Nm
Top speed: 70Kph
Range: 43km
0-62mph: n/a
Kerb weight: 75kg
Rivals
Osset 24.0R (no clutch electric trials for 9 to adults )
READ MORE
e-CARS
The 10 electric cars with the longest range
e-BIKES
Desiknio Pinion C1.9 Classic e-bike review
Ride for a worthy cause: Big Issue eBikes launches in Bristol
e-MOTORBIKES
Triumph reveals first electric TE-1 motorbike
BMW CE 04 electric scooter review
e-SCOOTERS
Superpedestrian Link e-scooter: first ride
The new battery tech designed to make e-scooters more sustainable
e-WORLD
New Candela C-8 electric hydrofoil has first 'flight'
Awake Ravik S 22 aims to take electric surfboards to the extreme