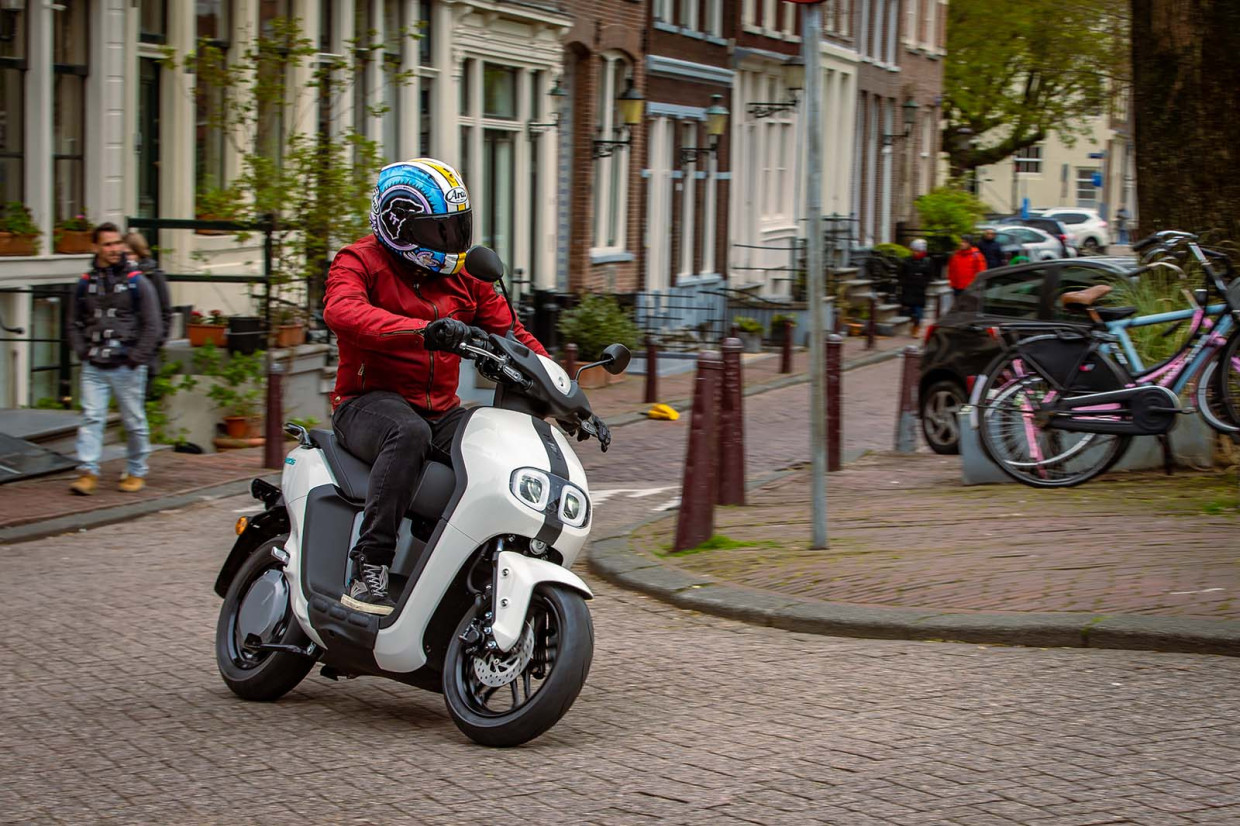 Move Electric rating: four stars out of five
Sell it to me in a sentence...
The Yamaha Neo's is a 50cc equivalent AM licence scooter, with a top speed restricted to 27mph (44kmh) and a quoted 23-mile (37km) range from its single, 8kg under-the-seat battery. At only £3005, the little Yamaha has been designed for inner-city commuting, so we flew to Amsterdam to find out how well it does that.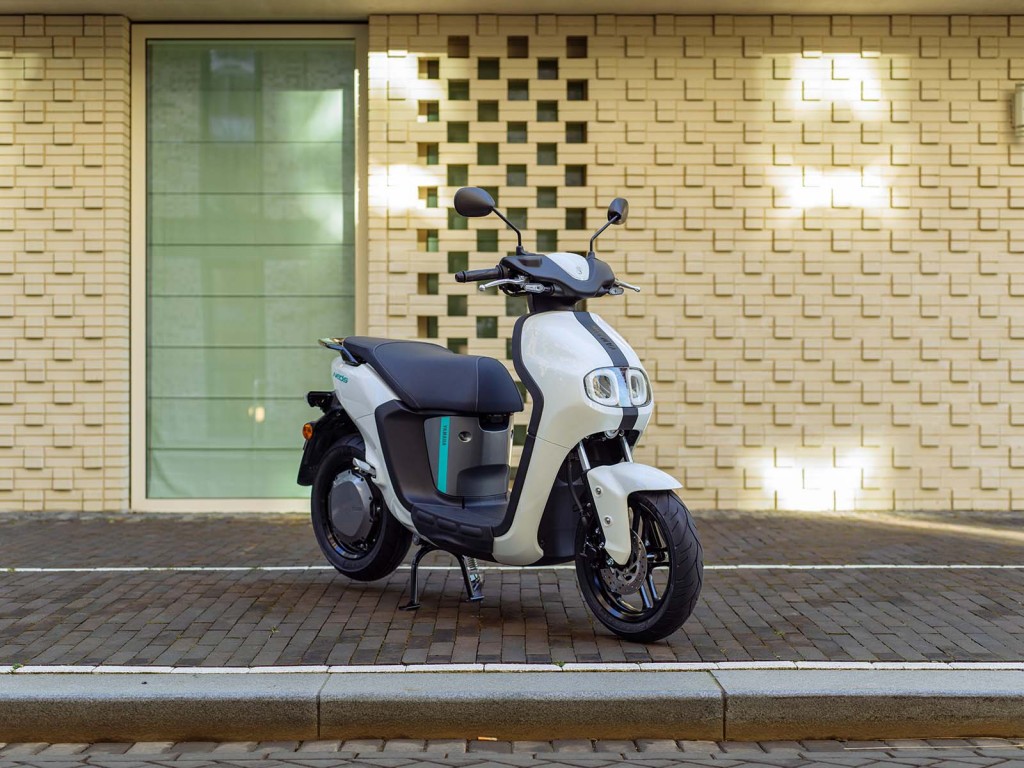 So it's an electric version of a Yamaha scooter?
Back in early March 2022, Yamaha move into a new era with Switch On, as the Japanese manufacturer unveiled its future in electric models. The Neo's (no, we don't know what that apostrophe is there, either) is the first model to come from that range.
Yamaha's all-new scooter features under-seat storage, two riding modes, keyless ignition, connectivity, and large 13-inch wheels wrapped in respectable Maxxis rubber. Top speed is a quoted 45kph/27mph, range a claimed 37km/23 miles, and a re-charge time of eight hours from a normal household plug (or four hours for a 20% to 80% charge). There is Bluetooth connectivity and obviously great build quality for an attractive £3005, or just over £40 a month on PCP. £40 a month, how many drinks does that buy you in Soho?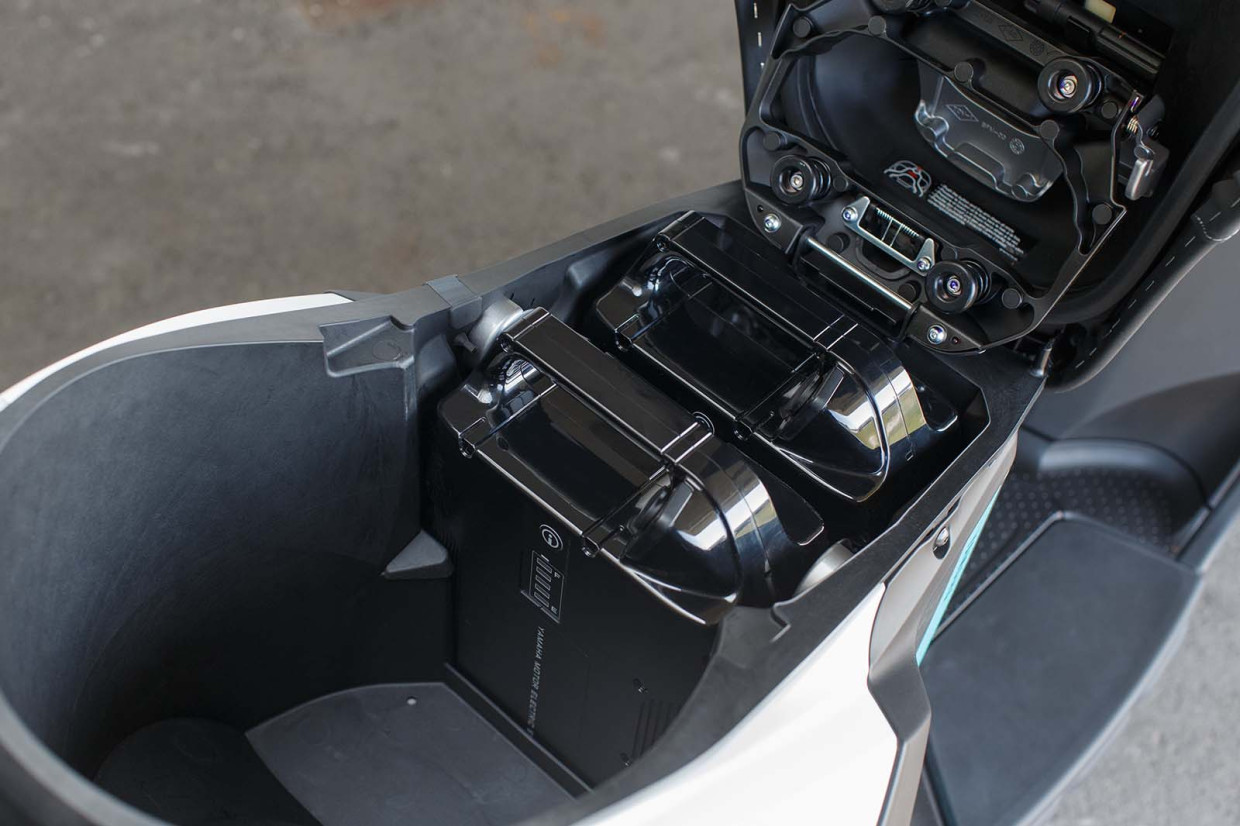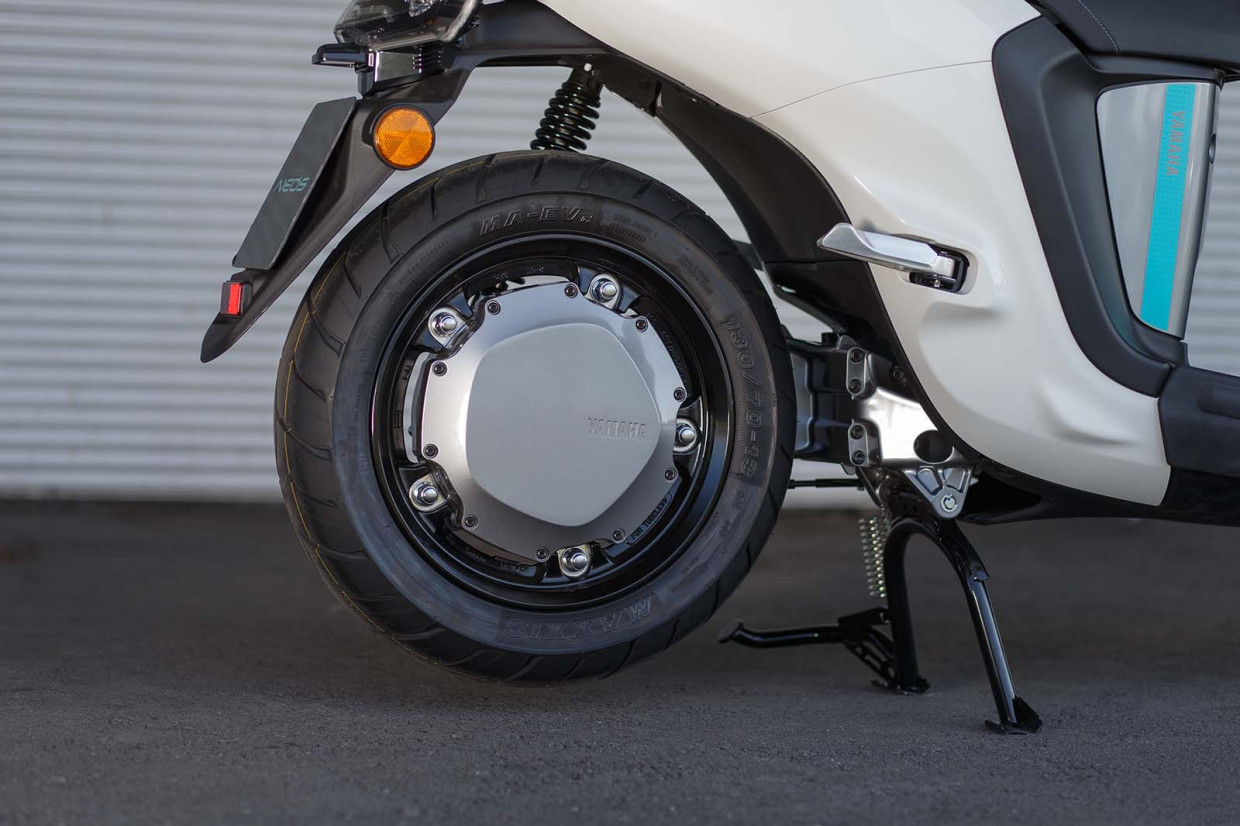 What's it like to ride?
The speed restriction means 28mph really is it. I did see an indicated 29mph, but even after holding it flat, that was it. It's a slightly weird sensation, as acceleration over the first 50 meters is energetic, with instant torque, and you can out-drag unsuspecting cars from the lights. So below the speed cap this is a nippy little bike... until it simply stops accelerating at just below 30mph.
ECO mode decreases the speed even further, and again the speed limiter is very soft: 25mph. In some cities, this may prove useful, and it's easy to flick between ECO and the standard mode to give an 5 to 6mph boost.
On our test ride in Amsterdam, built for life on two wheels, a top speed of just under 30mph was more than enough, but I'm unsure how it would fare in the UK, on the North Circular for example.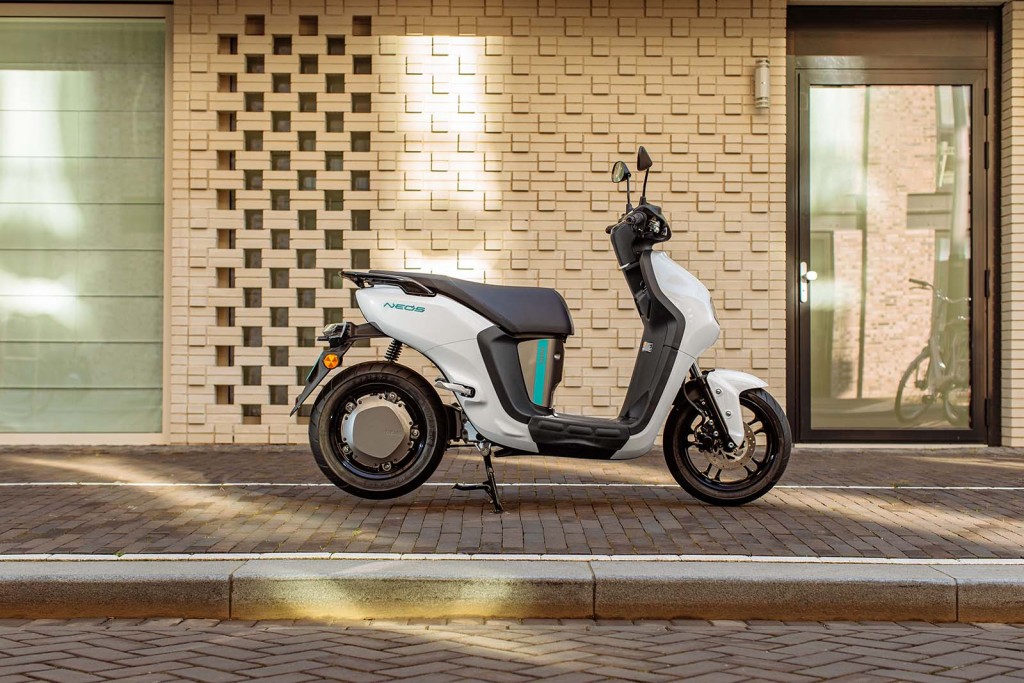 How far will it get me?
From a single battery, Yamaha claims a range of 23 miles in the standard riding mode, or 24miles in ECO mode. Add the second battery (for £980) and the range increases to a claimed 42 miles. When battery life drops to around 20% it automatically goes into Turtle mode, which restricts the power and speed, to hopefully get you home. On a single battery, you have around 19 miles before you lose power.
Running two batteries, as our bike did on test, works well. You only run one battery at a time, and when battery one is about to go into 'Turtle' mode, it automatically switches to battery two. You don't have to stop and unplug anything. When the batteries switch, the rider is notified via the simple dash.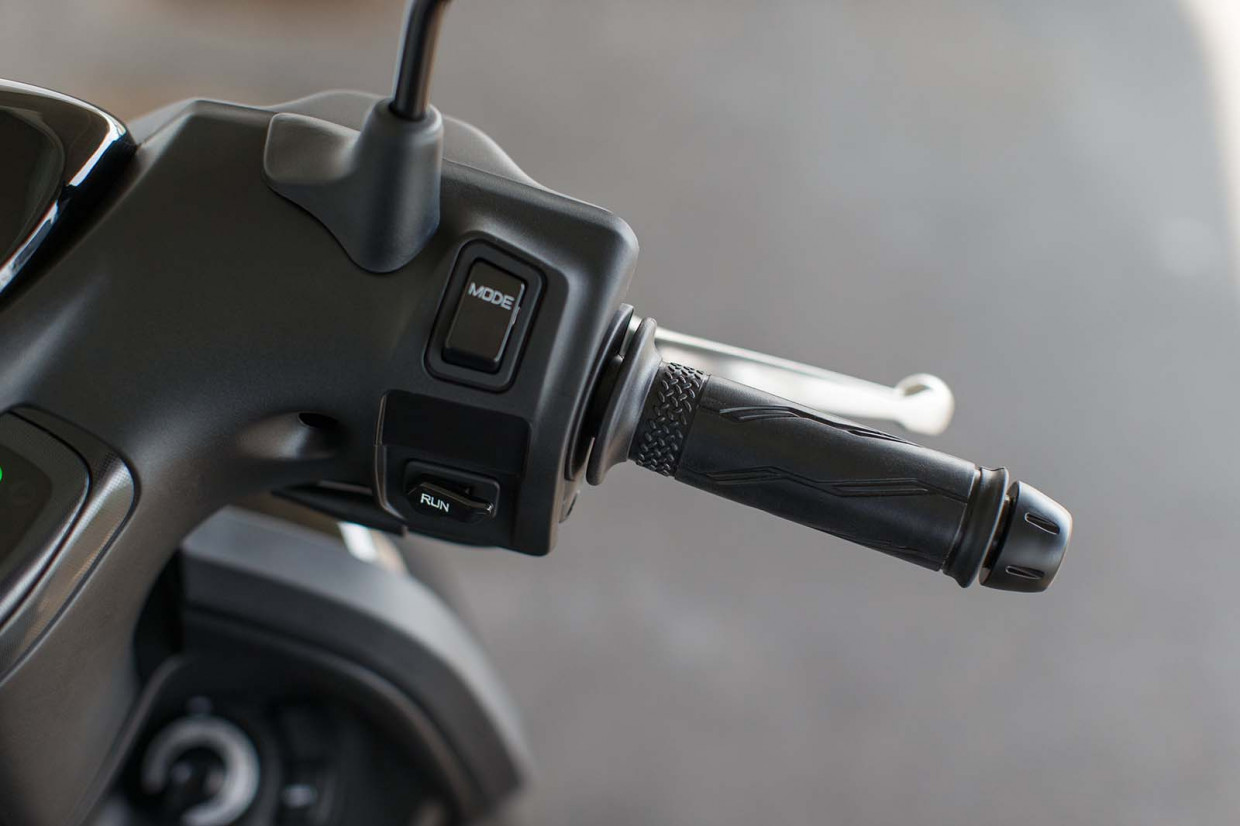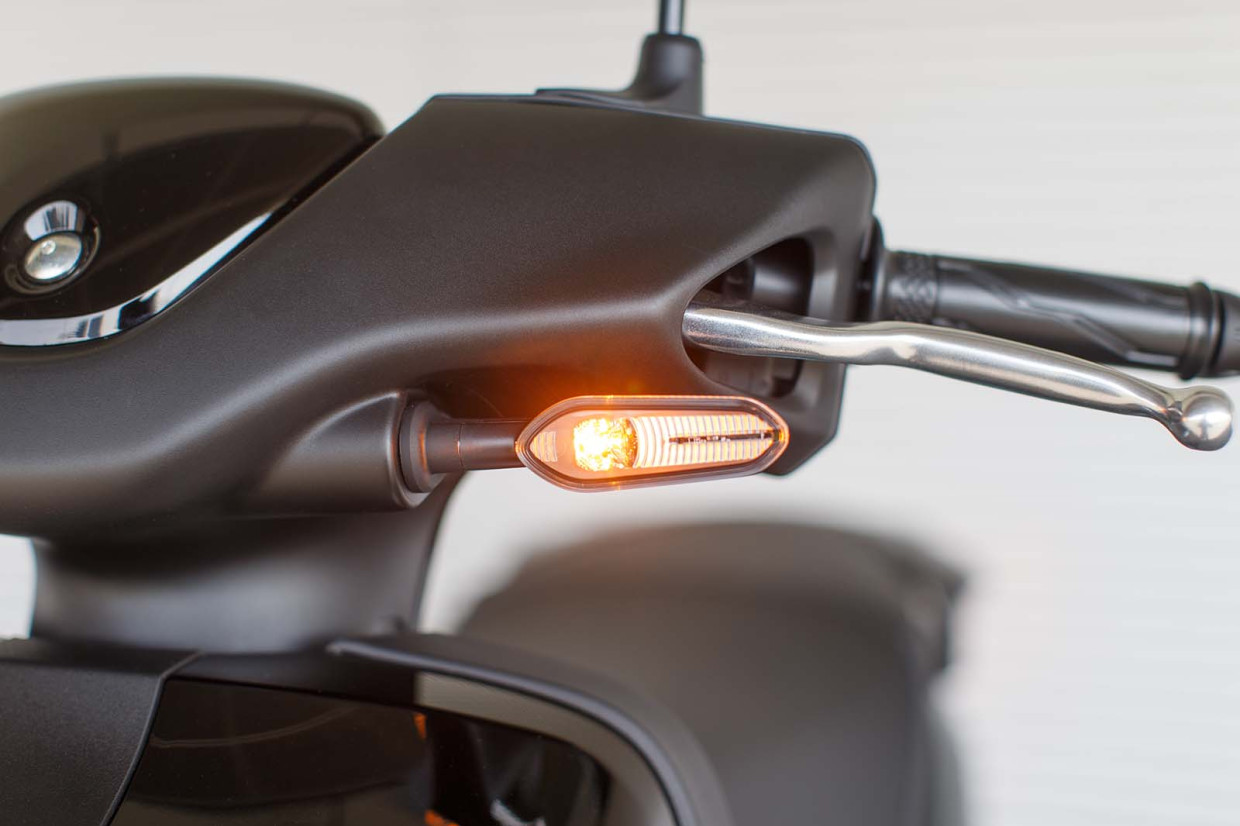 The range isn't shown on the dash, just battery life via a bar-chart symbol. To see your range you need to use the MyRide Yamaha app, which plainly shows the range of total battery in kilometres. 
After our 30.3 miles ride, I still had 15.5miles remaining, which gives a total range from two batteries of 45.8miles – so not bad. Earlier in the day, after 13.4 miles, I had 30.9 miles remaining – a total range of 38.8 miles and a little less than Yamaha's claimed 42 miles. So you can see that real-world range depends on how (and where) you ride your Neo's.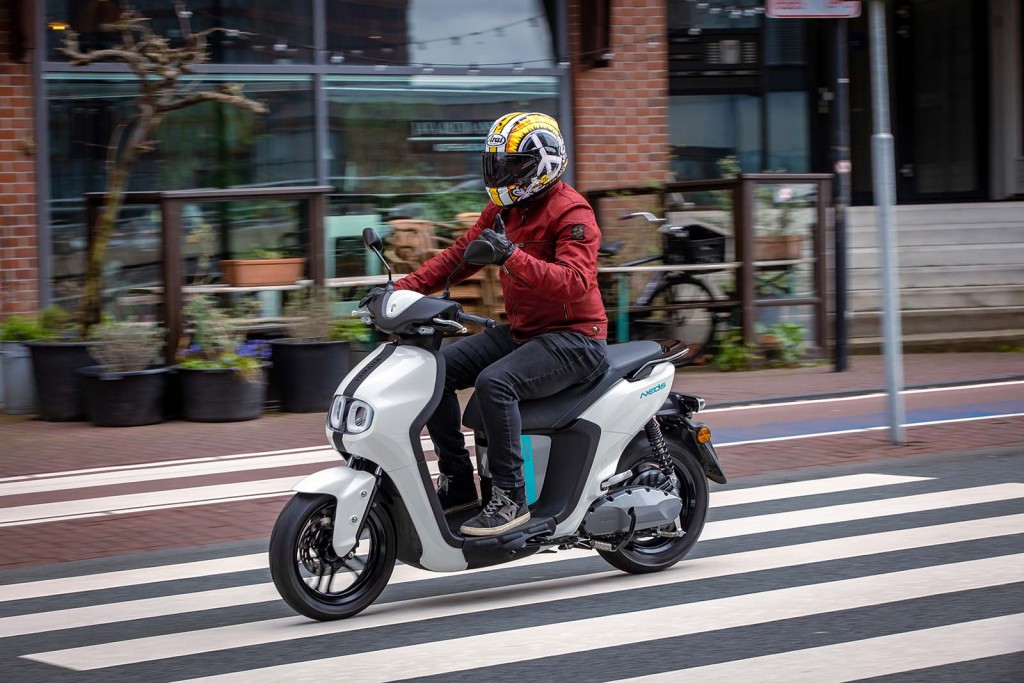 One battery is truthfully going to last between 18 and 22 miles, while 37 to 44 miles is my calculation for two batteries (though it will go into Turtle Mode at around 20%). Ride fast, throw in some hills or take a pillion, and that figure could drop to 25km/15 miles – which means you are going to need the second battery, which costs £980 and represents nearly a third of the original cost of the scooter itself.
But Yamaha describes this as an inner-city bike. It's aimed especially at young riders dashing to school or college and back, or to part-time work, a few miles here and a few miles back, meaning 18 miles should be enough for most, just.
It takes eight hours to charge from 0% to 100%, which means overnight for most owners, while a 20 to 80% charge can be completed in four hours. There is no fast charge option. If you opt for the second battery you will need a second charger, or charge one battery, swap over and recharge the second battery. 
What other features does it have?
There is no ABS on the Neo's relatively simple braking setup, which features a single 200mm disc at the front and a cable-operated shoe brake on the rear.  The front set-up is more than ample to stop a 100kg scooter from only 28mph, and thanks to the quality suspension, the forks hold their composure during stopping.
Very basic tech as you'd expect, no ABS and, no traction control either. There are two riding modes – standard and ECO – but the ECO mode only adds a few miles to the battery range. 
The Yamaha MyRide app is useful and worth downloading. It's easy to connect to the bike and clearly shows the remaining range. It will also highlight your lean angle, and you can trace your route should you want to share it with your mates. The simple dash will also highlight if you've received a text message.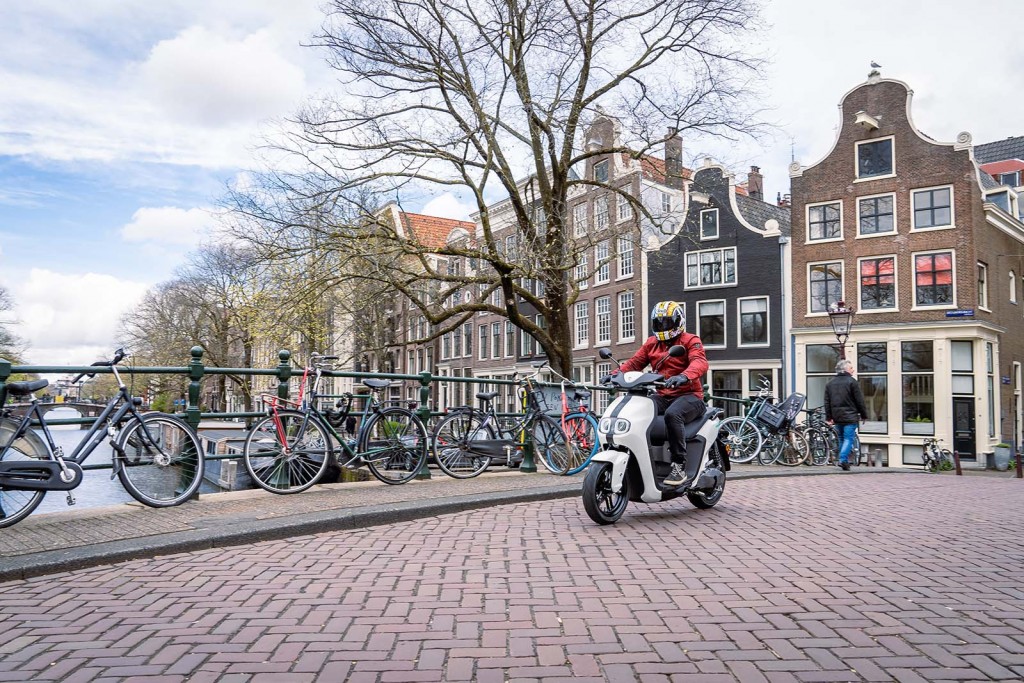 There is a small open compartment to take a phone, with a 12V charger, and keyless ignition comes as standard. If you want a USB charger, this is an optional extra. Yamaha also offers bar and mirror mounts, plus a large 34-litre top case. 
The Neo's is more expensive than the Chinese equivalent competition, but this is where build quality and Yamaha know-how show. The ride quality from the KYB suspension is excellent for this type of bike. Furthermore, quality rubber from Maxxis should perform equally in the dry and wet. According to the MyRide Yamaha App, I managed 27 degrees of lean, yet nothing touched down, not even the side stand, and for a light, 98kg bike, it felt planted and more like a 125.
So the Neo's is light, nimble and well put together – and that last feature is the key. With a silent-running bike, any imperfections like rattly bodywork or inadequate suspension are more evident, but the Yamaha feels engineered and premium, like it has been put together by people who know what they are doing, unlike some of the competition.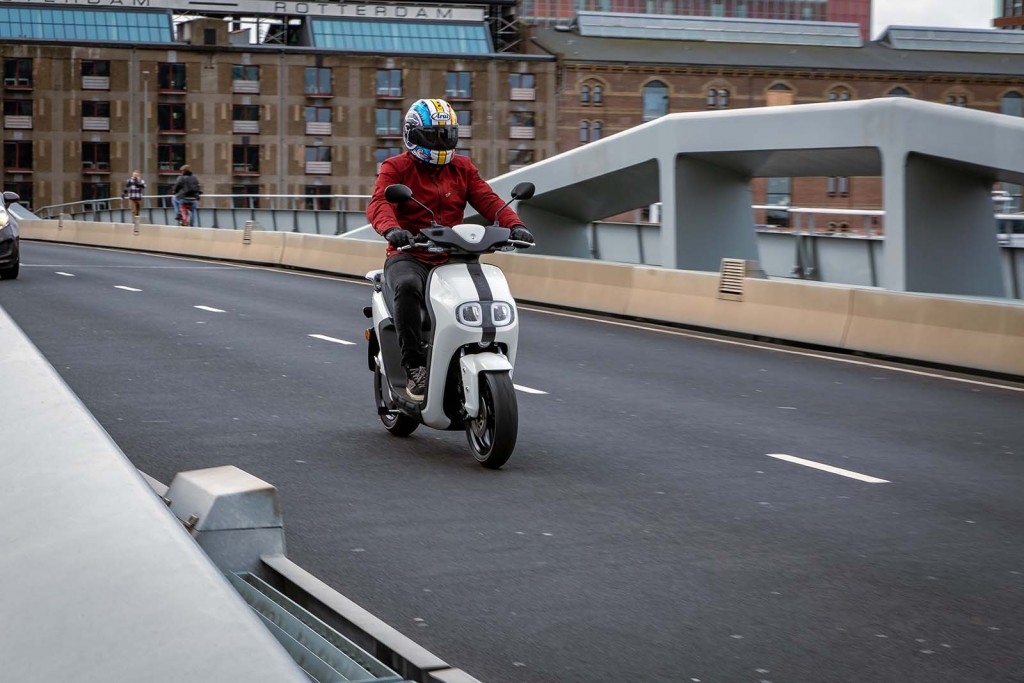 Verdict 
The Neo's is a quality 50cc-equivalent scooter that is difficult to fault. The build quality is excellent, with no rattles and bangs, and its engine is perfectly silent like a magic carpet. The handling is simple and responsive, just like the brakes. The ease of use of the MyRide app is a nice addition while there is just about enough room under the seat for an open face lid (depending on if you've opted for one or two batteries) and the batteries are easy to access and simple to remove.
Now the drawbacks. A top speed of just under 30mph might not be enough for some, but, to be fair, all scooters in this category suffer the same restriction. The range is on the low side. Will 18 to 21 miles be enough for an active teenager, work, college, and busy social life? Or will they have to fork out an extra £980 for the additional battery? 
According to predicted sale figures, electric scooters are only going to gain in popularity, and the Yamaha Neo is one of the best. But will its range be enough?
ADAM CHILD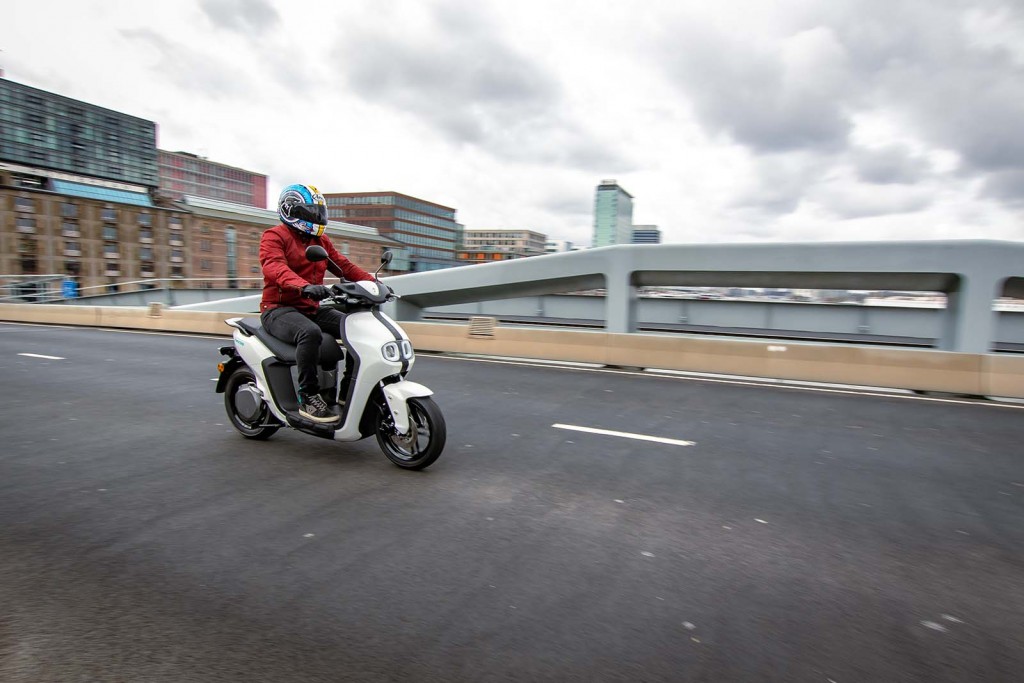 Yamaha Neo's
Price: £3005 (base) 
Electric motors: Excitation 3 phase synchronized motor
Drive battery: Lithium-ion, hub-mounted motor
Power: 2.3kW/3.1hp 424rpm Rated 2.5Kw/3.4hp (Max)
Torque: 100 lb ft
Top speed: 27mph claimed
Range: 24miles (single battery model, official)
0-62mph: N/A
Kerb weight: 98KG (one battery) 
READ MORE
Subscribe to the Move Electric newsletter
e-CARS
New Volkswagen ID Buzz: everything you need to know
How efficient are electric cars?
e-BIKES
Ducati expands e-bike range with first racing machine
e-MOTORBIKES
New Yamaha Neo is Europe-bound '50cc equivalent' electric moped
Electric Motion Epure Race e-motorbike review
e-SCOOTERS
Eskuta KS-450 e-scooter review
Taito unveils innovative new three-wheeled electric scooter
e-WORLD
Electric surfboard firm Awake aims to make waves with first e-foil
Volta Zero electric truck can 'dramatically improve' inner-city road safety