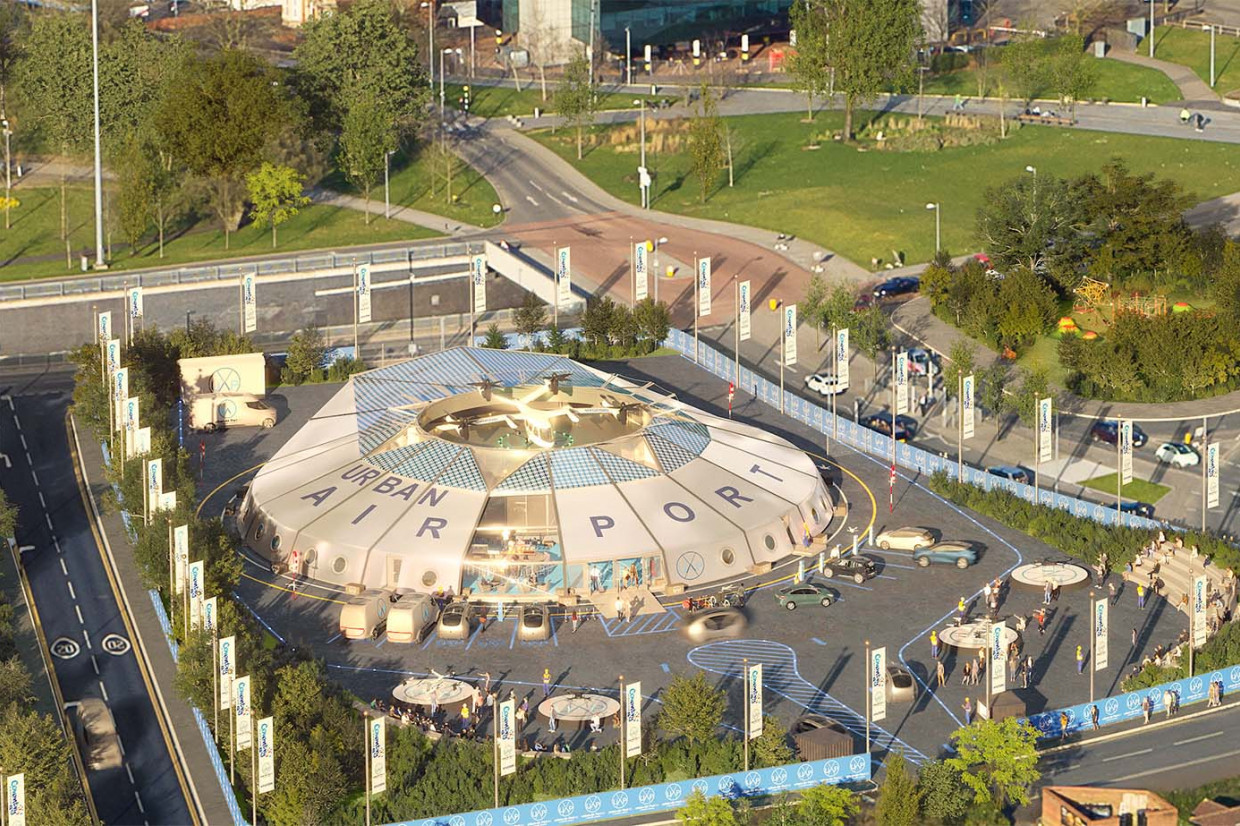 UK-based firm Urban-Air Port has opened its new Air-One hub in Coventry - the world's first fully operational airport for electric vertical take-off and landing (eVTOL) flying taxis. 
Developed and built by Urban-Air Port, the Air-One hub will provide a blueprint for more than 200 future vertiports planned worldwide by the firm over the next five years.
At the beginning of this year, Urban-Air Port secured backing from the UK government and new investment from Hyundai's urban air mobility division Supernal - who are planning to launch an eVTOL aircraft by 2028. 
Urban-Air Port says the new Air-One facility will "demonstrate how advanced air mobility can cut congestion and air pollution". 
The new hub, which will operate in Coventry for a least a month, will be accessible for eVTOL aircraft - such as air taxis - as well as autonomous drones. 
World's first hydrogen fuel cell helicopter under development
West Midlands Police and aerial logistics firm Skyfarer will be among the first to operate flights from the site, which Urban-Air Port says will showcase how vertiports can provide drone bases for 'sky-protection' and high-value cargo deliveries. 
Large cargo drone flights will also be demonstrated by UK-based drone developer, Malloy Aeronautics - the first time a drone of this size has flown in such a dense and built-up urban environment.
Urban-Air port has also implemented electric vehicle charging infrastructure at the hub, which it says will help to support the uptake of zero-emission transport. 
A number of public events at Air-One will be held to bring future air mobility to life for the public and form part of Coventry's City of Culture celebrations.
"The opening of Air-One is a momentous moment – the starting gun for a new age of transport, an age of zero-emission, congestion-free travel between and within cities that will make people healthier, happier and more connected than ever before," said Ricky Sandhu, founder and executive chairman of Urban-Air Port. 
"From design, through to fabrication and now into operation, Urban-Air Port has delivered Air-One in just 15 months, setting the standard for deployment globally and opening up a world of possibilities for rapid response air mobility.
"Air-One is just the first model in our infrastructure fleet and our order-book is not only open but already growing. The interest is turning into recognition of the need for our technology and into demand."
The advanced air mobility (AAM) market is set to grow rapidly, with forecasted growth of 9% annually to reach $1 trillion within the next two decades, according to the firm.
Urban-Airport plans to develop 200 vertiports worldwide, with more sites likely to be built in the UK, US, Australia, South Korea, France, Germany, Scandinavia and South East Asia. 
The firm chose to open the site in Coventry due to "its location in the heart of the UK" with most parts of the country within four hours of travel. 
 "The opening of Air-One, backed by Government funding, will revolutionise the way people and goods travel across the nation," said Robert Courts, minister for Aviation. 
"This step forward puts Britain at the vanguard of clean transport, bringing investment and high-skilled, green job opportunities to the nation, while levelling up opportunity in the Midlands."
READ MORE
Subscribe to the Move Electric newsletter
e-CARS
New Volkswagen ID Buzz: everything you need to know
How efficient are electric cars?
e-BIKES
Ducati expands e-bike range with first racing machine
e-MOTORBIKES
New Yamaha Neo is Europe-bound '50cc equivalent' electric moped
Electric Motion Epure Race e-motorbike review
e-SCOOTERS
Eskuta KS-450 e-scooter review
Taito unveils innovative new three-wheeled electric scooter
e-WORLD
Electric surfboard firm Awake aims to make waves with first e-foil
Volta Zero electric truck can 'dramatically improve' inner-city road safety