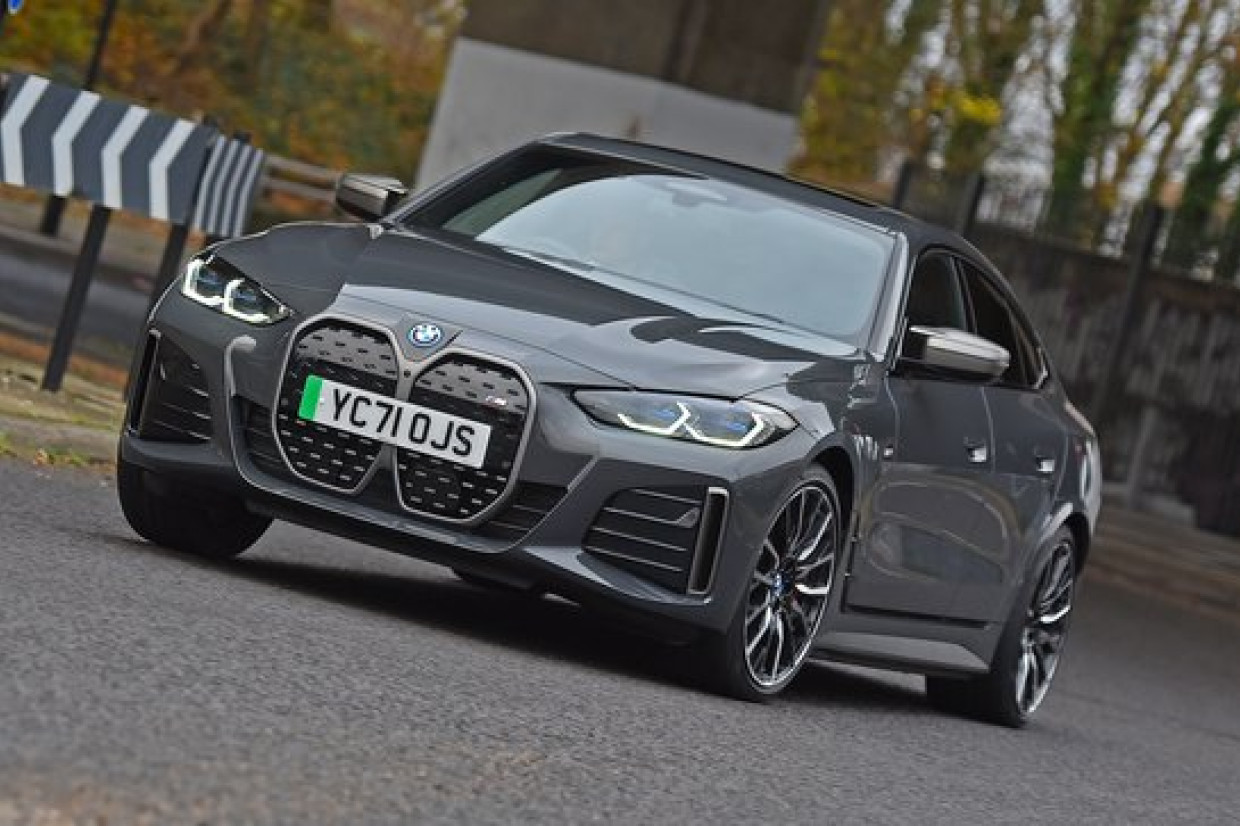 Move Electric verdict: four stars out of five
Sell it to me in a sentence….
This is the BMW i4, which is a mid-sized EV saloon that's packed with the German firm's usual sporty appeal, and which is aimed squarely at the Tesla Model 3
Hmmm, it looks familiar - have we met before?
It's quite likely, because unlike its Tesla arch-rival that has been developed from the ground-up as an EV, the BMW is based on an existing ICE model. Strip away the bespoke badging and the blue trim accents and underneath is the same body you'll find covering the internal combustion powered 4 Series Gran Coupe.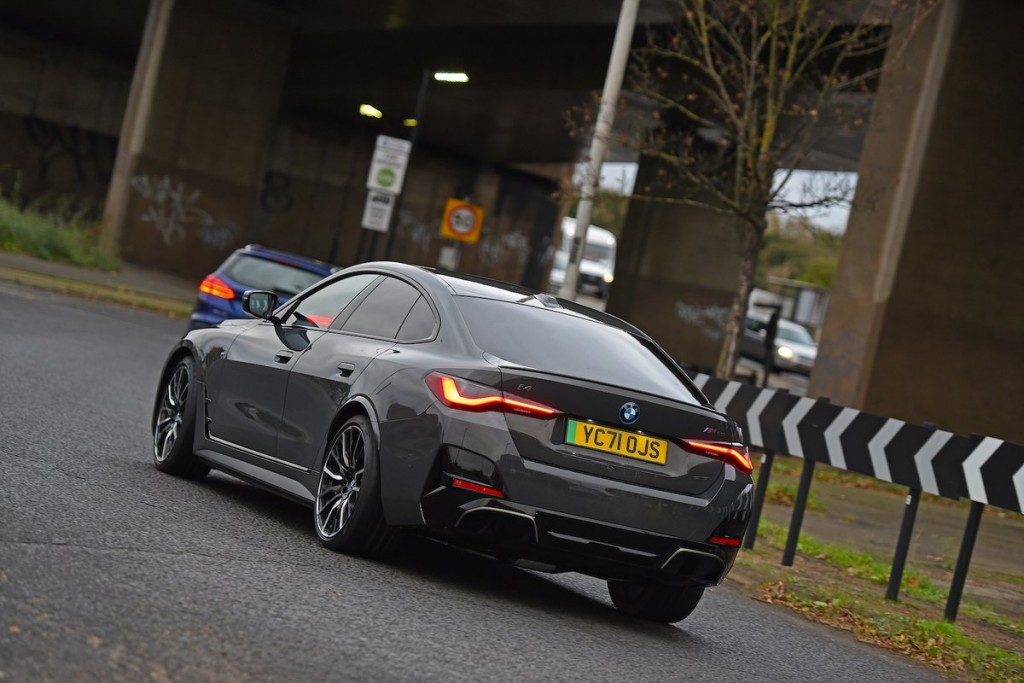 Still, at least that means the i4 is a handsome thing, while the tried and tested underpinnings make it as good to drive as the car it's based on. What's more, for those taking their first steps into EV ownership, the BMW's relative familiarity should bring some welcome reassurance.
Okay, hit me with the highlights.
Being based on the 4 Series Gran Coupe gives the i4 plenty of advantages, not least in the way it drives. The brand's cars have always been some of the engaging and entertaining models from behind the wheel, and this all electric model is no exception.
The battery is located underneath the floor, and between the front and rear axles, which not keeps the weight low and central, it also evenly distributes the masses for a near perfect balance. On the entry-level eDrive40 the motor is also mounted at the rear and drives the back wheels for an authentic BMW driving experience.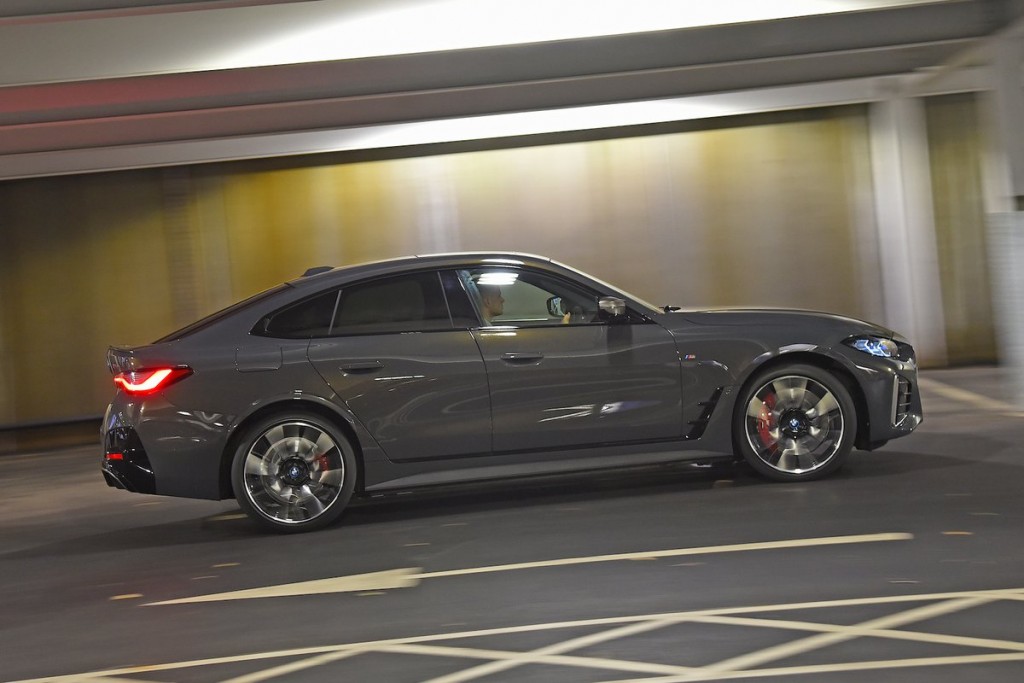 You can feel it on the move, with the i4 slicing through corners with the same poise and precision as the standard car, it's accurate and quick steering delivering reassuring confidence. It's certainly more fun to drive than most of its battery-powered rivals, including the Tesla.
This is even more true with the high performance M50 model, which features two motors (one at the front and another at the rear) for four-wheel drive traction, and 537bhp for scorchingly quick acceleration. Even better news for keen drivers is that it has an even sportier suspension set-up, making it feel even sharper and more precise when tackling your favourite stretch of twisting road.
Yet the both versions combine this diver fun with impressive comfort and refinement. The electric motors provide smooth and near silent power, while the use of special air rear suspension helps soak away the bumps. And because there are no gears, the BMW is relaxing and easy to drive - you simply squeeze the accelerator to go and stamp on the brakes to stop.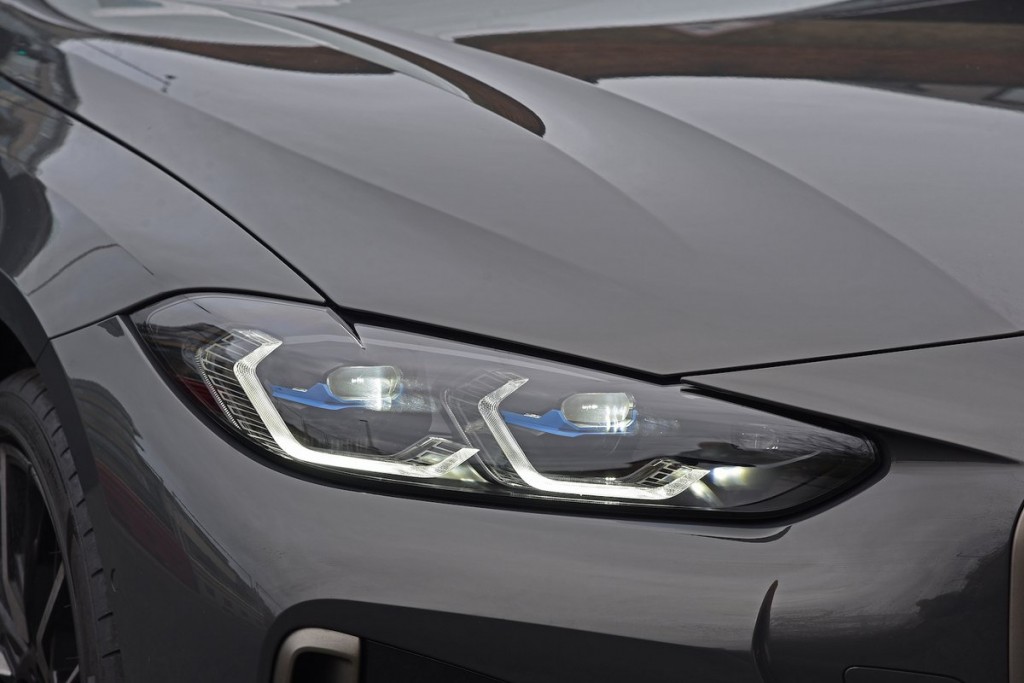 Perhaps the most unfamiliar feature will be the regenerative braking system, which slows the car significantly when you lift off the accelerator. In fact, retardation forces are so great that with practice you can undertake most journeys without touching the brake. However, if you want something that feels more normal you can adjust the braking force quickly and easily.
Then there's the range, which for EV newcomers goes a long way (literally and figuratively) in removing any of the dreaded range anxiety, with both versions claiming more than 300 miles on a single charge.
Ah yes, the numbers. Give me the lowdown
Regardless of which model you plump for you get the same generously-sized 80.7kWh lithium ion battery pack. 
On the single motor eDrive40e this translates into a very impressive claimed range of 365 miles, which is further than some petrol-engined models with similar performance would manage on a tank of unleaded. With another motor to power, the range on the M50 is a little less headline-grabbing, although 318 miles isn't a bad effort. In real world use you can expect around 270 miles for the former and 320 miles for the latter. Certainly enough to make most journeys stress-free.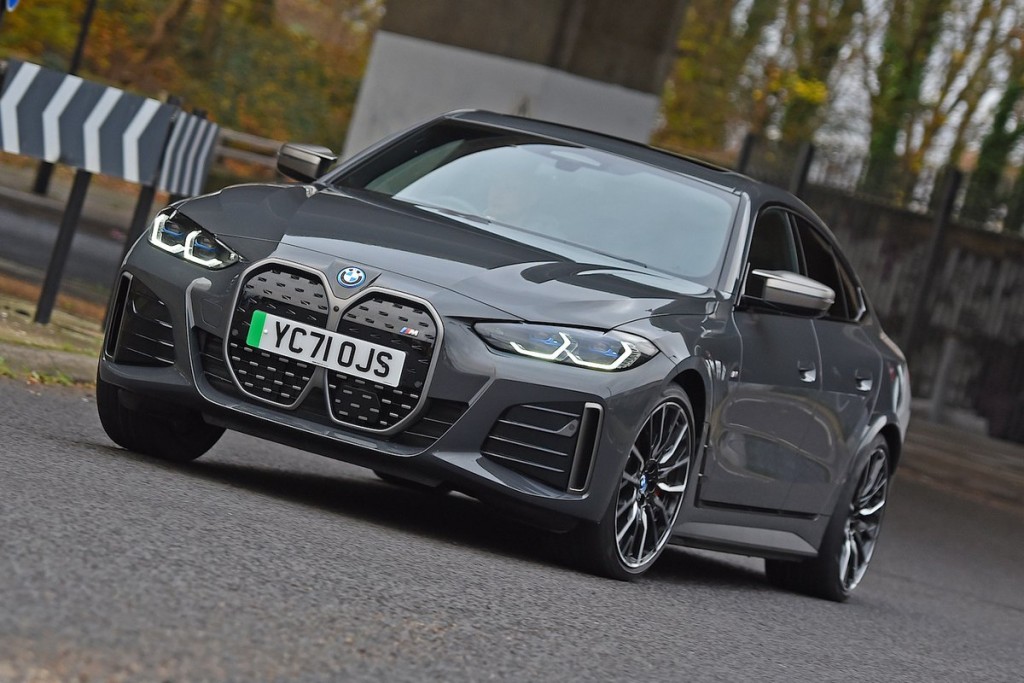 One advantage the BMW has over many of its rivals is an ability to charge at up to 210kW using a rapid DC charger, assuming you can find one. If you do, however, you can zap up to 80 percent charge in as little as half an hour, which on a long trip is more than enough time to grab a cuppa and a bite to eat.
Of course for most, a 7kW domestic wallbox charger will be the usual charging method, which will require 13 hours for a full charge. That's pretty much perfect for plugging in when you get home in the evening and waking up to a replenished battery.
Considerably quicker than the charging times are the BMW's acceleration figures. Even if you've sampled an EV before the i4 will feel faster, the eDrive40 blasting from 0-62mph in just 5.7 seconds, while the M50 will complete the same test in a neck-snapping 3.9 seconds. In reality it doesn't matter which one you choose, the i4 will be faster than you're ever likely to need to go.
Okay, so fast, fun and has a decent range, but what about the sensible stuff?
Good question. Thanks to careful packaging of its battery in particular, BMW has made sure the i4 is pretty much as practical as the 4 Series it's based on. 
No it's not as roomy as a Tesla Model 3 or Polestar 2, but there's enough head and legroom in the back for two adults to sit comfortably, plus the interior is packed with numerous cupholders, storage compartments and trays to house everything from your morning brew to your smartphone. Speaking of which, there are USB sockets dotted around the cabin, so you'll never be caught short for charge.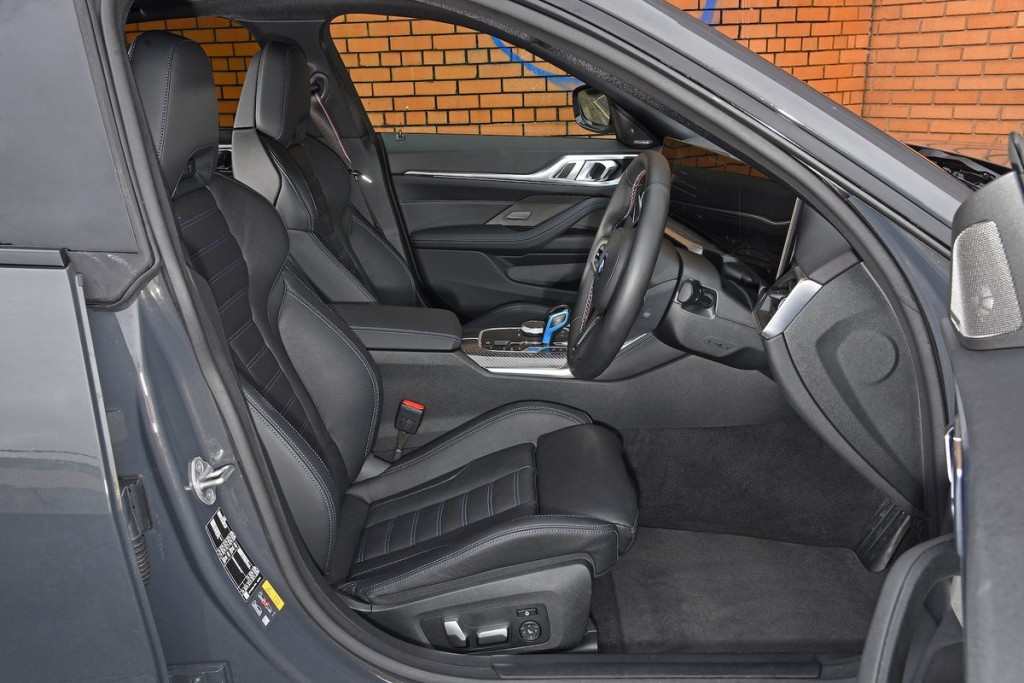 What's more, despite its rakish, coupe-inspired looks the BMW actually benefits from a handy and wide-opening hatchback tailgate, boosting versatility way beyond the saloon-only Model 3. With the seats in place there's a very useful 470-litres of space, while the rear seats have a flexible 40/20/40 folding configuration, perfect for all those lengthy lifestyle sporting accessories, such as skis, oars or, maybe, a pole vault. There's also space under the boot floor for all your charging cables. Neat.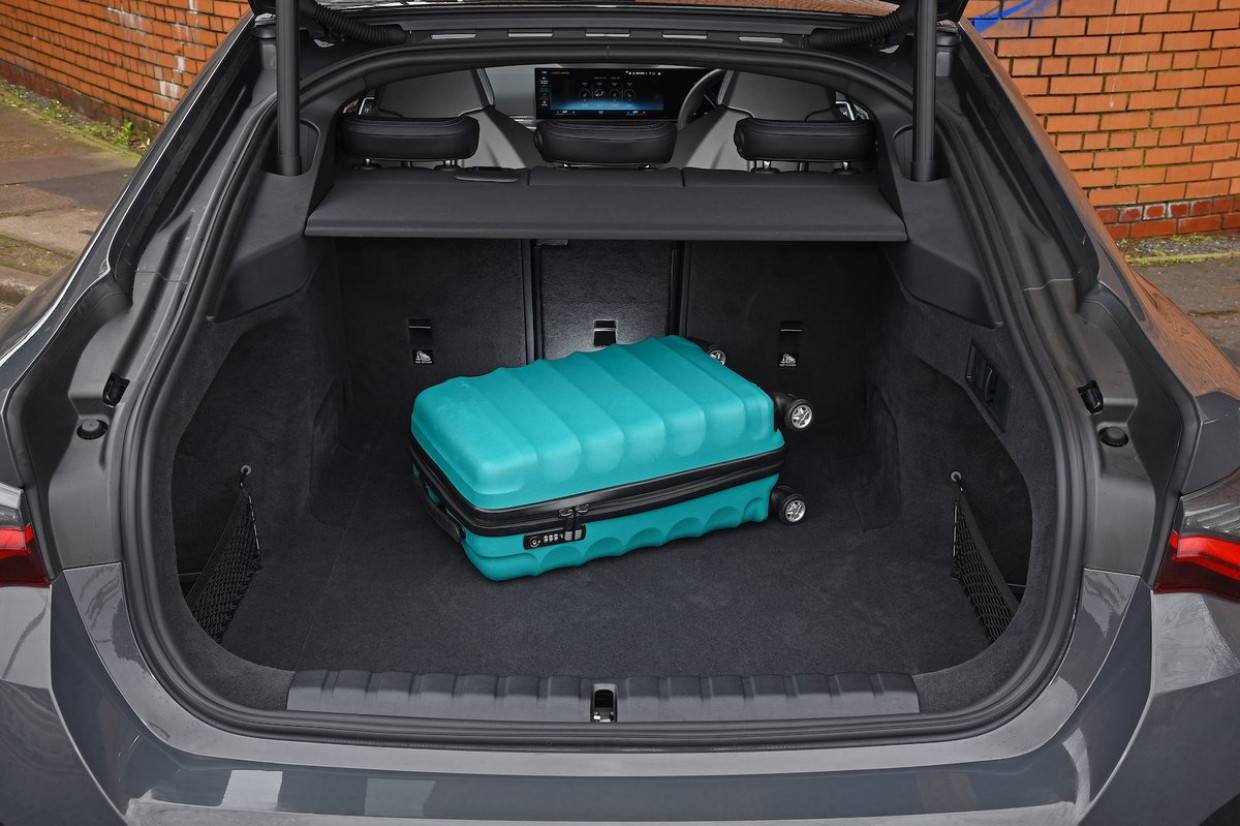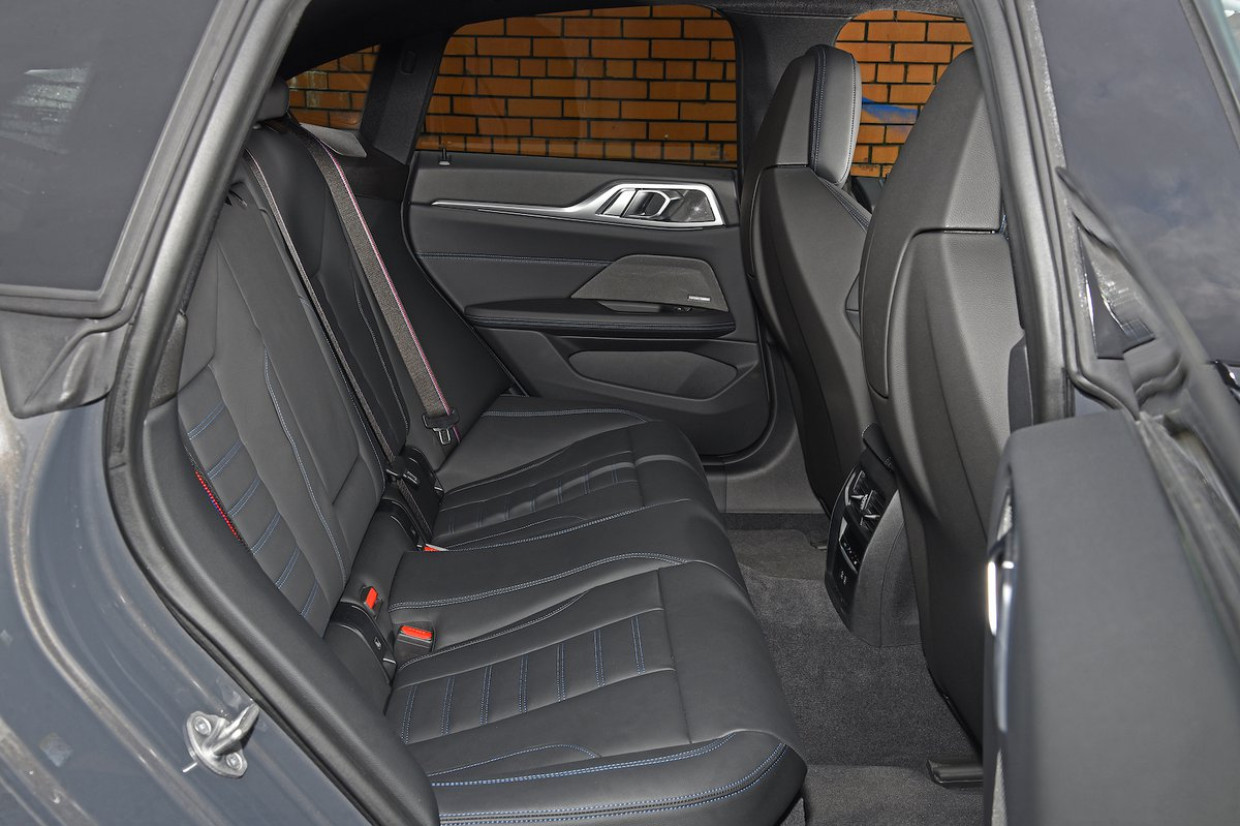 The i4 is beautifully finished as well, especially inside where it's dripping with top notch materials that give it a classy, premium feel. Yes it looks more or less identical to the 4 Series, but features such as the unique widescreen curved instruments and infotainment screen help give it a more bespoke feel. Better still, the set-up looks great and is a doddle to use. In fact, it's arguably one of the best in the business, featuring crisp graphics, lots of connectivity options and a brilliantly logical layout.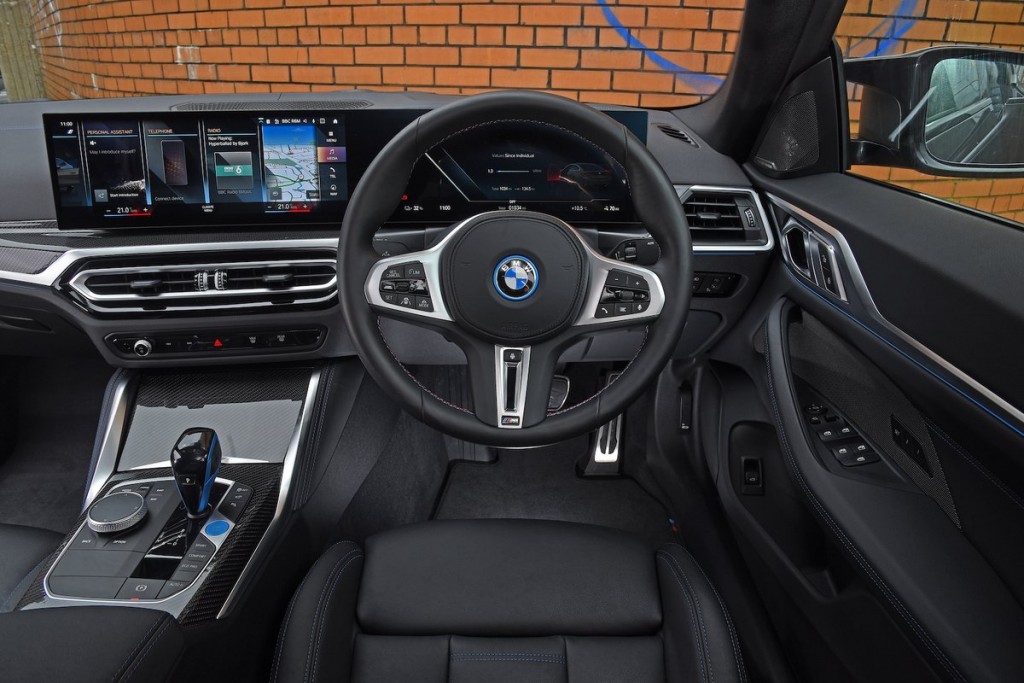 Okay, so what's the bad news?
In all honesty, we're struggling to come up with some real negatives here. Yes, those that want to shout about their conversion to an EV way of life will be disappointed by the BMW's sedate and familiar styling, while inside it all feels very conventional. But for most people these will be positives rather than negatives.
Oh, and with prices starting at just under £52,000 it's not exactly a steal either. That said, strong predicted residual values (the amount of money a car will be worth in the future) mean that BMW is able to offer some very tempting finance deals, which is how most owners will purchase their car anyway.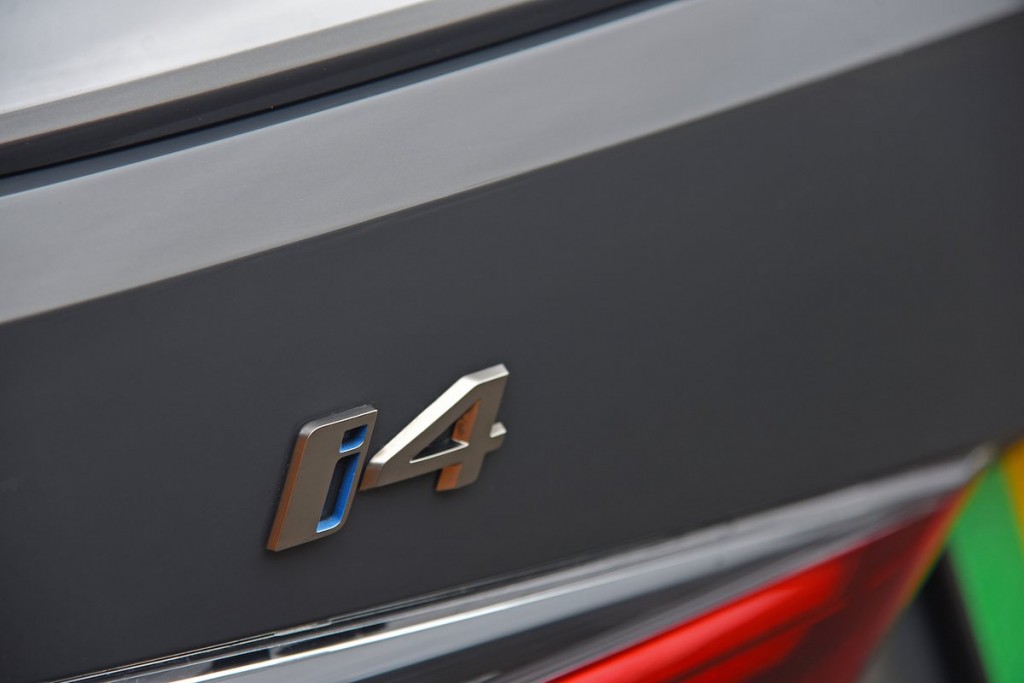 Seems promising, but I should probably check out the competition first
Good idea, because the i4 does have some pretty talented rivals out there. We've already mentioned the Tesla Model 3 a few times, and with good reason. It's not only a big seller, it's good to drive and, crucially, backed up by the brand's excellent and easy-to-access network of Superchargers. There's also the Polestar 2, which has a little more of an SUV vibe to its style, but comes close to matching the BMW for driving fun and is a fraction more practical.
Not quite as pricey and perhaps lacking the premium lure of the BMW's badge are the Hyundai Ioniq 5 and Kia EV6. The closely related Korean machines look fantastic, are roomy and are entertaining to drive, plus they both pack a decent range. If you want something a little less conservative, then look no further.
Verdict
BMW hasn't been as daring with the i4 as rivals, but for many its familiar feel will be a big selling point. It's also great to drive, has a classy interior, enough space for most and an interior that is luxurious and packed with useful technology.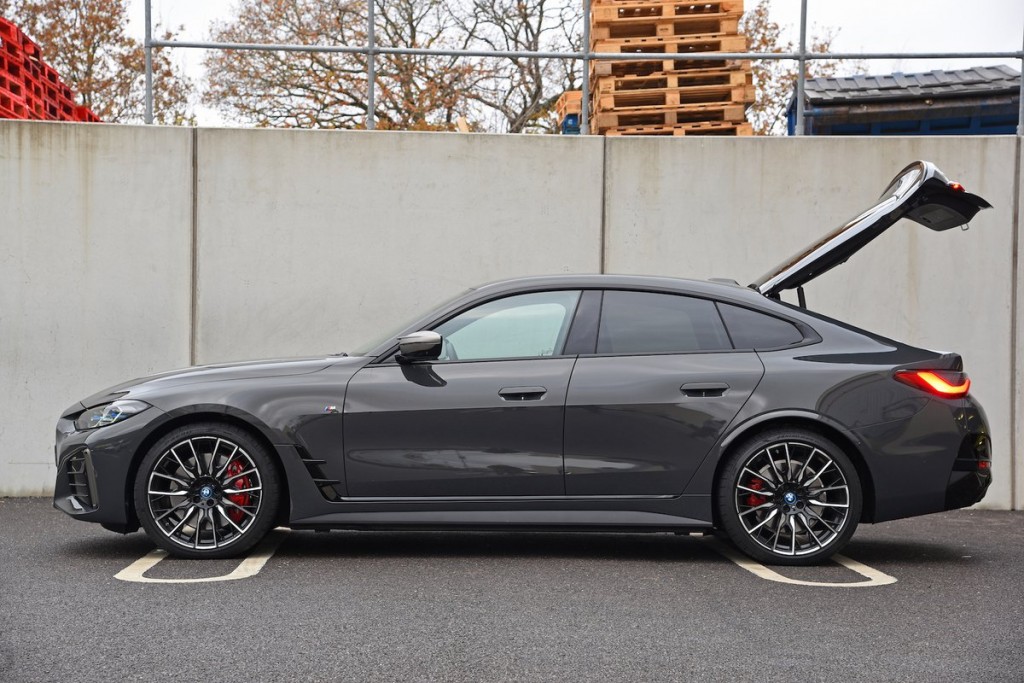 BMW i4 specification
Price from: £51,905
Motors: Electric permanent magnet synchronous
Gearbox: Automatic
Driven wheels: two or four
Maximum power: 537bhp
Maximum speed: 139mph
0-62mph: from 3.9-5.7secs
Electric range (official): 275-335miles
CO2 emissions: 0g/km
Tyres from: 225/55 R 17
Kerb weight excluding driver: 2125-2229kg
Gross vehicle weight: 2,735kg
Height: 1448mm
Length: 4783mm
Wheelbase: 2735mm
Width with mirrors folded: 1852mm
Maximum boot capacity: 479-1290 litres
Rivals
READ MORE
e-CARS
e-BIKES
e-MOTORBIKES
Seat Mo 125 electric scooter review
e-SCOOTERS
Exclusive: E-scooter CO2 saving
e-WORLD