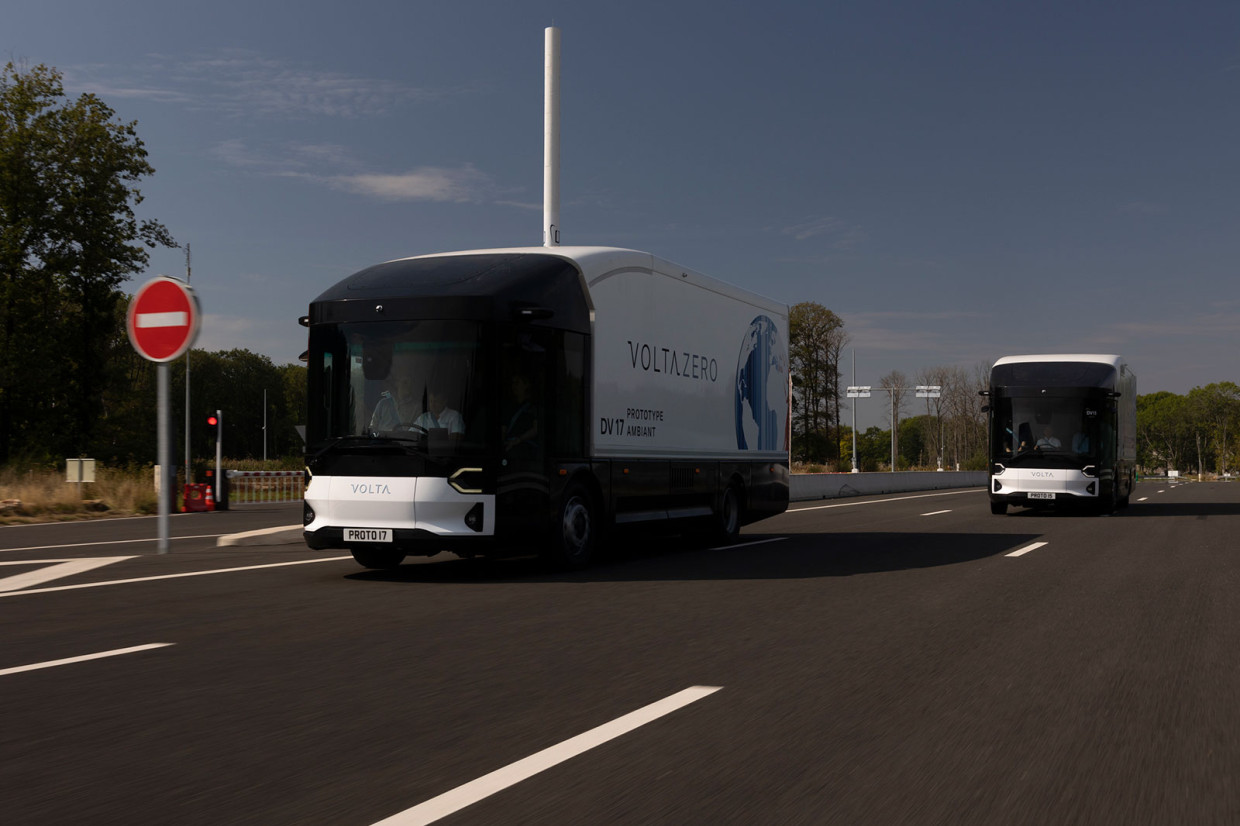 Volta Trucks is a new firm you might well not have heard of yet – but it could quickly become a big name in electric transportation.
The Swedish outfit is forging ahead with its new electric 16-tonne truck and are striving to put any feelings of disquiet surrounding the electrification of heavy goods vehicles to rest.
Move Electric was recently invited to UTAC Autodrome de Linas-Montlhery near Paris to ride in a prototype version of the new Volta Zero truck and learn more about the brand's ambitions. 
Here's everything you need to know about Volta - and keep an eye on Move Electric next week for our first drive of a prototype Zero.
Right, tell me everything about Volta Trucks...
Where do we start with a burgeoning brand that only revealed its first truck concept a mere two years ago? Volta unveiled its Zero truck in 2020 and since then has been adapting its design at a rapid pace.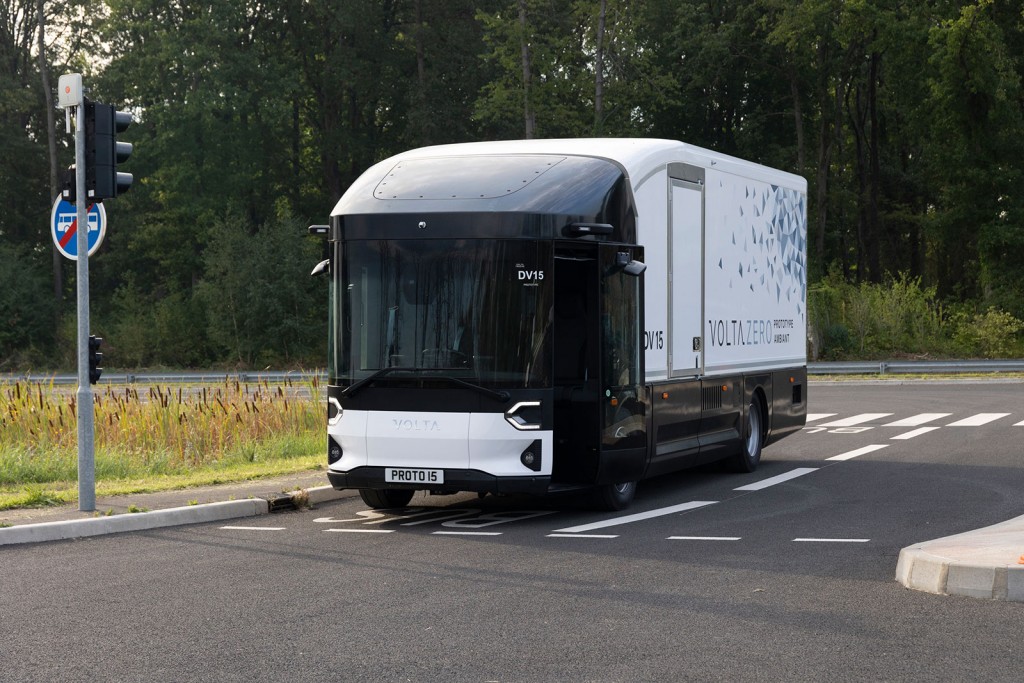 Volta has done away with conventional truck design, opting instead to reimagine the Zero from the ground up. For example the central seating position is one of the more radical features on the Volta, which draws on the firm's safety ambitions with the truck itself.
Earlier this year Volta built its first prototype model at its facility in Coventry, after which the firm started testing its truck in Paris and London. In June, customer trials began with potential buyers given the chance to drive a Design Verification version of the Zero truck.
How Volta Trucks is aiming to revolutionise last-mile deliveries
And don't assume that the 16-tonne vehicle is the end of the line; Volta will bring an 18 tonne version of the truck after launching the first model, while a 12-tonne and 7.5-tonne variant will be available before 2024.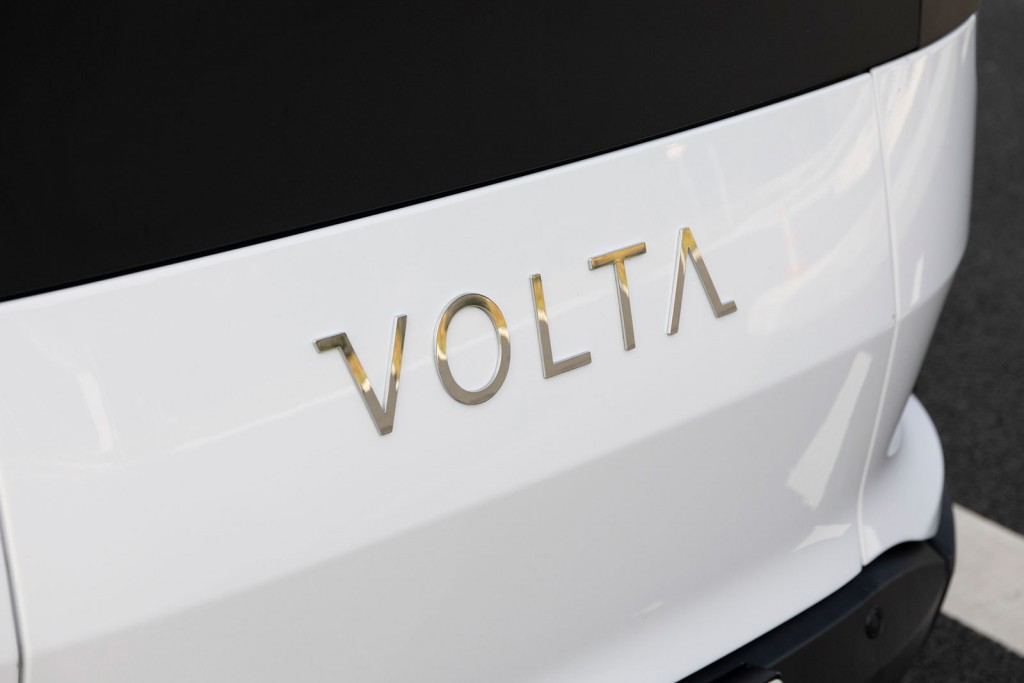 Volta's new truck will be built by Steyr Automotive, formerly MAN Truck and Bus Austria. The firm hopes to sell around 22,500 trucks by the end of 2025. 
The firm's second generation 'production verification' prototypes are currently being built in Austria, with these versions forming part of a pilot fleet of trucks. These will be loaned to customers in late 2022 and early 2023 to allow fleet operators to learn more about the Volta Zero truck.
How has Volta managed to bring the Zero to market so quickly?    
Considering the firm only built its first prototype earlier this year, the speed at which Volta has brought its new truck to market is commendable. The firm is aiming to start production at the beginning of next year and already has an order bank of around 6,500 vehicles - that's an order bank value of €1.4 billion. 
A truckload of e-mobility news in your inbox: subscribe to the Move Electric newsletter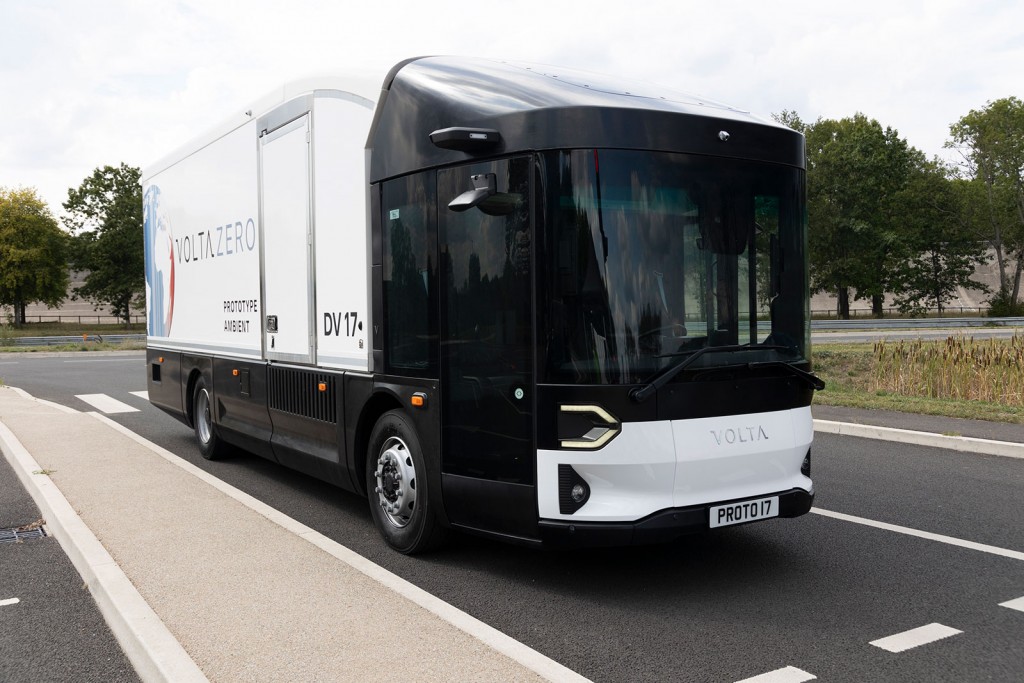 Volta hasn't been drawn in by going it totally alone on its quest to deliver emission-free last-mile haulage. Rather than design, build and manufacture its own batteries and powertrain, Volta has partnered with a host of suppliers in order to deliver the truck in a short space of time. 
"Speed and scale as we say are the most important things, so from the beginning we said to ourselves how we can do this as quickly as possible. We think we've selected trustworthy suppliers to help us build an ecosystem. As ever we want to have the latest technology but it also has to be proven," said Volta Trucks founder, Carl-Magnus Norden.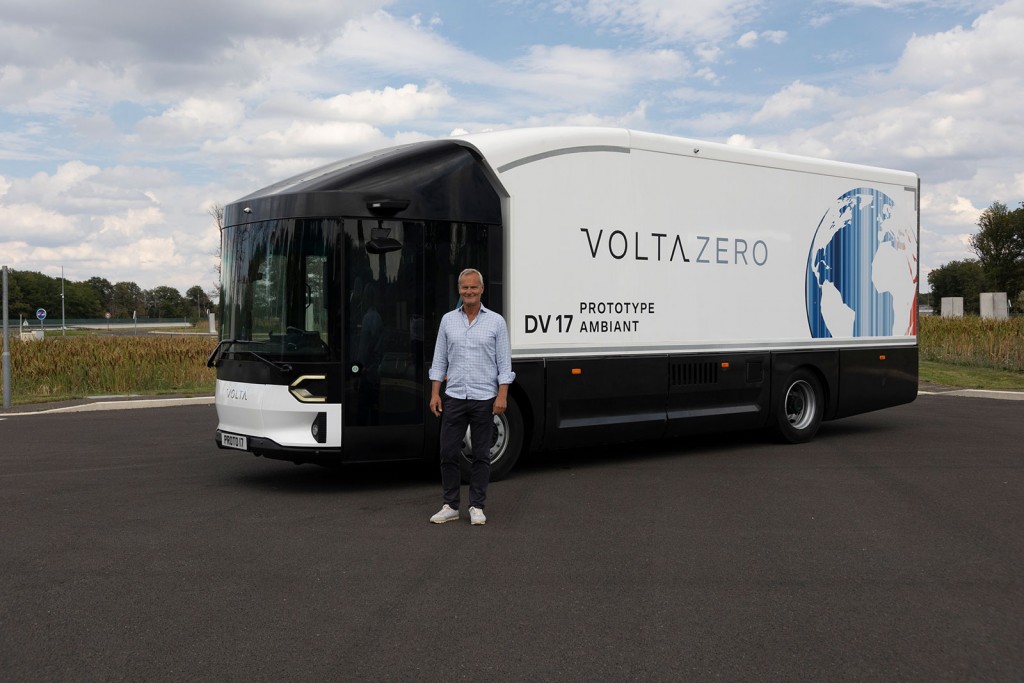 Co-founder Kjell Waloen added: "The difference between us and Elon Musk with Tesla is that he started when there wasn't much of an industry. Now there is an industry and so there's no need to develop the battery. 
"You have to focus on what you can do to distinguish yourself from other companies and that can be done by looking at the whole packaging and using what is already out there. If you want to develop batteries then you should start in the battery industry."  
US firm Proterra will supply the battery packs which sit in the central part of the chassis, while Meritor has created an innovative ePowertrain for the Zero truck. The e-motor has a two-speed transmission and drives the rear-wheels, removing the need for a driveshaft.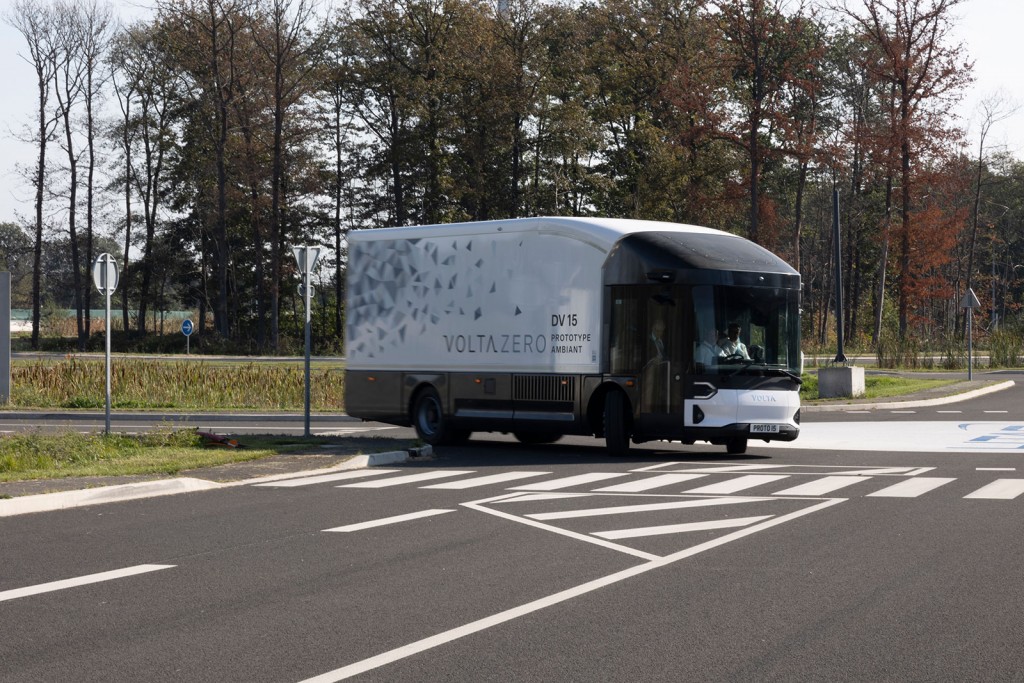 Volta has also gained other suppliers with tech company Vodafone offering its services to create an alarm system for the Zero, with the truck using telematics systems from US firm, Sibros.
So what is the Volta Zero like up-close?
First and foremost, the Volta Zero we saw is still very much a prototype. Although not far from production guise, some elements of the interior were missing and the seatbelt sensor thought we hadn't fastened them. This is normal for a pre-production vehicle. 
Still, the Zero made an instant impression, with the most notable element being the central drivers seat and the ingress into the cabin itself. In many ways it's similar to getting onto a bus, as the step into the Zero is almost level with the kerb.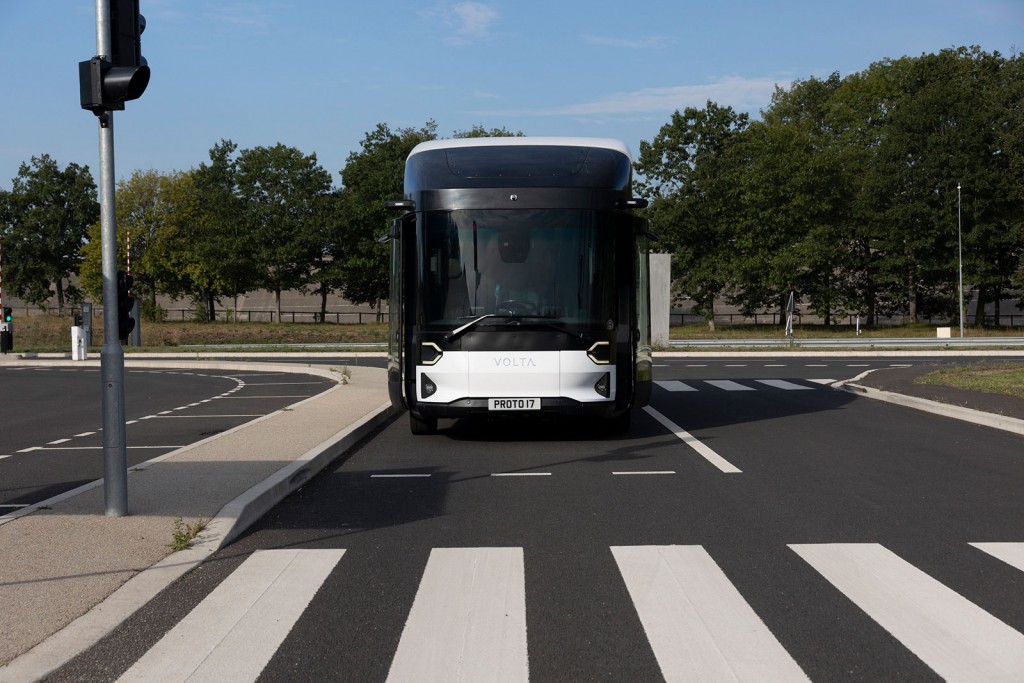 Volta has also done away with conventional doors, opting for sliding doors - one on each side of the cab - which automatically moves to the side with a swipe of a hand over a sensor. This was to lessen the number of accidents which occur when truck drivers open their doors into oncoming traffic, in particular cyclists. 
Sit in the passenger seat and Volta's assertions on the Zero's improved field of view and greater visibility were made clear. The glasshouse-style cab really does enable you to see everything. 
Sure you can't see out the back of course, but the 220-degree field of view ahead is impressive. The visibility is exceptional and from inside you can see far into the distance -  which was made clear when we traversed a round-about on UTAC's city course. Not only could you see ahead, the round-about exit was clear too. 
Visibility is also helped by the Zero sitting lower than a conventional truck, with the eye line of the driver at around 1.8 metres, mirroring the height of pedestrians and other road users. Again, another example of Volta's determination to optimise safety.
Beyond its core design, the firm has implemented a lot of technology to aid the driver in city centres. There are nine cameras positioned around the exterior, with four cameras covering the sides of the truck to act as wing mirrors. Images from the cameras are displayed on screens inside the cockpit and can be adjusted to the driver's preferred height.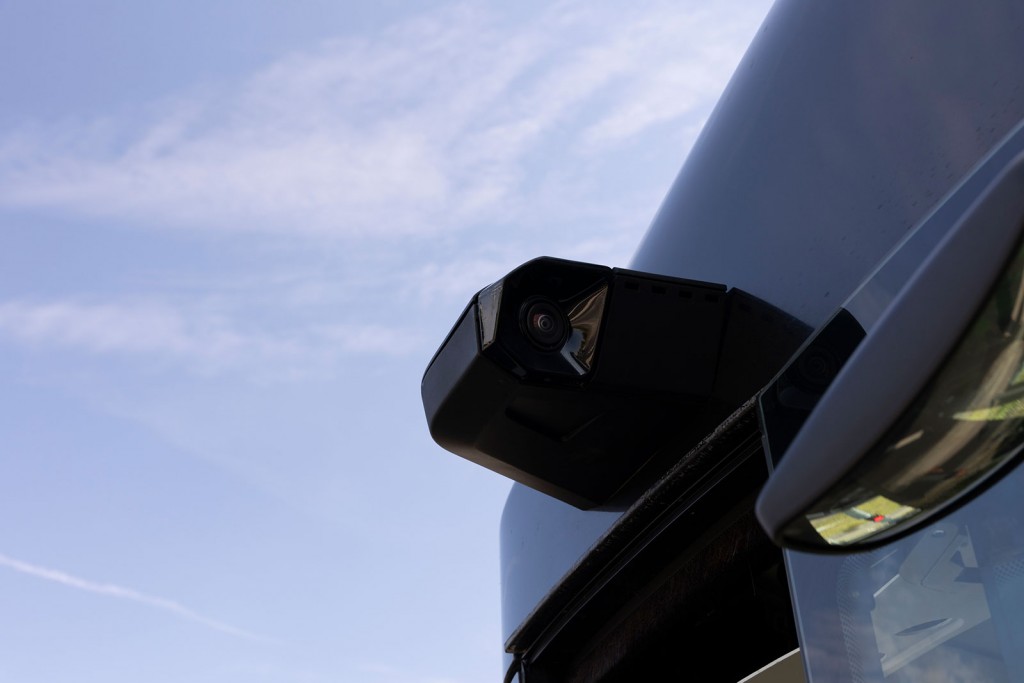 Inside the Zero there is plenty of room with lots of light coming in through the huge front widescreen. The user interfaces - which come in the form of two screens either side of the driver - are at arms reach and are easy to operate thanks to a mix of touchscreen and conventional buttons. 
One screen displays information on the truck's range and statistics and allows the driver to adjust the Zero's air suspension. Meanwhile the other screen is for navigation and multimedia purposes, with the driver able to connect their phone.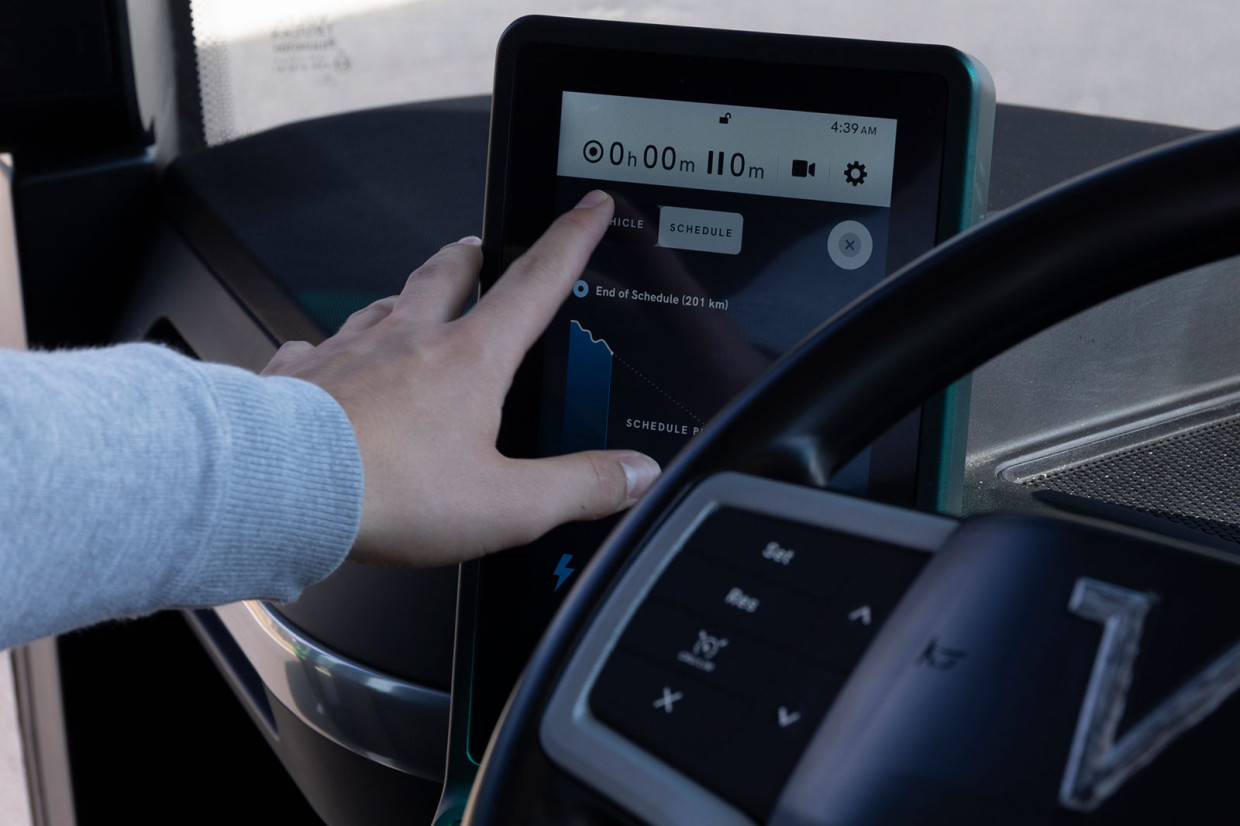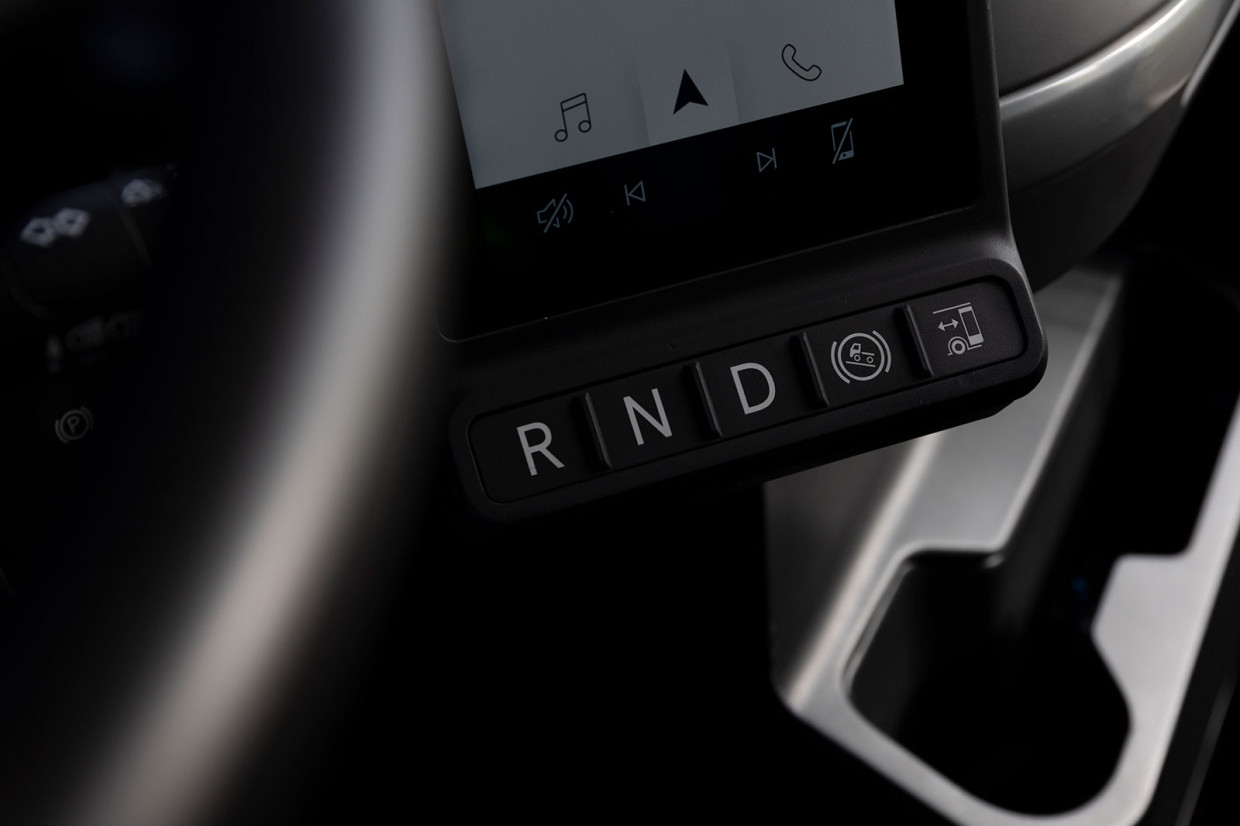 Why are passengers important with a truck?
While many delivery vans are only really built for the driver, there are many occasions where a crew is required to help unload and deliver large items. So the Volta is ready: it has two passenger seats, set back and behind the driver.
Yes, just like the McLaren F1 it's got a three-person cockpit with a central driving position. Now, the Volta Zero doesn't feel like a McLaren F1 from the passenger seat. Although the positive is that there's a lot more room when you're sat there.
From our experience things look promising. Power delivery was seamless when driving along the higher speed test route, while the ride was smooth and noninvasive.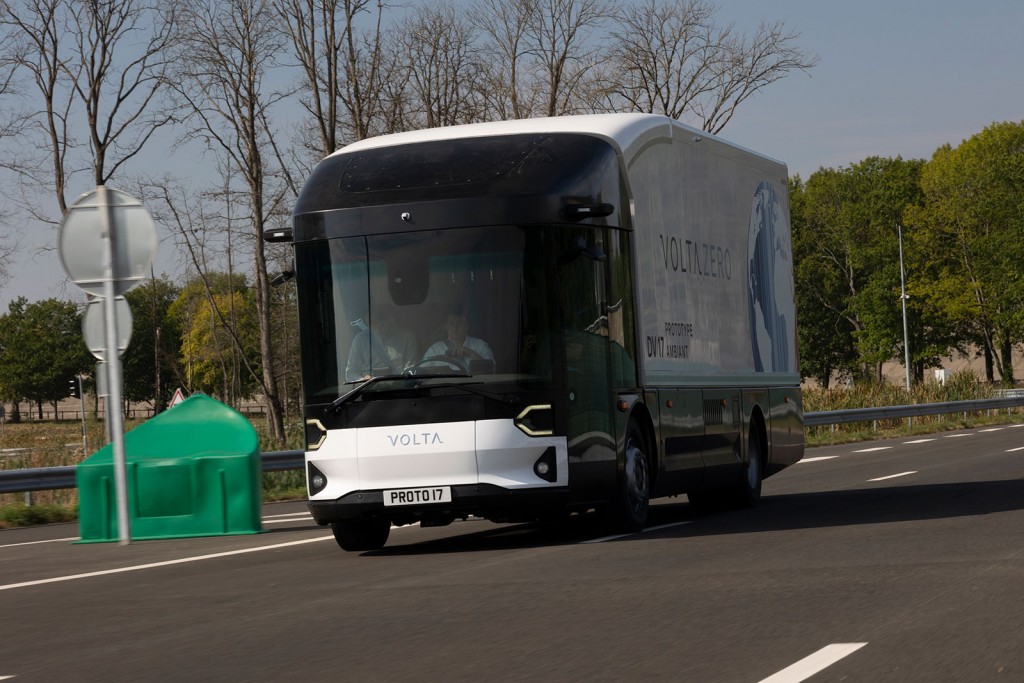 There was an imperceptible bounciness to the independent suspension, which was consistently soft on all terrain. In tighter parts of the course there was a lot of body roll, but this was expected of a 16-tonne unladen truck. 
Volta Zero electric truck can 'dramatically improve' inner-city road safety
The prototype version of the Zero did not feature regenerative braking, but Volta's product expert Romain Angelier was clear that this would be fitted to production models.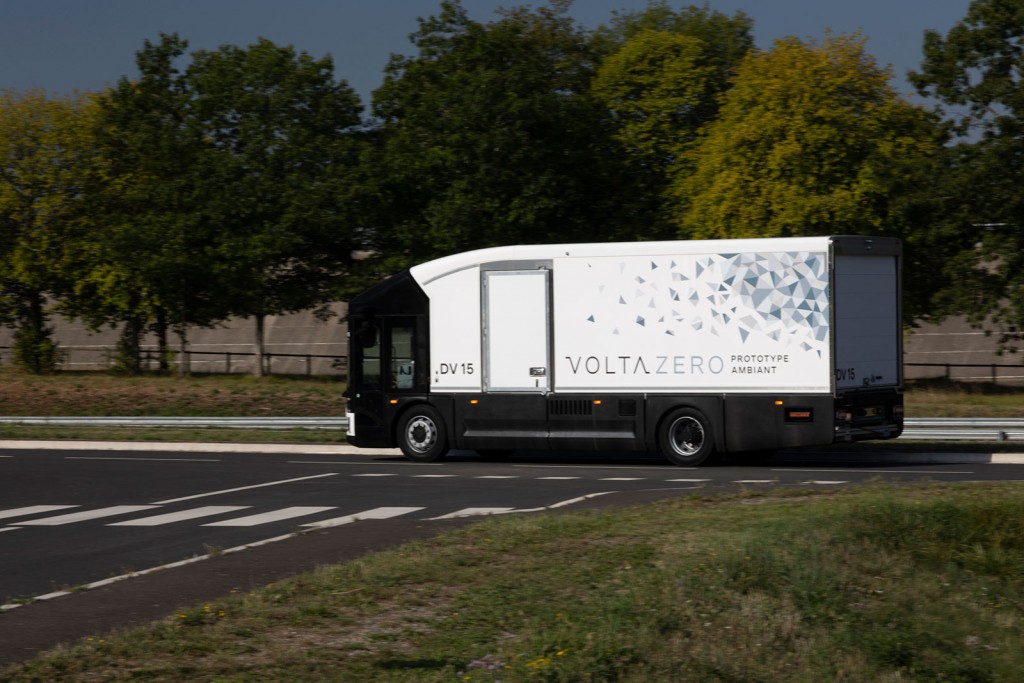 "We are still working on developing our regenerative braking system and are trying to find the most efficient way for the regeneration, which will slow down the truck in a safe way, but that will also catch as much energy as possible."
One of the more intriguing elements of the Zero is the electric motor which drives the rear-wheels. Thanks to the torque of the Meritor ePowertain, the 16-tonne truck was soon able to reach its limited top speed of 56mph. 
The ePowertrain, unlike most conventional electric motors, has a transmission with two gears. Once you get up to 27mph the Volta automatically changes into gear two, with an almost unfamiliar and yet charismatic jolt.
How far will the Volta Zero be able to travel and how big are its batteries?
The full production version of the 16-tonne Volta Zero will be offered with a choice of two batteries, 150kWh or 225kWh. The Proterra batteries should offer a real-word range of up to 200km (125 miles) which Volta says should be more than enough for most inner-city logistics. The Zero can be charged at up to 150kW.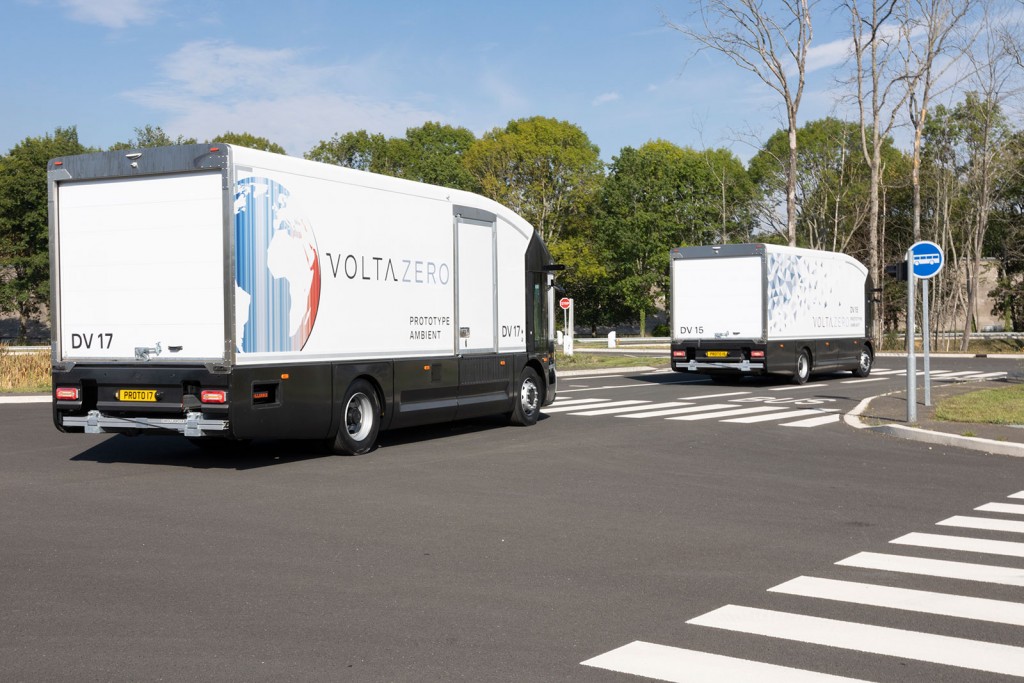 Porterra's batteries can be customised for specific applications, which has allowed them to design a pack that sits between the chassis rails of the Zero truck. 
According to Proterra, the batteries are designed to deliver more than 4000 recharge cycles over 10 years without any degradation to the cells.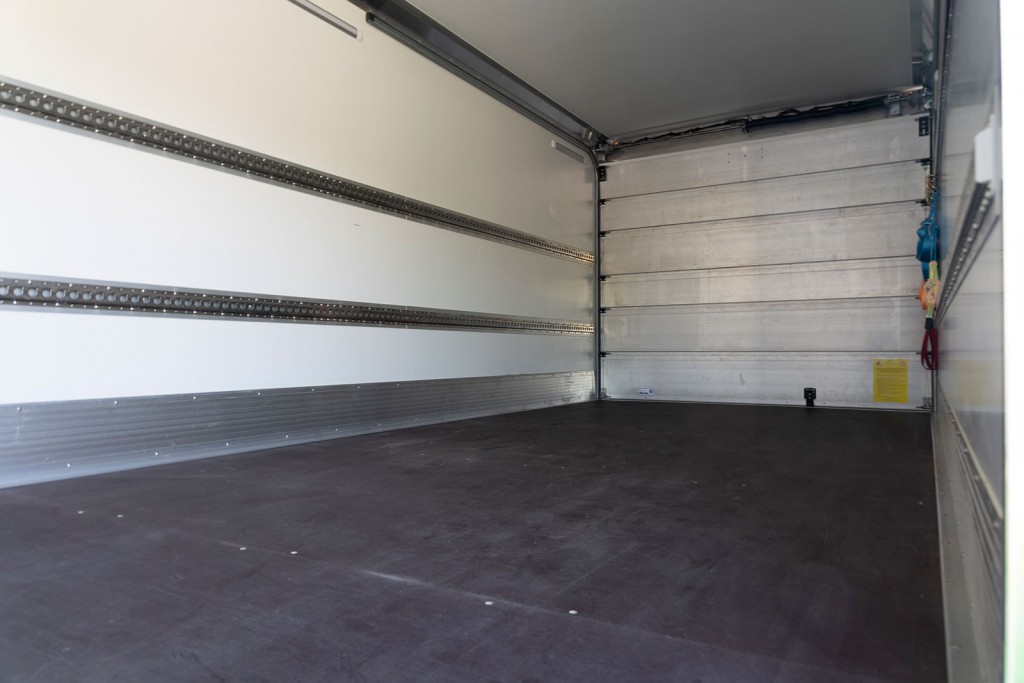 What is 'Trucks as a Service' and how does it work?
Earlier this year Volta announced its Trucks as a Service arm, to offer its clients support throughout ownership of the vehicles. Volta will deliver its service through a number of hubs with the first site ready to enter operation in Paris. 
The Volta Trucks Hub in the south east of Paris will operate eight workshop bays for routine servicing. The new hub will also have a call centre that will provide 24/7 support to the firm's customers.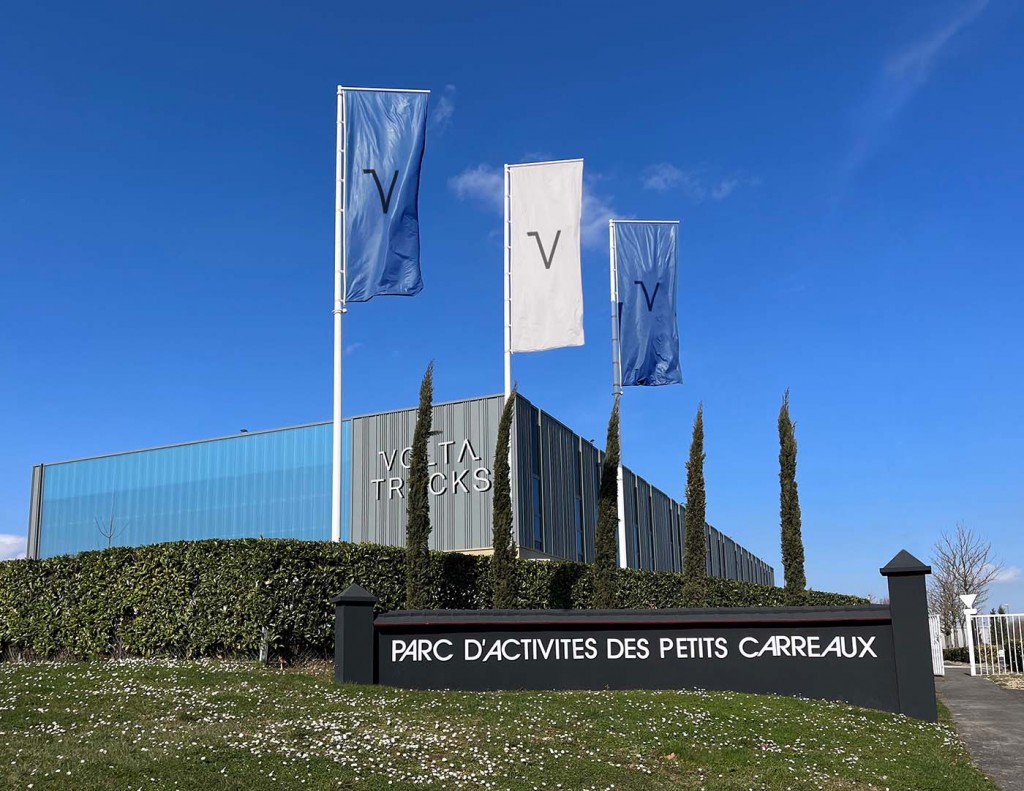 Volta is planning to open another hub in London near Tottenham, while further hubs will be built in Madrid, Milan, the Rhine-Ruhr region of Germany and the Randstad region of the Netherlands. 
Trucks as a Service isn't just for maintenance, however. The entire operation is to help customers with anything from charging installations to insurance. Using a standard, 16-tonne ambient Volta Truck as an example, the firm said that a business could pay around €4000 a month for the truck itself as well as the Trucks as a Service benefits via a subscription scheme.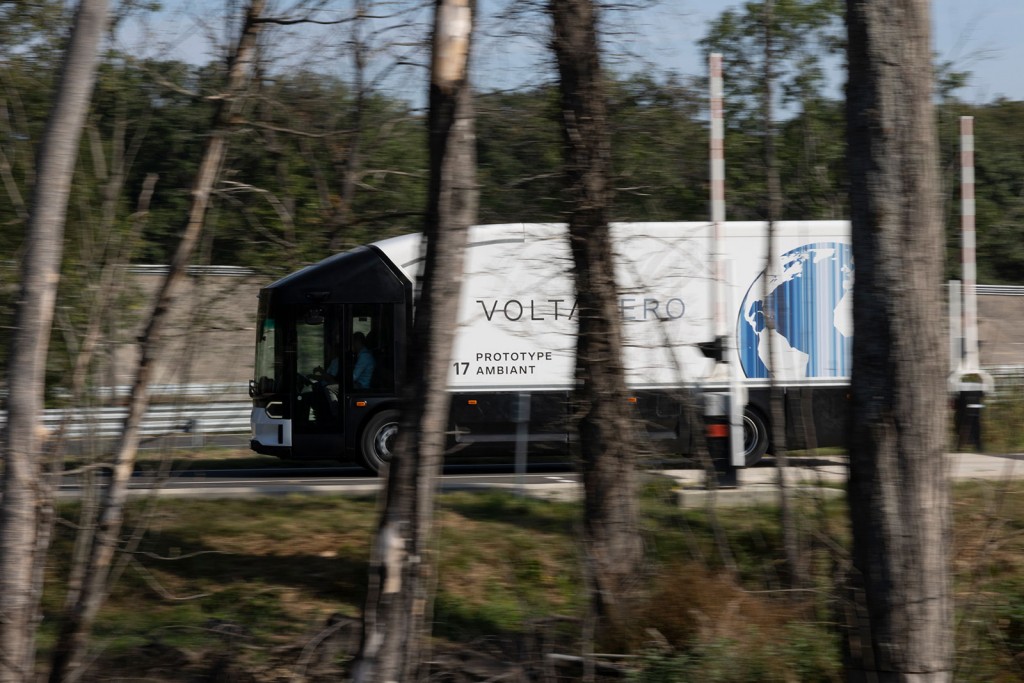 Due to the scale of the order book the firm has had to bring in a third party firm - which it has not yet revealed - to support customers that are located away from a Volta Trucks Hub.
As Volta's vice president for operations and customer success Helder Ribeiro explained, the firm had to prioritise certain locations with the rollout of its hubs, but still needed to offer support away from these locations.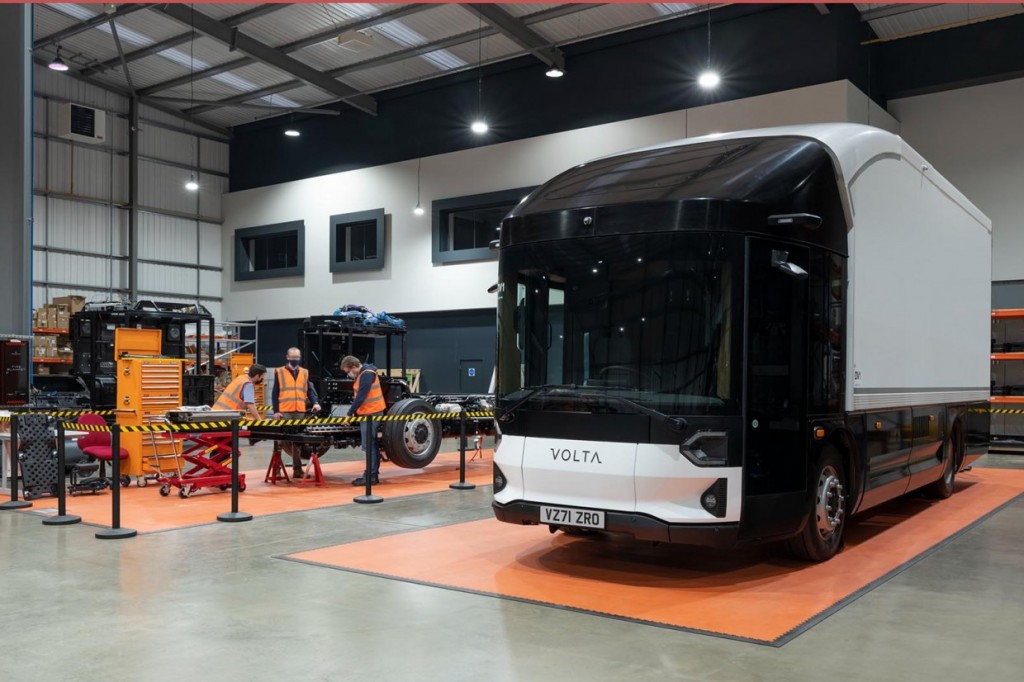 "We want to be ready for day one and for us that's when we enter series production and start delivering vehicles to relevant countries. Because we have some history and knowledge of places like Paris and London we prioritise these first as we have bigger teams there and our industry knowledge is better," said Ribeiro. 
"But alongside the hubs we need to get prepared by having local partners that will support our expansion and our customers who are further afield. I have the challenge of sourcing the other four hubs so that we are ready for day one so that we can support our customers straight away."
It was only three years ago when Carl-Magnus Nordon sketched the first designs of his Zero truck. Now, Volta Trucks is on the verge of series production with a vehicle that could become one of the most influential in the electrification of HGVs. From the truck itself to Trucks as a Service, Volta is clear about what and how it wants to operate. Volta Trucks, you've heard of them now.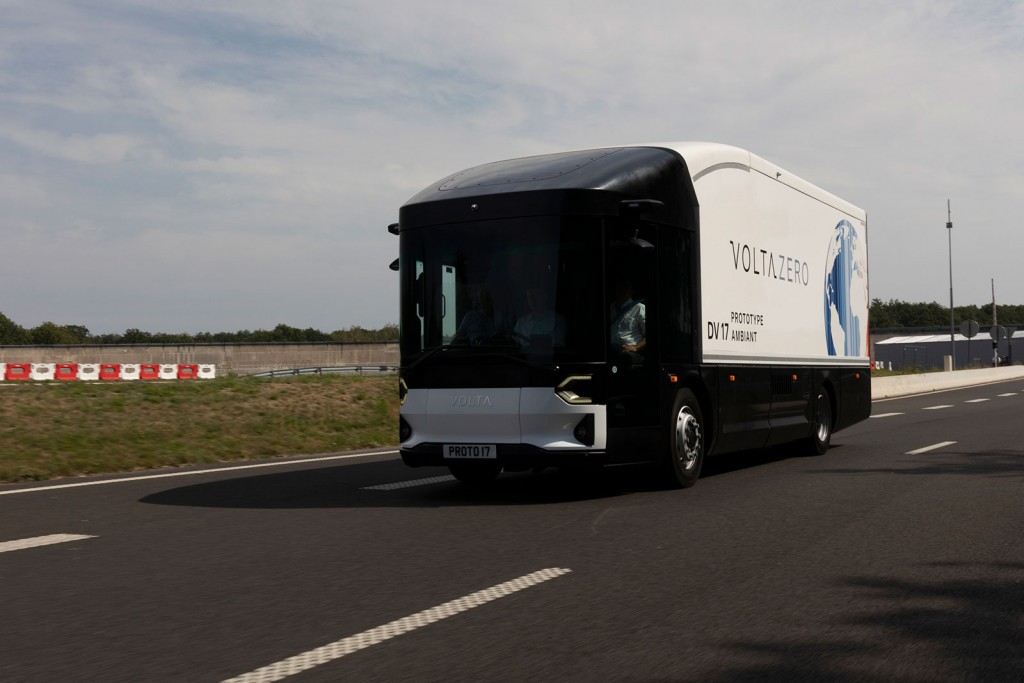 READ MORE
Subscribe to the Move Electric newsletter
e-CARS
Video: Can the National Grid cope with a surge in electric vehicles?
e-BIKES
What to look for when buying an e-bike: Move Electric's top tips
The rise of Volt Bikes: 'when we launched, people thought we were mad'
e-MOTORBIKES
Maeving RM1 electric motorbike review
Q&A: Zapp founder on why electric mopeds are the future
Government plans 2035 ban on new non-zero emission motorbike sales
e-SCOOTERS
Tier to upgrade e-scooter fleet with a smart 'Parrot'
Q&A: Neuron Mobility's UK boss on e-scooters, safety and helmet selfies
e-WORLD
Polestar to supply battery tech to electric boat firm Candela
Engineering giant ABB working on electric Dover-Calais ferry