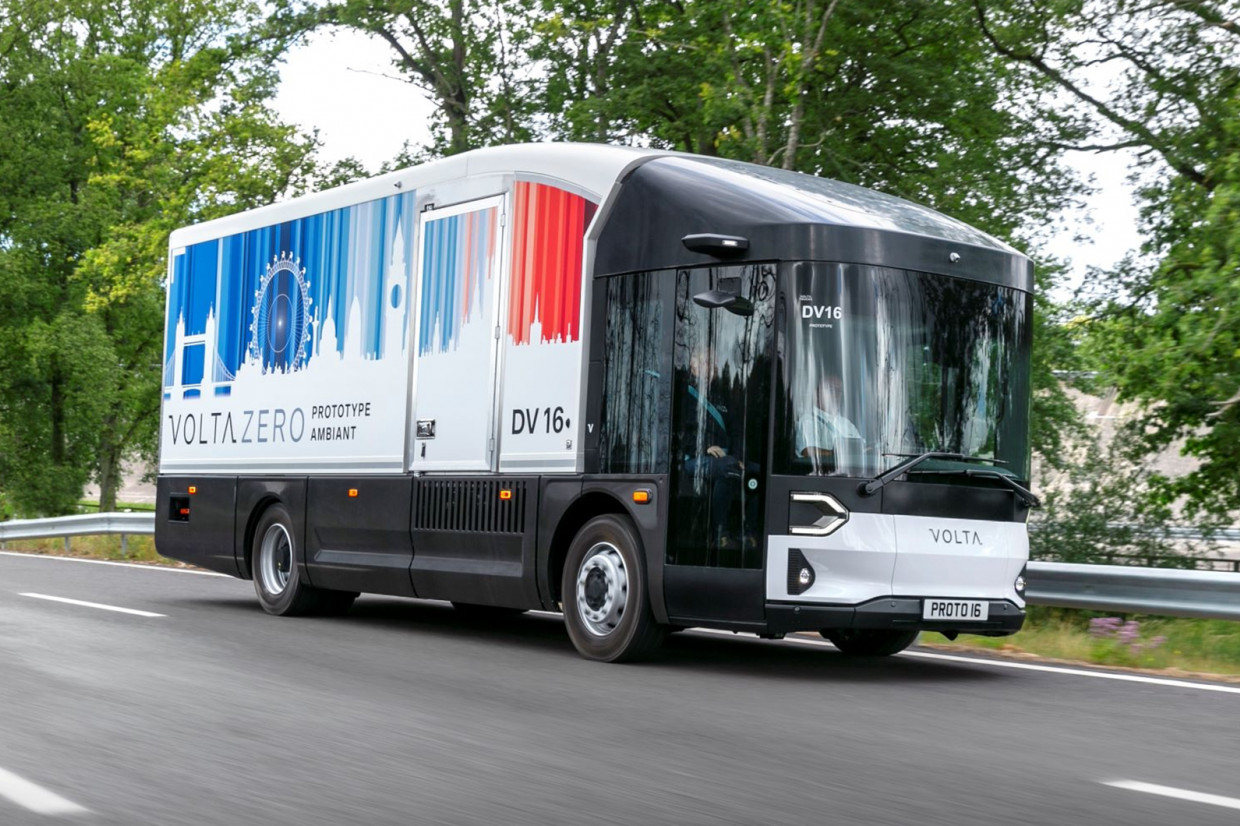 Swedish electric truck start-up Volta has completed the first customer trials of its new Volta Zero urban delivery vehicle at a test venue in France.
Potential customers were able to try a Design Verification version of the new Zero truck, which was one of a number of prototype examples that were recently constructed in a factory near Coventry, at the UTAC Autodrome de Linas-Montlhery near Paris.
In-depth: how the Volta Zero can dramatically improve inner-city safety
Volta says feedback from the sessions will be used to make refinements for a run of Product Verification prototypes that will soon be built at Steyr in Austria. A number of those machines will be loaned to customers for extended trials – which the firm has previously announced will include operations in London. Series production on the first customer-specification vehicles will then begin, with deliveries set to start in early 2023.
The Volta Zero is a 16-tonne electric truck and will be offered with a choice of batteries that allow for up to 125 miles of range. It has been developed with a focus on last-mile urban deliveries, with the lack of Diesel engine allowing for a low cab design with greater all-round visibility for the driver. Volta is also working on smaller 7.5- and 12-tonne variants.
Volta CEO Essa Al-Saleh called the customer evaluation event "a huge moment for Volta Trucks, our customers, and the decarbonisation and sustainability of our cities."
Al-Saleh said that staging customer trials less than two years since the prototype Volta Zero was launched in September 2020 "is the best example of the speed we are working at."
He added: "These are very early and relatively immature prototypes, that customers are never normally able to experience, but their feedback has been overwhelmingly positive. This gives us added confidence and validation that we will deliver world-class zero-tailpipe emission commercial vehicles to our customers, at volume, starting early next year."
The Volta Zero will be priced from £197,000, although the firm will focus on offering it through a 'Transport-as-a-Service' subscription scheme.
READ MORE
Subscribe to the Move Electric newsletter
e-CARS
UK charging networks: complete guide to every provider
New Cupra UrbanRebel is a bold EV supermini with 273-mile range
e-BIKES
10 fun things to try on an electric bike
Living with a Gocycle G4: how easy is it to adjust to?
e-MOTORBIKES
Seat Mó eScooter 125 UK review
How to do a CBT on an electric motorbike
Energica unveils new Experia electric tourer motorbike
e-SCOOTERS
Are e-scooters legal in the UK?
Private e-scooter rules 'cannot simply copy' rental regulations
Superpedestrian's European boss on why e-scooters are for everyone
e-WORLD
New Candela P-12 Shuttle to arrive as first electric 'flying' ferry
Pipistrel Velis Electro: meet the first certified electric plane