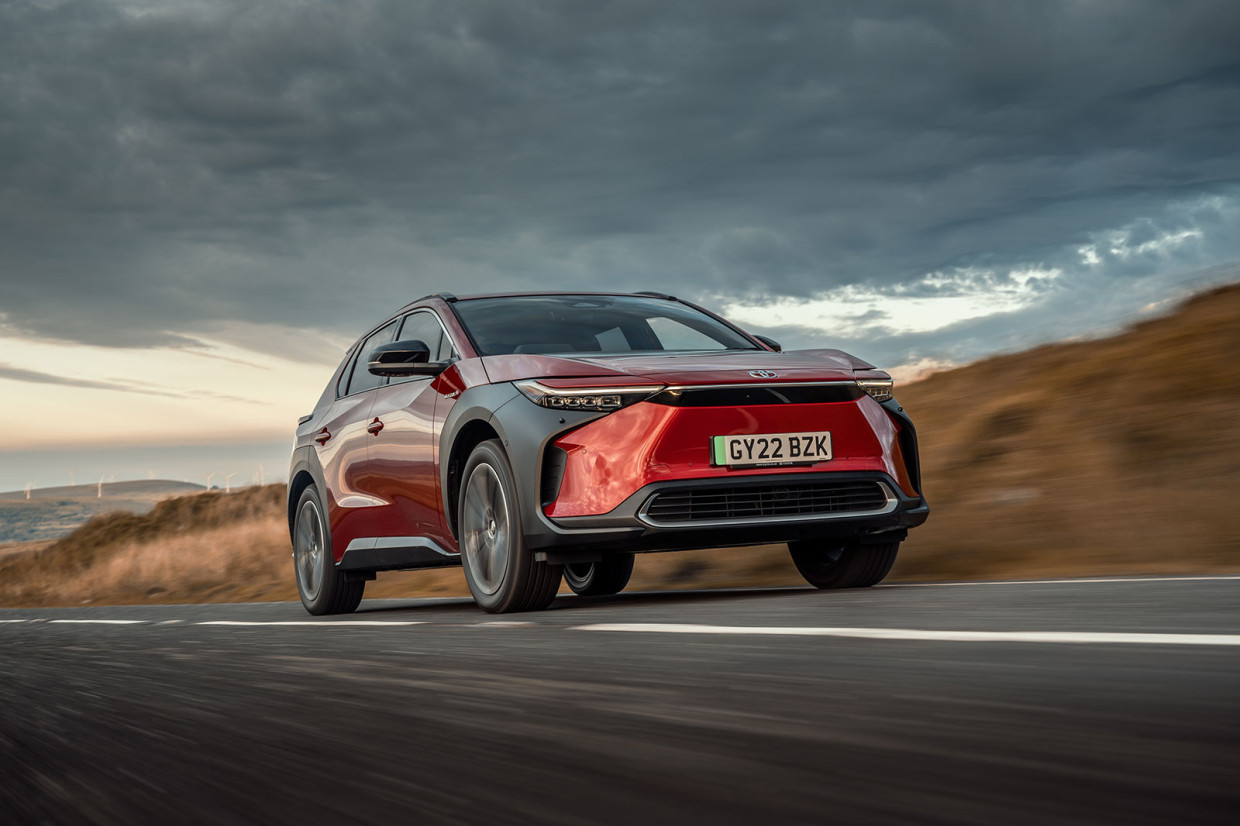 Move Electric Rating: four stars out of five
Originally published: June 2022. Updated January 2023 with UK driving impressions
Sell it to me in a sentence…
The Toyota bZ4X is an electric family SUV that is the Japanese car firm's hugely significant first bespoke electric model.
The bZ4 what now?
Okay, the name doesn't trip off the tongue. But there's a hiding in plain sight logic to it. bZ stands for Toyota's new Beyond Zero EV brand, 4 denotes the size in the model range and X marks the spot. Erm, sorry, the X actually represents that this is a rugged SUV machines.
So what is Beyond Zero? Infinity?
Calm down, Buzz Lightyear. Toyota says that the brand signifies its commitment to going 'beyond zero' – so it's not just about making a zero-emissions electric car, but about creating a truly zero-carbon footprint while improving the lives of both Toyota customers and wider society.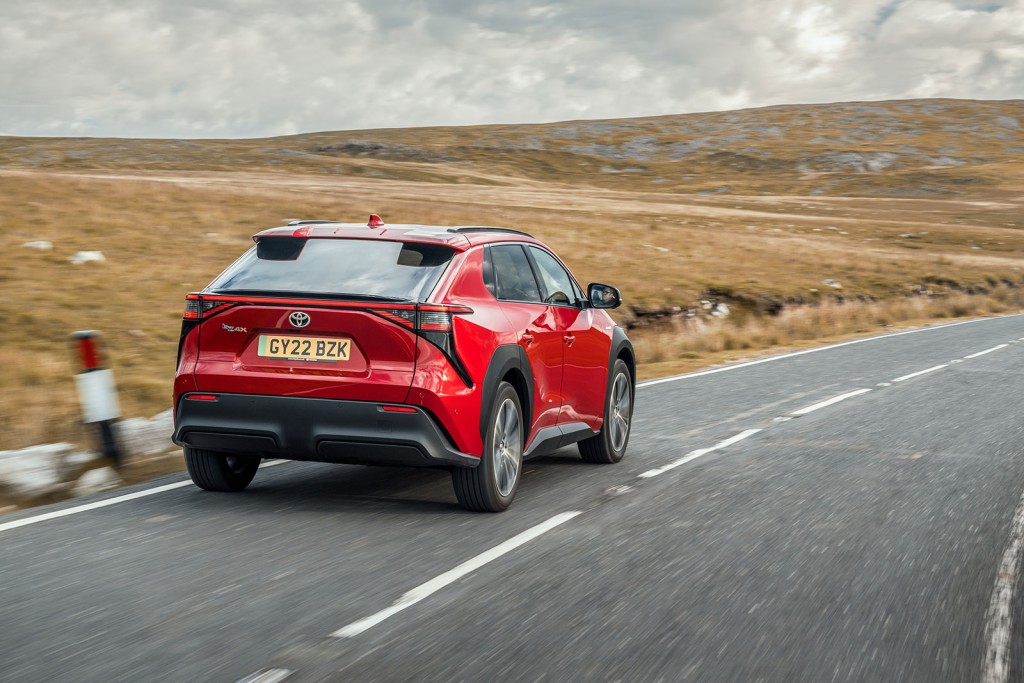 So why is the bZ4X so significant?
Because Toyota is the world's largest car firm, and until now it hasn't produced a full battery electric car outside of a handful of EV conversions only offered in China. For the past few years Toyota has largely been focused on its long-established hybrid models (we won't use Toyota's 'self-charging' label, to avoid starting a semantics-based ruckus…). 
While some critics suggest the success of those hybrid models mean Toyota has been slow to the EV market, the firm takes a different view. It says that its hybrid sales success means that it hasn't needed to rush into producing them to hit tight emissions targets set by various governments. 
Instead, Toyota's philosophy is about 'the power of and', which basically means offering lots of different powertrains to suit the varying needs of varying customers. 
So you can buy a hybrid Toyota and a plug-in hybrid Toyota, and a flux capacitor Toyota, and a hydrogen fuel-cell Toyota and now a battery electric Toyota, and yes we did make one of those up just to check you're paying attention.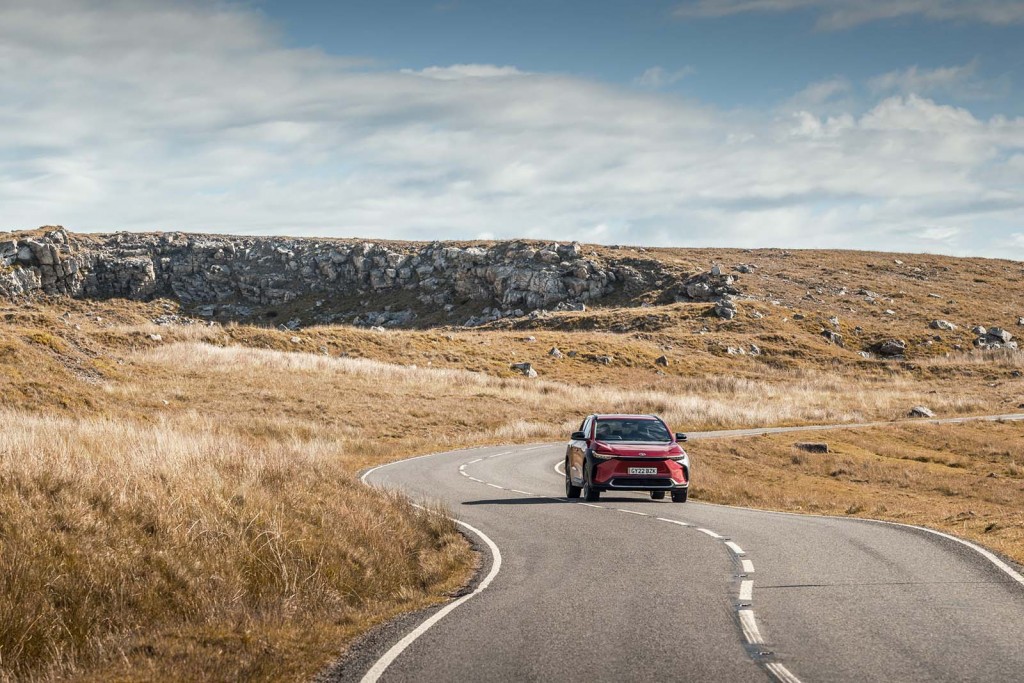 Still, as the car industry goes electric, EVs will play an increasingly large role in Toyota's line-up. It is aiming for 10 per cent of its Western European sales to be zero-emission vehicles (ZEVs) by 2025, rising to at least 50 per cent by 2030. 
So there will be EVs, and lots of them. By 2025, Toyota will offer 15 zero-emission vehicles – and the EV range starts with the bZ4X.
It's also the first production model to use Toyota's new e-TNGA architecture. It's a bespoke electric platform, although it does have much in common with the TNGA architecture that underpins the likes of the Corolla and RAV4.
The e-TNGA platform can be used for cars in the C- and D-segments (vehicles from 4.3 to just over five metres long), so we're talking family saloons and SUVs here. Toyota has already given a sneak preview of the next model with the bZ Compact SUV Concept.
And it won't just be used for Toyota models either: premium brand Lexus will also use it for a range of models, starting with the Lexus RZ 450e we drove recently – and it's been co-developed with fellow Japanese firm Subaru. That firm will also use it for a range of machines, starting with the forthcoming Solterra. Through more partnerships, technology developed by Toyota will also be shared with firms including Suzuki.
While the bZ4X, RZ450 e and Solterra are all similar sizes and share a number of similar design elements, the three machines will all be tuned differently and likely start with different powertrain options.
We first tried a late prototype Toyota bZ4X, and drove the final production model in the electric vehicle-friendly city of Copenhagen, Denmark. We've now had an extended test with it on the bumpy, wet and cold roads of the UK.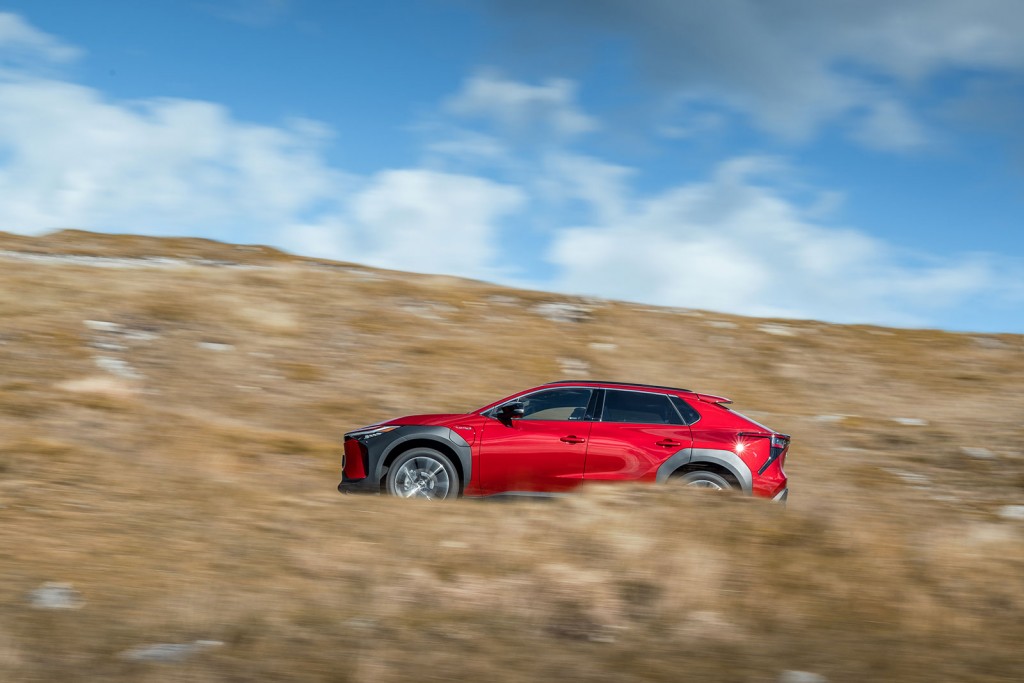 Okay, so what is the bZ4X?
It's a family SUV that's broadly similar in size to the Toyota RAV4 (which you can get as a hybrid or plug-in hybrid). That makes it the latest competitor in an increasingly crowded electric SUV market that includes the likes of the Hyundai Ioniq 5, Tesla Model Y, Skoda Enyaq IV and the Volkswagen ID 4.
In spirit, the bZ4X is perhaps closest to the ID 4, with the aim for it to be a mainstream family SUV that just so happens to be electric.
If Toyota has waited until now to produce an EV, is it behind rivals in terms of development?
Not according to bZ4X chief engineer Daisuke Ido, who says the firm's 25-plus years of refining hybrid technology has directly contributed to the development of the eAxle motors that feature in the new machine.
The eAxle is broadly similar to Toyota's hybrid system, and features the transaxle, motor and inverter all housed in a single unit. The firm claims it is lighter and smaller than a conventional motor.
The bZ4X will launch with two powertrain options: a front-mounted single motor that produces 150kW, and a twin-motor all-wheel-drive version that has a total output of 160kW. And no, that's not a typo: the AWD version uses two 80kW motors, so is only marginally more powerful.
So why doesn't the twin-motor set-up offer substantially more oomph? Because, Toyota says, the focus wasn't on increasing the power but on offering extra torque (248lb ft compared to 195lb ft) and the off-road ability that is afforded by an all-wheel-drive system. The system has been tuned to optimise power consumption.
That off-road ability comes at a cost in terms of range, though: the single motor has an official economy of 317 miles, compared to 286 miles for the AWD. That said, Toyota did note that you are unlikely to always see that range, and higher-spec models on 20in tyres will likely achieve closer to 210 miles. 
The indicated range of the car that is shown on the dashboard is generally accurate, so you can largely trust the machine will go as far as it tells you it can. That said, during our test the bZ4X was affected by the cold weather, especially if you dared to turn the heating on: press the heating button and the estimated range can drop close to 50 miles on a fully charged EV. The bZ4X isn't unique in losing range if you need the heater in cold weather (remember, EVs can't use excess power from an inefficient petrol engine for heating), but it is something to bear in mind.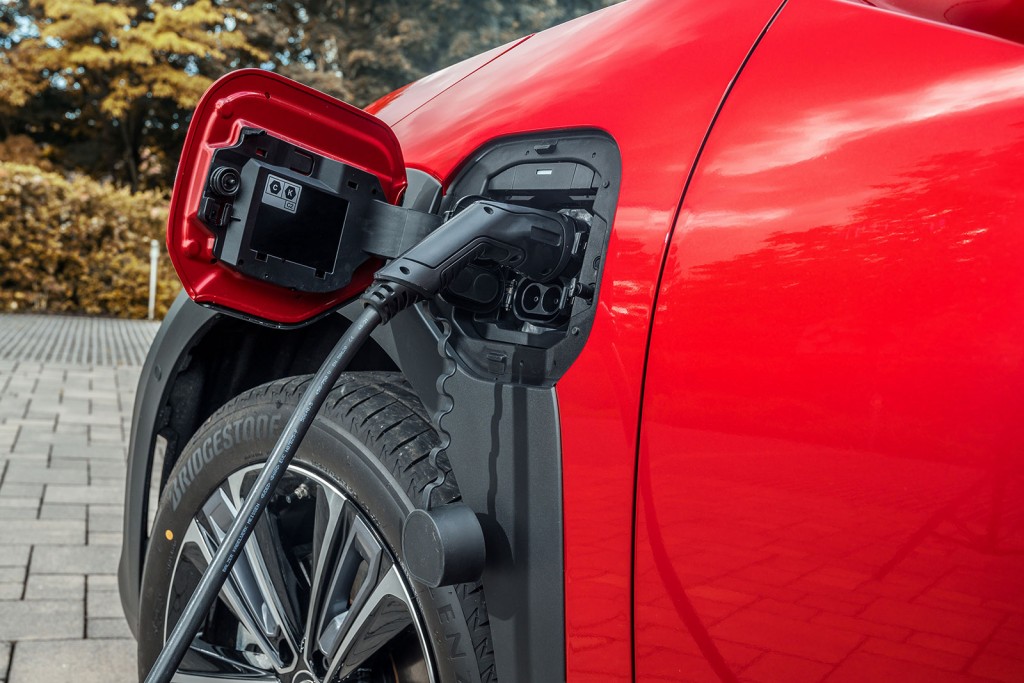 Whichever powertrain you choose, the electricity is stored in a 96-cell, 71.4kWh battery, which can be fast-charged at speeds of up to 150kW. At launch, the machine will launch with a 6.6kWh on-board charger, although near the end of this year a more competitive 11kW unit will be fitted as standard.
Those statistics put the bZ4X firmly in the pack of the rapidly-growing electric family SUV ranks – which is a polite way of saying they don't stand out that much. It will charge faster than an ID 4, for example, but it can't match the 200kW-plus speeds that machine like the Kia EV6, Ioniq 5 and Model Y can achieve.
Will there be more powertrain options in the future?
Quite possibly. The Lexus RZ 450e we tested recently features a 230kW powertrain (pairing the 150kW unit from the single-motor bZ4X with an 80kW rear-mounted unit), so it's clearly technically possible. Ido-san also didn't rule out a performance version from Toyota's GR Sport sub-brand, which could serve as a rival to the likes of the Volkswagen ID 4 GTX.
Oh, on the subject of the RZ 450e, like that machine the bZ4X will eventually be offered with a steer-by-wire throttle and a yoke. But we'll get back to that later.
What's the bZ4X like?
Toyota has really sharpened up its design in recent years, and the bZ4X certainly fits into the range well. It's a recognisably mainstream SUV that is clearly closely related to the RAV4, but with just enough edge to make it feel interesting. 
The design of the cars front end is described by Toyota as avoiding "unnecessary distraction", but it has a little more character than that might suggest. There's a new 'hammerhead' shape and slim LED headlights, while the side profile gets a bit of go-anywhere rugged charm thanks to some chunky wheel arch mouldings.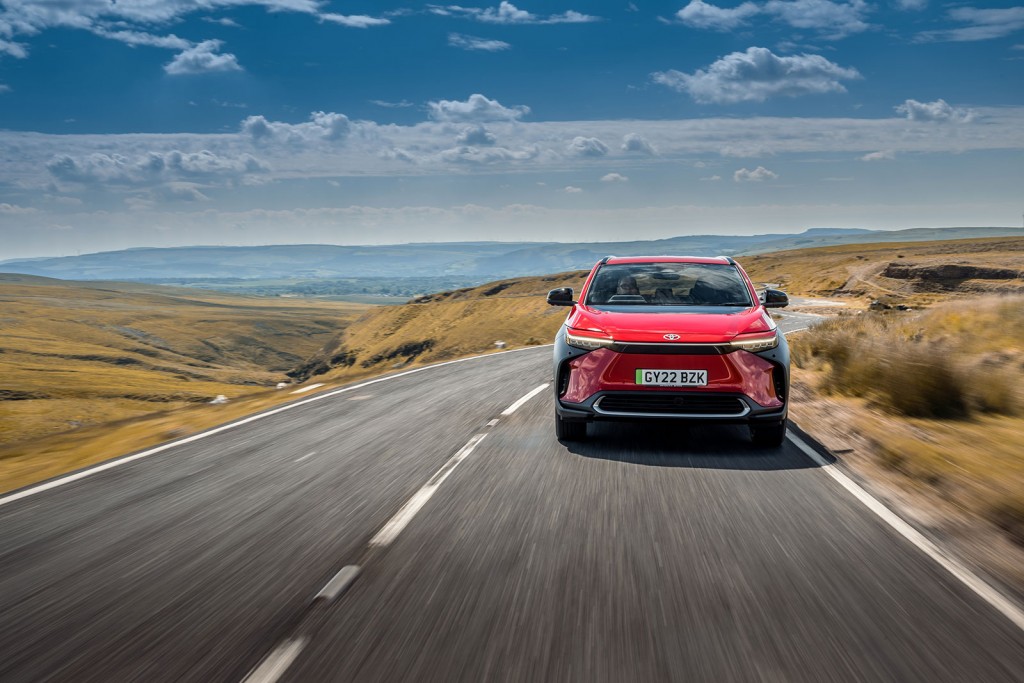 Toyota claims lots of work has been done to make the silhouette sleek to best optimise the aerodynamic efficiency and boost range, which is notable in elements such as the unusual rear spoiler elements on the back edge of the roof (which are shared with the RZ 450e).
Inside, the bZ4X uses a number of sustainable materials, with the firm saying it's intended to reflect the 'ambience of a living room' – reflected in the soft woven material on the dashboard. It's all very clean and tidy, although a few bits of relatively cheap-feeling plastic were visible. That said, you sense it  would all stand up well to the rigours of family life.
There's plenty of space, too, whether you're sat in the front or back seats. In place of the transmission tunnel you'd find in an ICE car, Toyota has added a large centre console, which houses the drive mode select controls, a wireless charging pad and numerous storage cubbies. There's a shelf beneath that for bags, and which replaces the glove box – which has been removed from the passenger side of the dash to open up the space even more.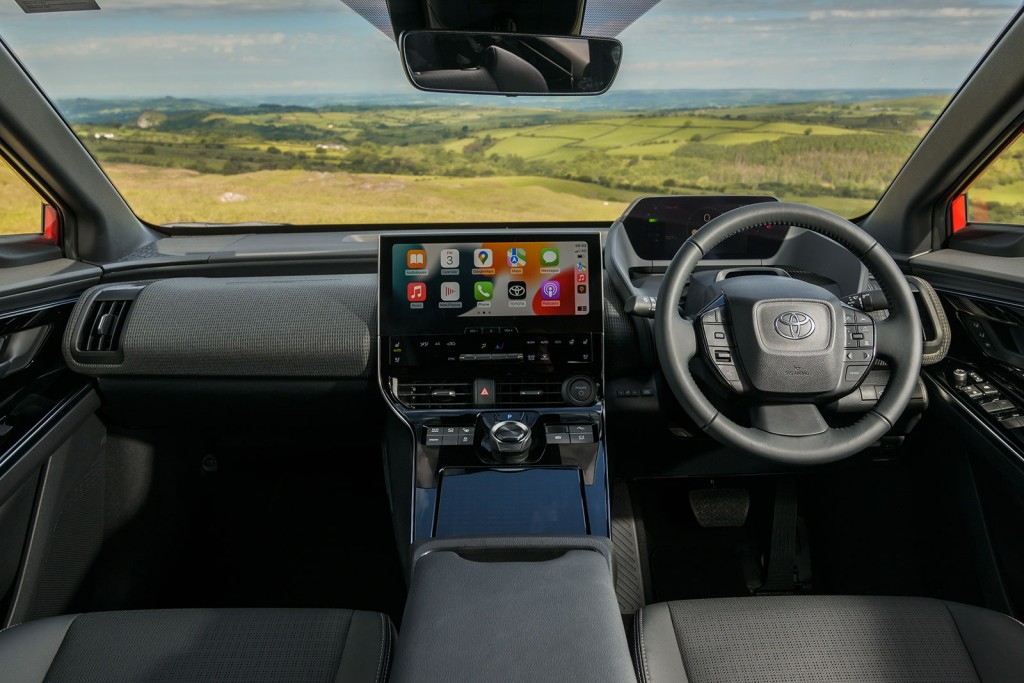 Our top-spec test car featured a 12.3in touchscreen, although entry-level models will get an 8in version. In both screen quality and software, it's certainly an upgrade on the units featured in recent Toyota ICE models, with an intuitive system and a useful number of physical buttons underneath for key controls. 
In fact, if you include the controls dotted around the steering wheel, there are a lot of physical touchpoints on the bZ4X. It's quite a contrast from 'minimalist' touchscreen-led designs offered by the likes of Tesla and Polestar, and it doesn't feel quite as premium and vibrant as you'd hope.
The infotainment pairs with Toyota's app to give access to the firm's charging point network finder, and can accept over-the-air updates.
The boot can swallow 452 litres of capacity, which is pretty decent for this class, and it's aided by a compartment in the boot floor you can tuck the charging cable into.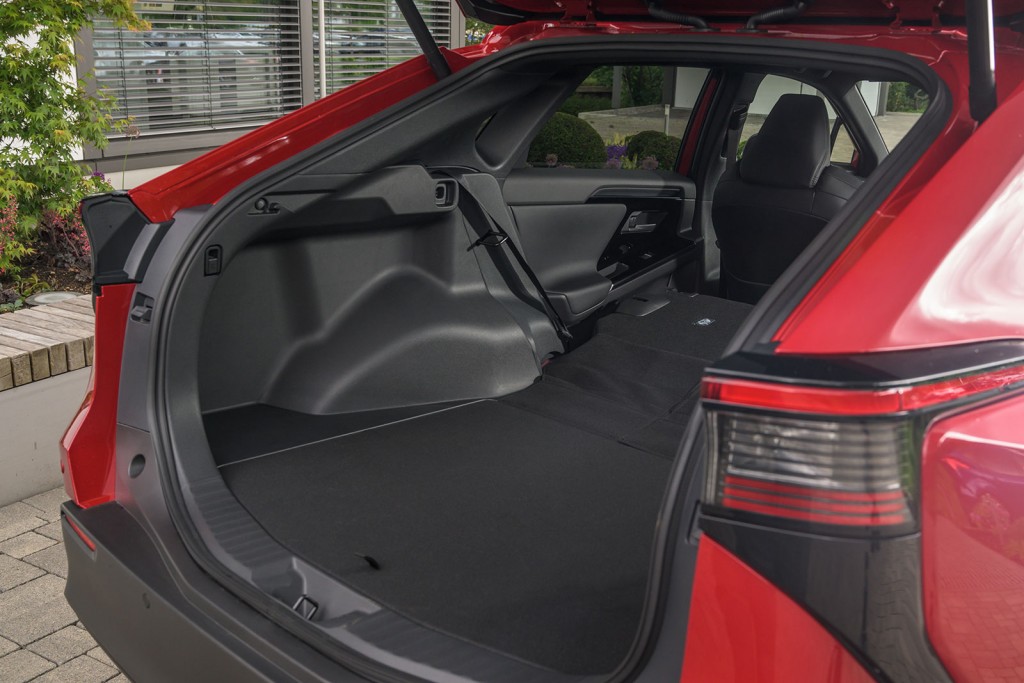 What's the view from the driving seat like?
The cockpit design of the bZ4X is likely to be something of an acquired taste, with a 7in digital display screen mounted high up so you have to peer over the wheel to see it (it's similar to Peugeot's i-Cockpit system).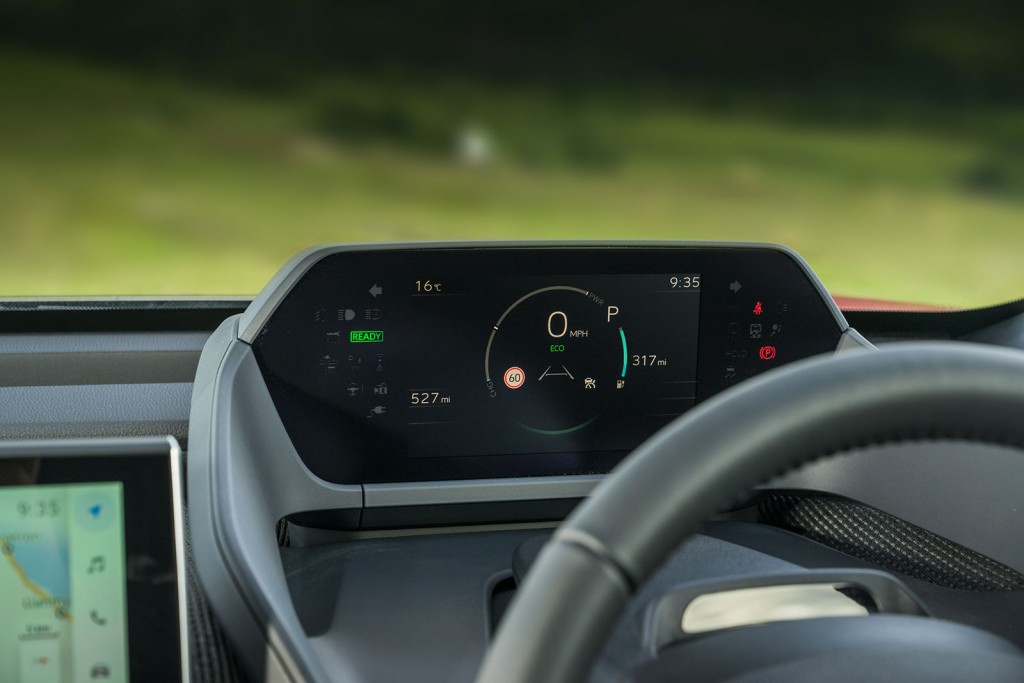 Toyota says it reflects a 'hands on the wheel, eyes on the road' concept, but we did find it occasionally obscured information on the digital display unless you positioned the wheel comparatively low. 
The system will likely work a lot better with the yoke offered on steer-by-wire models, which will arrive sometime next year as an optional extra. That system replaces the traditional physical steering column with a wireless connection, allowing for much greater control of the steering rate.
We sampled the system in a prototype Lexus RZ 450e recently and were impressed. That said, given it will likely account for a small percentage of bZ4X sales it does feel a little odd that the driver dash for the whole range has seemingly been designed around it – with some compromise to cars with steering wheels.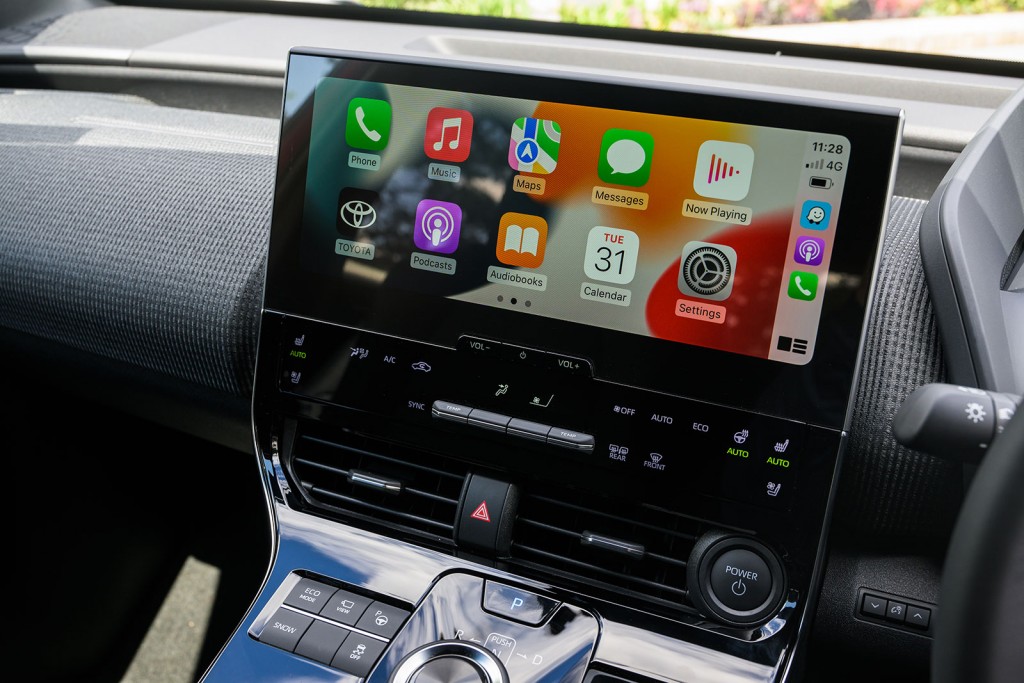 Our UK test car featured a driver monitor camera, a new device that will become a feature of more cars in future so they can meet safety requirements. Basically, it constantly scans the driver and can let out a loud audio alert if they take their eyes off the road for an extended period. Our experience suggests a bit of refinement is needed: the system seemed a bit overly keen to alert us to keep our eyes on the road, and could also be blocked fairly easily.
What's the bZ4X like to drive?
On the road, the bZ4X is very pleasant and smooth – and well-honed for the sort of driving family SUV buyers are likely to do.
The acceleration lacks the neck-snapping speed of some rivals, but the focus is smartly on offering linear and consistent acceleration – which is far more important to SUV buyers than firing away from traffic lights quickly –  and it's easy to quickly reach and maintain cruising pace.
The suspension is set relatively soft, which means the bZ4X rides well. It soaks up bumpy city roads and broken-up UK lanes with ease, and remained assured at motorways speeds as well. It also offers impressive levels of refinement.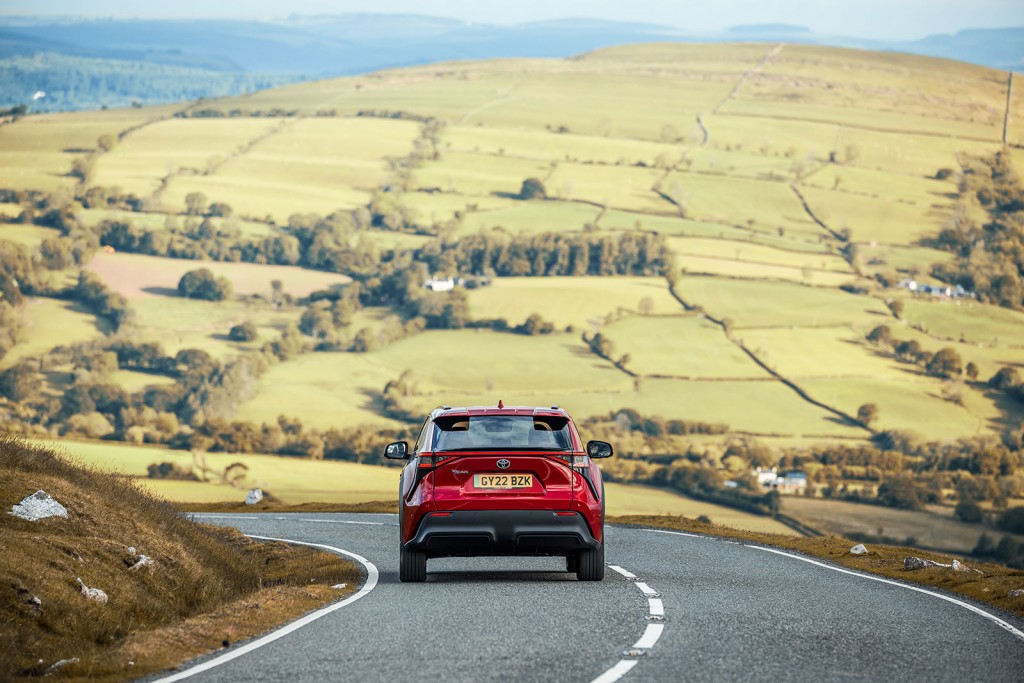 Unlike some rivals, the bZ4X only features a standard and Eco drive model, and a single level of brake regeneration. You couldn't quite drive the machine using a single pedal in that mode, but it did remain intuitive and simple to use.
We'd really have liked a bit more freedom with a wider range of drive modes. It felt a little like Toyota's focus was on offering as 'standard' a driving experience as possible for customers switching over from ICE, and as a result it felt a little simplistic for people used to maximising the benefits of EV motor freedom.
In recent years Toyota has dramatically improved the handling of its models, and that is reflected in the bZ4X. The steering is consistent and reliable as well, offering just the right amount of response and feedback. It's enjoyable rather than thrilling, which is probably about right for this class of vehicle.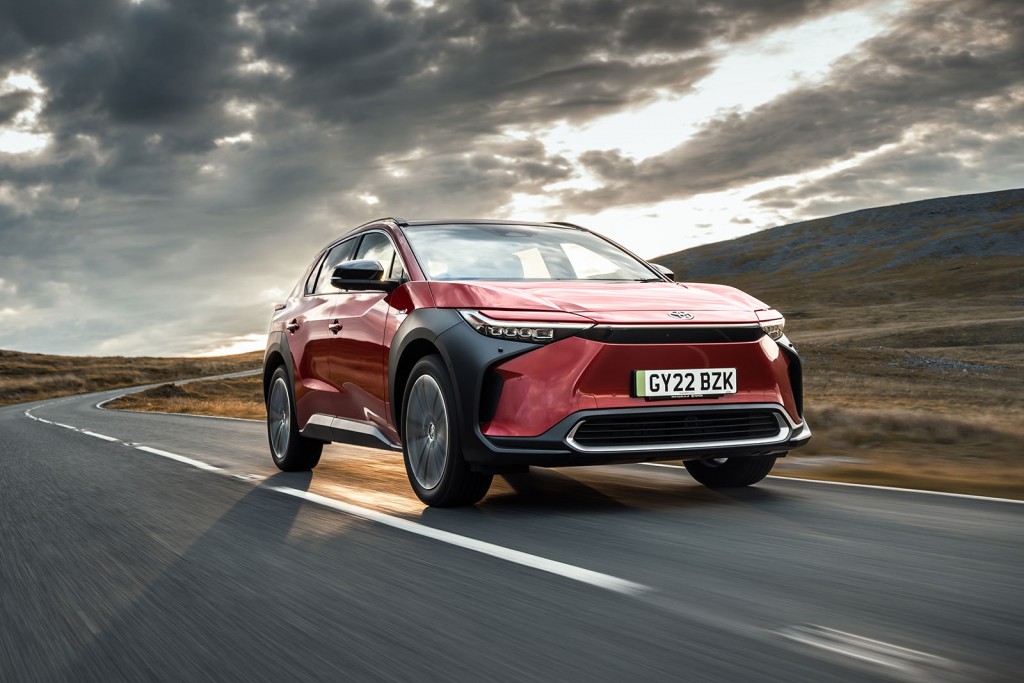 How capable is the all-wheel-drive system?
While most bZ4X examples built are likely to spend the vast majority of their time on the road, Toyota is hugely proud of its off-road heritage – and it's clearly been determined to ensure its first EV can cope with the rough stuff.
The AWD system includes an X-Mode, which can adjust the performance for surfaces such as snow and mud, and a Grip Control function that controls the speed when travelling up steep slopes or rough surfaces. There's also a Downhill Assist Control, so you can get back down any slopes you've driven up.
We were able to try them on a short handling course that also included some big obstacles to highlight the machine's impressive axle articulation and a simulated ford so we could test the 500mm wade depth. It's all impressive stuff, and if you did find the need to thread the bZ4X down a rally stage, it could cope with aplomb.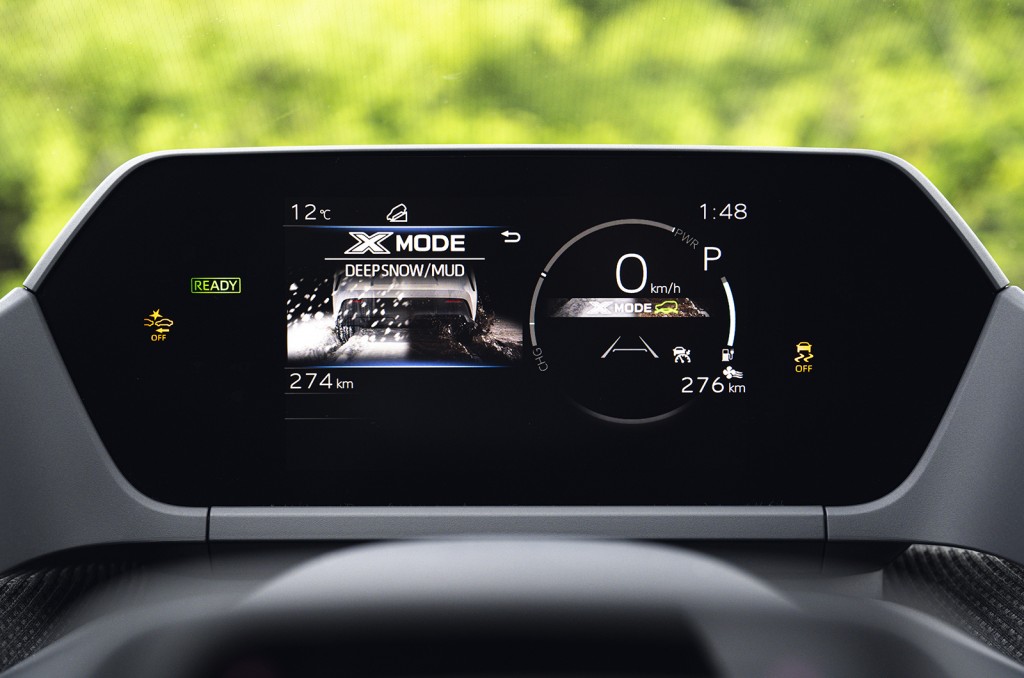 Right, what will a bZ4X cost me?
There are three equipment grades – named Pure, Motion and Vision because reasons – along with a high-sped Premiere Edition that will be offered at launch.
The entry-level Pure trim is only offered on FWD models, and is priced from £41,950. For that you'll get 18in alloy wheels and the eight-inch display, but there's still a decent amount of kit including a reversing camera and climate control.
The cheapest AWD model is the £48,350 mid-range Motion spec (for comparison, the FWD version is £45,570), which added the rear spoiler, parking sensors and a wireless charging tray (which sits in the centre console and has a nice lid to it). 
The Vision grade (£47,650 and £50,250 respectively) adds 20in alloy wheels, park assist, synthetic leather seats, heated front seats and other kit. Opt for the £51,550 Premiere Edition and you'll also gain a nine-speaker JBL stereo system and a panoramic roof.
But Toyota's beyond zero philosophy means it's not just looking at selling you cars: the firm is aiming to ensure they have a long life. So it's also offering the bZ4X under a range of lease and PCP schemes through its Kinto mobility arm, with the intention that it can offer the cars in user cycles of up to 10 years. 
What rivals should I consider?
The Volkswagen ID 4 is the nearest equivalent, as a determinedly mainstream first electric SUV from one of the world's biggest car firms. And the excellent Hyundai Ioniq 5 and Kia EV6 are also worth considering. There's also the Ford Mustang Mach-E, although that has a bit more of a performance edge, and the excellent Tesla Model Y.
Verdict
Toyota might have taken longer to launch an electric car than its rivals, but that's not important now: the bZ4X is a really strong first effort. 
While it doesn't necessarily standout in any single aspect, it's also lacking in any major faults or annoyances. It feels like exactly what is it: a crowd-pleasing, mass market mainstream SUV from the world's biggest car company that just happens to be electric. Toyota might be committed to going beyond zero, but for now this is a very good place to start.