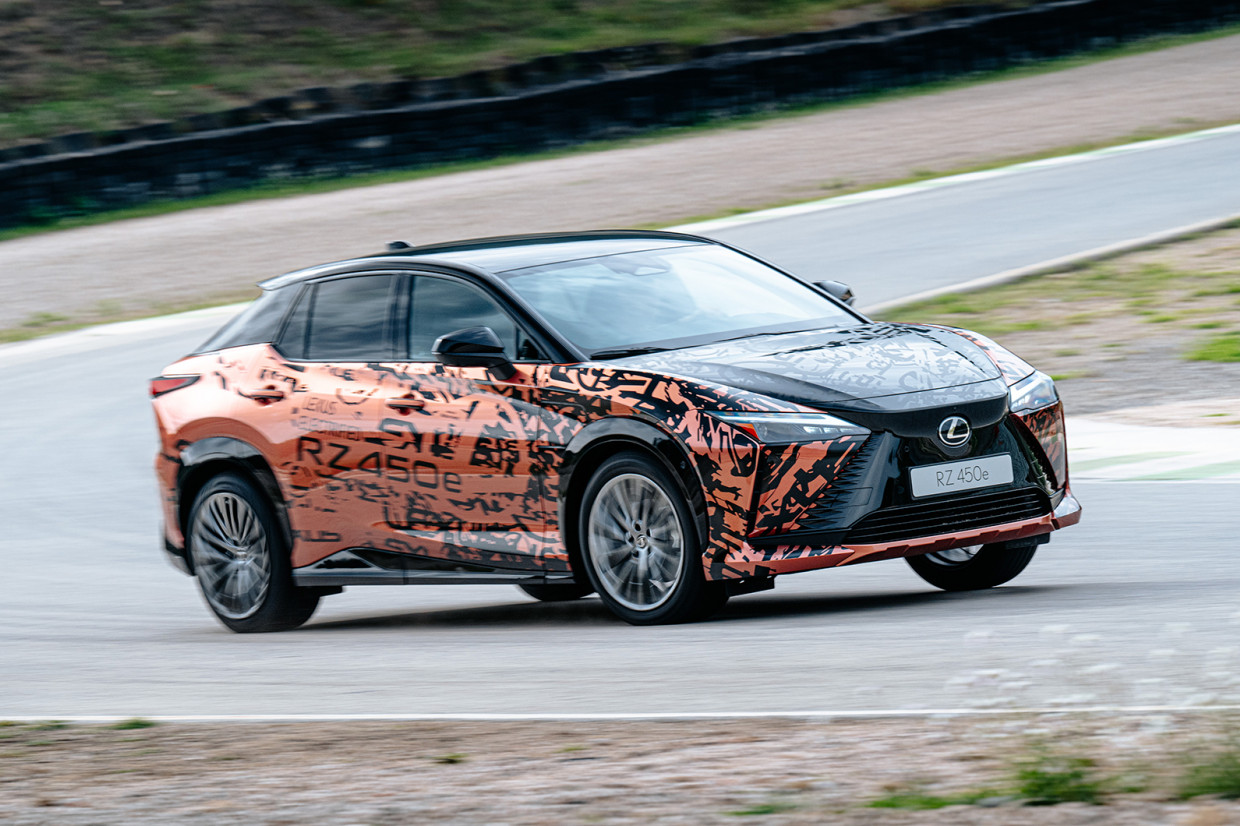 Sell it to me in a sentence…
The Lexus RZ 450e is the first electric-only model from Toyota's posh brand, and is an upmarket SUV designed to take on premium rivals such as the Audi E-tron Sportback, BMW iX3 and Jaguar I-Pace. Oh, and it's got a steering yoke.
Are you yoking? Aren't steering yokes on electric cars a little… controversial?
If you're talking about the yoke that's offered in place of a steering wheel on the Tesla Model S and Model X in the USA then you're absolutely right. The challenges of using that yoke, particularly for sharp turns that require threading the controller to reach maximum lock, has divided opinion much like, well, the average Elon Musk tweet. 
But Lexus insists that the yoke on its first bespoke electric car is a very different thing, and has been designed purely to complement the firm's new steer-by-wire steering system, which replaces a traditional steering column with an electronic system.
But we'll get into that more later. First, let's consider the first bespoke Lexus EV more generally.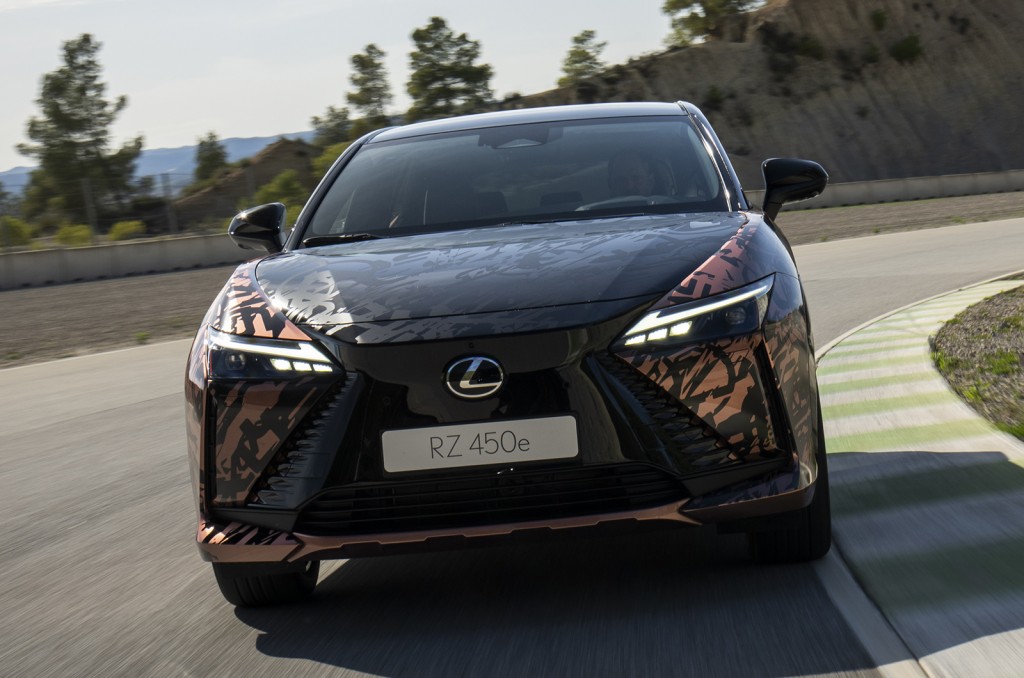 Sure, but isn't Lexus a little late to the electric car party?
That's an accusation often levelled at Lexus – and parent firm Toyota. And certainly, the company is behind some of its rivals in the stampede to churn out full electric cars, preferring to keep focusing on its long-established hybrid powertrains.
But Toyota doesn't think it's late to the party: it's just waited until the right time to join. So it's waited out the awkward bit of the party where nobody is dancing and it's too early to start on the cocktail sausage rolls, and turned up just when things are about to get lively.
Basically, while tough fleet emissions targets have forced some car firms to jump to electric models, the success of Toyota and Lexus's hybrid models has given it a bit of extra time. But the time is now: the RZ 450e is the first of four pure electric Lexus models that the firm has previewed, and the brand will be electric-only in Europe by 2030.
Right, what exactly is an RZ 450e anyway?
It's a new electric SUV that's broadly similar in size to the current hybrid and plug-in hybrid Lexus NX. The RZ isn't a replacement for that model: it's a complement, as part of a new line of electric-only Lexus models.
The RZ 450e is the second electric Lexus, following the smaller Lexus UX 300e, but the first that has been designed purely as an electric model. It uses Toyota's new electric-only E-TNGA architecture, which is also used by the Toyota bZ4X. That machine is a similar size and will feature similar technology to the RZ 450e – including that optional steer-by-wire steering with the yoke – but there are key differences between the models due to their differing target markets.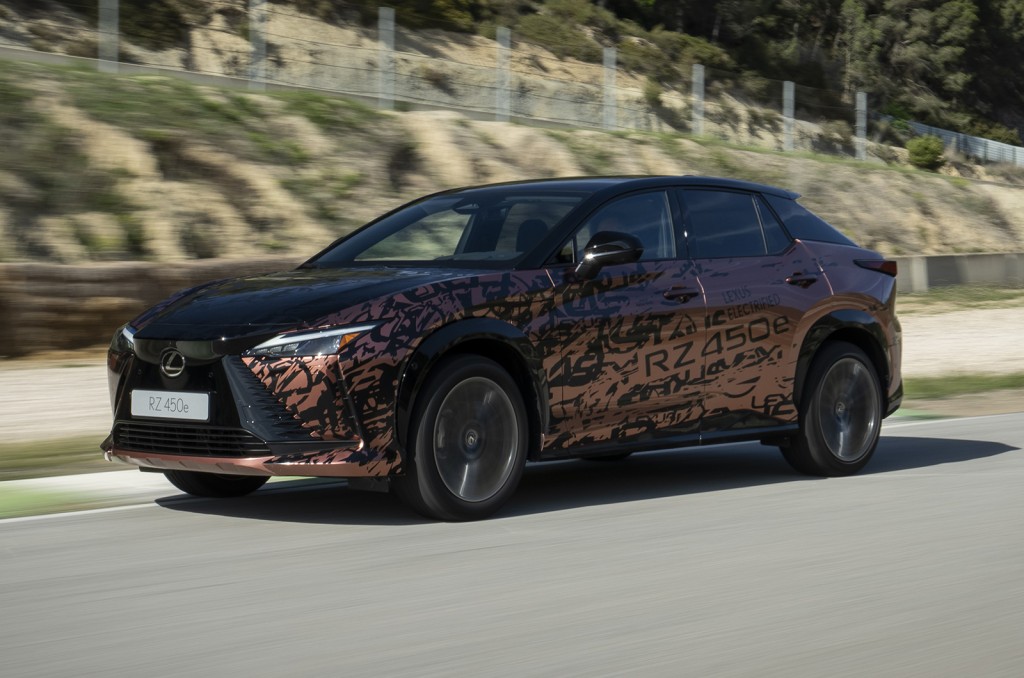 Styling-wise, the RZ 450e follows many of the traditional Lexus cues, albeit with the spindle grille reimagined as sculpted bodywork elements (because, you know, it's an EV and doesn't need a grille). There's a neat split rear wing element on the back, too, which adds some welcome visual flair.
And, in case you were wondering what RZ stands for, so was Move Electric. So we asked. Apparently, the R stands for 'radiant' (as it does on the Lexus RX), while the Z stands for both Zero (as in Zero-emission) and the third axis on a graph beyond X and Y, because with electric cars Lexus is branching out into a new dimension. Er, so there.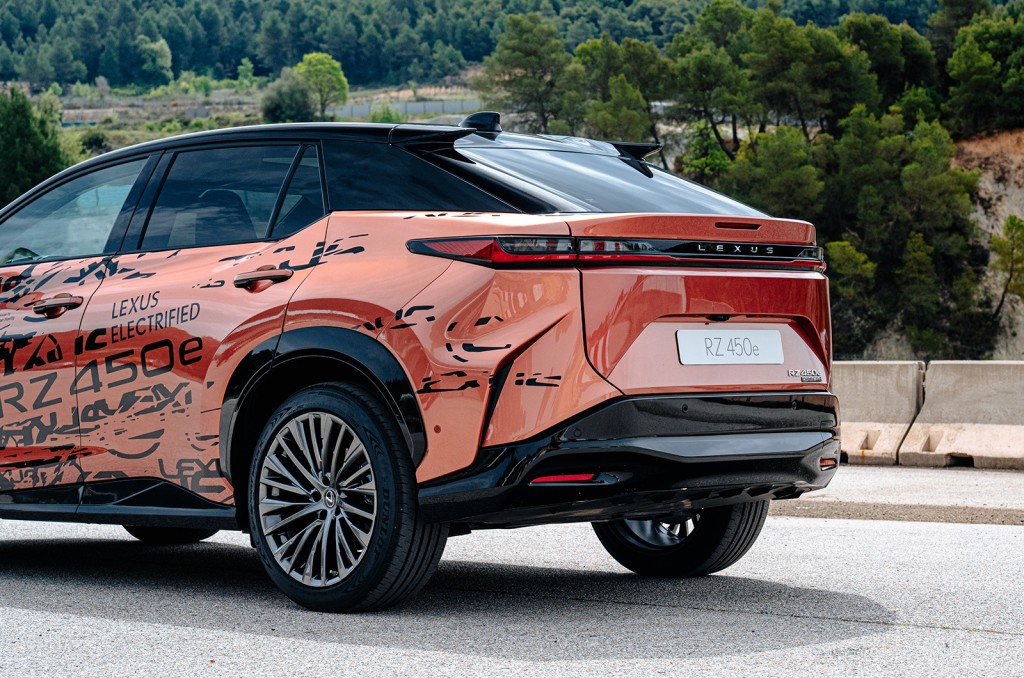 So is it just a slightly posher bZ4X with a Lexus badge on?
Not really. It is a similar size to the Toyota, and shares a platform, batteries, motors and other technology with the bZ4X (and the Subaru Solterra), but beyond the common base Lexus engineers insist the machine has been developed independently.
The RZ 450e does use the same E-TNGA platform, batteries and motors as the Toyota bZ4X (and the Subaru Solterra), is a similar size, and shares a range of innovative technical features. But Lexus executives insist that beyond the common technology base the two machines have been developed separately to meet separate briefs and requirements. For example, the RZ 450e features extra bracing and rigidity to offer the driving dynamics sought for a Lexus model.
Notably, the RZ 450e is also more powerful than the bZ4X. While the top-spec Toyota bZ4X produces 160kW from two electric motors, the RZ 450e has an output of 230kW from its two electric motors, with a resulting 0-62mph time of 5.6secs and a limited top speed of 99mph.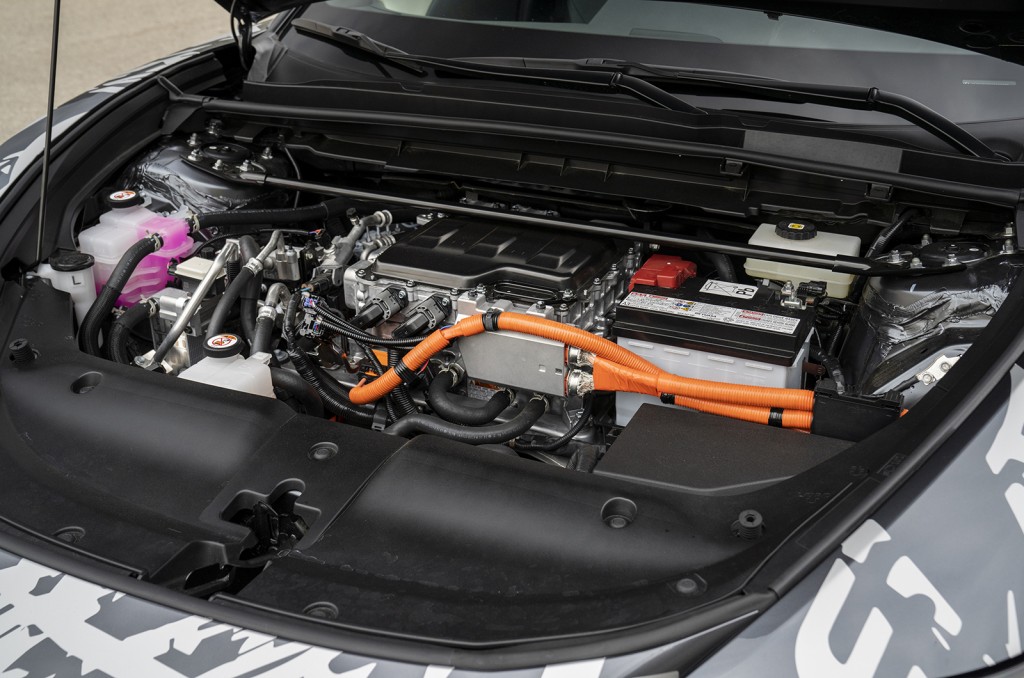 The RZ 450e features a 150kW unit at the front, with an 80kW version at the rear. Both are 'e-axles', combining the motor, gearing and an ECU between the driven wheels. Notably, the two motors aren't identical: the front unit is vertically placed to maximise space in the front of the cabin, while the rear unit is placed horizontally so it doesn't inhibit boot space.
The two electric motors feature Lexus's Direct4 all-wheel-drive system, which can automatically balance torque and power distribution between the front and rear axle to maximise grip.
There's a 71.4kWh, 96-cell lithium-ion battery pack – identical to the one in the bZ4X – which gives a claimed range of more than 250 miles. That's decent, although less than some premium electric SUV rivals. Lexus says that a key to achieving its range is a focus on efficiency, and it claims the RZ 450e will achieve around 3.4mpkWh.
How did those range and efficiency claims stack up when you drove the car?
We didn't really get the chance to test that: we got to test a pair of hand-built prototype cars that have yet to be road registered. That means we were limited to a handful of laps of an undulating racing circuit in Spain, and a tight, twisty, traffic cone-lined handling course.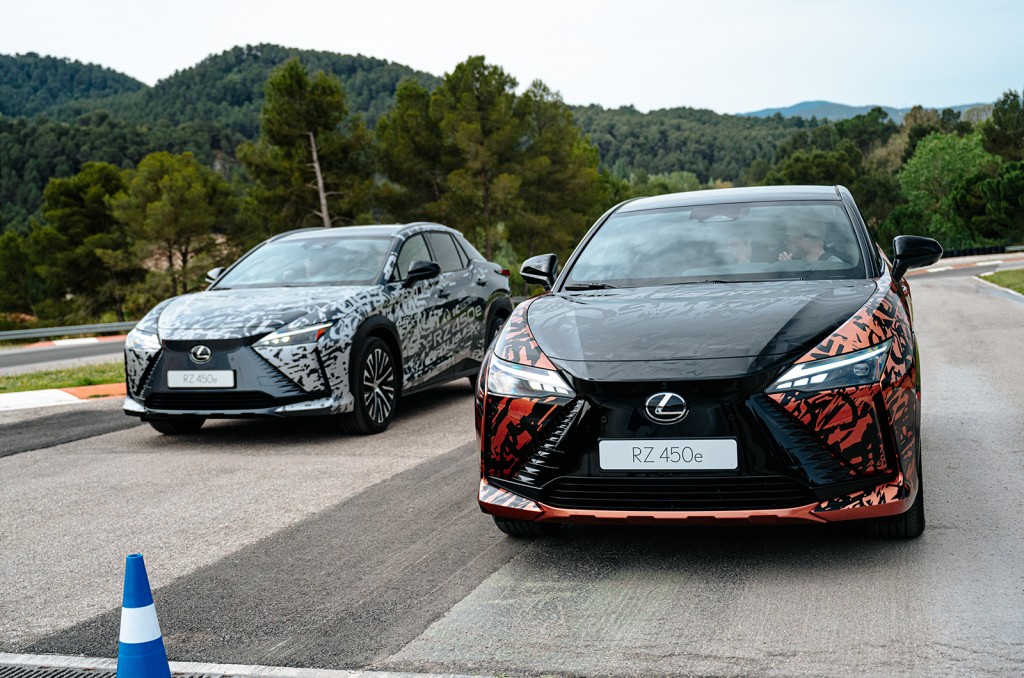 One car was fitted with the new steer-by-wire system, complete with yoke, while the other had standard steering. The focus on the test was largely on that system. A good chance to get a brief feel for the RX 450e's ride and handling, in other words, but not the circumstances to study battery range and efficiency. That's why there's no rating on this review.
So what is the RZ 450e like to drive?
According to chief engineer Takashi Watanabe, the brief wasn't to make an electric Lexus – but to use electric technology to make a better Lexus. The brand has long focused on offering a premium feel based around principles of Japanese Omotenashi hospitality and Takumi craftsmanship, while also offering the 'Lexus Driving Signature' through balancing comfort, control and confidence.
Acceleration felt predictably brisk, although it was clearly tuned to not offer the neck-twisting performance of some similarly powered rivals models. The delivery was linear and direct, and once up to speed it was easy to control, and it felt there was always plenty of power in reserve if needed.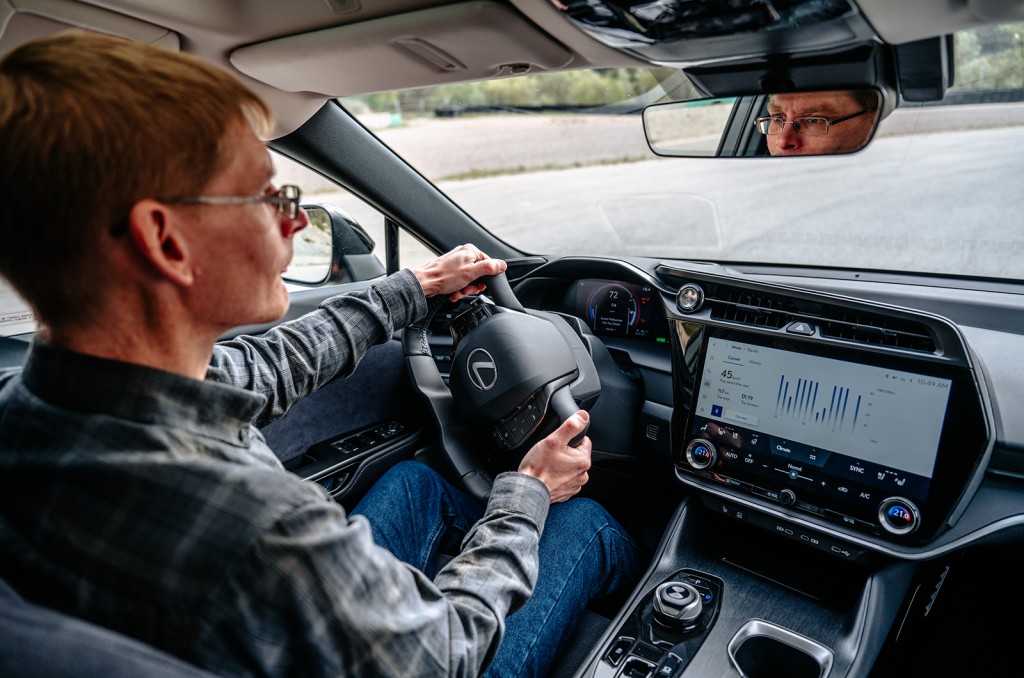 Our running was limited and on a smooth race circuit, so it's hard to comment too much on the ride and handling. The suspension balanced the weight of the car well in the corners, and while there was a hint of understeer approaching faster corners at speed it was nothing you wouldn't expect on an electric SUV.
The Direct4 all-wheel-drive system seemed to help distribute the power well, balancing the traction and helping to give some confidence. Clearly, though the RZ 450e isn't a true performance car: the emphasis seems to be on offering comfort and composure, at the expense of chasing excitement. But given Lexus's focus, that should serve it well.
 
Okay, can we crack on and talk about steer-by-wire and yokes now?
Of course. And if you think I've taken a while to get to it in this review, that's nothing: Lexus and Toyota engineers have been working on the system for more than 12 years before considering it ready for use on a production car. The first four or five years were about determining the parameters for the system, with the remaining time spent honing its development. Basically, this is a major undertaking.
Essentially, the steer-by-wire system entirely removes the mechanical column that usually attached the steering wheel (or yoke, in this case) with the front turning wheels. In its place there's a wire connection, with a motor on the front wheels turning them in response to the steering inputs made by the driver.
There's also a motor mounted on the system that connects to the steering yoke, which is used to give artificially generated 'feedback' to the driver, in an attempt to mimic the feeling the driver gets from a mechanical steering column.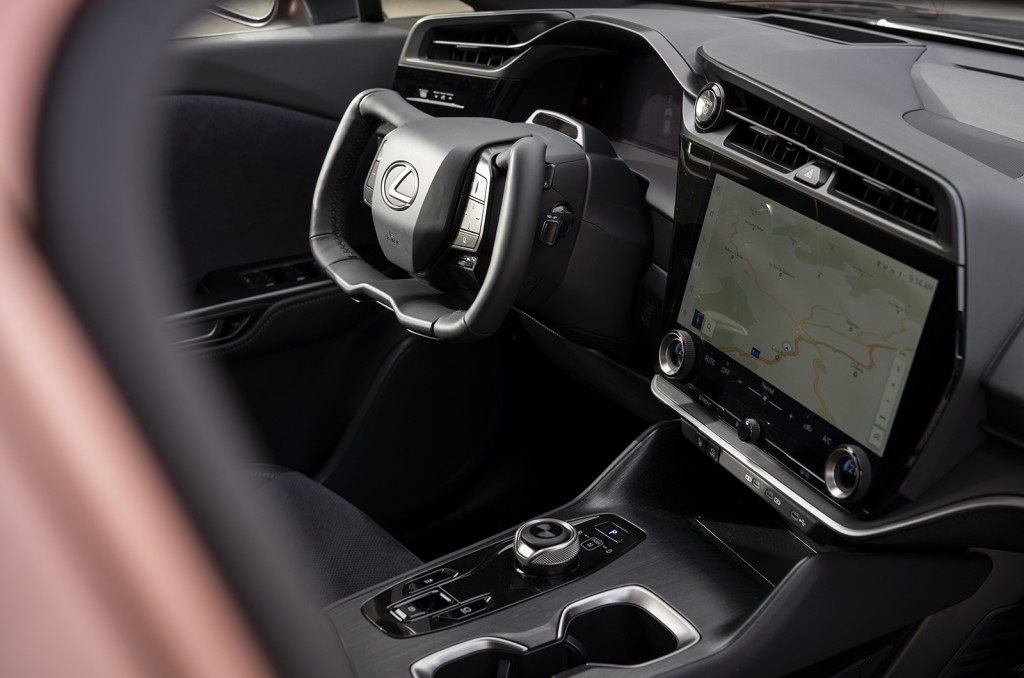 The lack of a physical connection between the wheels might raise questions about safety if the system fails. But Lexus insists there's nothing to worry about: the batteries for the unit are completely separate from the rest of the car system, and there's a fully back-up system just in case. If the car detects a problem it will first warn the driver and then, if they fail to react, can automatically slow and stop the car.
The extra batteries and motors required means the steer-by-wire system is actually heavier than the mechanical steering column, adding around 10kg in weight to the car.
Sounds complicated. What's the point of it all?
Essentially, it means that Lexus engineers can programme the steering to behave in any way that it requires – and it can react differently at different speeds.
So on the Lexus RZ 450e the system is more sensitive and quicker to react at slow speeds, when manoeuvrability is required, and to react more slowly at higher speeds where stability is desired. Another major benefit: Lexus can greatly reduce the steering ratio. That means there's just 150 degrees of steering lock required to go from centre to full lock in either direction, and just 300 degrees requited to go from lock-to-lock.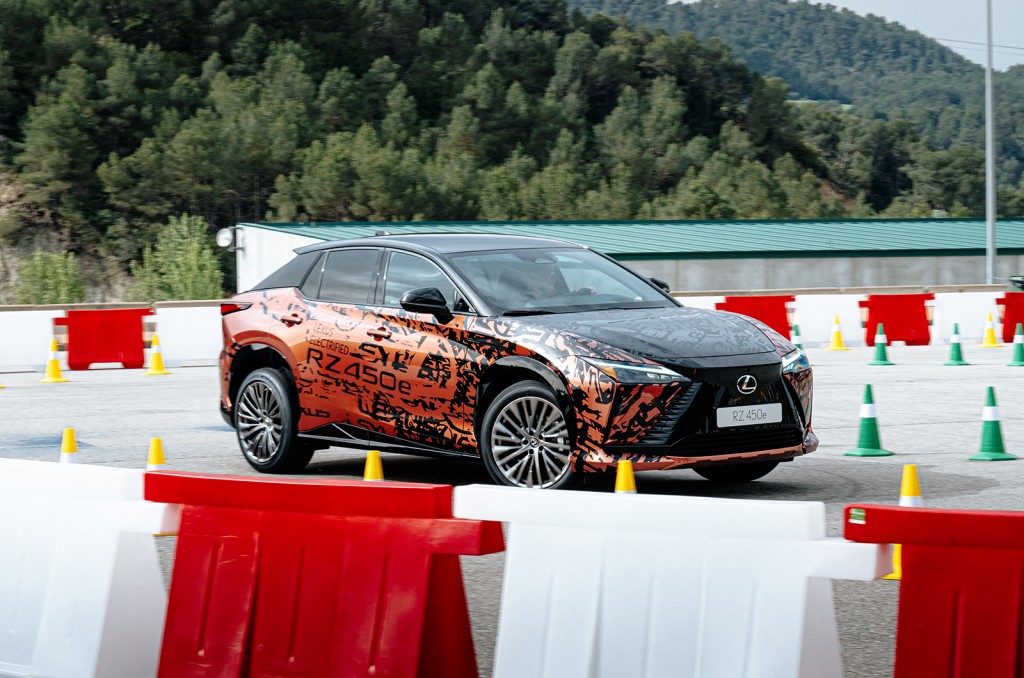 That reduced ratio means you can turn the wheel from lock to lock without having to cross your hands over each other or thread the steering wheel. And that, in turn, has prompted Toyota and Lexus engineers to switch from a steering wheel to a yoke.
So they're not yoking about this?
No, they're egg-stremely serious. But while yokes haven't always convinced on other cars – such as the US-market Tesla Model S or KITT from Knight Rider – they featured standard mechanical steering. Lexus insists the steering device has been chosen because it's easier to use with the steer-by-wire system. Essentially, having a yoke makes the driver use the system as intended, with their hands staying on the wheel in the traditional '10-to-2' driving position.
But if you opt for the standard mechanical steering – as around three-quarters of RZ 450e buyers are expected to – you get a regular steering wheel.
What's is like then?
Well, our brief back-to-back test in cars fitted with and without the system suggested it has plenty of potential, with just a few quirky glitches to overcome. Although it will take some getting used to.
The real positive first: at speed out on a race circuit the steer-by-wire car felt remarkably composed and, arguably, more planted and confidence-inspiring than the RZ 450e with the standard steering. There was reasonable feedback too, despite it being entirely artificially generated by that motor.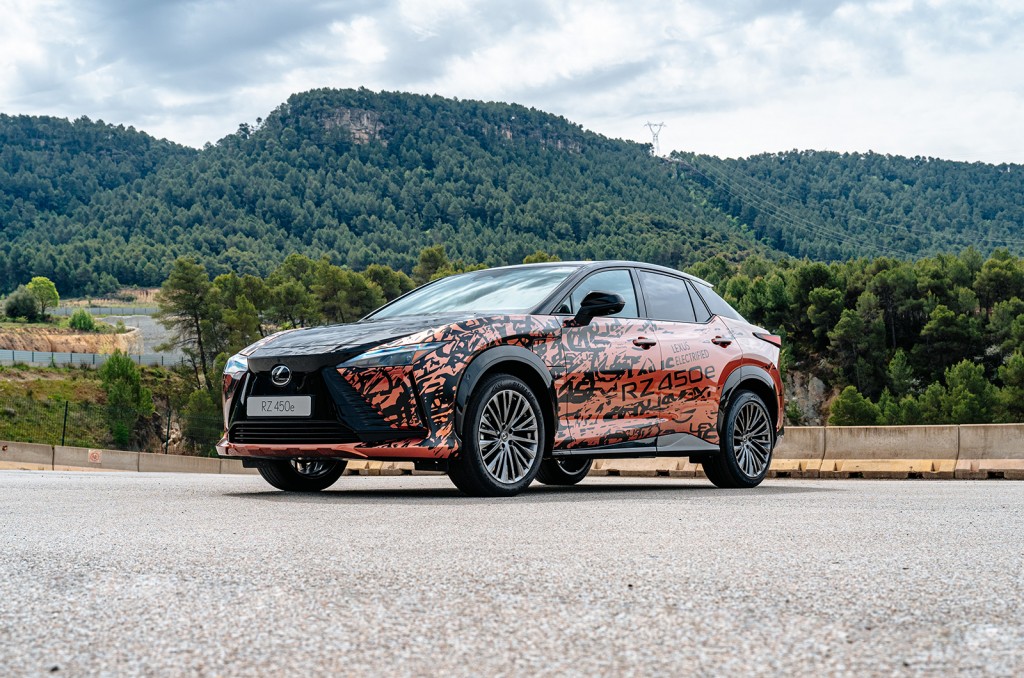 Clearly, it's going to be an acquired taste, and will take some adjustment. In tighter corners the reduced steering ratio meant we often turned in more sharply than required. But as you learn to temper your efforts and inputs so it became easier to manage.
It was a bigger adjustment at slow speed on the traffic cone-lined autotest-style handling course. Navigating the route in the 'regular' RZ 450e required some athletic twirling of the wheel and considerable effort to apply enough lock to make it round each turn.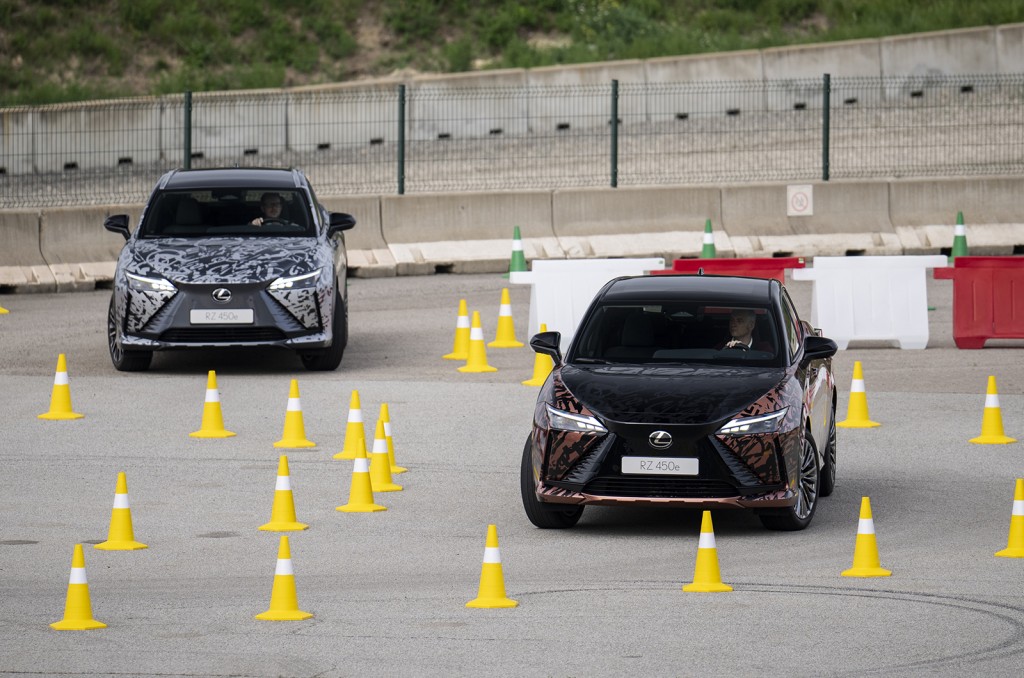 In the steer-by-wire car, by contrast, we actually had the opposite problem. Our natural instincts meant we often turned more tightly than was required, and we actually found ourselves clipping the cones on the inside of corners your brain told you should be a struggle to navigate.
The system does has a few foibles – and it's worth noting that Lexus engineers are very much still fine-tuning it (they were quick to jump on Move Electric to source some feedback for that purpose). Turn in too fast at lower speeds and it can unsettle the ride a bit, and if you change direction in a hurry you can detect a little bit of lag that doesn't happen with a standard connection.
A brief outing on a low-grip skid pan course showed the system does aid the control of the car, although the steering can become very heavy when you have to rapidly apply opposite lock. Still, it was definitely encouraging, and with a little more time to adjust we suspect the strengths would shine through even further. It definitely feels well suited the the RZ 450e's refined, relaxed nature.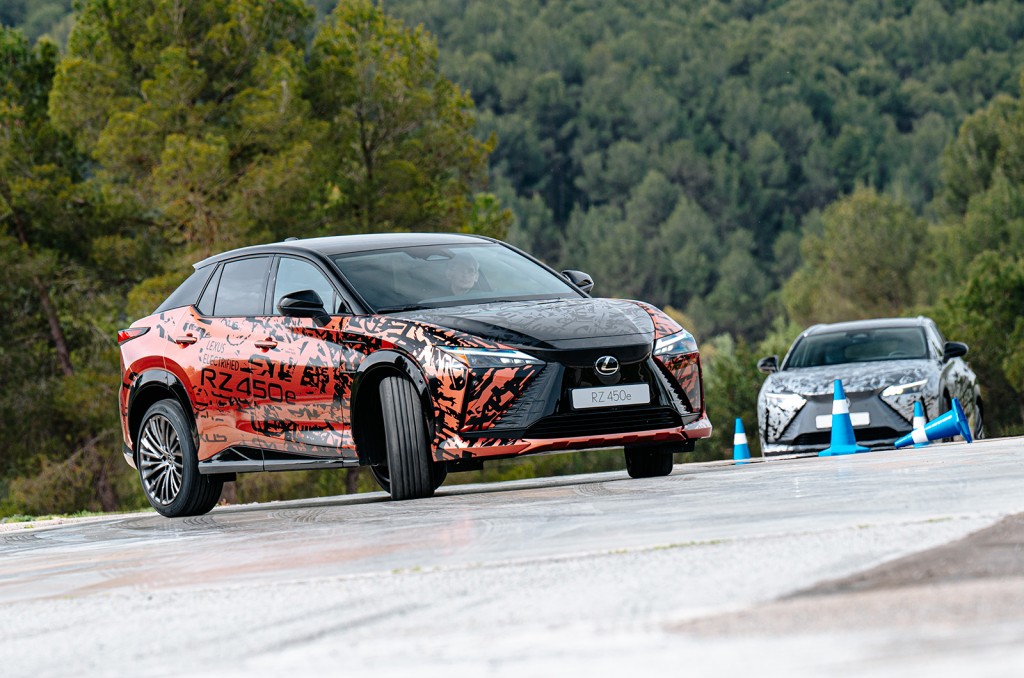 Any other benefits to the system?
Well, Lexus also likes the yoke because the smaller steering controller helps to improve visibility for the driver. The dashboard of the RZ 450e is styled along the Japanese concept of Tazuna, which roughly translates as the reins used to control a horse. 
What that means in practice is that the instrument panel has been set lower than is usual in cars, so it sits in your eyeliner just about the controller. Predictably the layout works a bit better with the yoke than with the regular wheel, which seems a little odd given three-quarters of buyers are expected to opt for traditional steering. Still, the controls are clear and once you've learned where everything is it's a decent layout.
Elsewhere, the interior feels suitably premium, with some nice touches and materials and a large 14in touchscreen on the dash. Given our brief running we didn't have much time to experiment with it, but it's clearly a step forward on the infotainment system offered on earlier Lexus models. 
The system also features over-the-air updates and connectivity, along with Apple CarPlay and Android Auto compatibility. There's plenty of other interesting tech in the cockpit too, including a driver attention monitor, radiant knee-level heaters designed to be more efficient than traditional versions and doors that feature blind spot monitors to prevent you opening them if the car detects a vehicle or cyclist approaching.]
Verdict
Clearly, it's too early to draw any definitive conclusions: we completed just a handful of laps in prototype cars and didn't get near a public road. The RZ 450e won't even go on sale until much later this year, with deliveries beginning in early 2023. If you want the steer-by-wire system, you'll have to wait until near the end of next year.
But the signs are encouraging that the RZ 450e will be firmly in the pack of premium electric SUVs. We'll have to wait until we know more about pricing – nothing is confirmed, but we'd expect it in the region of £60,000 – but the machine should offer a genuine alternative, especially if you opt for the steer-by-wire system. It works well in practice, and we're already intrigued to spend more time trying it. It could give the Lexus a true point of difference in a crowded field.