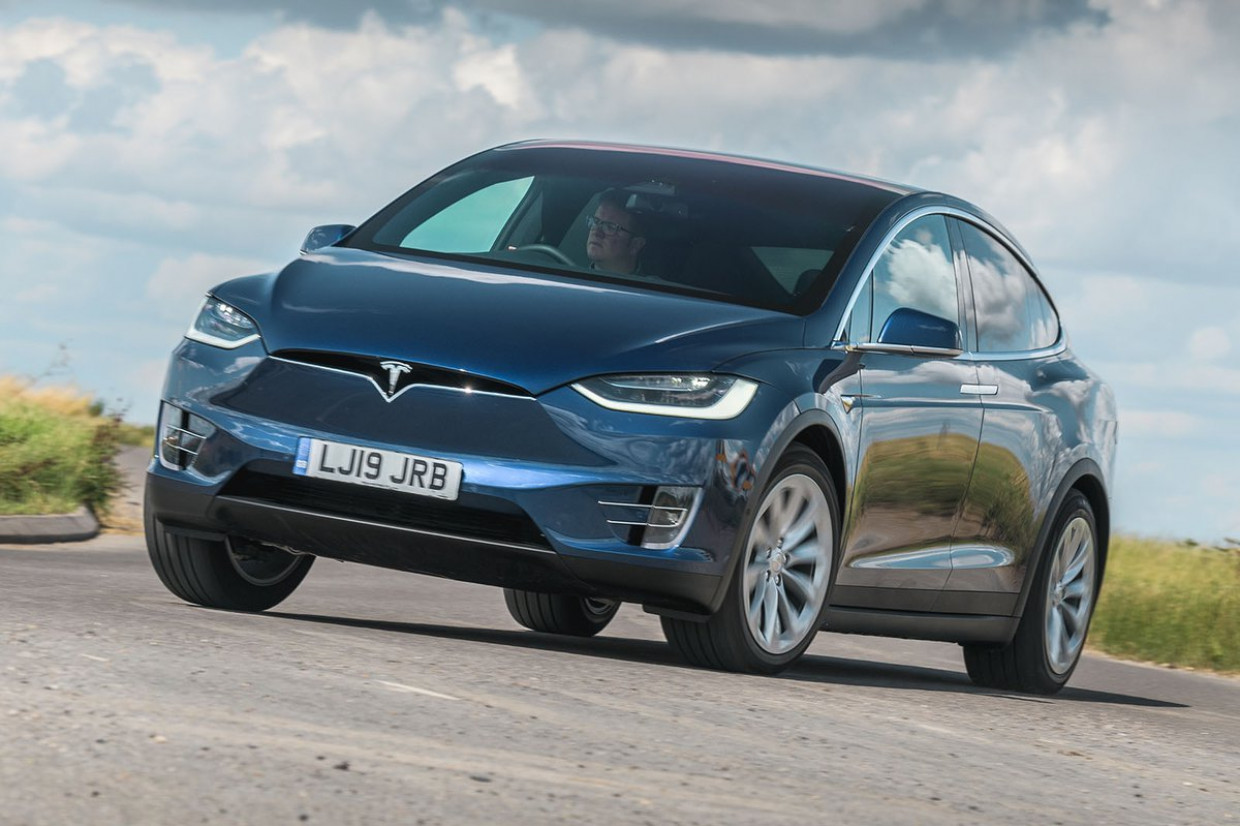 Move Electric verdict: four stars out of five
Sell it to me in a sentence…
With a vast interior and gullwing rear doors, the Tesla Model X is a hugely spacious and versatile large SUV that's also incredibly fast and packs an excellent range; and if you're in the market for an upmarket seven-seat EV, then it's essentially in a class of one. And did we mention it has gullwing doors? (Okay, that's two sentences).
Gullwing doors? Tell me more.
Yep, that's right the Model X has a pair of large, powered gullwing (or Falcon wing in Tesla-speak) rear doors that not only look incredible and never fail to fire-up conversations, they also provide easy access to the car's very roomy seven-seat interior.
Yet there's more to the Model X than those doors. The brand's first ever SUV it promises to package the company's trademark technology and performance into a practical, go anywhere machine. It's not only versatile, it's a doddle to drive and, thanks to the brand's Supercharger network, easier to live with than most.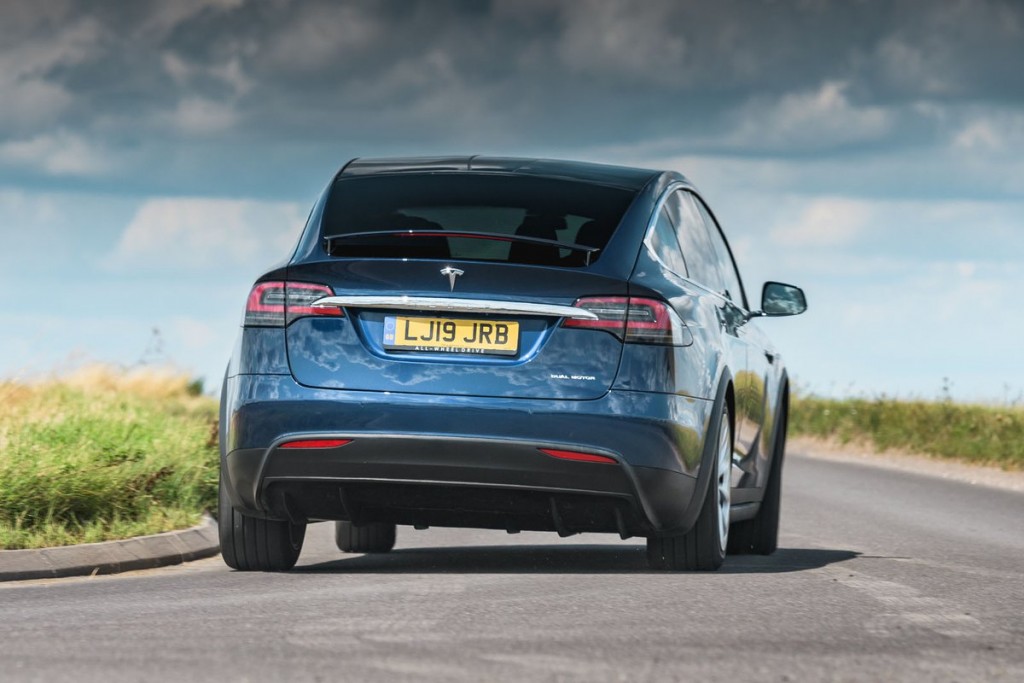 You've got my attention. What are the highlights?
We've told you about the gullwing doors, haven't we? Okay, well let's start with the interior, which is really rather roomy. 
You can opt for either a five, six or seven seat layout with the Model X, and in all iterations there's plenty of space to go around. Those sitting in the third row seats, which fold in and out of the boot floor, have slightly less leg and headroom than the others, but there's still enough room for adults, even on slightly longer journeys. Better still, the middle row slides and reclines, allowing you to tailor the space to suit your needs.
You won't be wanting for storage either, as there are numerous cupholders, cubbies and lidded boxes in which to throw the endless odds and ends that families trail around with them. And you'll be able to keep all passengers happy and connected as there are enough USB-C sockets with every seat, helping to keep even the grumpiest teenager happy (not that they'll admit it).
And of course those gullwing doors (sorry) make getting in and out a doddle. Not only is the opening wide, but they need just 27 centimetres of space at either side of the car, making them a real boon in tight spaces.
Crucially for a family car, the Tesla is easy to drive. It's very fast when you're in the mood, but most of the time it's effortless and easy-going. The steering is quick and direct, visibility is good and you sit up high and, despite its size, the Model X is simple to place on the road.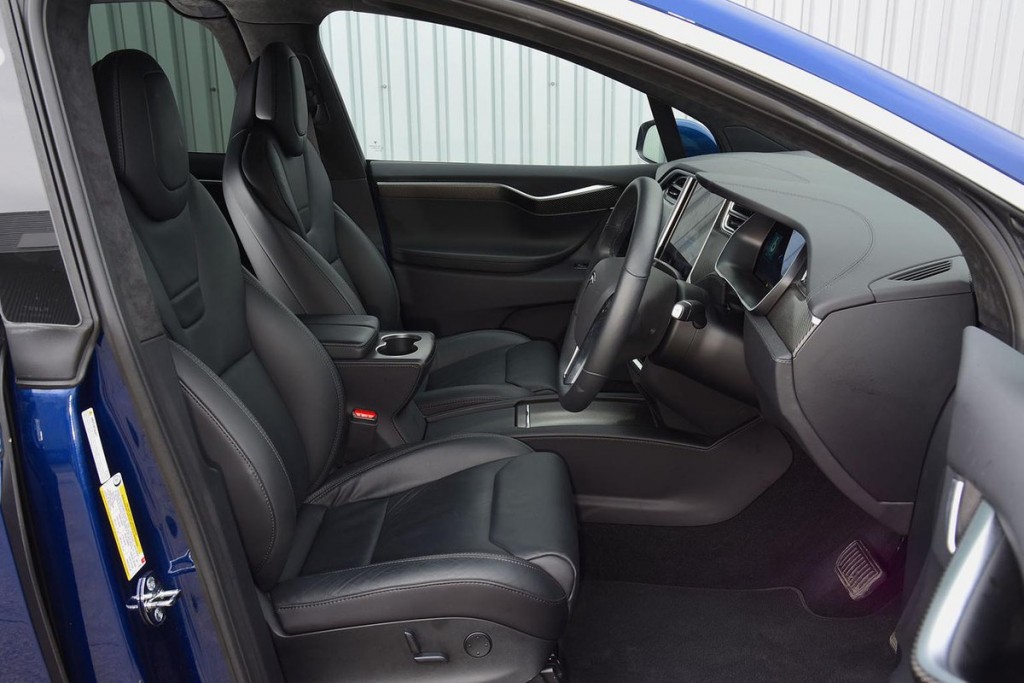 Standard air-suspension also makes it very comfortable, the Tesla floating serenely over most bumps, keeping the worst of the outside world at bay and your heart rate nice and low.
Further stress relief comes in the form of the range, which is rather better than most of its SUV rivals, plus the fact you have access to the brand's Supercharger network for quick and easy battery refills.
I've heard Teslas go far on a charge, what are the numbers like?
Like the Model S saloon, the Model X uses a large 100kWh battery, which in combination with its surprisingly good aerodynamics and low (for its considerable size) weight helps the Tesla travel further on a charge than you'd think.
So, the standard car with two motors (one for the front wheels and the other for the rear, making the Model X four-wheel drive) claims to run 348 miles on a single charge, which in our experience means a real world estimate of over 300 miles.
For the top-of-the-range Plaid this figure is reduced to a promised 333 miles, which is understandable when you consider the battery has to feed three motors that deliver a whopping 1006bhp between them.
As you can imagine performance is ferocious, and it doesn't matter how many EVs you've driven full power in Model X will either leave you giggling like a maniac or a gibbering wreck. The standard car can zap from 0-60mph in 3.8 seconds, while the Plaid requires a breathtaking 2.5 seconds. Just take a moment to let that sink in - a seven-seat SUV that will leave most supercars gasping.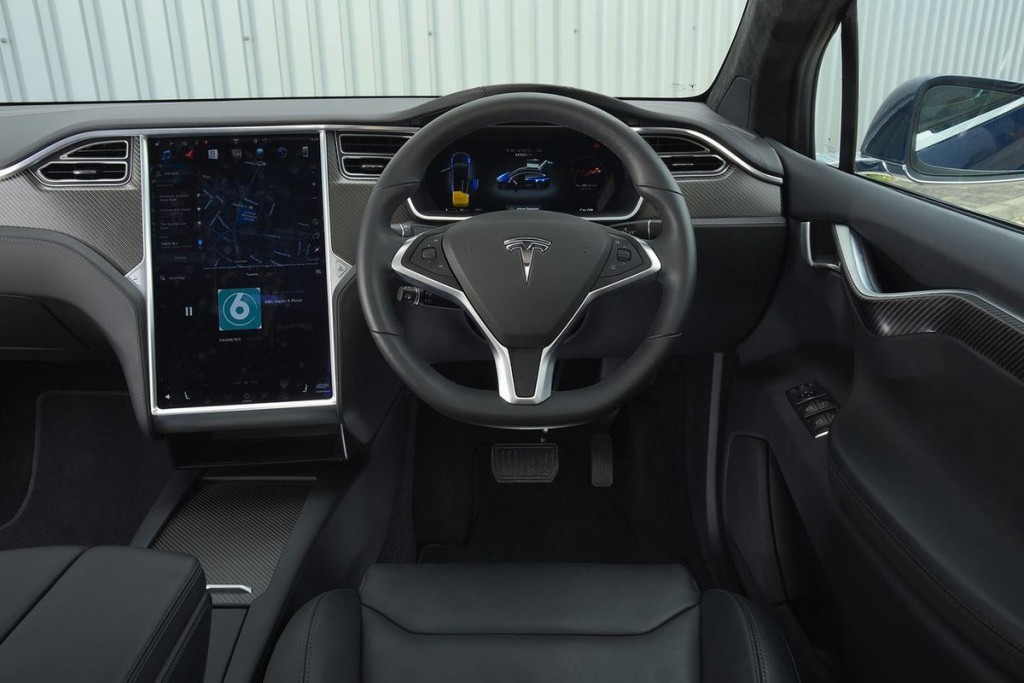 Obviously if you use all this performance you'll be needing to charge up more often, but thankfully that's not too much of a hassle with the Tesla. Use the 7kW Tesla domestic wallbox and you'll need 14 hours for a full charge, but use the brand's Supercharger network when you're out and about and you can have 80 percent charge in as little as 30 minutes.
However, as with the Model X, keep in mind that you'll need to use a special adapter to use the CCS cable on the firm's latest V3 Superchargers, as well as those or third party suppliers, such as Ionity or Gridserve.
The Supercharger network, why is that so great?
This is essentially the brilliance of the Tesla offering, because it's not just selling you a car, it's providing a whole charging infrastructure to go with it. Usually found at motorway service stations or on major routes, these rapid chargers are for the exclusive use of owners of its cars. 
Better still, unlike rival providers there are multiple units at each location, meaning that you often can plug straight in without having to wait for a charger to become free . Bear in mind, however, you'll need to purchase a CCS adapter if you want to use Tesla's latest V3 Superchargers, or use a rapid charger from any other provider, such as Ionity or BP Pulse.
When the network first launched the chargers were also free to use, but the rapid rise in Tesla ownership forced the company to start charging, although you'll still pay less than most other rapid chargers.
Tesla's famed for its technology, does the Model X deliver?
It certainly does. In fact there's so much tech it's difficult to know where to start. Let's begin with the infotainment, which uses a vast 17-inch high definition touchscreen that sits in the otherwise minimalist interior (there's a small display ahead of the driver for speed and driving info, but that's about it for the dashboard). It looks overwhelming at first and requires a bit of practice to use, but it's so large that you'll actually find operating it easier than you think.
There are multiple wireless phone-charging ports, plus another screen in the rear for passengers that is linked to a harddrive with 10 teraflops (no, we're not sure either, but it's a lot) of processing power for console standard gaming on the move, if that's your thing.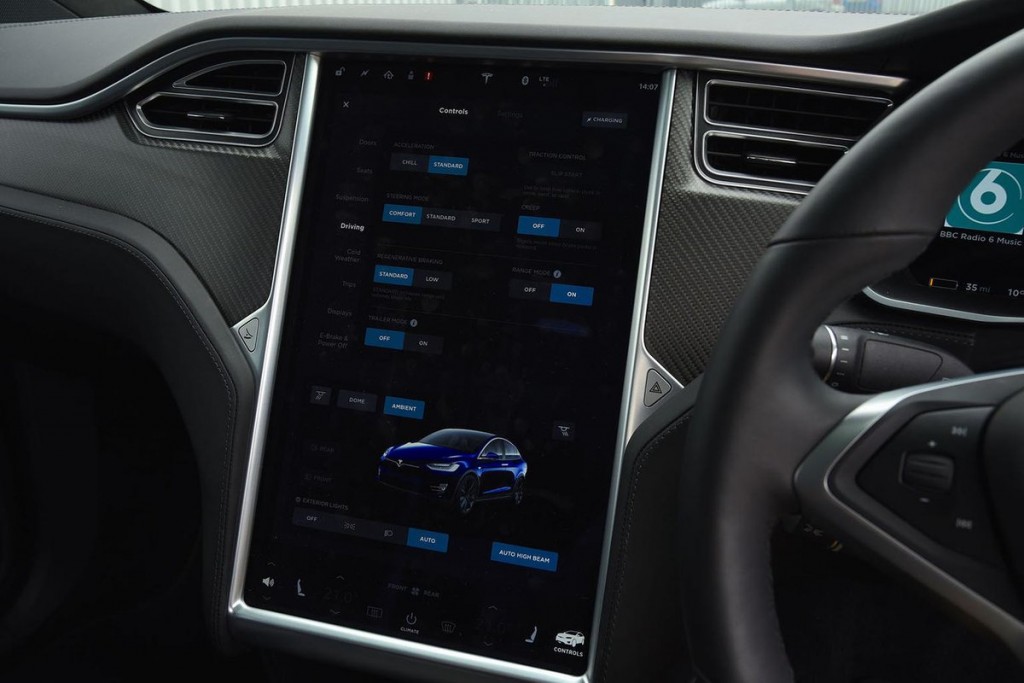 This technology extends to safety too, with numerous driver aids, including the Autopilot feature which will automatically steer, accelerate and brake the car on the motorway. You can also remotely park the car from the outside, particularly useful for tight spaces or a smaller garage.
This is all rather glowing, there must be some niggles?
Well yes, I'm afraid it's not all good news, but in fairness our gripes are fairly minor in the grand scheme of things. 
Saying that, a starting price that's north of £100,000 is hard to stomach, even for an EV with this spread of talent. Yet if you want a car that can do what it does and you have the means, then it remains the only game in town.
And while the Model X is stageringinglg fast in a straight line it's not the most thrilling to drive the rest of the time. As with the Model S it's easy to drive with accurate steering and strong grip, but the controls are rather light and lifeless and the Tesla is better suited to cruising than carving up your favourite back roads. 
Oh, and take its SUV status with a pinch of salt, because the Model X doesn't really have the ground clearance or off-road drive modes to head much further off the beaten track than a gravel driveway.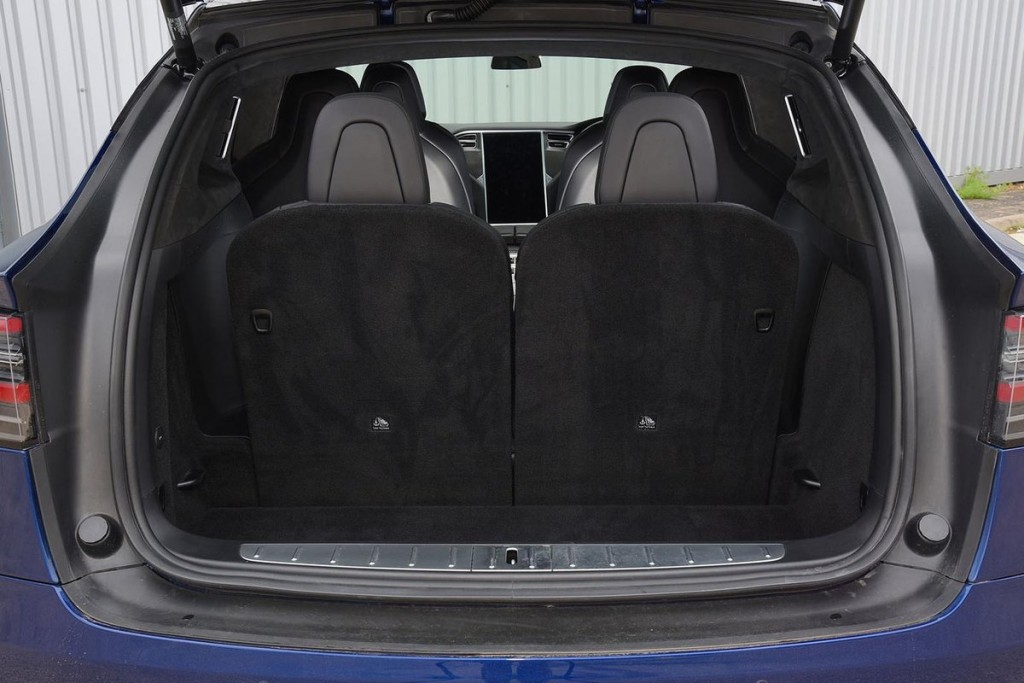 Like other Tesla models there's also a question mark over build quality, which still trails the best premium brands. The materials feel more upmarket these days, but the fit and finish is still a bit patchy.
Verdict
In terms of its range, space and seven-seat versatility the Model X is unrivalled. It's also stupendously fast, packed with technology that'll bring a smile to your face and backed by the brilliant Supercharger network. By gum it's pricey though.
Tesla Model X specification
Price from: £102,980
Motors: Electric permanent magnet synchronous
Gearbox: Automatic
Driven wheels: four
Maximum power: 1006bhp
Maximum speed: 186mph
0-62mph from 2.5 to 3.8secs
Electric range (official) 333-348 miles
CO2 emissions: 0g/km
Tyres from: 265/50 R 19
Kerb weight: 2459-2487kg
Height: 1684mm
Length: 5042mm
Wheelbase: 2965mm
Width with mirrors folded: 1999mm
Maximum boot capacity: 2487 litres
Rivals
READ MORE
e-CARS
e-BIKES
e-MOTORBIKES
e-SCOOTERS