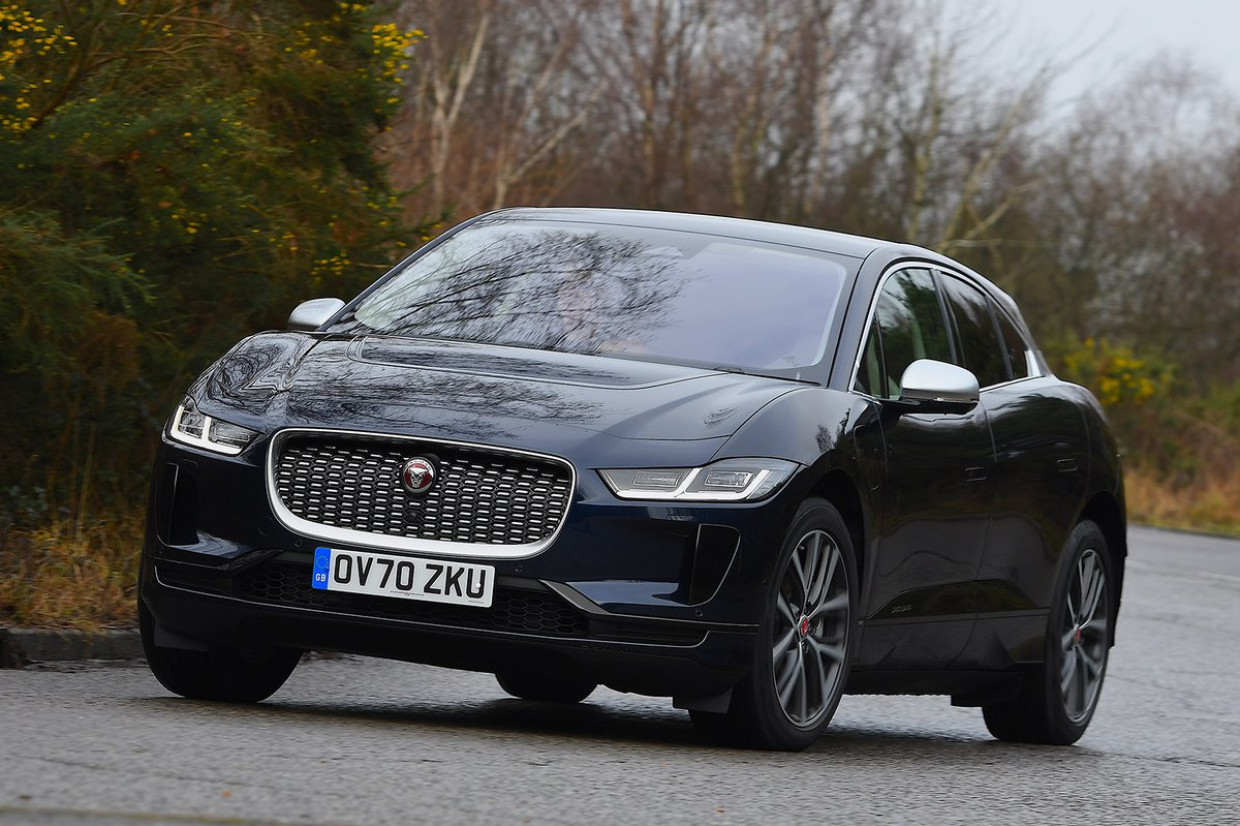 Move Electric verdict: four and a half stars out of five
Sell it to me in a sentence….
The Jaguar I-Pace is a large and luxurious SUV that looks great, is brilliant to drive and packs a long range; and while it's not exactly cheap to buy, it does feel like it's worth every penny.
Sounds promising, let me know a little more
Jaguar has a reputation for building rather sober-suited luxury saloons and unrepentant gas-guzzling sports cars, so its decision to launch an all-electric SUV came as something of a surprise. Not only that, it also beat rivals such as Audi, BMW and Mercedes to the punch, being the first established premium car maker to deliver a rival to Tesla, which up until that point had  the high-end EV market pretty much to itself.
Better still, the sleek and futuristic I-Pace looks like no other Jaguar, plus it's still one of the best cars of its type you can buy - rivals are closing in, but few can match the British machine's blend of talents.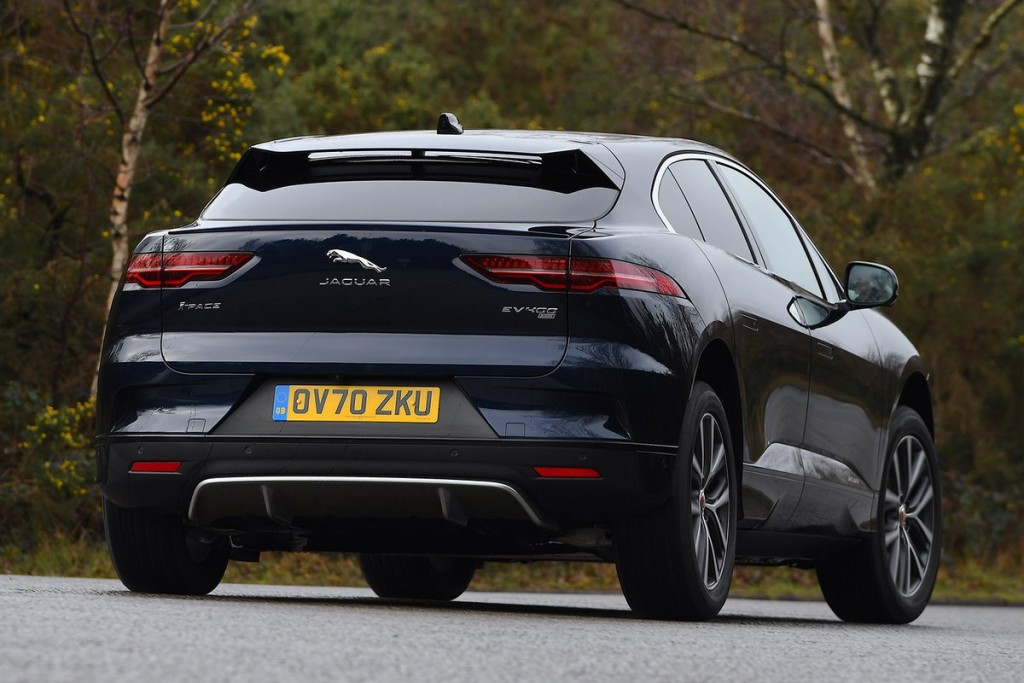 Okay, I'm hooked. What are the standouts?
To be honest there's so much that's good about the I-Pace that it's difficult to know where to begin, but let's start with the driving experience. Even if you've driven other EVs, the Jaguar will likely leave you with a bigger grin on your face.
It's a big car, the Jaguar, but it only takes a few miles behind the wheel before you've forgotten about its size. With its quick steering and carefully honed suspension it feels much more agile than you'd imagine possible, darting through corners with the poise and precision of something much smaller and sportier. 
Yet as with Jaguar's fossil fuel-powered models the I-Pace manages to combine this fun with relaxing comfort when you just want to take it easy. It's two electric motors (one for the front wheels and one for the back, making the car four-wheel drive) deliver their power smoothly and silently, while the clever adaptive suspension soaks away bumps leaving you and your passengers unruffled by even the most battered and pothole-peppered roads.
We think it looks great too, its ultra modern lines making it appear as if it's just driven straight off the designers drawing board. The Jaguar was engineered from the ground up as an SUV (there's no internal combustion version available) and It's blend of rakish SUV body and high-riding SUV stance looks as fresh today as when it was first revealed in 2017. In fact, it's telling that when Jaguar updated the car in 2020 they left the head-turning looks alone.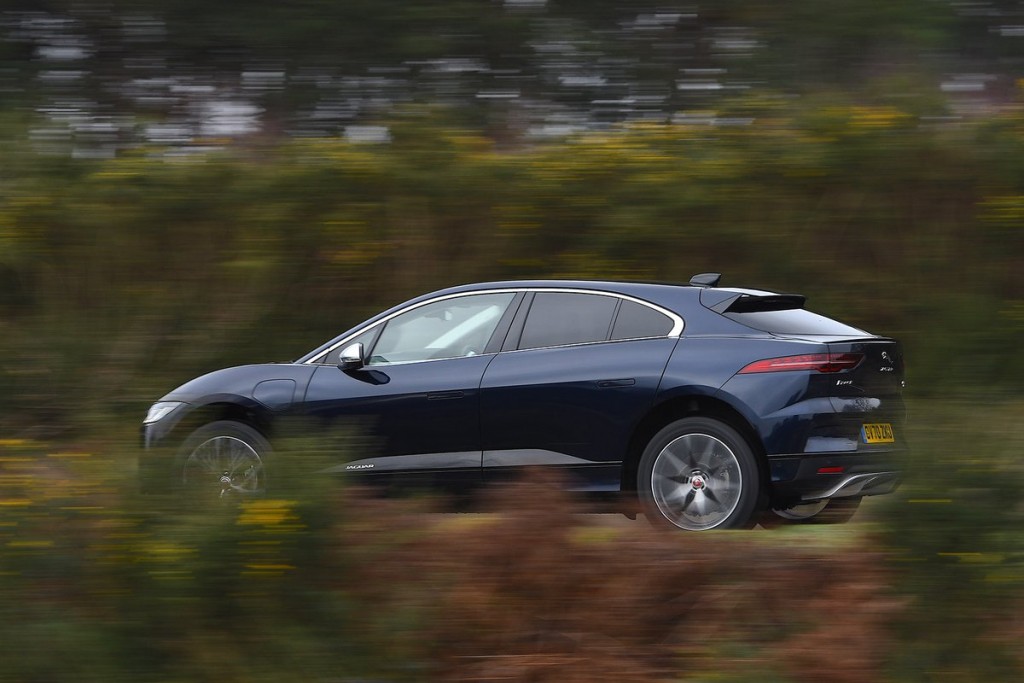 There are sensible reasons to love the Jaguar too. Despite those stylish exterior looks it's actually spacious and practical inside, plus it features a big battery that packs enough energy to banish your range anxiety with a single charge.
Ah, the numbers. Give me some electric stats and facts
When it was launched four years ago the Jaguar's 292 miles range was one of the best there was, and even now it's still very competitive. Yes, some newer rivals such as the Tesla Model X, Polestar 2 and Ford Mustang Mach-E  can go further on a charge, but the truth is that the I-Pace gives you enough flexibility to undertake even longer trips without fearing you are going to be stranded by the roadside with a flat battery.
The I-Pace achieves this impressive range thanks to  the use of a large 90kWh lithium ion battery, which is placed under the car's floor (keeping the weight low and central, helping deliver the car's impressive agility).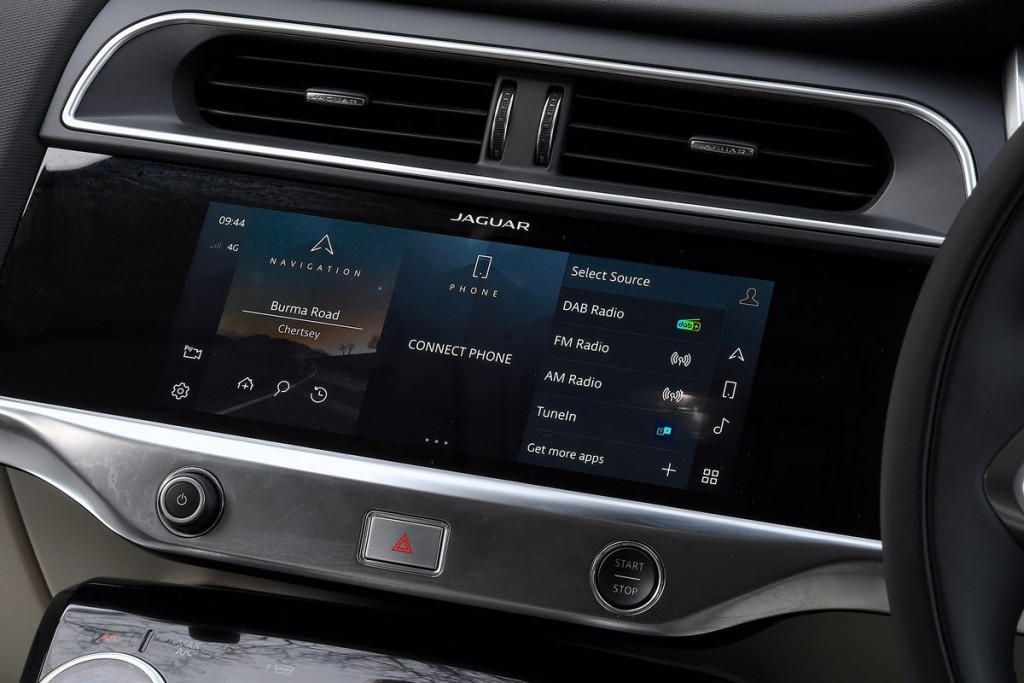 Obviously a bigger battery means longer charge times, but in its recent facelift Jaguar ditched the original 7kW onboard charger and replaced it with a 11kW item, meaning you can charge the I-Pace using a three-phase supply if you have access to one. You'll still need around 13 hours to fully replenish the batteries using a domestic 7kW wallbox, but with an 11kW or 22kW feed this time is reduced to just under nine hours.
Of course, the Jaguar is also capable of rapid DC charging using a CCS connector. Find a 50kW unit and your battery will be back to 80 percent within one and a half hours, while if you're in a bit of a hurry then a 100kW charger can reach the same state of charge in just 40 minutes. 
Speaking of speedy delivery, there's only one power option for the I-Pace, but at 394bhp it's a fairly substantial one. Again, if you've driven EVs then you'll be used to their instant performance, but the I-Pace's explosive acceleration is still likely to come as a giggly shock. 
With four-wheel drive traction from those two motors the Jaguar can blast from 0-62mph in a breathtaking 4.8 seconds, which is fast enough to leave more than a few owners of bona fide sportscars looking a little red faced.
Aren't Jaguar's meant to be luxurious?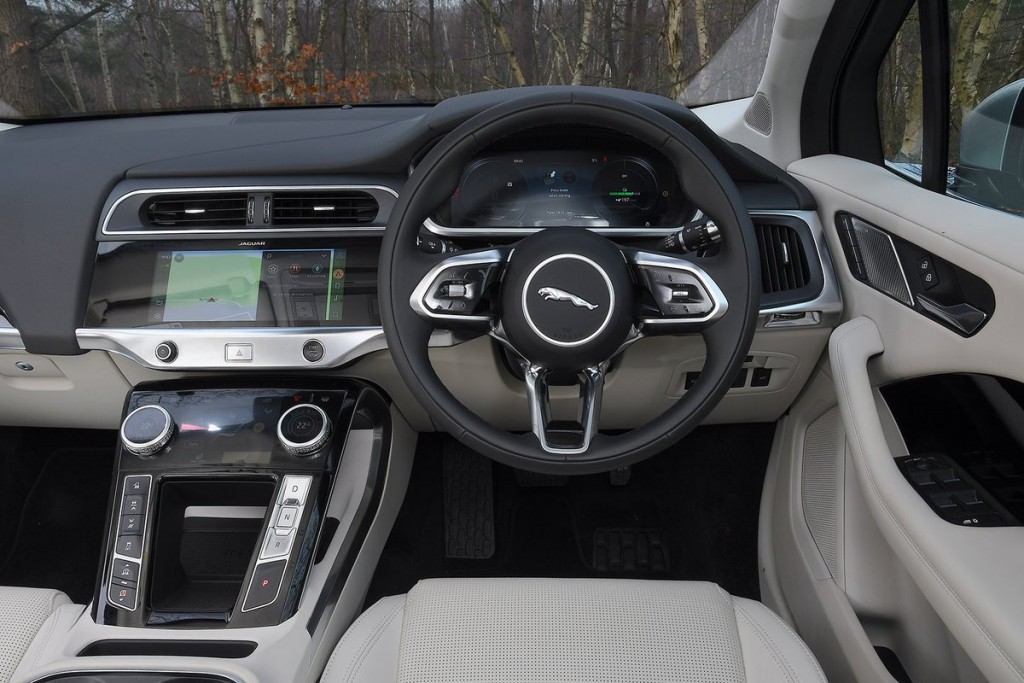 We touched upon the I-Pace's cosseting interior earlier, but it's worth looking at in more detail. As with the exterior, Jaguar has gone for bold inside, giving the car a fresh look and hi-tech feel.
For starters, there are crisp digital instruments and slick touch screens everywhere you look, giving the light and airy interior a futuristic feel. Yet while it all looks very Dan Dare, it works remarkably well, the Pivi-Pro infotainment being a real highlight. Not only is it easy to operate, it boasts crisp graphics and benefits from over-the-air updates, meaning you always get the latest apps and features.
Jaguar hasn't forgotten its roots, however, as there are plenty of luxurious materials to help create a real club class atmosphere. Soft leather covers the seats and dashboard, while cool metal or warm wood trim inserts can be added to add that personal touch.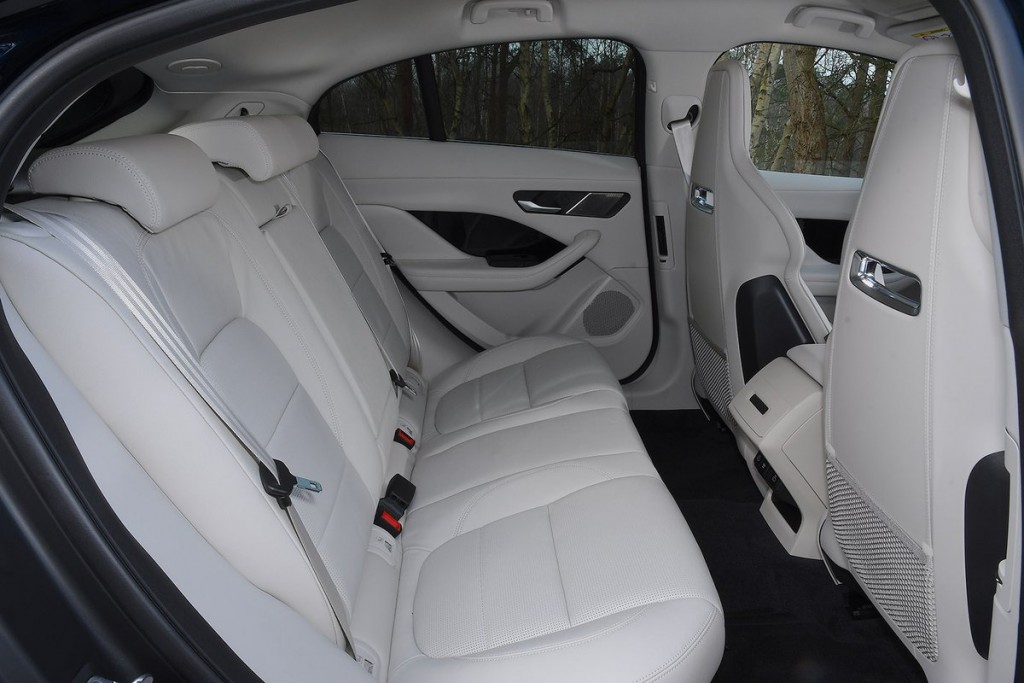 It's spacious too, and despite that stylish sloping roofline those sitting in the back get surprising head and legroom, plus loads of handy storage and more USB chargers than you can shake a smartphone at. Speaking of which, the I-Pace is lavishly equipped, even the entry-level S model. In fact, it'd probably be easier to list what it doesn't have rather than what it does.
A practical hatchback boot makes loading large items easier, while the load area itself is a generous 505-litres, which can be extended by folding the rear seats. And no internal combustion engine under the bonnet means there's a handy 'frunk' (no, we don't like the term either) for throwing in shopping bags or the charging cables.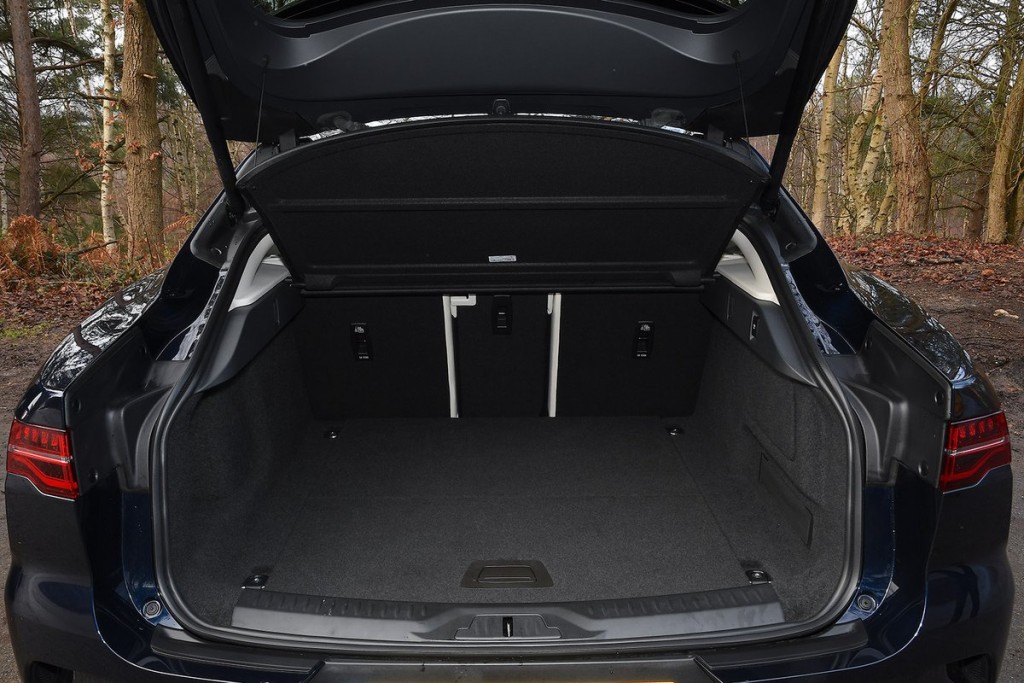 Come on, there has to be a catch?
Truth is, there really isn't. Yes, the I-Pace isn't cheap with prices starting at £65,245, but the premium opposition is invariably pricier, plus Jaguar usually has some tempting finance deals to make the I-Pace more affordable (think chunky deposit contributions and zero percent APR). 
If anything hobbles the Jaguar then it's the current pace of EV change. It's battery size and range are competitive now, but each day new rivals are appearing with more energy and stamina. And the ability to charge at a maximum of 100kW is starting to look a bit old hat in a time when you can find 350kW chargers and models with high power 800 volt architecture that can make use of them.
I'm about to put down a deposit, but are there other cars I should consider?
In the four years since the I-Pace went on sale it's gone from a class of one, to one of many. An Audi E-tron Sportback offers the same coupe SUV vibes, but isn't as entertaining to drive, while the Mercedes EQC is bigger and more comfortable yet looks a little dull next to the I-Pace.
If you fancy the look for less, then the Polestar 2 is worth a punt, particularly the 402bhp four-wheel drive model that matches the Jaguar for eye-widening performance. Or how about the Ford Mustang Mach-E? It feels a lot less luxurious than the I-Pace, but it drives well, has plenty of space inside and will travel further on a charge.
Verdict
One of the original large premium SUV EVs, and arguably still one of the best. There are rivals that can travel further on a charge or carry more people and things, but none is as fun to drive, comfortable and easy to live with as the Jaguar. It also still looks as sharp as the day it was launched.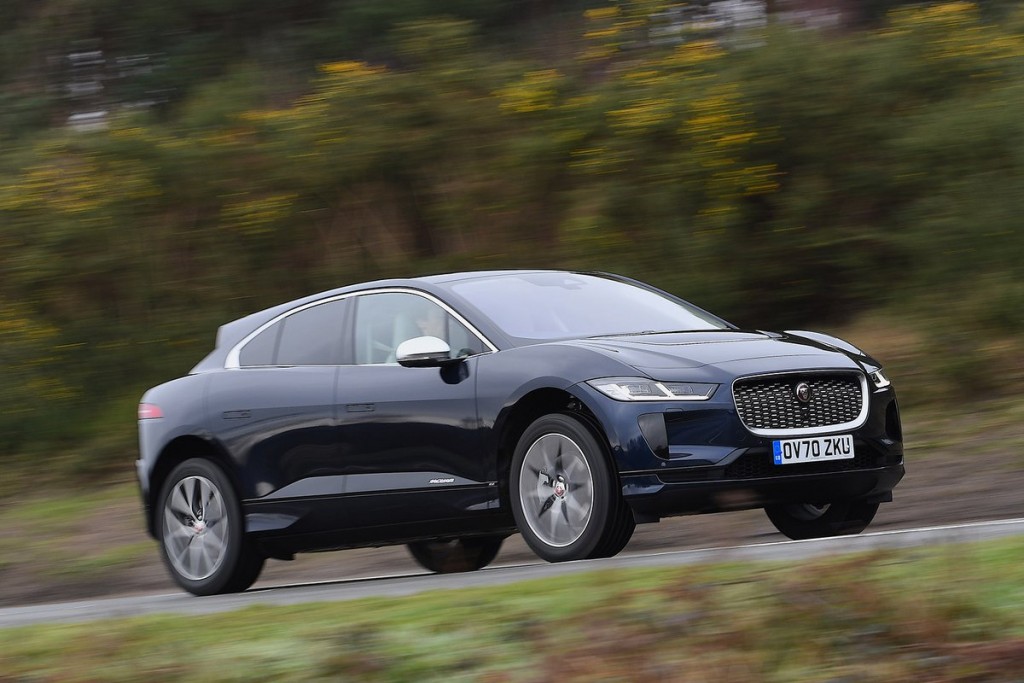 Jaguar I-Pace specification
Price from: £65,245
Motors: Electric permanent magnet synchronous
Gearbox: Automatic
Driven wheels: four
Maximum power: 394bhp
Maximum speed: 124mph
0-62mph from 4.8ses
Electric range (official) 292 miles
CO2 emissions: 0g/km
Tyres from: 255/40 R 19
Kerb weight: 2208kg
Height: 1565mm
Length: 4682mm
Wheelbase: 2579mm
Width with mirrors folded: 2011mm
Maximum boot capacity: 505 litres
Rivals 
BMW iX3
READ MORE
e-CARS
e-BIKES
e-MOTORBIKES
e-SCOOTERS