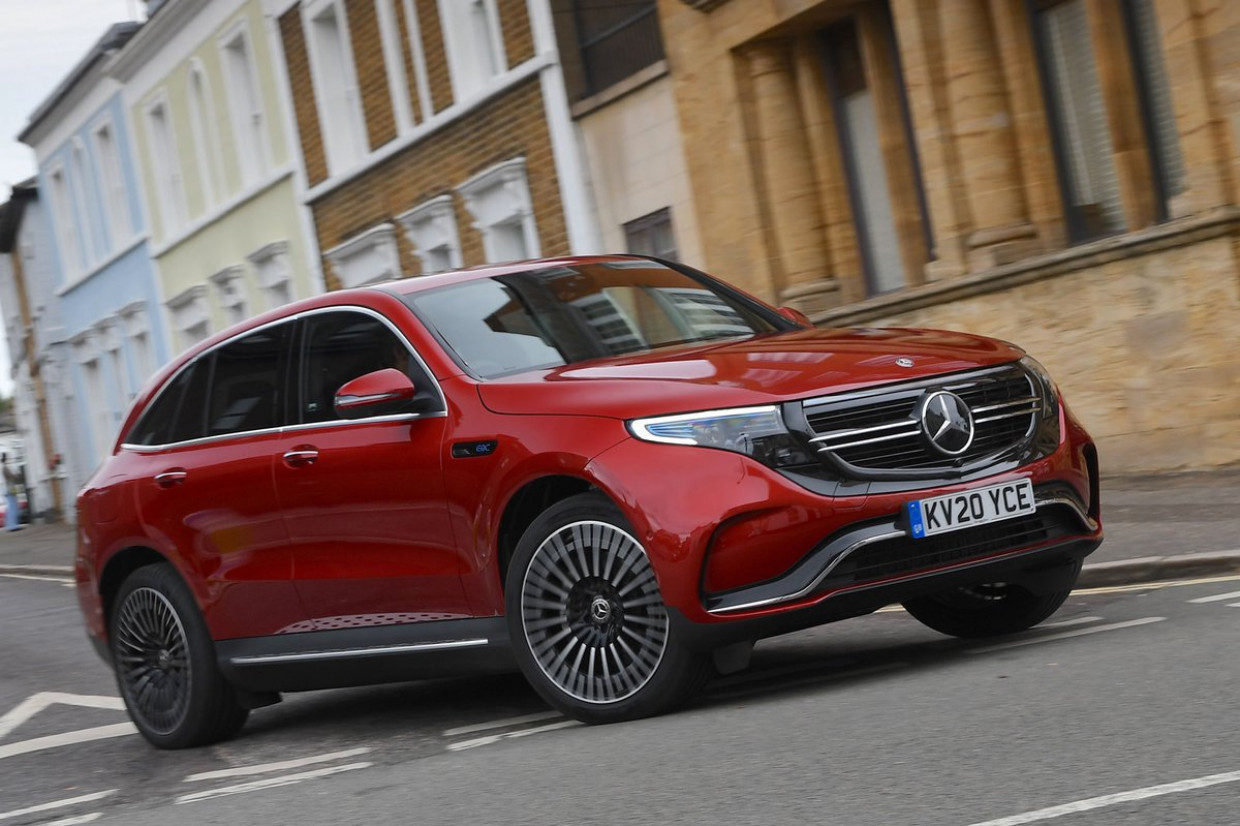 Move Electric verdict: three stars out of five
Sell it to me in a sentence….
The Mercedes EQC is a large premium SUV that uses the smooth and silent benefits of electric power to brilliant effect, delivering supreme comfort and refinement in a handsome and practical package.
Okay, tell me more
Mercedes has dabbled with electric vehicles in the past, its A-Class E-Cell being its first effort over a decade ago, but the EQC 400 4MATIC (to give the car its full name) is the company's first full production effort. Since it made its debut around 18 months ago Mercedes has added three more EVs to its price lists (the EQA, the EQS and the EQV), with two more models on the way, so it's fair to say it has the electric car bug.
However, as with the similarly-sized Audi e-tron, the EQC has been designed not to scare potentially nervous first time EV buyers off, so it looks very much like one of the brand's existing internal combustion-engined SUVs. Yet underneath the typically imposing exterior is all the latest cutting edge technology that helps make the Mercedes one of the most desirable luxury SUVs (quite a lot of) money can buy, even if its range is no longer class leading.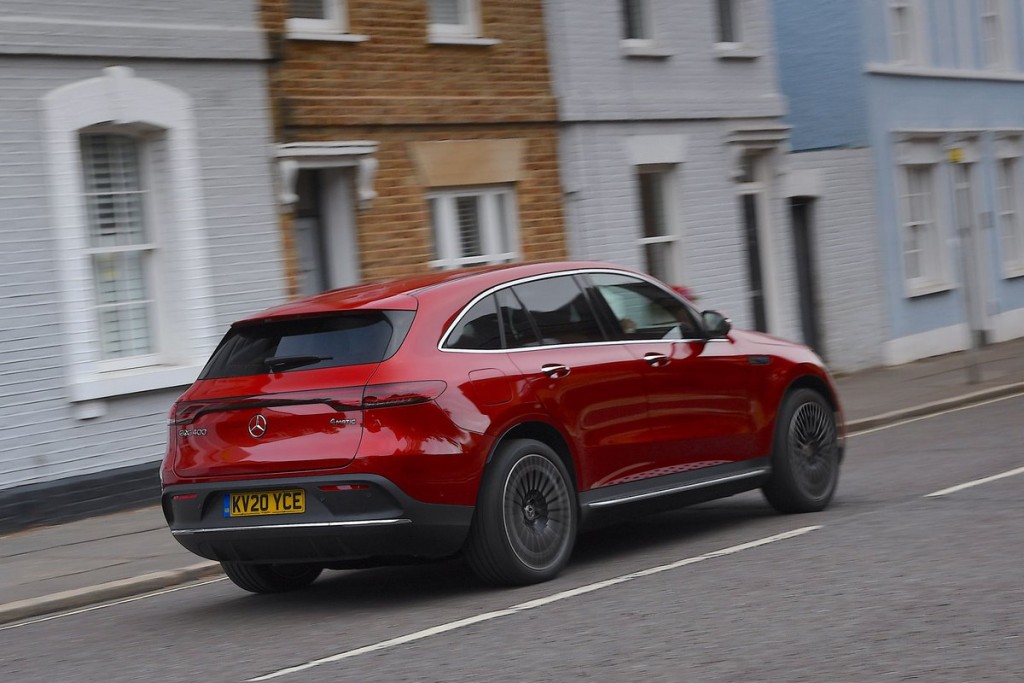 Let's have the highlights then
Even though the EQC has been designed to look as 'normal' as possible it certainly doesn't blend into the background; not only is it fairly large, it's also quite handsome, in a big SUV sort of way. Yet what most will notice are the full width illuminated grille at the front and the similarly wide rear lights. It's a bit garish, but also kind of cool.
Yet what really sets the Mercedes apart is its comfort and refinement, which help make it one of the most calming EVs to drive. Special adaptive air suspension helps the Mercedes waft over bumps and potholes, while excellent insulation and the near silent electric motors make it whisper-quiet on the move. On most journeys you and your passengers will likely arrive at your destination more relaxed than when you left.
That's not to say the Mercedes can't get your pulse racing if you want, because with 402bhp available from its two electric motors (one for the front wheels and one for the back, making the EQC four-wheel drive) it's performance is, ahem, electrifying. As with all EVs it responds instantly to the throttle, blasting away from standstill to 62mph in just 5.1 seconds, which is sportscar quick.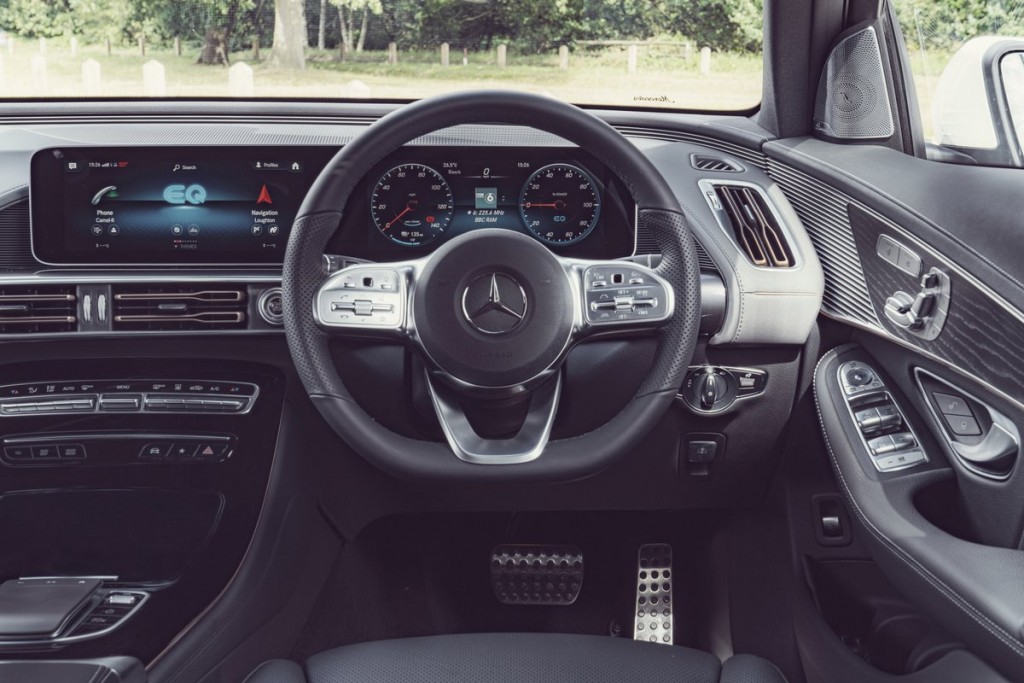 It's easy to drive too, despite being a big car, with precise steering and strong grip that inspires confidence. It's not as fun as the Jaguar i-Pace but it's still a surprisingly agile machine that feels as at home threading through city streets as it does tackling country roads or cruising motorways.
Like most EVs there's a regenerative braking function that slows the car sharply when you lift off the accelerator as it feeds electricity back to the battery. With the EQC, however, you can vary the amount the car slows quickly and easily by using the paddles mounted on the steering wheel to select from one of the five different levels.
You've mentioned the battery, give us some stats and facts
On paper the Mercedes 80kWh lithium ion battery looks a little weak-kneed compared to the competition, especially the e-tron which offers 95kWh in its most powerful guise. Yet the EQC uses its electricity carefully, meaning a claimed range of 255 miles, which is a three mile advantage over the Audi but nearly 40 miles shy of the Jaguar (admittedly it uses a 90kWh) battery.
Either way, our experience suggests that you can expect a real world range of just over 200 miles, which is just about enough to stop you staring nervously at the distance to empty display more than is healthy.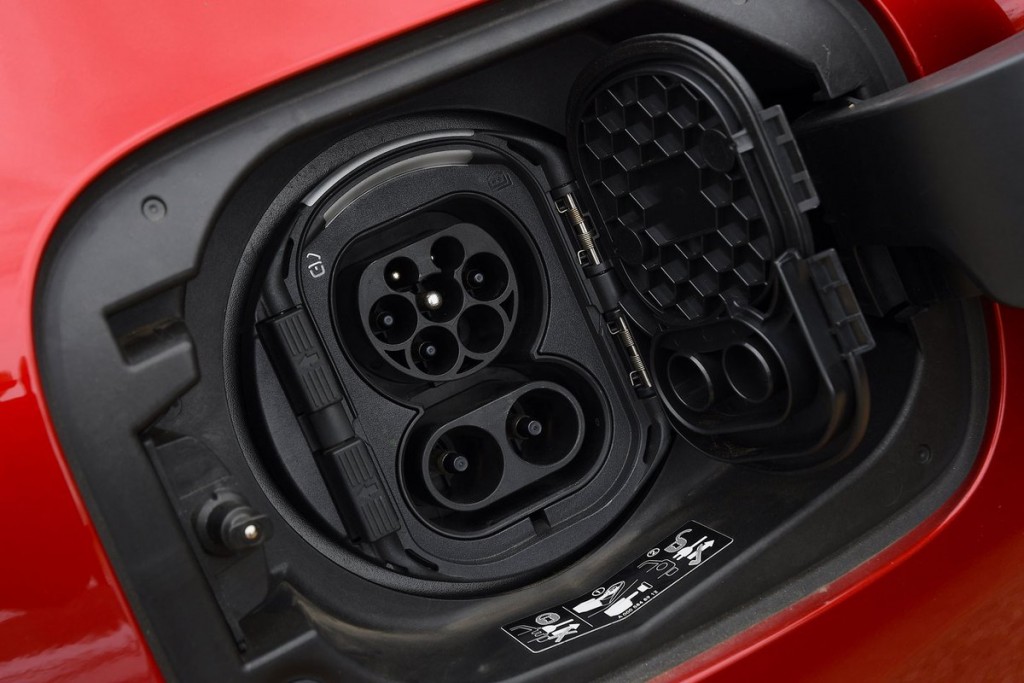 Replenishing the battery is fairly straightforward, although you'll have to remember to reverse up to any charging bays as the socket is placed behind a flap at the rear of the car just like the filler of conventional petrol and diesel machines. Use a 7kW domestic wallbox and you'll need a full 11 hours for a charge, but there's a standard 11kW onboard charger that will significantly reduce this time if you can find a rare rapid AC charger.
If you're really in a hurry, then the Mercedes can charge at up to 110kW on using a rapid DC CCS charger, with 80 percent capacity available in just 40 minutes. Better still, the car is available with the Mercedes me Charge service which is a single, centralised account that gives you access to over 300,000 charging stations across Europe and reduced rates on the ultra fast Ionity network.
It's an expensive car, but does it feel worth it?
It absolutely does. Mercedes has pulled out the stops with the EQC, which has the same lavish look and feel as the brand's famed S-Class luxury limousine. It's beautifully built and packed with top notch materials, with a choice of cool metal trim inserts or more traditional wood. Even the Artico man made leather looks and feels as sumptuous as the real thing.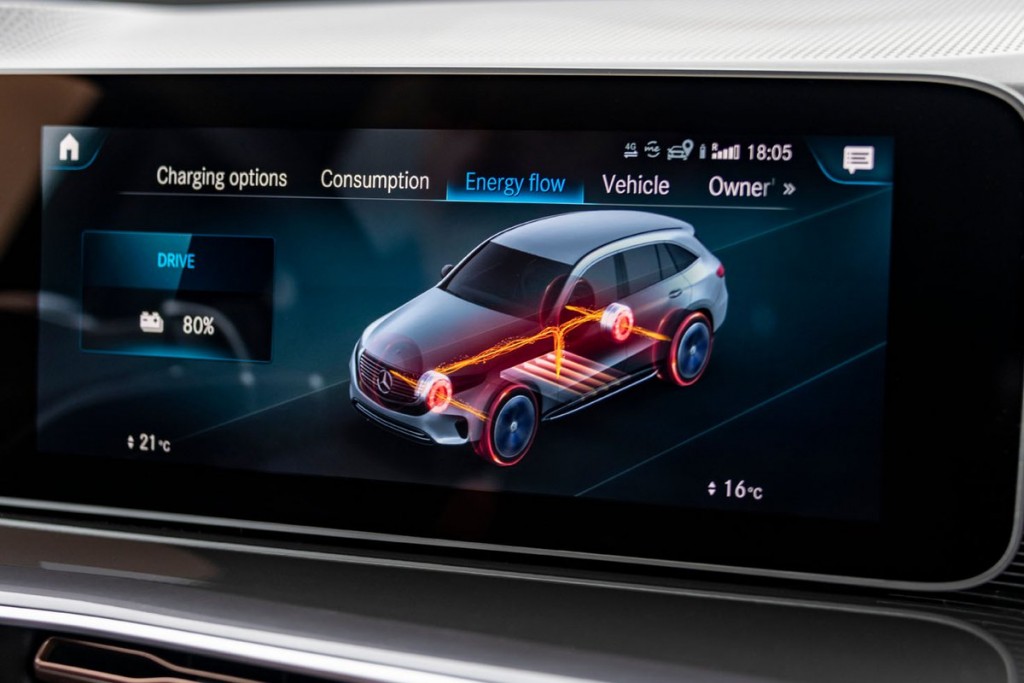 You're spoiled when it comes to standard equipment too, but the real highlight is the excellent widescreen infotainment system. Comprising a pair of slick looking 10.25-inch screens that nearly stretch the full width of the dashboard, this set-up not only looks great, it's easy to use and packed with features and connected services.
Yet the best bit is it's voice activation party trick. Simply say 'hey Mercedes' then tell the car what you want it to do, such as input a sat-nav destination or select a radio station. Tell the car you're a bit chilly and it'll turn the temperature up. Not only is it really cool talking to your car it works surprisingly well, rarely being tripped up by your requests.
Oh any of course the EQC is available with Mercedes' famed array of driver assistance systems. Numerous airbags are included as standard, as is autonomous emergency braking, but you can also add the Driver Assistance package that will effectively steer, accelerate and brake the car on the motorway.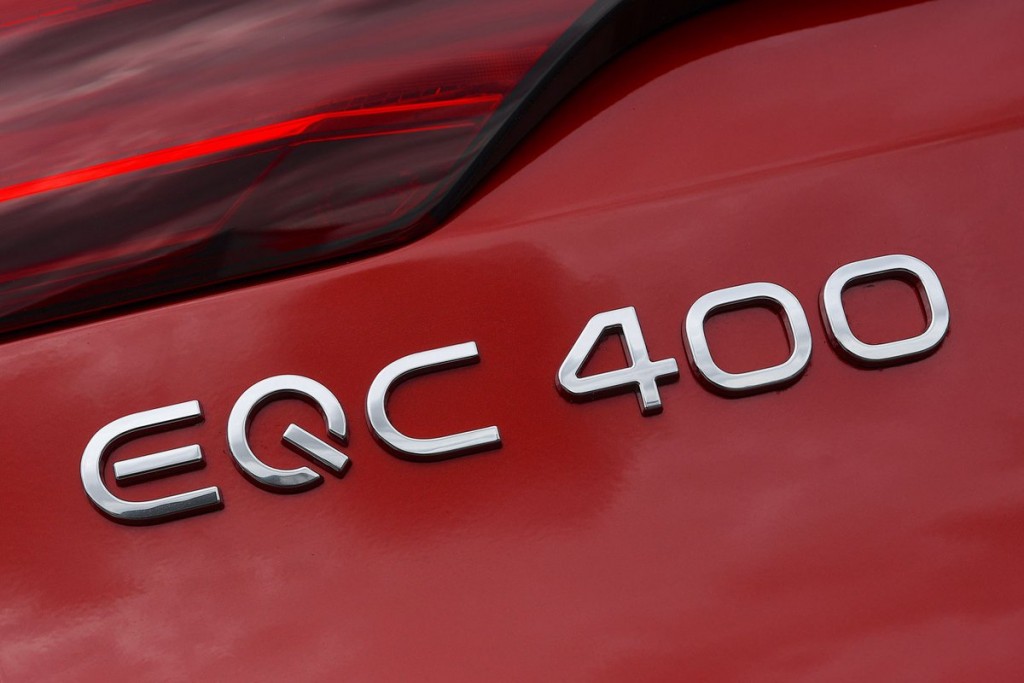 And what about space?
Weirdly, the EQC isn't actually as big as its imposing presence would have you believe, although you won't have much to complain about in the practicality stakes. It's actually only a little larger than the firm's GLC SUV and quite about smaller than the e-tron, although there's still plenty of leg and headroom for those sitting in the back, plus you're not short of storage for cups, phones and all the other family odds and ends.
It's boot is well-shaped and with a 500-litre capacity is some way short of the Audi's 660-litres, it should be able to swallow most things a growing family will throw at it, while the rear seats have a flexible 40:20:40 split fold layout perfect for housing all those lifestyle accessories such as surfboards and mountain bikes.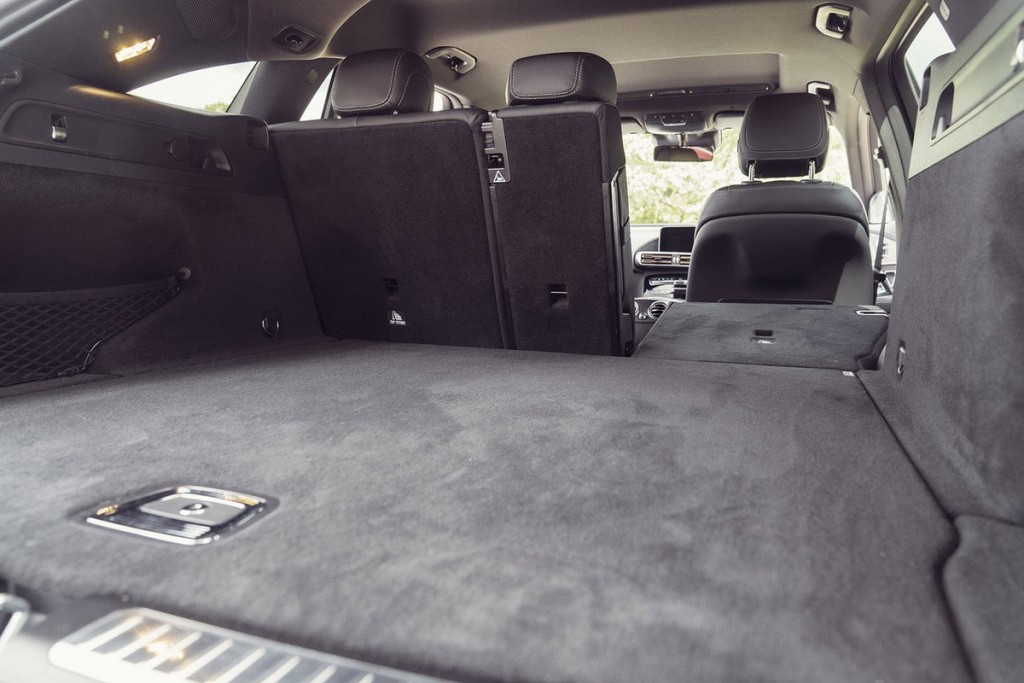 Like the Audi e-tron, and unlike many EVs, the Mercedes is equipped to pull hefty loads, with a 1800kg towing limit. That's enough for a fairly large caravan if that's your thing, but be aware the range will plummet once you're hitched up - you could be looking at as little as 100 miles between battery refills.
Any other niggles?
To be honest, not really. No, it's not quite as fun to drive as an i-Pace and an e-tron delivers a fraction more space, but the EQC's nicely balanced talents easily offset these shortfalls.
If pushed, then like many early EV arrivals the pace of technology change is already starting to leave them looking old hat, so the EQC's fairly limited range and inability to charge at more than 110kW are disappointing in the face of newer rivals, but they're not necessarily deal breakers. Yet.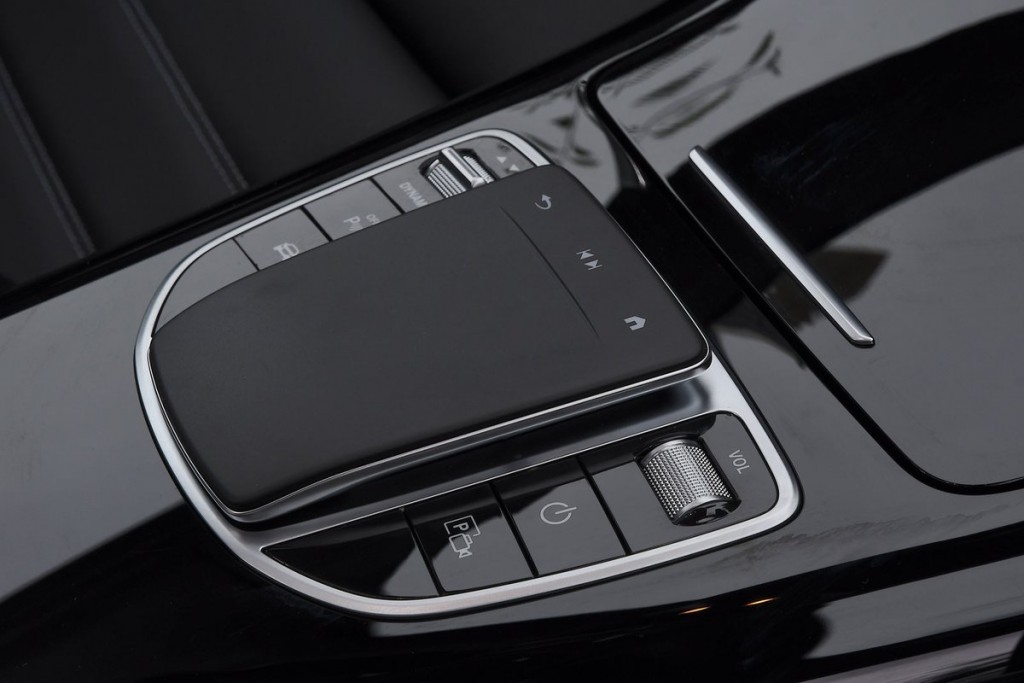 Oh, and Apple CarPlay and Android Auto are only standard on the top trim levels - it's a £299 option on others. That's a bit of a cheek on a £67,000 car when many superminis costing nearly ten times less have this useful kit as standard.
Verdict
Comfort and luxury are the EQC's biggest calling cards, but it's also spacious and good to drive. And while it's range isn't anything to write home about, it's long enough that it should fit into most owner's lives without big compromises. Mind you, it's not cheap.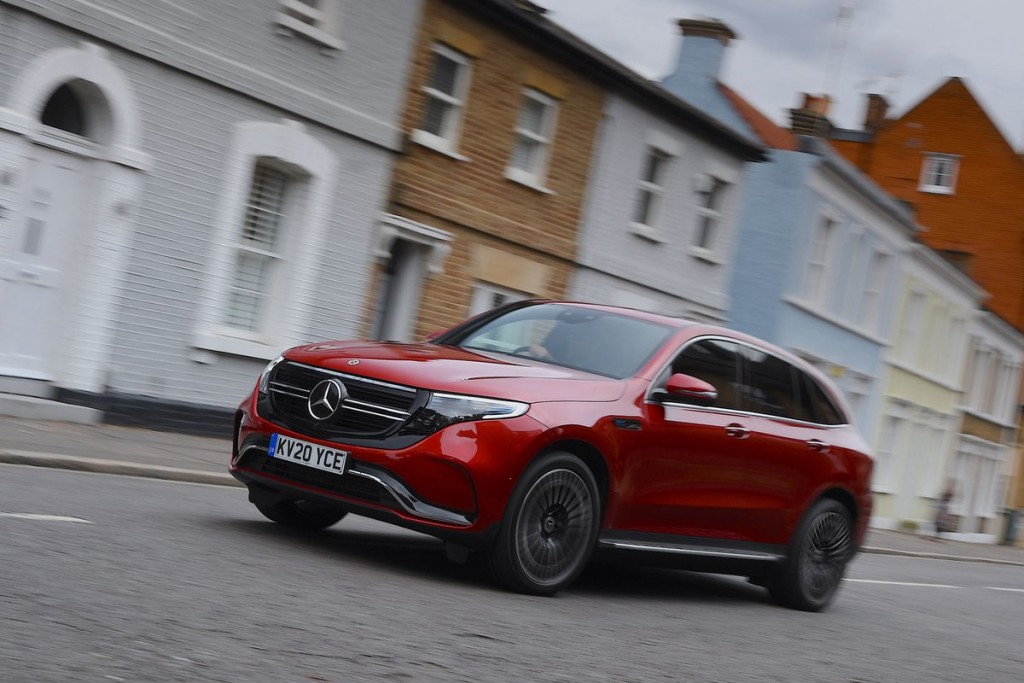 Mercedes EQC specification
Price from: £67,320
Motors: Electric asynchronous
Gearbox: Automatic
Driven wheels: four
Maximum power: 402bhp
Maximum speed: 112mph
0-62mph from 5.1secs
Electric range (official) 244-255 miles
CO2 emissions: 0g/km
Tyres from: 255/55 R 19
Kerb weight excluding driver: 2495kg
Height: 1622-1624mm
Length: 4762mm
Wheelbase: 2873mm
Width with mirrors folded: 1884mm
Maximum boot capacity: 660-1725 litres
Rivals
READ MORE
e-CARS
e-BIKES
e-MOTORBIKES
e-SCOOTERS