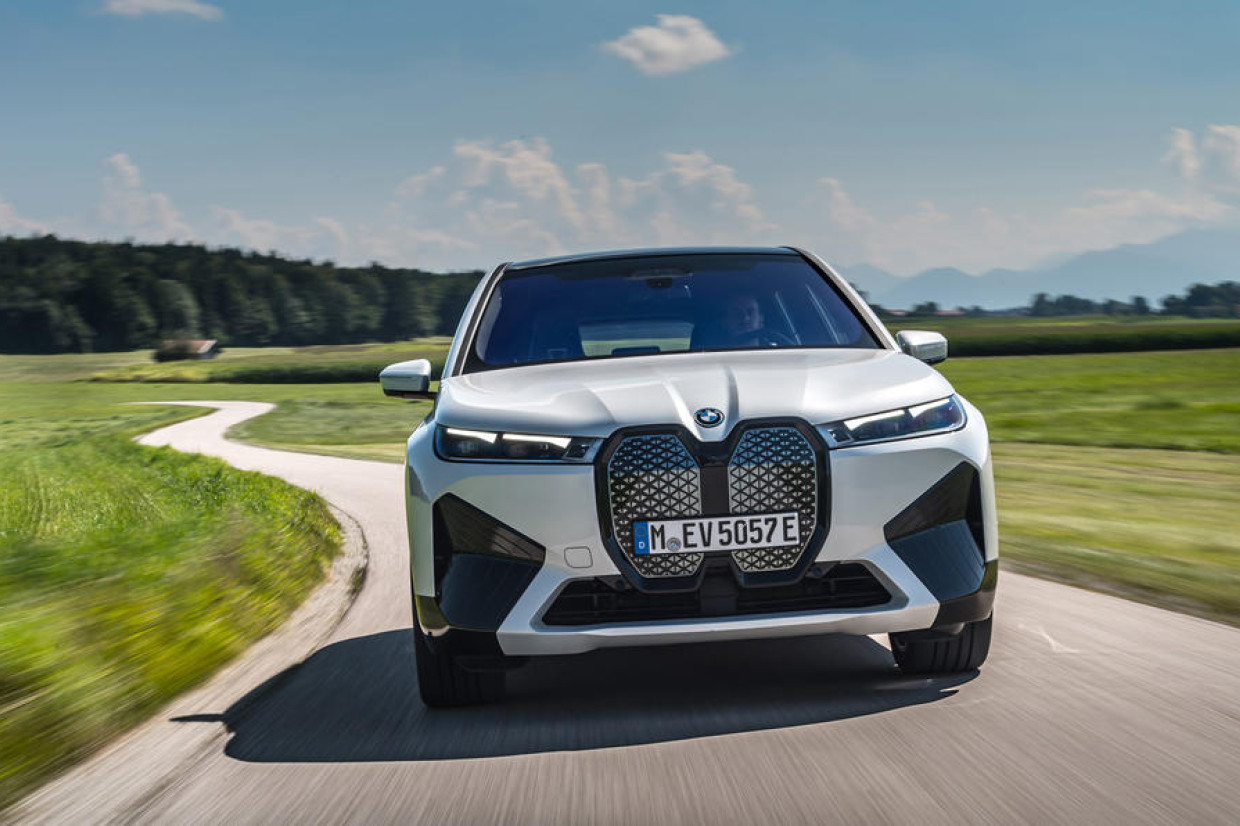 Move Electric verdict: four stars out of five
Sell it to me in a sentence
The BMW iX is a large SUV that is the flagship of the firm's all-electric line-up of cars. It's also the most advanced model it's ever produced and packs an impressive range. You're also unlikely ever to lose it in a car park….
Wow, that is a distinctive looking car
You're not wrong. Of course there's no accounting for taste, but by any measure the iX is a challenging-looking machine. Its vast front grille, angular bodywork and squat stance certainly help it stand out on the road, so if you're looking to get noticed by any means, then the big BMW certainly does the trick.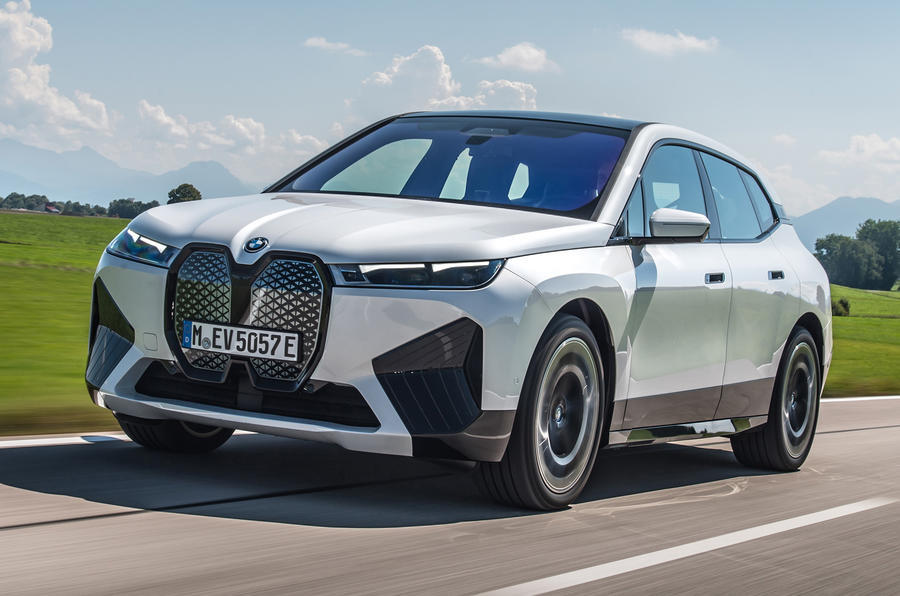 Okay, let's assume I like the looks, what are the other highlights?
Perhaps the iX's most impressive quality is its comfort and refinement. We've come to expect words like 'silent' and 'relaxing' when talking about EVs, but few deliver on the promise quite like the BMW. Thanks to the careful use of sound-deadening, special acoustic glass and fine-tuned suspension, the iX is pretty much whisper-quiet on the move.
It backs this up with an interior that looks great with hi-tech minimalist style, plus is luxuriously appointed and packed with cutting-edge technology. The dashboard layout is a particular highlight, featuring a large wraparound display ahead of the driver. This is made up of a vast 14.3-inch touchscreen infotainment screen and a 12.3-inch TFT instrument cluster. 
Not only are the graphics crisp and easy to read, the menus are logical and it's a doddle to use. This is largely because the BMW also gets the firm's trademark iDrive rotary controller and menu 'hot keys' that are set on a cool looking raised console between the front seats. Intuitive to use, this set-up allows you to navigate the system's numerous functions without taking your eyes off-the road.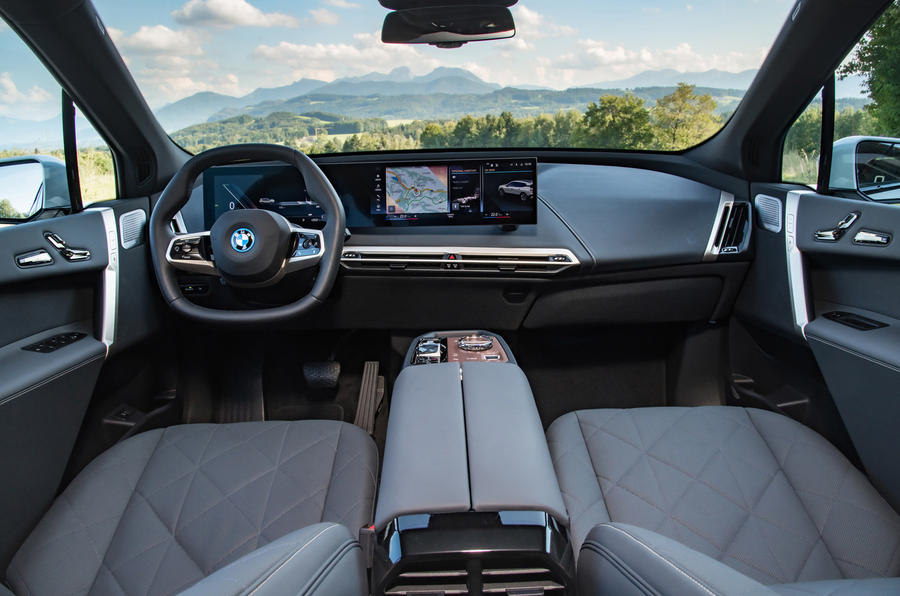 Perhaps more importantly, there are plenty of eco-friendly materials on show, including classy-looking recycled plastics and sustainably sourced wood. Even the leather for the seats has a low environmental impact, with the hides sourced from cows only a stone's throw from the factory and the colour added using dye from waste olive oil production. Clever stuff.
It's very roomy inside as well. Unlike rivals such as the Mercedes EQC, the iX has been designed from the ground up as an EV, which means better packaging of the motor and battery. There's more room in the back than rivals such as the Audi e-tron and Jaguar i-Pace, plus the rear seats recline for extra comfort. You're also spoiled for storage, with a cavernous glovebox, a deep lidded bin between the front seats, loads of cupholders and door bins with various compartments. Oh, and there's wireless phone charging and enough USB sockets to keep a grumpy, device-obsessed teenager happy (not that they'll ever let you know).
The boot is a decent size at 500-litres, plus it's well-shaped with a nice square load area. Factor in rear seats that have a handy 40/2//40 split and can be folded at the touch of a button, and the iX is a family-friendly choice.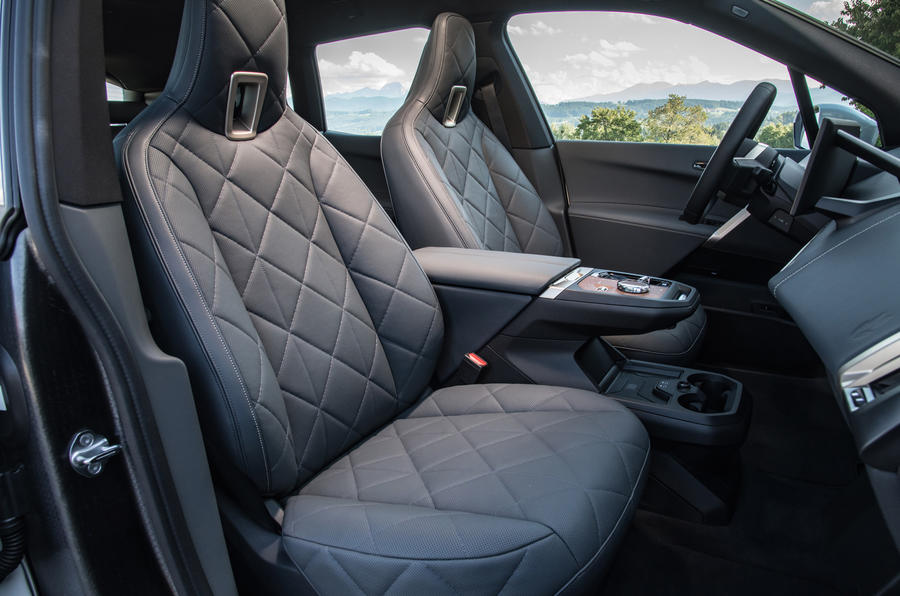 What about driving it? 
Well, the iX is pretty darned good to drive as well. Even if you're used to driving EVs, the BMW will still feel quick off the mark, delivering smooth and brisk acceleration. It also features 'one pedal' driving, the force of the regenerative braking as it channels electricity back into the battery enough to slow the car quickly to a stop without you touching the brake pedal.
If you don't like this set-up, then you can quickly and easily alter the retardation force to suit. Better still, the car will choose the best setting depending on the situation, teaming up with sat-nav to match itself to the road ahead. Clever or what?
And while it's a big car, the iX feels surprisingly nimble thanks to its quick and accurate steering, strong grip and suspension that resists body roll well. This is partly down to its clever adaptive dampers, which can stiffen or soften the suspension at the touch of a button depending on the road or your mood. Fork out on the extra air suspension and you'll get a pillowy soft ride that will smother bumps so effectively that you'll be convinced all roads have been freshly resurfaced.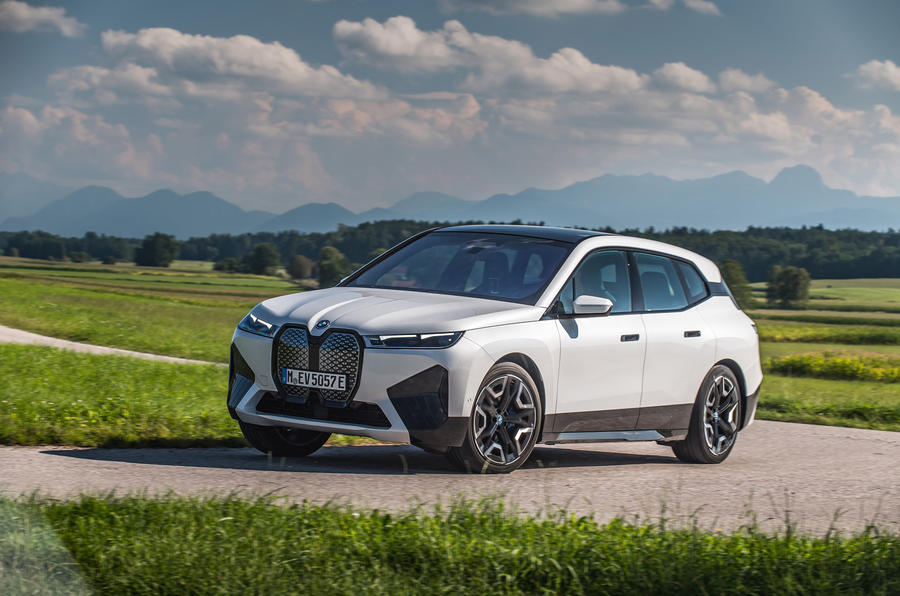 Okay, what about the numbers?
Well, it's a big car so the iX is capable of delivering some suitably large numbers. Essentially there's a choice of two battery sizes, each coming with its own power output for the motors (all models get two motors, one at the front and one at the back for four-wheel drive).
The biggest hitter is the range-topping xDrive50, which packs a whacking great 105.2kWh battery that's only beaten for size by the Mercedes EQS. With so much energy available, it's no surprise the iX claims a strong range, with up to 380 miles between charges.
It backs the stamina with a shocking turn of speed thanks to those two motors churning out a combined might of 516bhp, which is enough to fire the iX from standstill to 62mph in a supercar-slaying 4.6 seconds. Don't forget this is essentially a large, family-friendly SUV.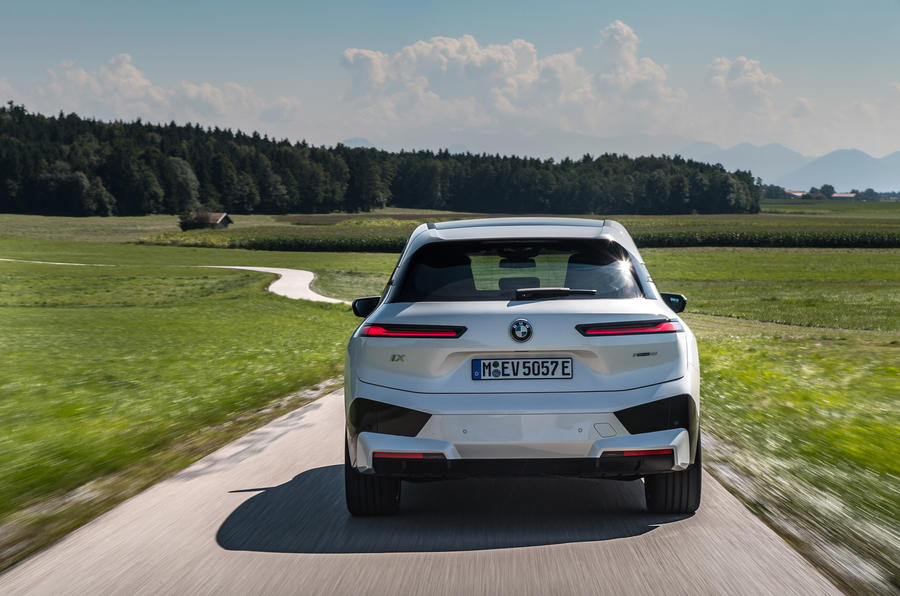 For the entry-level xDrive40 the numbers are a little less outrageous, with the battery reduced to 71kWh and the total output of the two motors dialed back to 'just' 326bhp. Still, a range of up to 257 miles isn't to be sniffed at, plus you'll still be able to leave red-faced hot hatch owners in your wake as you blast from 0-62mph in a hardly shabby 6.1 seconds.
With its bigger battery, the xDrive50 can charge at up to 192kWh using a rapid DC CCS charger, meaning you'll be back to 80 percent charge in around half an hour. That's pretty much exactly the same time as you'll need for the smaller battery in xDrive40, largely down to the fact it's capped at a 150kW charge rate.
Use a 7kW domestic wallbox and you'll not want to be in a hurry when plugging in the faster car, with a full charge taking a lengthy 16 hour, which is a full overnight job with a long lie-in the following morning. You'll need just under 11 hours for the xDrive40, although the flipside is that you'll go nowhere near as far before you'll be plugging in again.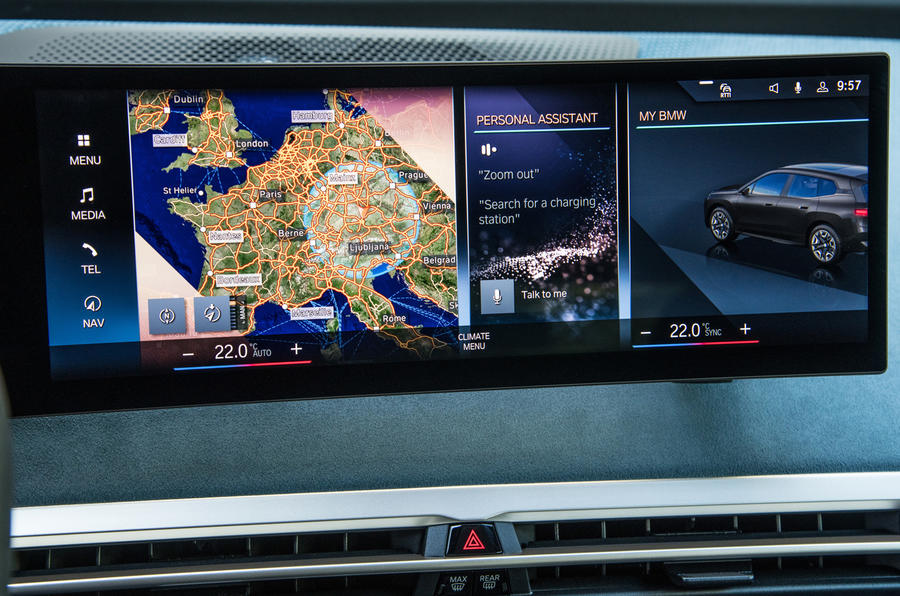 What about some of that tech you talked about?
Well, you won't be surprised to find this top-of-the-range BMW is bursting with all the latest gadgets and gizmos, but rather than spend the whole review listing the iX's comprehensive equipment list, we've picked a couple of the highlights. 
For starters, open the door and you'll be able to see bits of the carbon fibre reinforced plastic structure that underpins the car. First seen on the firm's i3 hatchback and i8 supercar it's a cleverly designed material that's light and strong. It also looks very cool, with a black textured finish.
Perhaps the feature you'll spend most time thrilling (or boring, delete as applicable) your passengers with is the optional panoramic roof. On the surface it looks like a normal large glass panel, but it contains Polymer Dispersed Liquid Crystal Technology. Cooh, eh? No, we're not entirely sure what it means either, but we do know that what it does is even cooler, literally. You see, at the touch of a button the glass darkens almost completely, creating shade on the sunniest of days.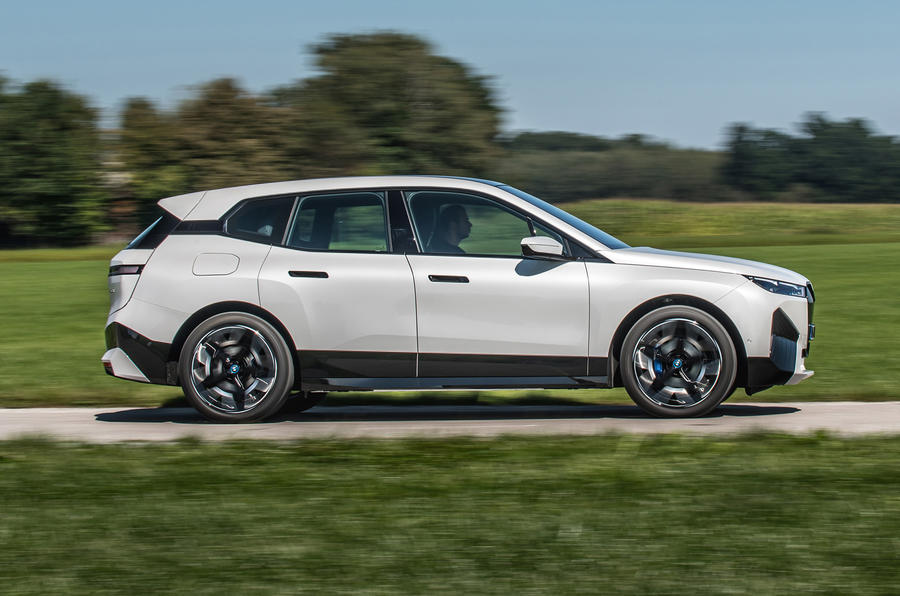 Looks aside, the BMW seems to have it all, but it can't be that good, can it?
It is pretty darned good, but you're right: it's not perfect. Perhaps the biggest gripe is that you have to spend quite a lot more to get the xDrive50 with its bigger battery and far more usable range. And when we say 'quite a lot' we mean it, because the priciest xDrive40 is just over £72,000, around £20,000 less than the most 'affordable' version of the more powerful car.
It's made worse by the fact that in our experience the real world range of the xDrive40 isn't great, struggling to scrape past 200 miles in everyday use. While that may not be a problem for some, it's worth considering that a similarly priced Jaguar i-Pace will comfortably exceed this figure by at least 50 miles and is as fast as the way more expensive xDrive50 into the bargain.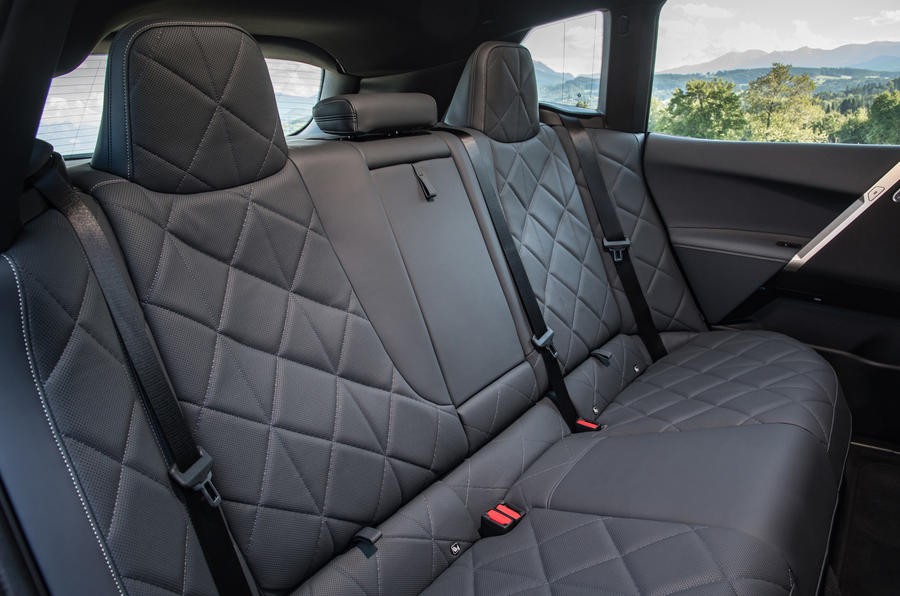 Okay, so what else should I be looking at?
Well, that Jaguar is well worth a test drive, especially if your budget doesn't stretch to the xDrive50. It's not as hi-tech inside and out, but the i-Pace is faster, more fun to drive and will go further on a charge.
If the BMW's outlandish styling puts you off, then the Audi e-tron might be a more suitable choice. It's not as hushed and comfortable as the iX (very little is) but it looks and feels more like a conventional SUV. 
The Tesla Model X is a little bit more expensive than the priciest iX, but it does offer seven seat capability. And gullwing rear doors, which are arguably worth the price premium on their own. It won't go quite as far on  charge, with even the Long Range model claiming 360 miles, but it is far faster, the Plaid version zapping to 60mph in a fraction over two seconds. And no rival can compete for in-car tech.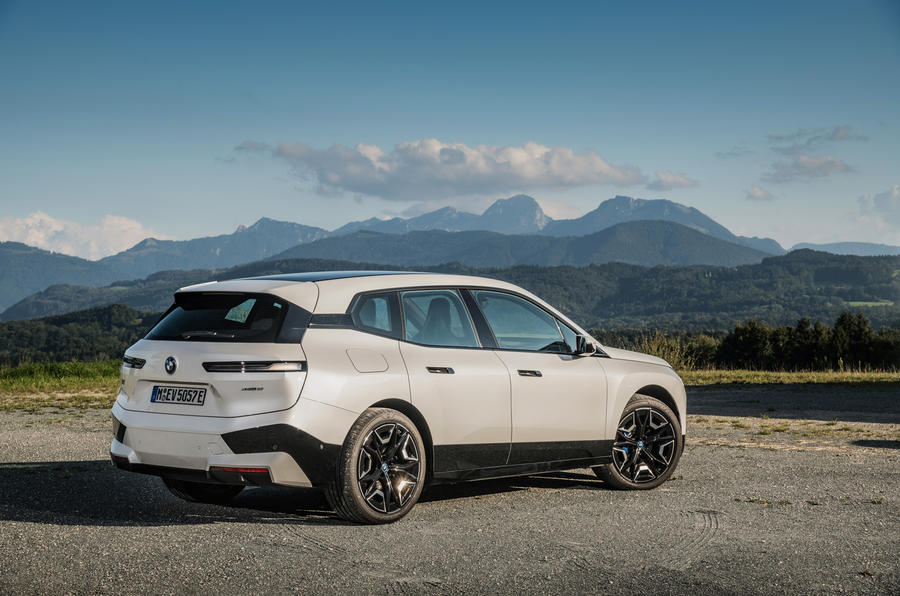 Verdict
Like or loathe the BMW's looks, it's extremely advanced and in top spec trim can travel a long way on a charge. It's also spacious, good to drive and delivers unrivalled comfort and refinement. 
BMW iX specifications
Price from: £69,905
Motors: Permanent magnet synchronous
Gearbox: Automatic
Driven wheels: four
Maximum power: 516bhp
Maximum speed: 124mph
0-62mph from: 4.6-6.1secs
Electric range (official): 246-380miles
CO2 emissions: 0g/km
Tyres from: 235/60 R 20
Kerb weight excluding driver: 2440-2585kg
Gross vehicle weight: 3010-3145kg
Height: 1695mm
Length: 4953mm
Wheelbase: 3000mm
Width with mirrors folded: 1867mm
Maximum boot capacity: 500-1750 litres
Rivals
READ MORE
e-CARS
e-BIKES
e-MOTORBIKES
Seat Mo 125 electric scooter review
e-SCOOTERS
Exclusive: E-scooter CO2 saving
e-WORLD
The hydrogen plane aiming to make flying emission-free