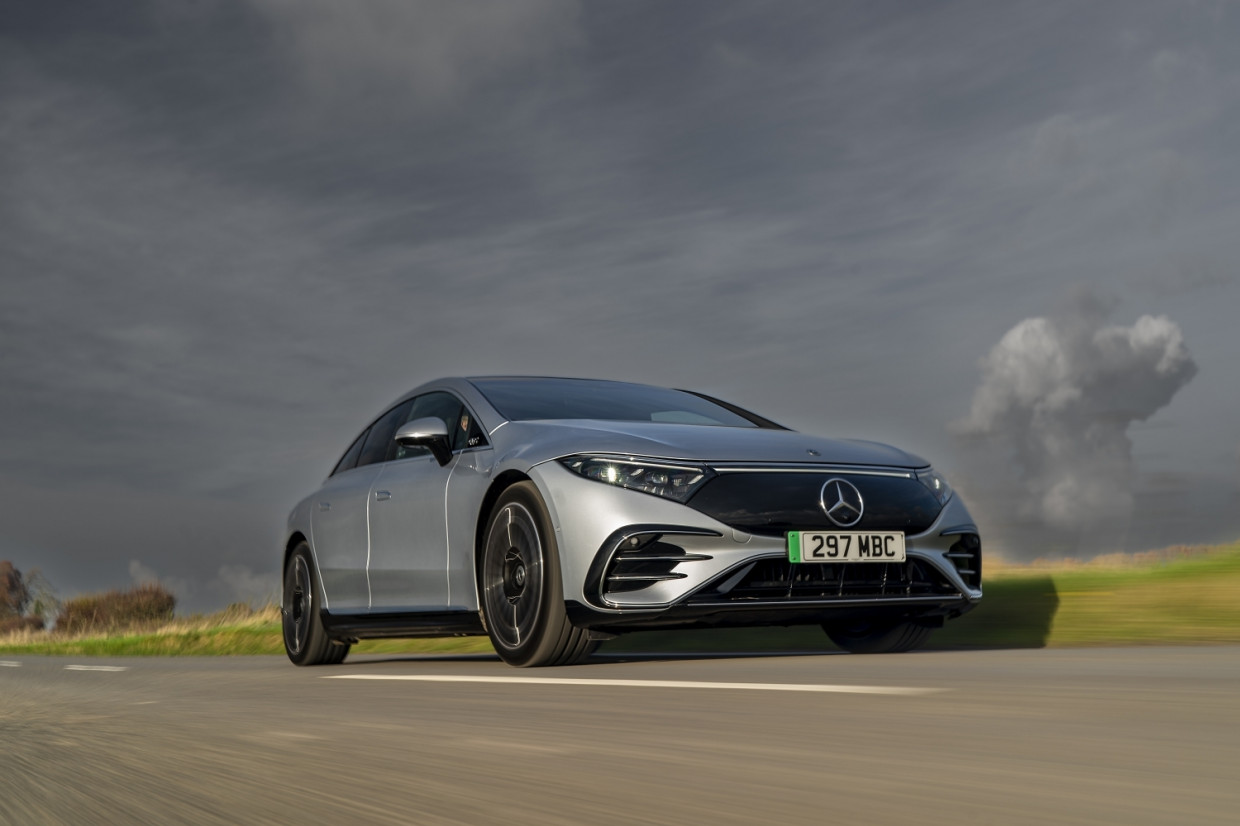 Move Electric verdict: four and a half stars out of five
Sell it to me in a sentence….
The Mercedes EQS is a large luxury saloon that's packed with technology, is fantastic to drive and boasts a battery big enough to banish range anxiety.
Wow! That's quite an intro - tell me more
Mercedes has often used its flagship S-Class saloon to preview cutting edge technology that will eventually filter down to more affordable models. Well with the EQS, or the EQS 450+ to give the car its full name, the German firm is doing exactly the same thing, but this time it's the EV tech it's showcasing. Designed to highlight the brand's latest battery-powered developments, it's also packed with incredibly advanced features that'll leave you wide-eyed and giggling every time you use them.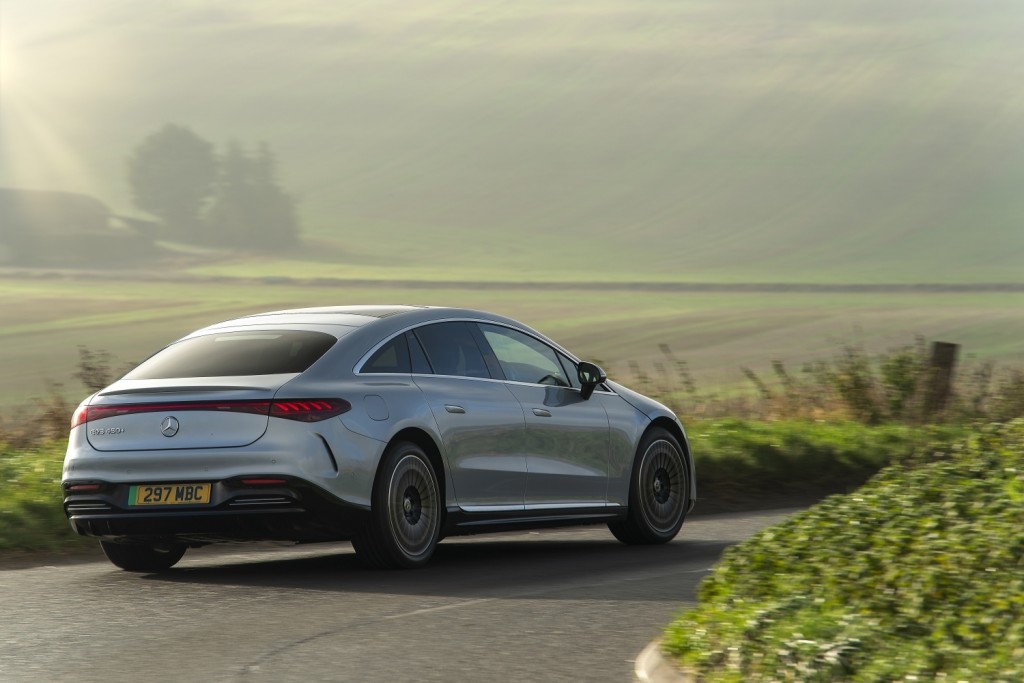 Better still, it looks great with a futuristic style that makes models from other premium brands (including Tesla) look just a little old hat. It's also every bit as luxurious and comfortable as you'd expect a top of the range Mercedes to be, plus it claims a range of 453 miles on a full charge.
I sense this could take a while, but give me the highlights
Well, where to start? We've touched on the looks, but there's no denying the swoopy, low-slung EQS has a bit of a sci-fi style to it, something that's enhanced by doors that automatically whirr open as they sense your approach. I mean, how cool is that? Well, it gets even more jaw-dropping, because once you slide into the driver's seat and push your foot on the brake pedal, the door closes itself behind you. Clearly this car wasn't born in a barn….
You'll just about have time to close your mouth before it drops open again at the sight of the optional Hyperscreen dash. As the name suggests, this is one vast TFT screen (well three, but they're neatly integrated) that stretches the whole width of the dash - that's nearly a metre and a half. It looks intimidating yet alluring all at the same time, making you feel like you're at the controls of the Millenium Falcon.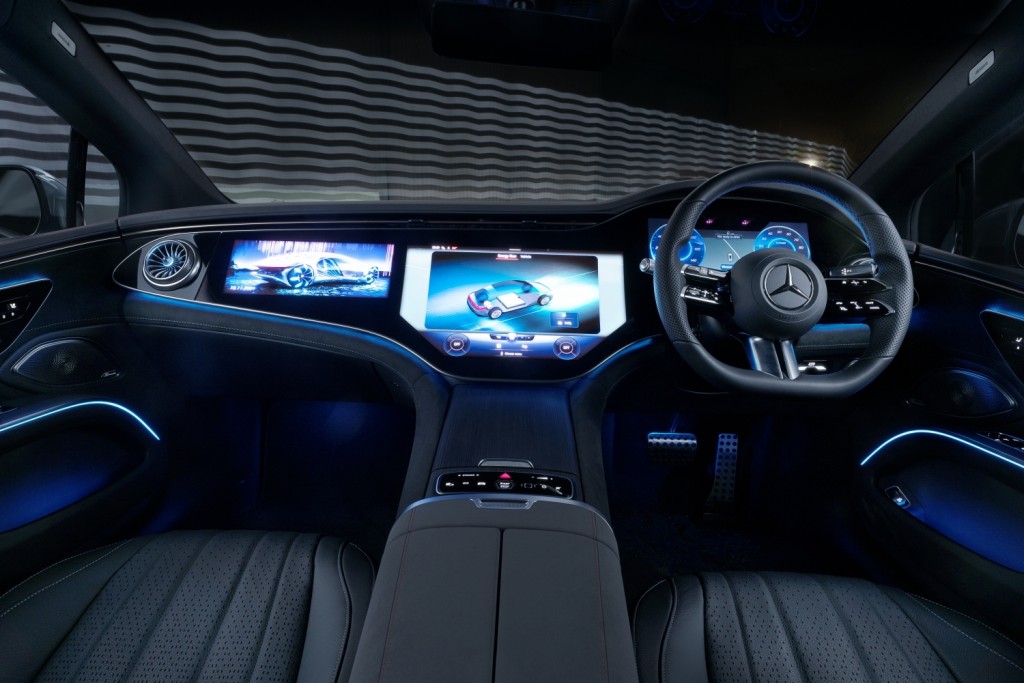 Yet it's actually surprisingly intuitive to use, plus there's no denying there's some satisfaction in knowing that the most technophile Tesla Model S owners will feel more than a little green with envy after clocking the Merc's mammoth screens.
It drives well, too. If you've sampled an EV before then the instant and silent surge of acceleration probably won't come as a surprise, but the impressively agility probably will. At 5.2 metres long the EQS is not a small car, but with trick four-wheel steering it feels more nimble than anything this size has a right to be, carving through corners like a much smaller machine.
And of course it's a top-of-the-range Mercedes, so it can also waft along in supreme comfort. With special air-suspension that can be adjusted to suit the road and our mood, the EQS simply steamrollers bumps and potholes into submission. It's as quiet as you'd expect too, the silent electric motors combining with the extremely well-insulated interior to create the impressions of a library on wheels. No car on sale is so effective at lowering your heart rate and soothing your soul.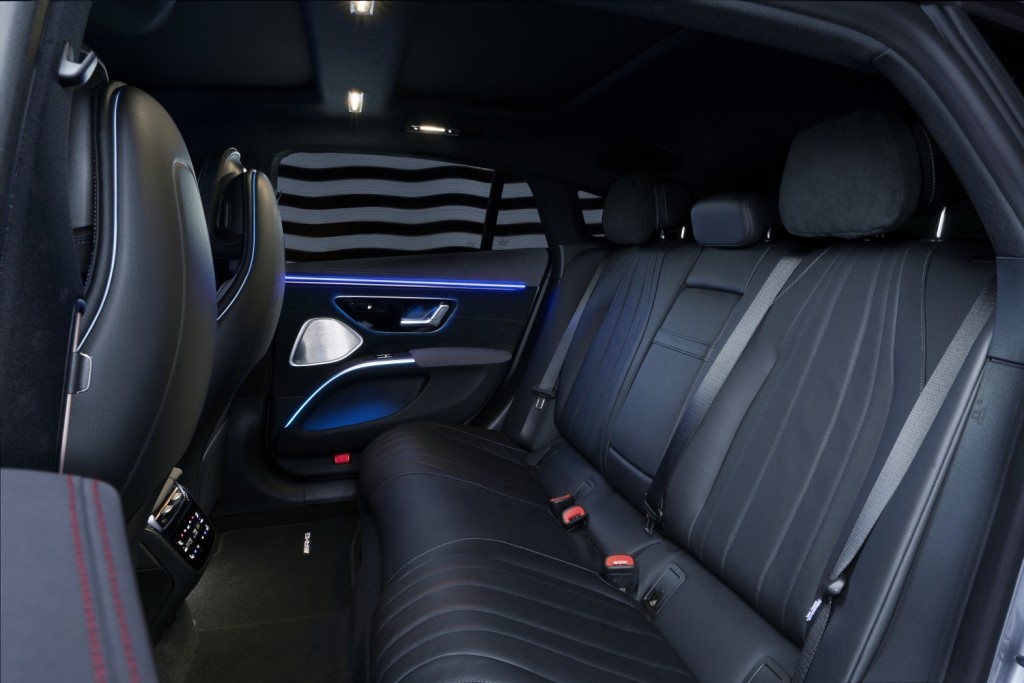 Oh yes, and there's the range. Did we mention the range? We did? Well it's worth mentioning again, because on a full charge the EQS can zip along for up to 453 miles, which is leagues ahead of the competition.
Wait, what? That's a big number - I've got to see the rest of the stats
You're right, that's a truly impressive figure, isn't it? In fact, at 453 miles the EQS trumps most of its rivals by a good 100 miles. Even the Tesla Model S Long Range can manage 'only' 405 miles, while the most efficient Porsche Taycan will struggle to break the 300 mile barrier. 
Of course in real world use you won't quite be able to manage to match Mercedes' bold official claim, but even in the most challenging conditions you're likely to see at least 400 miles between charges. If you still suffer range anxiety behind the wheel of this car, then it's likely you're the sort of person that gets nervous just leaving the house.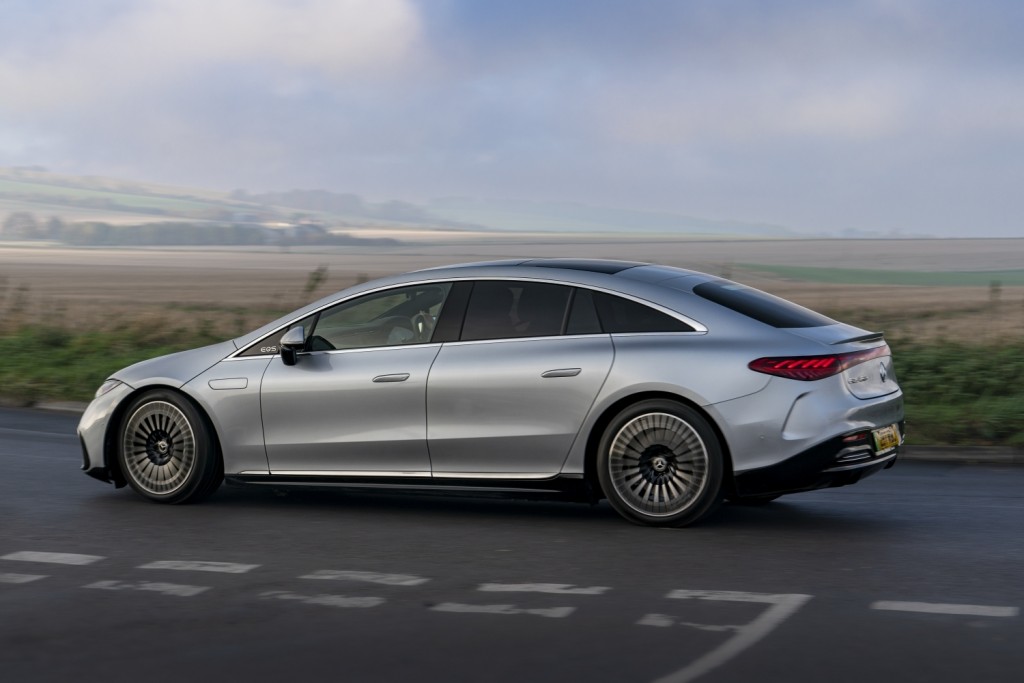 What allows the Mercedes to travel so far on a single charge is it's slippery, aerodynamic shape and, crucially, it's vast 107.8kWh battery, which is currently one of the biggest out there. Obviously, while bigger is better when it comes to stamina, it also means longer charging times. Mercedes has thought of that, however, and the EQS is capable of charging at 200kW, which means if you can find a DC CCS rapid charger that delivers electricity at this rate, then you can be at 80 percent charge in a whisker over half an hour.
Plug-in using a 7kW, however, and you're going to require a little longer. Even if you get an early night and a long lie-in the following morning you'd struggle to call the 15 and a half hours required to replenish the lithium ion cells an 'overnight charge'. That said, with such an impressive range it's unlikely you'd ever be rolling up your drive with next to no energy in the battery, so realistically charge times will be shorter. 
These aren't the only eye-catching numbers either, because the Mercedes doesn't hang about on the move. Despite tipping the scales at rather portly 2480kg, the EQS benefits from a rear-mounted 325bhp motor that drives the rear wheels that'll catapult you from standstill to 62mph in 6.2 seconds, which is quick enough to leave some internal combustion-engined sports car owners wondering which way you went.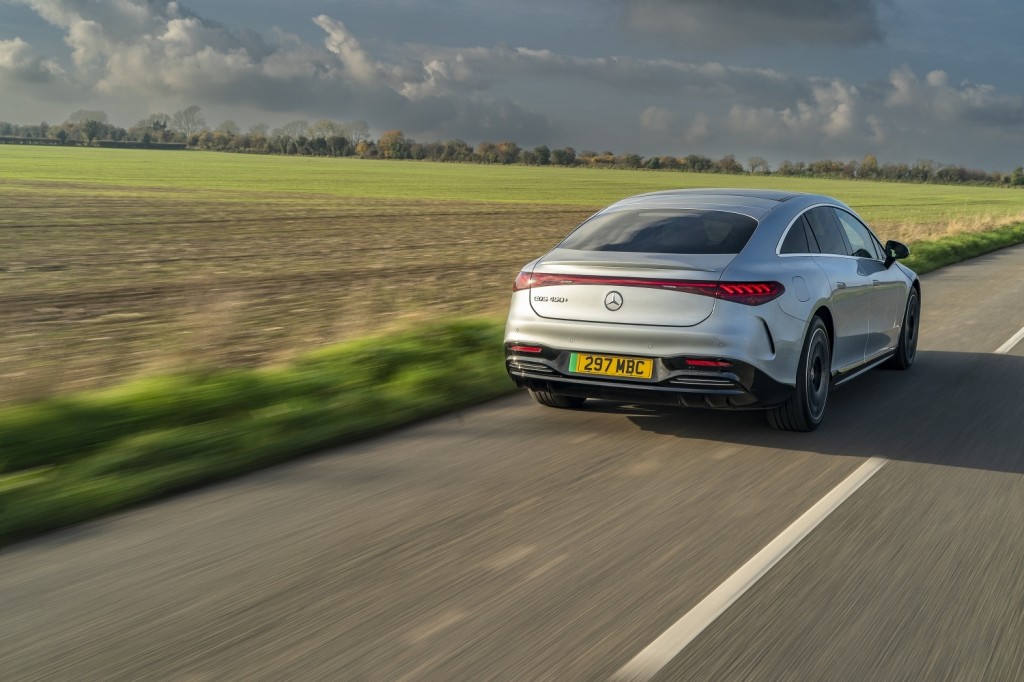 Aren't Mercedes like this meant to be luxurious?
They are, and the EQS most definitely is. Yes there are all the hi-tech touches, such as the screens and multi-coloured ambient lighting (there are 64 hues to choose from), but there are also some traditional limousine touches that help make the Mercedes feel a cut above rivals.
Soft leather covers the supremely supportive seats, while there's a vast choice of  high quality materials for the various trim inserts, from cool metals to richky coloured woods. It feels just like you'd expect a private members club would, if it were transported 50 years into the future.
As you'd expect, it comes loaded with all the latest gadgets and gizmos, including the brand's state-of-the-art drive safety aids. Program the adaptive cruise control and not only will it maintain a safe distance to the car in front of you, it'll also help out with the steering.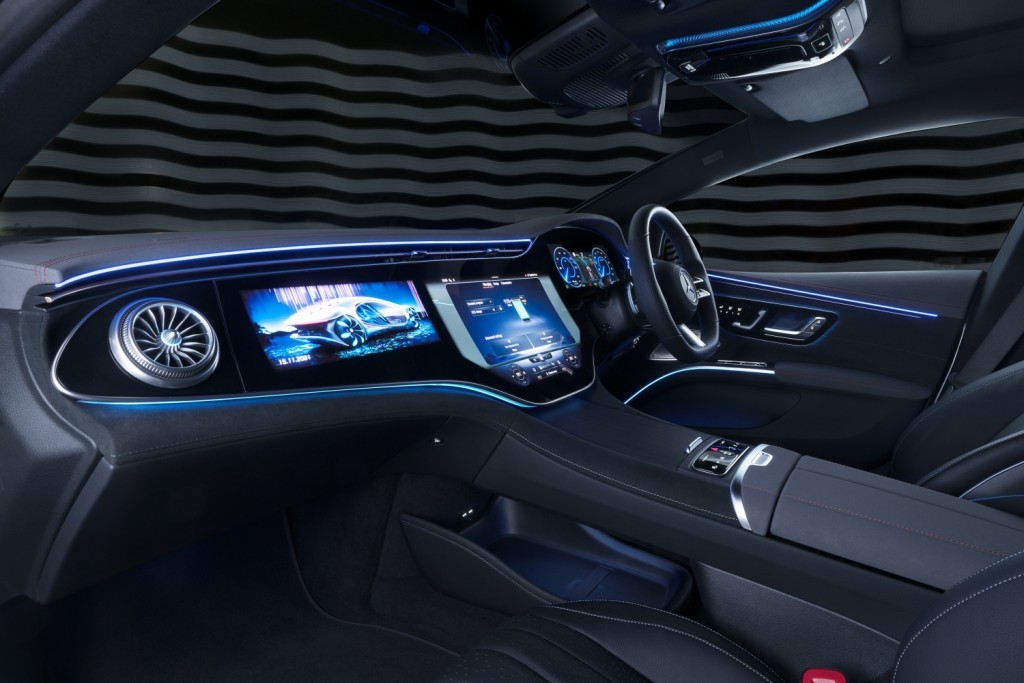 What's more, if you consider space the ultimate luxury, then the EQS won't disappoint. Those in the back get loads of room to stretch out, while the Rear Luxury Lounge pack adds seats that are heated and cooled, can be reclined and have a massage function. With that little lot you might struggle to get your passengers out at the end of a journey.
It's surprisingly practical as well, with Mercedes ditching the usual saloon layout and giving the EQS a large hatchback. This powers open to reveal a large 610-litre boot, which can be expanded to an estate car-like 1770-litres with the rear seats folded flat. Although the likelihood of anyone using a car like this to haul furniture or do a run to the recycling centre is slim to none.
This all sounds too good to be true. What's the catch?
It's an incredible piece of kit, but you're right to suggest the Mercedes isn't perfect. For starters, the EQS is not exactly cheap to buy, with the 'entry-level' car costing a biscuit under £100,000 and flagship Exclusive Luxury costing another £14,000 on top of this figure. Obviously nobody buying this car expects a bargain basement price, but these are chunky amounts.
The cost doesn't end there either, because you'll be drawn into tickling a few boxes for the optional extras. How much? Well, that Hyperscreen set-up will cost you an eye-watering £8000, while adding the massaging and reclining rear seats is another £3500. That said, these are the only real extras to speak of.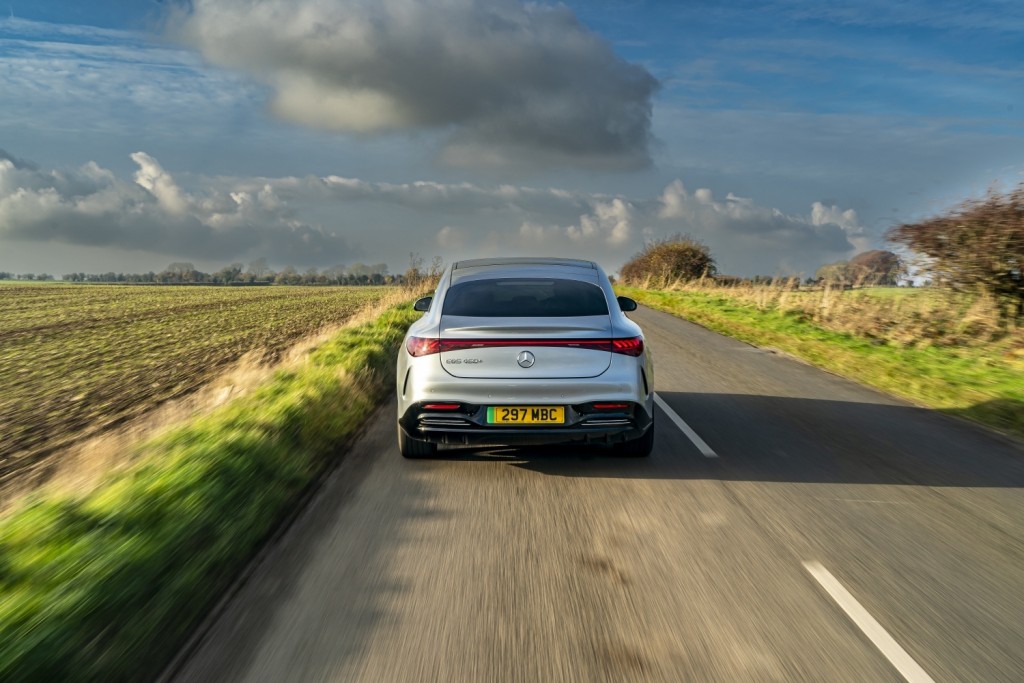 Speaking of big numbers, it's worth avoiding the larger 21 and 22-inch wheels as they add an unwelcome dose of bumpiness to the ride, spoiling the EQS's otherwise unruffled progress. 
Okay, I'm still reaching for the cheque book, but is there anything else I should consider?
At this luxury end of the market you can't really ignore the Tesla Model S. A recent revamp has vastly improved the style and quality of the interior, while it's the only car that gets remotely close to matching the EQS's range, plus it's much faster. Yet it's not as satisfying to drive, while the styling (inside and out) doesn't come close to matching the head-turning looks of the Mercedes.
Then there's the Porsche Taycan, which in all its guises is more fun to drive than the Mercedes, while in 751bhp Turbo S guise is much, much faster. Yet it's hobbled by a range that barely breaks the 300 mile marker. It's a similar story with the closely related e-tron GT, which is at least a more affordable buy, but the lower price is reflected in its less luxurious interior.
Verdict
It's very expensive, but in many respects the EQS feels worth every penny. It not only looks fantastic and packs an opulent interior, it's great to drive and supremely comfortable. And of course there's that hugely impressive range that means you're unlikely ever to miss your old fossil-fuel powered luxury saloon.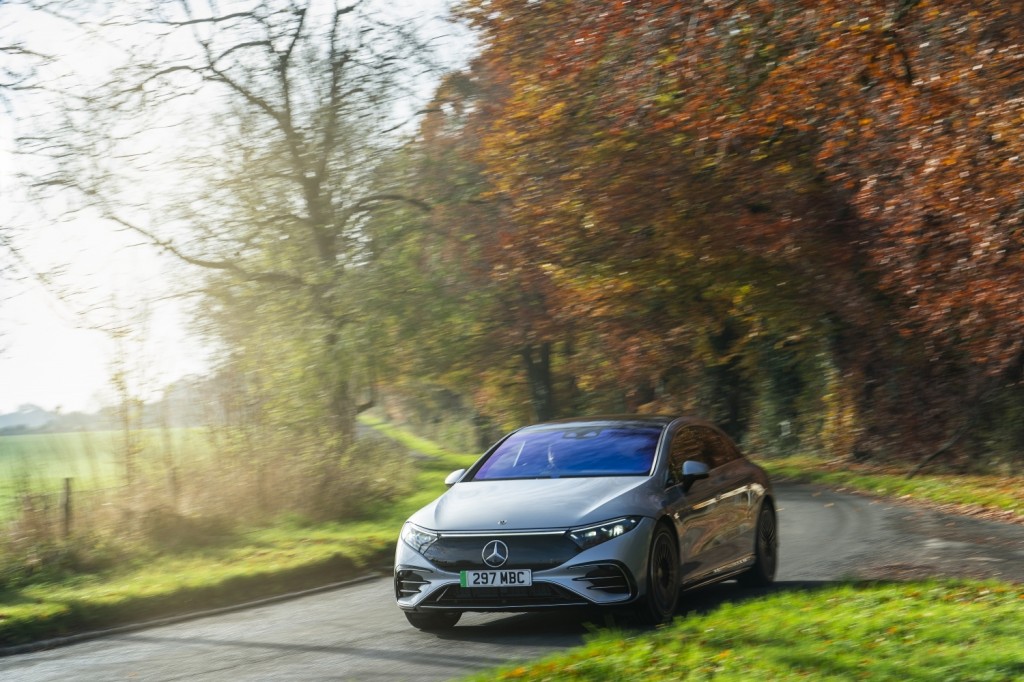 Mercedes EQS specification
Price from: £99,995
Motors: Electric asynchronous
Gearbox: Automatic
Driven wheels: rear
Maximum power: 325bhp
Maximum speed: 130mph
0-62mph from: 6.2ses
Electric range (official): 407-453 miles
CO2 emissions: 0g/km
Tyres from: 255/45 R 20
Kerb weight excluding driver: 2480kg
Gross vehicle weight: 2945kg
Height: 1512mm
Length: 5216mm
Wheelbase: 3210mm
Width with mirrors folded: 1962mm
Maximum boot capacity: 610-1770 litres
Rivals
READ MORE
e-CARS
e-BIKES
e-MOTORBIKES
Seat Mo 125 electric scooter review
e-SCOOTERS
Exclusive: E-scooter CO2 saving
e-WORLD
The hydrogen plane aiming to make flying emission-free