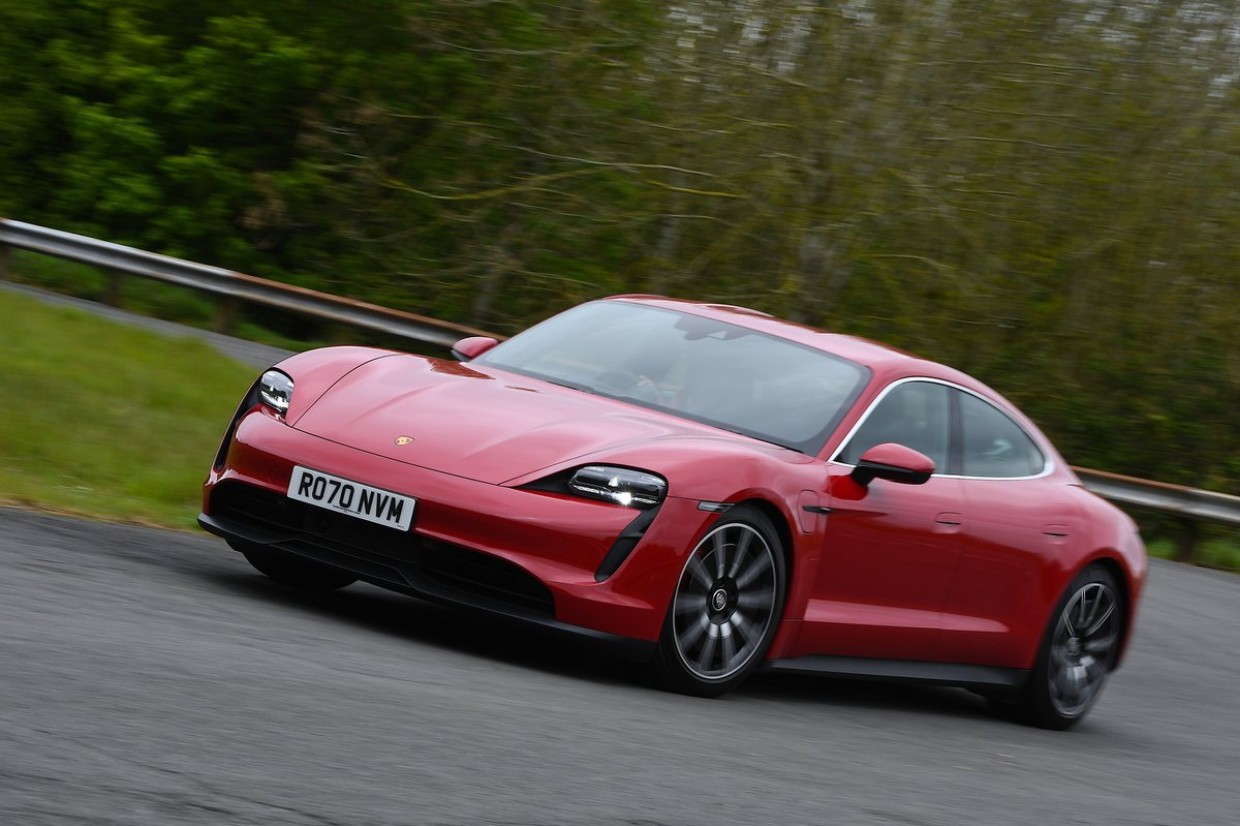 Move Electric Verdict: five stars out of five
Sell it to me in a sentence
Fast, fun, thrilling… we might run out of superlatives here, but suffice to say the Porsche Taycan is ready to silence anyone who questions whether an electric car can be exciting enough to drive to really set your pulse racing. 
Now you've got my interest
There's more. Porsche's Taycan is also a tech showcase that leaves almost every rival standing, as well as being usefully practical, with four doors, a big boot and space in the back for three (admittedly not large) adults.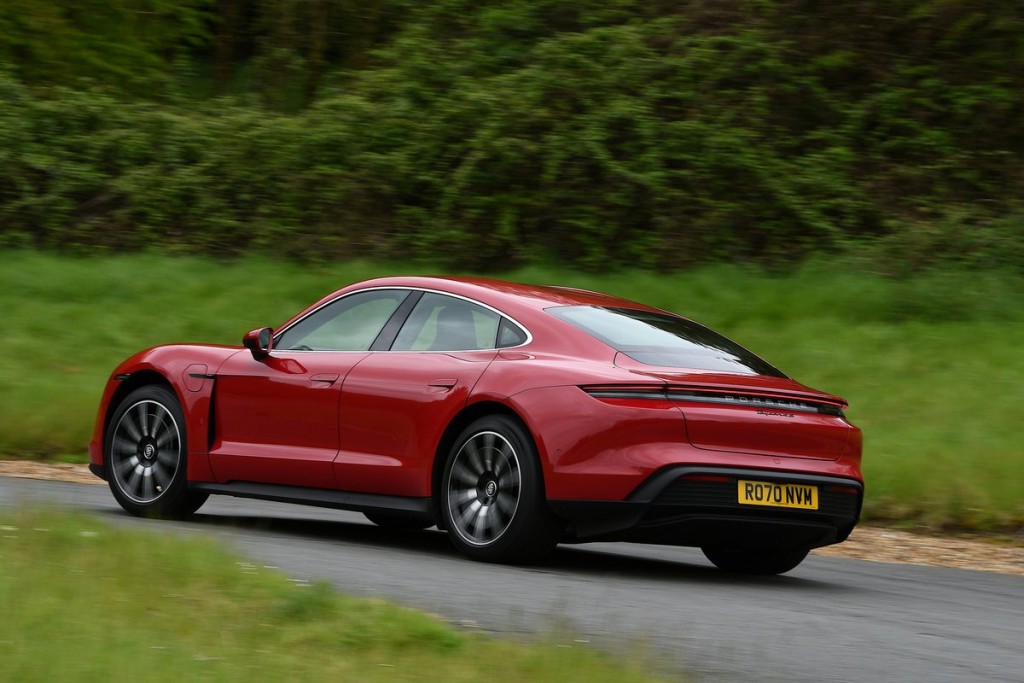 Let's get into the detail
The first decision you must make is whether to buy the entry-level Taycan, known somewhat straight-forwardly as the Taycan, the Taycan 4S, which gains four-wheel-drive, the Taycan Turbo, which rather confusingly doesn't have a Turbo, but which is faster, or the all-out, faster than fast Taycan Turbo S (which also doesn't have a turbo).
The Taycan and Taycan 4S can be optioned with either a 79kWh or 93kWh battery, with claimed range figures of 250-300 miles depending on the specification you go for.  If range is a priority we recommend going for the Taycan Performance Battery Plus; it gets the bigger 93kWh battery and an official range of 301 miles. 
Taycan Turbo and Taycan Turbo S models are fitted with the 93kWh battery as standard to allow for greater performance and acceleration. The Taycan Turbo has an official range of 281 miles, whereas the more powerful Turbo S can achieve 259 miles between charges.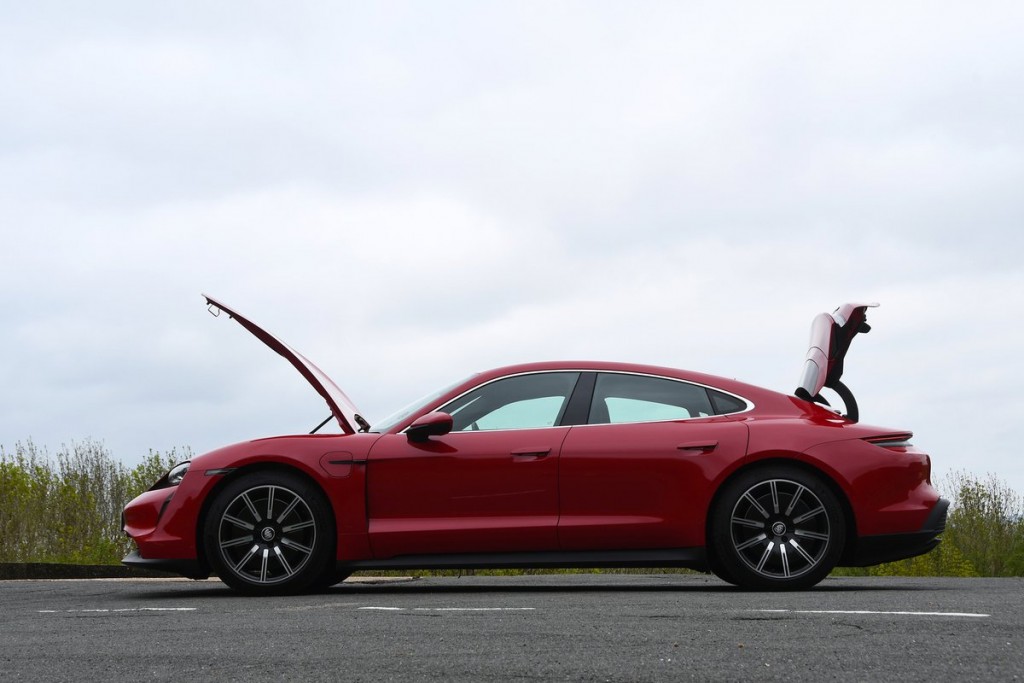 With a 7kW home charging device, you can replenish the battery of the 73kWh Taycan in around 11 and half hours, with the bigger 93kWh battery taking 13 and a half hours to fully recharge. 
Find a faster public charger though and the equation changes dramatically. With an - admittedly not that prolific at present -  270kW charger you can charge the battery of a Turbo or Turbo S from 10-80% in as little as 20 minutes. 
Does it have the sporty feel a Porsche should have?
From the moment you slot into the driver's seat, the Taycan oozes intent. Unlike many EVs, you sit low down in the Taycan, in sporty seats that are more comfortable and cosy, like they are ready to hold on to you if need be.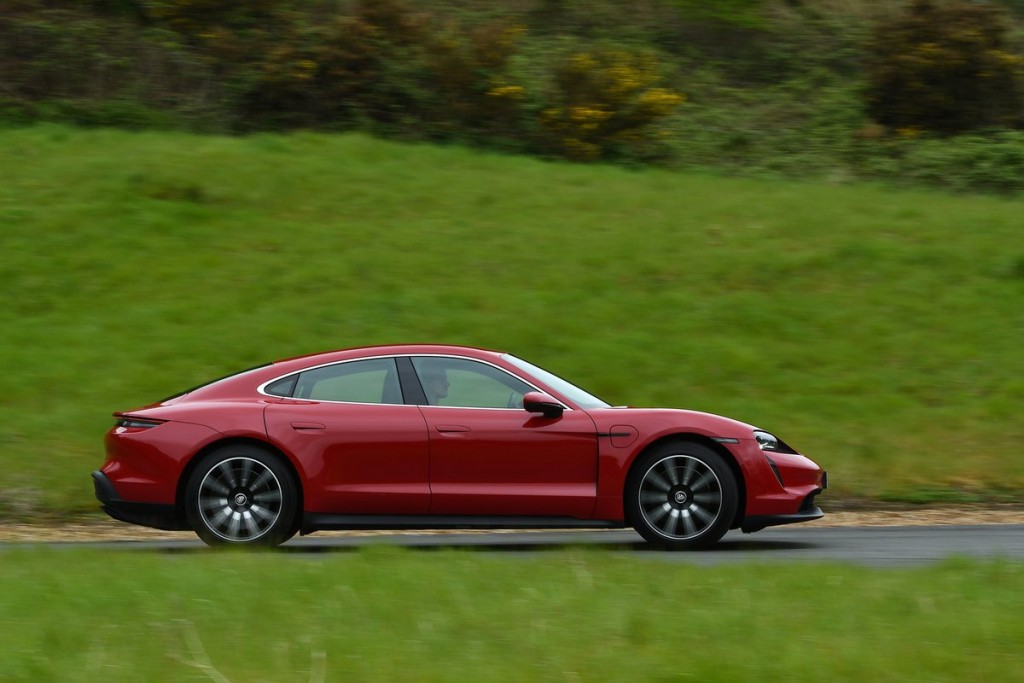 And, if you exploit the Taycan's dynamic capabilities, needs will be. 
All electric cars are reasonably quick from a standstill, but the Taycan offers everything from fast to super-fast across its four model line-up.
The rear-wheel drive, single-motor Taycan produces 322bhp, but this is boosted up to 402bhp when launch control is engaged. All of which adds up to a 0-62mph time of 5.4 seconds which is seriously, supercar-botheringly quick.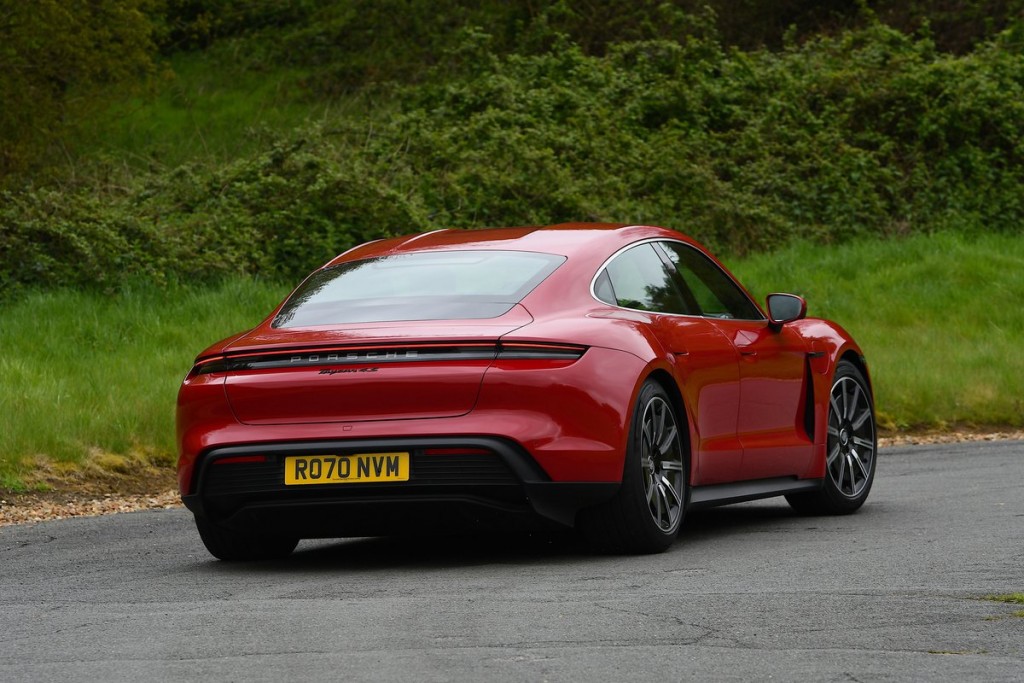 The 4S, armed with the extra motor on the front axle, and in 93kWh Battery Performance Plus trim, has 469bhp - or 523bhp when in launch control mode - and can achieve a 0-62pmh time of 3.8 seconds. Oof.
You'll understand then why some neck exercises might be necessary before giving the Turbo models the beans; the 671bhp Turbo can achieve a 0-62mph time of 3.2 seconds and the Turbo S, with a peak power output of 751bhp, can travel from a standstill to 60mph in 2.8 seconds. That's enough to beat a Ferrari 812 off the line.
But while that's all very thrilling, where the Taycan really stands out is how it handles bends - and how it makes you feel while it's at it.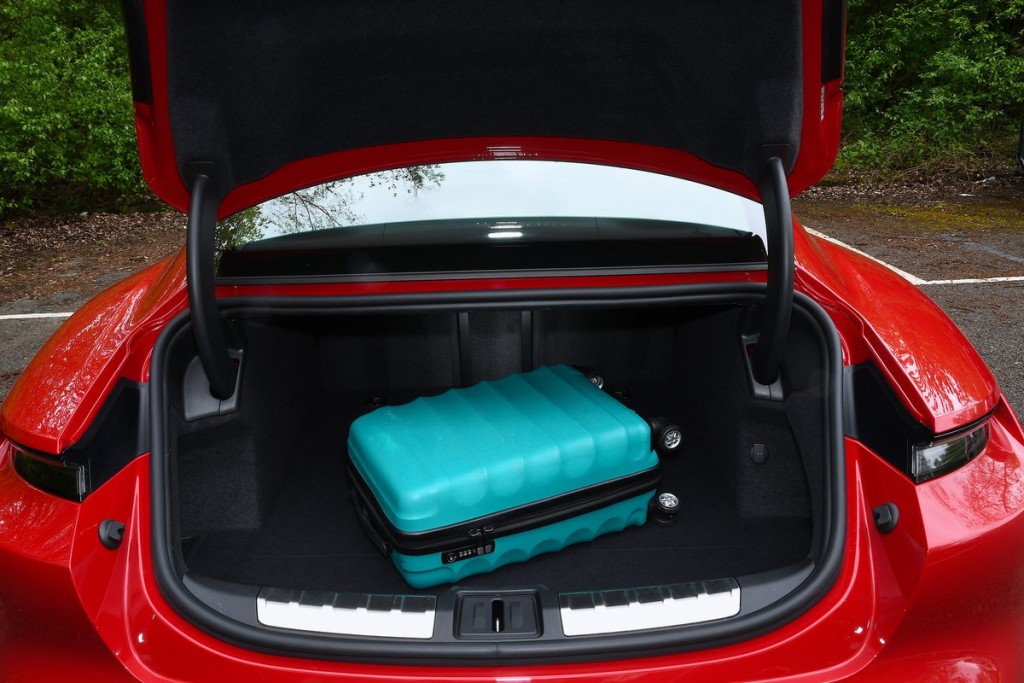 Porsche has worked wonders to position the batteries of the Taycan as low down as possible, dropping the centre of gravity. This contributes to a brilliantly agile car that has good grip through bends, with only the Audi e-tron GT coming close in terms of ability.
Add in class-leading steering, which gives you excellent feedback and has pinpoint accuracy, giving you plenty of confidence through the bends, and you start to build the picture of what makes the Taycan so appealing to enthusiast drivers.
Just as impressively, the ride isn't severely compromised by the sporty nature of the Taycan, either. Yes it's firm, and in its sportier setting the ride is pretty choppy, but turn the dial back a touch and the car can deal with bumps and rough surfaces well.  Here, just, the e-tron GT eclipses it, but you will certainly feel comfortable in the Taycan.
Talking of comfort, what is it like on the inside?
Put simply, the Taycan's interior is - it's that phrase again - class-leading, with exceptional materials used throughout. In terms of quality it is far superior to the Tesla Model S and even nudges ahead of the Audi e-tron GT.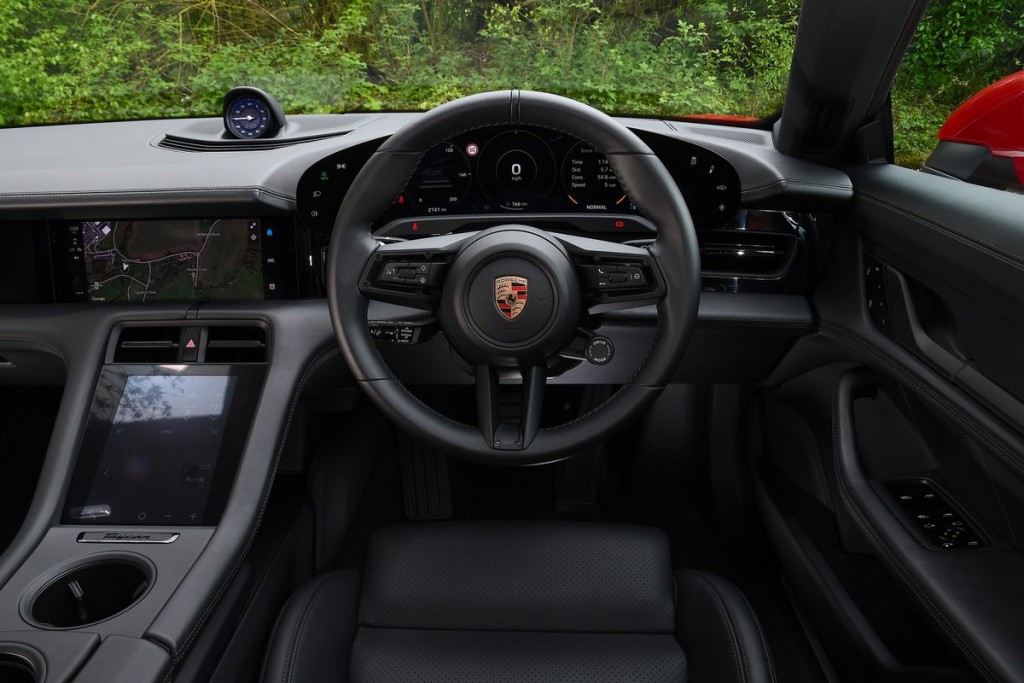 Adding to the Taycan's dazzle are the numerous touchscreen displays that dominate the dashboard and central column. Behind the steering wheel sits the digital instrument cluster, a lucid 16.8 inch screen that displays various pieces of information including the satellite-navigation and how much G-Force you are generating through a bend. 
In the middle of the dashboard there's a 10.9 inch touchscreen which houses the Taycan's infotainment system. Directly below sits a smaller 8.4 inch touchscreen where the Taycan's array of features can be controlled, including the driving modes and air conditioning.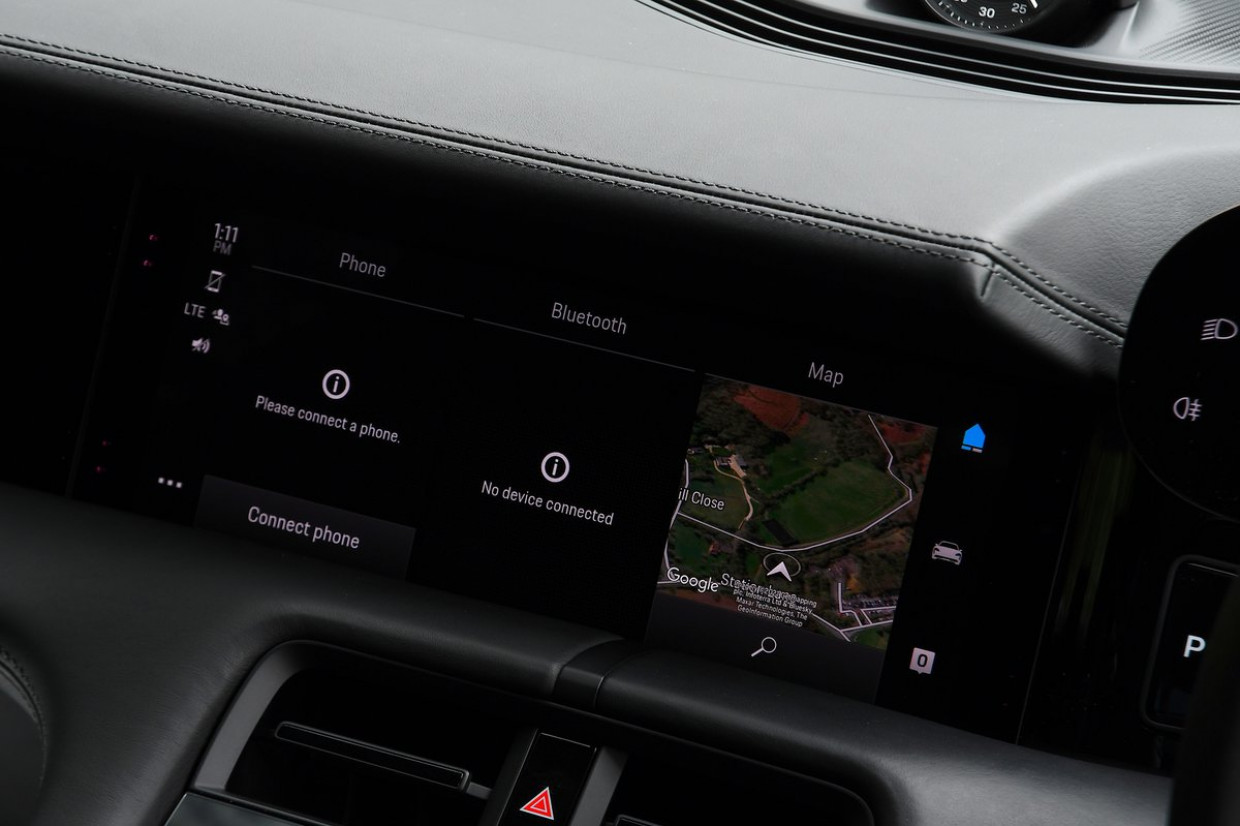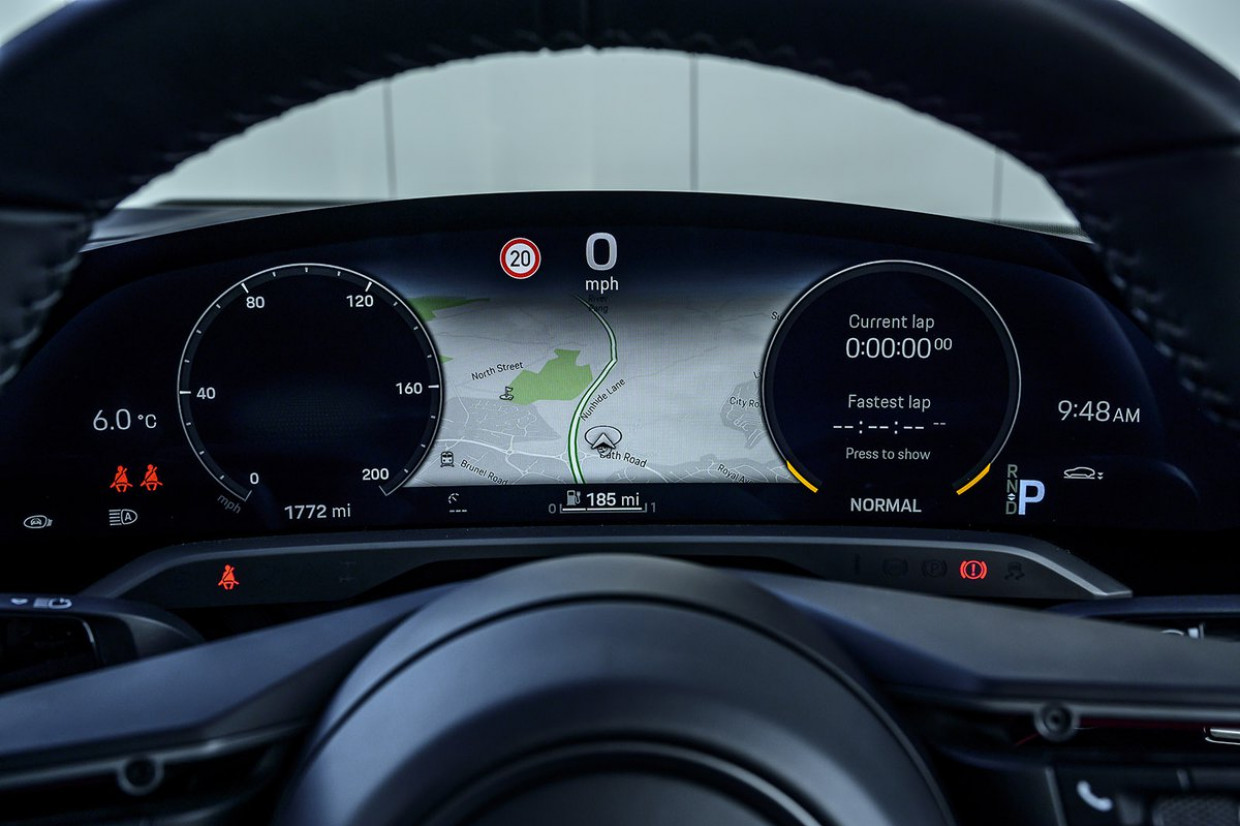 All these touchscreens are enough to make a Tesla owner envious, and help make for a more minimalist, modern interior. But it's worth noting that the lower central screen is somewhat awkward to use on the move. It's also quite easy to nudge even if you are working with the upper screen, as unfortunate episodes of listening to Classic FM with the heat on full blast will soon attest.
It's not all negatives, though: the infotainment system itself is easy to use thanks to responsive touchscreens and well laid out menus. It has a number of useful features too, including Apple CarPlay, although Android Auto is not available on the Taycan.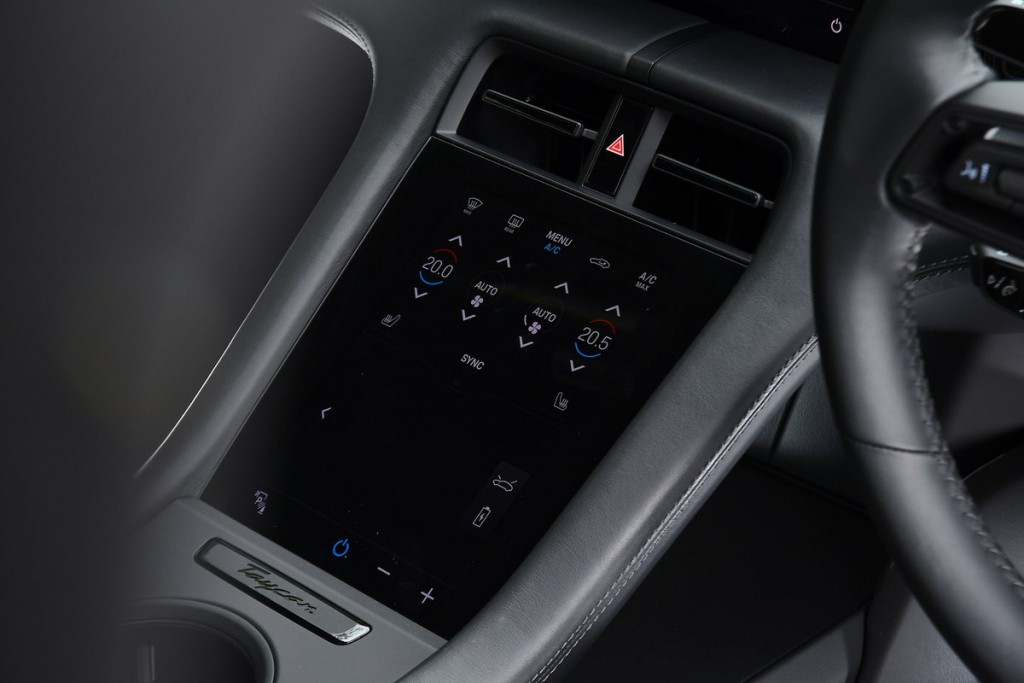 That's a lot of screens. I know cinemas that have less and it doesn't end there. You can also spec an additional 10.4 inch display for the passenger which allows them to interact with the Taycan's infotainment system, including watching satellite TV if that's what takes their fancy.
So you like the Taycan a lot. What's not to like?
Ever tried to use a touchscreen while driving? It's possible but, without wanting to sound like luddites, we're yet to find out what was wrong with simple rotary controls for things like radio volume or temperature controls. They're just more intuitive.
On the e-tron GT Audi has clocked this and produced a much more usable dashboard, replete with physical buttons, which allows you to control numerous features without even taking your eyes off the road. Which is kind of the point... 
Meanwhile, while the rapid charging capabilities of the Taycan are admirable, unfortunately there aren't many rapid devices available in the UK, so it is more likely that you will charge up the Taycan with a 50kW or 150kW device. What's especially frustrating is that the 150kW DC on-board charger, which gives you access to the 100kW-150kW charging points, is a near £300 optional extra. Porsche certainly knows how to make money as expertly as it makes brilliant cars.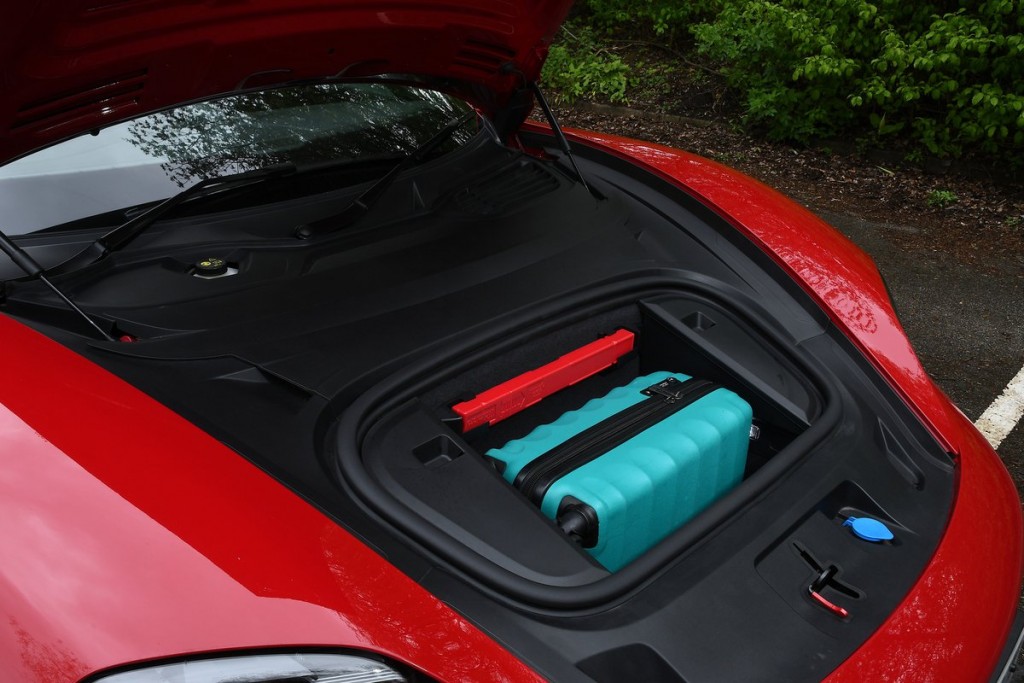 You keep mentioning it: so am I better off with the Audi e-tron GT then?
Although heavily related, with large parts of their technology shared, the Taycan and e-tron GT do differ. The key difference is that the e-tron GT is a little softer than the Taycan. It's a small difference but enough, by the merest of margins, for us to declare that the Taycan is the better package for driving enthusiasts thanks to its excellent handling. 
But - let's be clear - it's a fine line: the e-tron GT has superb handling and delivers incredible performance. It is practical and there is plenty of room for three adults in the back.
The curveball to consider is probably therefore Tesla's Model S, which is perhaps better for families and might just have the edge when it comes to straight line speed. Lets not forget the Model S' formidable 405 official range figure, which is still far better than any car in this class. 
Verdict
If you want an electric car that delivers an exceptional driving experience then the Porsche Taycan is unequivocally the car to go for. Its beguiling performance, tech laden interior and solid range figures make it one of the finest electric cars you can buy.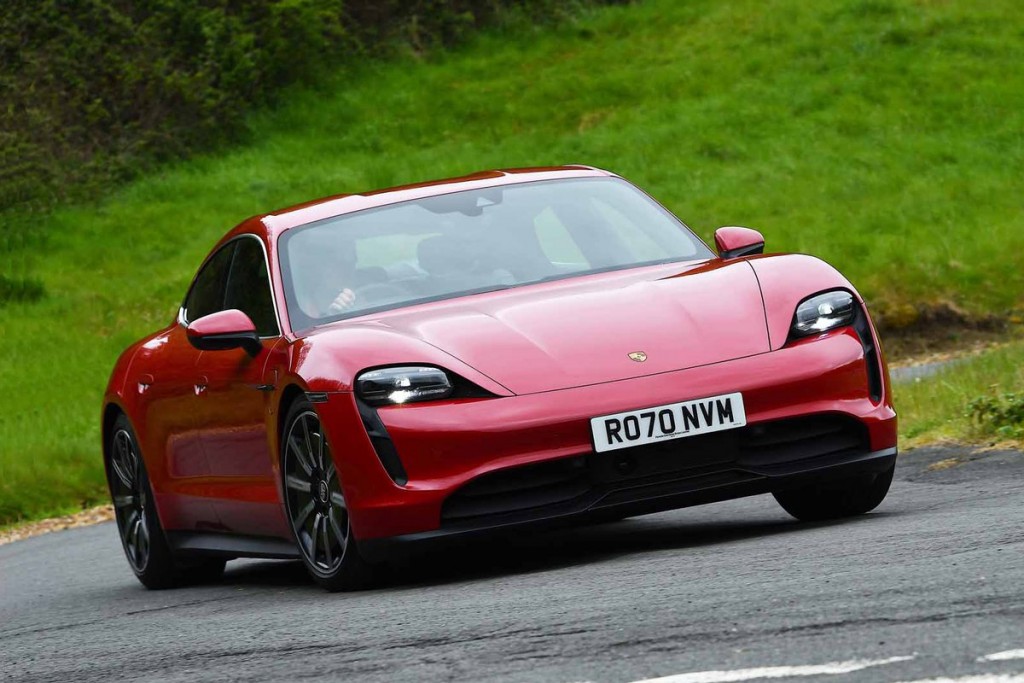 Porsche Taycan specification
Porsche Taycan 93kWh
Price from: £72,850
Motor: Permanent magnet synchronous motor 
Gearbox: Automatic
Driven wheels: Rear or All
Maximum power: 402bhp
Maximum speed: 143mph
0-62mph from: 5.4 secs
Electric range (official): 301 miles
CO2 emissions: 0 g/km
Tyres from: 245/45 R20
Kerb weight: 2205kg
Height: 1394mm
Length: 4963mm
Wheelbase: 2900mm
Width with mirrors folded: 1966mm
Maximum boot capacity: 407 litres
Rivals
READ MORE
e-CARS
e-BIKES
e-MOTORBIKES
e-SCOOTERS