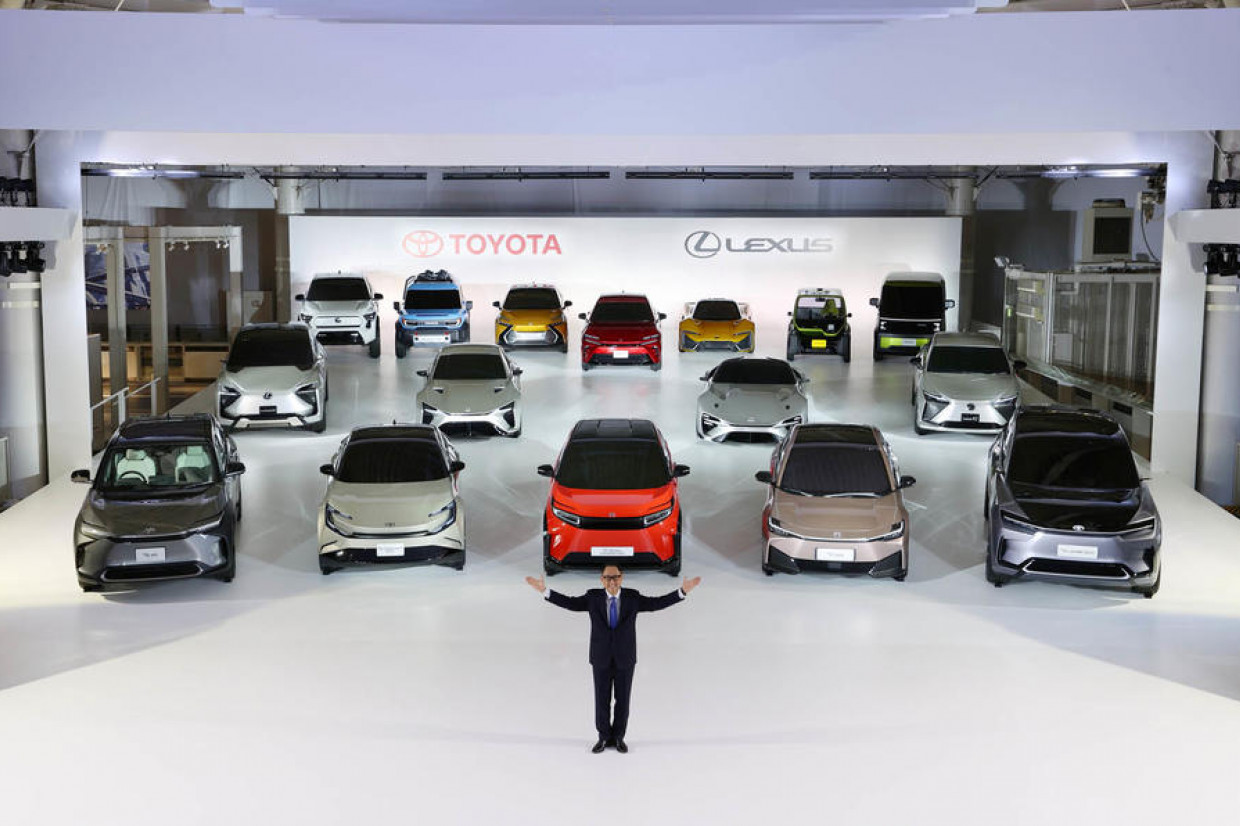 Toyota is one of the world's biggest car companies, but in recent years it's been accused of lagging behind its rivals when it comes to electric vehicles. But the Japanese firm has moved to address that by unveiling 15 new electric concepts, including a range of SUV, saloons, off-roaders and even supercars.
The new machines revealed by compact president Akio Toyoda include 11 Toyota models and four from its premium brand Lexus. And they represent just half of the 30 electric cars Toyota has pledged to launch by 2030 – by which point the firm wants to have sold 3.5 millions EVs, up from a previous goal of two million. To achieve that, Toyota is investing £13.3 billion in battery development.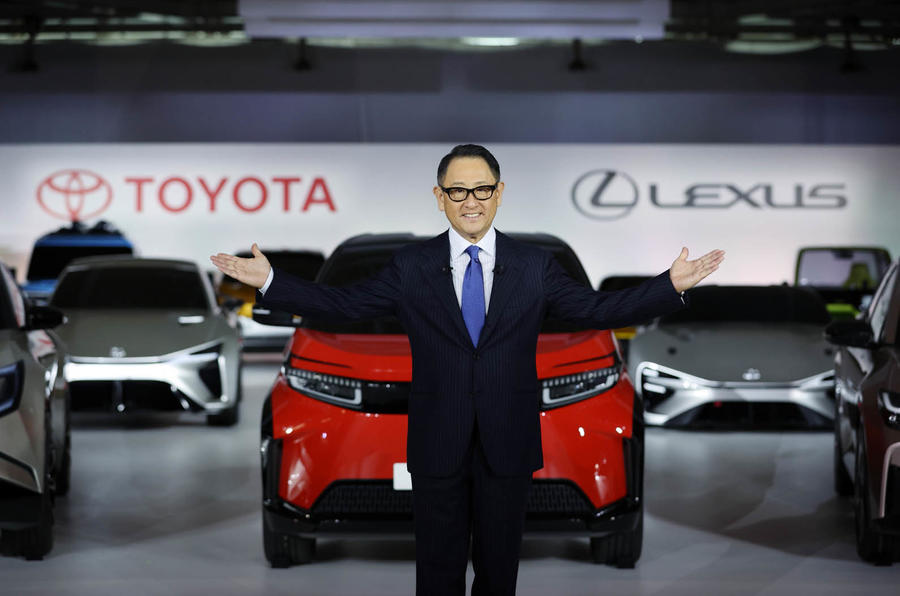 The company is aiming for Lexus to become an electric-only brand in Europe by 2030, with Toyota's European arm aiming for a "100% CO2 reduction" from its vehicles – which allows for hydrogen cars such as the Mirai – by 2035.
Toyota has long been a leader in hybrid technology, and while some rivals are going all-electric it is set to continue offering a mix in the future. During his presentation Toyoda said: "We are living in a diversified world and in an era in which it is hard to predict the future. Therefore, it is difficult to make everyone happy with a one-size-fits-all option. That is why Toyota wants to prepare as many options as possible for our customers around the world."
Toyoda said the firm would offer both carbon-reducing and carbon-neutral vehicles, noting that the key factor to achieving the latter was the use of clean energy to power such vehicles. He added: "If the energy that powers vehicles is not clean, the use of an electrified vehicle, no matter what type it might be, would not result in zero CO2 emissions."
Here are some of the key vehicles among the 15 Toyota and Lexus concepts.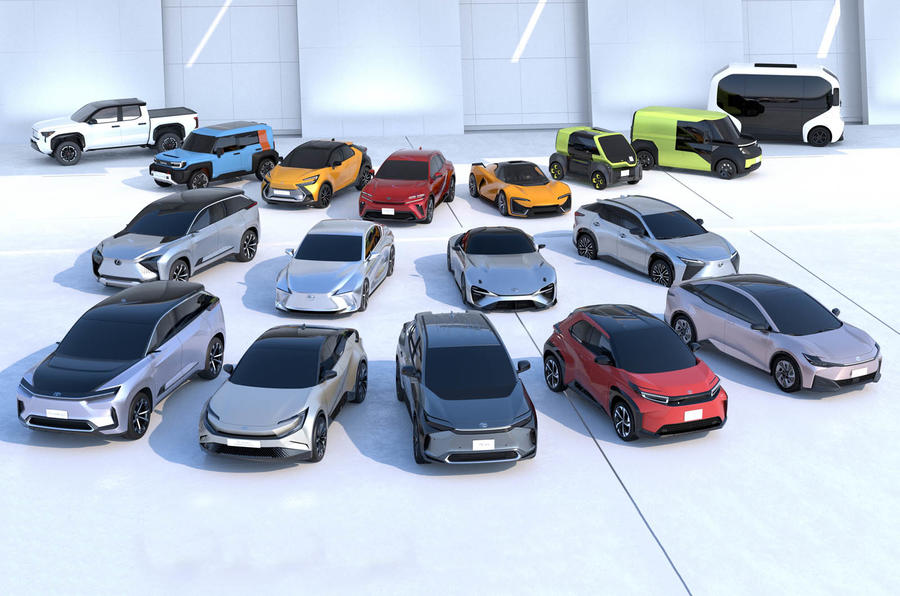 The 'reasonably priced' Toyota range
Toyota's first dedicated electric model, the bZ4X SUV, has been co-developed with Subaru and is due to launch next year. The firm has confirmed it will offer a range of bZ-branded machines using the e-TNGA platform it is built on, and has now revealed four models due in the near-future: a compact SUV, a large seven-seat SUV, an urban crossover similar in size to the Aygo X city car, and a mid-sized saloon that is designed as a possible first car.
Toyota did not reveal technical details for any of the 15 concepts, although Toyoda said that the urban SUV would be focused on the European and Japanese markets and would focus on power efficiency rather than battery size. The target is 125 watt-hours per kilometre.
Toyoda also hinted that the firm would add electric versions of some existing model lines, which are likely to use adapted platforms, rather than the bespoke e-TNGA architecture used by the bZ models.
Lexus to launch premium models
The first Lexus EV built on a dedicated electric platform will be the RZ, an SUV that will arrive next year and will be closely based on the Toyota bZ4X.
Following that, the concepts revealed suggest the firm is plotting a large SUV similar in size to the RX, and an IS-sized luxury saloon.
Toyoda said that electric Lexus models would be focused on premium appeal and sporty handling, and will use a new Lexus Sports Battery that will allow for acceleration times in the low two-second range and a range of more than 430 miles.
And there's a new Lexus sports car
The most dramatic Lexus concept shown was a new sports car that appears to take styling cues from the current LFA super car. It will likely serve as a halo model for the Lexus EV range, and the wider Toyota line-up.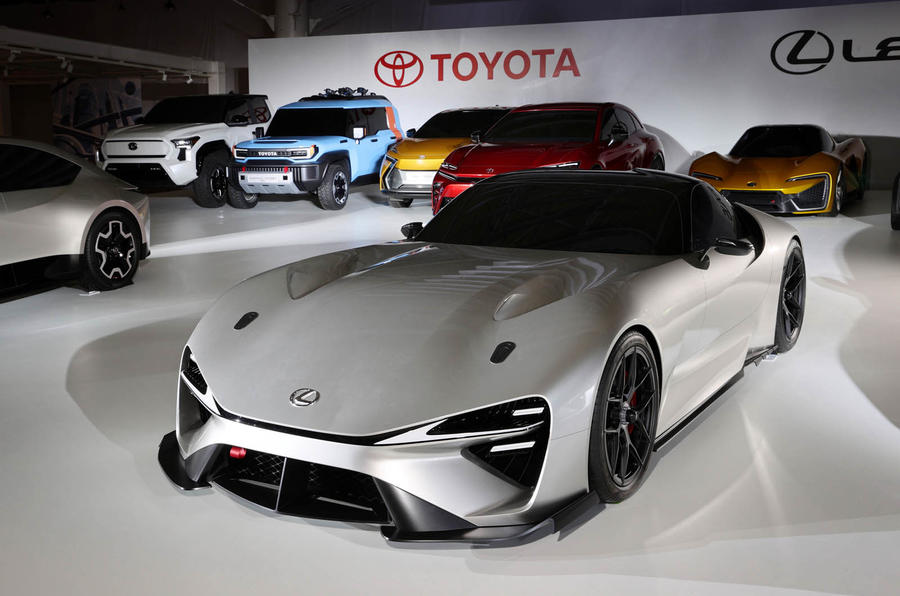 Toyoda promised the new machines would be "a next generation battery EV sports car that inherits the driving taste, or the secret sauce, of the performance cultivated via the development of the LFA. We will extend the driving taste refined this way to other models as we evolve Lexus into a brand centred on battery EVs."
There was also a Toyota sports car among the models shown, which will likely be co-developed with the Lexus super car, and could serve as a spiritual successor to the classic MR2.
And there's more…
The firm did not go into detail on every model features (the presentation might still have been going on if they had…), but the line-up including a range of small and large commercial vehicles, a large off-roader that seems to take inspiration from the Land Cruiser and a pick-up truck that could serve as an electric Hilux.
11 models unveiled highlight the diversity of Toyota and Lexus's planned EVs; alongside small commercial urban EVs were full-sized off-roaders, a pick up truck and even a pair of supercars.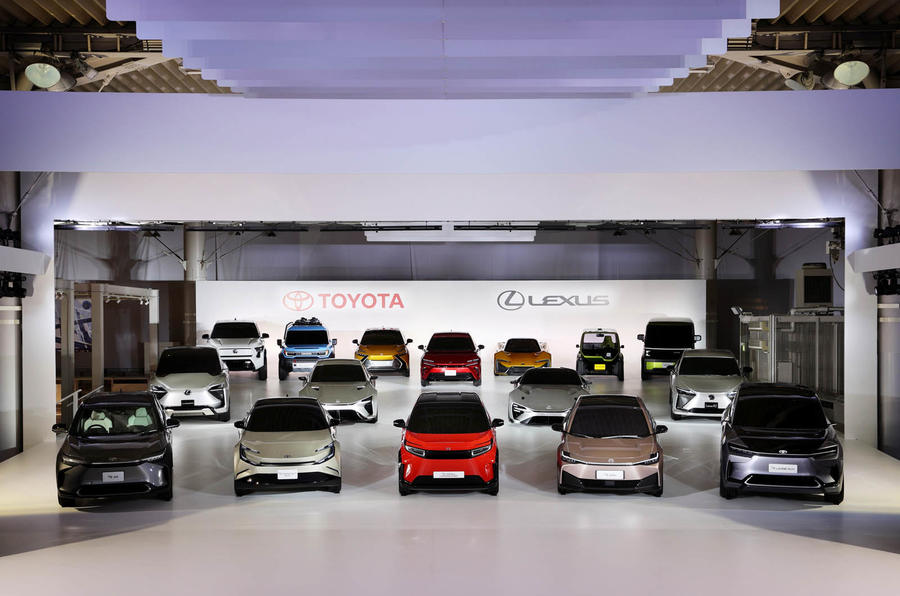 READ MORE
e-CARS
e-BIKES
e-MOTORBIKES
Seat Mo 125 electric scooter review
e-SCOOTERS
Exclusive: E-scooter CO2 saving
e-WORLD