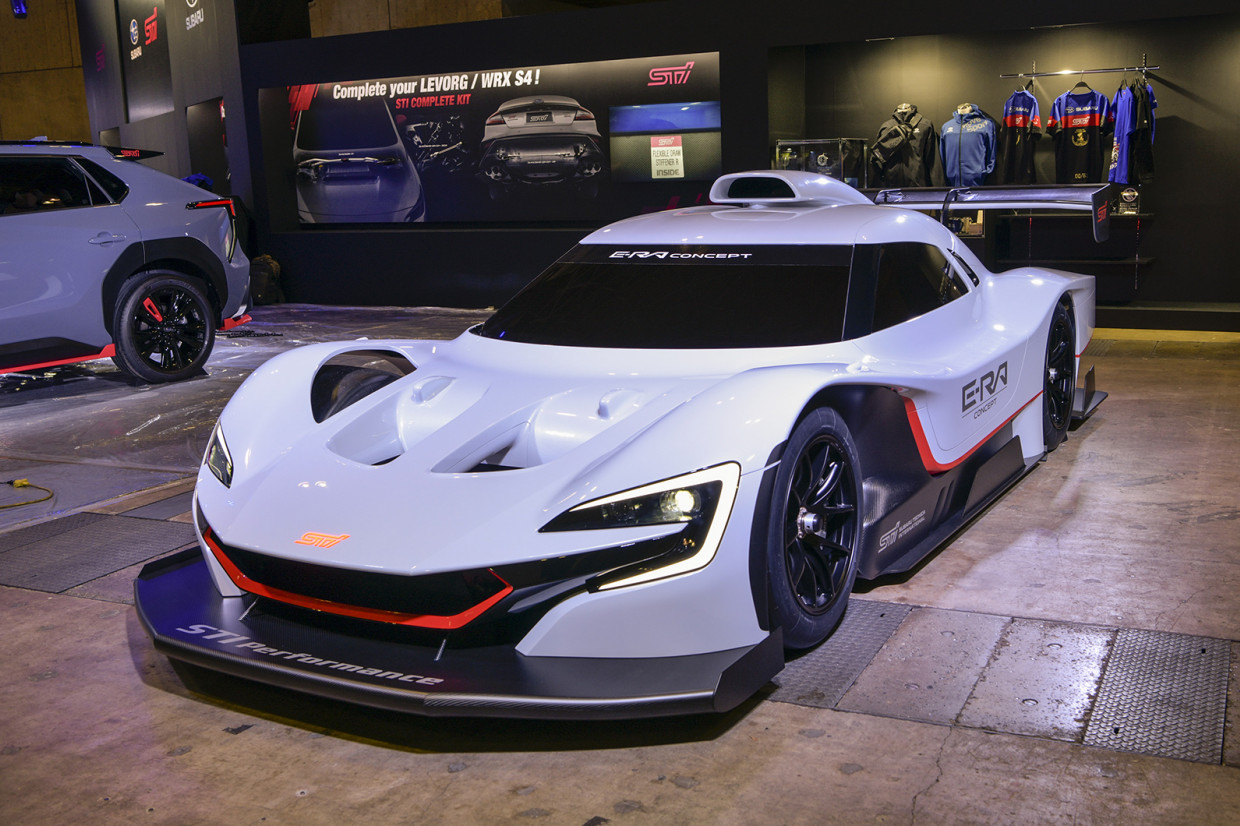 Subaru has revealed a bold vision for the "near-future" of motorsport - the stunning STA E-RA concept, an 800kw, all-wheel-drive track weapon.
The new machine features sports prototype-esque styling and a huge rear wing. It was unveiled at the Tokyo Auto Salon in Japan, and has been developed by Subaru's performance arm, STI, with "the aim of gaining experience and training of new technologies in the world of motorsports in this carbon-neutral era focused on combating global warming."
Toyota and Subaru unveil new performance-themed electric SUVs
Subaru will test the machine at circuits in Japan this year, before taking it to the fearsome Nurburgring Nordschleife in 2023. The 12.94-mile circuit is a popular automotive proving ground, and Subaru is aiming for the STI E-RA to set a lap time of 6mins 40secs. Giving notice of Subaru's intentions, E-RA stands for 'Electric Record Attempt'.
The STI E-RA features four motors – one driving each wheel – with a combined output of 800kW (1073bhp). That exactly matches the similar Porsche Mission R motorsport concept that was revealed last year.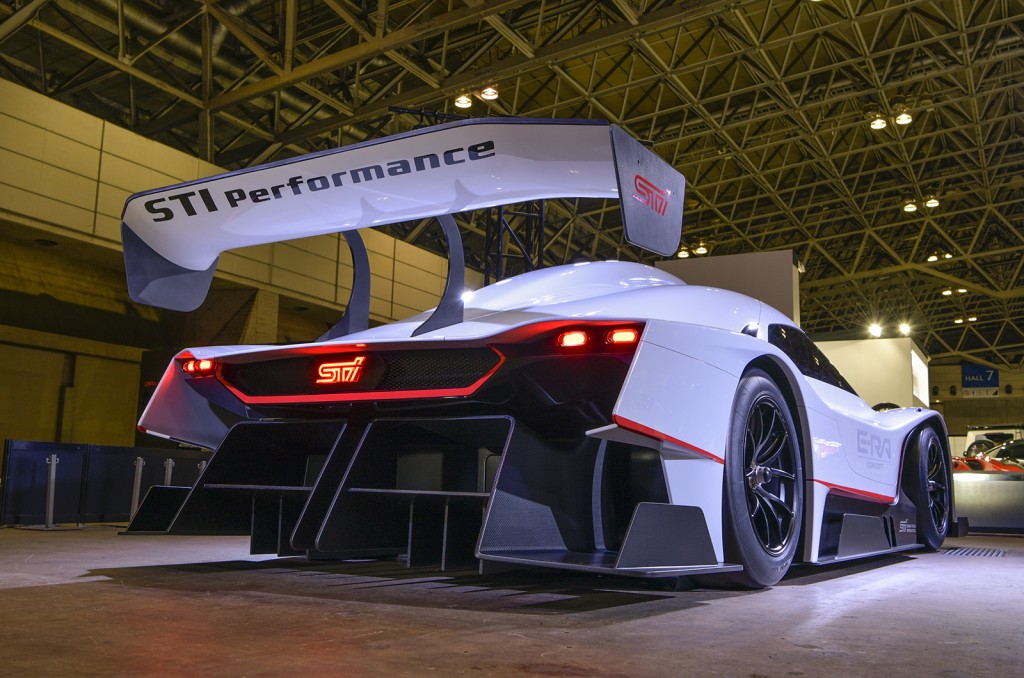 Subaru says the machine has been developed to showcase how the brands established four-wheel-drive experience can be applied to future electric cars. The high-torque, high-revolution motors have been developed by Yamaha, and feature an integrated inverter and a special gear for "hyper EVs". Power is drawn from a 60kWh lithium ion battery.
The STI E-RA uses a torque vectoring system to balance the power to the four wheels, controlling the power to each individual wheel in order to maintain maximum grip and stability. Subaru's system uses sensors in each wheel to calculate vehicle and wheel speed, steering angle, G-force, yaw rate, brake pressure and wheel load, and then calculates the drive or braking torque that needs to be applied to each individual wheel in order to give optimum stability.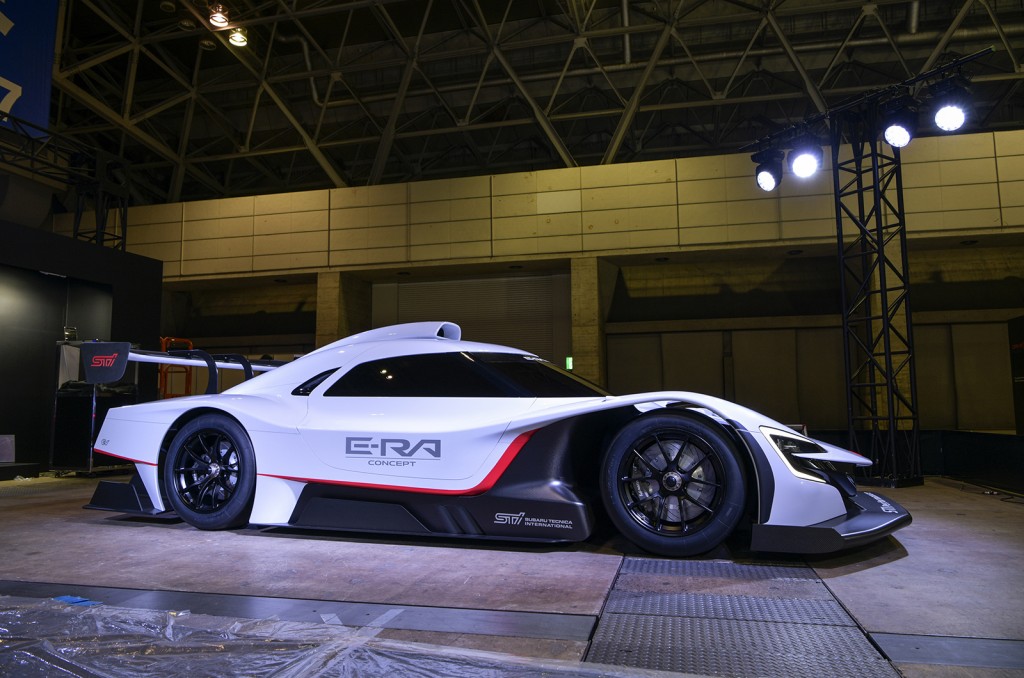 The motors are directly attached to each wheel through a structure designed by Subaru to offer a high level of responsiveness and yaw control. The firm says it has pursued this system both before it can maximise the kinetic performance of a vehicle, and because it is tipped to be included in the regulations for a future FIA E-GT motorsport championship.
The Volkswagen ID R, a 500kw (675bhp) prototype designed to win the Pikes Peak International Hillclimb, holds the current Nordschleife electric lap record, setting a time of 6mins 05.336secs in June 2019. Subaru's 6mins 40secs target would be the second quickest EV lap of the track, and would be close to the 6mins 38.835secs achieved by a Porsche 911 GT2 earlier this year.
Subaru has a long history of success with four-wheel-drive motorsport machines, particularly with its ultra-successful World Rally Championship programme in the 1990s and 2000s with a range of Imprezas. Colin McRae, Richard Burns and Petter Solberg all won the World Rally Championship driving for the firm.
Subaru also revealed a new Solterra STI at the Tokyo Auto Salon, which hinted at a possible performance version of its first production EV.
READ MORE
e-CARS
The ten best-selling electric cars in the UK
e-BIKES
Cairn Cycles E-Adventure 1.0 e-bike review
Ten e-bikes we're looking forward to in 2022
e-MOTORBIKES
Ten electric motorbikes to look forward to in 2022
Art, sustainability and choppers - the wonderful world of Stirling Eco
e-SCOOTERS
Hypercar firm Bugatti's first electric vehicle is an 18mph e-scooter
Ride-hailing firm Bolt set for UK expansion after big investment
e-WORLD
Veolia to open first UK plant for recycling EV batteries
The new Bobcat T7X is a truly groundbreaking electric digger