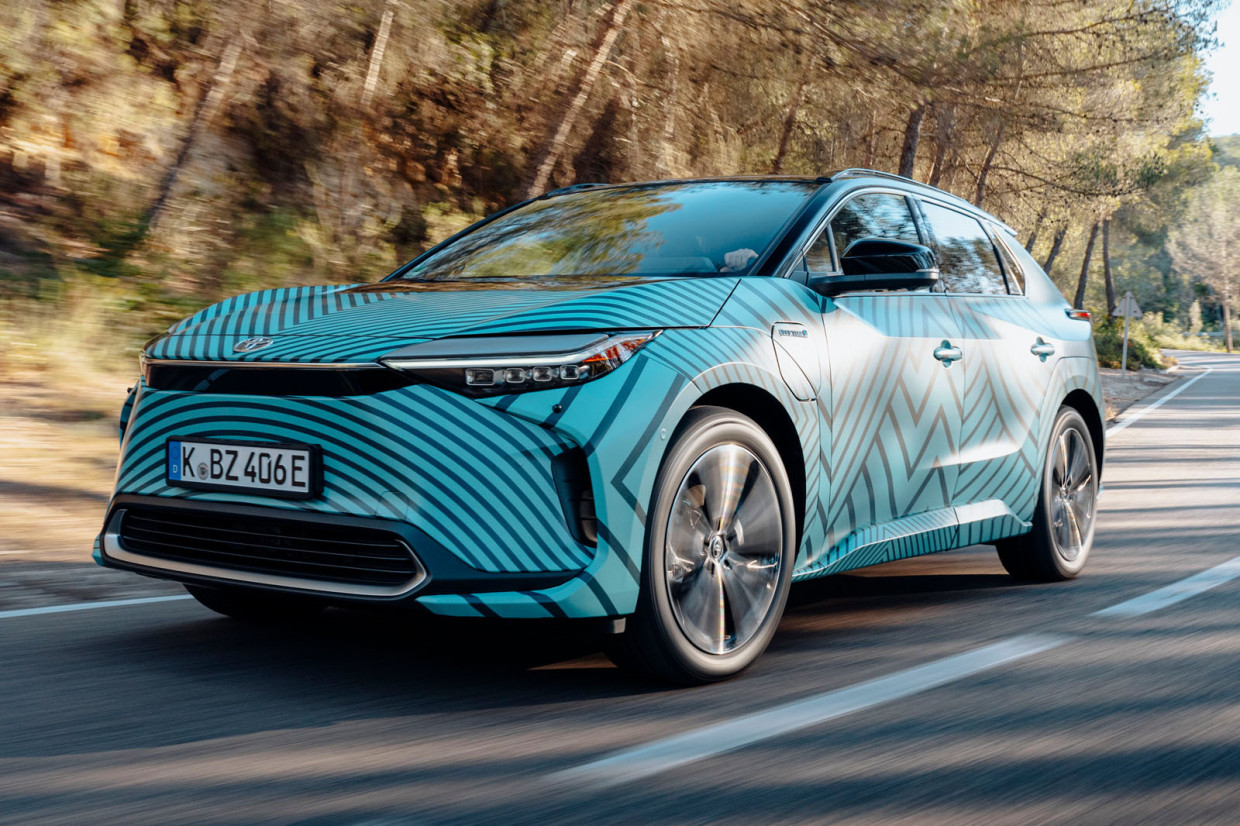 Sell it to me in a sentence...
What you're looking at is a car many of us in the electric vehicle world thought would never come – Toyota's first-ever battery electric vehicle (BEV). 
I thought Toyota was all about hybrids?
Exactly. The very existence of the bZ4X is significant because until recently the Japanese manufacturer maintained that the best way to reduce worldwide vehicle emissions was to embrace petrol-powered hybrids and hydrogen fuel-cell cars.
Now, though, with the stratospheric rise in the market value of BEV specialists such as Tesla, Rivian and Lucid, the rapid customer acceptance of such vehicles and increasingly tough emissions rules, Toyota has clearly decided it finally needs to show buyers that it's fully on board with the electric revolution. Hence the bZ4X. 
The name might sound like a random collection of letters and numbers, but it's kinda of significant. The bZ element refers to the car maker's Beyond Zero electrification strategy, and the bZ4X is the first of seven new pure EVs that will carry it. The 4X denotes its place in the brand's line-up as a compact SUV - you'll note it shares the number with the similar-sized Toyota RAV4 Hybrid.
That digit is all the bZ4X shares with the RAV4: the new model sits on a bespoke electric vehicle platform called e-TNGA. It's been developed in collaboration with Subaru, whose own e-TNGA-based EV is the soon-to-be-released Solterra SUV.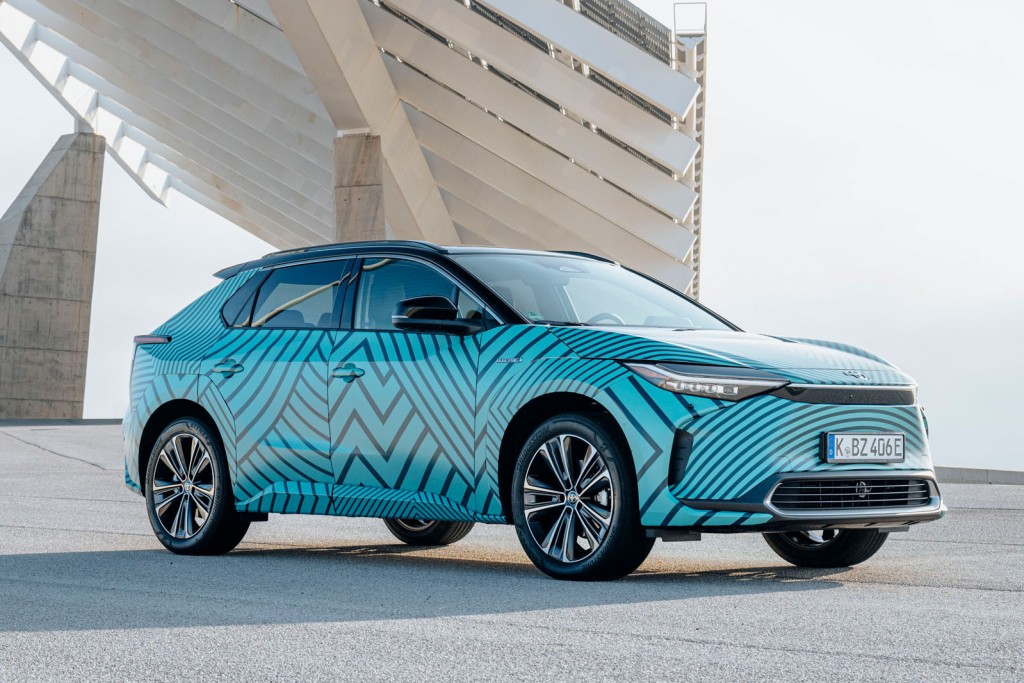 So it looks futuristic, but gimme the stats...
Well, two power outputs are offered from launch (and we're hopeful a hot bZ4X GR Sport will arrive in time).
The entry level car has front-wheel drive and a single motor delivering 150kW (201bhp), 195lb ft of torque and a 0-62mph time of 7.7sec. Above that sits a twin-motor, four-wheel-drive range-topper that increases power to 160kW (214bhp), torque to 248lb ft and cuts the 0-62mph time to 6.9sec.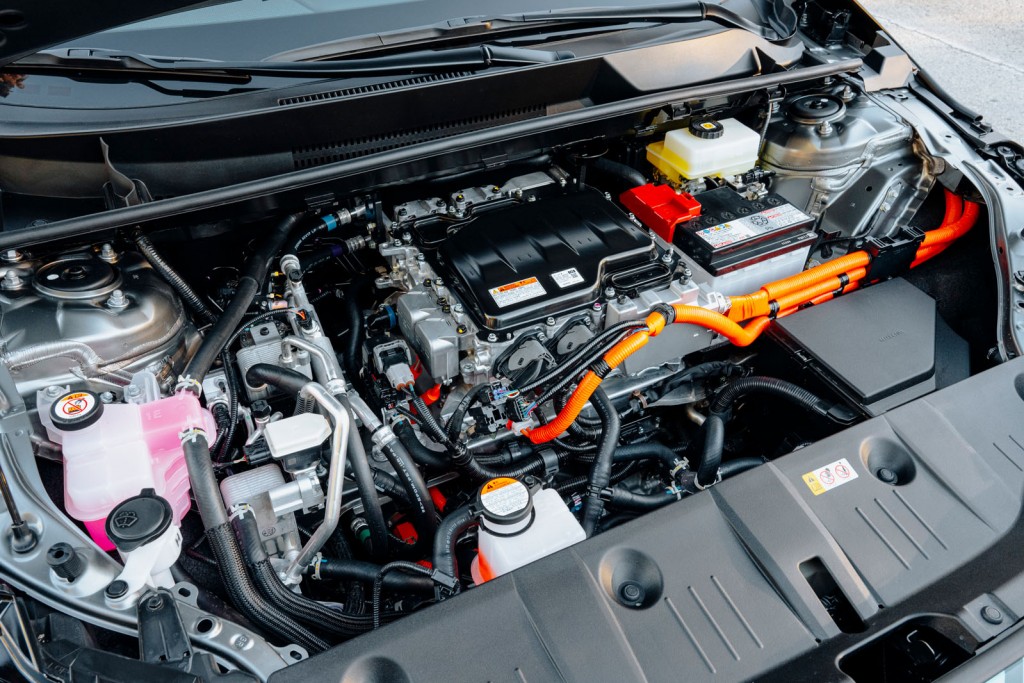 Both models have a 71.4kWh battery pack beneath the floor, promising a provisional WLTP range of more than 280 miles in the front-wheel-drive car and over 255 miles in the four-wheel-drive model. A standard-fit heat pump should ensure only a modest drop in range in sub-zero temperatures.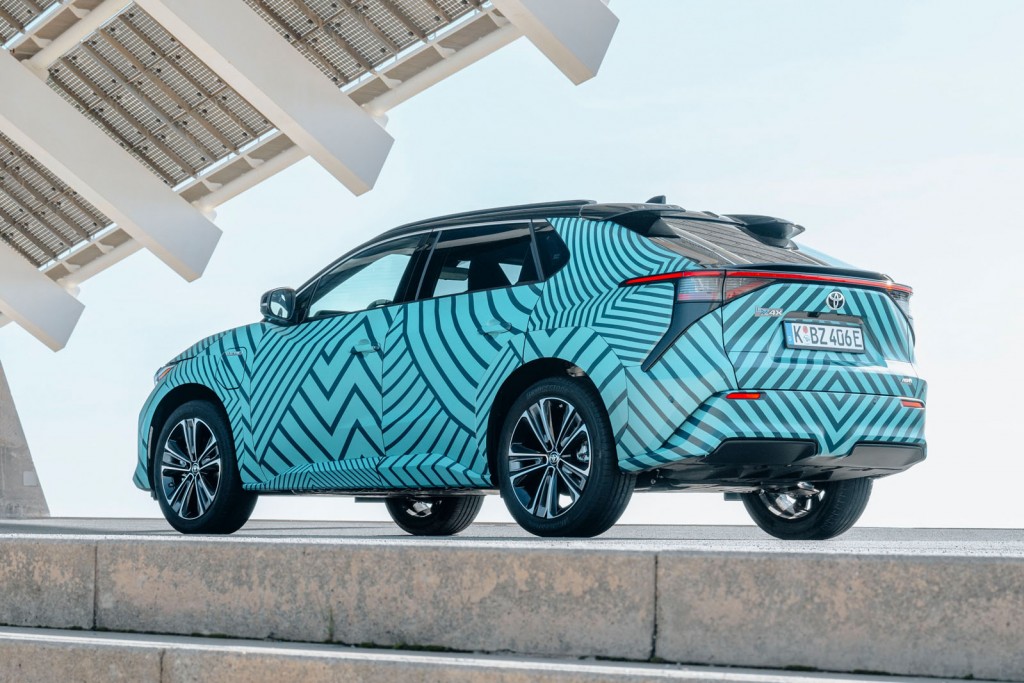 Those figures are respectable, but not exactly groundbreaking. For reference, an entry-level Skoda Enyaq iV 60 has an official 256-mile range, while the Kia EV6 and Tesla Model Y can both manage more than 300 miles. The same goes for the bZ4X's maximum charging speed of 150kW: that's faster than a range-topping Volkswagen ID 4 or Enyaq, but slower than the 200kW-plus capabilities of the EV6 and Model Y.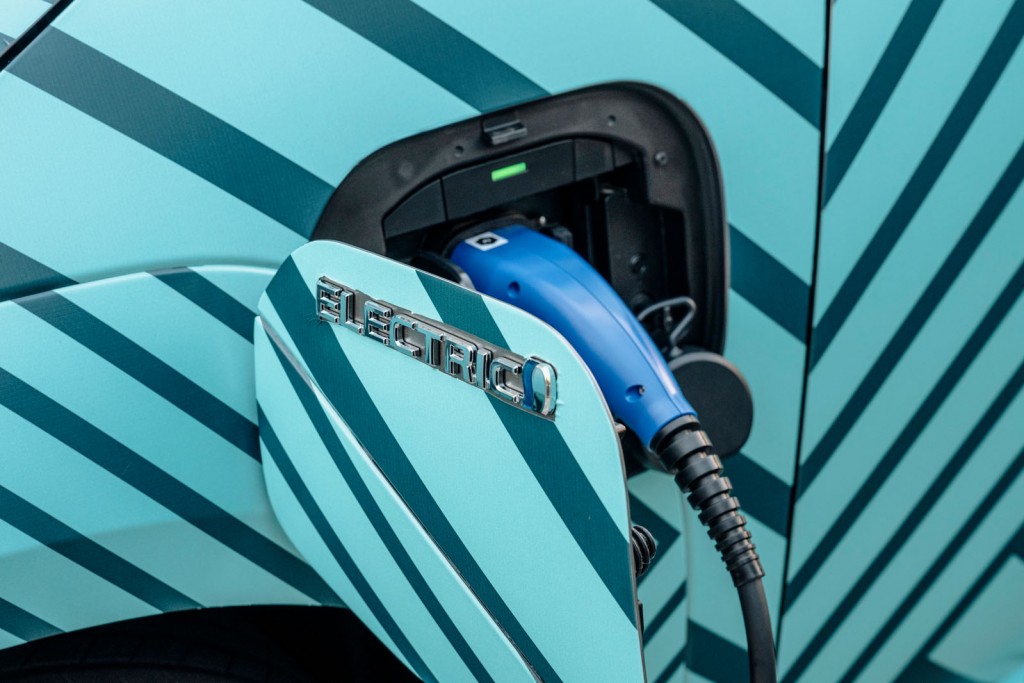 One neat trick: in some European markets you can get the bZ4X with an optional solar panel roof, which the firm says can add an extra 1100 miles a year. Perhaps predictably given how rubbish our weather can be, it won't be offered here.
What's with the camo? 
We should point out that the cars we were driving were described by Toyota as being 'hand-made' pre-production prototypes (hence the camouflage) and not fully representative of the cars we will get in the UK. But, truth be told, aside from a bit of buffeting generated by the side mirrors and a whistle from the panoramic sunroof, the cars, dynamically at least, felt very close to being production-ready.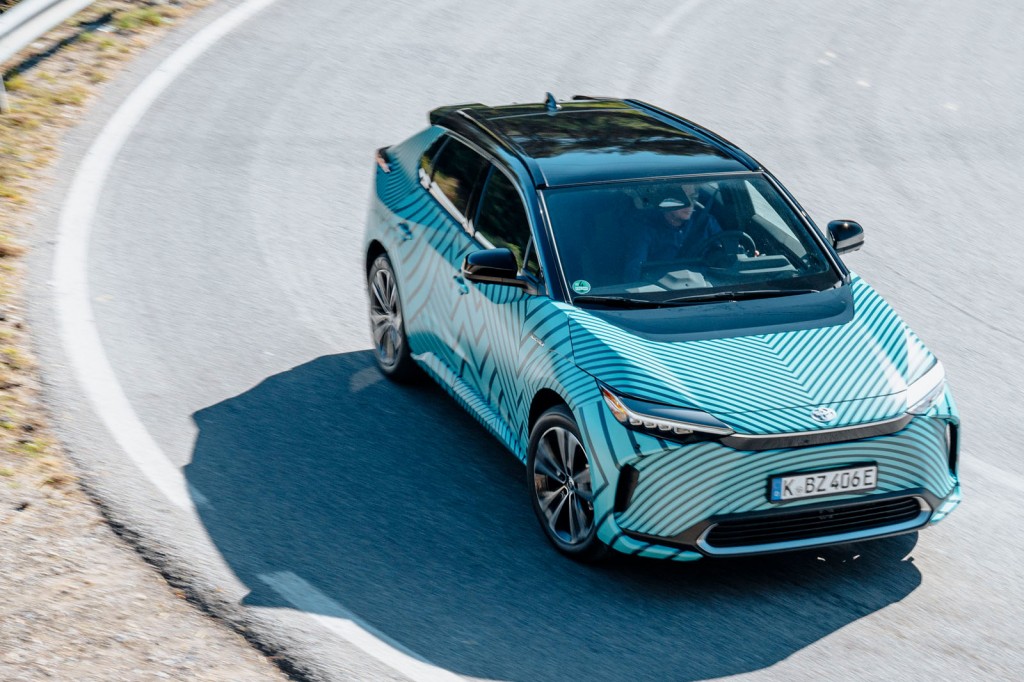 Throttle response, for example, felt well-calibrated, and while our range-topping twin-motor, four-wheel drive test car lacked the neck-snapping accelerative force of the Model Y Long Range and EV6 AWD, we didn't find it lacking in punch off the line. It's only as the speed rises beyond 70mph that the rate of acceleration starts to ease off compared with those rivals. 
The easygoing power delivery combined with fairly soft suspension makes the bZ4X a relaxing place to while away hours behind the wheel. And while the downside to fitting relatively soft suspension to an upright SUV is increased body roll in the corners, the bZ4X felt surprisingly competent on the tight and twisty country roads outside Barcelona. Body movements remained well-controlled and a reassuringly consistent brake pedal gave us the confidence to cover ground at a reasonable pace.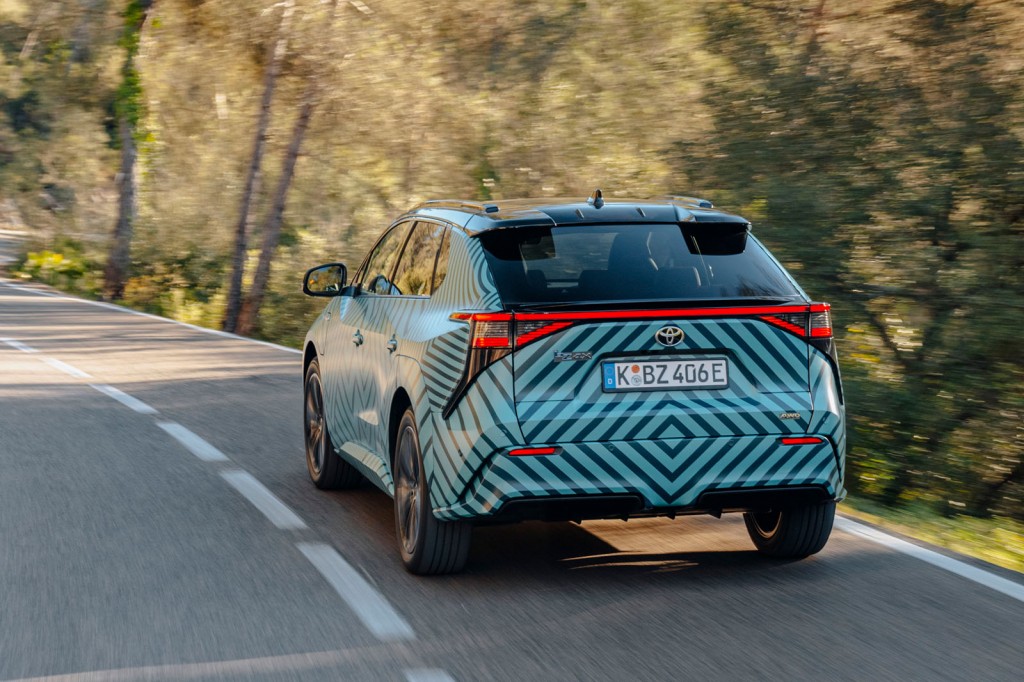 Sadly, we didn't get to sample the bZ4X with Toyota's intriguing 'steer-by-wire' system, which supposedly gives you full lock with just a 150-degree turn of the accompanying (and yet to be signed off) Tesla-inspired 'yoke' steering wheel. The standard system feels naturally weighted and progressive, though. 
When the going gets rough…
One major benefit of developing a car with Subaru is that you get to adopt some of that firm's famous off-road tech. The bZ4X gets a version of Subaru's X-Mode terrain control system, which allows it to overcome deep snow, mud and other obstacles.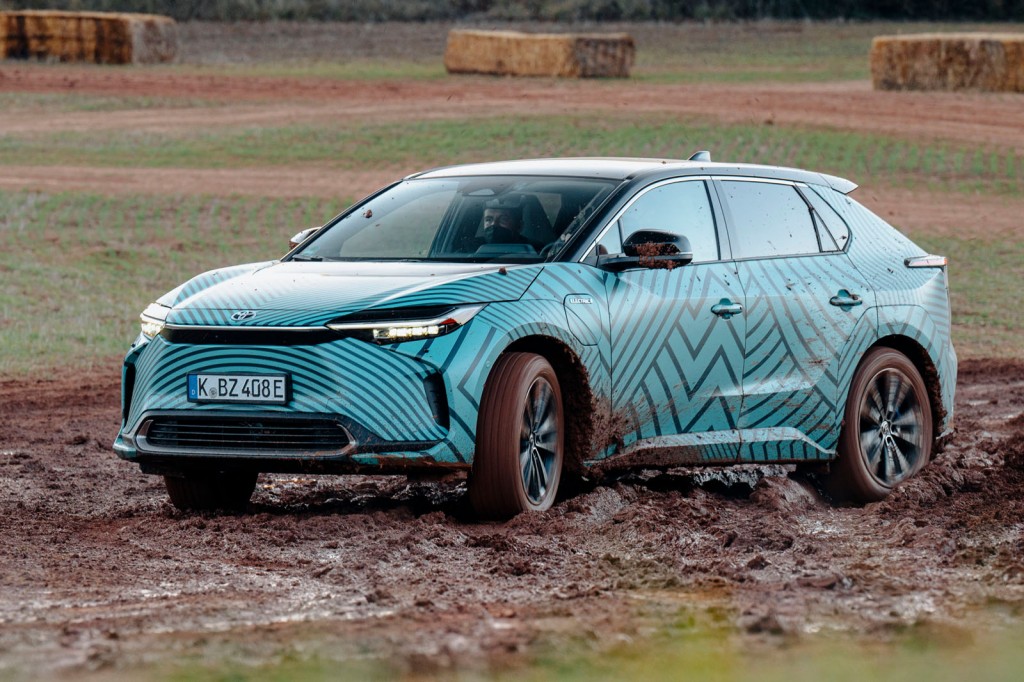 We tested these systems, including the bZ4X's Jeep Renegade Trailhawk-rivalling 500mm wading depth, on a challenging off-road course, and the way the four-wheel-drive system grips in the muckiest of conditions is truly impressive, with the two-motor drivetrain sensing slip and metering out power to each wheel as needed. You don't even need to have your feet on the pedals thanks to an off-road cruise control-style function called Grip Control.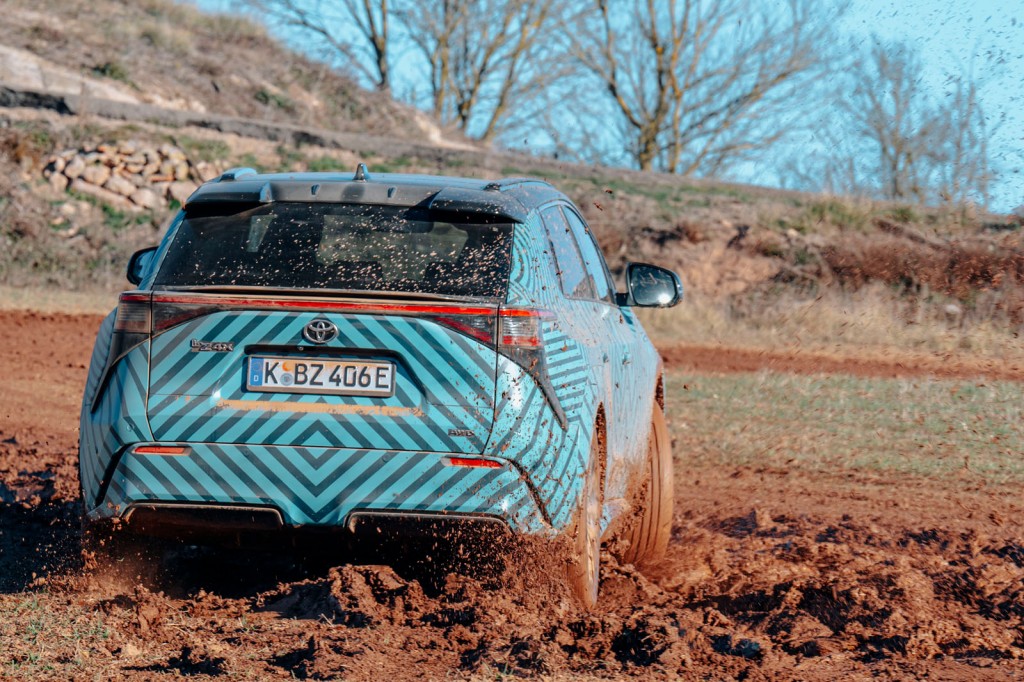 Ground clearance is more of a limitation, and we lightly scuffed the flat belly on a particularly severe crest. Still, few owners will ever venture as far off the beaten path as we did. 
So it will get you out of a muddy car park, but how does it tackle other family duties? 
Inside you're met with exactly what you'd expect from a next-generation Toyota. The materials, while perhaps a little sombre-looking, are plush and well screwed together, while a low scuttle gives an open and airy feel to the interior.
Our only real complaint is the slightly awkward driving position, which places the instrument panel high up on the dashboard and the steering wheel low – a set-up very reminiscent of Peugeot's i-Cockpit layout. We suspect the layout has been designed with the optional yoke steering wheel in mind, because the top of the regular steering wheel cut off the lower part of the dials for this (admittedly vertically challenged) driver.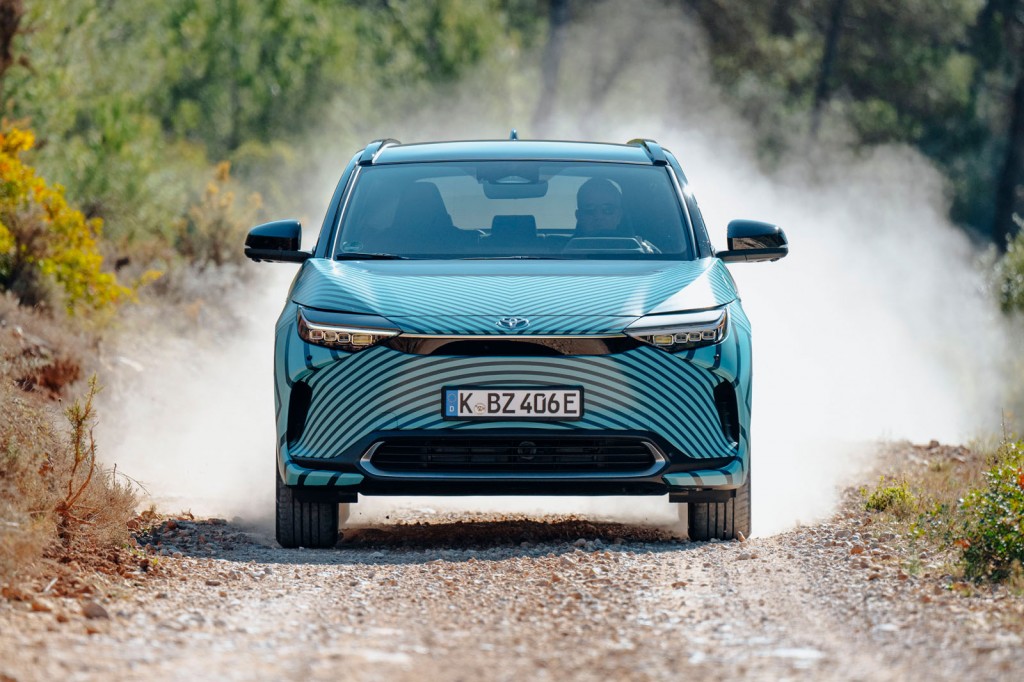 Naturally, higher spec cars give you a cinematic infotainment experience, with a 12in landscape-oriented screen. Wireless Android Auto and Apple CarPlay smartphone mirroring are included as standard with this larger screen, as are EV-specific features showing driving range, driving support and charging station details. The pre-production system in our test car lacked these features, but we can tell you that the screen is graphically sharp and quick to respond to inputs. The bZ4X gains extra points for featuring proper climate-control buttons.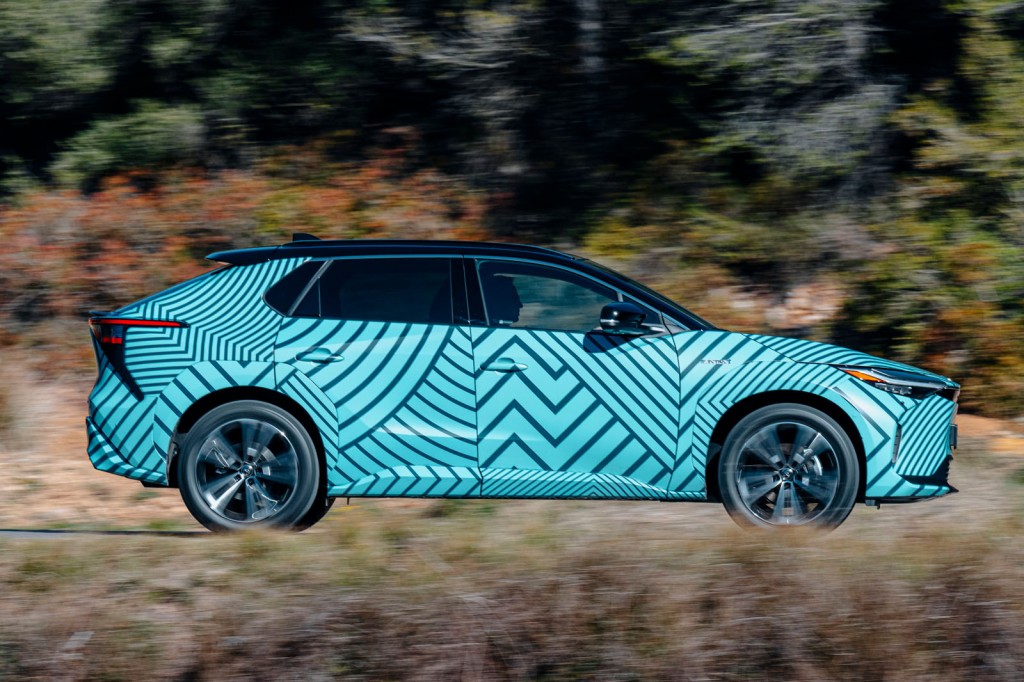 In the rear, two tall adults have limo-like amounts of leg room on account of the unusually long wheelbase, while a flat floor will even make a third occupant feel fairly at ease. However, it does appear that this generous rear passenger space is at the expense of boot space. You get 452 litres with the rear seats in place, which is some way behind the 490 litres offered by the EV6 and the colossal 585 litres offered by an Enyaq. You don't get the benefit of a front trunk ('frunk') as you do in the Model Y, either. 
Verdict
Aside from the wind noise – which Toyota promises will be rectified on production cars – the bZ4X feels impressively well rounded for the Japanese manufacturer's first BEV. It rides well, has a spacious and well screwed together interior, and comes with the reassurance of the car maker's legendary reliability (the 71kW battery unit is guaranteed to still operate to 70% of its original capacity after 10 years).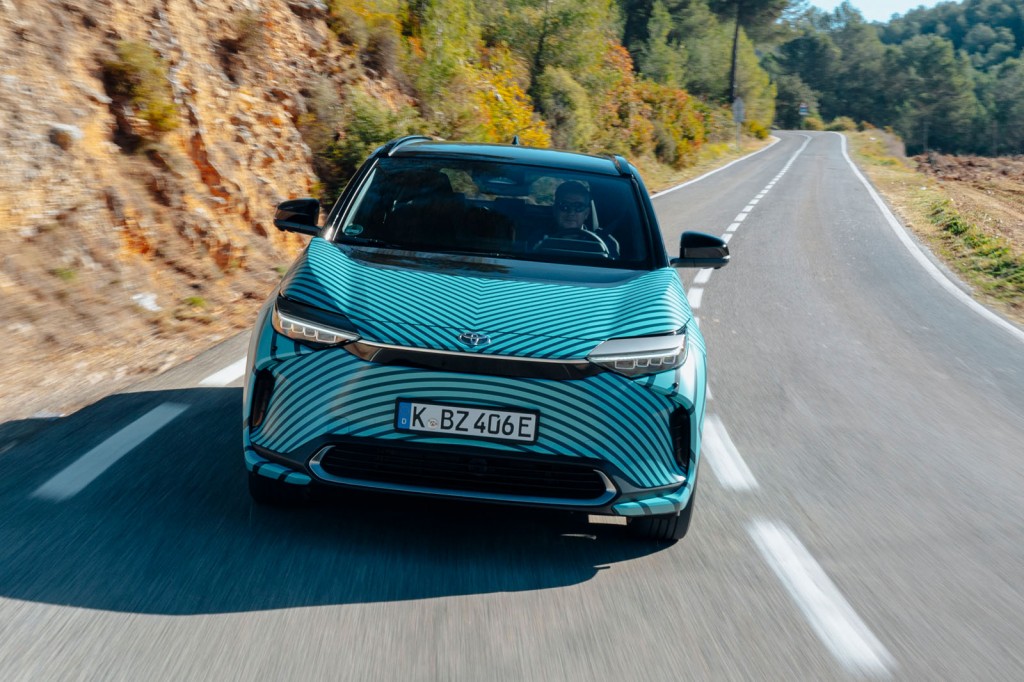 Toyota has yet to homologate the bZ4X's efficiency figures, and as it stands the four-wheel-drive model's provisional range is some way short of its closest rivals, so we suspect that the front-wheel-drive bZ4X will be the sweet spot of the range. It might not have the mud-plugging abilities of the more powerful version, but with a greater provisional range, a lower price, competitive leasing rates and an impressive standard equipment list, it could be a strong contender in this fiercely contested class.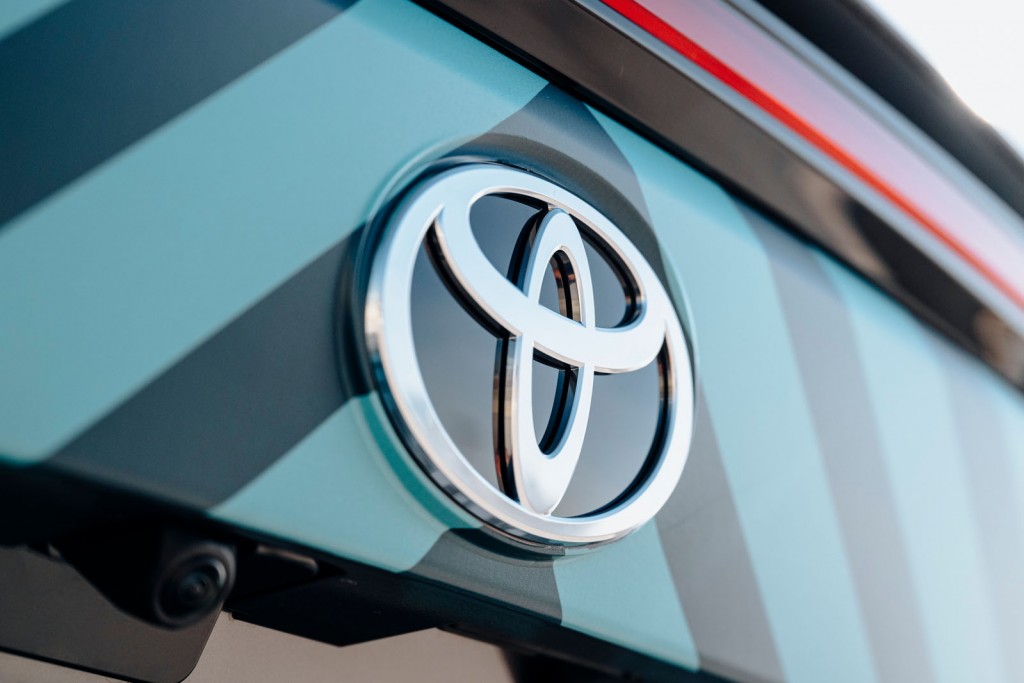 Toyota bZ4X specifications
Price from: £41,950
Motors: Two AC synchronous electric motors 
Gearbox: Automatic 
Driven wheels: two or four
Power (as tested): 150kW 
Torque (as tested): 248lb ft
Kerb weight: TBC 
0-62mph: 6.9 seconds 
Top speed: 100mph
Economy: TBC
CO2, tax band: 0g/km, 0%
Rivals