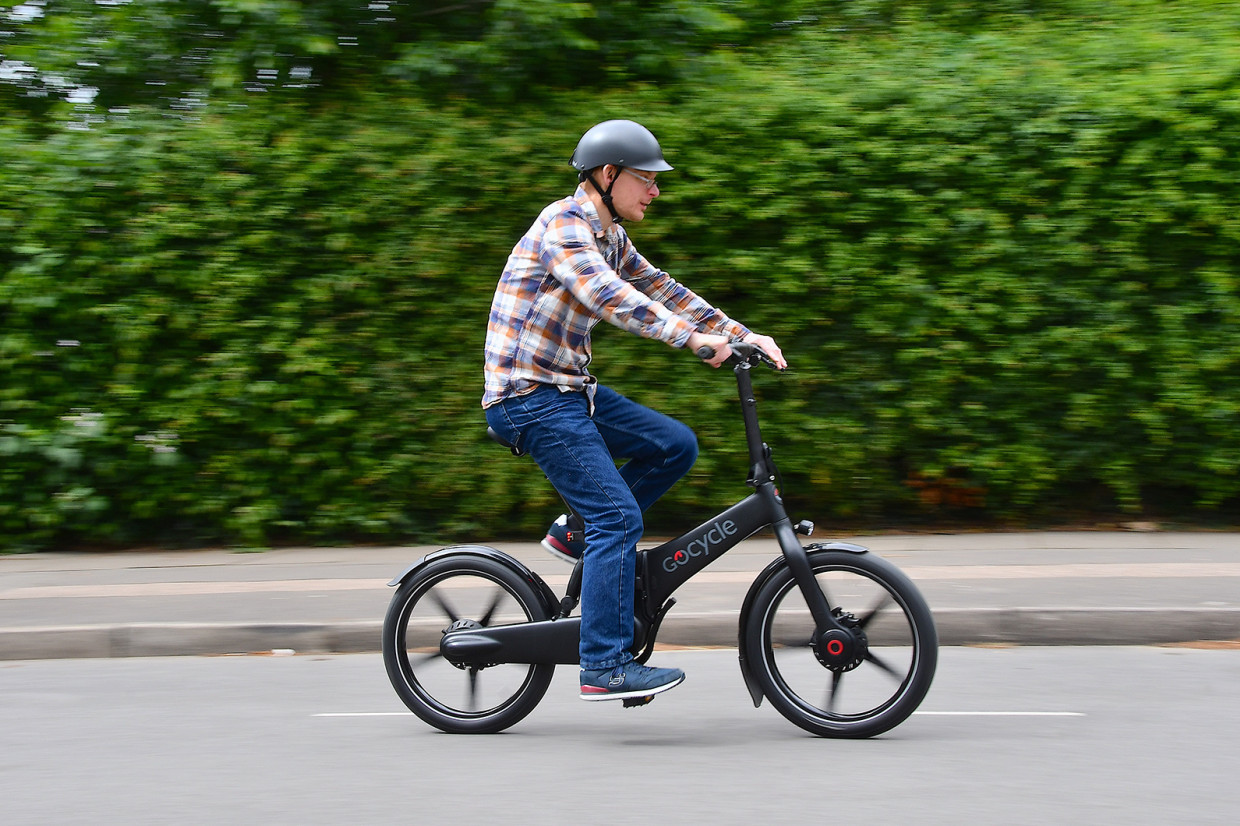 Given the huge growth in popularity of electric bikes in recent years, you might think they're a new phenomenon. But it's been 20 years since Richard Thorpe left his role as a McLaren Automotive design engineer to create the 'perfect' e-bike.
That e-bike was the Gocycle G1, which launched in April 2009 and quickly won a raft of awards and a  committed base of fans. Thirteen years later the Gocycle is now in its fourth generation, with Thorpe's team still relentlessly honing their vision for a lightweight, carbon-framed, folding e-bike.
It's easy to see why Gocycle G4 owners are so passionate about their machines: it earned 4.5 stars in our full review, and we reckon it's the best folding e-bike you can buy.
But will we still love it after an extended period using it as a daily commuting tool on the traffic-snarled roads around Move Electric Towers in Twickenham? Let's find out...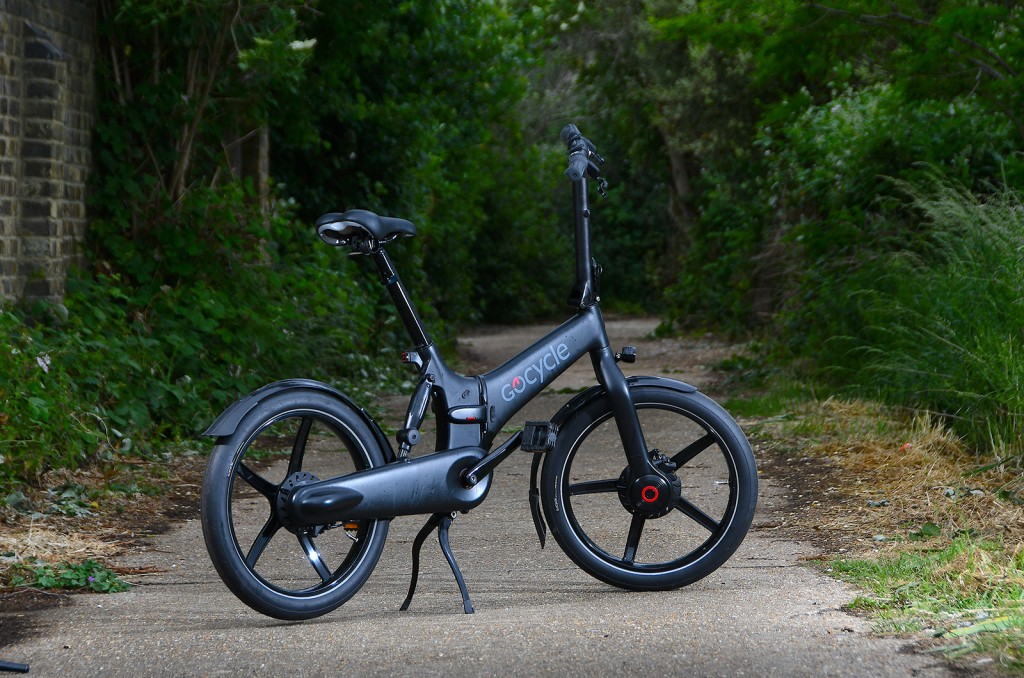 About Move Electric's 'living with' tests
Switching to an electric vehicle of any description involves more than just a change of power source: it requires a change of mindset, and it's only when you use one for an extended period that you really learn how to make the most of it.
To help showcase that, Move Electric will try a range of electric vehicles for extended periods, highlighting the benefits and drawbacks that might not become apparent on a short test. Each report will focus on a different area of ownership, such as how easy it is to adjust to, how far it will really take you – and how much it will impress others on a cycle lane.
Living with a Citroën e-Berlingo: read our latest update
Report one: how easy is it to adjust to?
The Gocycle G4 looks unlike most other bikes you'll find on the market today, whether electric or purely pedal-powered. That's perhaps because it really fuses disparate aspects of bike design and adds a dash of classic British innovation. While it has many of the design traits of folding bikes, such as the relatively small wheels and more upright frame design, the carbon fibre body is more akin to that of a racing bike.
That might make it sound as if the Gocycle would be a bit intimidating to new users, but it's absolutely not: it all makes the G4 really simple to use. There's a hint of Dyson vacuum about the bike: it's different for a reason, and you sense its creators have really thought about making it easy to get going quickly.
The biggest challenge you'll find if you come to the G4 fresh or from another bike will be unfolding it. There is something slightly intimidating about facing a folded mass of carbon fibre and wheels, and trying to transform it into a working bike.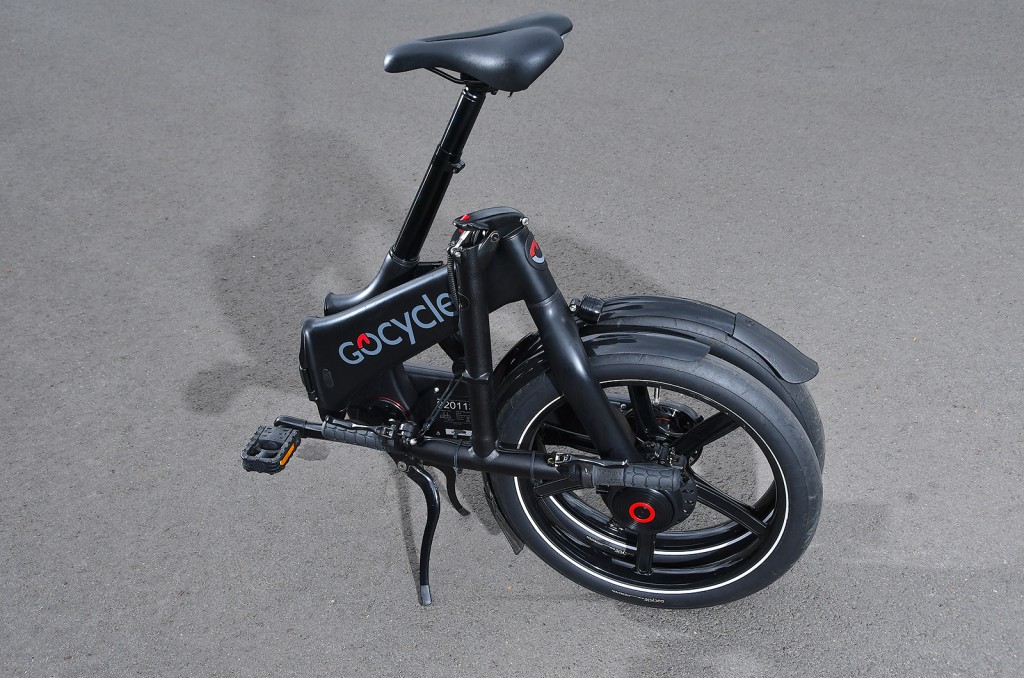 That intimidation won't last long, though: once you've unfurled it a few times, it becomes amazingly quick. We had a bit of an advantage, to be fair: we collected our bike from Gocycle HQ, and company boss Thorpe was on hand to run us through the folding process.
If you can't get Thorpe to pop along to do the same, don't fret: Gocycle has produced a really useful YouTube video take talks you through the process. And that process boils down to about five or six simple steps. The main clasps that secure the main folding on the cabin fibre frame and handle bars fix into place with a satisfying clunk, reassuring you that it's been done right and is secure. There's even a built-in Allen key to tighten the seat, so you don't need to faff around finding tools.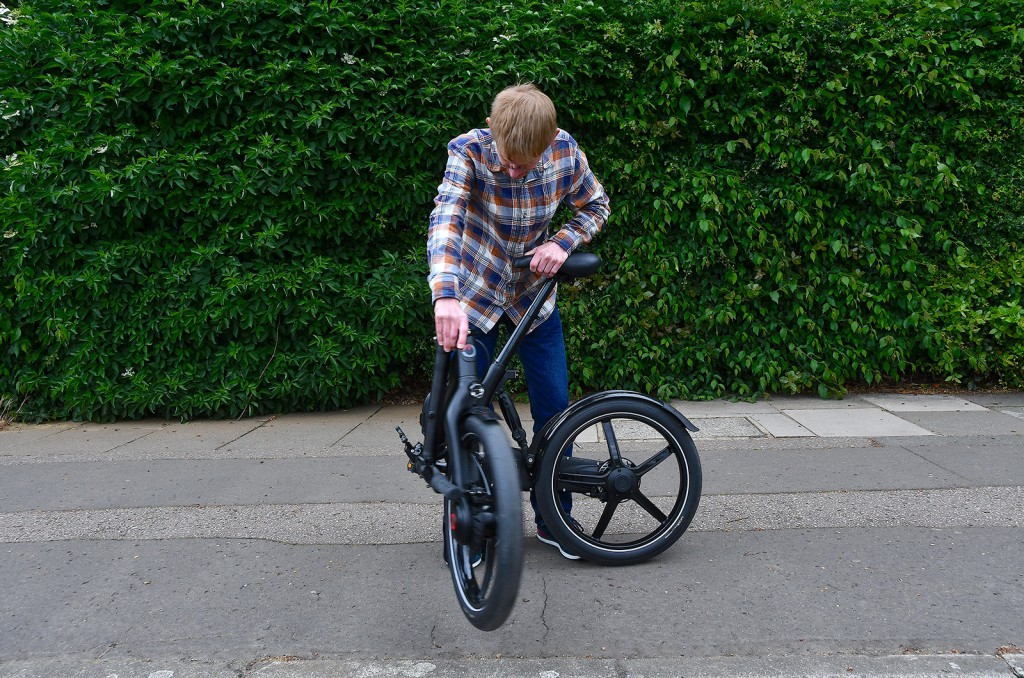 Another nice point: all the mechanical bits of the bike, such as the chain, are built into the frame. So if you're put off bikes by having to fiddle with all the grubby mechanical bits, you'll like the G4.
Using the G4 is also incredibly intuitive. There's a small button on the frame that turns the electric motor on, which you just need to press and hold until the red LED lights on the dashboard light up. The only warning is that it does turn off relatively quickly if you don't use the bike instantly. Which is our excuse for our initial ride on the G4 starting off without any electric pedal assist. The fact it took us five minutes to notice should tell you how refined the G4 is as a simple bike.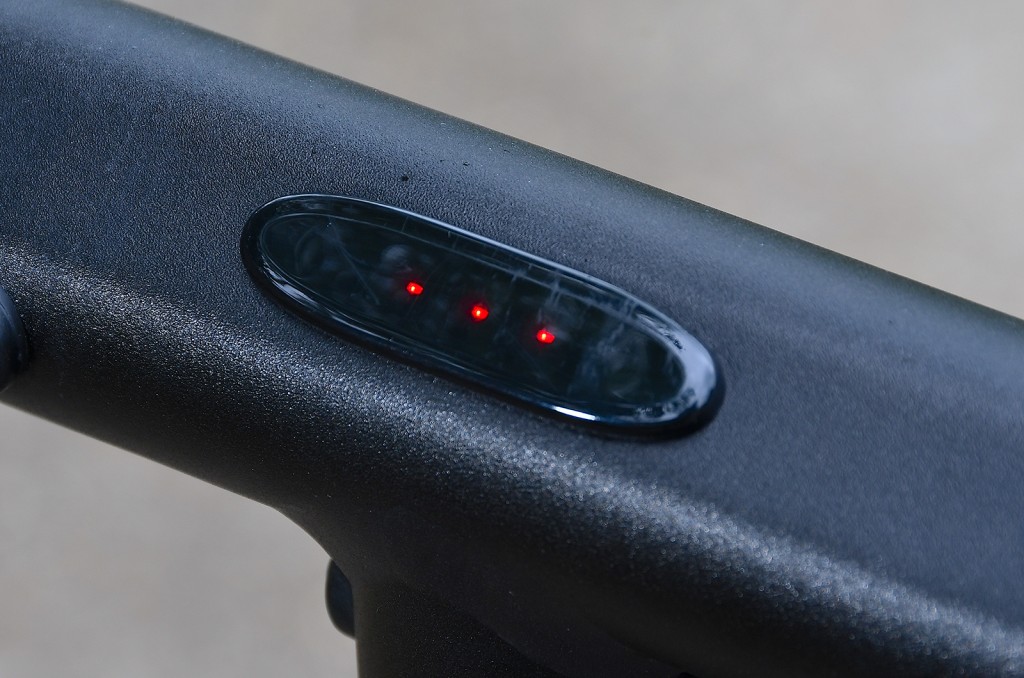 When you remember to turn the pedal assist on, it's easy for beginners to use. When stopped the five lights on the dash show the battery charge, when pedalling, the lights illustrate when electric assist is kicking in. 
Unusually, the motor is mounted in the front wheel hub, which Gocycle effectively creates a 'two-wheel-drive' system: the motor powers the front, your legs power the rear. While you really feel the electric boost it all feels quite natural - apart from how quickly you'll find yourself going. 
There are three gearing options, accessed with a handlebar-mounted grip shifter, which is easier to use than on many standard bikes.
Otherwise, the 20in wheels and chunky tyres means the G4 has a comfortable ride that exceeds what you might expect from a folding bike. So the biggest adjustment you'll need to make is the realisation of what it's capable of.
What's interesting is that the simplicity of the G4 on your initial journeys doesn't come at the expense of depth. Downloading the G4 app gives you access to telemetry, and the ability to really play with the settings of the electric motor to adjust the boost to your every need. We'll obviously get to that in a future report - for now, though, we're too busy just getting out there and enjoying the G4.
Gocycle G4 specifications
Cost: £3799
Weight: 17.1kg
Groupset: Mechanical Microshift 3-speed hydraulic disc brakes
Wheels/tyres: Magnesium PitstopWheels, Gocycle tyres (406-60, 20 x 2.25 in)
Motor: Gocycle proprietary front hub motor, G4drive with traction control, 250W EU continuous
Battery: Quick removable lithium ion: 8.1Ah, 36V, approx 300Wh
Range: Up to 40 miles
Assistance levels: Adjustable via Gocycle app
Charge time: 3 hours
Included extras: LED 'fuel gauge', GoCycleConnect App connectivity, phone mount on handlebars, kickstand, front pannier bag with mount, mudguards front and rear, Allen key included in seatpost holder