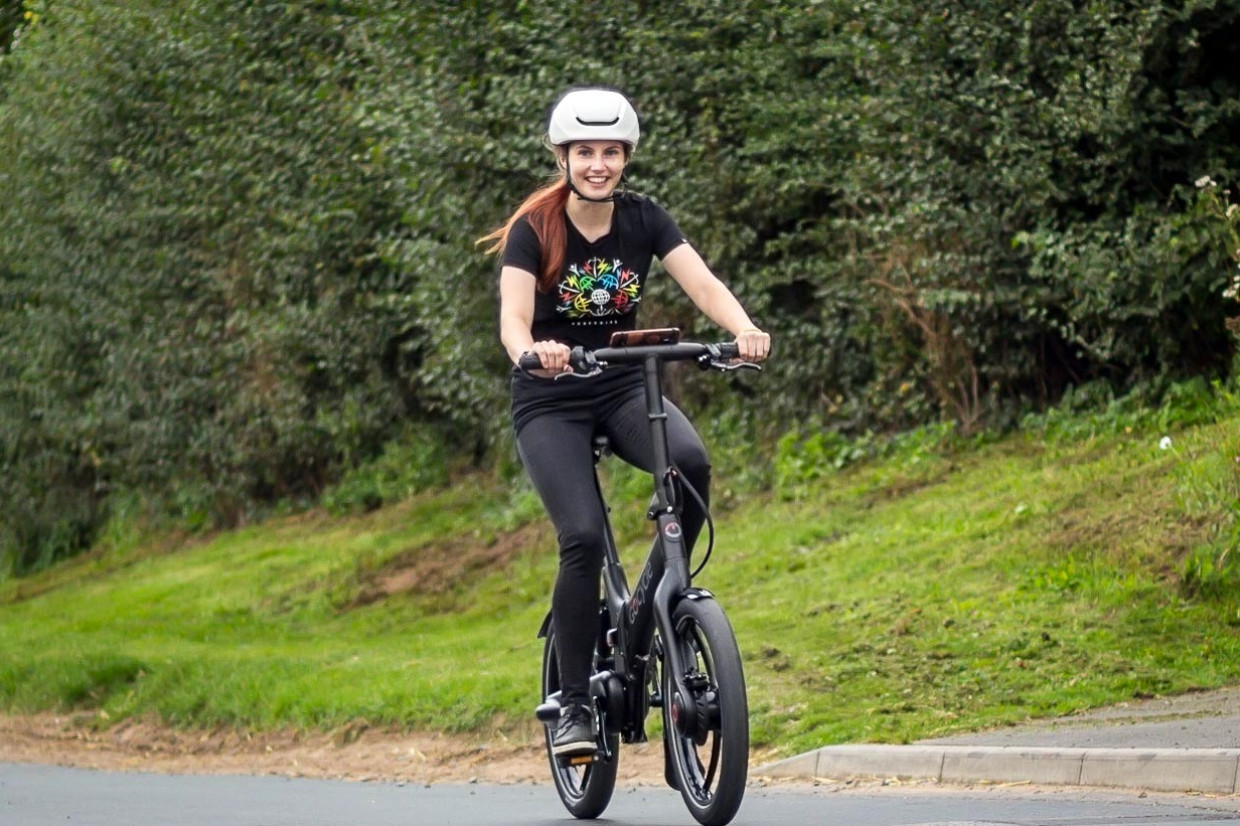 Move Electric rating: four and a half stars out of five
What does it cost?
£3999
What is it?
The Gocycle G4 is one of the newest editions of the award-winning Karbon Kinetics' Gocycle range. Founded in the early 2000s by former McLaren industrial designer Richard Thorpe, the company has been improving on the original Gocycle for almost 20 years. This latest model is a perfect example of innovating where necessary while not being afraid to keep the best bits the same.
The G4 sits just below the G4i in Gocycle's hierarchy but is still incredibly packed with tech. The motor fits into the front wheel, which is unusual but not unheard of. In one of many automotive-inspired features, the bike has built-in traction control in the front wheel. Just as it does in a car, it works to reduce any loss of control of the front wheel when the bike senses a loss of traction. It does this by reducing the motor power until traction is regained, and it worked well on the gravel patches it was tested on.
It's also a folding bike, which means it's ideal for popping it into the boot of a car or onto a train or bus. Gocycle is, however, keen to avoid being pigeonholed into the 'last-mile' club that so many other folding bikes are. In essence, they want this bike to not only be used for the last mile of your commute, from the train station to the office for example, but also as an everyday tool that can be taken as far as your legs can pedal.
What is it like?
Let's talk about those looks. Folding bikes have a reputation for being less aesthetically pleasing than regular bikes, but the Gocycle has something of a je ne sais quoi about it. As you might expect from a company led by an ex-McLaren man, from the carbonfibre mid-frame to the magnesium five-spoke wheels, everything has been carefully designed to not only look good but to perform well, too.
A further thing to note is that most of the internal mechanics have been designed in-house. From the Moto GP-inspired tyres to the Gocycle proprietary front hub motor, the dedicated team of engineers have created this bike from the ground up. And this is where the Gocycle shows its strength. Rather than having to rely on external suppliers and manufacturer specifications on motors and battery placements, they have built the bike to their own blueprint.
One update from the G3/Gx models is the introduction of the torque from a standing start. Previously this was only available from 4mph, but by adding it to when you set off, you can get away quicker and with less effort. This is exceptionally helpful when you're setting off from traffic lights, or on a hill. And if that's not enough help for you, Gocycle has a 'boost' button hidden on the handlebars, for an extra helping of power to get you up to speed when you need it most.
The ride quality of the G4 is excellent. It's smooth, and there's a little hint of suspension to take the worst out of the roads. Unlike other folding bikes where the folding points make the bike a little less uncertain over potholes, the G4 is stiff enough to make you forget it has any joints in it. This could be due to the 20" wheels, or the fact that the geometry is so similar to a regular bike's. Like a car, one size fits all on the G4, and there is adjustability to get the perfect riding position.
Gocycle has chosen to use a grip-shifter to go with its three-speed microshift gearing. It works much like car gearing, in that coming to a stop you have to change into the lowest gear, and set off from it, otherwise you'll be pedalling through treacle to get it moving again.
The dash on the G4 is made up of a small screen that they name the 'fuel gauge', because it displays the battery level upon start-up. This alone is enough for some riders, but for those who want telemetry data, you can connect the GocycleConnect app on your phone and have live information while you ride. It fits snugly on the included phone handlebar mount, and the app is extremely intuitive. You can even control the assist modes by adjusting at what power level the motor actually kicks in.
Obviously the more you use the motor, the faster the battery drains, but Gocycle suggests a range of up to 40 miles is the norm, and our testing backed that up. Charging is seriously quick: the brand suggests a modest three hours will charge it from flat, but in our experience, it was faster, at around two and a half hours.
Folding the bike is also a quick process, as everything on it is made with such attention to detail that it's a streamlined process and easy to do. There are two main folding points: the handlebars and the mid-frame. Once folded, you can either use the seatpost to help wheel it along, or carry it with the seatpost lowered.
The wheels are another intuitive point on this bike. They are the same wheels used in a previous land speed record, and perhaps the most ingenious part of them is that they're mounted on a single side. This means that if you get a puncture, you don't need to remove the wheel to change the tube. And if you require other mechanical assistance, the G4 is put together in a modular way so everything is easy to access and repair if necessary.
The G4 is an all-around exciting bike to ride. True to its billing, it's too good to be used solely as a quick trip bike or only on the last part of your commute. The handling and ride quality inspire confidence and the boost button and automotive-inspired design establish an undeniable fun factor that is lacking on some other folding bikes.
Where can I buy it?
You can buy it directly from Gocycle or reputable bike shops and online retailers. 
How does it arrive?
It's not often the box the bike arrives in is this exciting. It's easy to get the bike out and fold it out so it's ready to ride, and instructions are printed on the box. There is also a link to watch the instructional videos for the pre-ride checks and everything else you need to know about the bike. It comes with the Allen key necessary to tighten the seat tube and a wall charger.
Verdict
It makes total sense why the Gocycle is so keen to avoid the 'last-mile' badge. Everything about this bike is intuitive, and it doesn't cease to surprise you, ride after ride, with its capabilities. The G4 is a folding bike with the power and finesse of a regular e-bike and embodies the best of the motoring world in a neatly engineered package.
Gocycle G4
Cost £3399
Frame size tested One size
Weight of bike 17.1kg
Groupset Mechanical Microshift 3-speed hydraulic disc brakes
Wheels/tyres Magnesium PitstopWheels, Gocycle tyres (406-60, 20 x 2.25 in)
Motor Gocycle proprietary front hub motor, G4drive with traction control, 250W EU continuous
Battery Quick removable lithium ion: 8.1Ah, 36V, approx 300Wh
Mileage range Up to 40 miles
Assistance levels Adjustable via Gocycle app
Charge time 3 hours
Included extras LED 'fuel gauge', GoCycleConnect App connectivity, phone mount on handlebars, kickstand, front pannier bag with mount, mudguards front and rear, Allen key included in seatpost holder.
READ MORE
Subscribe to the Move Electric newsletter
e-CARS
New Volkswagen ID Buzz: everything you need to know
How efficient are electric cars?
e-BIKES
Ducati expands e-bike range with first racing machine
e-MOTORBIKES
New Yamaha Neo is Europe-bound '50cc equivalent' electric moped
Electric Motion Epure Race e-motorbike review
e-SCOOTERS
Eskuta KS-450 e-scooter review
Taito unveils innovative new three-wheeled electric scooter
e-WORLD
Electric surfboard firm Awake aims to make waves with first e-foil
Volta Zero electric truck can 'dramatically improve' inner-city road safety