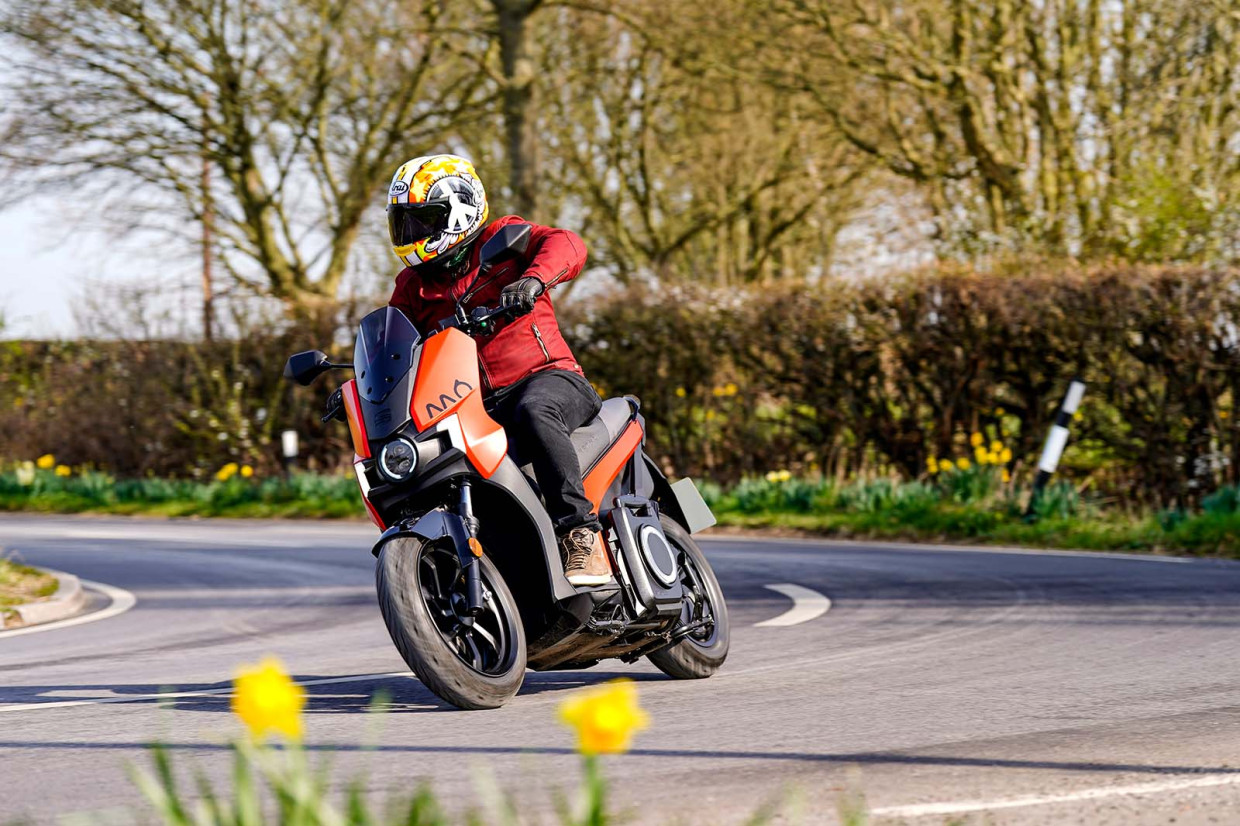 Move Electric rating: four stars out of five
Sell it to me in a sentence...
Spanish car firm Seat has expanded into two-wheelers with an electric moped – and it's now available at a limited-time discount price
I love a discount. What are we talking about?
Until August 31, Seat has reduced the base price of the Mó from £5800 to £4999 – a 14% discount. 
So what exactly is the Seat Mó? 
While it might carry the Seat badge, the Mó is essentially a reworked version of the Silence S01 electric moped, which is a very good thing.
For Seat to use existing bike technology makes financial sense as the Mó features all the good things about the Spanish built Silence SO1, along with its 59mph top speed, up to 85 miles range, a powerful 7KW (9KW max) motor, multiple rider modes, large under-seat storage, a reverse drive and a great removable battery system. We've already driven the Seat Mó in Spain, and we've spent a week running around on the new machine on UK roads in perfect silence to really evaluate it.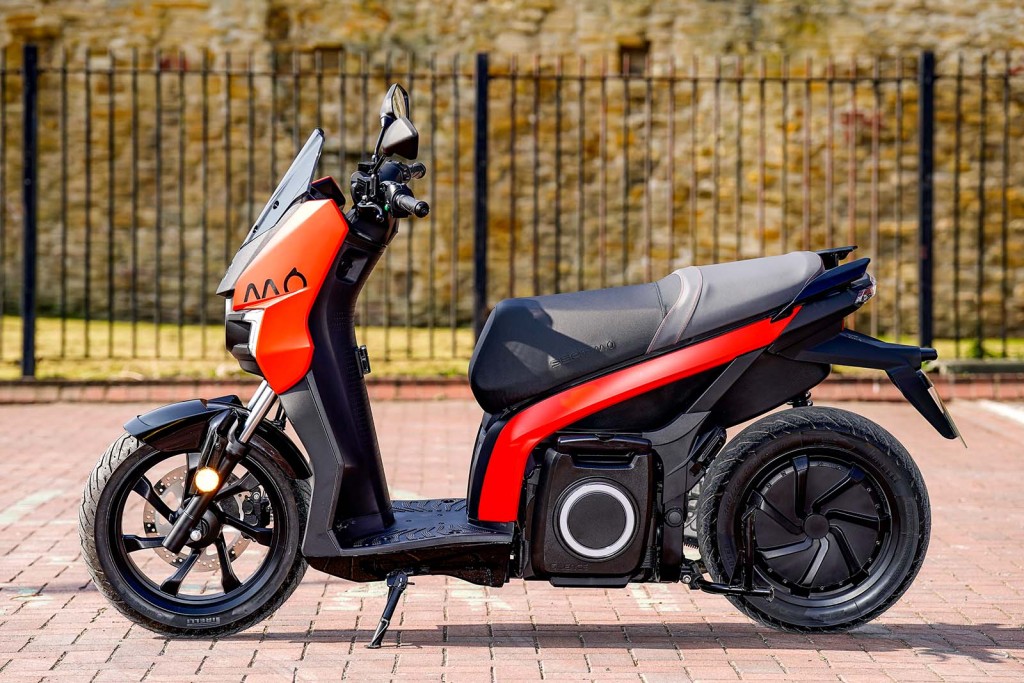 So, what are we looking at?
The Seat Mó eScooter 125 is powered by a 9KW (peak) electric motor located inside the rear wheel. This propels the Mó to a top speed of 59mph and 0-31mph (50kph) in 3.9 seconds. Strangely the almost identical Silence has a slightly higher top speed of 62mph. But you get the idea: 60mph-ish is similar to the claimed top speed of a petrol 125cc.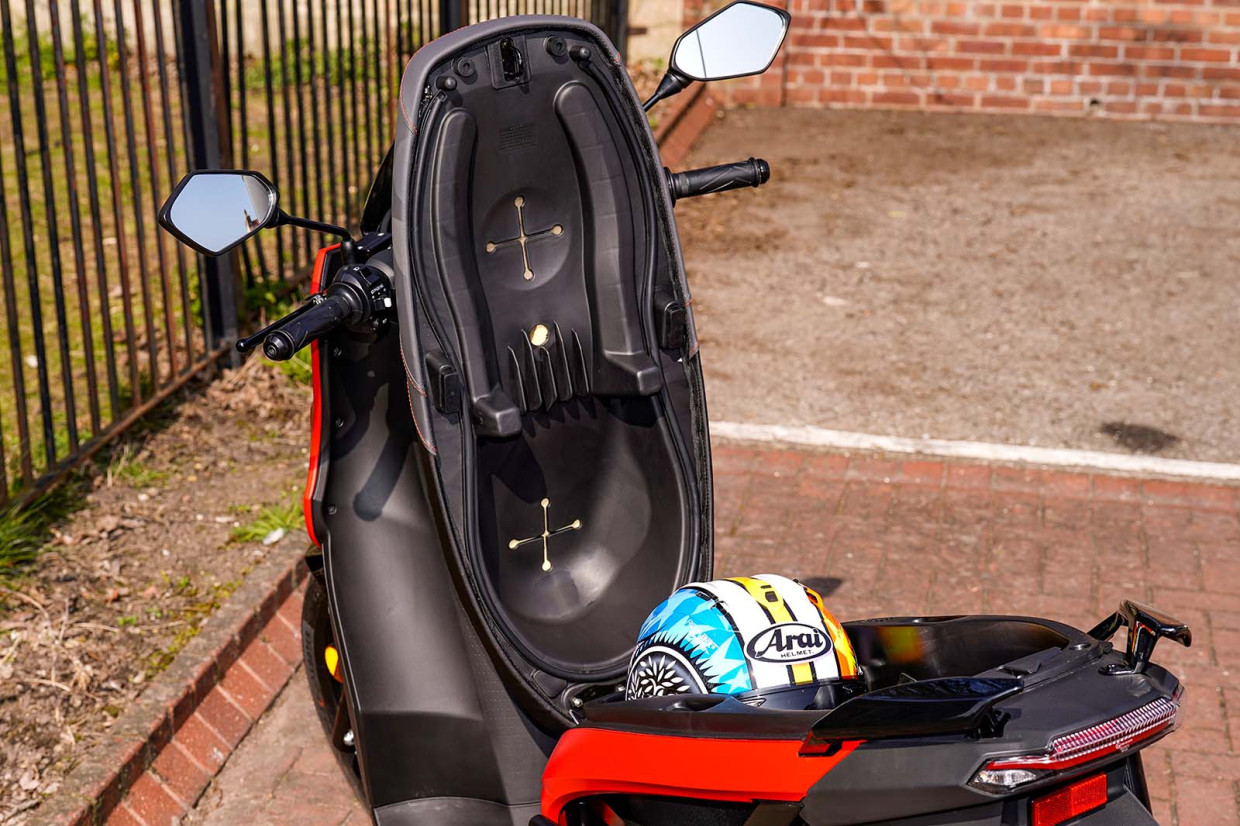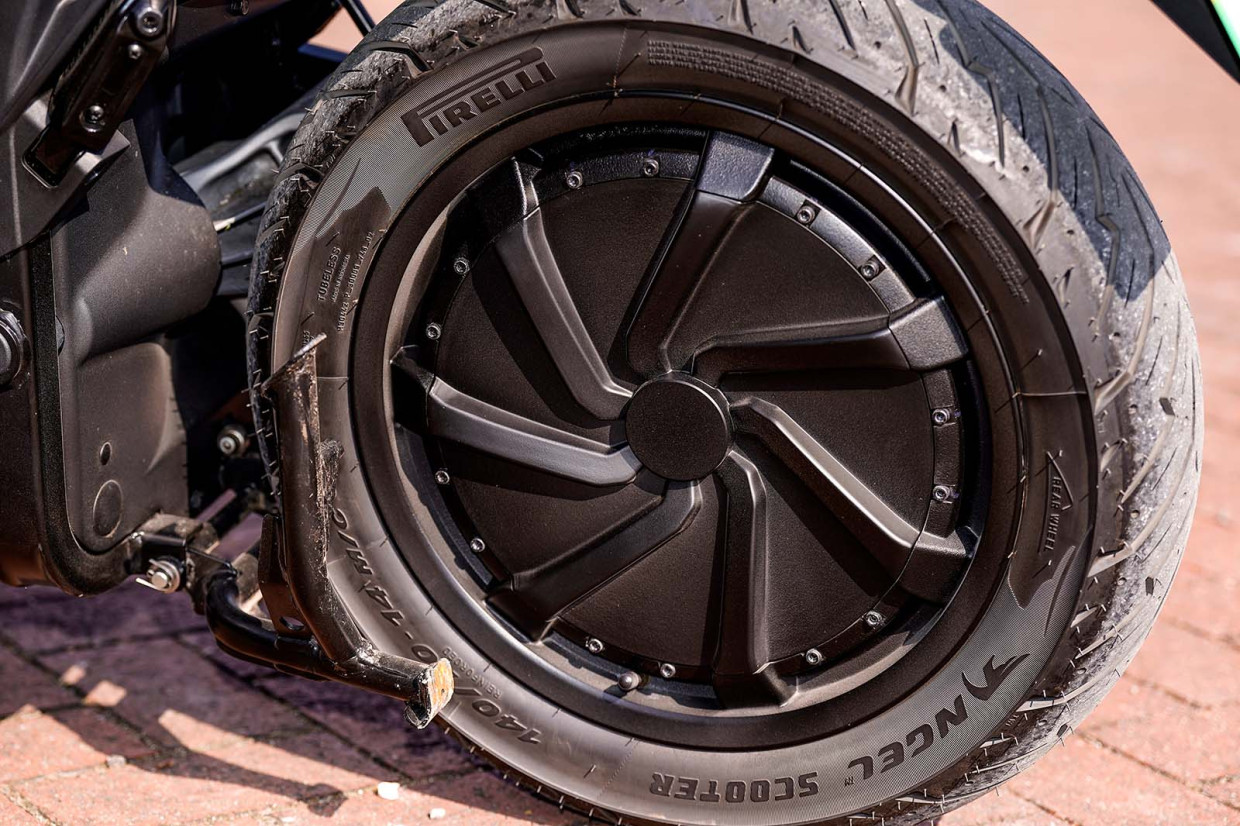 The all-important range is claimed to be 'up to 85 miles' on a single charge from the removable 5.6kWh, 40kg battery. Charging time, from fully dead to fully charged, is six to eight hours from a normal 240v 3-pin socket. This can be done at the bike, or by removing the battery (more of that later).
The main motor is housed inside the rear wheel.  You turn it on and twist and go in complete silence. And, yes, there is even a reverse, activated by a button on the left bar. Keep this pressed and twist the throttle to 'ride' backwards but be warned: it can be a little quick. Initially, I thought this was a bit of a gimmick, but after a week of riding, I found it useful, especially when conducting a three-point turn with a pillion on the back.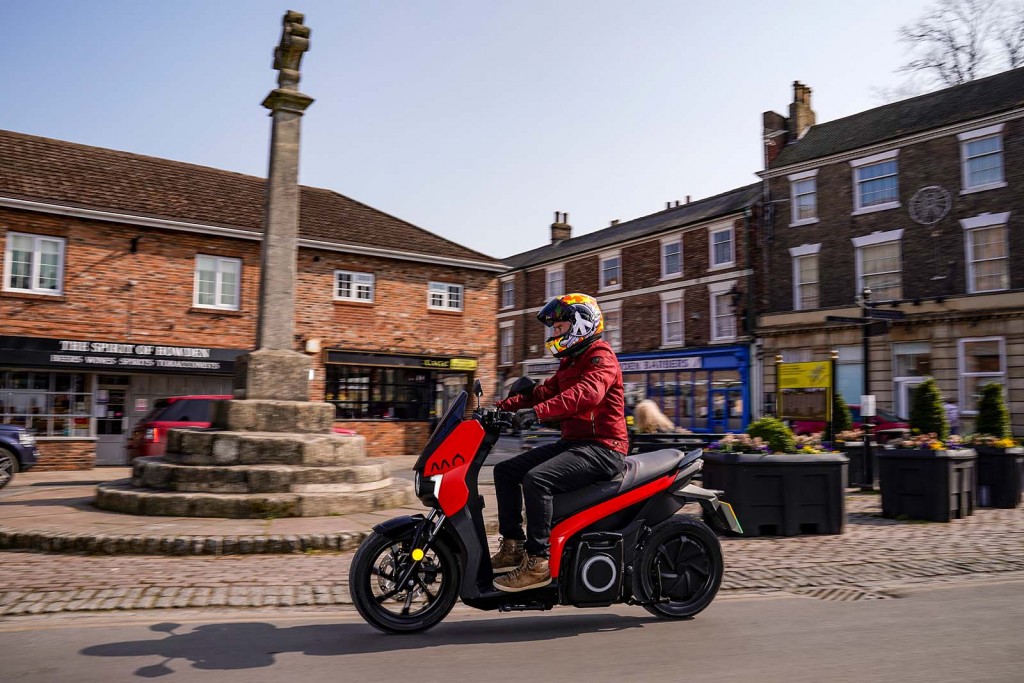 There are three riding modes to choose from: Eco, Cioty and Sport. Eco restricts the speed to 45 mph, City to around 55mph, and Sport is full power. Despite Seat claiming a top speed of 59mph, I managed to push to see an indicated 65mph. It will safely and easily push past the claimed 59mph (indicated).
The battery is 40kg, but this mass is carried low down in the chassis, not directly under the seat like some of the opposition. Keeping the weight low helps reduce the overall feel of what is a heavy bike – at 152kg it's around 20 to 30kg heavier than its main electric and petrol equivalent.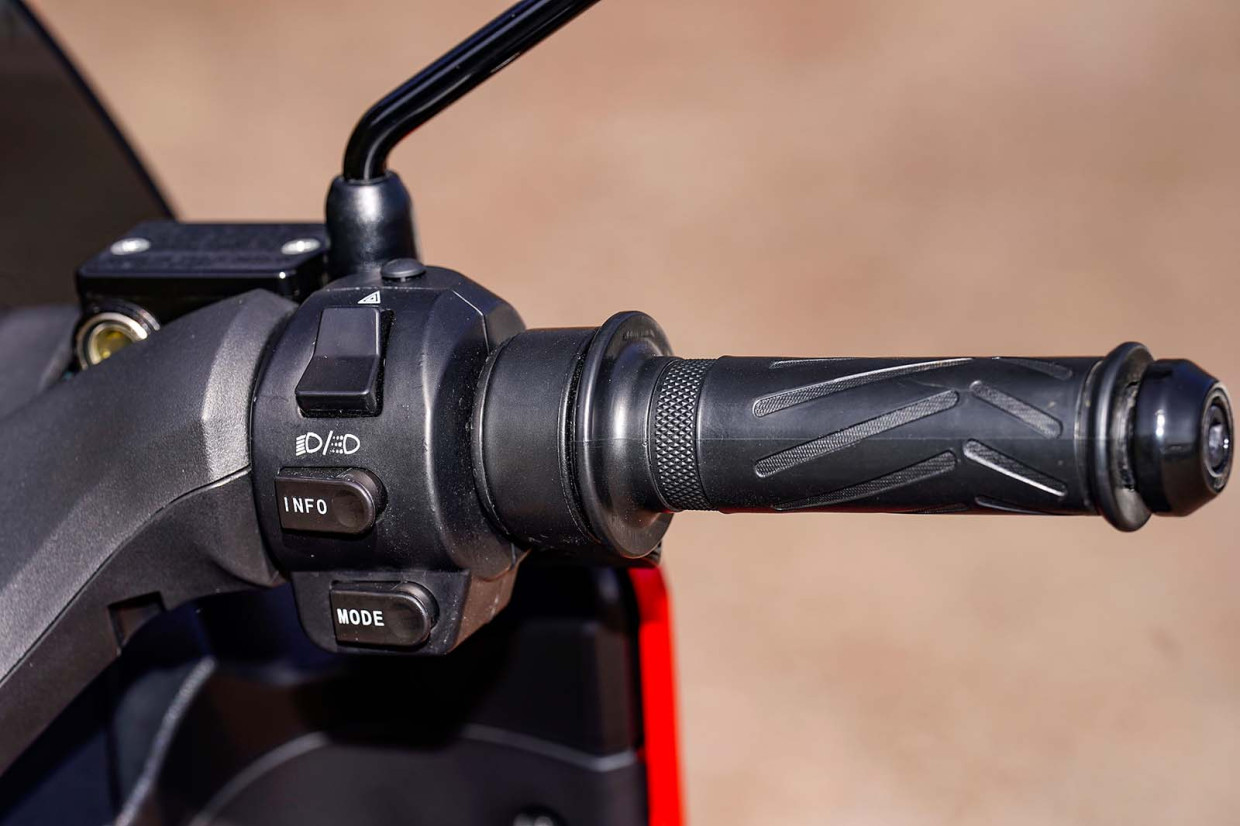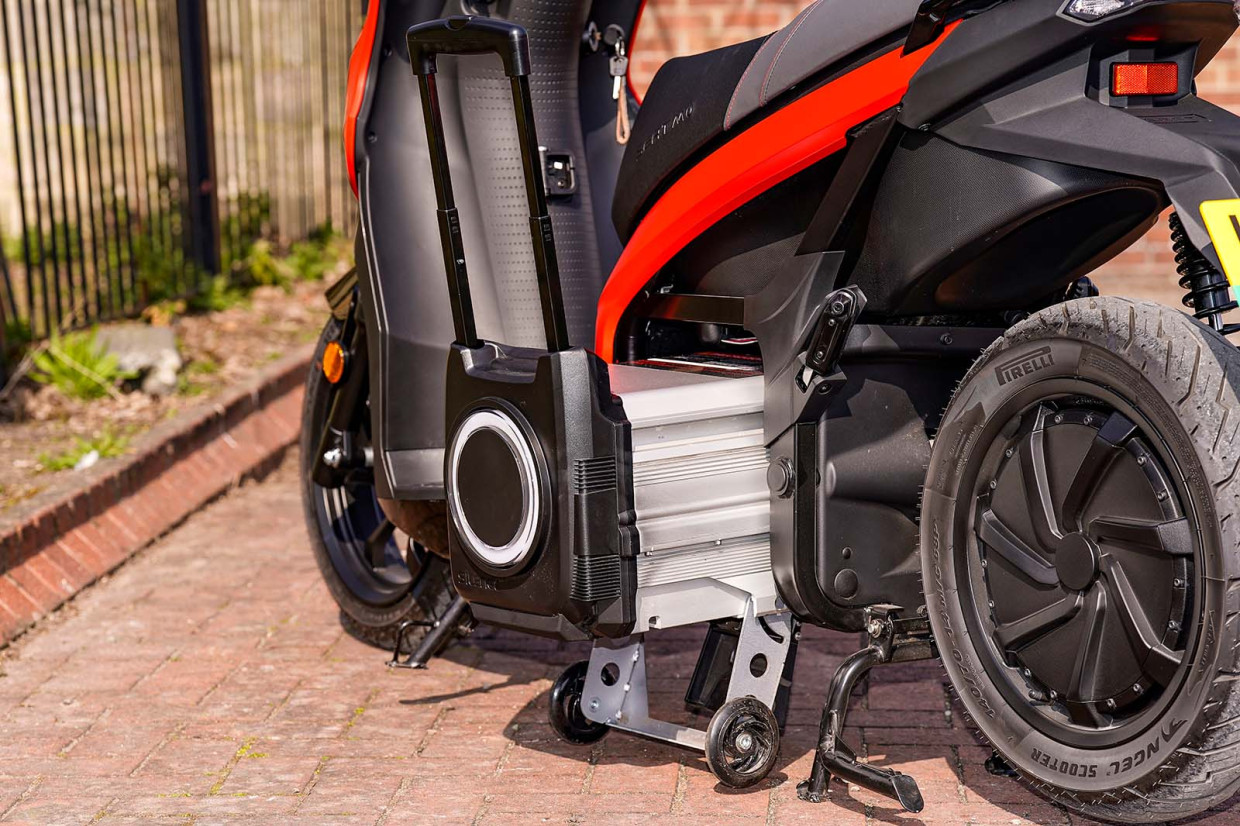 What is it like to ride?
Handling: top-notch 140-section rear Pirelli Angel scooter rubber and a neat single rear shock are let down by inadequate front forks. Perhaps, as a former racer, I might be expecting too much, but they feel like springs without any damping. Brake heavily and the forks dive hard. Let go of the stoppers and the forks spring back on the rebound. Worse still, on faster bumpy roads, they become overwhelmed and skip across the surface under extreme circumstances. 
The brakes are progressive and strong, especially when you use the CBS linked system. I preferred the linked brakes, as the front forks struggle to cope with the weight transfer under firm braking. There is no ABS, despite the higher price tag.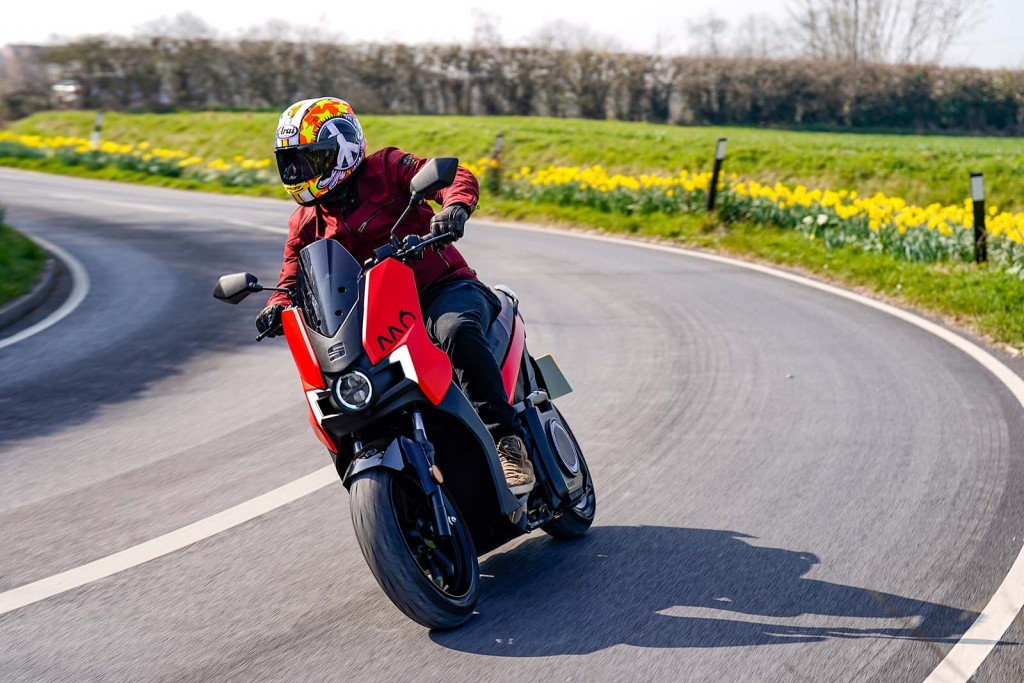 No rider aids, no traction control – just three riding modes which restrict the power. As you'd be expecting, there is connectivity, and an app allows you to quickly and remotely see how much charge and range you have left. You can also check your trip, and journey history, and see how much carbon you've saved because you opted for electric over petrol. The app will even show you your bike's location, should you forget where you've parked after a heavy night...we have all done it. 
Accessories-wise, a 39-litre top box is available but there is a huge amount of storage under the seat and enough for two full-face helmets. This is market-leading. Seat also offers a screen and mobile phone holder. There is a USB charger upfront as standard.
How far can it go?
Seat say a range of up to 85 miles or 137km. I managed between 55 and 60miles, but that was ridden reasonably hard at times and occasionally two up with my son on the back. To achieve the claimed 85 miles, the Mó needs to be in ECO mode. Nevertheless, 55 miles should be enough for most 125cc-type commutes. Even if you have a long haul to work of 25 to 30 miles, you could re-charge the battery to full capacity before leaving for home as a full charge is a quoted six to eight hours, depending on how discharged the battery is.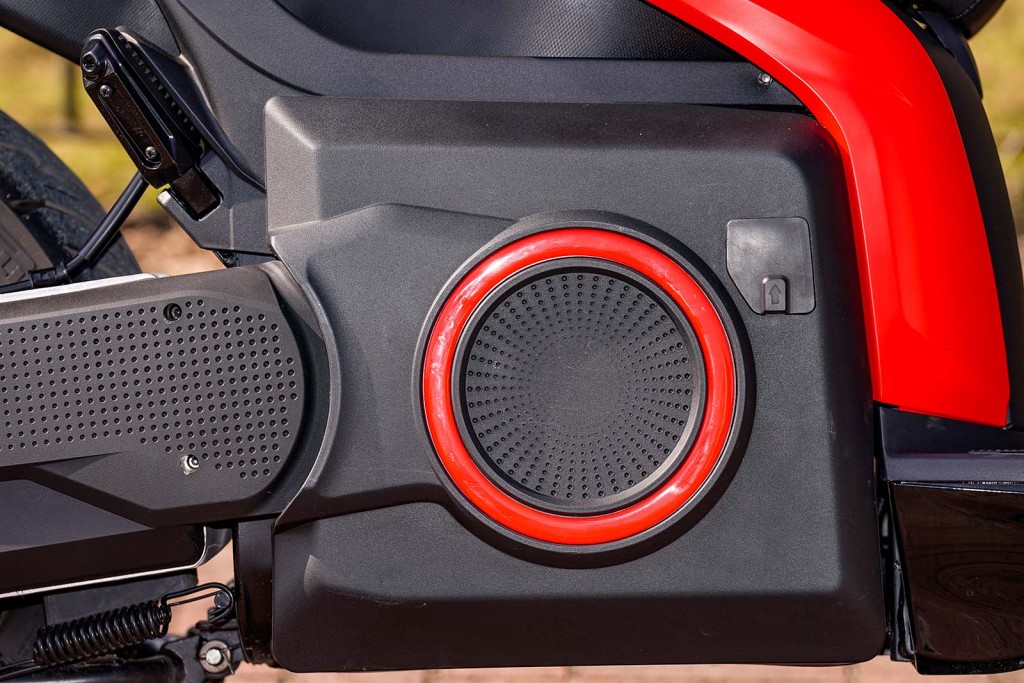 And this is the ingenious part – the Seat's big tick: that 40kg battery comes with its own extended handle and wheels – like a small travel bag – and is easy to remove and transport. It's inventive. With the Seat on its centre stand, lift the seat, pull the clip under the seat and slide the battery out of the bike. The wheels flick out automatically, and that is it. Wonderful.
There are numerous benefits to this. For starters, you can take your 40kg battery with ease into the office or home to re-charge. Secondly, it's impossible to ride the Seat without the battery, and therefore acts as a deterrent. Yes, other scooters have removable batteries but not on wheels. And no one really wants to be lifting 20-40 kilos into the office every day. This is the bikes ace card.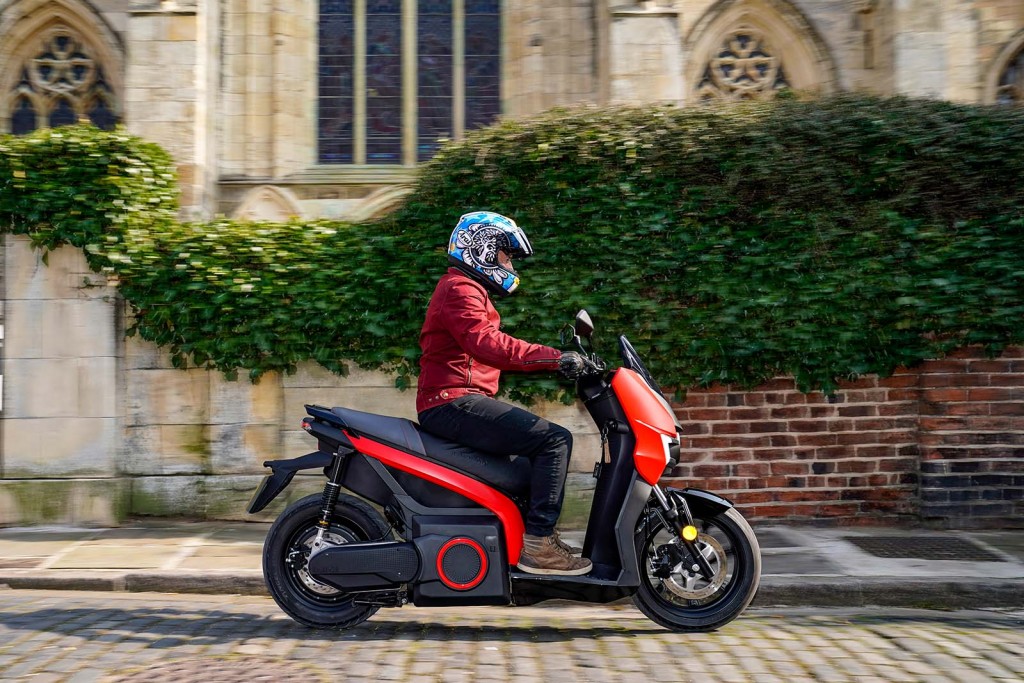 Verdict
Seat has walked into the bike world with what is fundamentally a rebadged Silence (it even says Silence on the swing-arm below the single rear shock). But this is a benefit, as Silence has proven tech' and is an excellent all-electric scooter. I love the design, which is very neat, and the portability of the removable battery is brilliant.
There's substantial under-seat storage, power is more than enough and on par if not better than a 125cc petrol scooter. An actual range of 55-60miles is enough for most while the brakes are strong, the Pirelli rubber is quality and the build is good too. Near-silent running means you all too easily hear the bangs and clatters on a low-cost build – but the Mó is well made and of high quality compared to some.
The drawback is inadequate front forks, which some potential owners will notice after a short test ride, and the price. It is at the high end for a 125cc petrol equivalent scooter.  
Seat Mó eScooter 125
Price: £4999 (special offer until August 31; regular base price is £5800) 
Electric motor/s: Brushless electric drive motor
Drive battery: Lithium-ion, hub-mounted motor
Power: 7kW (9.4bhp) Rated (9Kw/12bhp max)
Torque: 177 lb ft / 240Nm
Top speed: 59mph claimed
Range: up to 85 miles claimed. 55-60miles tested
0-62mph: 3.9sec
Kerb weight: 152kg 
 
READ MORE
Subscribe to the Move Electric newsletter
e-CARS
New electric cars for 2022 and beyond: what's coming when
New BMW i7 unveiled as luxury electric saloon
e-BIKES
Best e-bikes for every category 2022
Moustache Samedi 28.7 e-bike review
e-MOTORBIKES
Yamaha Neo's electric scooter review
Cake launches new global electric motorbike race series 
e-SCOOTERS
Government set to announce plans to legalise private e-scooter use
New study finds e-scooters are five times safer than bikes
e-WORLD
World's first airport for flying taxis opens in UK