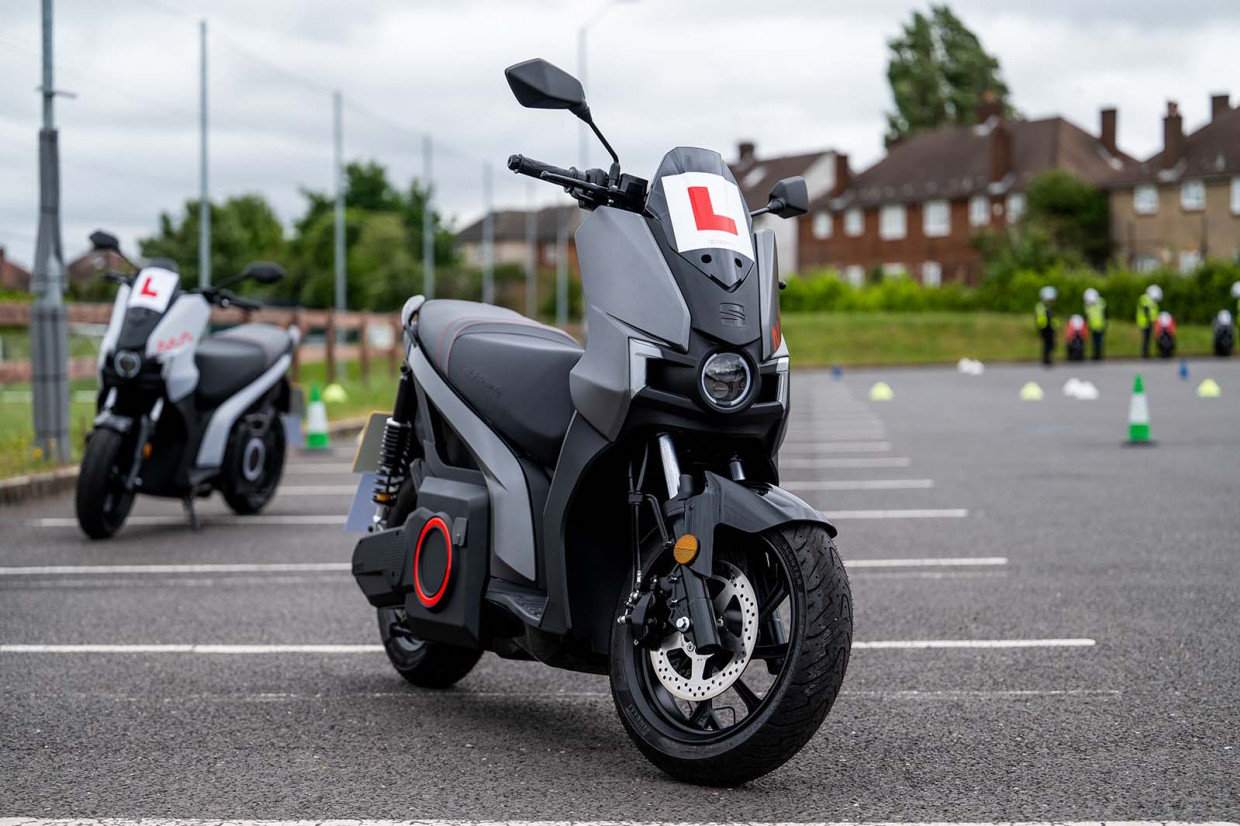 Electric motorbikes are growing in popularity, with a host of radical and innovative machines now arriving on UK roads. It's easy to see the appeal: as well as being zero-emissions, such machines increasingly offer a solid range and good ride quality – and aren't that expensive. They're ideal for inner-city commutes.
But if electric technology has you tempted to jump on a motorbike for the first time, there's a catch: you''ll probably need to do a Compulsory Basic Training (CBT) course first. But that doesn't mean you have to jump on a petrol-powered bike to do so.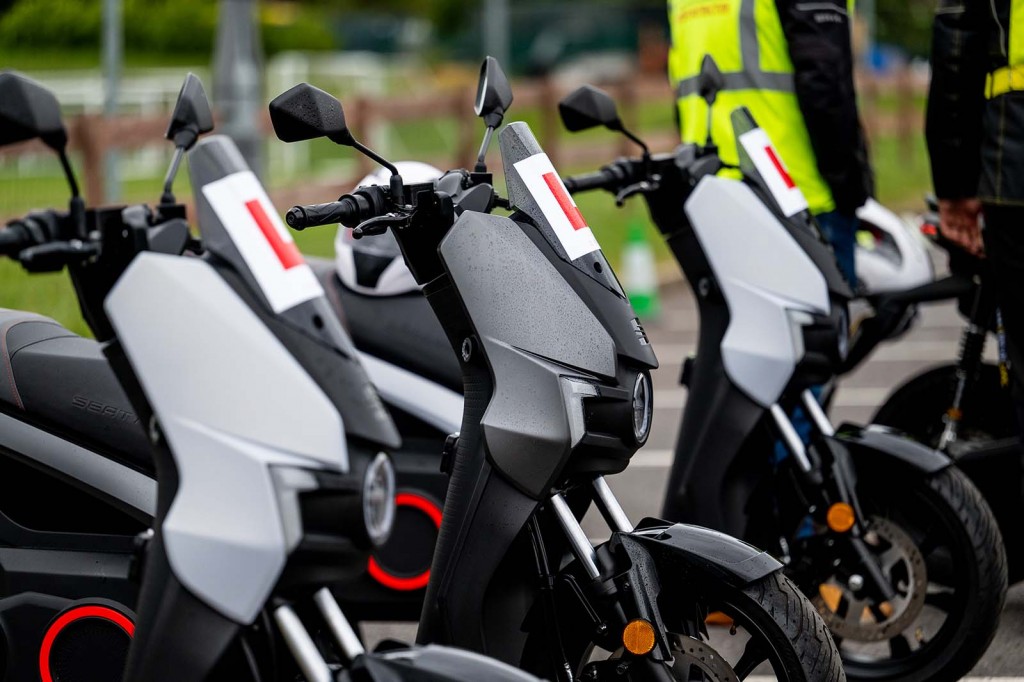 A CBT is allows you to ride a 125cc or electric equivalent on the road with L plates, and you need to do one before you can go for a full motorbike licence. The CBT isn't actually a test: it's a certificate that shows you are competent enough to ride a motorbike safely on the road. 
And you don't need to take your CBT on an petrol-powered machine: you can carry do it on an electric scooter or motorbike that has the same power output as a 125cc internal combustion engined bike. 
To find out what it's like to learn how to ride an electric motorbike, Seat invited me along to Universal Motorcycle Training in Edgware to complete my CBT on a Seat Mo 125 electric scooter.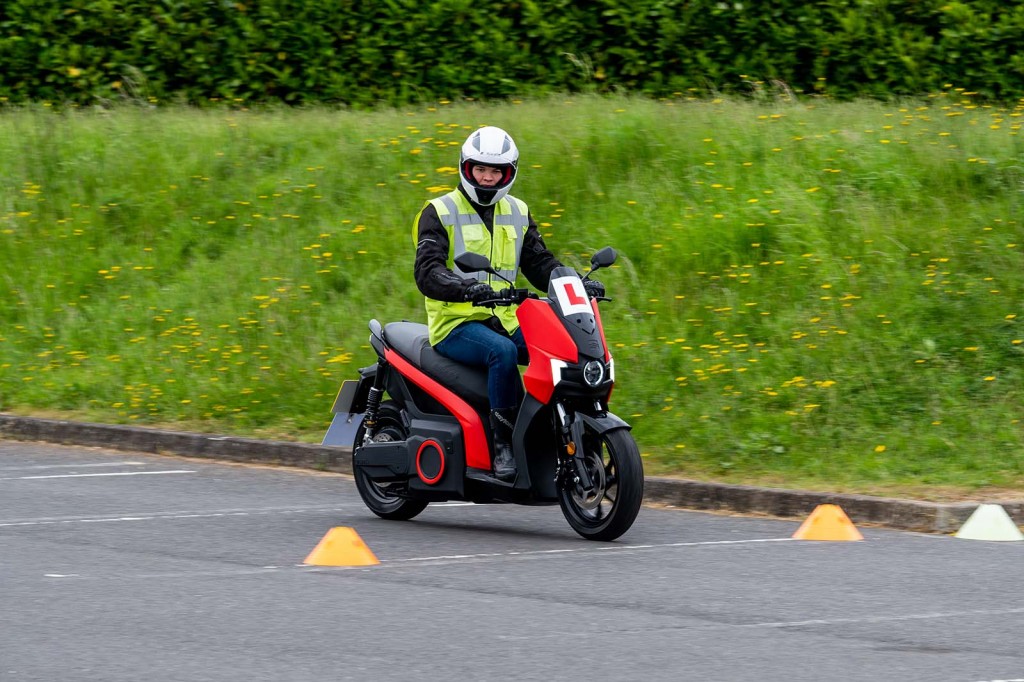 What does the CBT test involve?
The CBT is simplified by being split into a number of parts to ensure that when you venture out onto the road you're safe and competent. So before we started, I had to take eye test, which involved reading a number plate from 20 metres. 
Once we had been given all the appropriate kit, my instructor Angelo Muschitiello talked myself and my fellow trainees through some of the safety elements of motorbike riding. He explained the importance of wearing the right motorcycle gear, adding that it was a legal requirement to wear a helmet when riding on the road.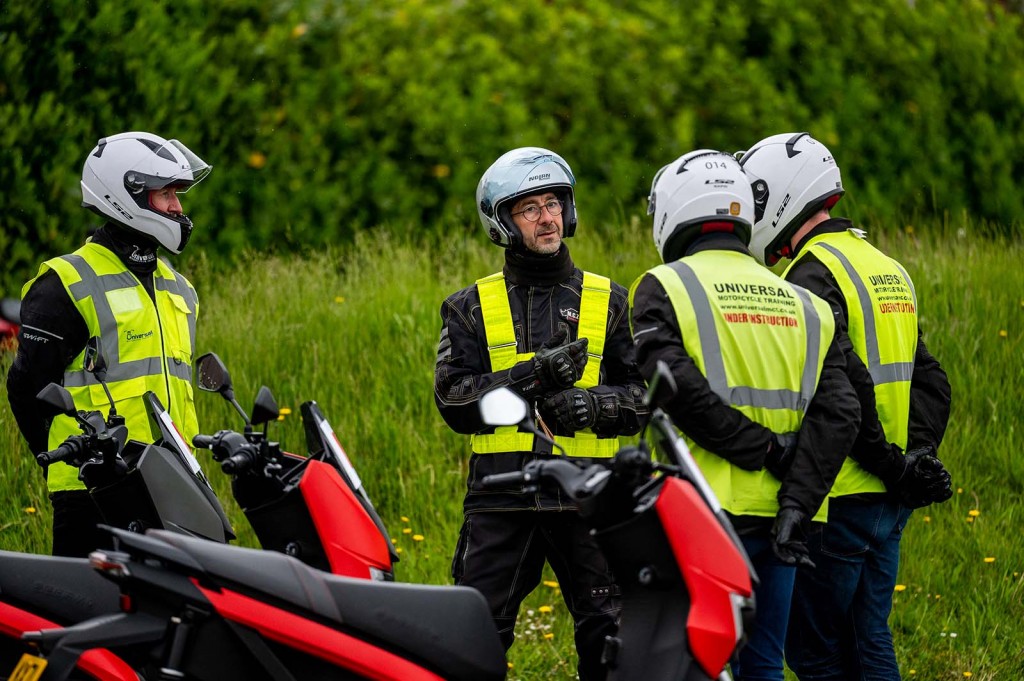 Following the introduction, we moved to a nearby car park for the on-site practical session where we could get our first taste of electric scootering. 
As a group we were given a short overview of how the Seat Mo scooter worked, before being shown how to place the bike on its centre stand. Individually we had to safely move the bike off the stand, then walk it around some cones.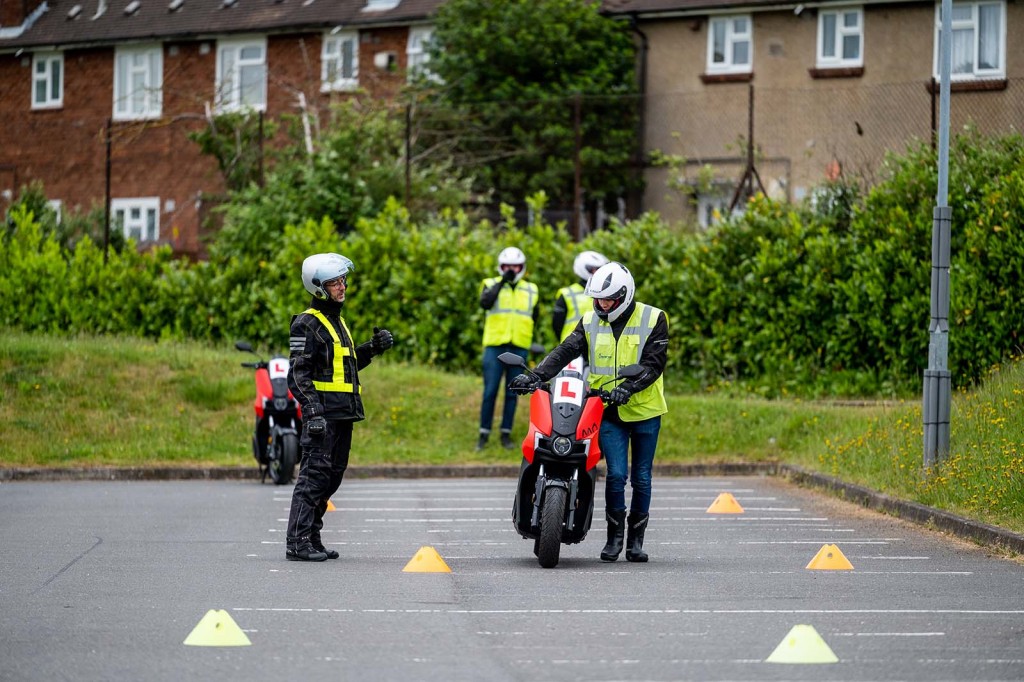 We were then asked to carry out a number of different riding activities to prove our competence and to familiarise ourselves with the electric scooter. 
Thankfully this didn't involve emulating any Eddie Kidd stunts: we first rode the Seat Mo in a straight line, then in loops around some cones. Instructor Angelo was on hand to offer guidance as we rode, suggesting different tips to help improve our riding style. 
Having completed the dreaded 'figure of eight' (which proved more challenging than it looked) we practised a U-turn and emergency stop.

 
Once we had shown we were capable of undertaking these safety procedures, Angelo demonstrated how to negotiate left and right turns out of junctions.
He explained the importance of the mirror, signal and manoeuvre procedure, adding that checking your surroundings and observing other road users was important when turning out of a junction. 
 
Do you need to learn Highway Code?
You don't need to have the Highway Code committed to memory, but having a basic understanding will come in handy for the on-road training. For this part of the course it was back to the classroom where Angelo asked us to answer questions on the highway code.
He took us through the many and varied crossings that a rider may encounter on the road such as a zebra or pelican crossing. We also discussed the meaning of different road signs and markings and what to do when riding in built-up areas around schools.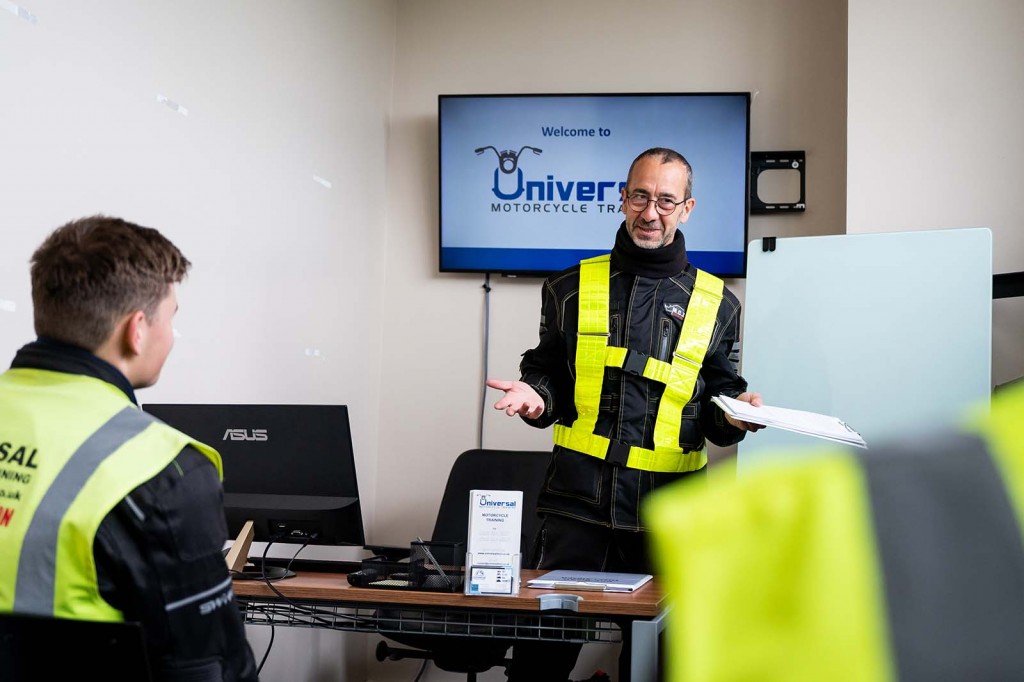 This was an effective way to prepare for the upcoming on-road practical ride as it honed in the importance of adhering to road signs and signals when riding a motorcycle. 
How does the on-road element of a CBT work?
The final part of a CBT involves a two-hour on-road practical assessment where the instructor will assess the core skills you have learnt in the on-site training session. 
Angelo was able to communicate with me while on the road through a one-way radio system meaning he could provide guidance and directions.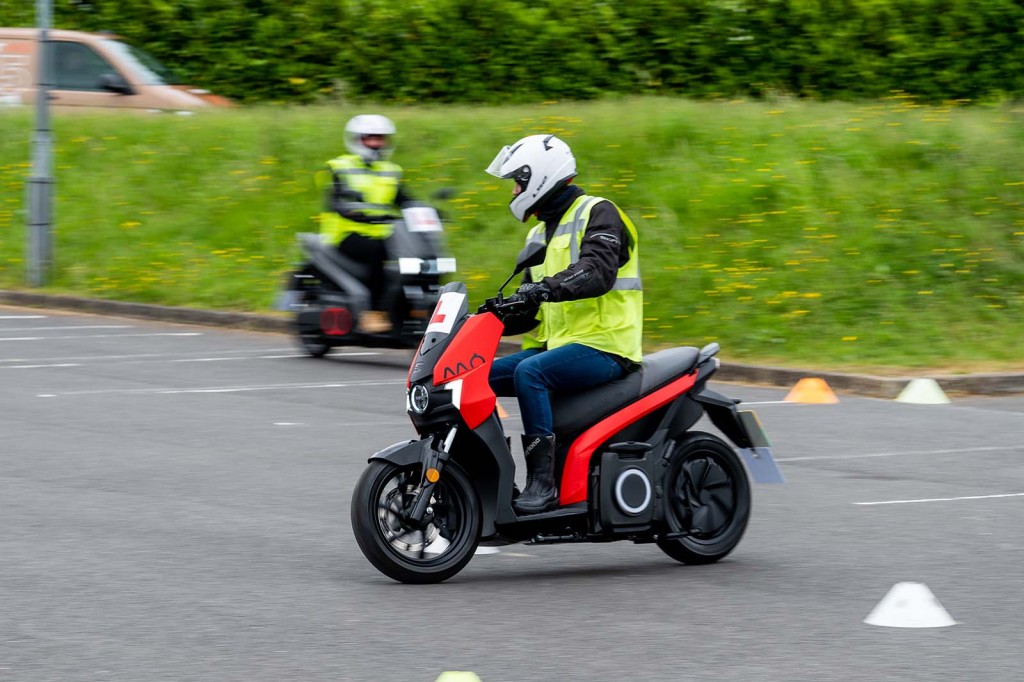 To test our ability to ride safely while adhering to the rules of the roads, we were taken on a number of different routes which presented a number of challenges. 
At times during the ride, Angelo would ask me and my fellow trainees to stop to talk about any concerns that we had. Angelo was pleased with the progress we had made on the road, but reiterated the importance of checking our surroundings with over-the-shoulder checks and using our mirrors to spot hazards from behind. 
Although there were a great deal of things to remember while riding on the road the Seat Mo proved to be a simple and easy machine to navigate around the busy roads of Edgware.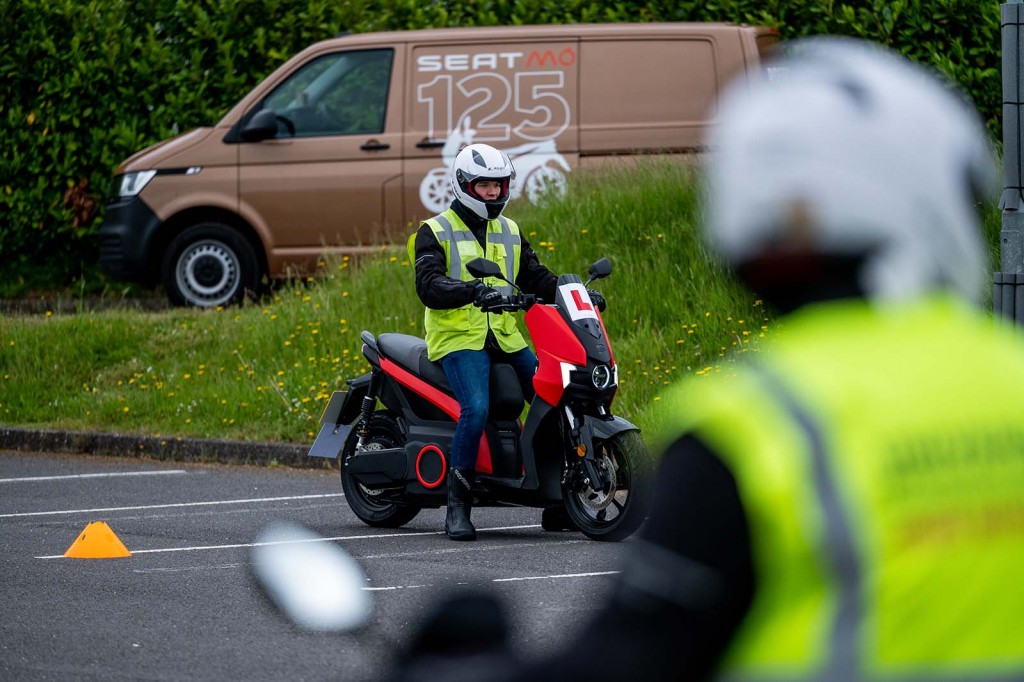 Having successfully overcome roundabouts, dual-carriageways, sideroads and busy junctions, Angelo asked us to pull over so he could see a U-turn and emergency stop. 
Naturally this proved less demanding having practised the manoeuvre earlier in the day. I managed to execute the turn in the road and emergency stop with no issues. 
Once the two hours was up it was back to the test centre to see if I had been successful. 
Is doing a CBT on an electric bike any different from doing it on a petrol bike?
Electric scooters and motorbikes don't have any gears which means you only have to twist the throttle to accelerate. This makes doing a CBT on an electric bike easier than on a 125cc bike with gearing, because you have one less thing to think about.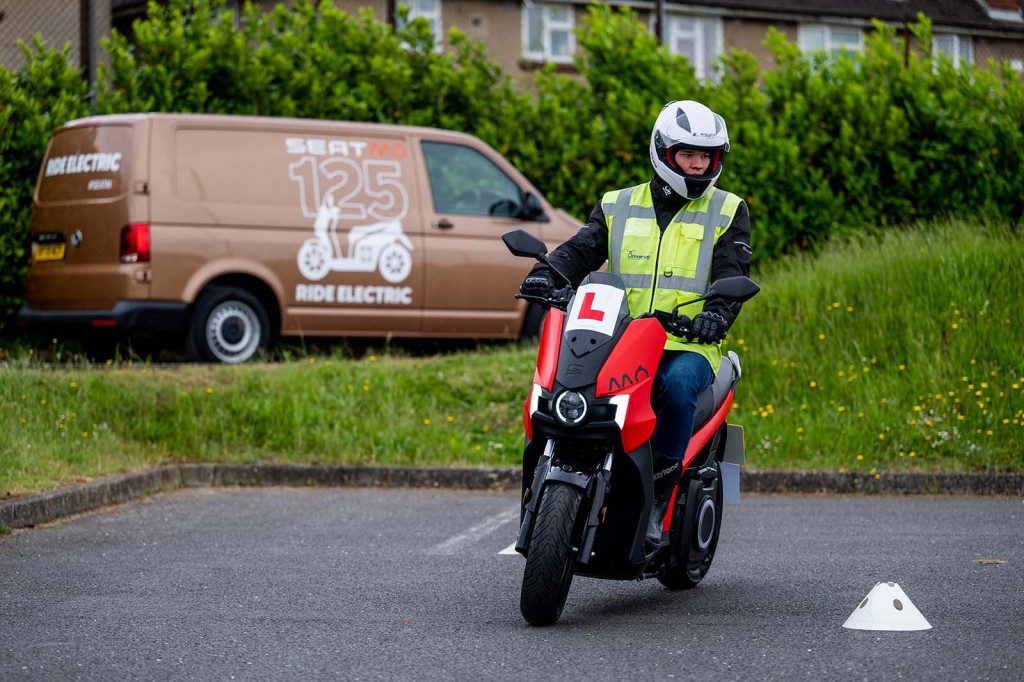 Ultimately the CBT is the same whether you are riding an electric motorbike or a petrol machine, as you are still required to show a certain level of competence both on and off the road.
Electric scooters are generally heavier than a 125cc petrol equivalent and as I discovered, this did make some parts of the CBT more difficult, especially if you're new to riding a motorbike.
If I do a CBT on an electric bike can I only drive electric bikes on it?
Anyone who opts to complete their CBT on an electric scooter or motorbike can still ride a geared, petrol motorbike on the road – just like you can do a CBT on a petrol bike and then ride an electric one.
It is worth emphasising that electric and ICE motorbikes are very different so if you do want to ride a machine with a gearbox, we recommend doing a gear conversion course to help with the transition. 

 
What does it cost?
A CBT can cost anywhere between £120 and £200 and often includes hire of a helmet, protective jacket, gloves and a certificate once the training has been completed.
What kit do you need?
You can purchase your own equipment before your training but most training centres will loan you the correct equipment. 
If you do book yourself onto a course, it is important that you wear sturdy trousers such as jeans and shoes or boots that cover your ankle to protect yourself should you have an accident. 
Is the Seat Mo a good bike to do a CBT on?
Once familiar with the Seat, it performed well during my time riding it – and still had plenty of battery life left at the end of the course. To begin with it was quite tricky to modulate the throttle, as the twist accelerator was very sensitive. During the on-site training where we were required to do slower speed manoeuvres such as a figure of eight, it was hard to maintain a slow speed.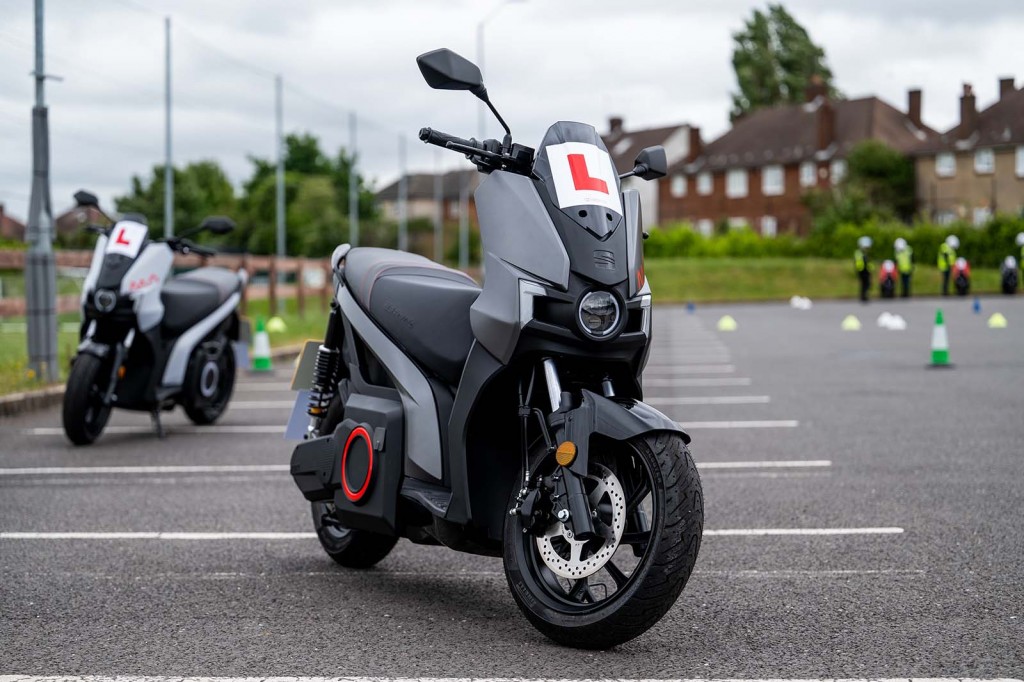 Instructor Angelo suggested I used the rear-brake to offer more stability and control at slower speeds which helped substantially, enabling me to gain confidence when riding in tight spaces. 
This also came in handy on the road, as I was able to rely on the rear-brake to negotiate tight turns, roundabouts and a turn in the road with ease.
After the first hour of road riding I felt more familiar with the Seat Mo and in City mode it cruised along comfortably. Speaking of comfort, on the road the Mo behaved well, but over speed bumps and pockmarked roads I was jostled around, with the seat offering limited cushioning.
The Seat Mo is also very heavy. Lifting it onto its centre stand and walking it around the cones required during our on-site practical training required a lot of effort. Thankfully the battery sits low down meaning that on the road the weight was in the right place, but there is no doubting this is a heavy scooter.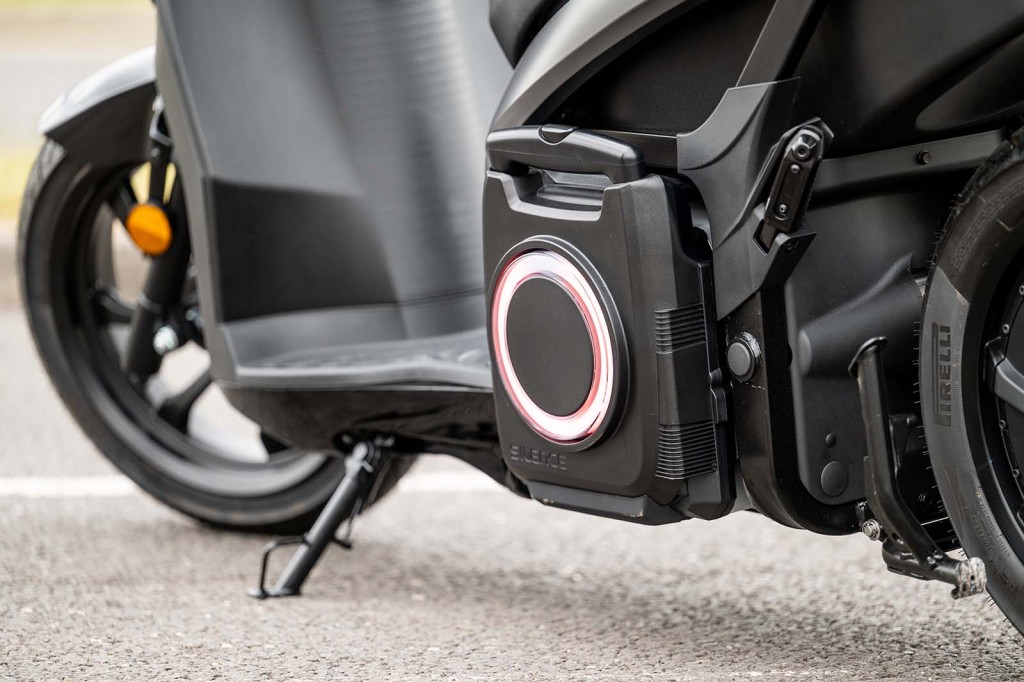 Despite its weight I was able to find a good seating position while riding it, with the instrument dials being clear and easy to read while on the move. 
At higher speeds, the Mo felt brisk and thanks to the torque from the electric motor it effortlessly cruised up to speeds of 40mph, with City mode limiting the machine to 50mph.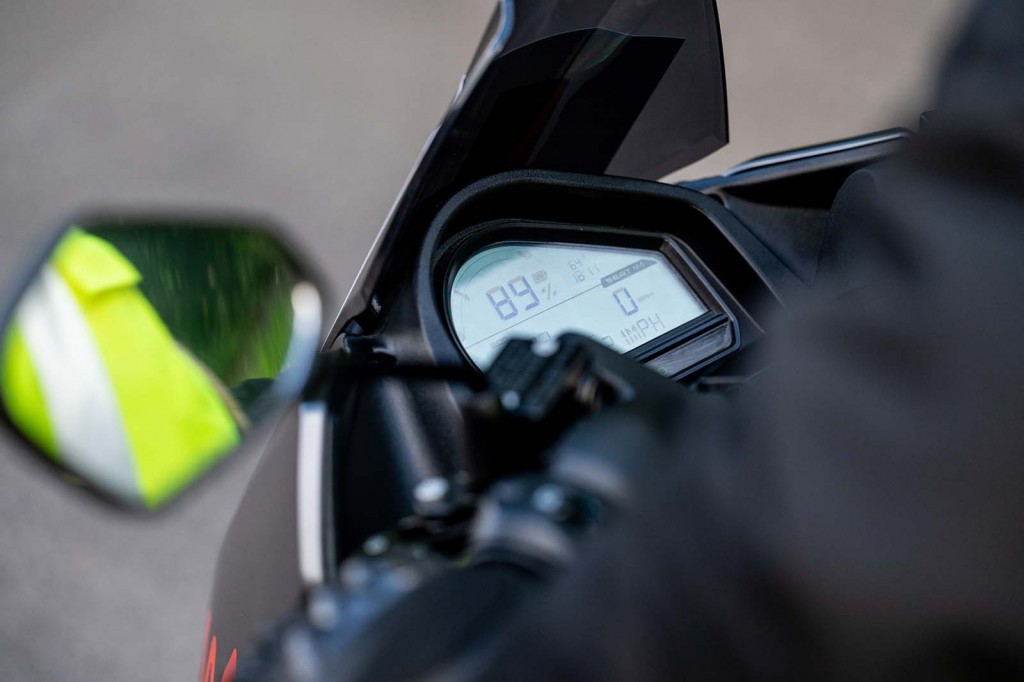 Well, did you pass?
I am happy to report that I successfully completed my CBT and my instructor was happy to sign me off with a DL196 certificate. 
Anyone looking to undertake their CBT should certainly consider it, not only because it's a thrilling new skill to learn, but also because it's a rewarding one too that can open new avenues of transportation. 
READ MORE
Subscribe to the Move Electric newsletter
e-CARS
New electric cars for 2022 and beyond: what's coming when
New BMW i7 unveiled as luxury electric saloon
e-BIKES
Best e-bikes for every category 2022
Moustache Samedi 28.7 e-bike review
e-MOTORBIKES
Yamaha Neo's electric scooter review
Cake launches new global electric motorbike race series 
e-SCOOTERS
Government set to announce plans to legalise private e-scooter use
New study finds e-scooters are five times safer than bikes
e-WORLD
World's first airport for flying taxis opens in UK