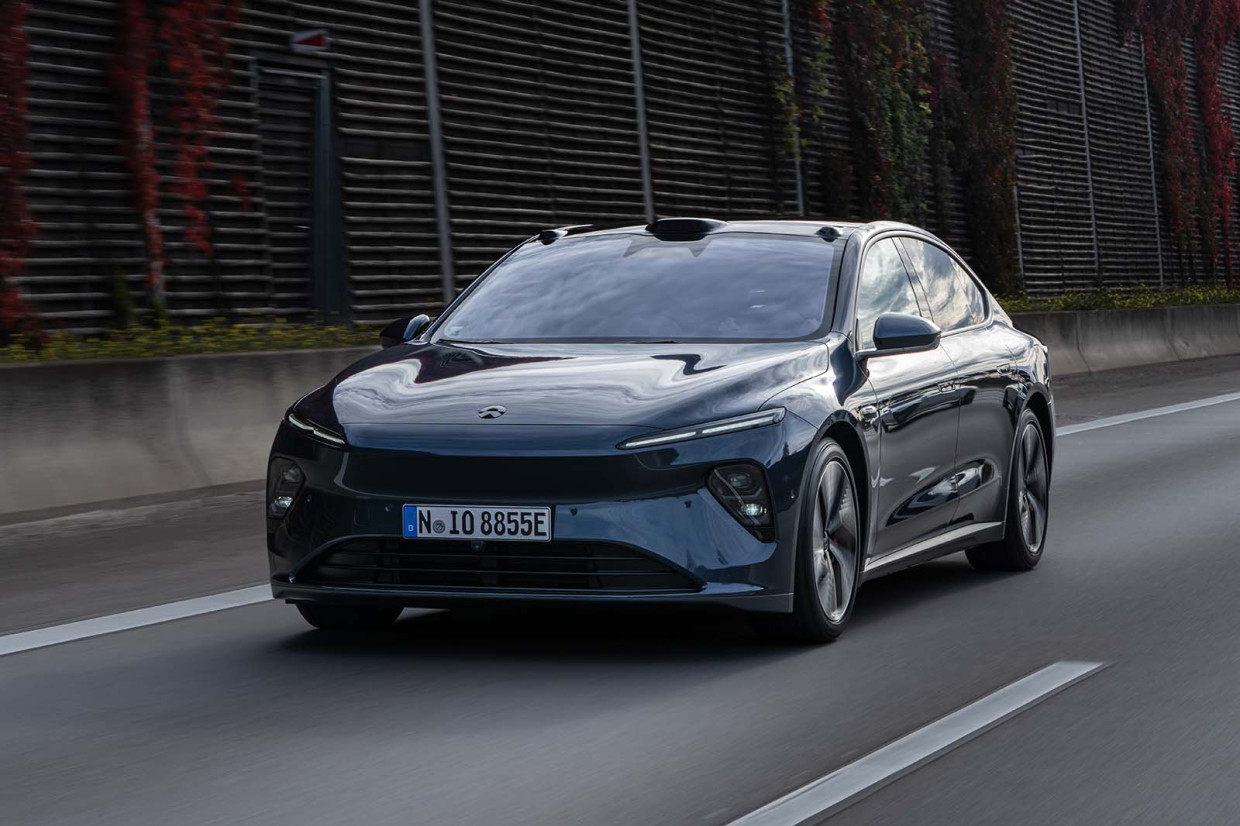 Chinese electric car giant Nio will expand its European operations to the UK by the end of next year after launching its second-generation models in several countries across the continent. 
Last year the electric car brand initiated its European expansion in Norway, with the firm opening up its order book to the ES8 SUV. 
Nio is now cementing its position in Europe by offering its new models - the ET7, EL7 and ET5 -  in Germany, the Netherlands, Denmark and Sweden.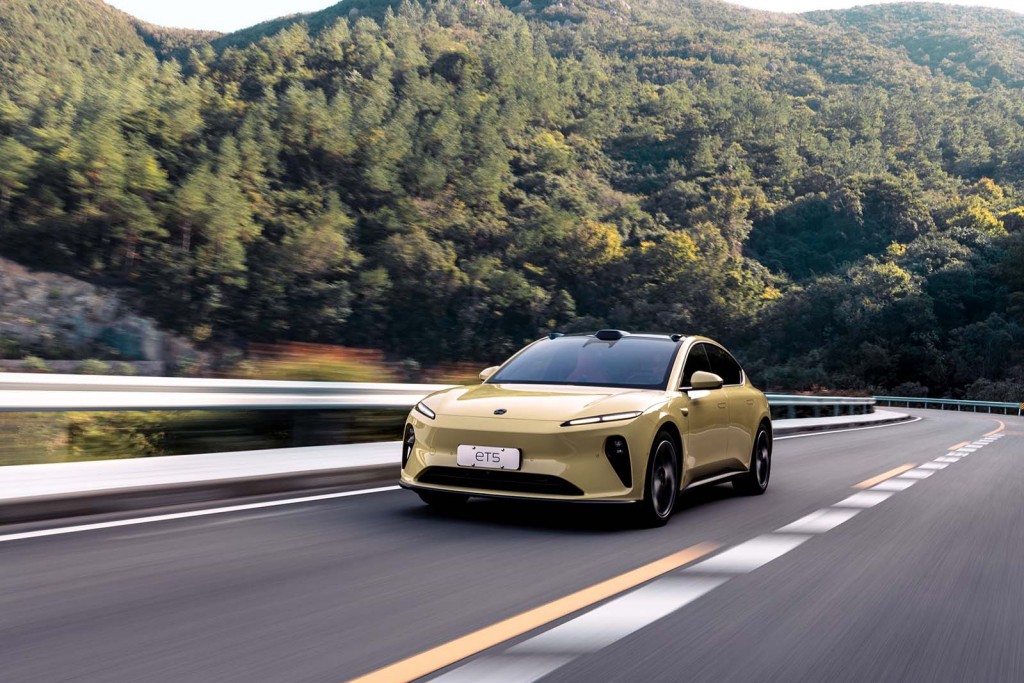 The ET7 is available to order in the aforementioned countries now, with deliveries due to start from October 16th. Deliveries for the EL7 and ET5 are expected in January and March respectively.
Notably, the firm's co-founder Lihong Qin confirmed that Nio would expand further into the UK by the end of 2023, highlighting the need to produce right-hand-drive cars as the reason for delaying entry into Britain.  
The 10 fastest accelerating electric cars 
Nio will also roll out more of its battery swap stations in Europe having launched three stations across Norway and Germany, so far. The battery swap stations allow Nio owners to swap their depleted battery for a fully charged unit in around five minutes.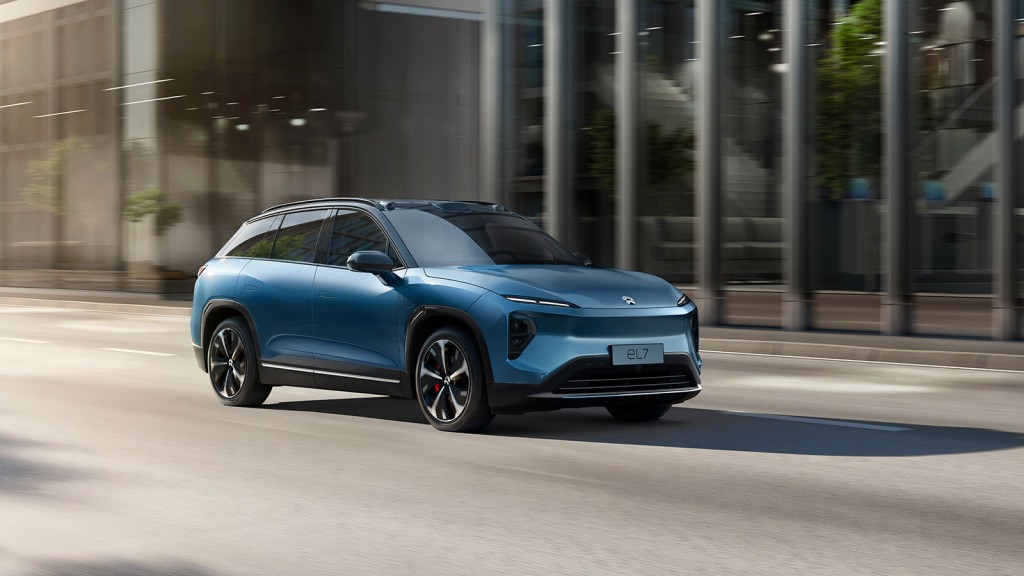 The new Nio models will sit on the brand's latest NT2 platform, with all three cars available to order through the brand's subscription service, which Nio says will encourage EV uptake. 
Through Nio's subscription service, customers in Germany, the Netherlands, Denmark and Sweden can order a new Nio from one to 60 months, with battery leasing options also available. 
Nio says its new models have been engineered to 'create an experience beyond expectations thanks to their design, performance and intelligence'.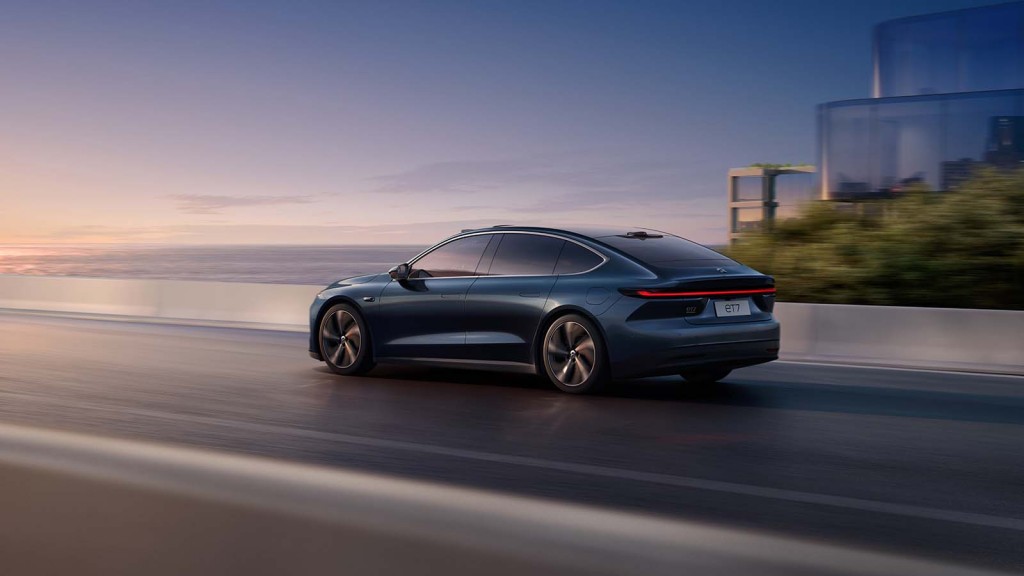 Intriguingly, all new Nio models have been equipped with advanced lidar technology, with the cars using 33 sensors positioned around the car's exterior allowing for semi-autonomous driving. 
There is a lot to learn about Nio and we've only just scratched the surface. So here's all you need to know about Nio and its European expansion. 
What is Nio anyway?
Founded in 2014, Nio was the brandchild of technology entrepreneur William Li, and currently offers a range of electric SUVs, crossovers and saloons. 
Although an unfamiliar name in Europe, some of you might be able to recall Nio's time in Formula E under the Nextev nameplate. Nio is also the firm behind the wild EP9 supercar, which previously held the record for the fastest EV around the Nürburgring racing circuit.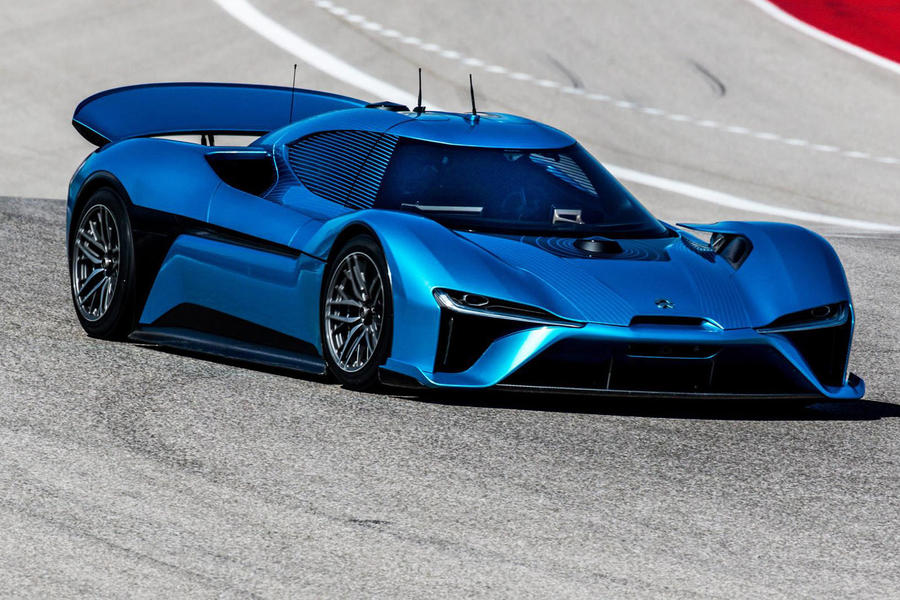 In 2019, Nio's ES8 SUV went on sale in China, soon followed by the smaller ES6. Nevertheless, launching  new vehicles didn't come without its challenges, and in a bid to maintain its ambitious global plans, the firm secured an £800m funding boost in 2020 to aid its long-term future. 
Don't be fooled by our centering on China. Yes, Nio is very much a Chinese brand, with its production headquarters in Hefei, offices in Shanghai and Beijing and two battery plants. But the firm also operates a tech centre in San Jose and even a performance arm in Oxford. 
Tell me more about its battery swapping technology?
Rather than participate in the ongoing battle between car brands to produce a car that will accept beguiling charging speeds, Nio has centred its charging revolution around battery swapping under the Nio Power name.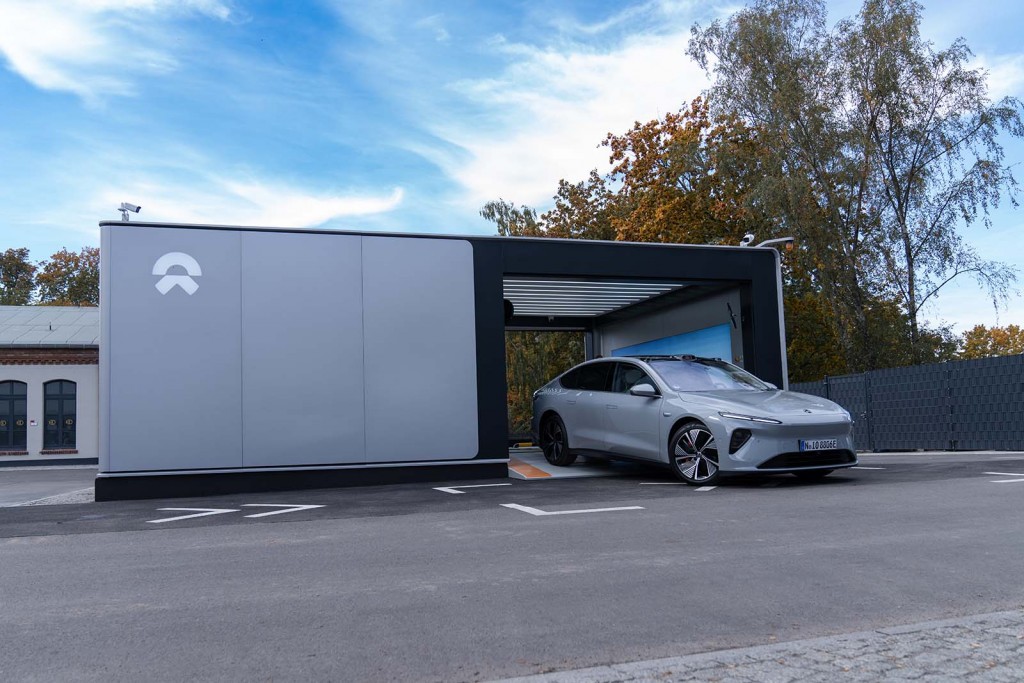 The premise is simple. Nio owners drive to a battery swapping station and a robot swaps the depleted unit for a new one in around five minutes. Now that is neat. 
Of course, the cars can still be charged at home using a dedicated charger or with a public charging device. But what the swap station allows for is faster charging which is more comparable to refuelling an ICE-powered car. 
Nio already operates more than 1000 battery swap stations in China and has already started rolling-out the new technology in Norway, with the second station opening earlier this year. 
The firm's battery swap stations can house up to 13 batteries at a time, with Nio owners also able to charge their vehicle through a standard DC device. Each swap station is around the size of six car parking spaces, which Nio says makes them easy to implement in a number of locations.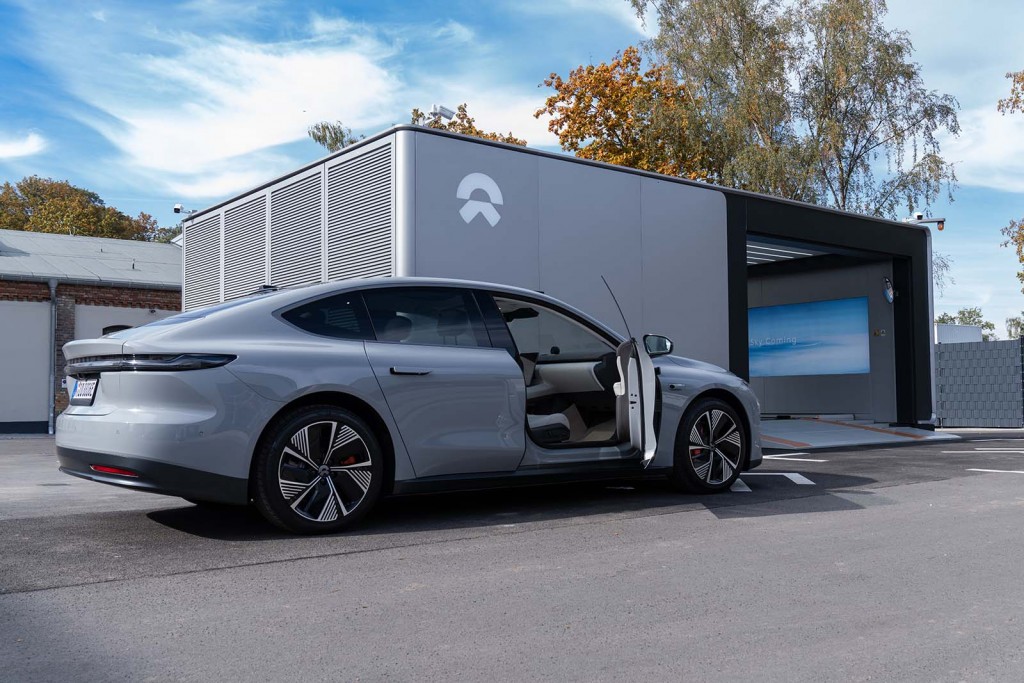 By the end of 2025 the firm hopes to have more than 4000 battery swap stations across the globe, with 1000 outside of China. 
How many cars are in the Nio line-up?
Nio currently offers the ES8 electric SUV and ES6 SUV coupe, which will soon be followed by the brand's second-generation models: the ET7, EL7 and ET5.
Last year the firm launched the ET5 saloon, a Tesla Model 3 rivalling EV, which offers a whopping 1000km (620 miles) of range when equipped with the firm's 150kWh battery.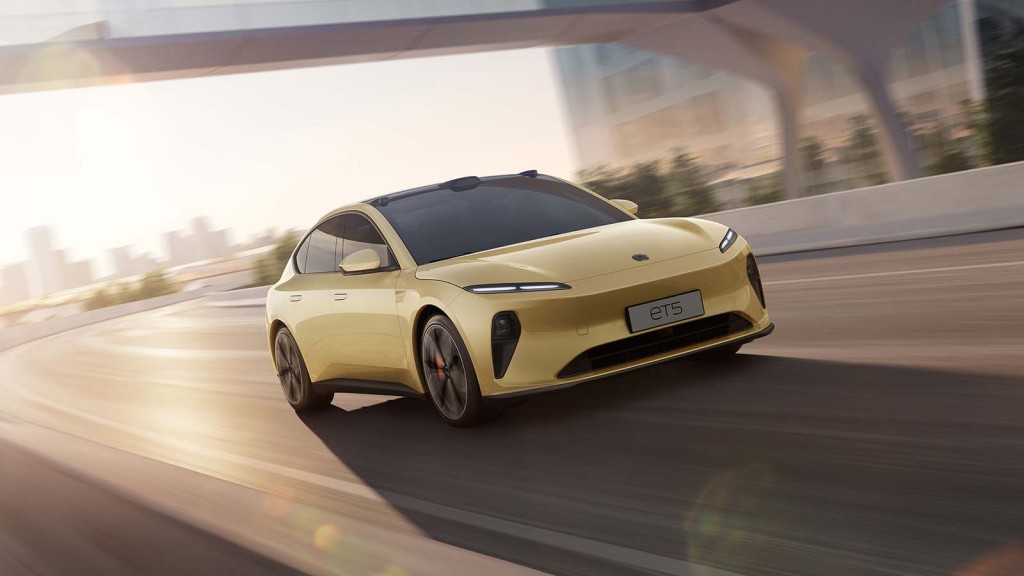 It's twin-motor set offers up to 360kW and a rapid 0-62mph time of just 4.3 seconds 
And even its two smaller battery options deliver when it comes to headline range statistics. The 100kWh model can do 435 miles between charges - or battery swaps.
The flagship ET7 also has a range of up to 620 miles with the 150kWh battery onboard, but is much bigger than its ET5 sibling, measuring 5098mm long, 1987mm wide and 1505mm high. Power is up to 480kW, while the 0-62mph sprint is achieved in under four seconds. It too can also be ordered with either the 75kW or 100kW battery.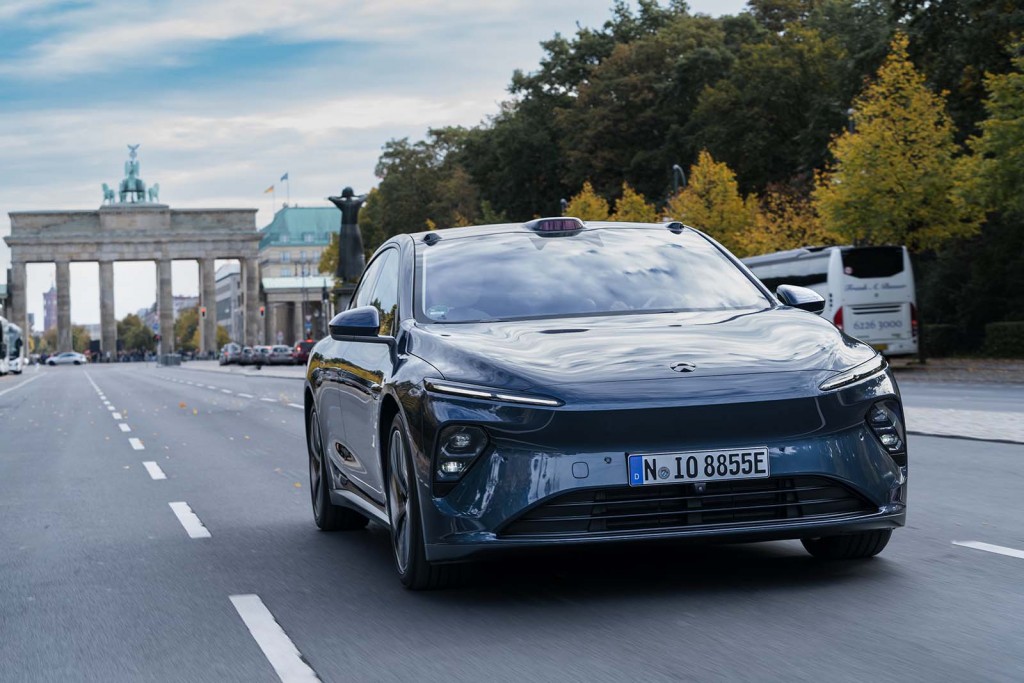 Nio's EL7 SUV - sold under the ES7 nameplate in China - gets the same choice of batteries and the Ultralong Range variant with 620 miles of range. The EL7 sits below the ES8 as a mid-size SUV. 
All models get the latest Banyan Intelligence system, as well as Nio's Nomi, an AI-based robot which drivers can use to operate the infotainment systems. Think of it as an Amazon Alexa but for your car. 
Like the existing Nio cars, the interior of the new models is dominated by a large 12.8 inch touchscreen display, which uses Nio's in-house navigation system - Android Auto and Apple CarPlay doesn't feature.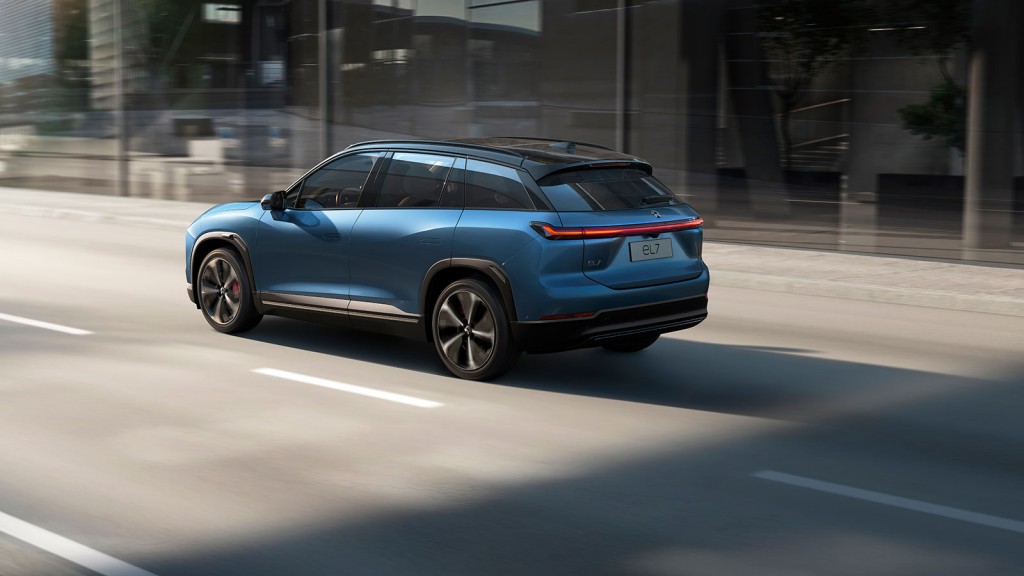 When can we expect to see Nio in the UK? 
Nio's co-founder Lihong Qin revealed that it would enter the UK by the end of 2023, but did not disclose which model would launch first. 
"There is a very deep connection between Nio and the UK because we had our first strategic and product workshops open in London in 2015," said Qin. 
"We opened our London office on the first day we launched and run our Advanced performance team in Oxford. I want to be in the UK as soon as possible but because of the right-hand steering it has taken us longer.
"Under our current plan we expect to enter the UK market by the end of next year, which will give us a year to prepare so we can present ourselves in a complete way."
Nio's plans to sell its cars in the UK comes after Chinese car brand BYD (which stands for Build Your Dreams, apparently) announced they would bring three electric models to the UK.
Xpeng, another giant in the Chinese EV market, has also not ruled out bringing its range to the UK, but is currently focussing its efforts on left-hand-drive countries. 
READ MORE
Subscribe to the Move Electric newsletter
e-CARS
Video: Can the National Grid cope with a surge in electric vehicles?
e-BIKES
What to look for when buying an e-bike: Move Electric's top tips
The rise of Volt Bikes: 'when we launched, people thought we were mad'
e-MOTORBIKES
Maeving RM1 electric motorbike review
Q&A: Zapp founder on why electric mopeds are the future
Government plans 2035 ban on new non-zero emission motorbike sales
e-SCOOTERS
Tier to upgrade e-scooter fleet with a smart 'Parrot'
Q&A: Neuron Mobility's UK boss on e-scooters, safety and helmet selfies
e-WORLD
Polestar to supply battery tech to electric boat firm Candela
Engineering giant ABB working on electric Dover-Calais ferry