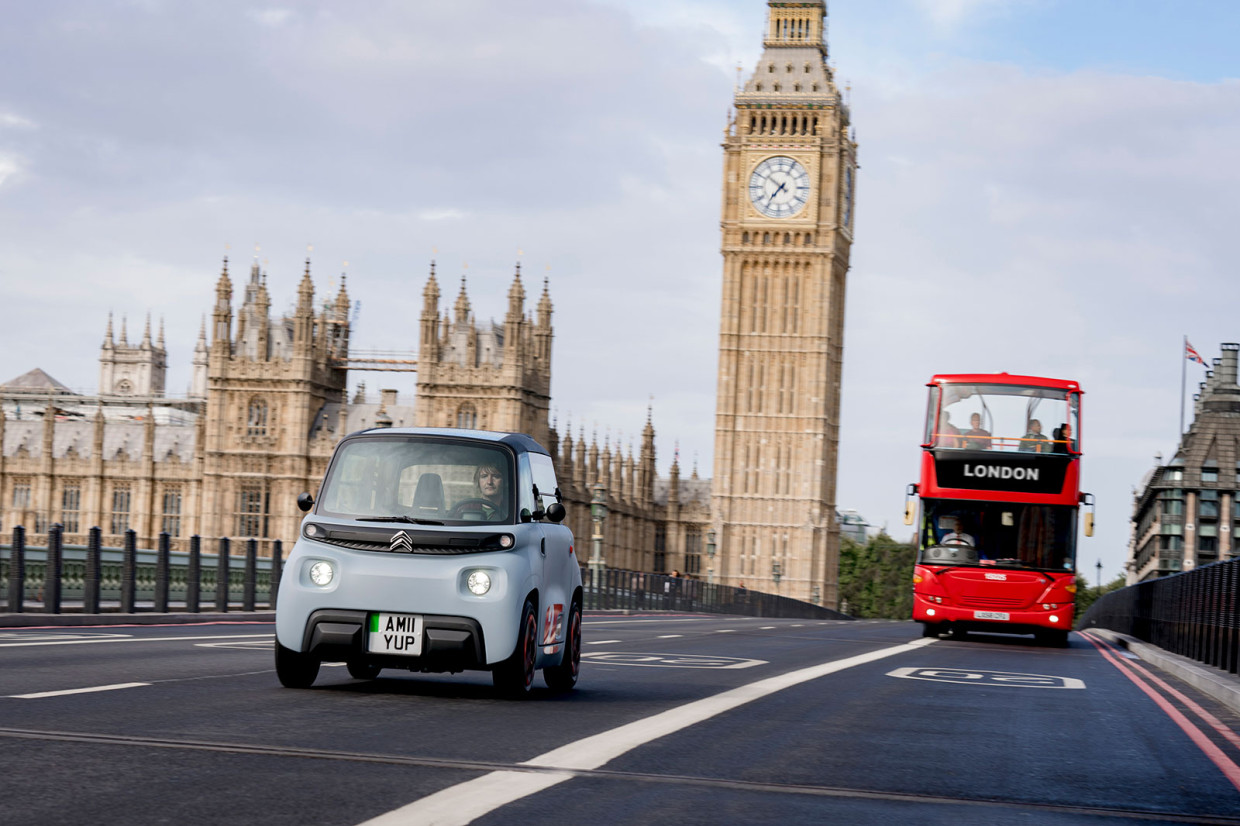 Urban commuting, inner-city driving; whatever you like to call it, travelling around a big city such as London in a car can be challenging at the best of times. 
Let's be honest: head anywhere near the centre of London and you'll spend much of your time stuck in traffic, parking is an expensive nightmare, the streets are narrow, the road surfaces are terrible – and with congestion charges and ultra-low emission zones you might have to pay a lot for the privilege.
So what if you could switch to a vehicle that could ease at least some of those irritations? Step forward the Citroën Ami, the quirky quadricycle that won us over since we first drove it: we've given it five stars, and handed it the Innovation Award at the 2022 Move Electric Awards.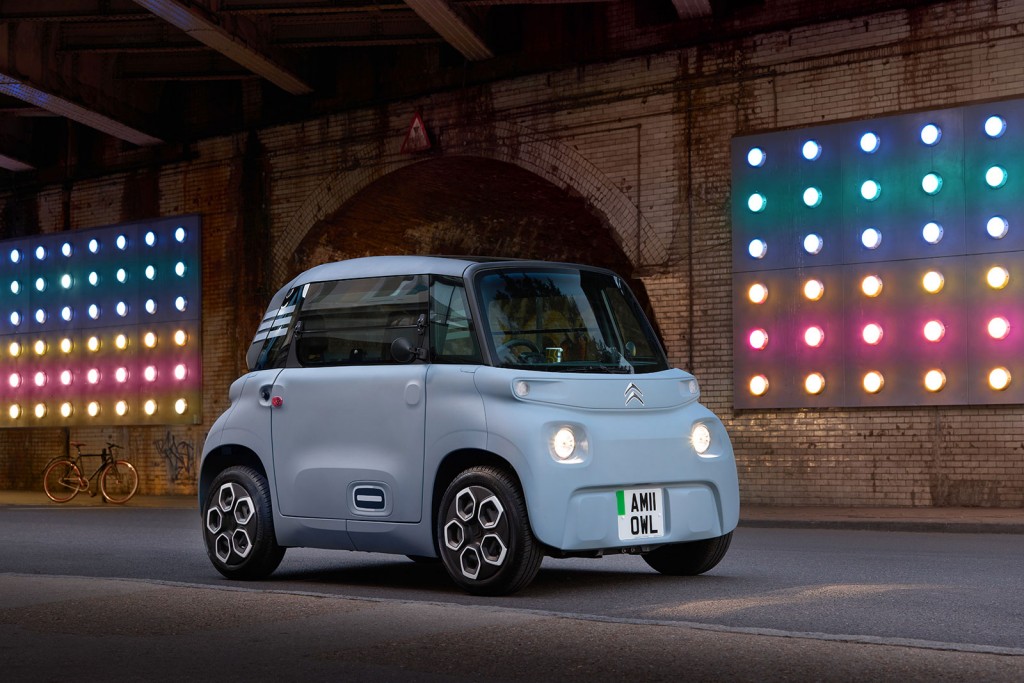 Charming, tiny and capable, the Ami turned heads when it was revealed in 2020 and recently launched in the UK. We've already reviewed the Ami - and taken the National Grid's Graeme Cooper for a spin in one to learn more about how it is coping with electric vehicles. 
Now, the Ami won't solve all of the problems of driving in London: you can't blast past the traffic and parking will still be expensive. But it is a cost-effective way of nipping round a city, reduces your presence on the road, costs a lot less than full-size cars, helps reduce pollution – and will make lots of passers-by smile.
So what is the Ami really like to drive in central London and what did we learn from our experience? We braved a trip into the capital to find out.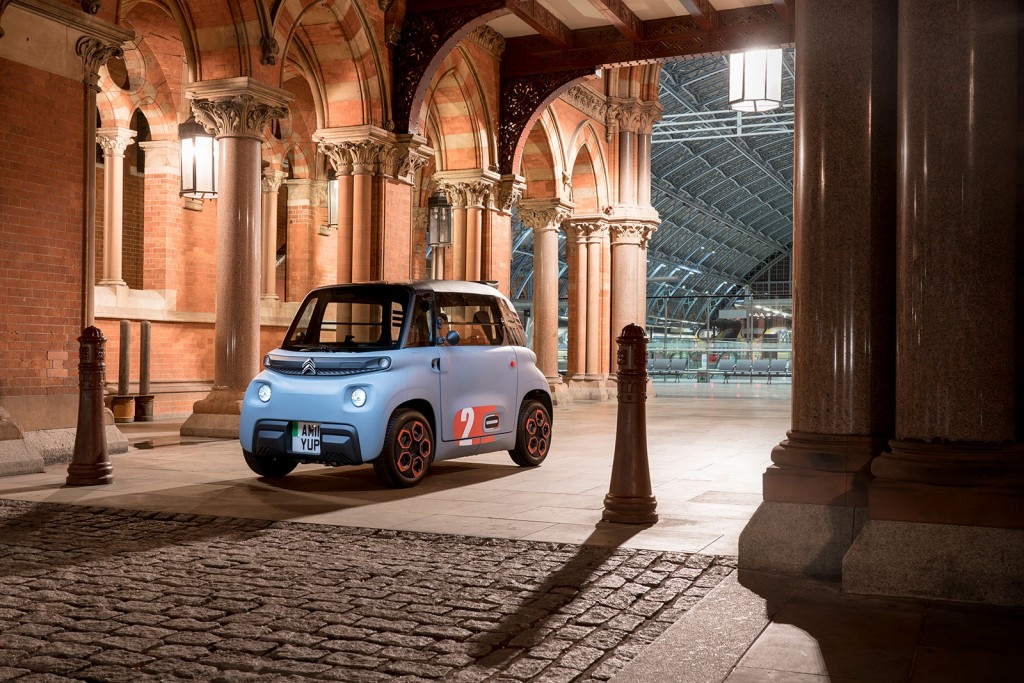 It's the perfect car for the city
The Ami is totally at home in the urban jungle. Set it free in a city like London and it excels for more reasons than you may think.
Firstly, the turning circle is excellent at 7.2m, which is better than the famously tight steering lock on a London black cab. It handled the infamously tight, reverse-direction Savoy roundabout with aplomb.
Some may question the Ami's 28mph top speed and deem it too slow, but for inner city commuting or errand-running, this isn't the case. Frankly, getting close to 28mph is a dream in much of central London...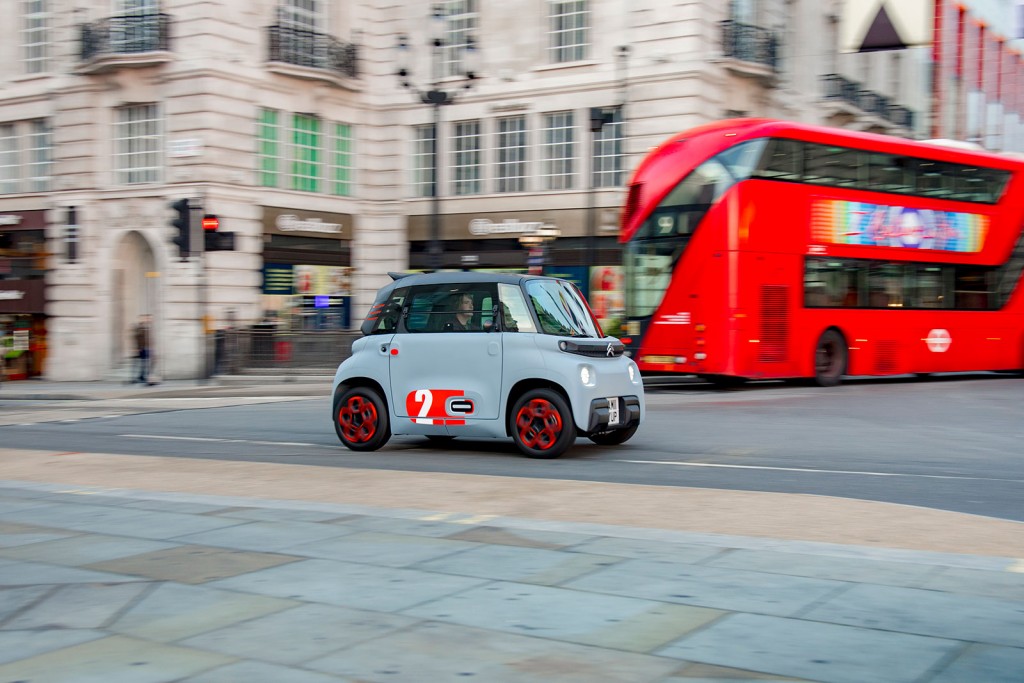 There is plenty of torque from the rear-mounted electric motor and when you consider that most cities have highly regulated speed limits of between 20mph and 30mph, the maximum speed of the Ami is fine. 
Of course, you wouldn't want to find yourself on a road that exceeds 30mph, so you'll want to be careful as you head near the outskirts, but for town driving the Ami has more than enough pace. 
Want more Move Electric content? Sign-up to our newsletter
The 46-mile range is enough
Don't be fooled by the Ami's short range: it's plenty for the sort of mileage you'd do with a quadricycle in the city. After driving the Ami around the capital for most of the day, the car still had plenty of juice to carry us back to Move Electric Towers in Twickenham, about 10 miles from the centre of the city. 
Thanks to the Ami's small 5.5kWh battery the tiny electric Citroën can be charged up in around three hours using the Type 2 connector which comes with the car. You can also use a domestic three-pin socket to charge the Ami, but expect a charging time of around five hours. 
The Type 2 connector itself is stored in a recess in the passenger-side door, which is useful to saving having cables rolling round in the back, but it's a bit of a faff to feed back in.
The inside is more spacious than you might think -  as are the optional extras
Look, we won't kid you that the Ami is a TARDIS: it's a small machine and space inside is limited compared to some of the big SUVs you'll see squeezing down London streets. But, really, how much space do you need? Because the Ami likely has enough.
For a two-seater, it's actually quite spacious, thanks to some clever design tweaks. Take the passenger seat for example, which sits a few millimetres further back to create a good level of leg room, while also giving the driver a better view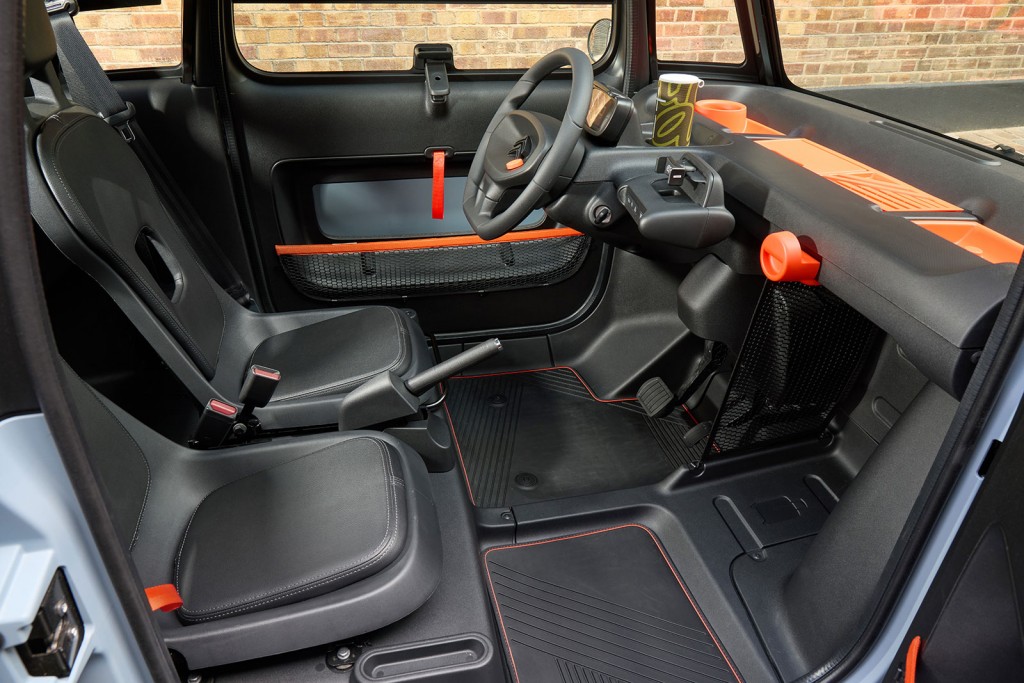 Even the storage compartments have been intelligently designed, with big netted bins in each door and a smaller tray inserts in the dashboard that can store keys and phones. Plus there's a handy phone mount and charging port in case you're using it as a sat-nav. 
This phone mount is in keeping with the Ami's lightweight but cost-effective ethos. Rather than add an infotainment system with complex systems, you just use your smartphone instead. There's even a handy Bluetooth speaker in the dashboard.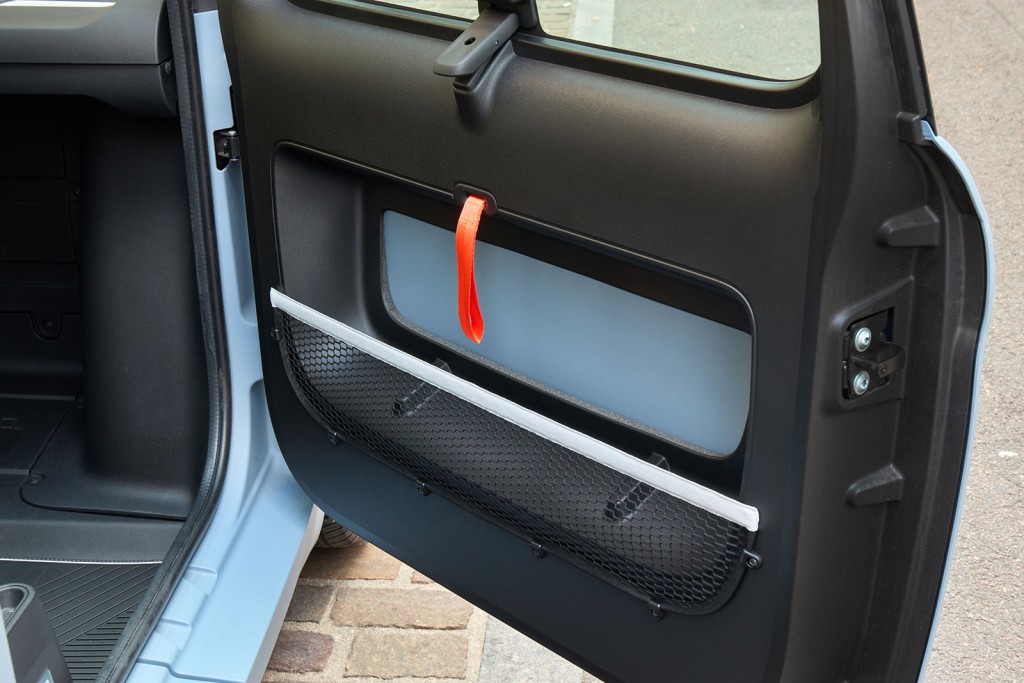 Anything that isn't good? The rear-opening driver's side door can make getting in and out a little awkward (a consequence of using the same door panel on each side of the car), but that will likely ease with familiarity.
And, obviously, the Ami only has two seats, so this isn't exactly suitable for family transport. But then that isn't really the intended use case.
Bold new Citroën Oli concept showcases future of electric mobility
It's very easy to drive
Being an EV you don't have to worry about gears and even though it's not the most powerful thing it's so lightweight you'll quickly have the Ami up to a manageable cruising speed. 
The steering is accurate and thanks to the sizeable front windscreen and lengthy doors the visibility is excellent. Intriguingly the Ami doesn't have a rear-view mirror as standard, but this isn't an issue when reversing or manoeuvring as you can easily look over your shoulder to scout around for any hazards.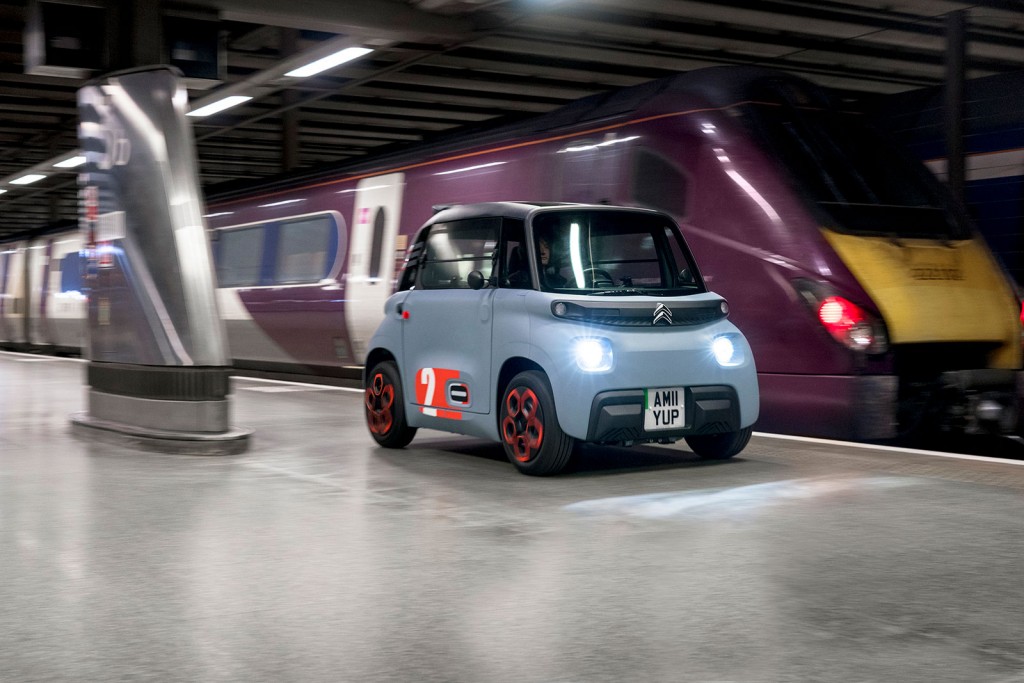 Some of you may also be concerned by the Ami's left-hand-drive layout. Yes, the new quadricycle isn't available in right-hand-drive, but once you've adjusted, this wasn't an issue. Simply, it's too small to make much different.
You can pull out of junctions and negotiate roundabouts with ease, even with the steering wheel on the left-hand side. 
The ride can be a little firm in places and on some tired-looking back streets in London, you do get a fair jolt if you hit a more aggressive pothole. This isn't helped by the rather lacklustre seats which have limited padding and can feel somewhat uncomfortable if driving for a long time.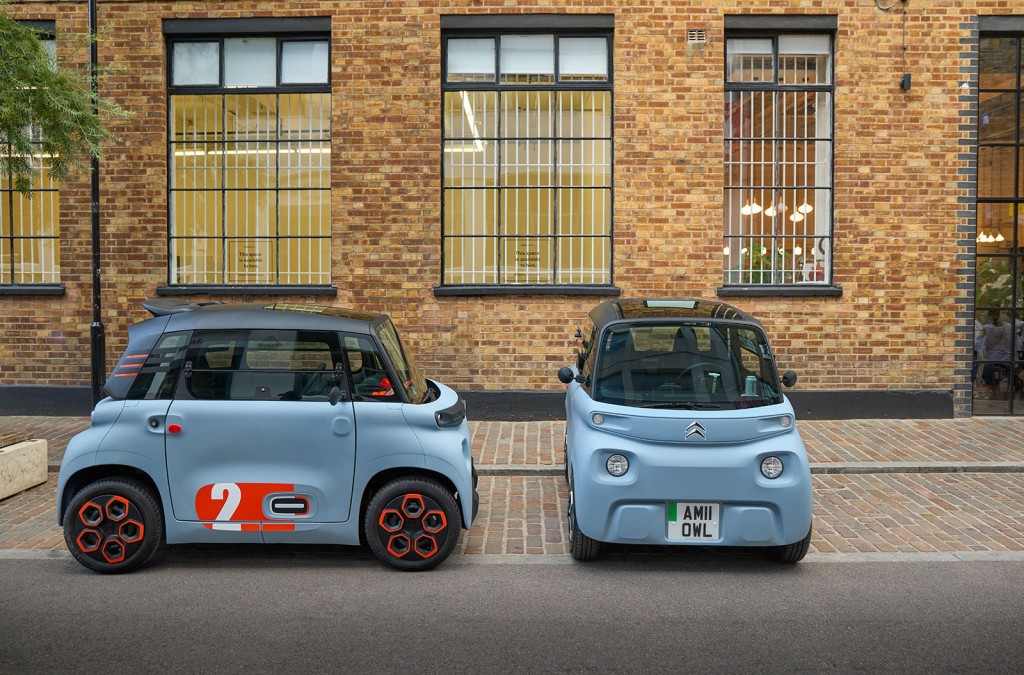 Naturally, being such a small quadricycle - 2410mm in length and 1390mm in width -  it's very easy to park, while also being great for the tighter streets we encountered in Soho. 
And there's a Cargo version
That's right, you can get yourself an Ami van in the form of an Ami Cargo. Aimed at last-mile inner-city delivery the Ami Cargo swaps the passenger seat for a modular storage compartment.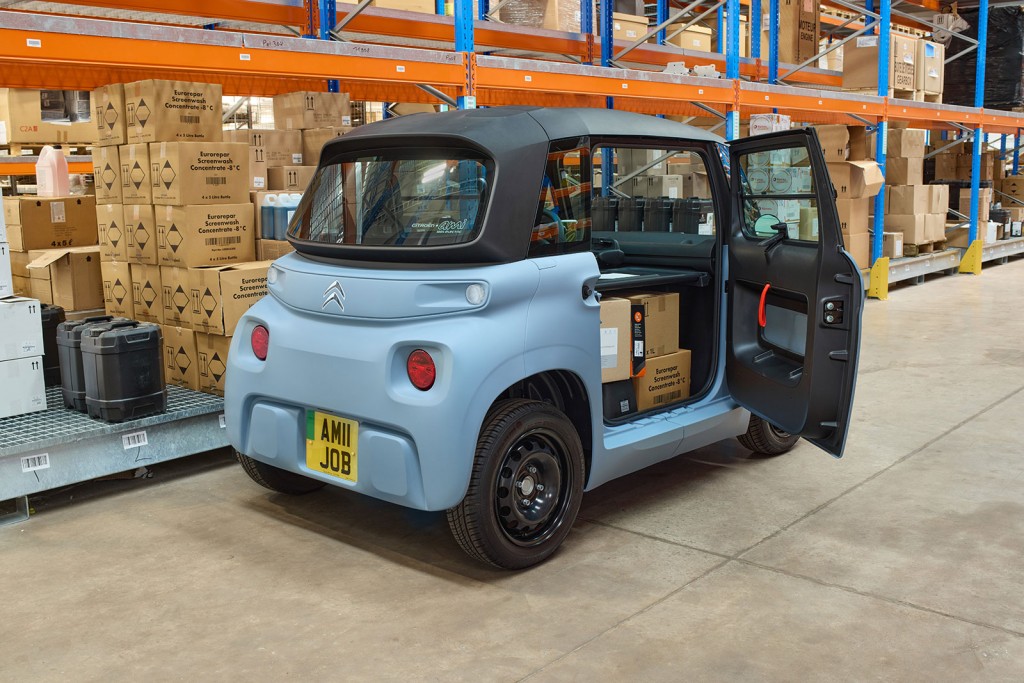 In total, the Cargo version offers up to 400-litres of storage space and a maximum payload of up to 140kg. 
The upper part of the storage compartment is more of a shelf and has additional cubby holes to store laptops and smaller objects. 
Citroën boss Vincent Cobee Q&A: 'Ideally, we won't launch another big, heavy SUV'
Below that is the main storage area for larger boxes making the Ami Cargo ideal for urban deliveries - and that space alone offers up to 260-litres of room.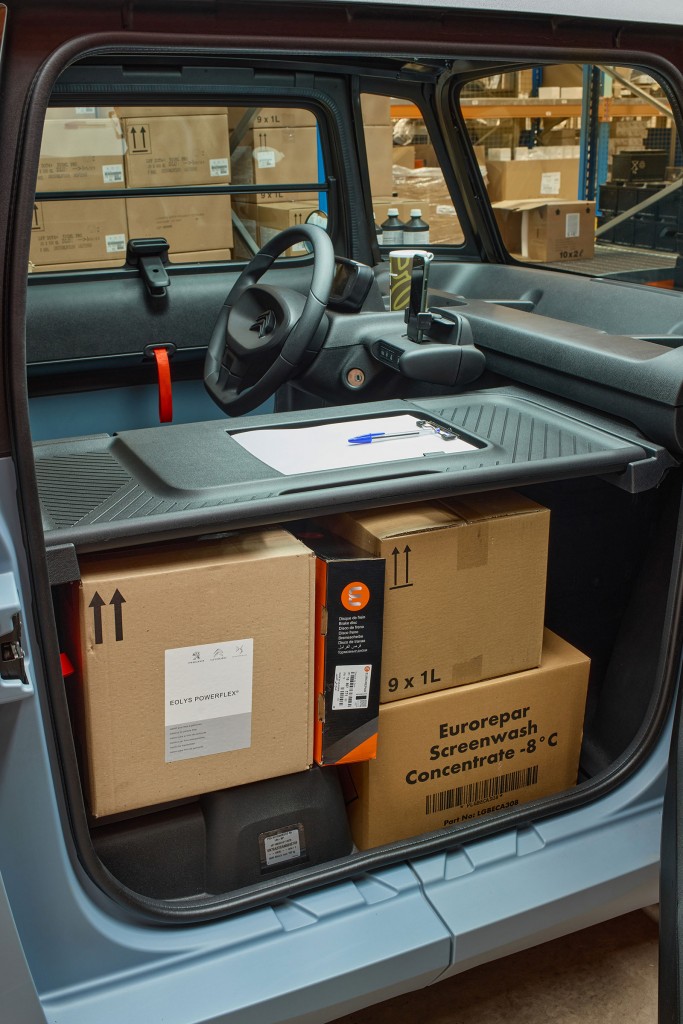 The Cargo is identical to its passenger sibling in terms of size meaning it's just as easy to park and drive. Battery and range are also the same, but it's likely that when fully loaded with parcels the distance the Cargo can travel on a charge might be less than the quoted 46-mile range.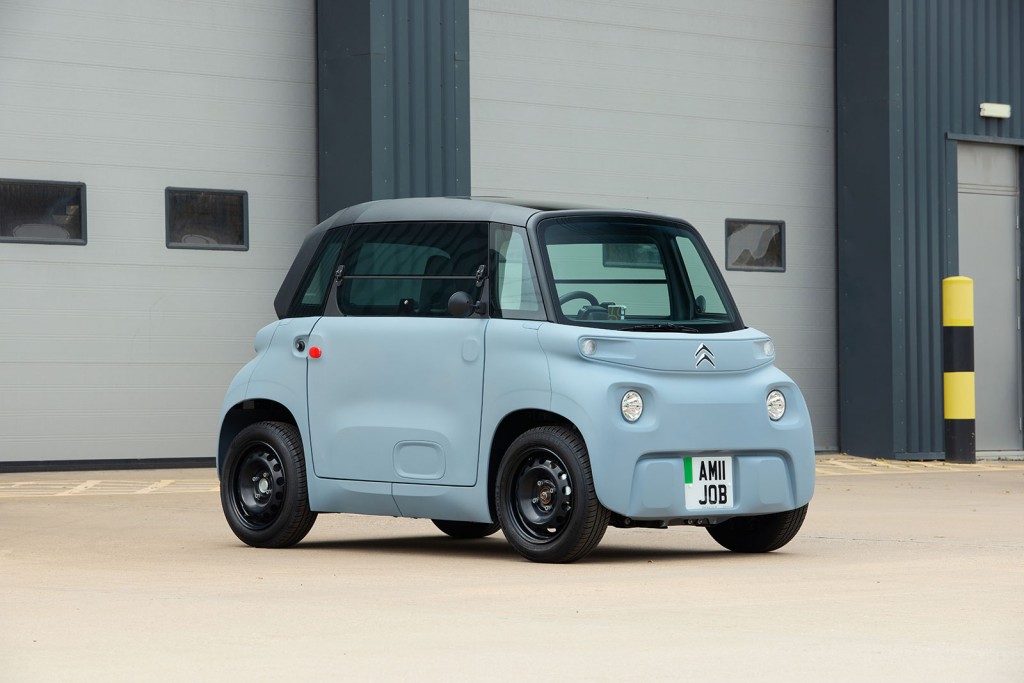 READ MORE
Subscribe to the Move Electric newsletter
e-CARS
Video: Can the National Grid cope with a surge in electric vehicles?
e-BIKES
What to look for when buying an e-bike: Move Electric's top tips
The rise of Volt Bikes: 'when we launched, people thought we were mad'
e-MOTORBIKES
Maeving RM1 electric motorbike review
Q&A: Zapp founder on why electric mopeds are the future
Government plans 2035 ban on new non-zero emission motorbike sales
e-SCOOTERS
Tier to upgrade e-scooter fleet with a smart 'Parrot'
Q&A: Neuron Mobility's UK boss on e-scooters, safety and helmet selfies
e-WORLD
Polestar to supply battery tech to electric boat firm Candela
Engineering giant ABB working on electric Dover-Calais ferry