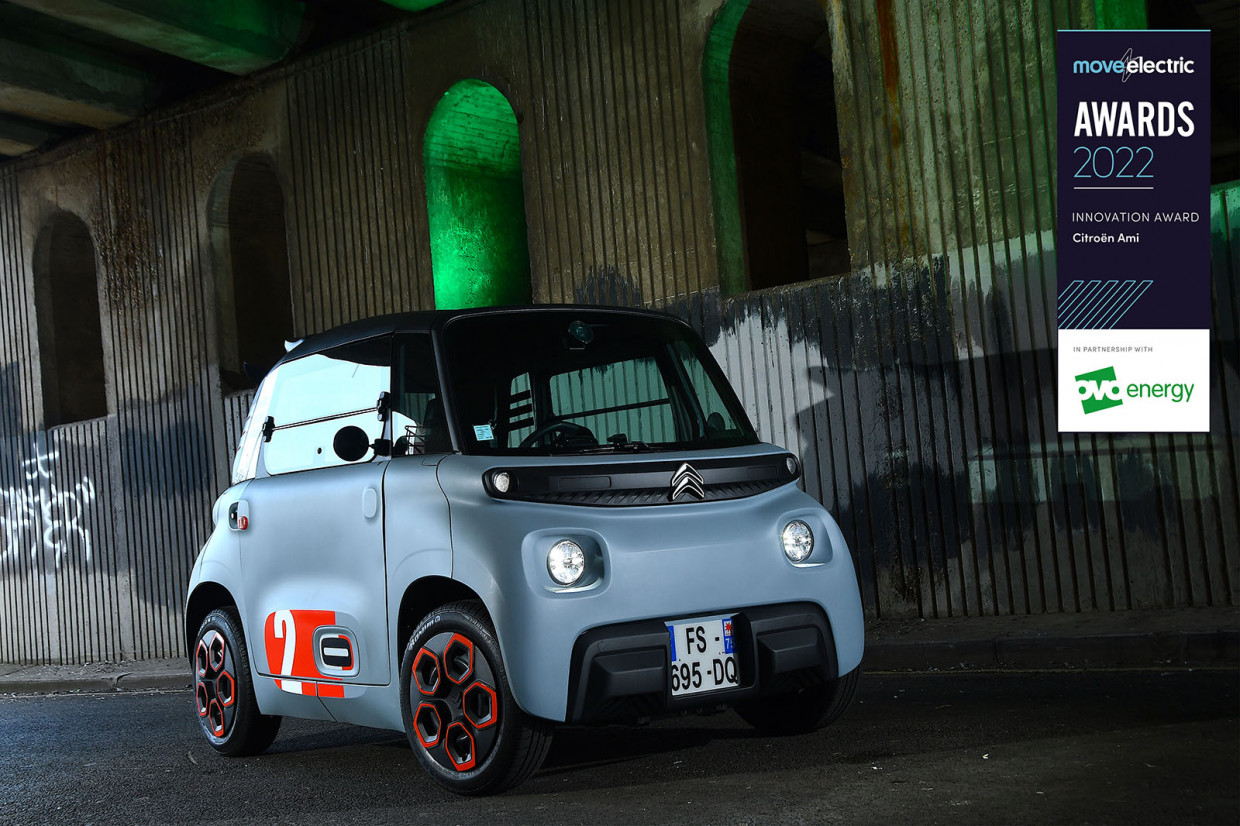 If you fell in love with the Citroën Ami from the moment you saw its quirky styling and distinctive proportions, you're not alone. So did Eurig Druce. 
The Ami is a unique proposition: a small two-seat quadricycle designed to offer cost-effective urban transport, both for individuals and businesses. While it's not the first quadricycle on the market, it has reinvented the formula for the era of electric mobility – and that's why it's won the Innovation Award in the Move Electric Awards 2022 in partnership with OVO Energy.
The problem for anyone in the UK who fell in love with the Ami? Citroën wasn't actually planning to sell it here. And if you were disappointed by that, you weren't alone: so was Eurig Druce. So as the boss of Citroën UK, he decided to do something about it. Thankfully, Druce isn't the sort of person who likes to be told no.
The first public vision of the machine came in early 2019 when Citroën showed the Ami One concept. "It was a funky looking product that we described as a mobility object – because it's really hard to describe what it is," recalls Druce. "Most people look at it and see a vehicle with four wheels, a roof and doors and things it's a car: but it's not a car, it's a quadricycle. It's a hard thing to pigeon hole, but that's half the attraction."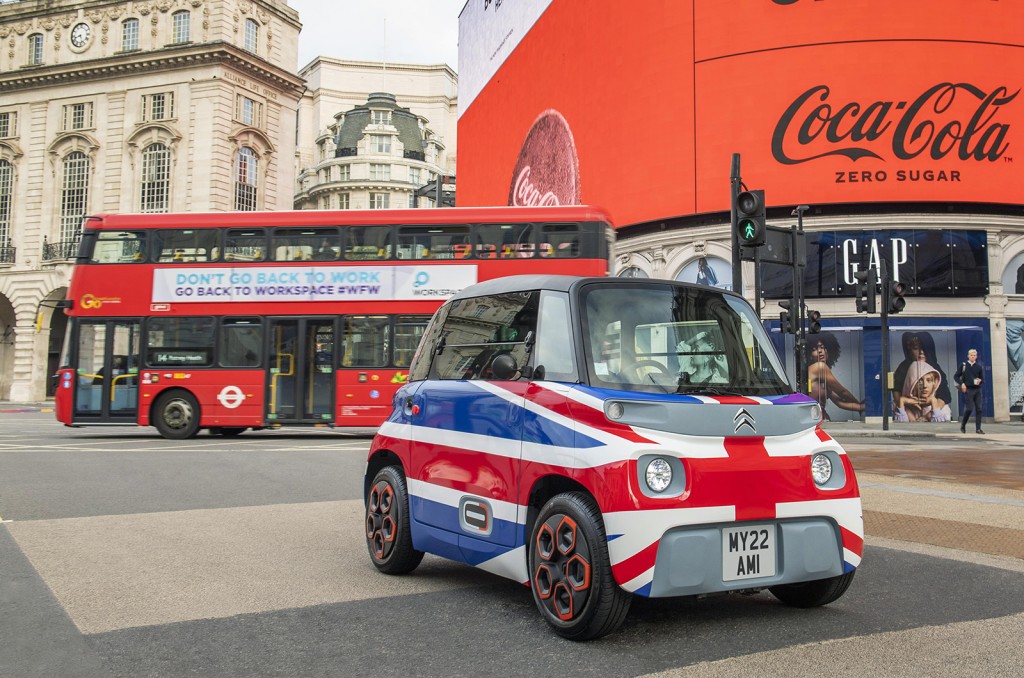 Bringing the Ami to Britain
Druce took over as the head of Citroën's UK arm in early 2020, and just before Covid-19 changed everything he first saw the production Ami while on a trip to Citroën's Paris headquarters.
"We were shown all the products for the next few years, with lots of electrified products – including the Ami. But I was told by [Citroën boss] Vincent Cobee that the Ami wasn't coming to the UK. I said to Vincent that I thought the Ami offered real possibilities for the UK."
To be fair, you can see Cobee's thinking. Car sharing and rental schemes are more established in countries such as France, and with the costs of engineering Ami just for the UK prohibitive, it could only be offered in left-hand drive. Add in the limited top speed of 28mph and 60-mile range, and the questions stacked up.
But they didn't for Druce. "I have a strong feeling that my responsibility is to lead the Citroën brand in the UK – and to do that I need to bring the whole Citroën experience to the UK," he says. "For me, Citroën the brand is about democratising mobility – one of our key missions is to bring mobility for all.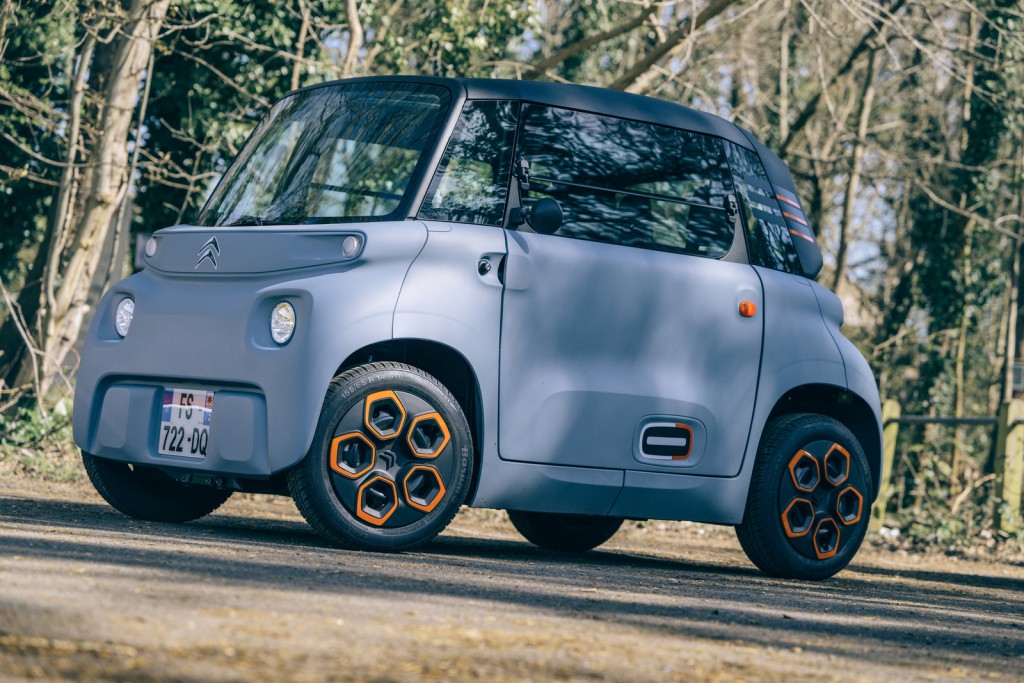 "We don't think mobility should be for the privileged few who can afford it. And that's even more important for the electric future: at the moment, most electric cars are three-tonnes and £50,000 plus. If that's the future I'm not sure it's green, I'm not sure it's efficient and it's certainly not affordable.
"So if that's the Citroën cause, I'd be leg-tied if I wasn't bringing that to the UK. Me and Vincent entered into a humorous dialogue over it, with him warning that we wouldn't move the steering wheel to the right for us. But when we first drove an Ami over here we realised that it's so small the steering is only 10-12 inches away from where it would be on the right anyway.
"Vincent told us that if we could prove a commercial case, he'd have our backing. So we went from there."
Two pre-production Citroën Ami were brought to the UK, and the firm launched a website for potential buyers to register their interest and help prove the demand existed. More than 15,000 people have so far done so. That was enough to convince Cobee and his team that it was worth selling the Ami in the UK. More than 2000 people have placed deposits.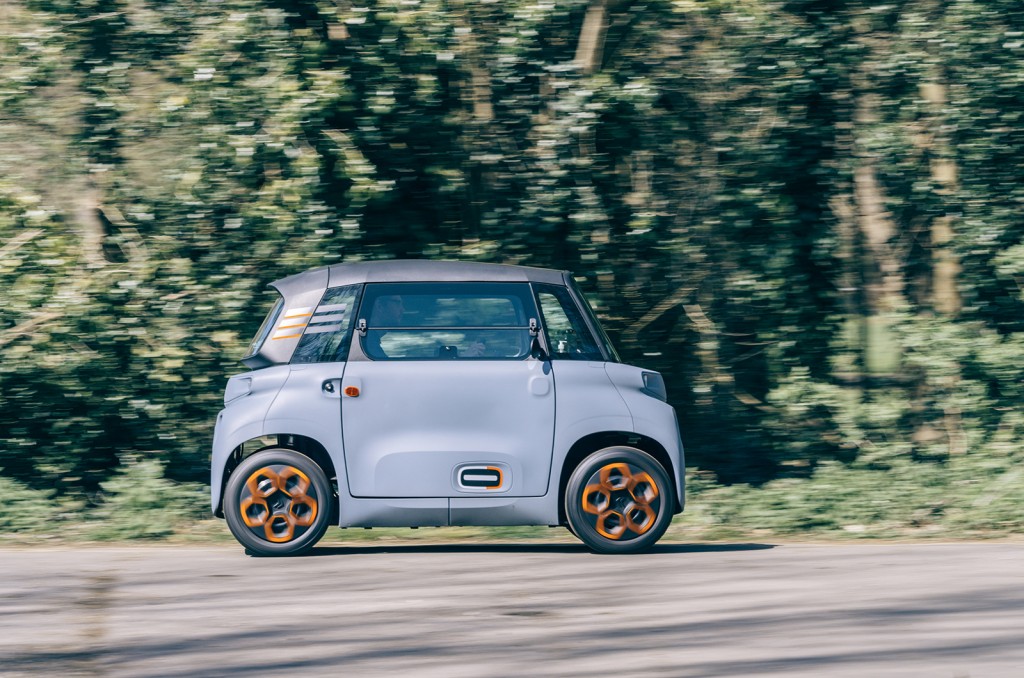 Having campaigned for it, Druce admits he was nervous to find out if the reaction would match his expectation. "You have a belief, but you don't have facts," he says. "So you're either going to look a bit of an idiot for suggesting we bring a left-hand drive quadricycle to the UK, or you find out it will work."
The innovation of the Ami
Druce says that his conviction the Ami would be a hit stemmed from the sheer versatility the machine offers. "There are so many market opportunities with it," he says. 
As a quadricyle, the Ami can serve as a replacement for personal cars – both for individuals and, in Cargo form, businesses – but it's also been designed for use in shared mobility rental schemes. It's as much a rival to e-scooters as four-wheeled machines.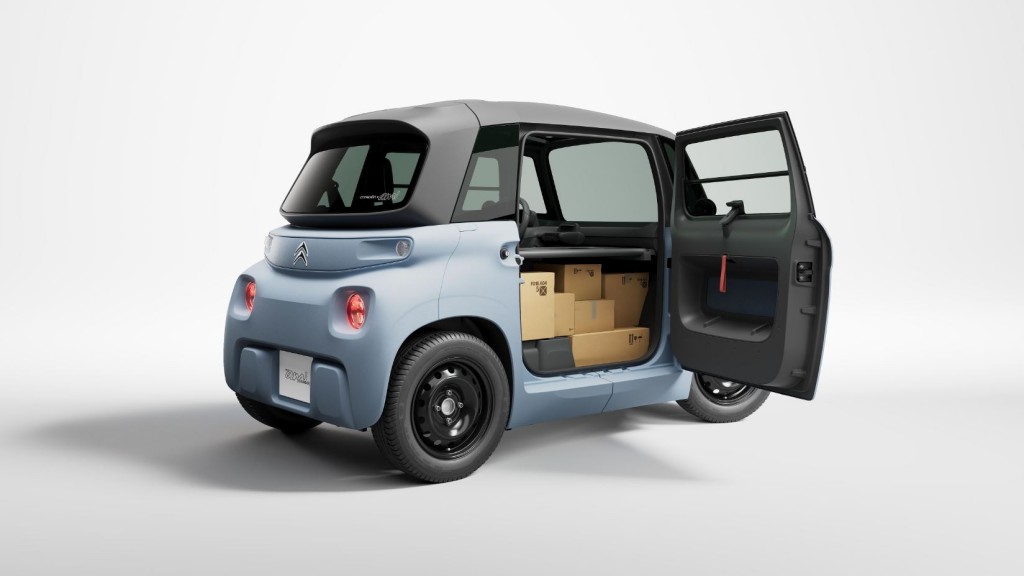 "In London you see bike and scooter hire on street corners," says Druce. "We're not there yet with Ami, but that would be the ultimate: to have Ami in some of our urban environments available to hire. The dream is to make it part of an integrated transport system."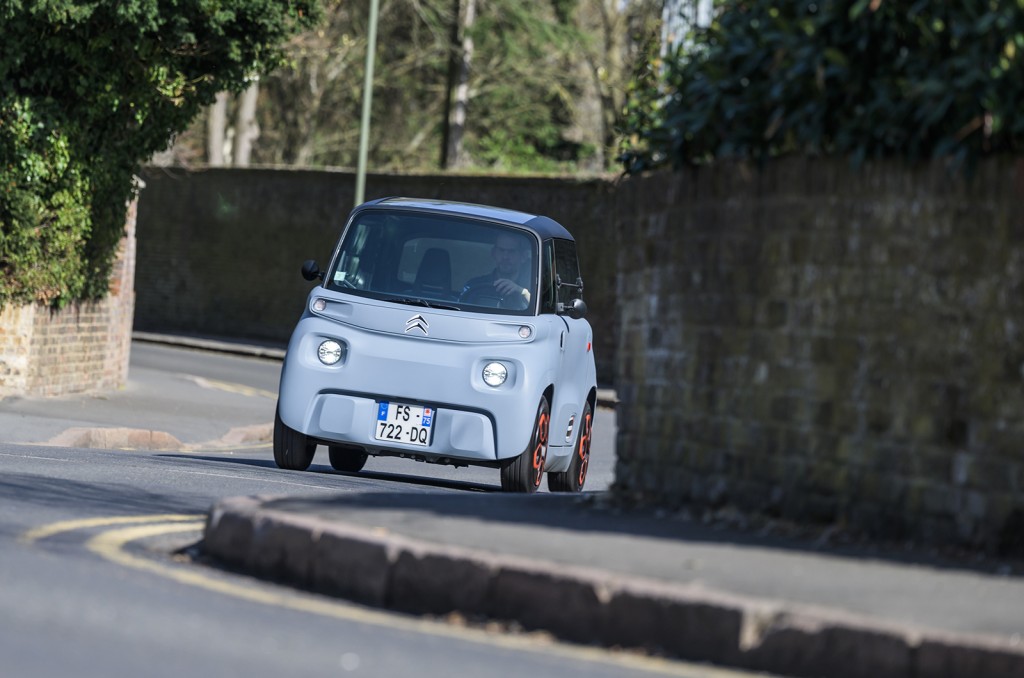 But the Ami isn't just innovative for what it is: the innovation extends to how it was designed and built.
"The genius of Ami is that the design capability is really impressive," says Druce. "It looks cute and it's got loads of character, but then you realise the two doors are the same and open in different directions, and that the front and rear are identical."
Such features don't just add to the Ami's quirk: they cut down on the number of parts used, reducing the cost and complexity further - both to build and repair. 
While the Ami will retain left-hand drive: there will be a few adjustments for UK versions, such as changes to the lights, using miles per hour on the displays and - most notably - a Type 2 charger plug. European versions will only be offered with a domestic plug attachment, but the change required to meet UK rules means British market Ami will be able to use public chargers.
Citroën's return to innovation
Citroën has a long history of offering affordable transport, dating right back to the classic 2CV. But it's a strength that disappeared for many years. "There was a time when Citroën maybe wanted to pretend it was German," admits Druce. "But we're not a German brand: we should be proud of what we produced in the past.
"We've got that 2CV spirit. Would we ever produce another 2CV? Well, we basically have – the spirit, the almost militant view of creating a mobility solution for a particular cause is right there in the Ami.
"That's why it was important to have Ami in the UK. Not having that £6000 entry point would hamper my vision to say we're democratising electric mobility. But it's not just Ami when we're talking innovation at Citroën: we want to push the boundaries of our role in the future."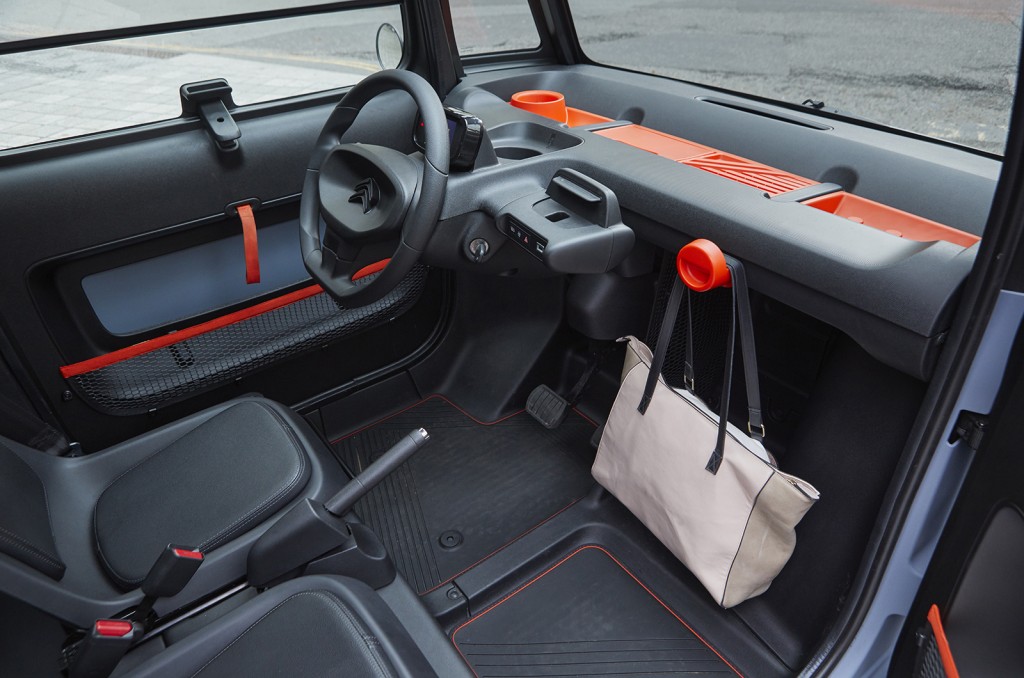 Druce highlights the Citroën Skate autonomous concept, a flat platform designed to house a whole range of modular units or items. "It's designed for inner city environments and to allow people to do things other than worry about driving," he says. "And that exists now - if we had dedicated lanes in a city, we could roll that out now."
The need to continue innovating
With the Ami now bound for the UK, Druce there is now a need for further innovation in how to bring the machine to customers here. "What you can't do is have an innovative product and then try to bring it to market in a conventional way," he says.
"Some people will want to buy it in a conventional way, but some will want other solutions: whether that's by-the-minute hire, car sharing schemes and so on - we're looking at all of that."
For now, though the Ami is on sale in relatively conventional fashion: for a total price of around £6000, with monthly PCP deals also available. So far, more than 2000 people have placed a £250 deposit for one – and Druce says they're a remarkably diverse group.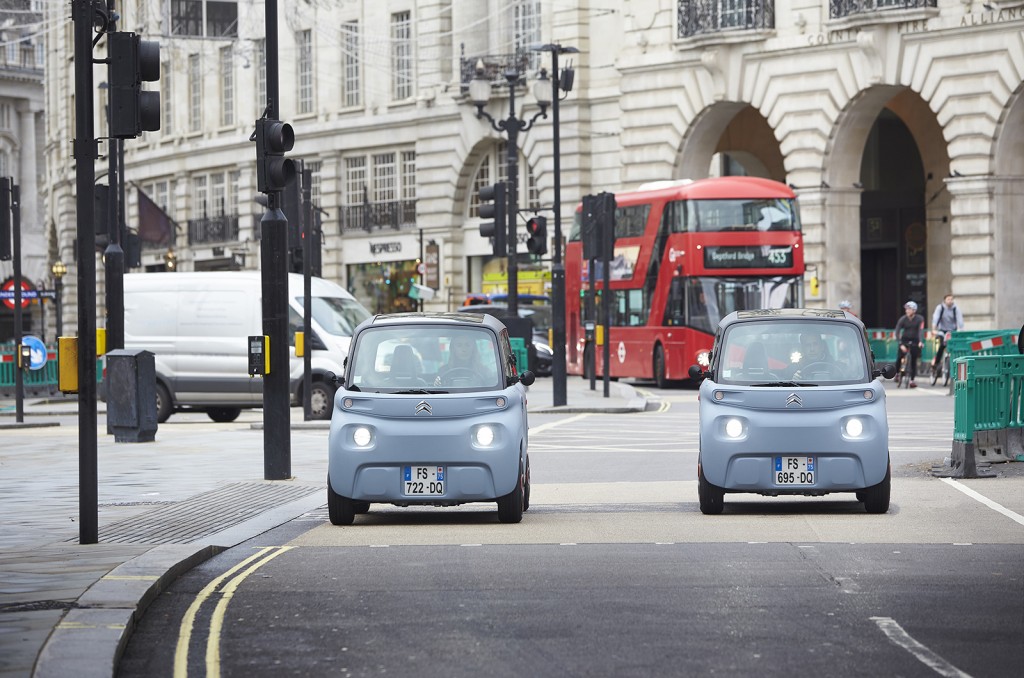 "When I look at the product I think inner-city, so customers in London, lot of last-mile delivery for the Cargo one. Yes, we have those people. But we also have business customers in all types of environments – you can imagine airports, delivery firms, tourism and so on. And then the conventional customers are unexpected.
"There's a lady who comes to mind who lives in Cumbria, and she wants an Ami because she lives in a village and the Post Office is in the next village on. She doesn't want the cost and commitment of a car, so the Ami is a perfect solution."
There are still a few months before the Ami goes on sale in the UK – not least because the unplanned addition of the market has complicated Citroën's production plans – and customers can start to really experience it. But the signs are that Druce's push to bring the Ami here will be rewarded. Which just leaves one question: has Cobee forgiven him for messing up all his plans yet? "It's worked out well," smiles Druce. "He sees it as an opportunity."
Move Electric Awards 2022 in partnership with OVO Energy: the winners
Best Electric Car: Hyundai Ioniq 5
Best Electric Bike: Ribble Hybrid AL e
Best Electric Motorbike: Super Soco TC Max
Best use of Electricity: Mercedes-Benz Vision EQXX
E-leader of the Year: Graeme Cooper, Head of Future Markets, National Grid
E-business of the Year: Hyundai Motor Group
Best of British Award: Fully Charged