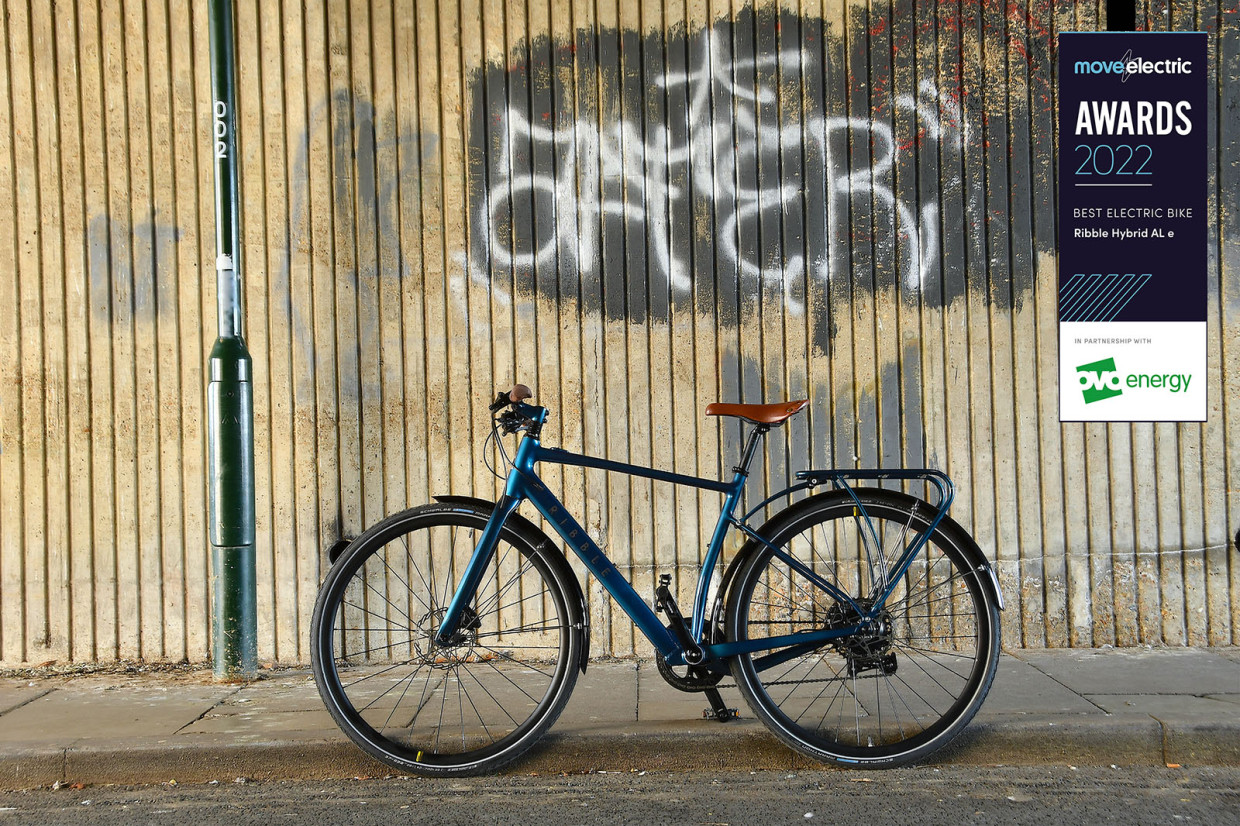 From the intuitive motor to the aesthetically pleasing frame and the utility attachments, the Ribble Hybrid AL e (Fully Loaded Edition) offers plenty for all types of riders and at a very reasonable price point of £2299.
That appealing combination of these factors is why we chose this bike as the winner of the Best Electric Bike prize in the Move Electric Awards 2022 in partnership with OVO Energy.
Well-known in Britain, Lancastrian brand Ribble is known as a staple of well-priced bikes – and it now make some of the best e-bikes you can find.
Ribble's foray into electric bikes has seen it introduce gravel, road and urban styles all with the same motor and battery system from Mahle. The German tech firm's SmartBike Systems X35+ motor is in the rear wheel, and the battery is neatly hidden inside the frame, something that at first glance makes you wonder whether it is actually an e-bike. This isn't the only reason we liked it so much, but the sleekness of the frame is quite beautiful. 
The motor has three assist levels and these are controlled via the iWoc One top tube-mounted control button. This button ties in with the whole aesthetic of the bike by remaining relatively hidden at first glance, and doesn't clutter the handlebars with extra control units or screens. It takes a little getting used to, but essentially you can cycle through the assist levels by double-clicking the button. The button's colour depicts the battery level, and we found it quite accurate.
When reviewing the bike, I rode more than 50 miles in two days without needing to charge the battery, and that was with liberal usage of the highest assist level. Of course, environmental factors play a part but the battery range is rather good.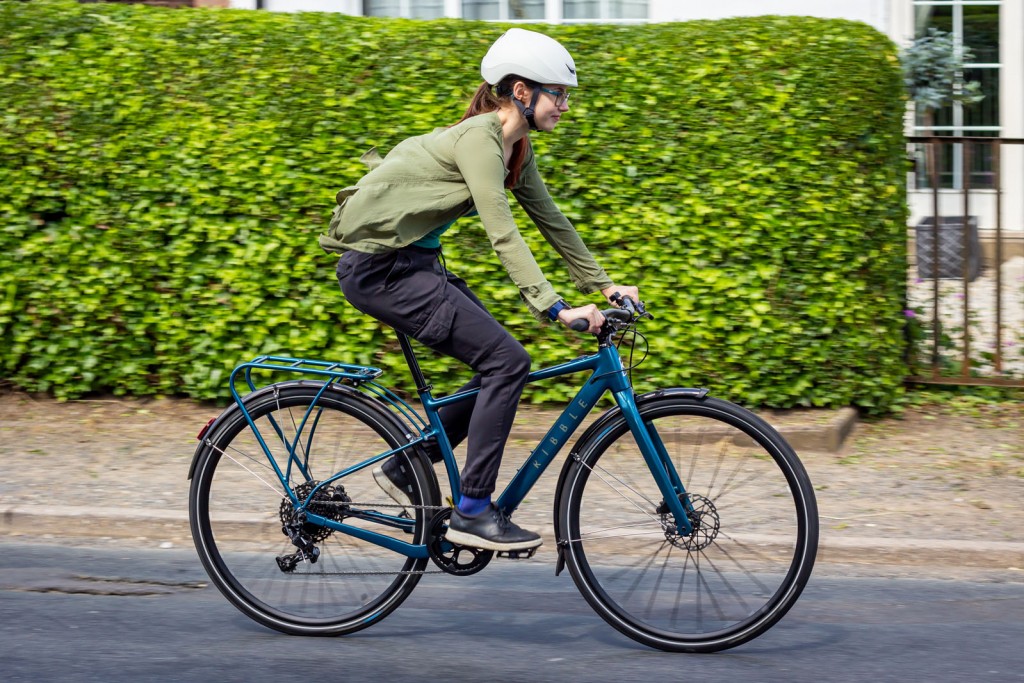 We found the motor to be smooth and engaged quickly. It's not overbearing, and at times you almost don't feel like you're riding a bike. Instead, it's like a light helping hand to get you to where you need to be without taking over completely. With a max torque of 40Nm, it doesn't offer as much kick as an e-MTB or something with a Bosch mid-drive motor, but it never felt lacking. It safely accelerates from junctions and is reliable even with a heavy load on the rack or if you're carrying a rucksack. 
This is another feature we felt offered an all-around experience – the utility. The Hybrid AL e is designed to be a hybrid, which means it can take on not just smooth Tarmac roads, but also towpaths and the occasional bridleway. It means your ride to work or trip out at the weekend is not constricted to a certain surface. Instead, it can quite capably tackle a variety of terrains as I can attest to. The Schwalbe Marathon Rigid 35mm tyres offer comfort and stability even on wet surfaces, although I wouldn't recommend riding a muddy mountain bike trail on these tyres. 
Paired with the hydraulic SRAM disc brakes, it's a capable machine and incredibly comfortable to ride. The rear rack also means it's more than just a bike to get you from A to B, as it can carry your luggage as well. The SRAM NX 1X groupset offered plenty of gearing and I could quite easily ride up a steep incline without needing the biggest rear cog. It's a groupset that can offer miles of reliable shifting if you maintain it well. 
At Move Electric we're under no illusion that electric bikes can be very expensive, and many people compare them to the price of a car, which if you're buying one to replace your car with is a fair comparison. At £2299 for the Fully Loaded edition, the Hybrid AL e is by no means a cheap, budget bike, but it's also nowhere near the other end of the scale. Overall, this bike is a well-balanced hybrid that provides exactly what an electric bike should, while putting a smile on your face. It's a compelling enough package to make it a well-deserved award winner.
Move Electric Awards 2022 in partnership with OVO Energy: the winners
Best Electric Car: Hyundai Ioniq 5
Best Electric Bike: Ribble Hybrid AL e
Best Electric Motorbike: Super Soco TC Max
Best use of Electricity: Mercedes-Benz Vision EQXX
E-leader of the Year: Graeme Cooper, Head of Future Markets, National Grid
E-business of the Year: Hyundai Motor Group
Best of British Award: Fully Charged