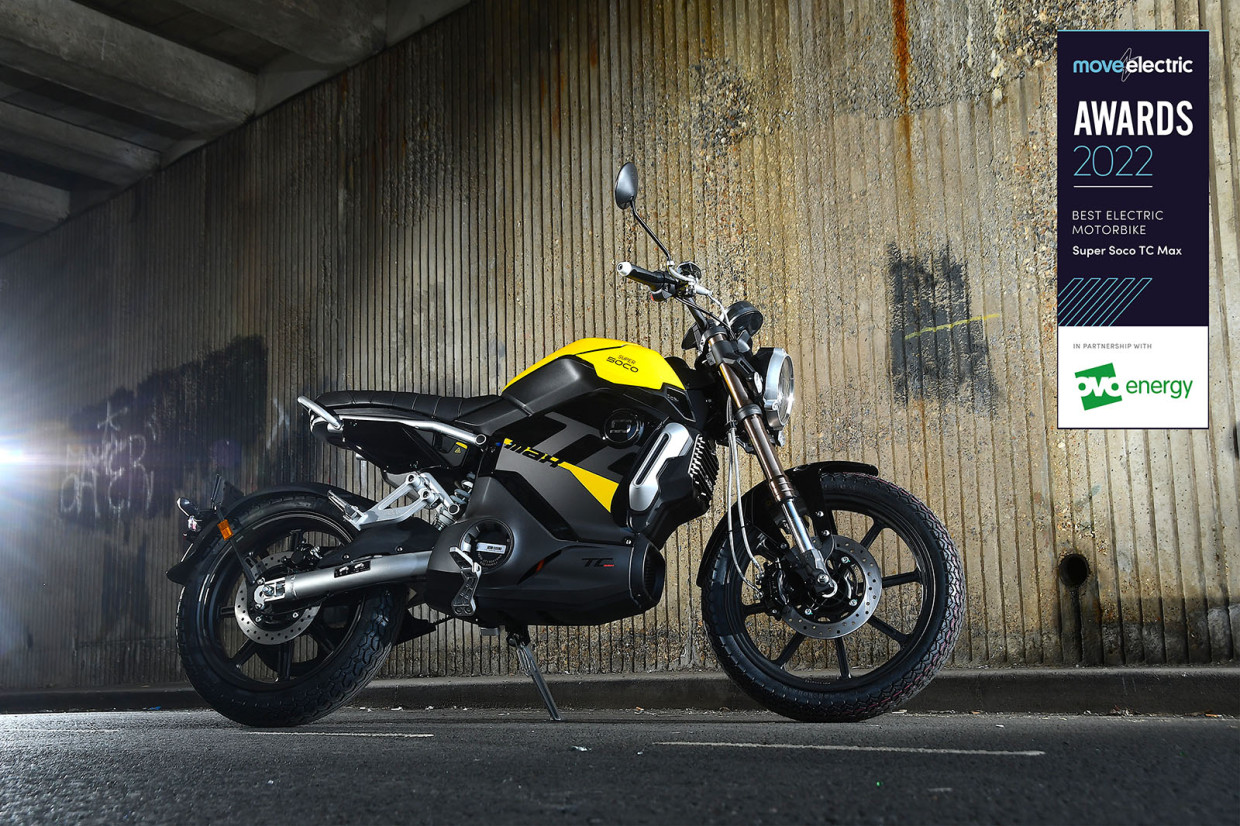 It's been quite the challenge, having to recalibrate my road tester's mind when it comes to riding electric motorbikes. Decades of riding petrol powered machines has given me a keen eye and ear for what's right and wrong in a bike, but the slow introduction of various electric bikes has shown that benchmark performance figures needed some serious consideration.
You might not be aware but there were electric motorbikes on sale in the UK five years ago that could leave supercars standing at the lights and I realised early on that straight line performance alone should not cloud any judgement. Things have changed and the benchmark for what makes a great petrol bike doesn't quite line up with what makes for a great electric one. It might sound a little bit like I'm trying to justify my position, because I think I am to a degree.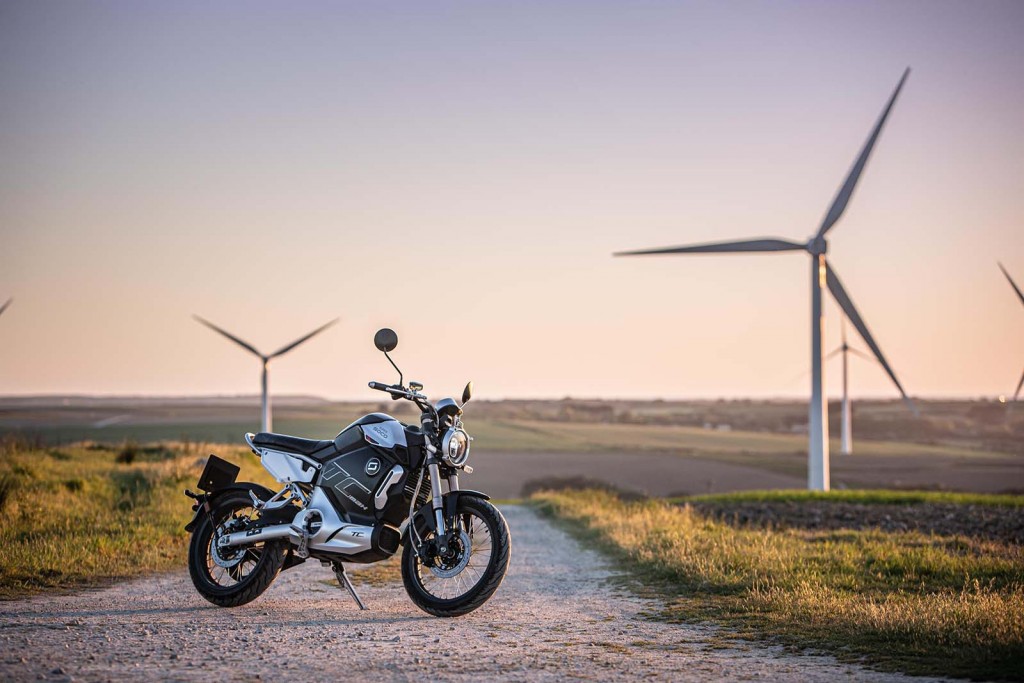 Key to the appeal of the Super Soco TC Max, which has won the Best electric motorbike award in the Move Electric Awards 2022 in partnership with OVO Energy, is understanding where it performs best. Even the most expensive electric bikes still only have a useable range of around 100 real world miles, so if you're eyeing up touring or have a massive commute, petrol still wins. But in the right environment, the TC Max is a perfect choice.
Electric motorbike brand Super Soco breaks top ten best-sellers
It's got style and substance
Style has at least been considered with this bike. I don't think it looks drop dead gorgeous, but at the same time it certainly doesn't look bad. There are some really bad apples out there if looks matter to you and you're in the market for an electric bike, obviously your taste may well be different to mine but when you weigh up what else is around I think you'd agree that the TC Max looks pretty good.
I liked the little storage compartment behind the bars, handy for keeping the charging cable and a few bits out of your pockets. On that note I'd recommend having a dedicated and easy to reach pocket for the key fob. The ignition is keyless and there's a built in alarm and rear wheel lock. Get it right and it's a simple to use system, get it wrong and you could end up powering the bike off at the lights and then activating the alarm and lock.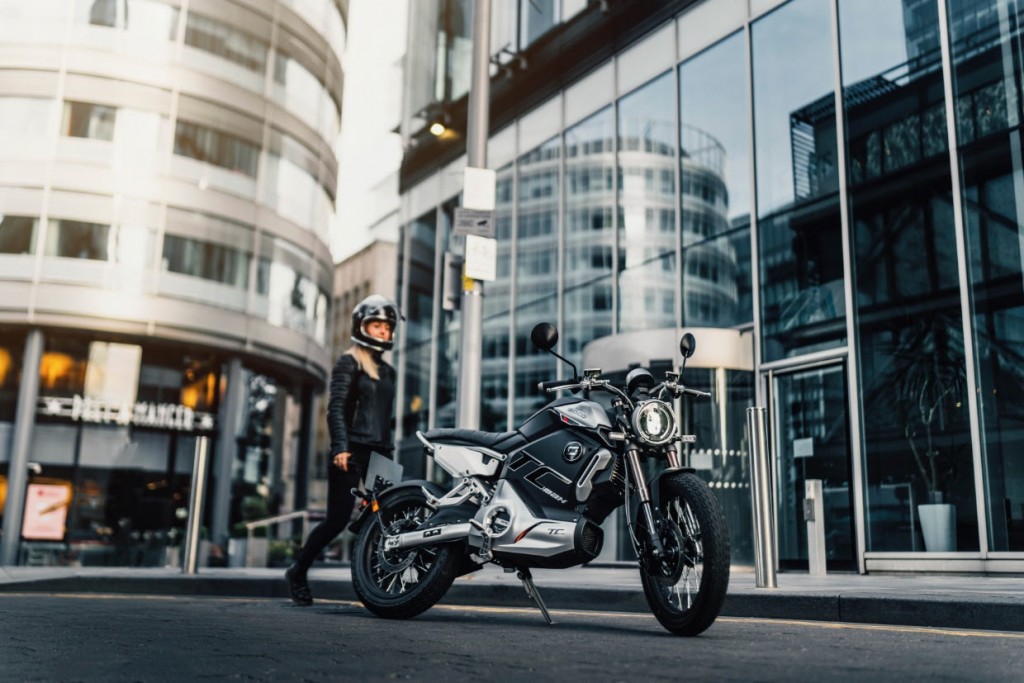 Anyone that rides in a big city at commuter o'clock knows that this will immediately involve lots of honking and colourful language from anyone held up by your mistake. I can appreciate that a designer at Super Soco loved coming up with the system but suspect it wasn't quite thought all the way through. Having the key fob to hand to deactivate makes sense and once you work out where to keep it you won't have any problems.
Standover is good thanks to a low seat height of 770mm. The lack of weight makes walking the bike around very easy, 100kg is waif like in motorcycle terms. If anything, older bikers could be forgiven for assuming there's some quality missing thanks to the lack of heft. I didn't find that was the case and enjoyed riding it much more than I expected to. Throttle connection was reasonable, with only the tiniest amount of surge on a constant throttle. It certainly didn't take long to get my head around how the single speed 'twist and go' motor liked to be played around town. 
Riding the TC Max
There are three riding modes to choose from, which do little more than cap the top speed. I think the wise decision would be to leave it in mode 3 which allows maximum speed. With this you'll find you're able to keep pace with other scooters and smaller bikes away from the lights and will have useable punch between 20-40mph, making it ideal for big city riding.
Brakes and Suspension are as you'd expect for a bike that costs £4399 in basic trim. There's nothing plush but it gets on with the job perfectly well in my opinion. Brakes are linked and would benefit from having ABS, but again I found myself adapting riding style and expectations to suit and, much like the bike, just got on with the job.
I know that this isn't supposed to be a performance based review but I have to say that chasing down unsuspecting bikers around Elephant and Castle was great fun. If you commit to carrying corner speed the TC Max is happy to play. When you get to the stage where you can feel some mild chassis flex, know that you're not far off the limit I was happy to stick at. Grip in the dry from the unknown tyre brand was fine by me.
Battery management is simple. When it comes to charging you can either unplug it and carry it into your home or the office. A three pin plug socket is all you need, along with some time of course. The battery weighs almost 22kg and as such I'd recommend making sure you can lift it in and out of the bike during a test ride. You can charge it while it's still in the bike as well though, which is a handy touch.
A full charge will take between three and four hours and will bag you around sixty miles of urban riding. Expect approximately half that if you're on a constant full throttle ride. 
Why the TC Max is a winner
The 2022 Super Soco TC Max is Move Electric's Best Electric Motorbike Award winner not because it's the fastest, or cheapest or goes the furthest on a charge. It's our best bike because it's able to compete near the top in more areas than any of the other shortlisted machines this year, but it also has the almost undefinable quality that you get when you jump on the right bike. It made us smile and look forward to seeing what the future holds for bikers.
With price point, style, market position, sales numbers, charging practicality, range and dynamic performance being the criteria we based the judging on, the TC Max stands out to us as being the best. Anyone over 17 can do a CBT, stick some L plates on and be away on this bike. And they'll have a lot of fun when they do.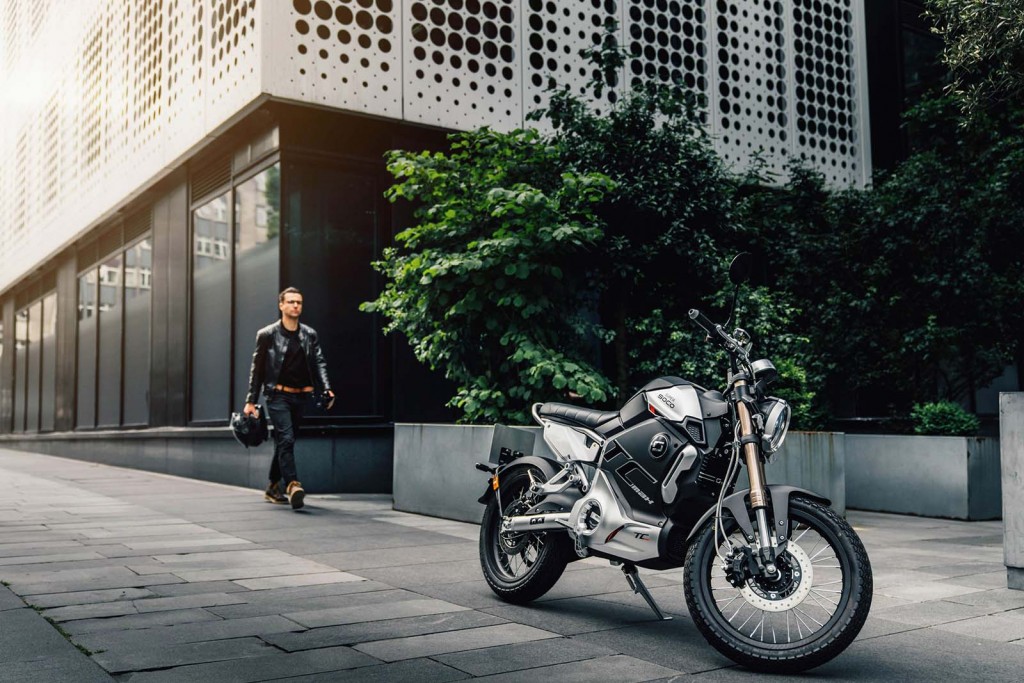 Move Electric Awards 2022 in partnership with OVO Energy: the winners
Best Electric Car: Hyundai Ioniq 5
Best Electric Bike: Ribble Hybrid AL e
Best Electric Motorbike: Super Soco TC Max
Best use of Electricity: Mercedes-Benz Vision EQXX
E-leader of the Year: Graeme Cooper, Head of Future Markets, National Grid
E-business of the Year: Hyundai Motor Group
Best of British Award: Fully Charged