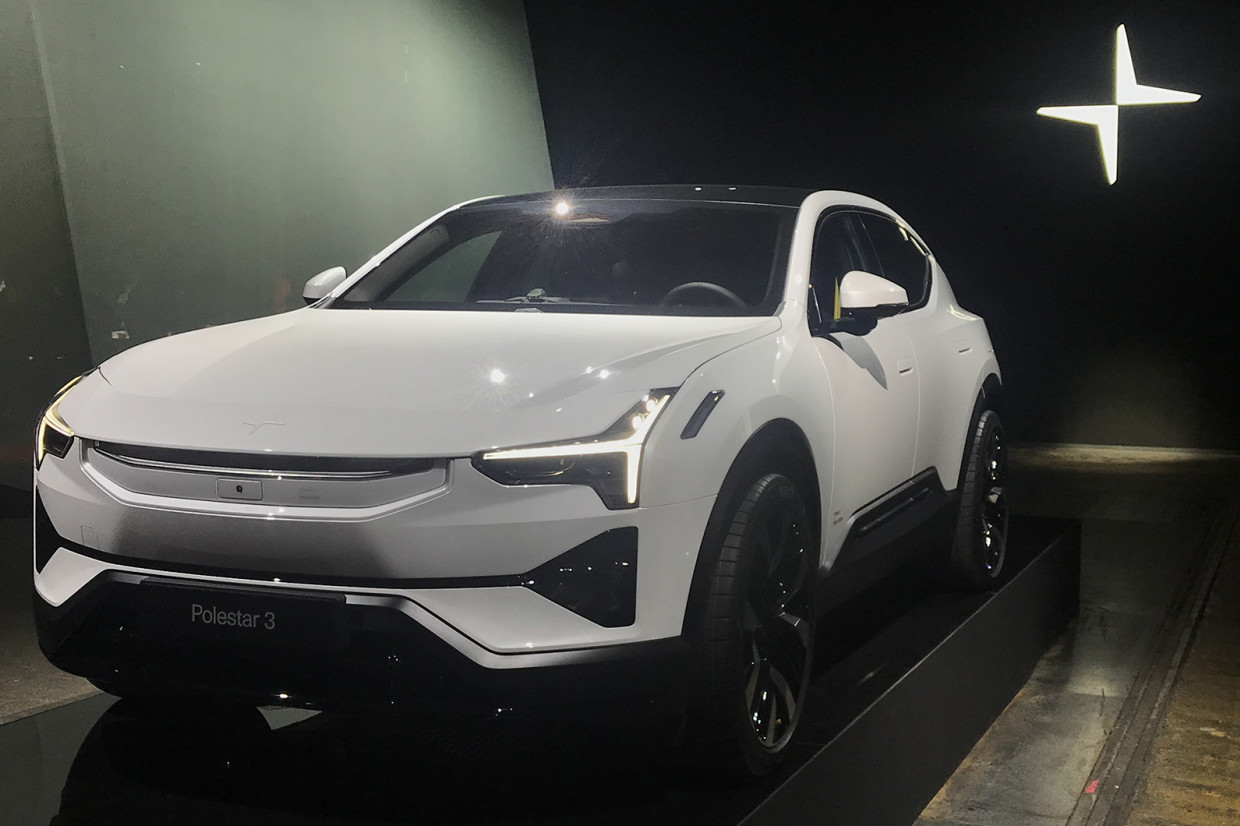 This is the bold new Polestar 3, a large electric performance SUV that features up to 380kW – but which its makers claim has been designed to also be 'relevant and responsible'.
As the badge suggests, the new machine is the third vehicle from the Volvo spin-off brand, and the follow-up to the successful Polestar 2 saloon. Available to order now and with deliveries due to begin next year, the 3 is priced from £79,900 and will rival the likes of the Jaguar I-Pace and BMW iX.
The latest news from the electric world: get our FREE newsletter
Polestar is one of the most interesting electric car firms about at the moment: it has a brief to produce performance-honed machines, but it also has a major focus on sustainability, as shown by its quest to produce a 'truly' carbon neutral car.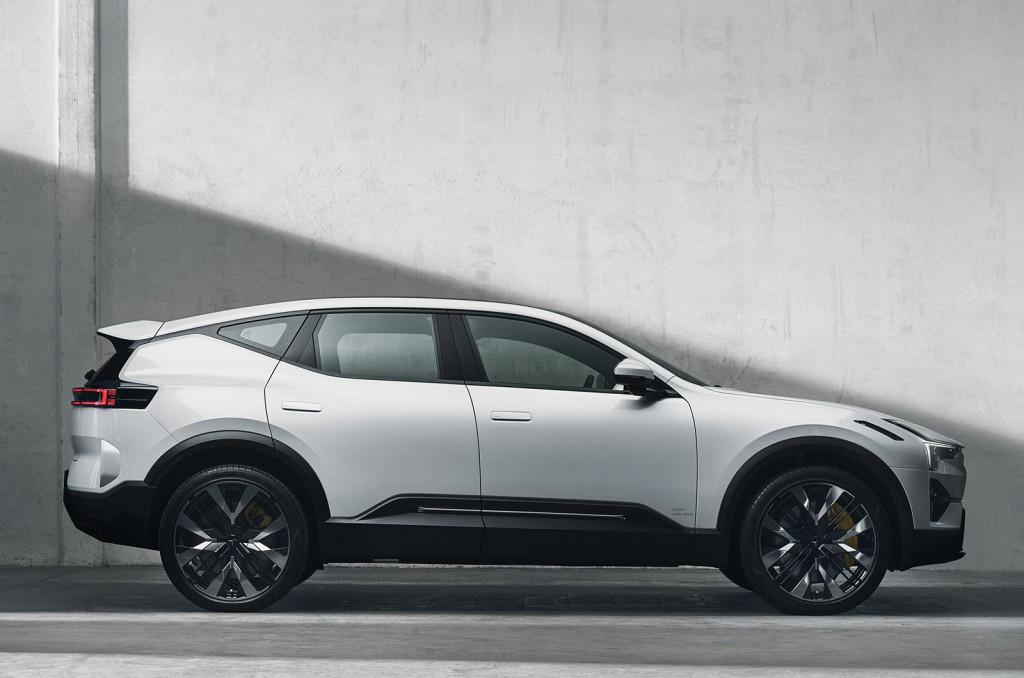 With the 3, Polestar aiming to prove that a large electric SUV can still be produced in a 'responsible' manner. In fact, the firm promises that the machine will 'define the SUV for the electric age'.
So here's what you need to know about the Polestar 3.
It's the first Polestar that didn't start life as a Volvo
The designs of the first two Polestar models – yes, those would be the 1 and 2 – started out as Volvo concept cars. The Polestar brand was essentially created because those vehicles didn't really fit Volvo's safety conscious image, and the Swedish brand and parent firm Geely decided there was a gap in the market for a performance-focused electric car brand.
After launching with the limited-run plug-in hybrid Polestar 1 grand tourer, the brand really took hold with the Polestar 2. But the new 3 is the brand's first car that was designed and styled from the outset as a Polestar.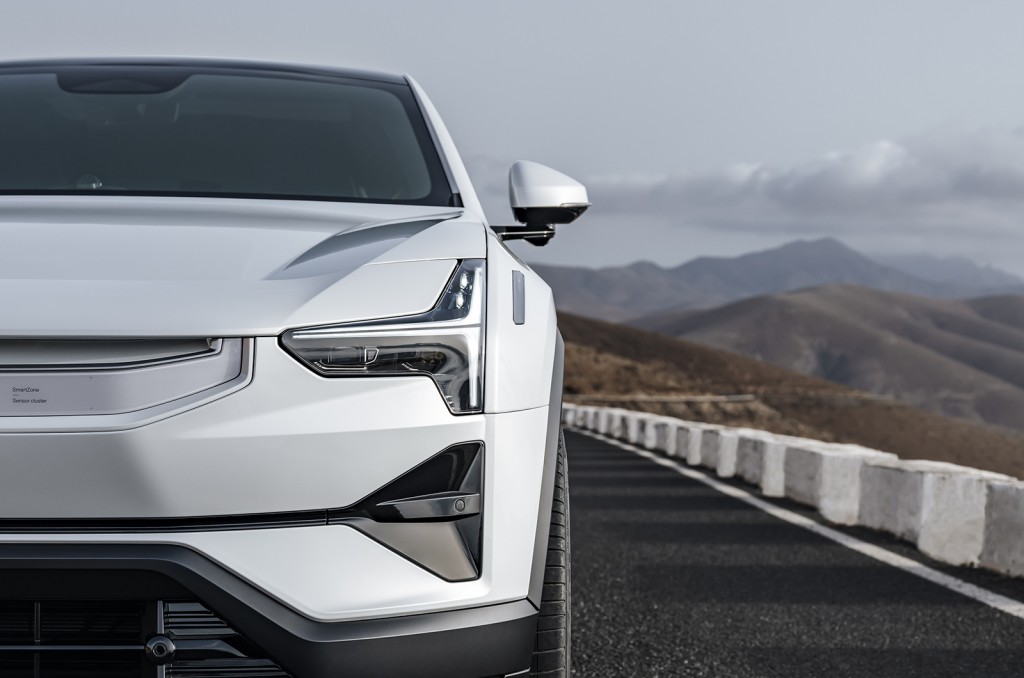 That said, there's a definite Volvo and Geely link here. The 3 is built on an advanced new electric vehicle platform called SPA2, which was developed by Volvo and Geely and will underpin a whole range of larger electric vehicles. And it's effectively twinned with the soon-to-be-revealed Volvo EX90 large SUV: the two vehicles will share much of their underpinning technology, and will be built at the same Volvo factories in Chengdu, China and South Carolina, USA.
The Polestar 3 is designed to mix practicality with performance
Let's be clear: the Polestar 3 isn't just a Volvo EX90 with a power hike. It has been sculpted with a focus on being as aerodynamic as it is possible for a large, practical SUV to be and takes styling cues from the Polestar Precept concept model to showcase new design features that will become 'defining characteristics' of the brand's future models.
Speaking at the launch of the machine, Polestar boss Thomas Ingenlath acknowledged that while hugely popular, some people think that SUVs can use too much fuel, be dangerous and look aggressive. He said: "We wanted to keep the good and get rod of the bad, and reinvent the SUV for the electric age."
Polestar says that the vehicle's shape has been designed with a nod to 'Scandinavian minimalism', and it features a rakish coupe-style silhouette, with a curved roofline that's designed to help it cut through the air as efficiently as possible.
The bodywork also features a number of aids to optimise the aerodynamics, including a front aero wing that's built into the bonnet, a wing that's integrated into the rear spoiler and rear aero blades. It means the Polestar 3 has a drag coefficient of 0.296, which is nowhere near as slippery as something like the Hyundai Ioniq 6 saloon but is pretty good for what is a big, bulky SUV.
That lower roofline is helped by positioning the seats inside the car at more of an angle, like a sports car, and lowering the dashboard. Meanwhile, Inganlath said that the Polestar 3 only features five seats, and not seven like some similarly sized SUVs, because "we want people to be luxuriously spaced out". 
The rest of the exterior features a number of traditional Polestar design cues, but with the addition of some first seen on the Precept concept. Those include new dual blade headlights and the 'SmartZone', which is the firm's new name for a panel in the front of the car that houses the various sensors and cameras for its many driver assistance systems.
Polestar design chief Maximilian Missoni said that making a feature of this space, traditionally used for the grille on a combustion engined car, was a deliberate decision to stand out against such machines:  "Combustion engines run too hot so require cooling to work. Grilles have been a symbol of power, but they only celebrated the inefficiency of combustion engines".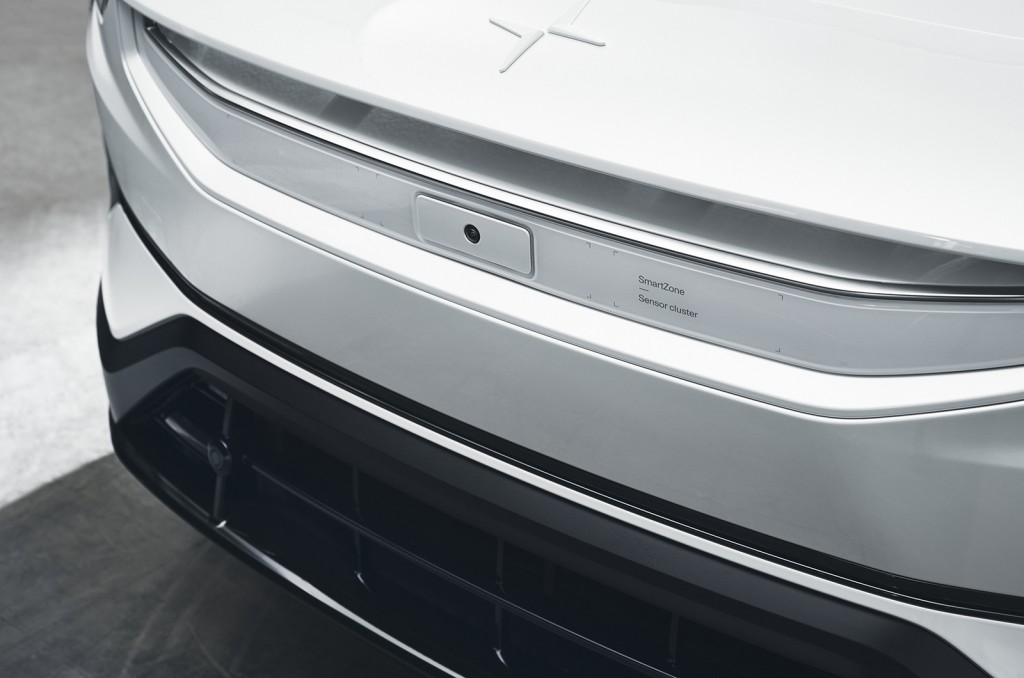 It will launch with two versions (and they're both quick)
The initial Polestar 3 model line-up is pretty simple: every car will get the same Long Range battery, and you can choose between the standard powertrain or the Performance Pack version.
Standard is a relative term here: the dual motor powertrain features 360kW and 618lb ft of torque, which can propel the car from 0-62mph in five seconds. The Performance Pack costs £5,600, but lifts the powertrain output to 380kW and 669lb ft, in the process shaving 0.3secs of the 0-62mph sprint. Both versions have a limited top speed of 130mph.
The power is stored in a 111kWh lithium-ion battery, which if you like to know such things is manufactured by CATL, uses nickel-manganese-cobalt chemistry and is constructed of 204 prismatic cells split into 17 modules.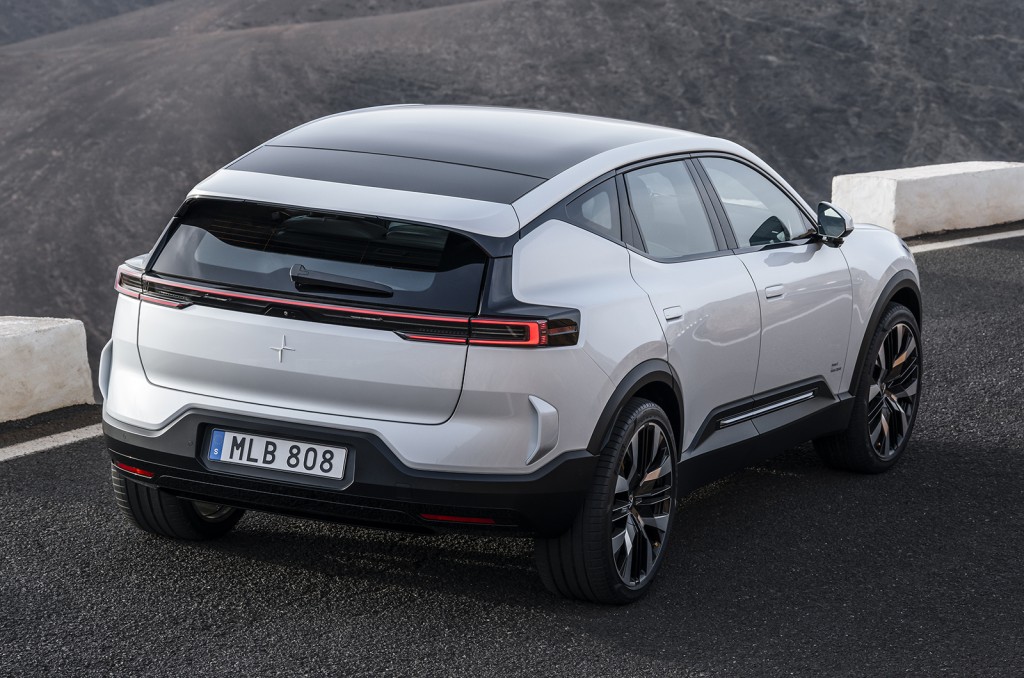 It has a claimed range of up to 379 miles (reduced to 360 miles with the Performance Pack). The 3 can be charged at speeds of up to 250kW, with a 10-80 per cent charge taking 30 minutes. Plug it in on an 11kW home charger and it will take 11 hours to charge from empty to full.
To maximise range, a heat pump is fitted as standard, which means the car can use ambient heat for the climate control and battery pre-conditioning. And just like the EX90, the Polestar 3 is designed for bi-directional vehicle-to-grid charging – basically, it could feed power from its battery into your home if needed.
Polestar promises the 3 will have performance as well as pace
While the Polestar 3's powertrain will ensure it can go quickly in a straight line, the big challenge the firm faced in its development was ensuring a big, heavy electric SUV could produce handling to fit the brand's performance brief.
To understand that challenge, it's worth reflecting on how big the Polestar 3 is: it's 4900mm long, 2120mm wide and 1614mm high, with a wheelbase of 2985mm - and it weighs at least 2584kg. 
Despite that mass, chief chassis engineer Joakim Rydholm said that the firm's goal "was to offer the performance and precision that define all Polestar cars."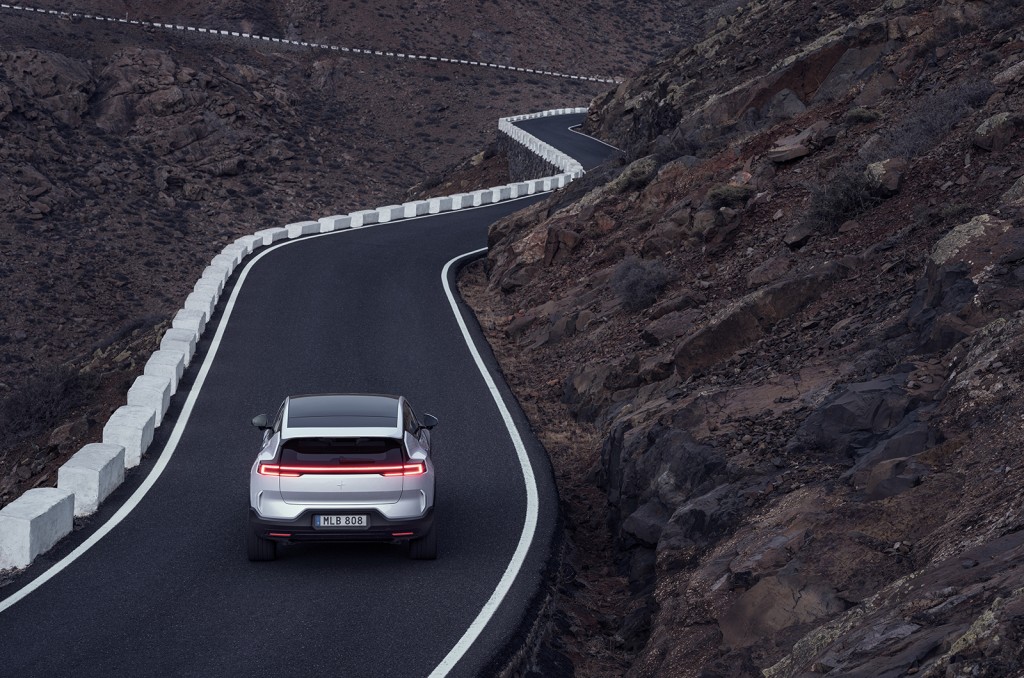 One of the keys to doing that is the 3's dual-chamber adaptive air suspension, which is standard and is claimed to allow the car to rapidly adapt between comfort and dynamic characteristics. The system can automatically adjust the suspension damping every two milliseconds, in a bid to keep the machine settled and handling consistently.
There is also a torque vectoring dual clutch function on the rear axle, which the firm says was developed from a similar system on the Polestar 1, and the the rear motor can automatically be 'decoupled', allowing it to run on the front electric motor only to save energy. It also offers adjustable one-pedal driving, while the power output is biased towards the rear wheels.
There's a lot of advanced software and hardware
The new SPA2 platform has been designed to work with advanced new software and hardware technology – and much of it has been packed into the Polestar 3.
It uses a new Nvidia Drive core computer which serves as an 'AI brain' to process data from the raft of sensors mounted to the car. And there are a lot of sensors: you'll find five radar modules, five external cameras and 12 external ultrasonic sensors.
From next year, you'll also be able to add the optional Pilot Pack with LiDAR, which adds an additional Nvidia control unit, three cameras and four ultrasonic sensors. All those systems will allow for enhanced 3D scanning of the car's surroundings to offer more accurate real-time data to enhance the driver assistance systems – and prepare the car for autonomous driving.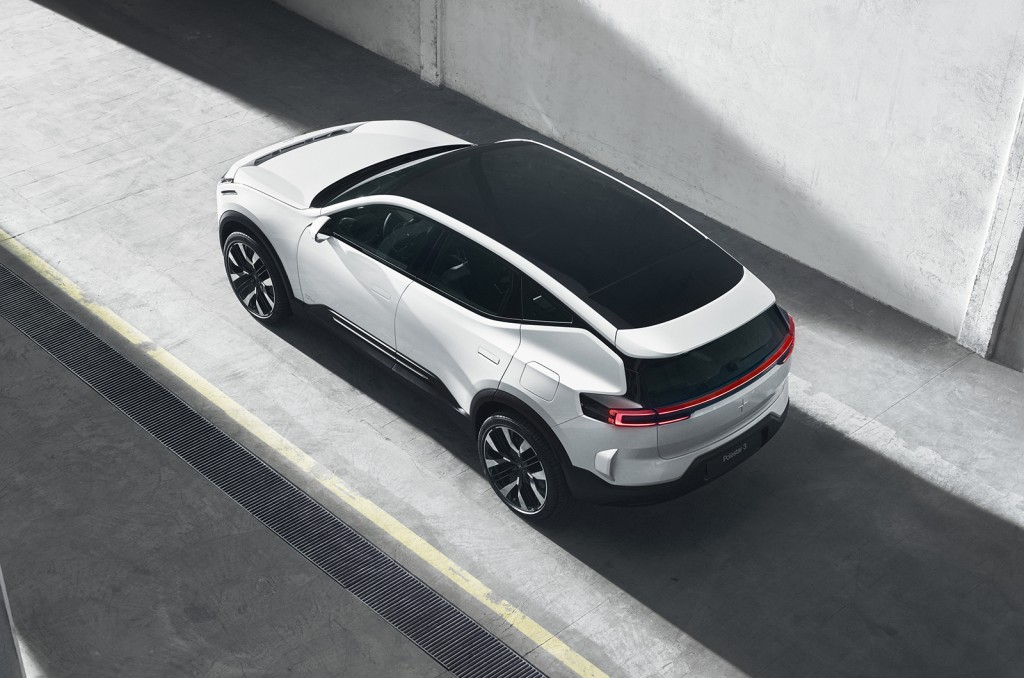 And the sensors aren't just outside the car: there are interior radars that Polestar claims can detect sub-millimetre movements in the interior, so it can warn against you leaving children or pets inside (that may seem unlikely, but having once briefly locked my niece in a car it seems welcome to me…), while the climate control can automatically adjust to prevent heat stroke or hypothermia.
There are also two closed-loop driver monitoring cameras that can detect if the driver is becoming distracted or drowsy, with the car then issuing warnings or even enforcing an emergency stop if required.
The interior has plenty of tech in it, too
The Polestar 3's interior has a definite minimalist Scandic-cool vibe, although on the comfortable and pleasant side, rather than dark, brooding Scandic-noir style. The dashboard is dominated by a 9in driver digital display and a big 14.5in central display, which runs an updated version of the Android OS-based operating system that has been co-developed with Polestar and Google. It's capable of over-the-air updates.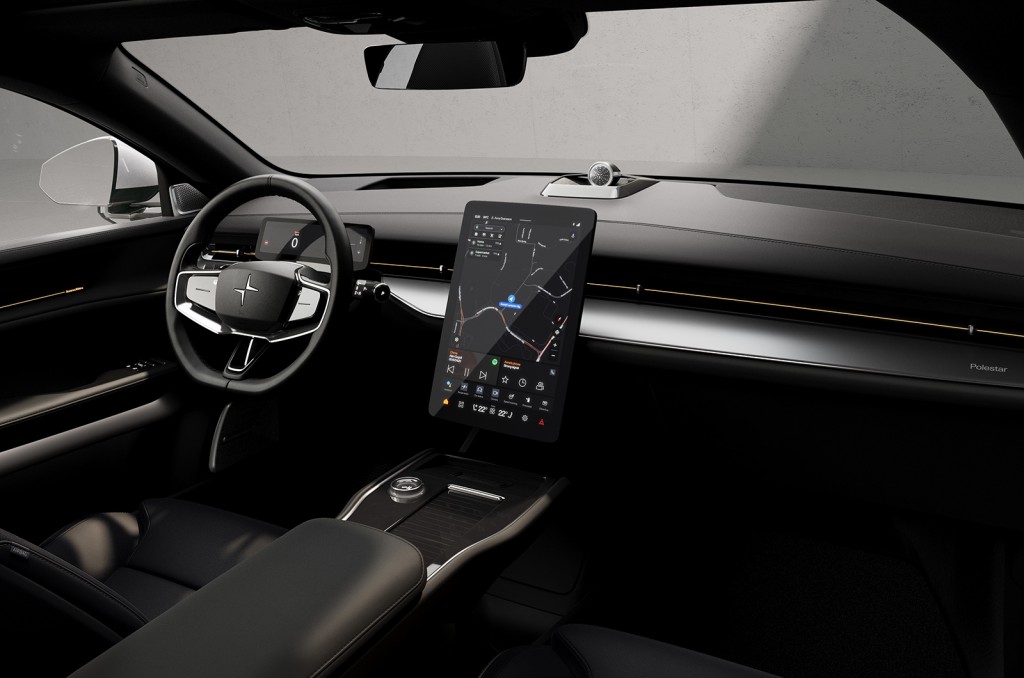 The materials used for the interior have, Polestar claims, been selected for their sustainability credentials, albeit with a focus on 'premium aesthetics and luxury tactility'. The materials used include bio-attributed MicroTech upholstery made using palm oil, which replaces material featuring PVC plastic. 
While that basic trim will be vegan, Polestar will offer animal welfare-certified leather and fully traceable wool upholstery. Missoni said that was because there continued to be demand for those materials, and noted that they didn't require PVC or similar processed plastic made from crude oil like some vegan materials do. 
There's a big panoramic glass roof, LED lighting and retractable door handles, while the 3 features 21in alloy wheels (Performance Pace versions get sit on 22in versions).
Because it's a big SUV, Polestar reckons the machine will be plenty practical: it seats five and have a 484-litre boot with a total capacity of 1411 litres if you fold the seats. There's also a 32-litre frunk or, depending on your preference, froot, under the boot. Oh, and you can also storage 100kg worth of stuff on the roof, and tow up to 2200kg.
We'll find out exactly how green it is...
Polestar has been at the forefront of promoting carbon reduction initiatives in the car industry, not least with its bold project to produce a 'truly net zero' car.
But you might well note well question how truly sustainable a 2584kg-plus large SUV with a whopping 111kW battery actually is – especially with the likes of Citroen boss Vincent Cobee questioning the car industry's continued reliance on such machines. 
Well, the good news is we're going to find out: as it did with the Polestar 2, the firm says it is committed to producing a complete life-cycle assessment of the Polestar 3 when production begins, which will show how much carbon dioxide is produced in the machine's build and use – and how many miles you'll have to drive it before it's 'greener' than a petrol-engined car.
That's sure to cause some debate, because such things always do, but it should be a welcome dose of honesty. Meanwhile, Polestar claims that it is committed to investigating ways to minimise the carbon footprint of the 3 in both production and usage.
Polestar 3: UK pricing and specification
The machine is available to order int he UK now, with first deliveries due late next year. All models feature electric front seats, an electric boot opening, 360-degree surround view cameras, wireless smartphone charger and four USB-C connectors. It also comes with Polestar Connect membership.
For the first year, all models will feature the Plus Pack and Pilot Pack included as standard. The Plus Pack includes a 25-speaker Bowers and Wilkins audio system, soft-closing doors, heated rear seats and a heated steering wheel. The Pilot Pack includes the ADAS driver assist system and a head-up display.
As well as the power hike, the £5,600 Performance Pack adds a special chassis tune, performance software update and 22in alloy wheels. The optional Pilot Pack will be available to order from the second quarter of 2023.
READ MORE
Subscribe to the Move Electric newsletter
e-CARS
Video: Can the National Grid cope with a surge in electric vehicles?
e-BIKES
What to look for when buying an e-bike: Move Electric's top tipsx
The rise of Volt Bikes: 'when we launched, people thought we were mad'
e-MOTORBIKES
Maeving RM1 electric motorbike review
Q&A: Zapp founder on why electric mopeds are the future
Government plans 2035 ban on new non-zero emission motorbike sales
e-SCOOTERS
Tier to upgrade e-scooter fleet with a smart 'Parrot'
Q&A: Neuron Mobility's UK boss on e-scooters, safety and helmet selfies
e-WORLD
Polestar to supply battery tech to electric boat firm Candela
Engineering giant ABB working on electric Dover-Calais ferry