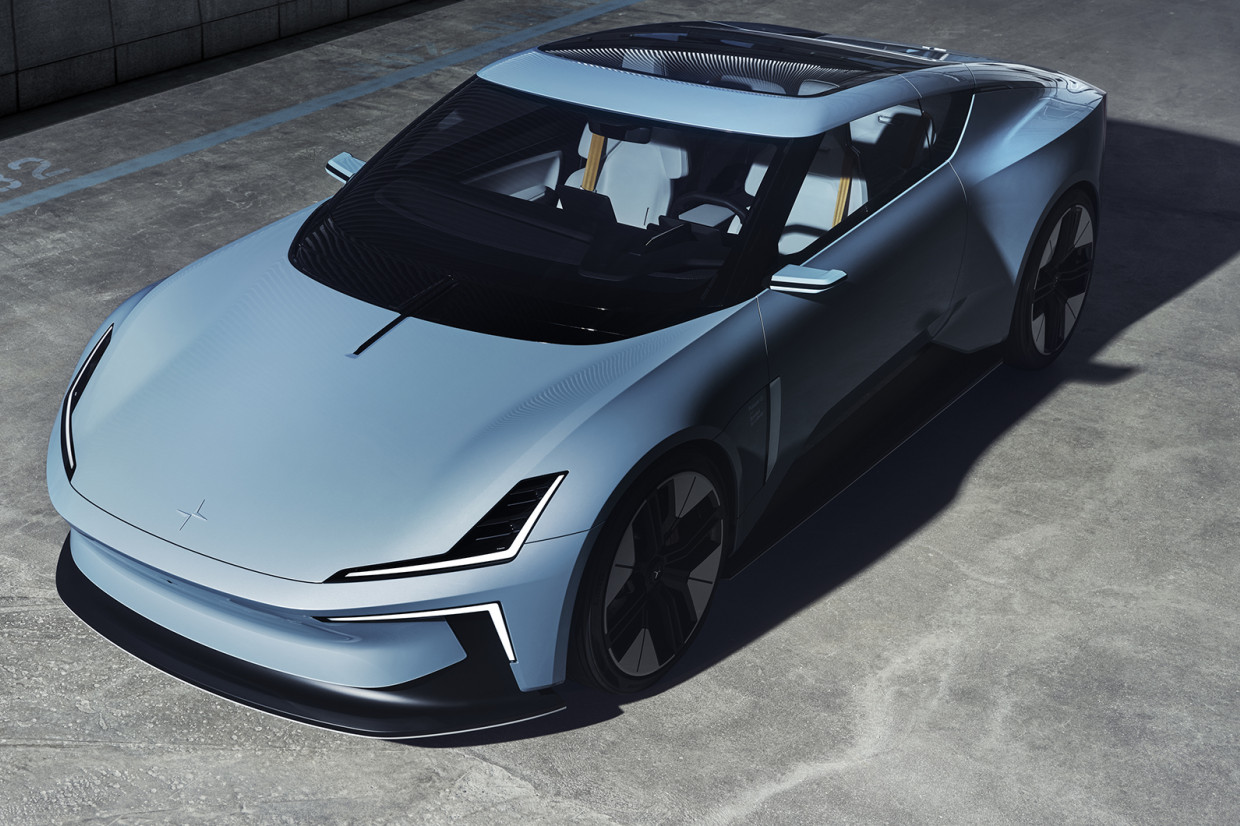 The stunning Polestar 02 Concept, an electric drop-top roadster designed to rival the Tesla Roadster, will go into production as the Polestar 6 – and the initial production run has already sold out.
The 2+2 roadster will launch with a special LA Concept edition based on the concept version, which will feature a united sky blue exterior and be produced in a run of 500 models.
The concept was recently shown during the Pebble Beach Concours d'Elegance in the UK, and all 500 build slots were reserved within a week. They were priced at around £166,000 and required a £20,700 deposit.
Thankfully, that won't be your only chance to order a Polestar 6. Once the LA Concept editions have been built, Polestar will start producing 'regular' versions – regular being a relative term for a high-end premium electric roadster – and reservations for those will now open later this year.
The 2+2 roadster was first shown in March, and uses a modified version of the platform developed for the already confirmed Polestar 5 coupe. That platform features bonded aluminium, and uses a high-performance 800V architecture that will allow for an output of up to 650kW from a dual motor powertrain – translating into a 0-62mph sprint of 3.2 seconds. The platform was developed at Polestar's UK engineering base in Warwickshire.
Electric news dropped into your inbox: subscribe to the FREE Move Electric newsletter
Polestar says that public reaction to the O2 Concept has convinced it to put the model into production as the Polestar 6. While it won't be a low-volume special like the original Polestar 1 hybrid grand tourer, it will be lower volume than the mainstream Polestar 2, and will be targeted at a premium audience.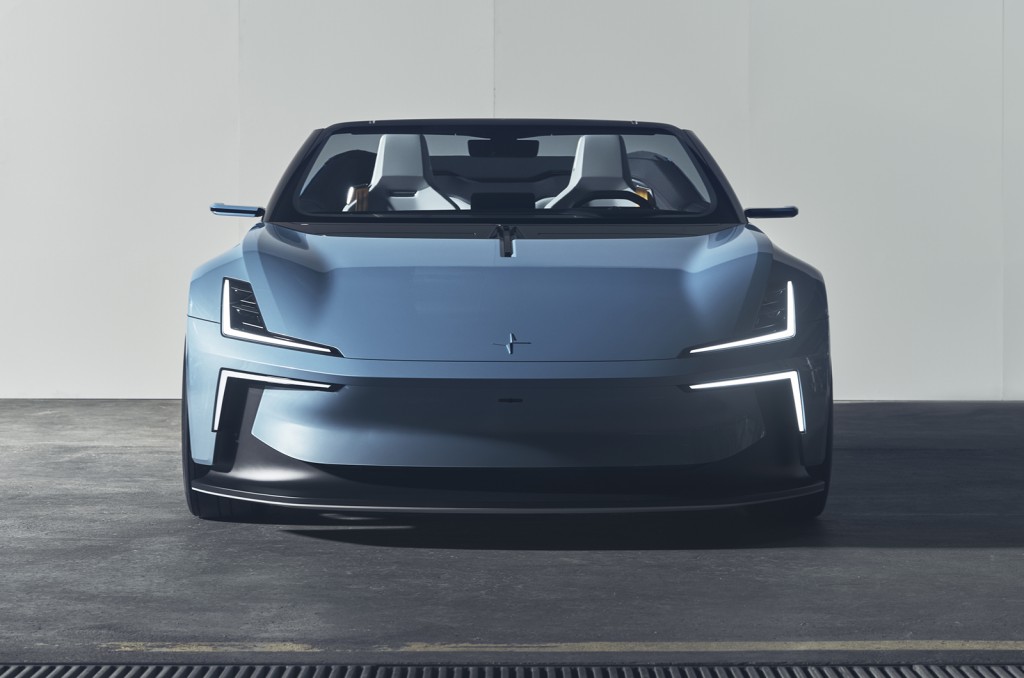 Polestar boss Thomas Ingenlath said: "With the overwhelming consumer and press response, we took the decision to put this stunning roadster into production and I am so excited to make it a reality.
"Polestar 6 is a perfect combination of powerful electric performance and the thrill of fresh air with the top down."
Ingenlath had previously insisted that the O2 Concept was not confirmed for production when it was first revealed. Back in March he told Move Electric: "Our business plan has already three cars for until 2024 in the books [the Polestar 3, 4 and 5] and we are fully occupied with making those real: you can imagine developing three cars simultaneously is a hell of an effort for us."
Electric news in your inbox: subscribe to the Move Electric newsletter
What is the O2 concept?
It's an ultra-rare thing: an electric roadster, featuring a retractable folding hard-top. You won't find many of those around.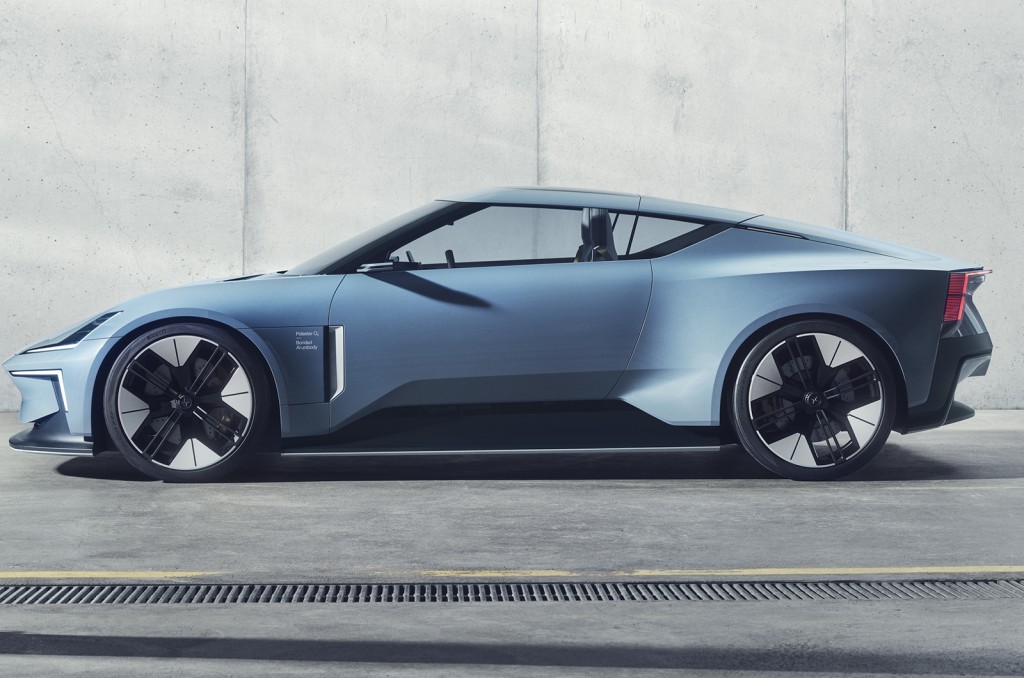 "It's a great missed opportunity, and I would love to grab that opportunity," said Ingenlath. "There are two prejudices: one is that a sports car has to have a combustion engine. The propulsion of an electric drivetrain is great for a sports car. And then to do it when an open roof concept, when everybody dreams about 'the fresh air, the breeze, being closer to nature' - it's a perfect fit to have that with an electric drivetrain, and not only have fresh air when you arrive at it, but you'll leave it for the people behind you.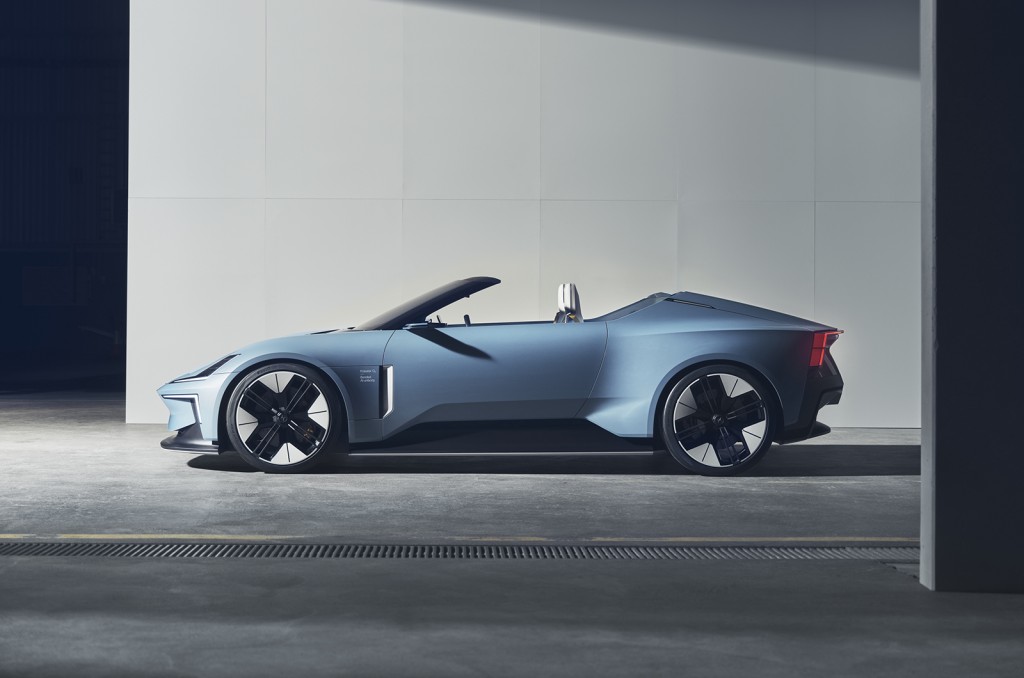 "Electric propulsion is absolutely a perfect fit for a roadster, so I would love to put an exclamation mark that the future of driving an open roadster has to be electric."
The O2 also serves as a new 'halo car' for the firm. The brand launched with the Polestar 1, a high-performance hybrid grand tourer that was designed to showcase its performance credentials.
Maximilian Missoni, Polestar's design chief, said: "The Polestar 1 is going out of production now, and as the start-up performance electric brand we need such a halo statement – and this is a clear successor statement to the Polestar 1. 
"I'm quite glad that now this answers questions such as 'how will you differentiate yourself from Volvo? What's the design? What's the story?' With Precept and this car we're pretty clear that we're not Volvo any more, we're our own brand. We've found our own identity."
And, just so we're clear, we're pretty sure the O2 name is to link to Oxygen and not through a tie-up with the mobile phone network... 
What's the Polestar O2 based on?
First a quick refresher on Polestar's line-up so far: the Polestar 1 was a limited-run grand tourer and the 2 is a sporty electric crossover. The 3 will arrive this year as a large SUV, the smaller 4 SUV will follow next year and the 5 sports saloon will launch in 2024.
Underneath that stunning styling, the O2 uses an adapted version of the performance platform Polestar has developed for the 5. The firm has previously claimed it offers "supercar levels" of body stiffness.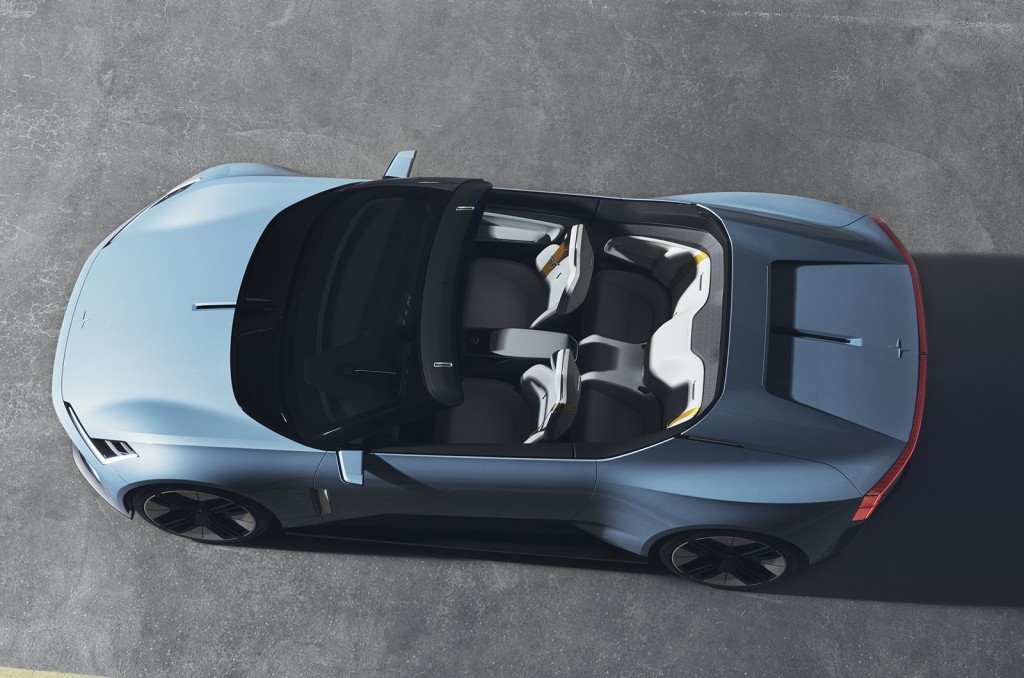 Polestar has yet to release full technical details about the O2, but when it goes into production as the Polestar 6 it will likely use the same powertrain that featured in the Precept and will be used in the 5.
It's not simply an open-top version of the 5 though: at 4600mm it's substantially shorter than the 5 (which is just over 5000mm). That's been achieved by removing the 'foot garage' – a well in the skateboard chassis floor of the 5 to increase rear legroom – from the platform. Polestar claims that it shortens the wheelbase by around 400mm, while allowing the model to maintain high levels of rigidity, ensuring it offers strong handling and dynamics.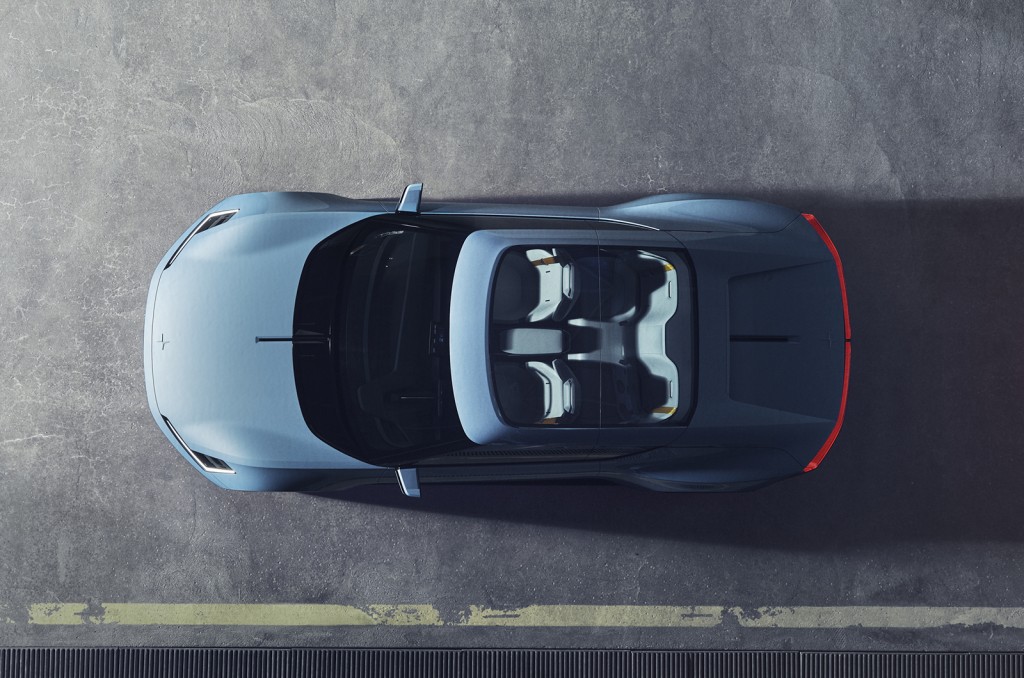 The O2 sits on 22in wheels, and features aerodynamically sculpted bodywork designed to maximise range by improving air flow and reducing turbulence behind the machine.
Any links to other car firms?
Polestar was a created as a spin-off from Volvo, and is part of the vast Chinese Geely Group. Notably, that also includes British firm Lotus, which also has a focus on making performance cars - and is also developing a range of electric SUVs.
But Ingenlath insisted the O2 and the platform it is based on was developed purely for Polestar.
"The O2 highlights what we created for the Polestar 5," he said. "This aluminium frame is Polestar-developed and serves other purposes, being able to have this grand, luxurious GT on there in the Polestar 5. This concept we designed for Polestar, but every brand in the Geely group would like to use it and we are open to cooperation. But it has to serve the purpose of the brand, and I cannot talk here for other brands of the Geely group.
"When it comes to powertrain, us developing a powerful electric engine for top-line performance, this is technology that is not just solely interesting for the Polestar brand but that we consider sharing within the Geely Group.
How the O2 promotes sustainability
Polestar has a major focus on sustainability: it's previously outlined the lifecycle carbon impact of its cars, and is working on developing an entirely zero-emission car – both in production and usage – that it wants to launch in 2030.
The O2 concept features elements that show the firm's progress towards that goal, with extensive use of sustainable materials and recycled elements.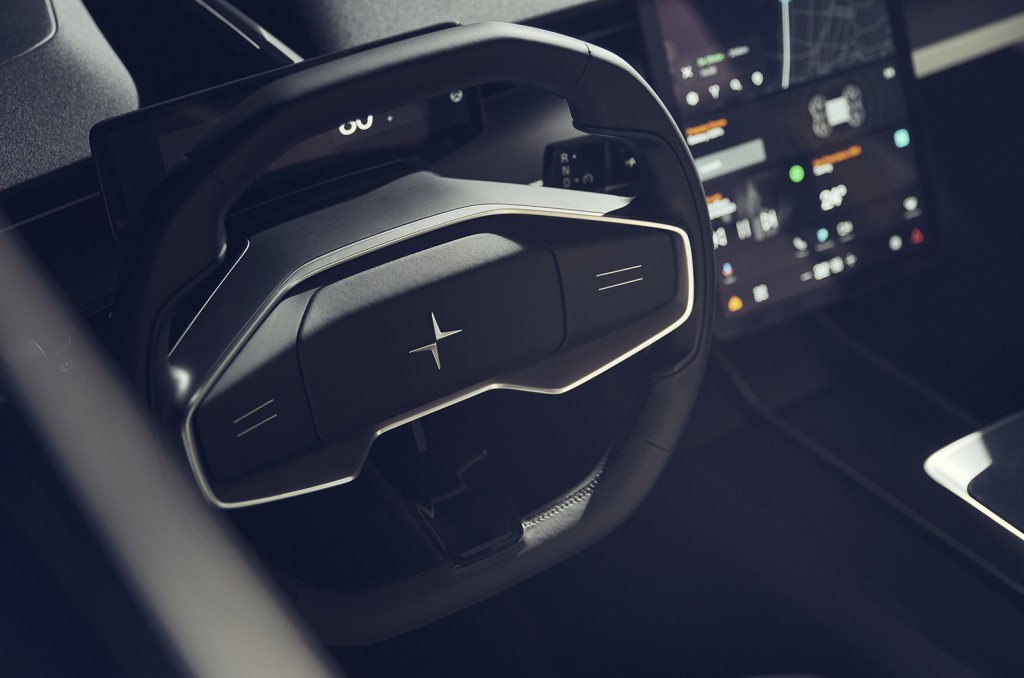 Notably, there's a new thermoplastic mono-material used as the base for various components, and the use of recycled polyester for all the soft interior materials. Polestar says that the machine makes use of recycled materials where possible, including in the aluminium shells.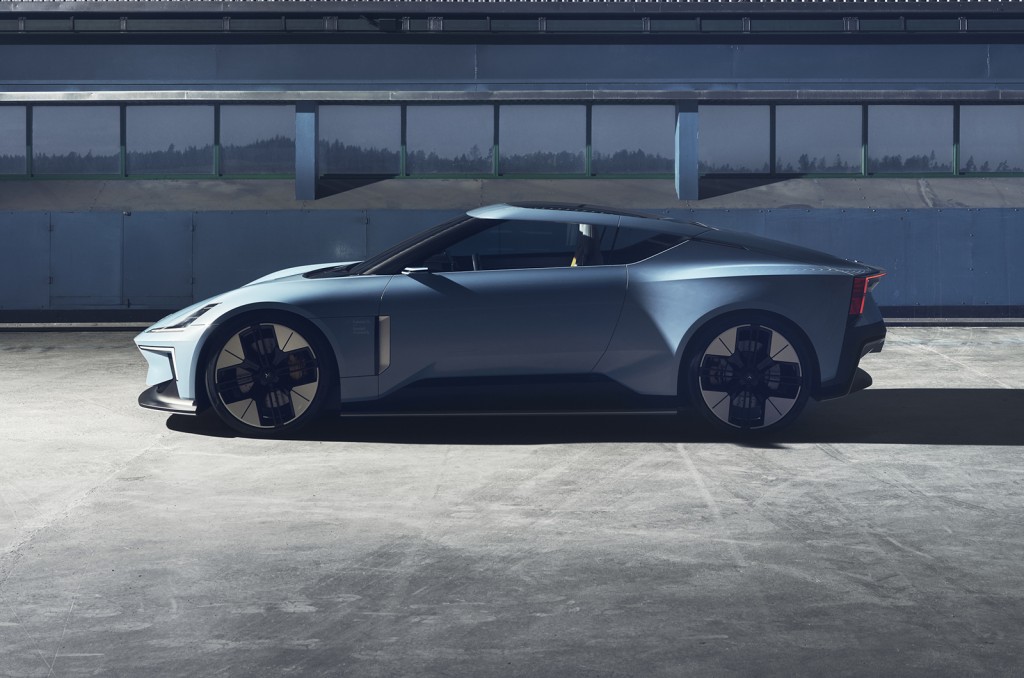 Design chief Maximilian Missoni said: "We've put some of the ideas we've developed from Project Zero into the O2 to say, 'look, we can do products that are highly emotional and aspirational, and still take people towards that goal towards zero emissions. It's not like we're going to enjoy ourselves as long as we can and then switch to tiny zero-emission cars: we can do both."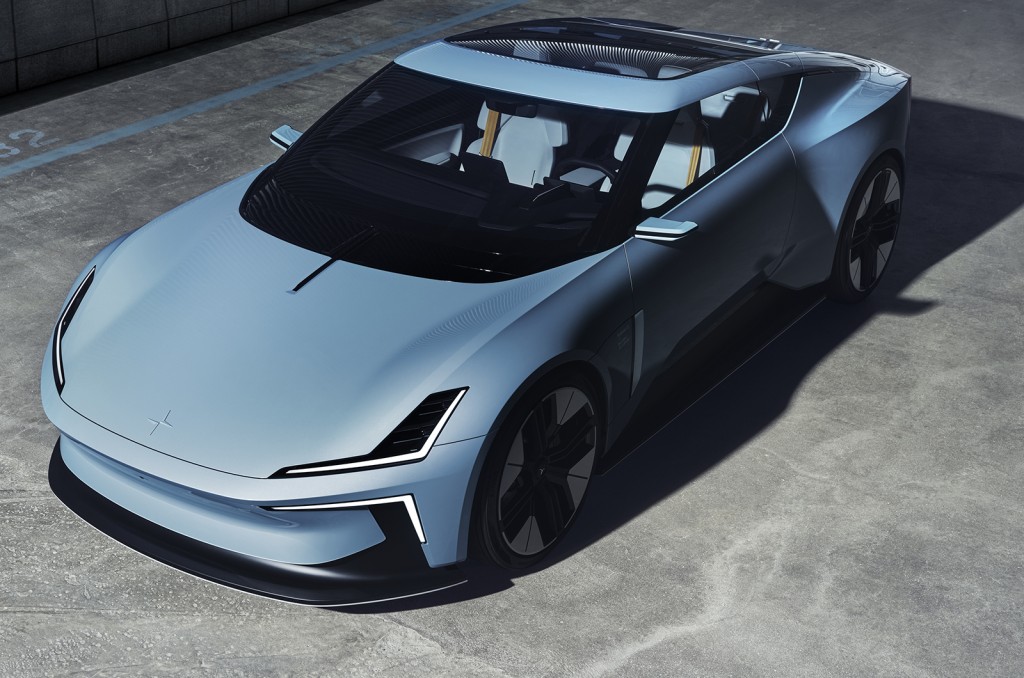 There's also a drone…
That's right, a drone. The O2 contains its own autonomous cinematic drone, which can be used to capture the ultimate driving shots or, should you be so inclined, driving selfies. Instant Instagram upgrade, right there.
The drone has been developed by Hoco Flow, and can be deployed when the car is moving to record driving sequences. An aerofoil behind the rear seats raises with the roof down to create a calm area of negative pressure that will allow the drone to launch while the car is moving, and it can follow the car at speeds up to 56mph.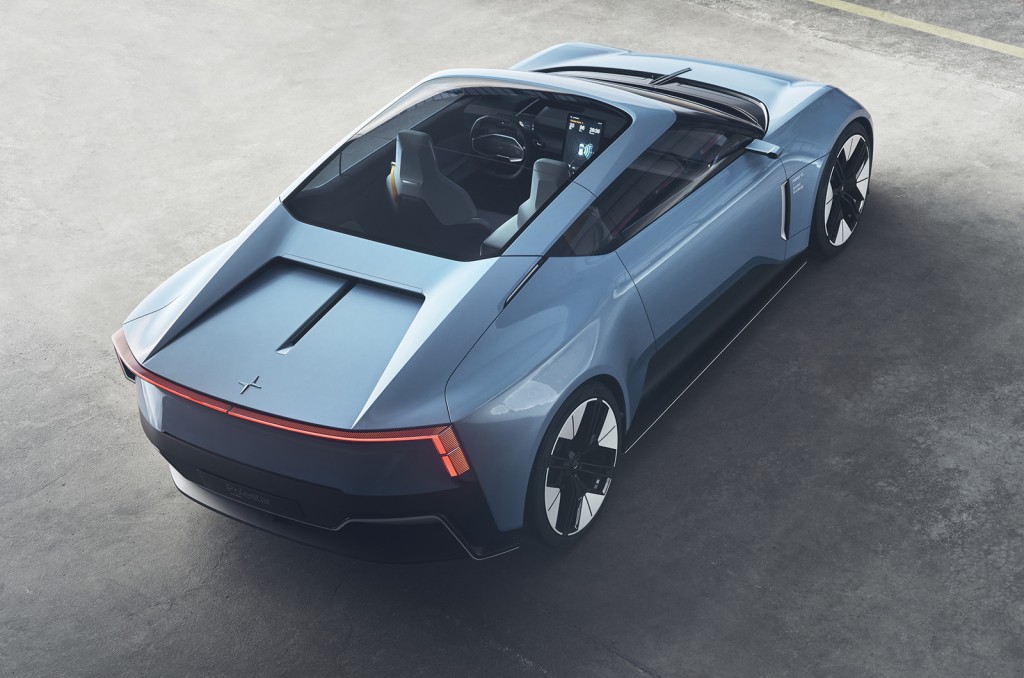 It even features a number of special filming modes, including one that can capture wide-angle atmosphere shots, a sportier mode and one that focuses on the driver's face.
That said, we would be very surprised if the drone was offered as an extra on the production version of the Polestar 6 in 2026. Although we would be very happy to be proven wrong...
READ MORE
e-CARS
The 10 electric cars with the longest range
e-BIKES
Desiknio Pinion C1.9 Classic e-bike review
Ride for a worthy cause: Big Issue eBikes launches in Bristol
e-MOTORBIKES
Triumph reveals first electric TE-1 motorbike
BMW CE 04 electric scooter review
e-SCOOTERS
Superpedestrian Link e-scooter: first ride
The new battery tech designed to make e-scooters more sustainable
e-WORLD
New Candela C-8 electric hydrofoil has first 'flight'
Awake Ravik S 22 aims to take electric surfboards to the extreme