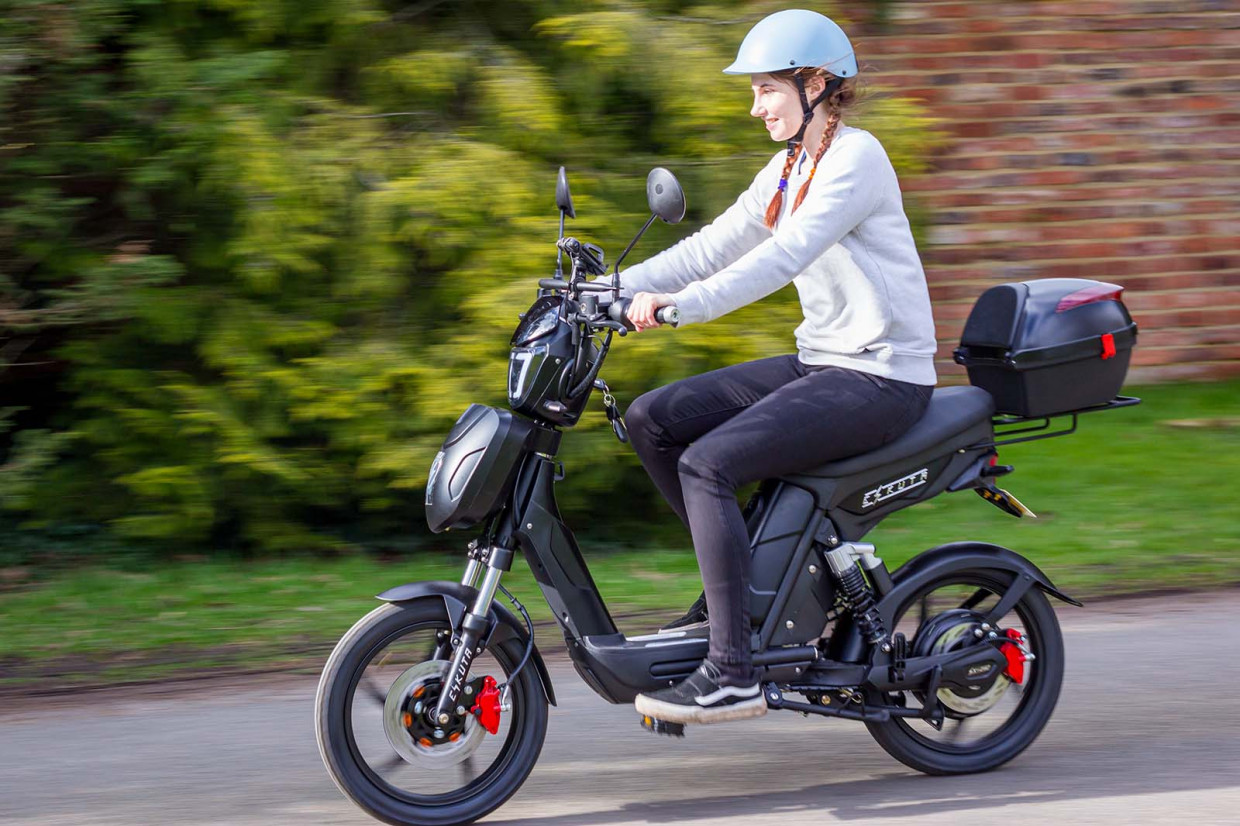 Move Electric rating: three-and-a-half stars out of five
What does it cost? 
From £1795 for the leisure model, and £1995 for the delivery version.
What is it?
First things first, let's get the elephant in the room out of the way. Yes, it looks like a moped, but no, it's definitely not a moped. It is an EAPC-certified electric bike, which means that, just like other e-bikes we've reviewed, the pedal-assisted motor cuts out at 15.5mph, and it requires the rider to pedal for the motor to engage. It is road legal and does not require tax, MOT, insurance or anything like that.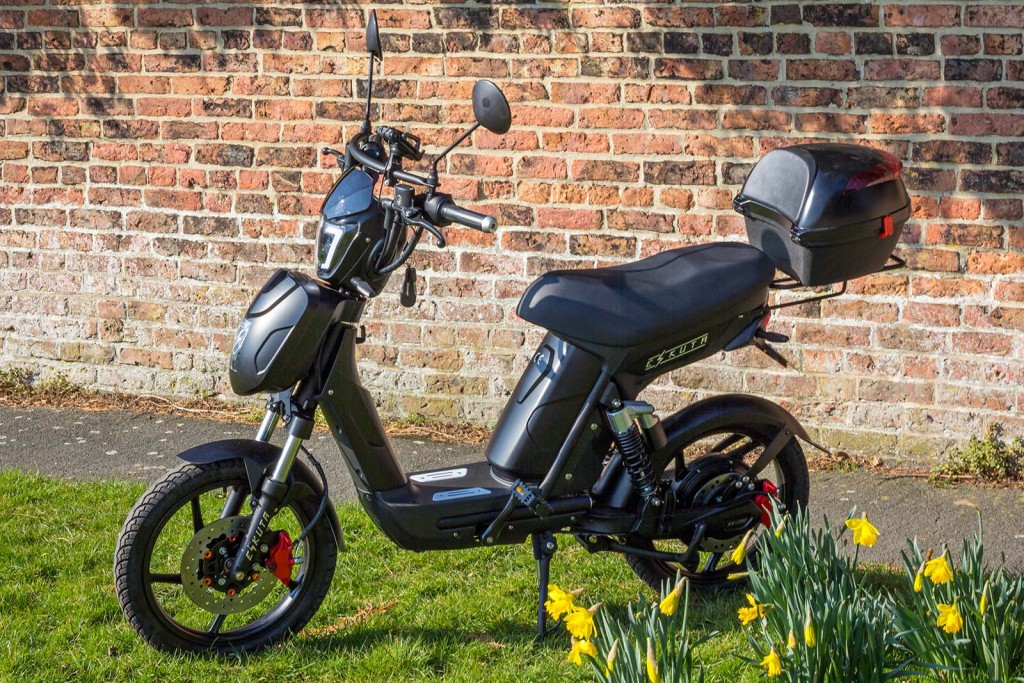 Now we've made that clear, let's talk about the one-of-a-kind machine that is the Eskuta SX-250. When the firm first asked if they could send me a bike to review, I was slightly apprehensive. It's 54kg and looks like a moped in size and style. Additionally, I am not the target market.
Eskuta considers the demographic as teenagers or young adults who do not drive but want to get from place to place without the hassle of a car and licence, and older people who perhaps want some freedom for short journeys without having to drive. I am neither of these, but you'll be pleased to know I did manage to rope my (not that old) mother into having a go so we could compare notes.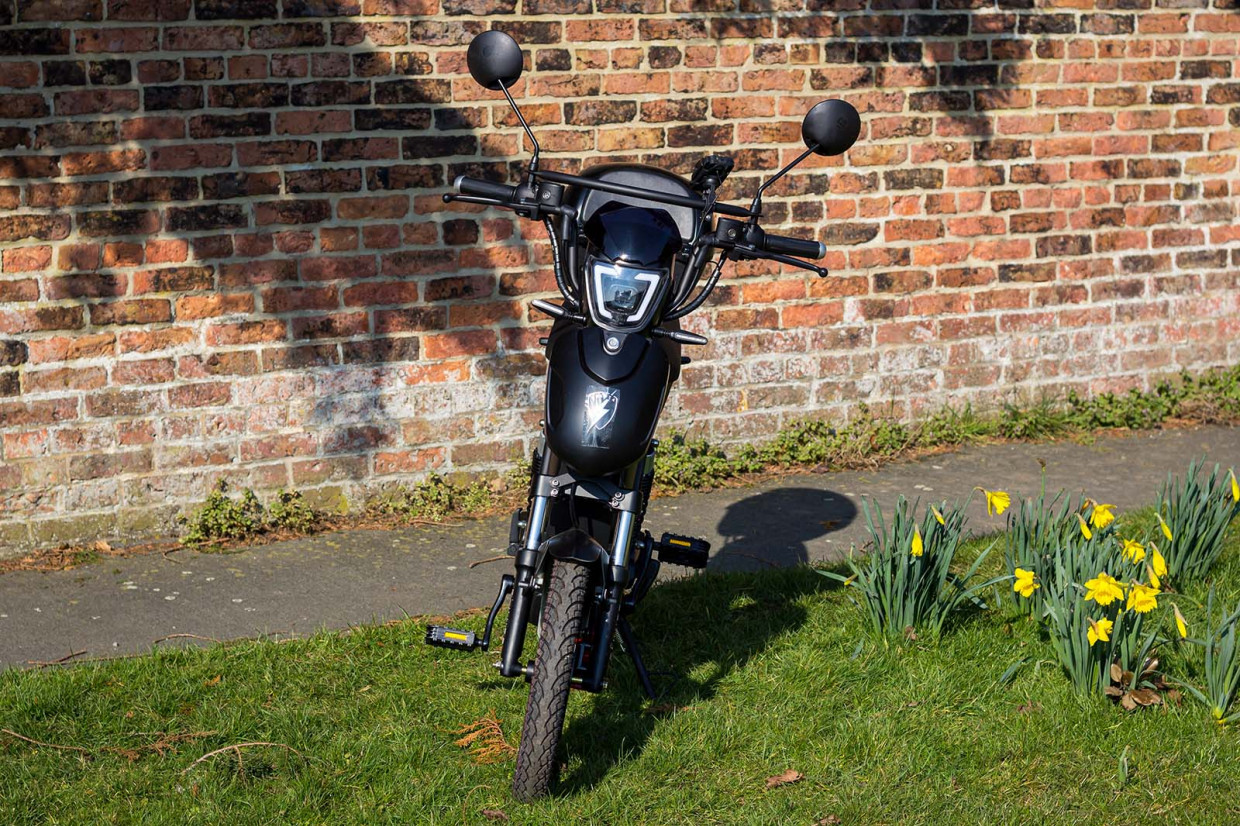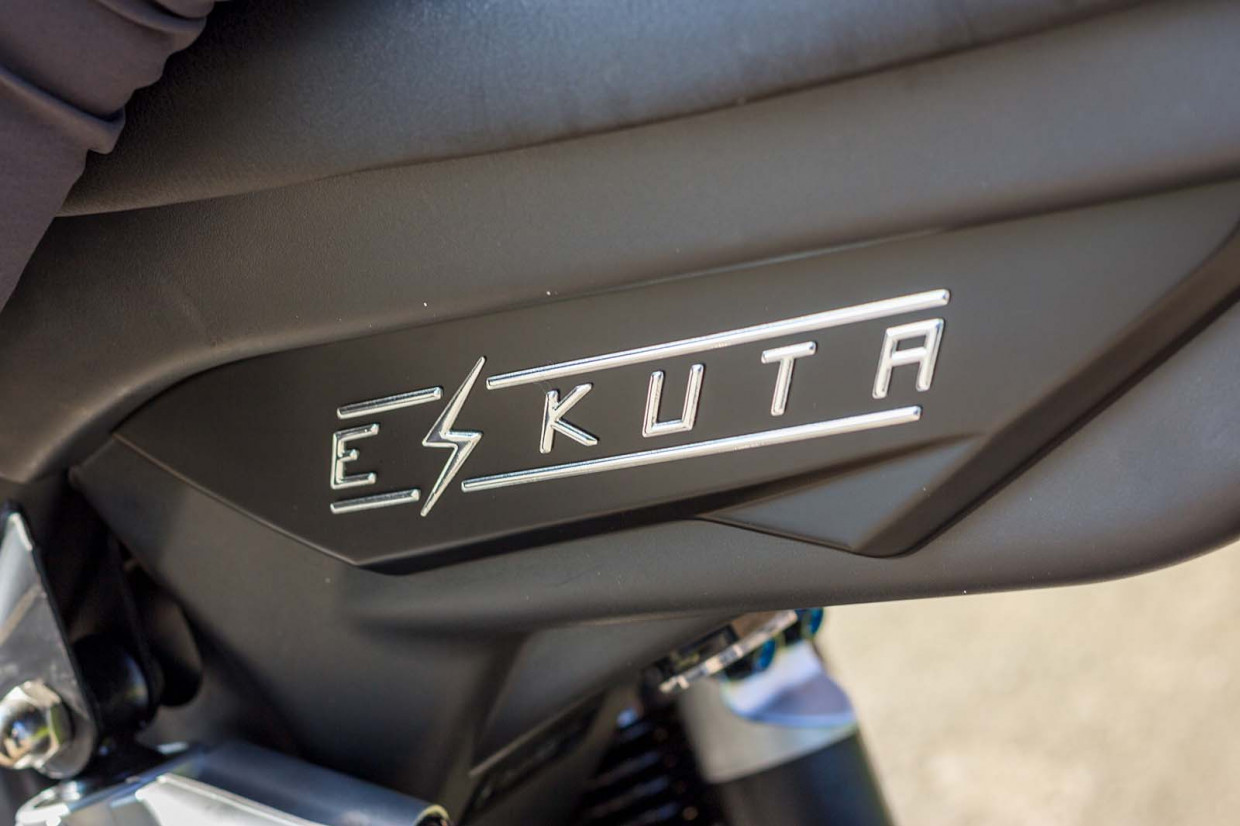 Eskuta makes two models, the commercial SX-250d and the leisure SX-250. The SX-250d is increasingly popular with takeaway delivery riders and fast food retailers such as Subway, Just Eat and Dominos, which Eskuta has a number of deals with. It has many of the benefits and convenience of a moped, but with lower running costs and no need for riders to do a CBT.
The model I tested is the newly updated version third generation of the popular SX-250, and it came with a rear storage pod (£65) and a tech bar (£85).  
What is it like? 
I'll be honest, the first ride was a little bit unnerving, particularly for someone who took their CBT 10 years ago and hasn't been on a moped or motorbike since. The sheer size of the bike means it's quite difficult to manoeuvre when you're not riding it, but you certainly don't notice it when you are riding. A small green button on the left-hand side acts as a 'boost' button and helps get the pedals turning. It is possible to set off without it, but it can take a few laborious pedal strokes to get the motor to tune in, so I'd highly recommend milking the boost button for all it's worth.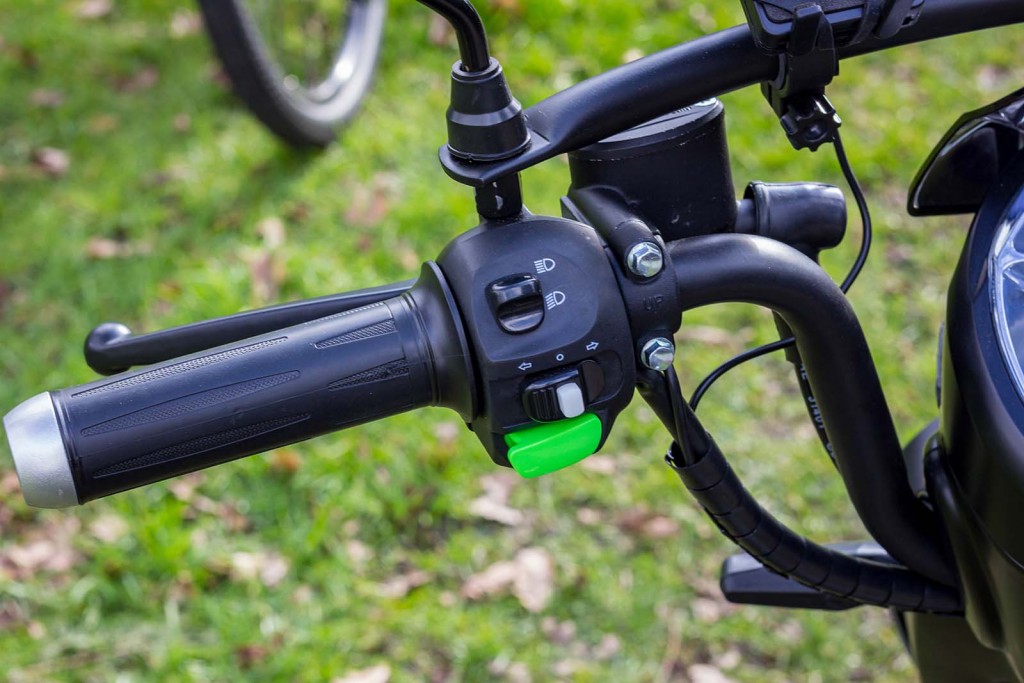 Eskuta has prided itself on using motorcycle-grade suspension and brakes, and the ride feel is reflected in these choices. It is comfortable to ride, and it glides over potholes with ease. The handling is quite relaxed and it doesn't take half as long as you'd expect to feel comfortable riding it on the road. The SX-250 is as close to moped as you can get under EAPC regulations. A key turns the bike on/off, unlocks the storage containers and opens the hidden battery compartment under the seat. You can charge the battery while it is on the bike, but it is just as easy to remove it and take it indoors. 
Subscribe to the Move Electric newsletter
Eskuta advises a battery range of between 40-50 miles. There is only one motor assist level, and unless you're climbing a mountain on it and draining the battery excessively, then I take it to be quite accurate. I managed to get 21 miles out of it, then, unfortunately, had to leave it for a week, during which time the battery drained considerably from 60% to 18%. It is quite a lengthy battery charging period so this is a bike where being organised is vital if you want to ride it regularly.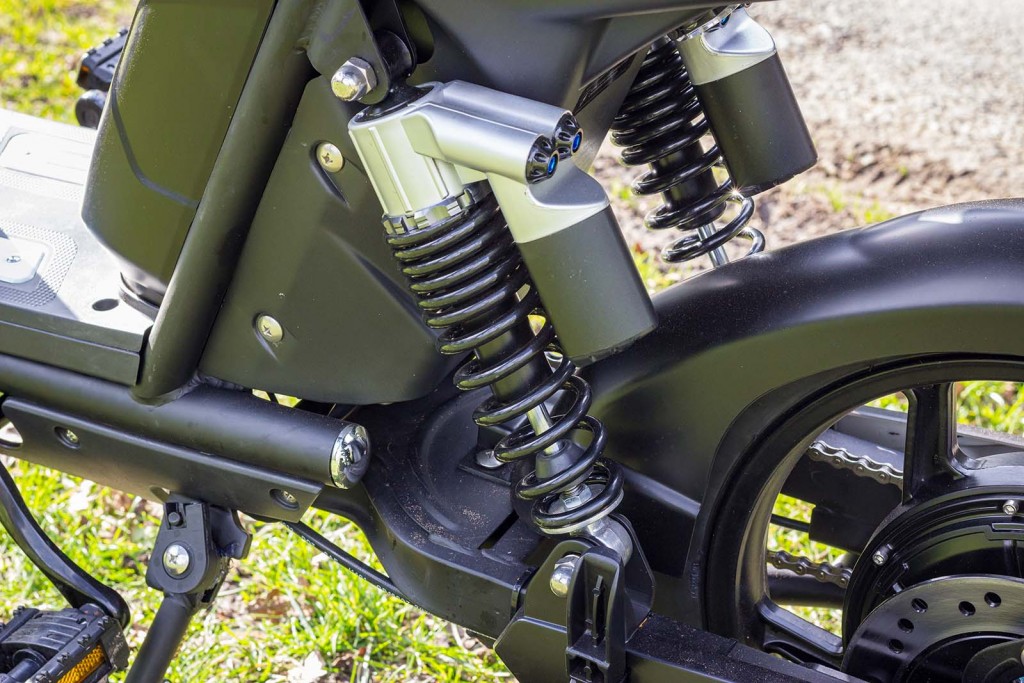 Speaking of the motor, the SX-250 has a brushless rear hub 250W motor with just one assist setting. Although it's more than powerful enough, it can be a little bit jerky, and it seemed to surge now and again. On the right-hand side of the handlebars, there is a little dial with settings 1-3, to represent other motor assist levels, but they are only available in other countries where e-bike regulations differ. 
In addition to there only being one motor assist level, the bike is single-speed. I found this quite limiting, as you spin out very easily. It's not a bike that you can pedal for miles and miles as the Q Factor (measurement between the outside of each crank arm) is extremely wide and the position of the seat means it can be uncomfortable after a while. On the other hand, if you're feeling knackered, you can easily just tap the pedals without much effort and the bike will obey.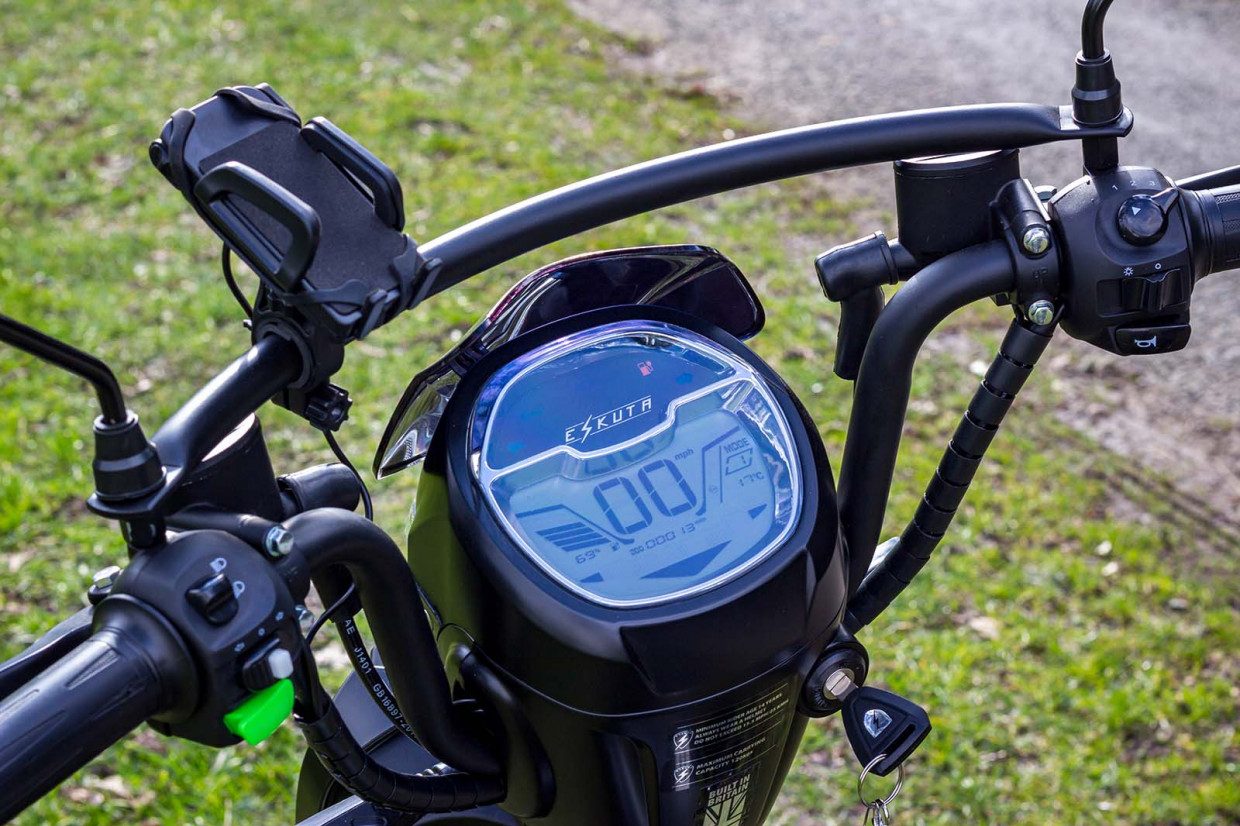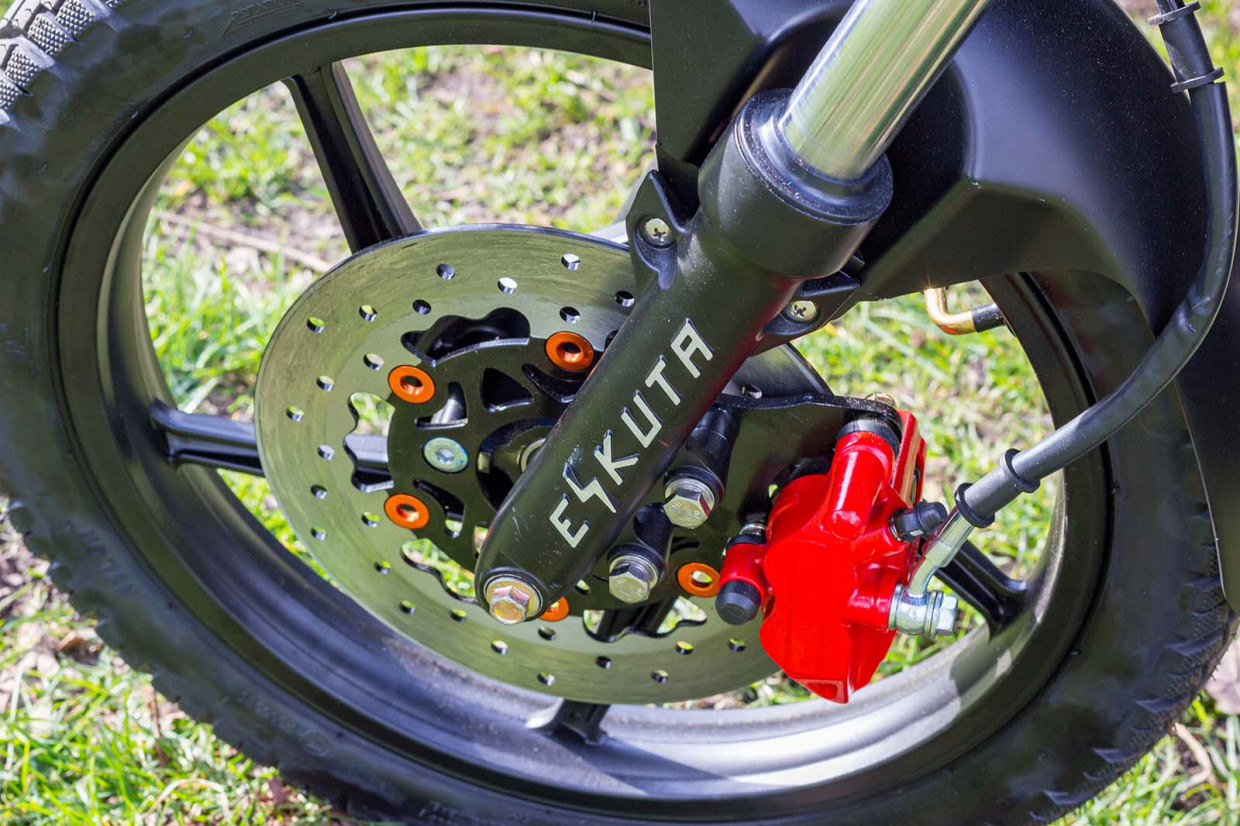 Elsewhere on the bike you have integrated daylight running lights and a main beam, a horn, an LCD speedometer which also displays battery level, and indicators. All these additions add to the aesthetic of the bike and makes it feel more premium. Two stands help you to store the bike safely, which, may be an area of concern for people in flats or those without a garage, but that's the same for any larger bike.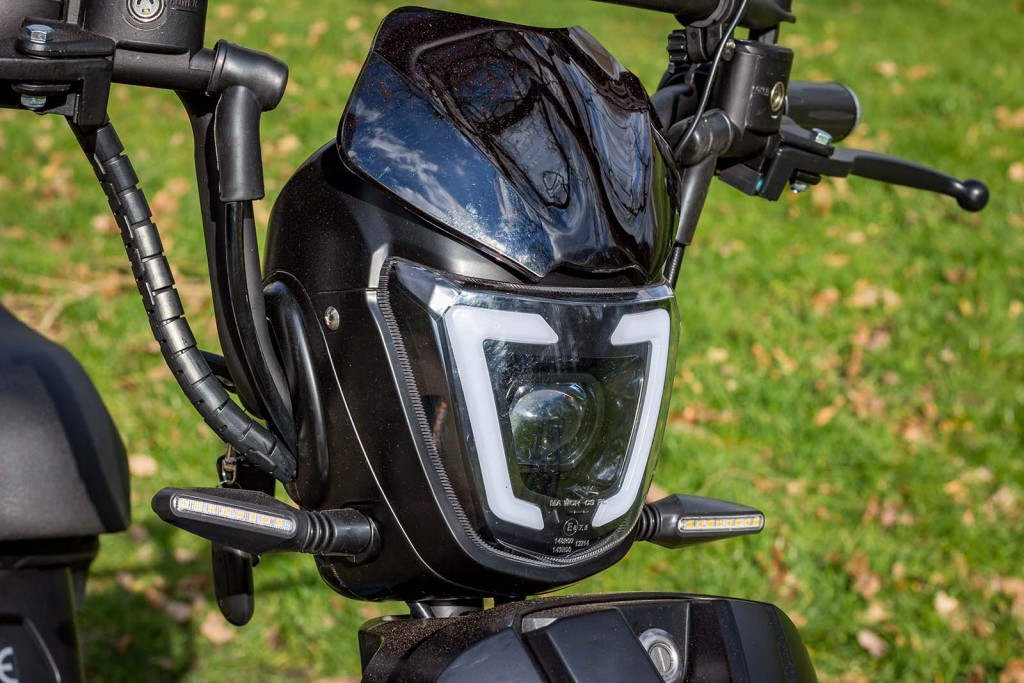 Like I said before, I am not the target market for this bike. But, as a consummate professional, I jumped at the opportunity to get my mother to have a go as she sort of fits the key demographic. Here's what she had to say about the SX-250.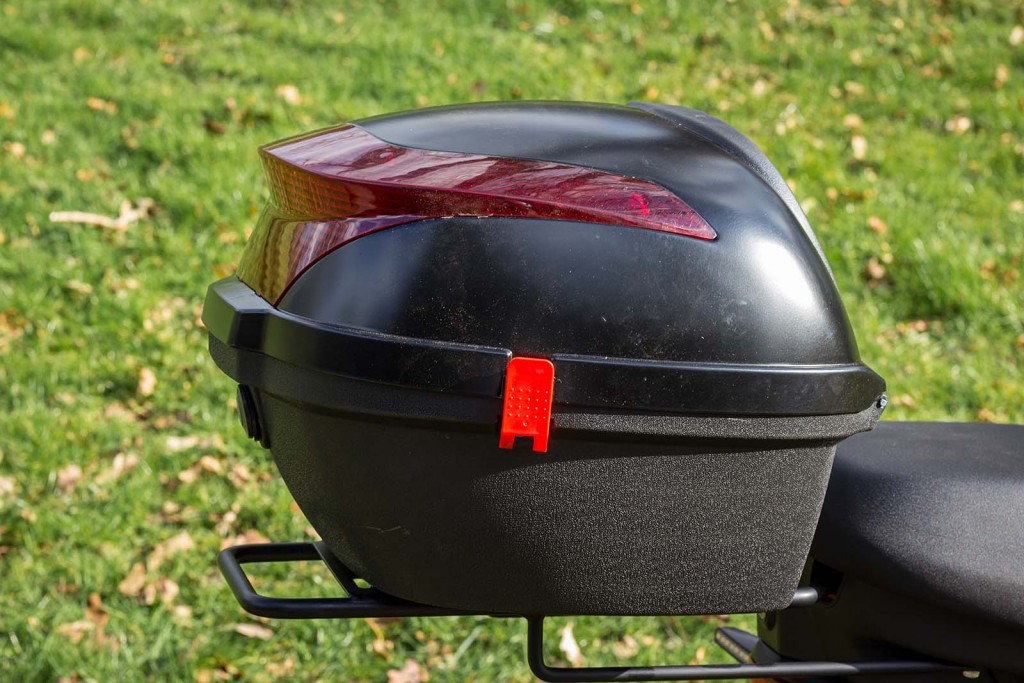 "I found it very exhilarating. It's quite tricky to set off with because it can feel like there's no resistance, so it can feel a bit strange – like riding a little moped, but without the sound. Nevertheless, it was excellent. It was great going up the hills and the wind was non-existent. Great for riding around the rural countryside."
I can certainly see how it serves a purpose. After the initial bedding in and getting used to it, I used the SX-250 for running some errands that I didn't see the point in using my car for. In rural locations, if you don't have an option like an e-bike, even a two-mile trip can involves driving, which is where the SX-250 comes into its own. And at just shy of £1800 it's not a bad price, either. I can't comment on the longevity of the parts but there were no obvious issues during my time with the bike, and if you have the space for it, it's a great option for getting around on.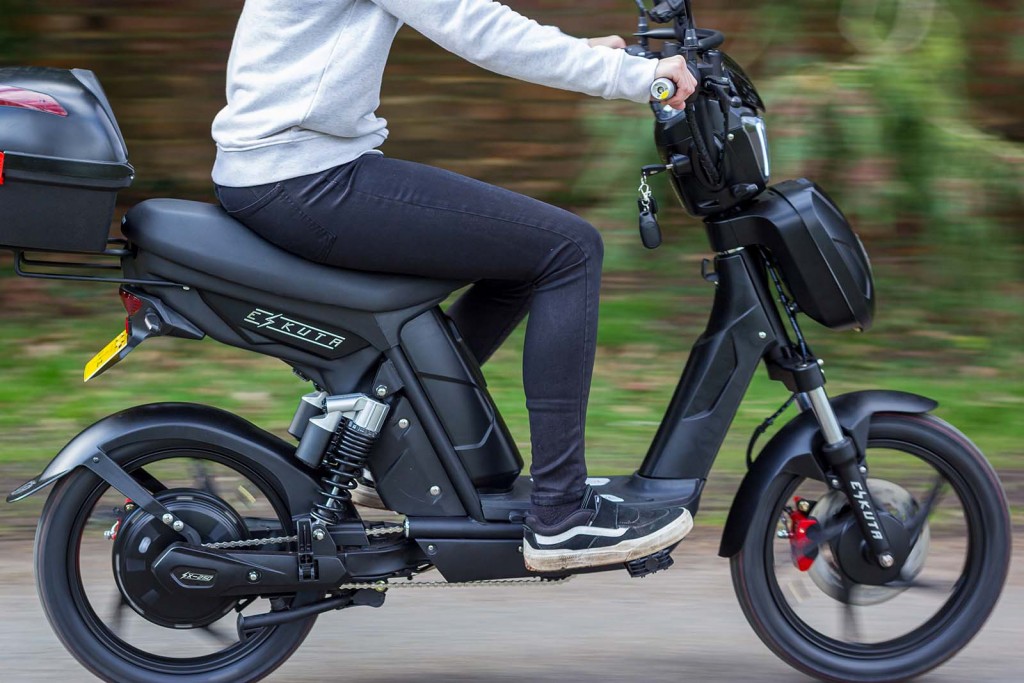 Where can I buy it?
You can buy it directly from Eskuta.
How does it arrive?
It arrives hand-delivered and fully assembled, all you need to do is charge it up and you're ready to ride. 
Verdict
A unique approach to modern mobility, the Eskuta SX-250 takes design cues from mopeds and translates them into a fun and useful electric bike package. It rides well, the battery range is great, and the price is good, but it is a niche product and demands a lot of storage space which if you're not fortunate enough to have a garage or secure space puts it out of reach.
Ultimately, we gave it three-and-a-half stars because for many people the Eskuta's limitations mean there are better e-bike options. But those in the target audience for the SX-250 and anyone looking for something different will probably finds it meets their needs with aplomb and can probably add an extra half-star to our rating.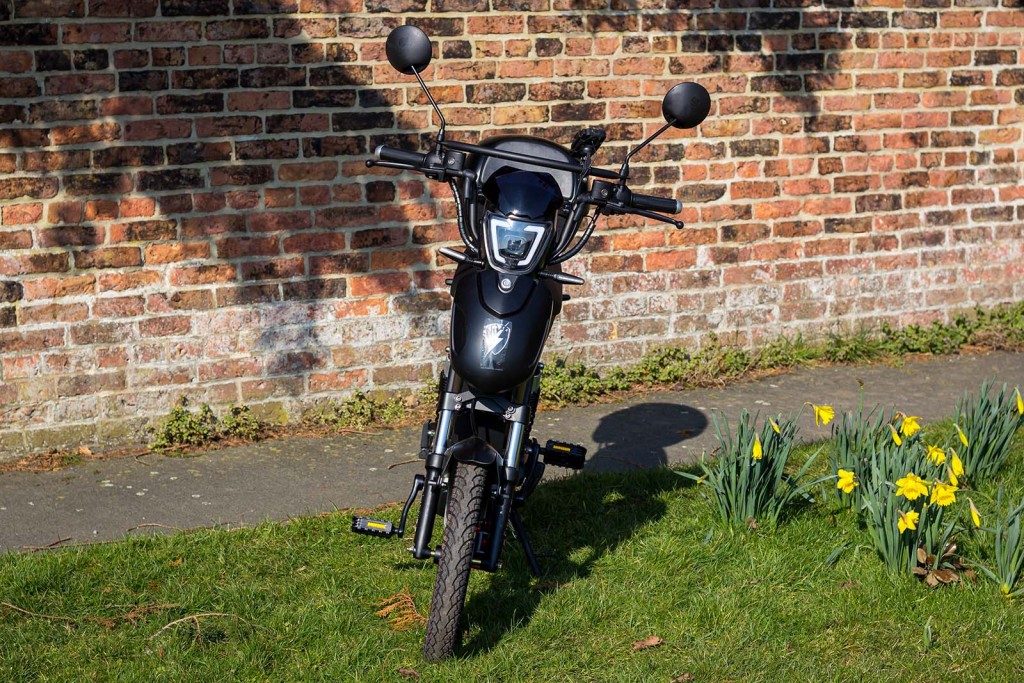 Eskuta SX-250
Cost
SX-250: £1795; SX-250D: £1995.
Frame size tested
One size
Weight of bike
54kg
Groupset
Single-speed drivetrain
Disc brakes (CBS Tech)
Wheels/tyres
18" wheels
62/355 18" tyres
Motor
250W brushless hub motor (rear hub)
Battery
48V 20Ah LiniMnCoo2 Lithium-ion
Mileage range
40-50 miles
Assistance levels
1 mode
Charge time
6-7 hours
2 hours when 30% battery retained
Included extras
Front and rear lights and daytime running lights
Indicators
Brake light
Kickstand x 2
Lockable battery and storage compartment for charger
READ MORE
Subscribe to the Move Electric newsletter
e-CARS
New Volkswagen ID Buzz: everything you need to know
How efficient are electric cars?
e-BIKES
Ducati expands e-bike range with first racing machine
e-MOTORBIKES
New Yamaha Neo is Europe-bound '50cc equivalent' electric moped
Electric Motion Epure Race e-motorbike review
e-SCOOTERS
Eskuta KS-450 e-scooter review
Taito unveils innovative new three-wheeled electric scooter
e-WORLD
Electric surfboard firm Awake aims to make waves with first e-foil
Volta Zero electric truck can 'dramatically improve' inner-city road safety