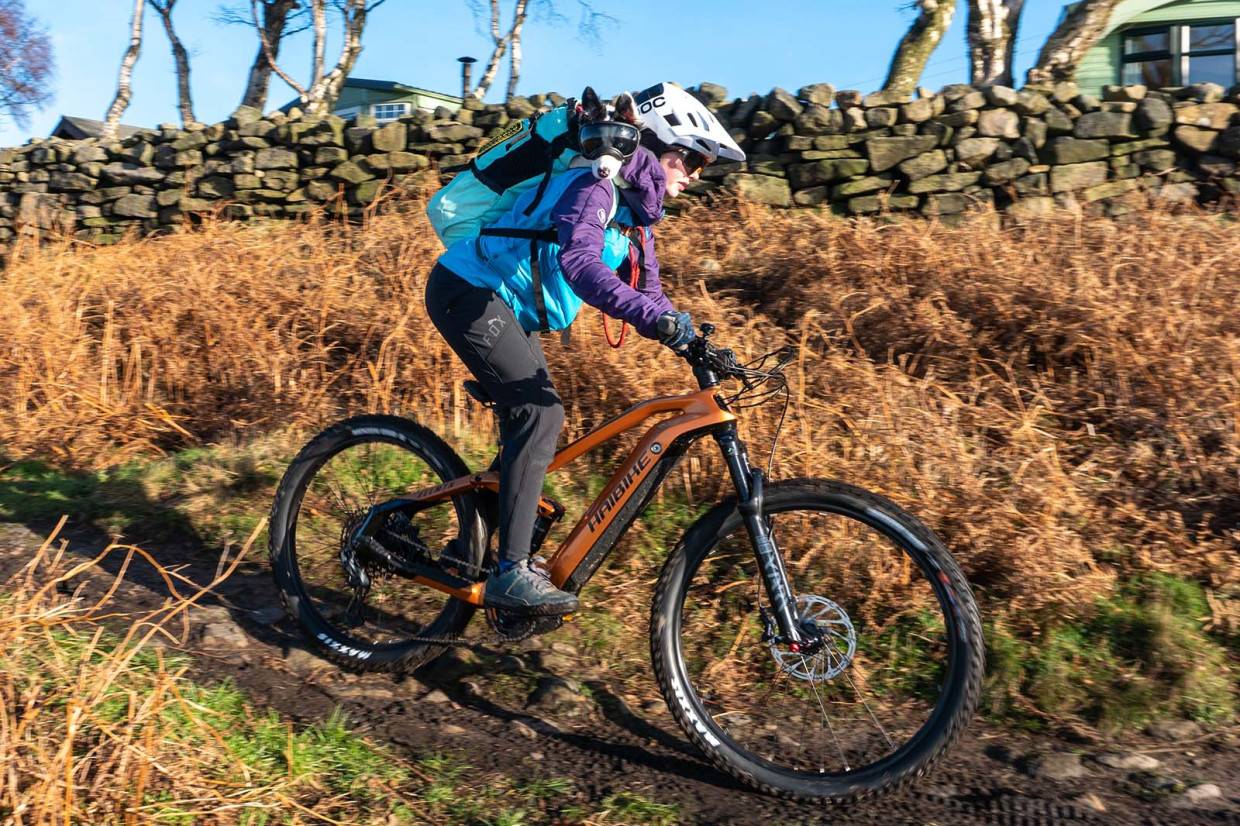 Move Electric rating: four stars out of five
What does it cost? 
£4999
What is it?
The AllMtn CF 6 is a carbon fibre frame electric mountain bike, with 160mm travel up front and plenty of playfulness on the trails. 
What is it like?  
I tested this bike over a variety of terrain to see where it suited best. From bridleways and moorlands to bike parks and trail centres, I felt it came alive when it was on flowy trails – think the red route at Dalby or some of the blues at Gisburn.
Even though the size I tested was medium, and that's a size too big for me, I still felt like I could throw the bike around and manage it even on tight berms. I found it quite easy to get into a rhythm with the AllMtn, and it does help that it's reliable and competent – you know what to expect when you press the pedals, there's no ridiculous lunge from the motor, it's more controlled. 
The motor in question is the Yamaha PW-X2, which provides up to 80 N m of torque, and sits neatly above the bottom bracket. I found it to be super responsive, it does tend to cut in and out when you ride above the maximum assist speed of 15.5mph, but it took the sting out of headwinds and technical climbs that I otherwise may have been pushing my bike up. 
Speaking of pushing, it comes with a walk assist which on a bike of this weight I fully appreciated. If you're sessioning a particular drop or section of trail, there is inevitably some walking and pushing involved – this made life a lot easier. 
My only gripe with this bike is the battery. Not the performance of it, I managed a full run of the Dalby red loop which is 22 miles using the top two levels of assist and still had over half capacity left. A chap I spoke to on another e-bike with the same capacity battery (albeit with a different motor and a few kilos more to carry), did the same route and ended up limping home as his estimated range dropped to 4km with about 10km to go. 
Anyhow, the gripe comes with the battery cover. The battery itself is designed to be removed from the frame, and this makes it easy for charging if you don't want to bring the whole bike in the house or for removing if you want to leave your bike somewhere outside.
The trouble is that the cover isn't the most secure, and the location of the battery cover (on the bottom of the downtube) is quite susceptible to mud and water ingress, so if it's not 100% sealed you could potentially encounter some issues. I only managed to knock it off a few times but it was still a minor annoyance. 
The overall ride quality of this bike is quite impressive, given the sheer size and weight of it. Granted, at 23kg it's not the heaviest e-MTB on the market but it was also really difficult for me to fit into the boot of my Peugeot 205 without taking half the paint off (both bike and car). The suspension was simple to dial in and set up for my weight, and the geometry, while progressive was comfortable enough to ride a few hours at a time without experiencing too much fatigue. 
I'd quite happily take this out on anything from local rides around the bridleways to trail centres and black routes (if my ability allowed). The mullet setup eats up obstacles without feeling out of touch. The price is about spot on for an e-MTB of this calibre, (but yes, it's still a lot of money) although I'd prefer a full SRAM GX groupset at this price rather than a mix and match.
Where can I buy it?
From the Haibike website or one of their stockists.
How does it arrive?
Mine arrived fully assembled and ready to go – but I'd advise double-checking the torque of all the bolts and setting up the suspension for your riding before heading out. 
Verdict
An impressive electric mountain bike with a decent mid-drive motor and excellent ride quality. Agile and playful, it's an excellent trail bike with added boost for extra fun. 
Haibike AllMtn CF 6
Cost: £4999
Frame size tested: Medium
Weight of bike: 23kg
Groupset: SRAM Eagle mix, RockShox Yari RC 160mm fork, RockShox Deluxe Select Plus rear shock
Wheels/tyres: 29" front, 27.5" rear wheel
Front tyre: Maxxis Minion DHF II, 2.5"
Rear tyre: Maxxis Minion DHR II, 2.8"
Motor: Yamaha PW-X2
Battery: 600Wh Yamaha (removable)
Range: Claimed up to 160 miles
Assistance levels: Four, plus walk assist
Charge time: About 5 hours
Included extras: Handlebar display/control unit, Bell
READ MORE
Subscribe to the Move Electric newsletter
e-CARS
Ten electric cars we're excited for in 2023
Getting an EV sideways: how easy is it to drift a Kia EV6 GT?
Q&A: Jaguar Racing's Sam Bird and Mitch Evans on Formula E's new era
e-BIKES
Ten electric bikes we're excited for in 2023
Can you get fit using an electric bike?
e-MOTORBIKES
Ten electric motorbikes we're excited for in 2023
Super Soco TC Max electric motorbike review
Cake and Polestar team up for new special edition Makka e-motorbike
e-SCOOTERS
Planned laws to legalise private e-scooters face delay
Five key takeaways from the rental e-scooter trials report
Which train firms have banned e-scooters from their services?
e-WORLD
Move Electric's best features of 2022: lap records, tuk-tuks… and sausage rolls
Volvo Trucks keeps on electric trucking with three new models