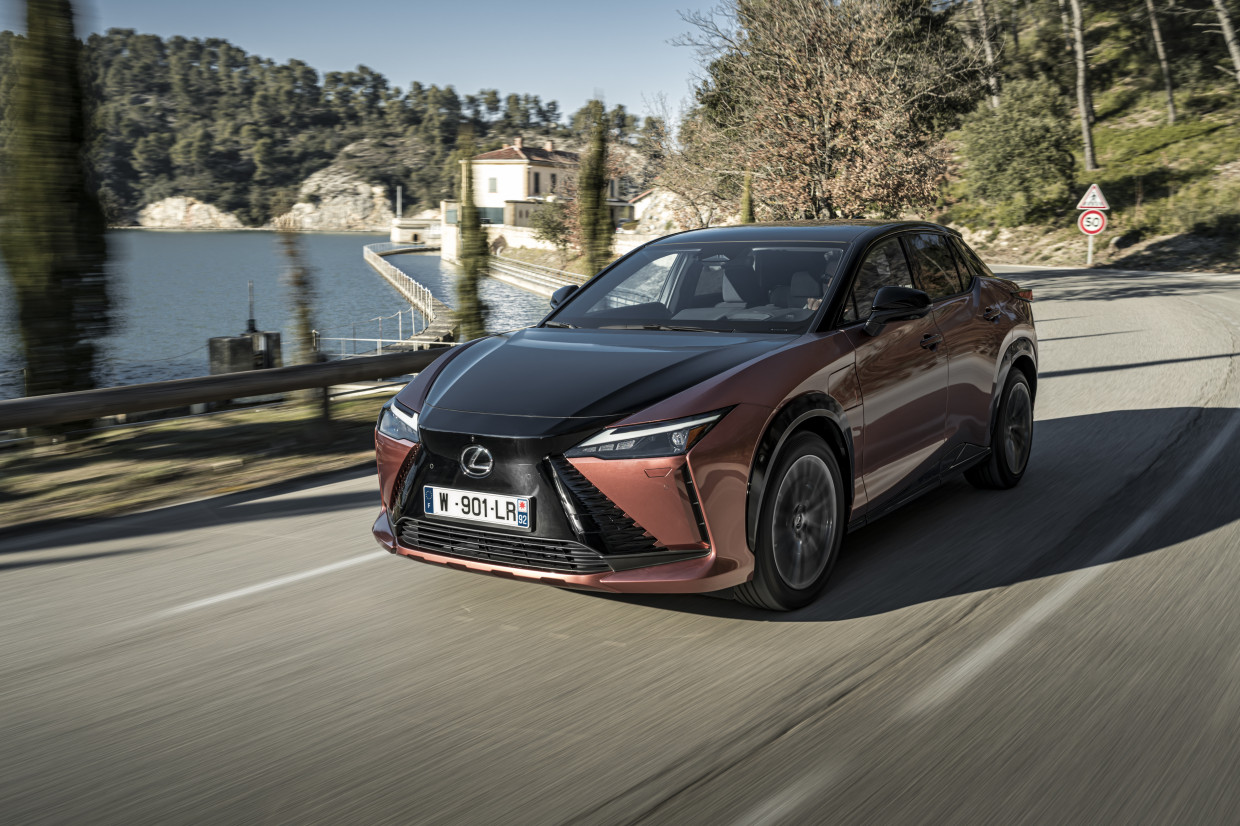 Move Electric rating: four stars out of five
Sell it to me in a sentence…
The new Lexus RZ 450e is the first bespoke electric model from Toyota's upmarket brand, and brings a Japanese touch – and an optional yoke – to the fast-growing premium SUV market.
What exactly is a Japanese touch when it comes to a premium electric SUV?
Well, as far as Lexus is concerned, there are three key concepts: tazuna, takumi and omotenashi. 
Bless you…
Sounds like I'd best explain. According to Lexus, omotensashi is a Japanese concept of hospitality, takumi represents the brand's focus on craftsmanship, and tazuna is the firm's concept for the cockpit, and is apparently inspired by the way a rider controls a horse.
That basically involves an interior that's intended to be simple yet luxurious, and a machine developed with a focus on the driver. Lexus pushes those concepts with all its vehicles – such as the new RX that is effectively a combustion engined equivalent – but the RZ 450e is the first true look at how they are represented on a clean sheet electric design, as opposed to the multi-powertrain Lexus UX 300e.
As the firm's first bespoke electric car, the RZ 450e is the first machine designed to showcase the 'Lexus Electrified Vision'. Significantly, Lexus chiefs say that the brand is now taking the lead on the development of electric tech at Toyota, with technology set to be used first on Lexus models before spreading to Toyota.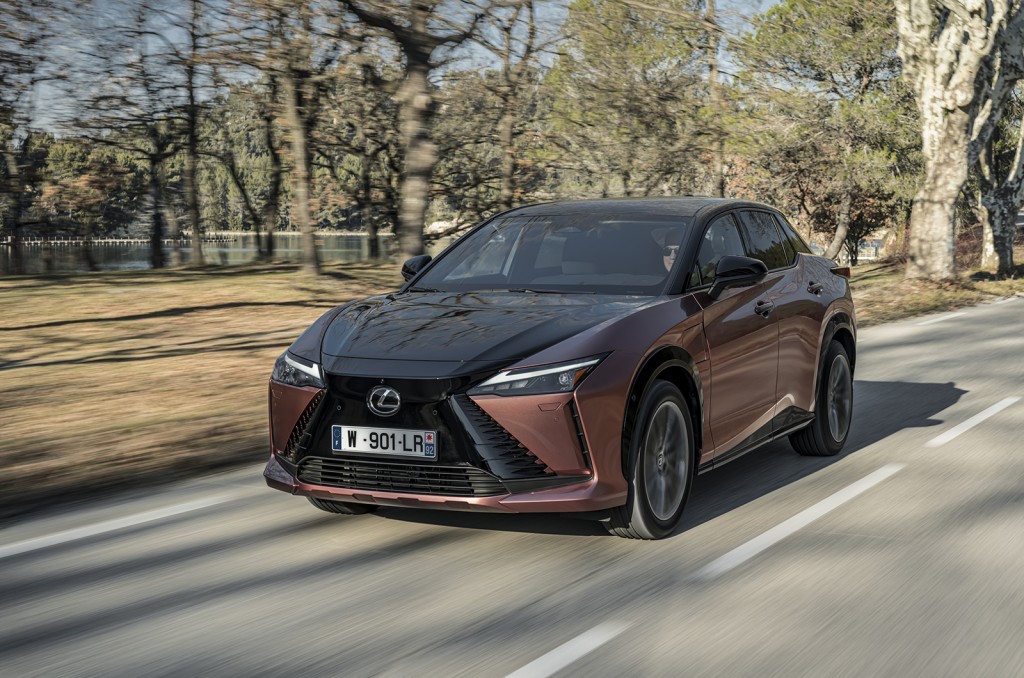 As a result, on the RZ 450e the above Japanese termininology is now joined by a host of intriguingly named technical features: the Lexus Driving Signature, e-Axles, Direct4 and – most notably – One Motion Grip. The latter is the name given to the new steer-by-wire system that will be offered on the RZ, and which replaces the steering wheel with a yoke, so you can live out your fighter jet pilot fantasies while doing the school run.
We've previously tested the RZ 450e in prototype form – with and without that One Motion Grip system - last year, and took a close look at it in a top-secret location (mumble mumble Toyota UK press garage mumble). But we're now had our first outing in the production machine in the south of France.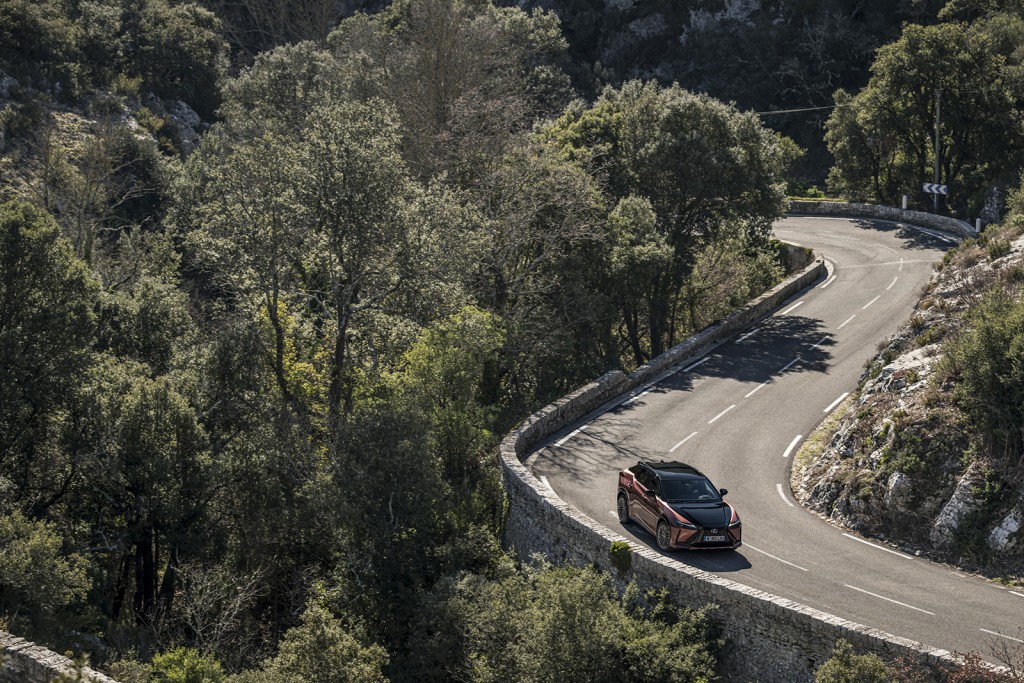 Give me the technical details then…
The RZ uses the new E-TNGA platform that has been developed by Toyota, and is also used by Subaru. This is the third car built on the platform to go on sale, following the Toyota bZ4X and the Subaru Solterra. 
All three are similarly sized electric SUVs, and share much of their underpinnings such as a 71.4kWh (64kWh usable) battery. At 4805mm, the RZ is 115mm longer than the bZ4X. It's slightly wider, but a little shorter, although it shared the same 2850mm wheelbase. Still, you can hardly blame Toyota and Lexus for launching similar sized electric SUVs, given both the potential synergies and the rapidly growing demand for such machines.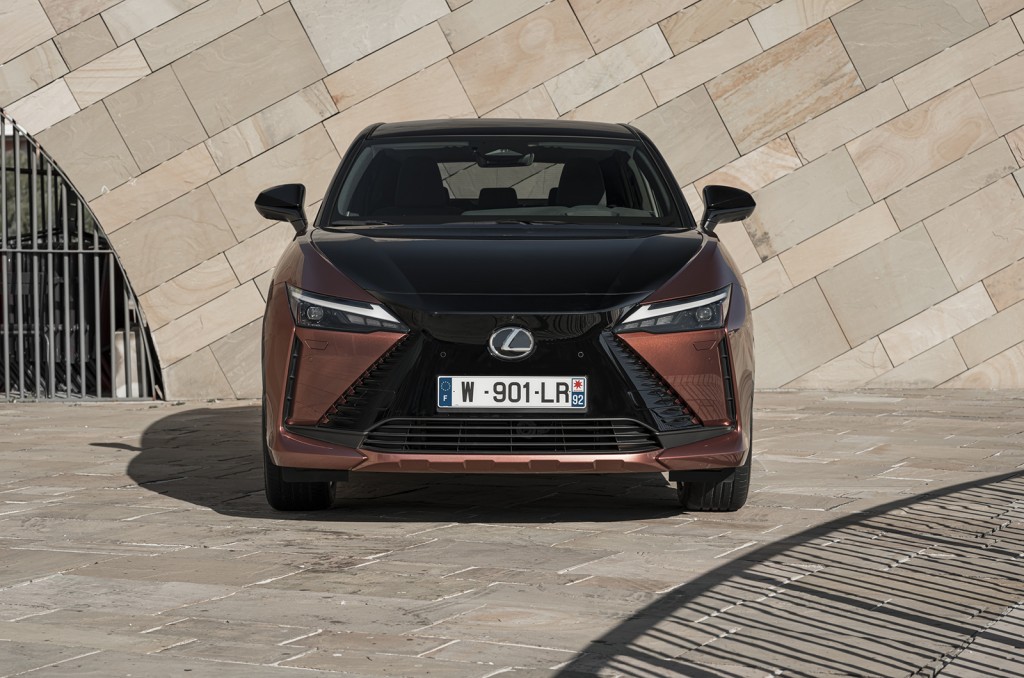 Besides, Toyota and Lexus insist that the two machines have been developed separately, and they have both launched with different powertrains. While the bZ4X launched with 150kW single-motor and 160kW twin-motor powertrains, the RZ will launch with a single, considerably more powerful, option: a twin motor unit with a total output of 230kW (309bhp).
Unusually, the 450e powertrain uses two different size motors: the one driving the front wheels produces 150kW, while the one on the rear offers 80kW. Both are compact 'e-axles', which means that combine the motor, gearing and a power control unit.
Power between them is controlled by that Direct4 system, which is an all-wheel-drive torque control function. Under normal driving, the system draws power from the smaller, more efficient rear motor. But if you press the throttle with gusto, the front motor will kick into action, with the Direct4 system balancing the distribution in order to balance the performance and offer stable handling.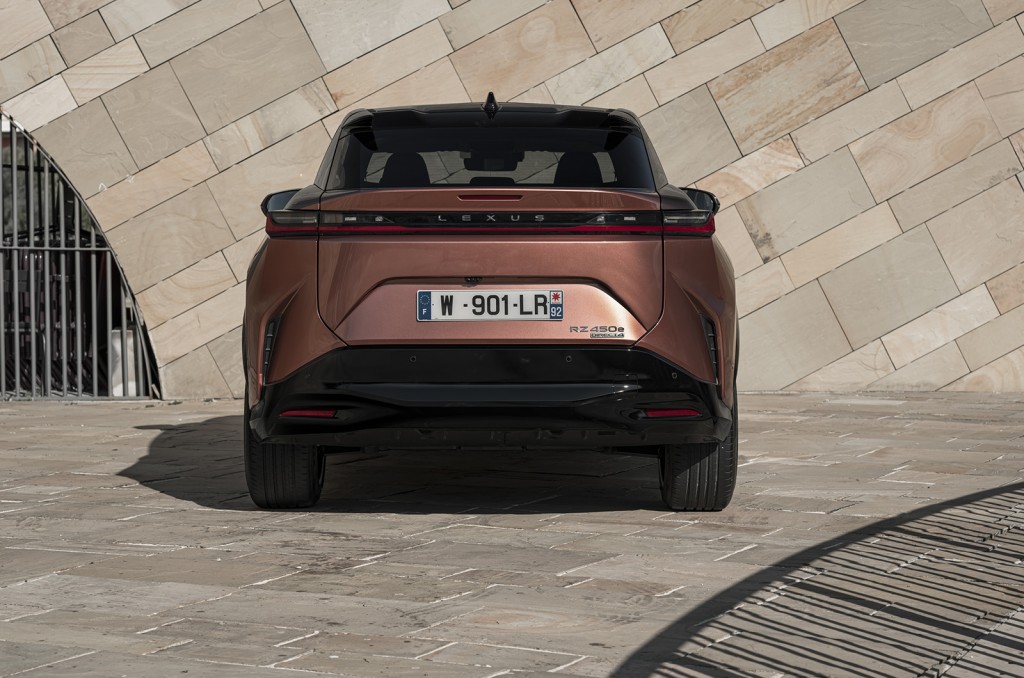 Lexus claims the Direct4 system is key to making the RZ 450e more efficient: it has an official consumption of 3.4-3.7 miles per kWh. On our test in France we achieved closer to 3.0mpkWh, which is still respectable.
So what does that mean for range?
While the Lexus RZ might be efficient, its 71.4kWh battery is smaller than many of its rivals in the premium SUV class. It has an official range of 272 miles – although it is worth noting that figure is for the 18in wheels. If you tick the option box for the 20in wheels, the official range drops to 252 miles – so likely closer to 200 miles in the rear-world. That's a useful range, but it does lag class rivals such as the Audi Q4 e-tron and Genesis GV60.
As an aside, Lexus believes that around 80 per cent of UK buyers will pick the bigger wheels, and if that many buyers are willing to forsake 20 miles of range largely for style, it really does suggest range anxiety is less of a thing that some would have you believe. That or some car buyers aren't entirely rational. We're not sure.
The RZ 450e can charge at speeds of up to 150kW allowing for an 80 per cent charge in 30 minutes, which is decent but again a bit behind many of its class rivals.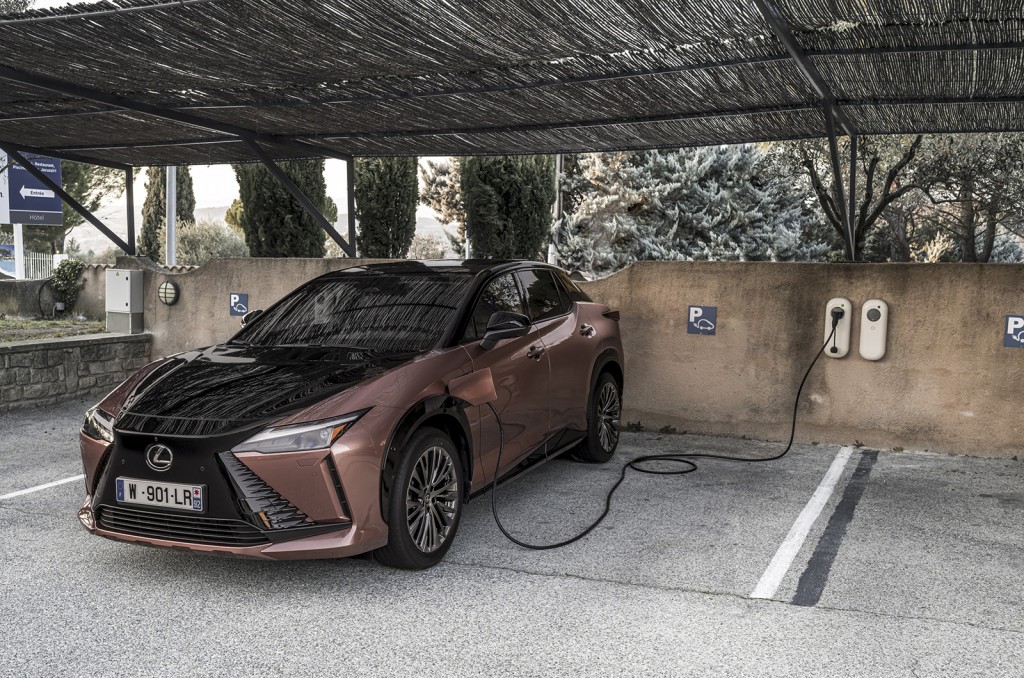 What's the RZ 450e like to drive?
Lexus claims that its 'Driving Signature' is defined by three C's: comfort, confidence and control. And from behind the wheel the RZ 450e actually lives up well to that alliterative marketing line.
The firm cites plenty of work done to reduce the weight of the RZ's platform, and also to reduce noise and vibrations, through efforts such as a bonnet seal, vibration-damping sheet in the roof, acoustic glass and foam coating in the base of the front pillars. 
The machine is notably quiet and very smooth: under acceleration and braking you can feel the effects of that Direct4 system shuffling the power to calm the normal wobbling that occurs. It also helps the machine soak up the many of the bumps and imperfections in the road well, particularly given the machine goes without the adaptive dampers that many of its class rivals offer.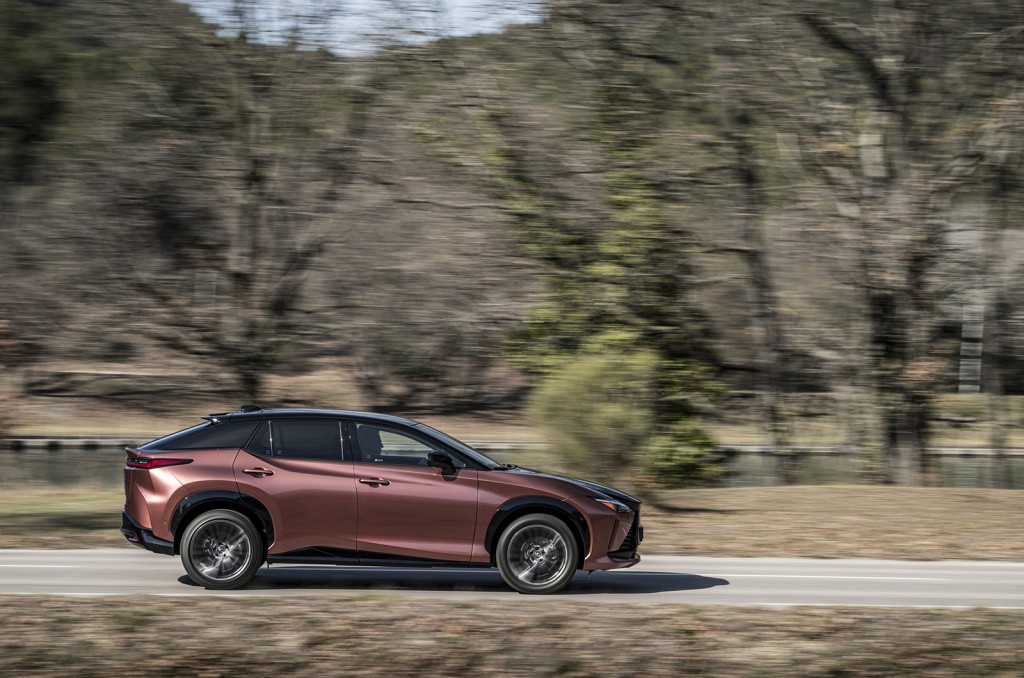 There are four levels of brake regeneration and four drive modes ranging from Sport to Range, which control various features and systems on the car to offer more performance or range as needed. Even in Sport mode, the RZ 450e is not a particularly sporty drive.
You won't really be tempted to chuck the RZ rapidly into corners; but if you want to do that in a Lexus we suspect you're waiting for the production version of the Electrified Sport Concept anyway. This is a premium electric SUV, and in terms of driving it does premium electric SUV things very well.
In standard form the steering is neutral and well-weighted, making it easy to position and manoeuvre.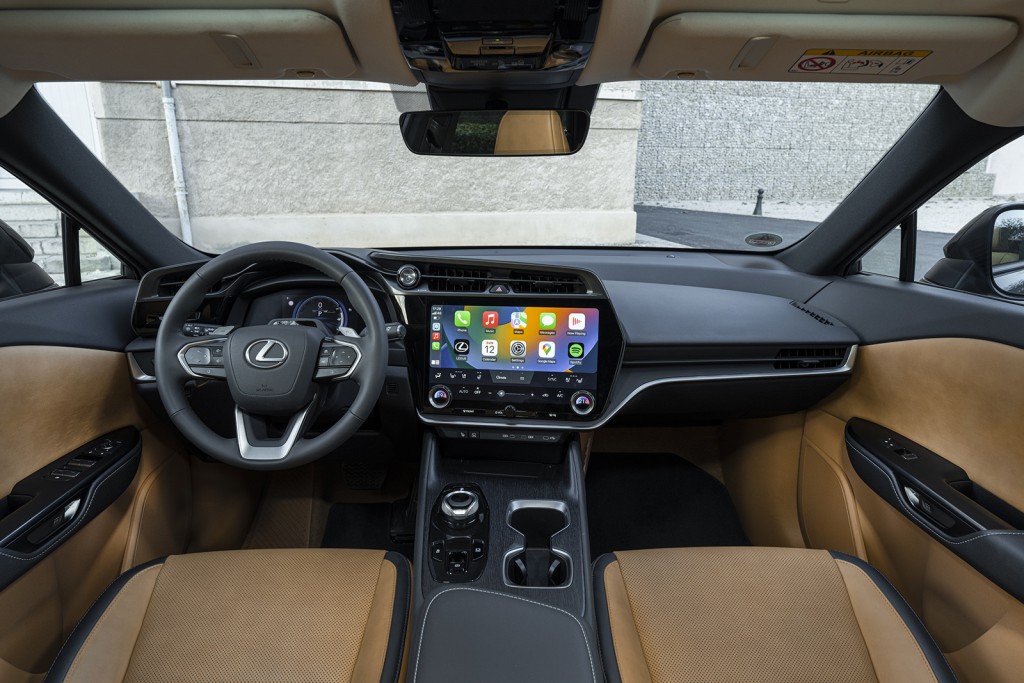 That's the normal steering covered. Crack on and tell me about the yoke then…
There's a lot more to the One Motion Grip system than just a yoke. It's a steer-by-wire set-up, with the physical connection between steering controller and the front wheels replaced by an electronic system. If that has you a bit worried, Lexus engineers will happily spend a long time explaining all of the redundancies and backs-ups (including a back-up power supply) included on the system in order to satisfy regulators.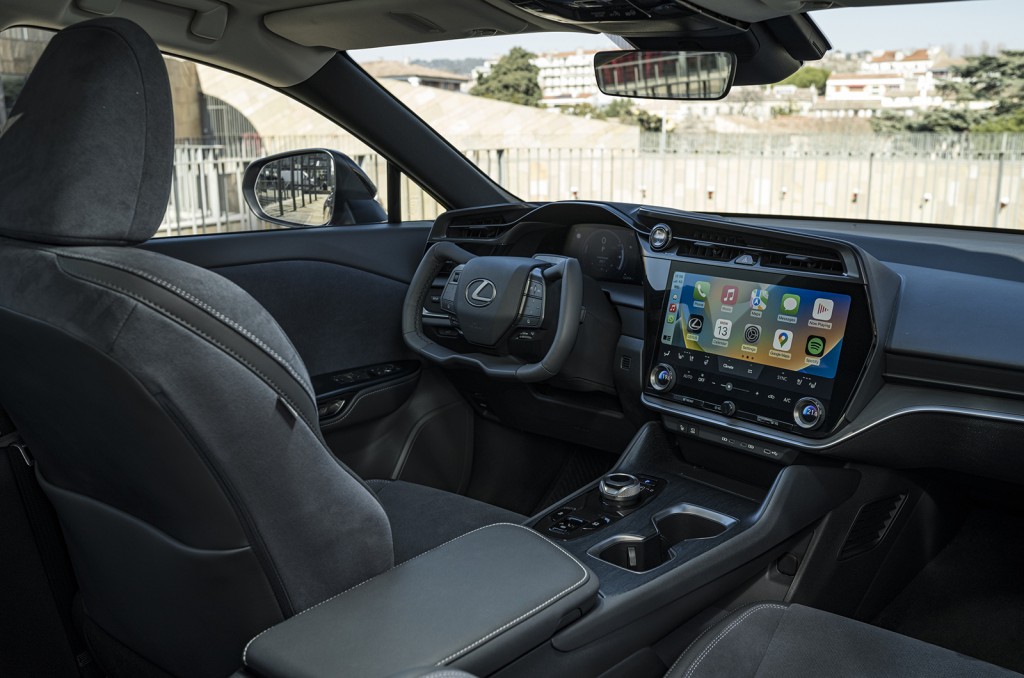 The claimed benefit of the system is that replacing the physical link with an electronic one allows Lexus to programme how responsive the steering is. That means they can make the system more rapid, and reduce the input needed. As a result, it requires a 150-degree turn of the controller to go from straight to full lock, compared to 300 degrees in a standard car.
That's where the yoke comes in, with Lexus claiming the shape is to give the best results for the system. The reduced lock means you don't need to thread the controller to reach full lock, and you can turn the yoke from lock-to-lock without moving your hands. It also means the system has a variable ratio, becoming lighter for slow-speed manoeuvring and firmer to aid stability at higher speeds.
Of course, removing the physical connection to the steering wheels does means that the driver no longer gets direct feedback in the form of vibrations, so small servo motors are used to create vibrations, in the same way as a modern games console controller.
We were intrigued after our first test on a race track, and after trying it on public roads we're now just plain impressed. It does take time to adjust to – we were still instinctively taking our hands off the yoke to thread it for tight turns – but it makes the machine really easy to thread through tight spaces at slow speeds. In fact, at first you'll have to take care not to turn too tightly.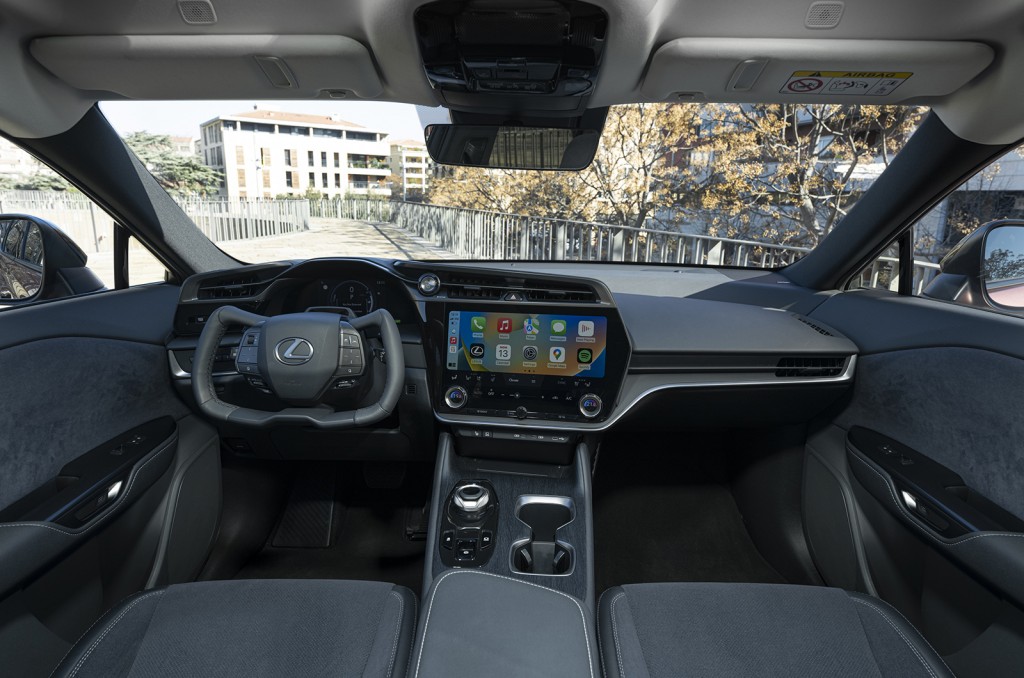 At faster speeds, it firms up considerably, and in a way almost offers more feel than the standard steering. It's also very smooth: while those little servo motors do create a surprisingly realistic amount of feedback, it's programmed to remove the worst bumps, which means the steering never gets jostled or disturbed by imperfections.
The trade-off for that versatility is losing a touch of absolute precision in the steering feel, but for a relaxed SUV such as this that's not a huge issue. We'll be curious to try the system on some of the planned sportier Lexus models to see how it fares there.
It's also worth noting that if you fancy the One Motion Grip system you'll have to wait 2025. Lexus engineers insist that they're still fine-tuning it, so like the Toyota bZ4X the RZ 450e will launch only with a standard steering wheel. When the system is introduced, we'll be intrigued to see how much extra it will cost.
Let's talk style, then…
The RZ 450e might have underpinnings based on the Toyota bZ4X, but it has a very different character in terms of styling (unlike the Subaru Solterra, which is clearly twinned with the Toyota). There's a reworked version of Lexus's 'spindle' grille, slim LED headlights and sharp side creates. 
The lower roofline of the machine than the bZ4X is also part of a focus on refining the aerodynamics: Lexus claims the machine has a drag coefficient of 0.263.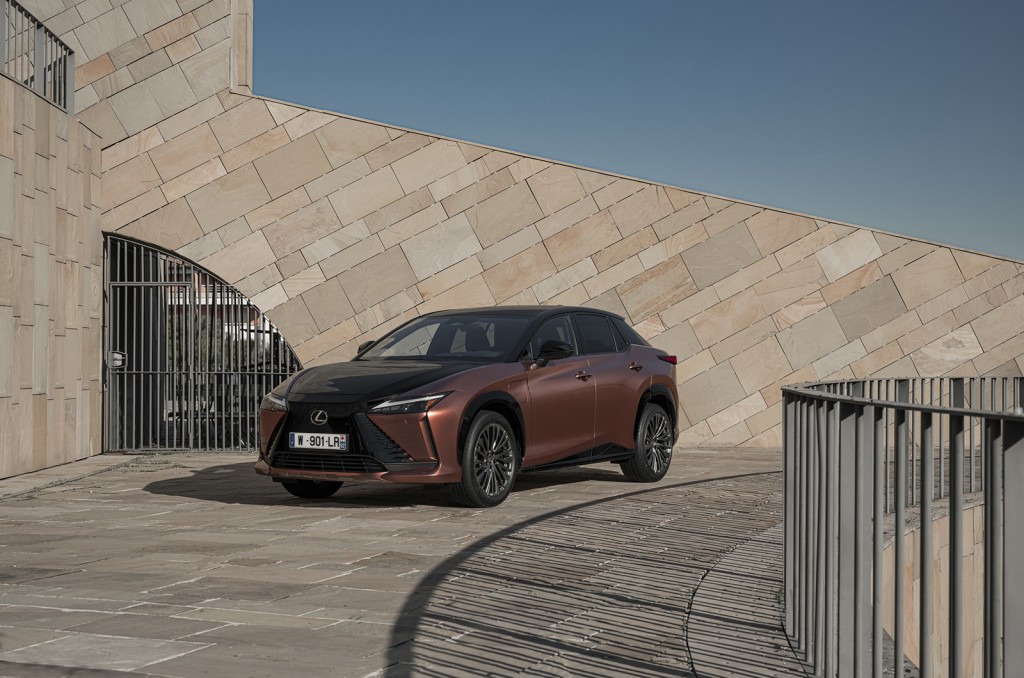 The interior also looks refreshingly different from the bZ4X, with a somewhat stripped back, very pleasant cabin. There are plenty of upmarket feeling materials, although that is somewhat dependent on spec: lower trim levels are not ly less plush.
The driving position is good and the controls are all intuitively laid out – whether you option that yoke or not – with the driver info display placed relatively high up and boosted by a head-up display.
There's a large and shiny 14in infotainment touchscreen, which is used to control many of the car's key functions, although there are a reasonable number of physical controls for the key features below it. The infotainment software is a vast step up from previous Toyota and Lexus systems, although it's still not quite as refined as some rivals. It does work with Apple CarPlay and Android Auto.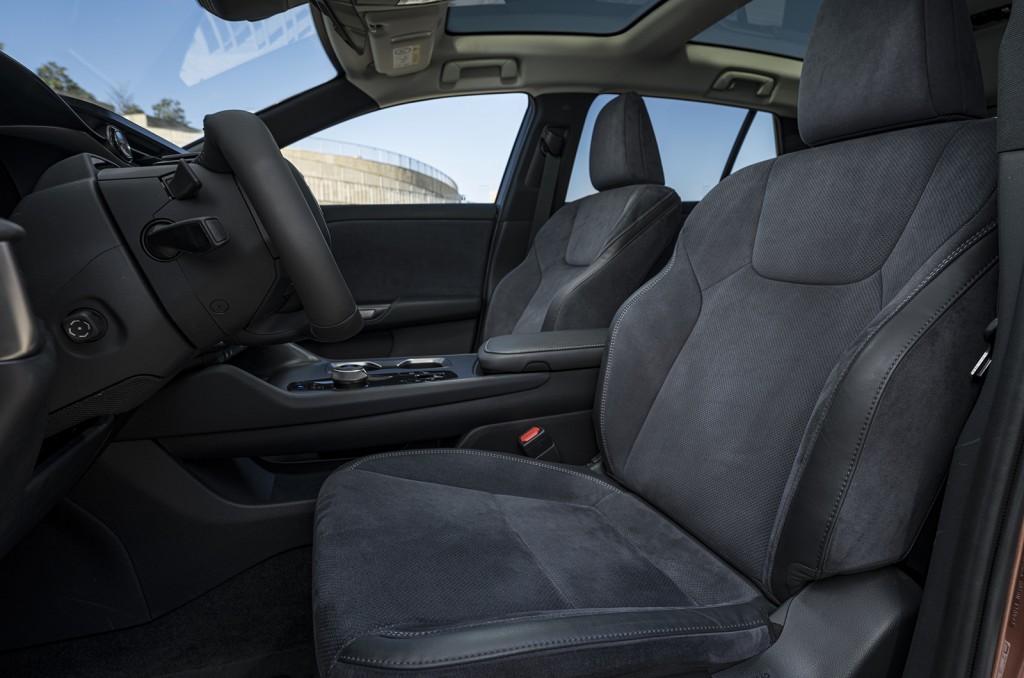 There's a useful centre console, which combines a few of the drive controls with helpful storage, cup holders and so on. The pared-back dashboard means that front passengers get plenty of room, too. And there's a reasonable amount of space in the back and a decent-sized 522-litre boot.
What will the Lexus RZ 450e cost me?
In the UK, the machine will be offered with three trim levels: Premium Pack, Premium Plus Pack and Takumi. 
The entry-level Premium Pack starts at £62,600 and includes 18in wheels, synthetic leather seats, a 10-speaker audio system, electric seats, a heated steering wheel, dual-zone air conditioning and driver assistance features including a blind spot monitor and e-Latch safe exit system (which stops the doors opening if it detects something approaching the car).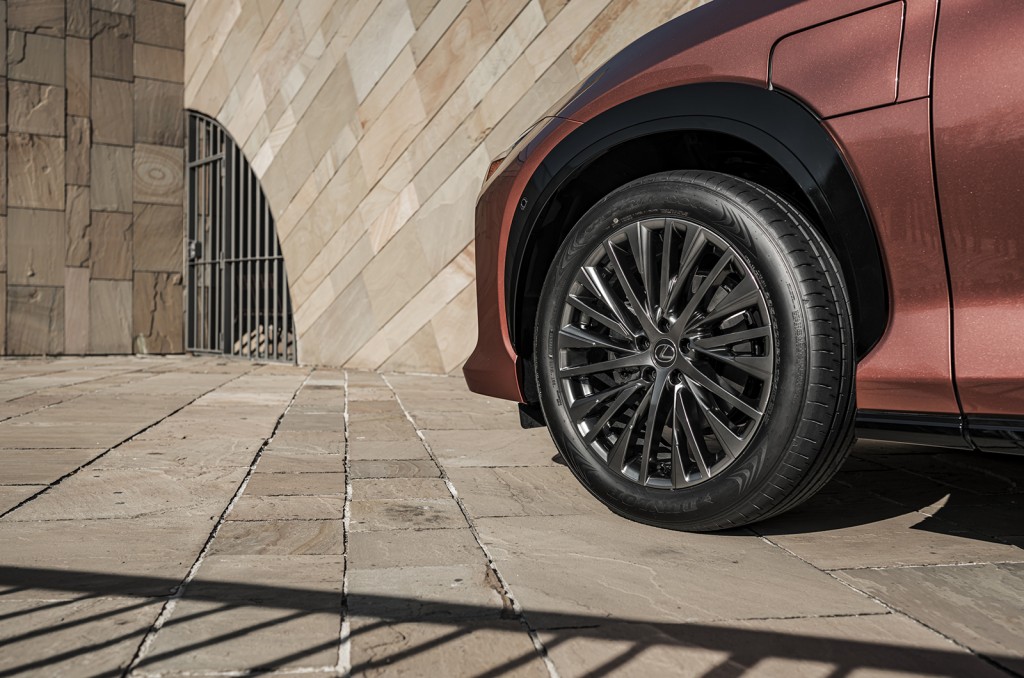 Premium Plus Pack is priced at £66,600 and additions include 20in wheels, front seat ventilations, a head-up display and panoramic view monitor. The extra kit is a notable step up in terms of feel and convenience, and this is likely the pick of the current line-up.
Finally, top-spec Takumi models cost £72,100 and add features including 'ultrasuede' upholstery, adaptive high-beam headlights, 64-colour ambient lighting systems (that's 64 colours to choose from, not 64 at once. Obviously), an advanced park system, a dimmable panoramic roof and a Mark Levinson audio system.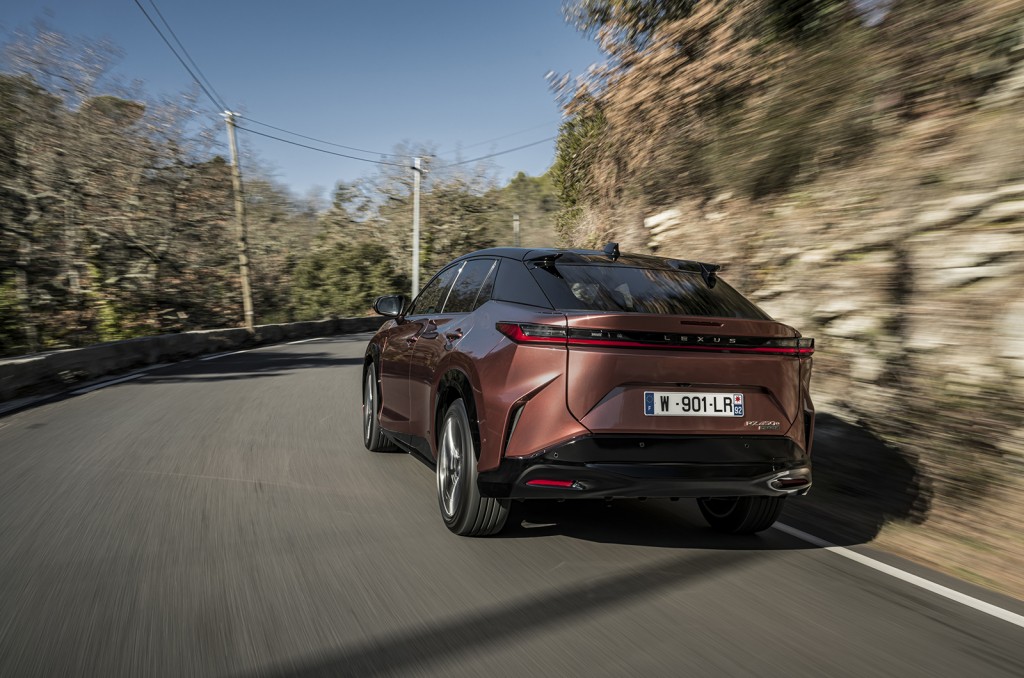 All models come with a 10-year warranty, ands the firm also claims the battery will retain more than 90 per cent of its capacity after 10 years.
Deliveries are due to begin in May. As noted, the One Motion Grip system isn't due to arrive until 2025, and prices have yet to be determined.
What rivals should I consider?
Buyers looking for a premium electric SUV are spoilt for choice at the moment. The Genesis GV60 is a good starting point with a Korean twist on the premium luxury concept, although the closely related Hyundai Ioniq 5 and Kia EV6 are both worth considering too.
There's also plenty of German options, including the Audi Q4 e-tron, Mercedes-Benz EQC, BMW iX3. Or, for a Swedish take you can look at the Volvo XC40 Recharge or the Polestar 2. And, of course, many buyers will instinctively turn to the Tesla Model Y.
Verdict
If you're the sort of car buyer who plugs the numbers into a spreadsheet, the Lexus RZ 450e can't match several of its key rivals in terms of range or charging speed, and comes at a relatively high price, too. Certainly, that should all be pause for thought and, as ever with an EV, you'll need to make sure the RZ 450e can work with your driving habits.
That said, the RZ 450e offers a pleasing and refreshing take on the premium electric SUV. It's a pleasant machine to spend time in, refined and quiet with a strong ride and decent, relaxed handling. 
It also introduces some promising new technology, particularly the steer-by-wire system. Although without knowing what it will cost, it's hard to know if it's worth holding out until 2025.
Still, the Lexus RZ 450e is a welcome addition, and if the firm's Japanese hospitality concept appeals and you can live with the range, there is much to like here.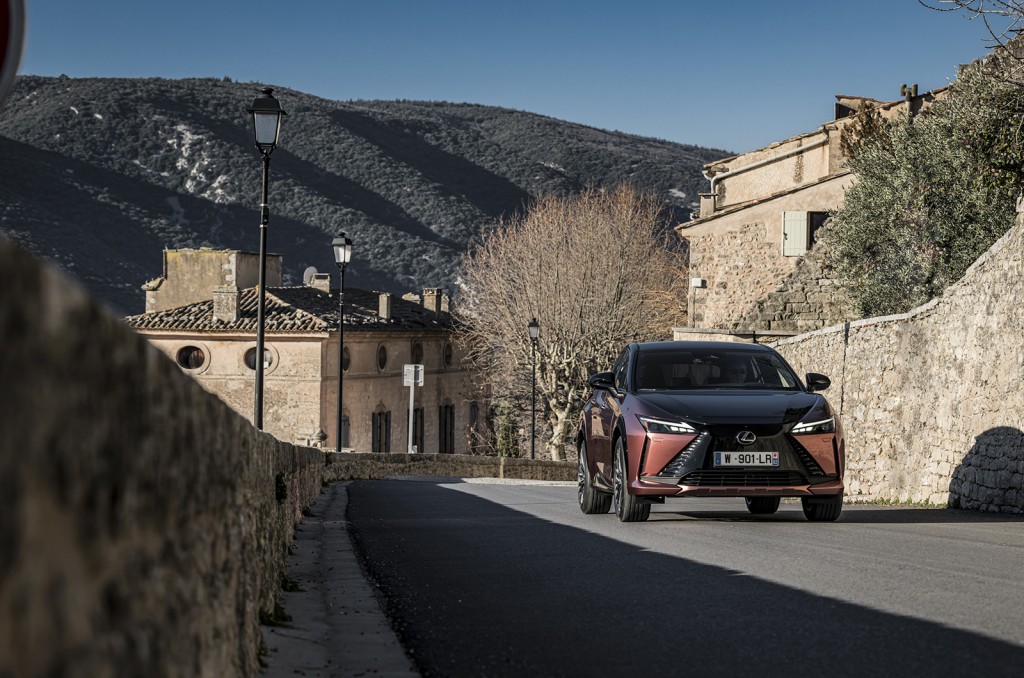 Lexus RZ 450e specifications
Price from: £62,600 (estimated)
Motors: Two AC synchronous electric motors 
Gearbox: Automatic 
Driven wheels: four
Power: 230kW 
Torque: 320lb ft
Kerb weight: 2055-2115kg 
0-62mph: 5.6 seconds 
Top speed: 99mph
Electric range: 252-272 miles
Economy: 3.4-3.7mpkWh
CO2, tax band: 0g/km, 0%
RIVALS