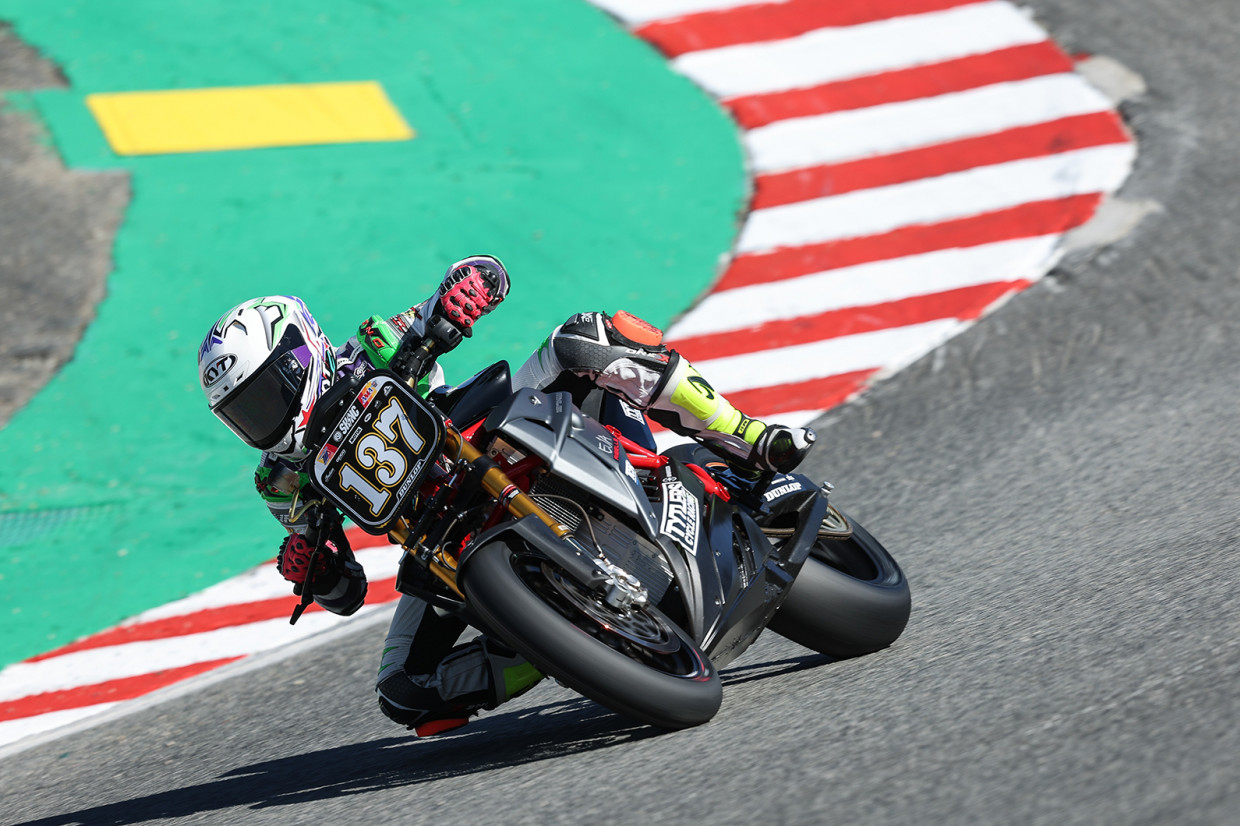 The world of electric motorsport is growing rapidly, with a number of high-profile categories. On four wheels there's the Formula E World Championship, Extreme E and many more, and on two wheels there's the hugely successful Moto E World Cup.
But one thing those championships all have in common is that they all feature electric machines taking on other electric machines. So what would happen if an electric motorbike tried to take on its combustion engined-rivals over a full season?
Subscribe to the Move Electric newsletter
Well, we'll get to find out this year: an Energica Eva Ribelle Streetfighter will contest a full season in the US-based Super Hooligan National Championship. The machine will be ridden by bike racing veteran Stefano Mesa, and entered by the established Tytlers Cycle Racing.
Admittedly, you might not have heard of the Super Hooligan National Championship, but that's okay: it only started last year. It's basically an 'all-comers' series, open to essentially street legal machines with only minor safety-based modifications. And all the machines race in the same class, on the same grid.
Energica has plenty of form when it comes to electric motorbike racing: until the end of last season the Italian firm supplied the control bikes for the first four seasons of the MotoE World Cup. 
Because of the rules of the series, the Energica Eva Ribelle being used isn't a full competition bike, and is essentially unchanged from the road-legal hyper naked bike you could buy today, complete with a powertrain that produces 126kW and 146lb ft of torque.
Mesa and Tytlers Cycle Racing did offer a preview of how the machine might fare, entering last year's Super Hooligan season-finale at Lugana Seca in California (pictured). And it certainly impressed: using the e-motorbike's whack of electric torque, Mesa jumped from the second row into the lead on the run to the first turn, and held on for a solid top ten finish at the end.
This year's Super Hooligan championship will begin at Daytona International Speedway in Florida on March 9-11, before rounds at The Ridge, Laguna Seca and Circuit of the Americas.
READ MORE
Subscribe to the Move Electric newsletter
e-CARS
Ten electric cars we're excited for in 2023
Getting an EV sideways: how easy is it to drift a Kia EV6 GT?
Q&A: Jaguar Racing's Sam Bird and Mitch Evans on Formula E's new era
e-BIKES
Ten electric bikes we're excited for in 2023
Can you get fit using an electric bike?
e-MOTORBIKES
Ten electric motorbikes we're excited for in 2023
Super Soco TC Max electric motorbike review
Cake and Polestar team up for new special edition Makka e-motorbike
e-SCOOTERS
Planned laws to legalise private e-scooters face delay
Five key takeaways from the rental e-scooter trials report
Which train firms have banned e-scooters from their services?
e-WORLD
Move Electric's best features of 2022: lap records, tuk-tuks… and sausage rolls
Volvo Trucks keeps on electric trucking with three new models